Along with knives, a good cutting board is one of the most essential and well-used pieces of equipment in your kitchen. While it may seem straight-forward, there is a lot that goes into the making of a quality cutting board.  Since you will be using your board so much, take the time to research and invest in a durable, high-quality cutting board.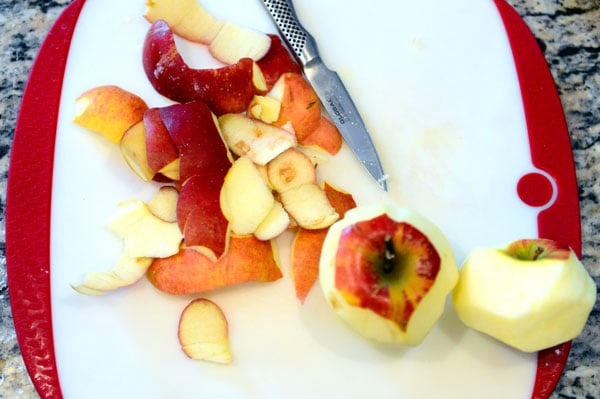 Here is what to look for when buying a cutting board:
Size: Look for something that fits in your work space but is still big enough to get the job done. You don't want to feel cramped or fight with pieces of food rolling off of your board. 15 x 20 is a good size but get the biggest your space can accommodate.   I have a variety of sizes so I can pick the board that best fits the task at hand.
Dishwasher Safe: A dishwasher safe cutting board is great but make sure it will actually fit in your dishwasher.
Slip Resistant: Look for lightweight cutting boards that offer rubber grip strips on the sides or non-skid plastic feet on the bottom.  These help the cutting board grip to the counter and prevent slipping while you are cutting, which is both dangerous and frustrating. If the board does not have these, you can always put a wet towel underneath your board to secure it to the counter.  Some heavier boards will stay put thanks to their own heft and do not require rubber grips or a non-slip mat.
Material: There are conflicting studies on the best material for cutting board construction.  Some believe wood boards are better because they are less likely to harbor bacteria, while others say the same thing about plastic. I'm not an expert but I use both in my kitchen.  With proper food handling and sanitation practices, you shouldn't have a problem with either.  Most professional kitchens use plastic without issue and it's what I currently prefer.
Recommended Cutting Boards
San Jamar Saf-T-Grip Standard Size Cutting Board, 18″ Length x 12″ Width
I use this board every day at work and it's also the same model we used when I was in culinary school.  I like it because it's easy to clean and has rubber grips to prevent slipping.  You can hang it to dry using the corner hook.
OXO Good Grips 10-1/2-by-15-Inch Utility Cutting Board
A good straight-forward plastic cutting board.  It's lightweight, affordable, and has helpful rubber sides. It comes in multiple sizes and a smaller version would come in handy when you just need to slice a lemon or chop something small.
Epicurean Kitchen Series 15 x 11-Inch Kitchen Cutting Board
Dishwasher safe and heat resistant up to 350-degrees, the Epicurean boards are as functional as beautiful.  I have this model and I find that it's gentle on my knives and I especially like that no maintenance (oil or bleach) are required.
Chop Chop Flexible Cutting Boards – 11.5 X 15
A good complement to your main cutting board, these cutting mats are color coded to help prevent cross-contamination and flexible enough to use them to transfer ingredients into a bowl or pot.  When I'm cooking a meal, I often use a few of these while prepping my ingredients and it helps save times.  I use one for meat, throw it in the dishwasher, and grab another for the next ingredient.
Proteak Teak Cutting Board with Hand Grip, 24 x 18-inch
This is America's Test Kitchen's top recommended cutting board.  According to their tests, this board is incredibly durable, easy-to-clean, roomy, and knife-friendly.  I trust their recommendations and this might be my next cutting board purchase.
Good Cutting Board Practices
You may consider having a set of cutting boards that you only use for meat, seafood, and poultry and another set you use for ready-to-eat foods (fruit, veggies, salad). This will help prevent cross-contamination.
If your plastic board has deep scratches, grooves, or dents, it's time to replace it. Food can get stuck in these areas and allow bacteria to grow.
Scrape off all excess food and scrub the cutting board with hot soapy water after each use. Better yet, throw it in the dishwasher.
Let cutting boards dry completely after each use. Do not stack damp cutting boards or put them away until they are completely dry.
You may also be interested in the related posts:
Essential Kitchen Equipment – Knives
Essential Kitchen Equipment – Cookware
For more helpful information, check out this article from The Huffington Post and this article from The Kitchn (although I don't completely agree with them shunning plastic).