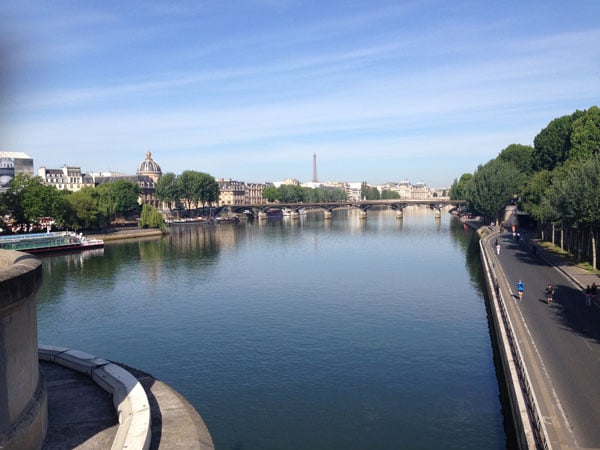 It would be fair to say that food is my main focus when I travel.  Even before my flights and hotels are booked, I usually have a list of foods I want to try and restaurant reservations I need to make.  But because I usually I don't have nearly enough time nor money to try everything on my list, I've learned to prioritize.  I try to experience foods that can only be found in whatever location I am in or maybe they are just done the best there.  I want to eat things that allow me to take in the moment and remind my taste buds there is no where else in the world I could have that experience.
Paris is one of the most challenging cities to prioritize. There are so many things to eat in Paris that it would take years to be able to experience them all.  While overwhelming, it's good to go in with some sort of a plan otherwise you may miss out on favorites and end up eating mediocre meals (yes, even Paris has bad food).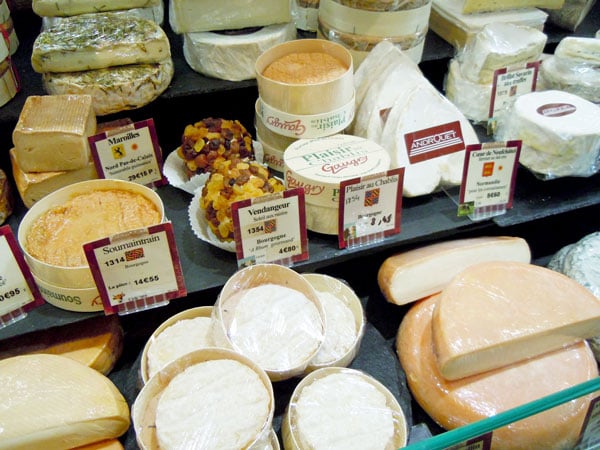 This list of my favorite foods to eat in Paris includes some of the meals, snacks, and restaurants that I look forward to eating each time I visit Paris.  The list is not exhaustive and I anticipate updating it with every trip.  If you feel I am missing anything, please let me know!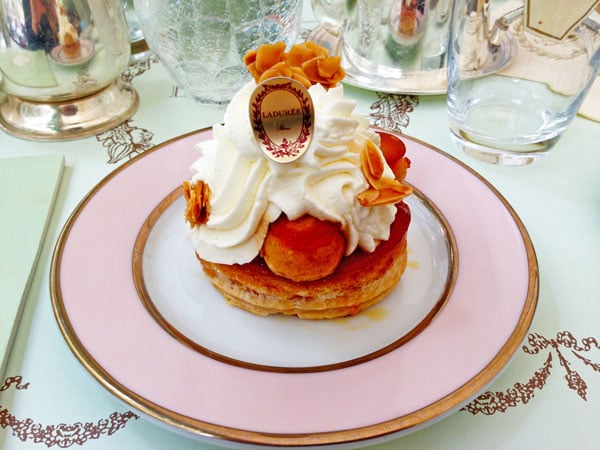 Tea and pastries at Ladurée on the Champs-Élysées
In no particular order, here are my favorite foods to eat in Paris.
Macarons
Pierre Hermé and Ladurée make the two cult favorite macarons in Paris.  Instead of choosing, I usually get a box from each shop and take them back to my hotel room to sample throughout my stay.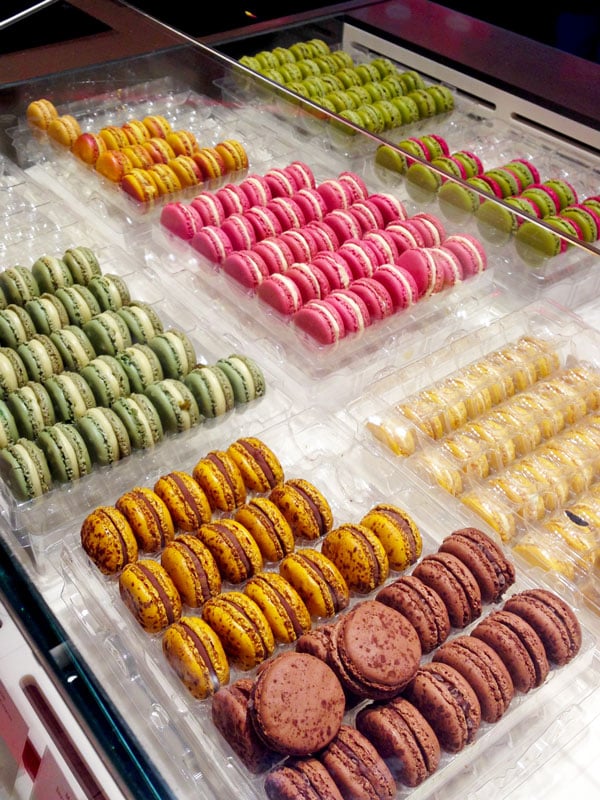 Where: Ladurée 75 Av. des Champs-Élysées Paris, France www.laudree.fr
Pierre Hermé 18 Rue Sainte-Croix de la Bretonnerie Paris, France www.pierreherme.com
Tartine Breakfast at Maison Kayser
Eric Kayser is often credited with making some of the best baguettes in Paris. Eating his tartine breakfast is one of my favorite ways to soak in the moment and remind myself I'm in Paris.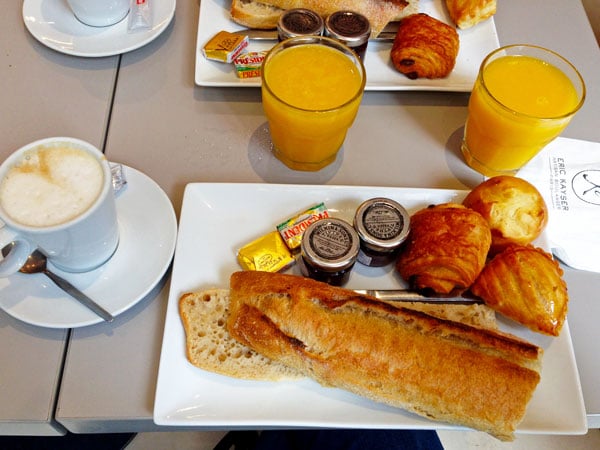 Where: Maison Kayser 18 Rue du Bac, 75007 Paris, France (there are many locations but this is my favorite, near Musee d'Orsay) www.maison-kayser.com
Falafel
You'll find this listed in every guidebook and it's likely to be swarmed with tourists when you arrive, but it's worth it to brave the crowds.  Try the falafel, a side of fries, and maybe even one of the Israeli beers. The shwarma sandwich is great too, but try the falafel first.  L'As du Falafel runs like a machine so you'll be eating and on your way in no time, even when there's a line out the door.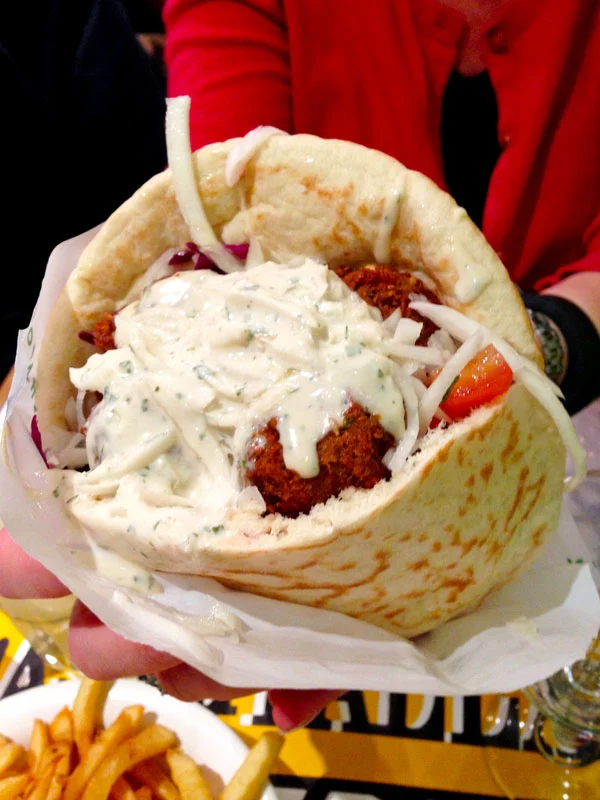 Where: L'As du Falafel 32-34 Rue des Rosiers, 75004 Paris, France
(No website but check out this review from the New York Times)
Dinner at Yam'tcha
Dinner at Yam'tcha could possibly rank as the best meal I've ever had.  Chef Adeline Grattard seamlessly fuses her classic French training with her experience working in Asia to create food that is creative, technically flawless, and always delicious.  It's a bit of a splurge, but if you have the opportunity to set at the chef's table, do so. Also, be sure to get the tea pairings which really made the meal a stand out for me.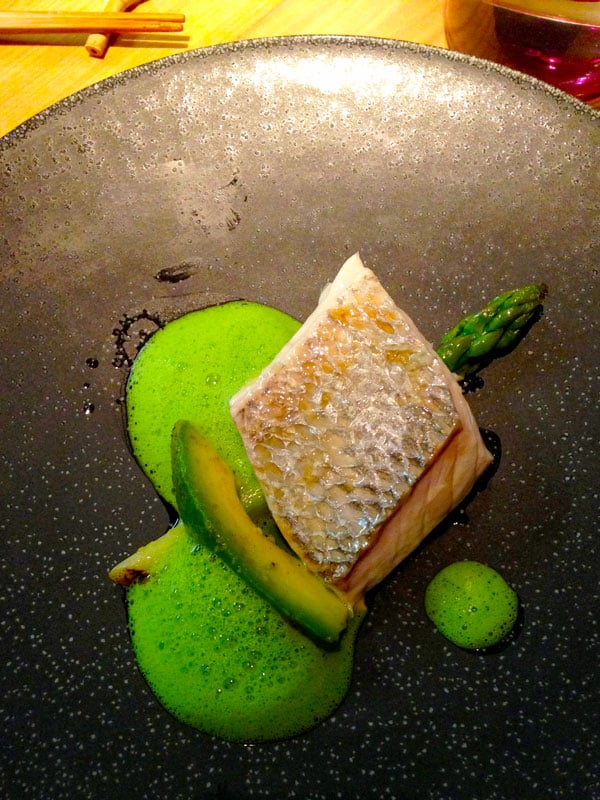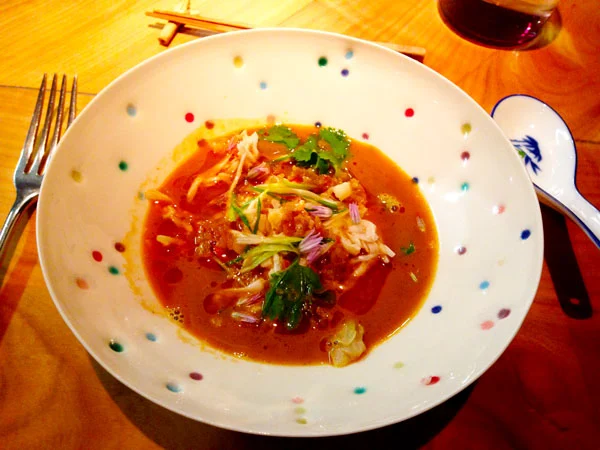 Where: Yamtcha Restaurant 4 Rue Sauval, 75001 Paris, France www.yamtcha.com
Foie Gras
If I am being completely honest, there are many foods that I prefer to foie gras. However, when you're in Paris, it feels fitting to treat yourself to the delicacy.  Some of the best foie gras can be found at Maison Guyard, a small speciality food shop located in Saint-Germain-des-Pres on the Left Bank.  This shop sells many prepared foods, specialty items, and cured meats.  Everything is made in-house and ready for Parisians to pick up for dinner on their way home.  If you're staying in an apartment, you may want to visit the shop early in your trip and purchase some items to snack on throughout the week.  The shopkeepers are very helpful and will give you samples. It's a fun way to eat like the locals and they even have foie gras packaged in tins for you to buy as a gift for loved ones back home.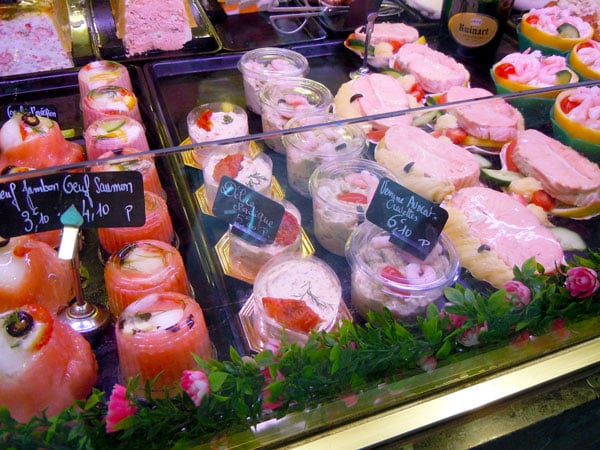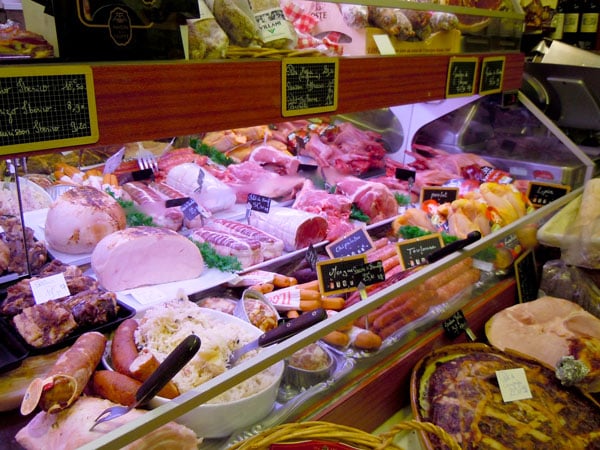 Where: Maison Guyard 42 Rue De Verneuil 75007 Paris
(No website but check out the Tripadvisor page)
Classic Bistro Dinner
If you're looking for the traditional French bistro meal, head to Le Bistrot Paul Bert in the 11th where you'll find a seasonally-focused classic French menu. The menu changes frequently, but if they have it, I'd order the steak-frites and of course, whatever they are offering for dessert.  For a more modern take on the bistro, you may want to try the sister restaurant Le 6 Paul Bert located just next door where I had an absolutely wonderful meal during my last visit to Paris.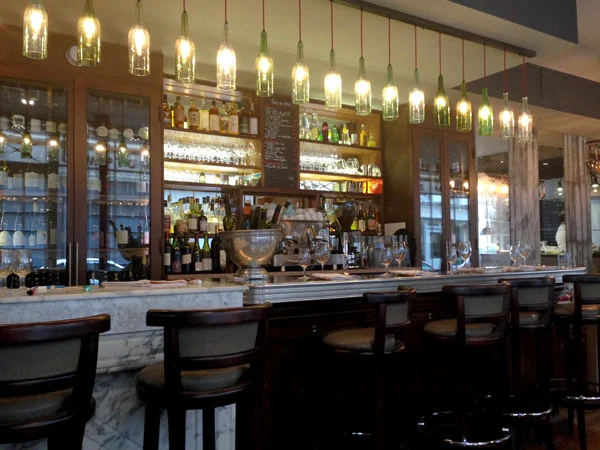 The bar at Le 6 Paul Bert
Where: Le Bistrot Paul Bert 18 Rue Paul Bert, 75011 (No website but check out the profile on Paris by Mouth)
Le 6 Paul Bert 6 Rue Paul Bert 75011 (No website but check out a review by David Lebovitz here)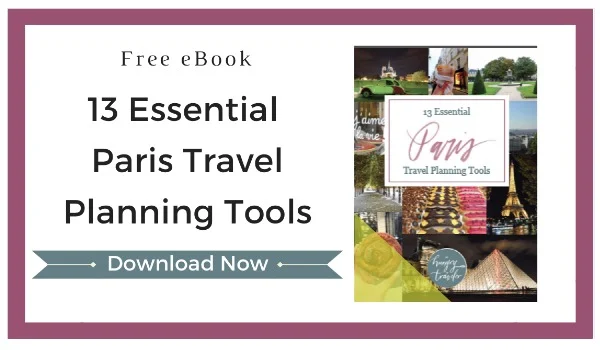 Croissants
When I'm in France,  I make it a priority to eat as many croissants as I can get my hands on.  For me, they are the perfect breakfast and a great snack any time of day.  Croissants are one of my absolute favorite foods and no one can make a croissant like the French.  When you're in Paris, some of the best croissants are said to come from Blé Sucré but you can also check out this list of the top croissant winners from contests held in the past few years. Make sure the croissant you choose is croissant au beurre which is made with pure butter and usually long and straight. Avoid the croissant ordinare which can be made from other fats and are usually curved in shape.
Where: Blé Sucré 7 rue Antoine Vollon, 75012 (No website but check out their profile on Paris by Mouth)
Chocolate
Plenty of delicious chocolate can be found in Paris but my favorite comes from Pierre Marcolini in the Rue du Bac on the Left Bank.  The store is gorgeous, the staff friendly, and the chocolate is of the finest quality. Pierre Marcolini is dedicated to chocolate making from the raw bean to the finished bar and this boutique celebrates the process.  They release new collections each season and their beautiful boxes of chocolate make the perfect souvenir to take to friends and family back home.
Where: Pierre Marcolini 78 Rue du Bac, 75007 Paris, France http://www.marcolini.be
Roasted Chicken and Ile Flottante at Le Coq Rico
Le Coq Rico cooks one thing and that's poultry. You have your choice of birds (chicken, duck, or pigeon) but you'll be happiest if you order the roasted chicken. The chicken is cooked to order, so settle in at a table and order an appetizer (I recommend the almond-crusted poached egg) while patiently waiting for your chicken to cook.  After about 45 minutes, a beautiful golden brown bird will be presented to the table with your choice of frites or macaroni and cheese on the side (get both).  Don't forget the île flottante (floating island) for dessert which is the best version of the classic dessert that I've ever had.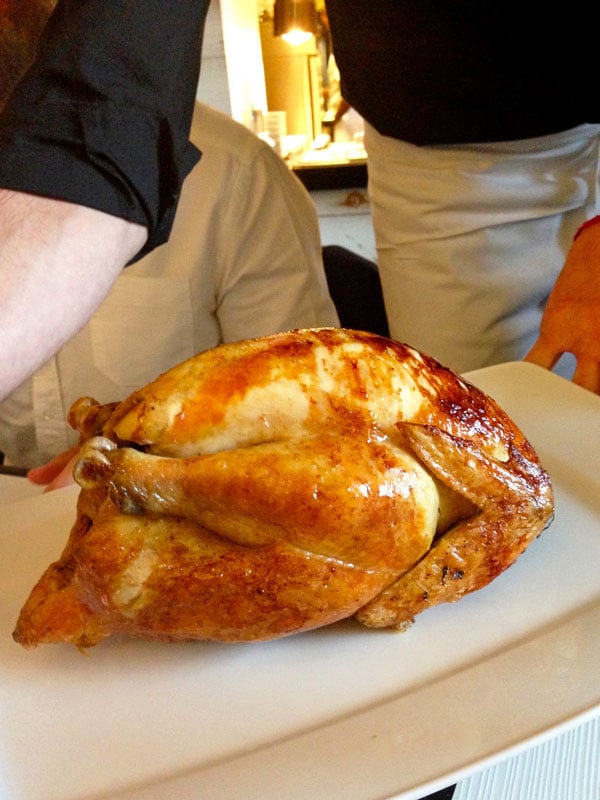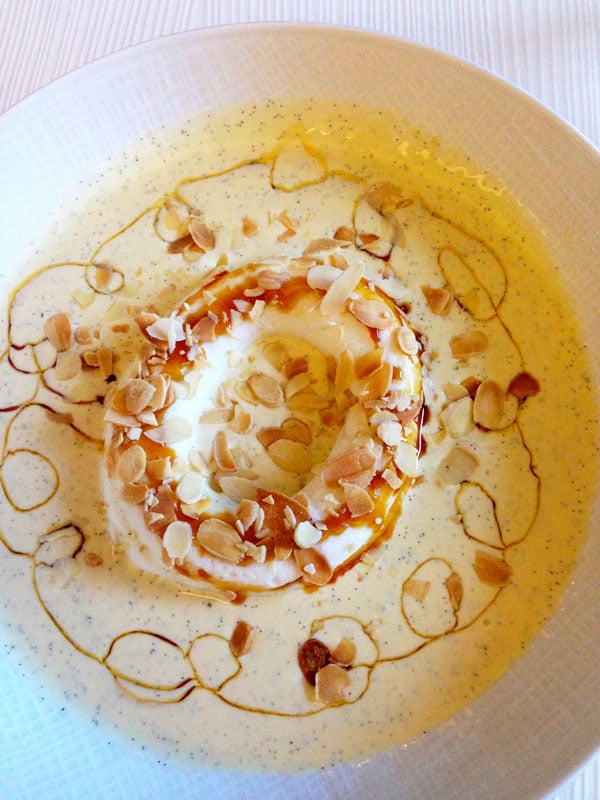 île flottante
Where: Le Coq Rico 98 Rue Lepic, 75018 Paris, France www.lecoqrico.com
Ice Cream at Berthillon
A well-known Parisian institution, the ice cream at Berthillon is worth seeking out. The deep, true flavors of Berthillon are what many consider the best ice cream in the world. The caramel beurre salé (salted caramel) is my favorite but many people swear by the fruit sorbets. The shop is closes in mid-July and remains on vacation for the month of August, however many cafes and restaurants around Paris scoop Berthillon ice cream so you can still get your fix if you're there when they are closed.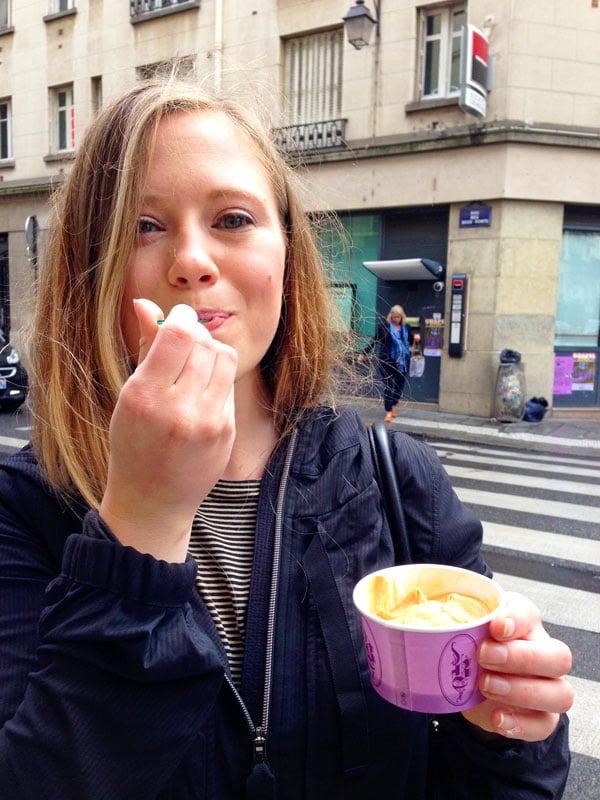 Where: Berthillon 29-31 Rue Saint Louis en l'ile 75004 Paris  http://www.berthillon.fr
Crepes and Galettes
If you're in Paris, you need to make sure you eat a crepe.  I prefer mine simple with just some butter and sugar so I can taste the actual crepe but there are many varieties (sweet or savory) and flavors (nutella, banana, salted caramel, cheese, etc.) to be had.  Some of my favorite crepes have come from La Droguerie du Marais where you can order at a walk-up window and then watch the skilled crepe makers at work.  Once your crepe is ready, enjoy it while walking through the quaint Marais streets.  If you're looking for a sit-down experience, check out Breizh Café, a Breton restaurant specializing in buckwheat galettes, sweet crepes, and hard ciders.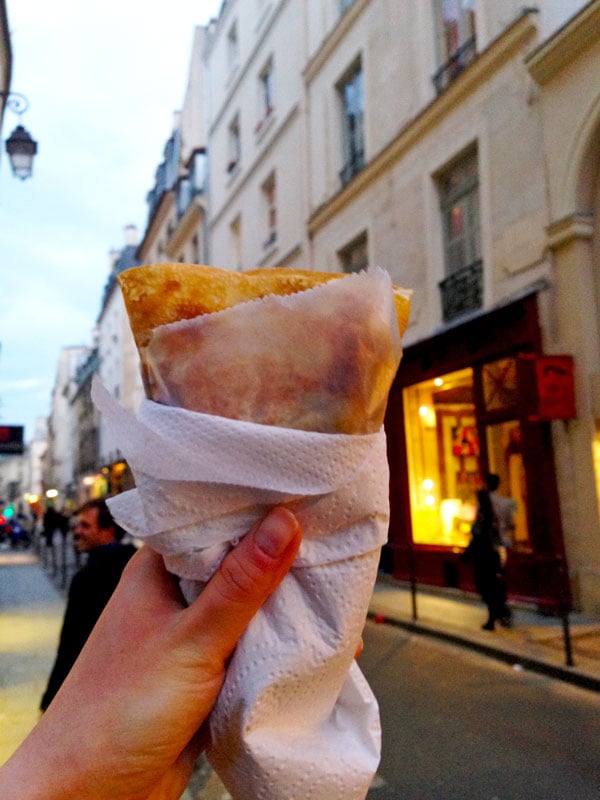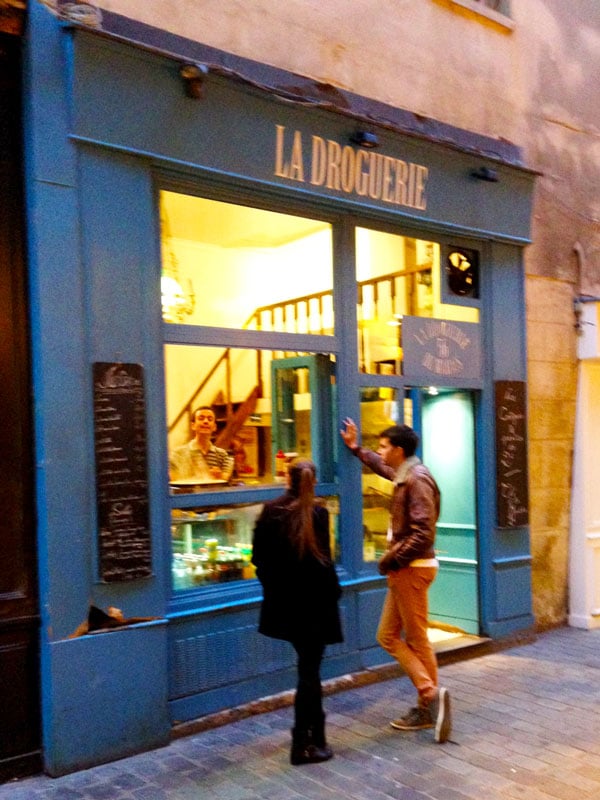 Where:
La Drogerie du Marais 56 rue des Rosiers 75004 (No website but check out their Yelp page here)
Breizh Café 109 Rue Vieille du Temple 75003 Paris http://breizhcafe.com
Paris-Brest and Kouign Amann at La Patisserie des Rêves
Often voted the best in Paris, the Paris-Brest from La Patisserie des Rêves is one of the best pastries I've ever had.  It's perfectly balanced with a deep nutty hazelnut flavor, a runny praline center, and a crispy pâte à choux crust.  It's by far one of the best things I've ever tasted and worth seeking out while you are in Paris.  While you're there, pick up a few other pastries and be sure to grab a kouign amann too.
Where: La Patisserie des Rêves 93 Rue du Bac 75007 Paris  http://lapatisseriedesreves.com/en/
Cheese and Bordier Butter
I visited Androuet as part of a culinary tour I took with Context Travel.  If you like cheese, it's definitely worth a stop.  I recommend picking out a few varieties of cheese (ask the shopkeeper for suggestions) and a jar of jam, grabbing a baguette from the nearby Eric Kayser, and having a small picnic nearby.  Don't forget to try the renowned Beurre Bordier  which will make you fall in love with Paris if you haven't already.
Where: Androuet 37 Rue de Verneuil, 75007 Paris, France http://androuet.com/index.php
What are your favorite things to eat in Paris?  What must you eat every time you visit The City of Light?  If you haven't been to Paris, what are you most looking forward to trying?  I could talk about Paris all day so comment below and let's chat! 
Be sure to check out my post on Paris for Beginners – Tips for Stress Free Travel