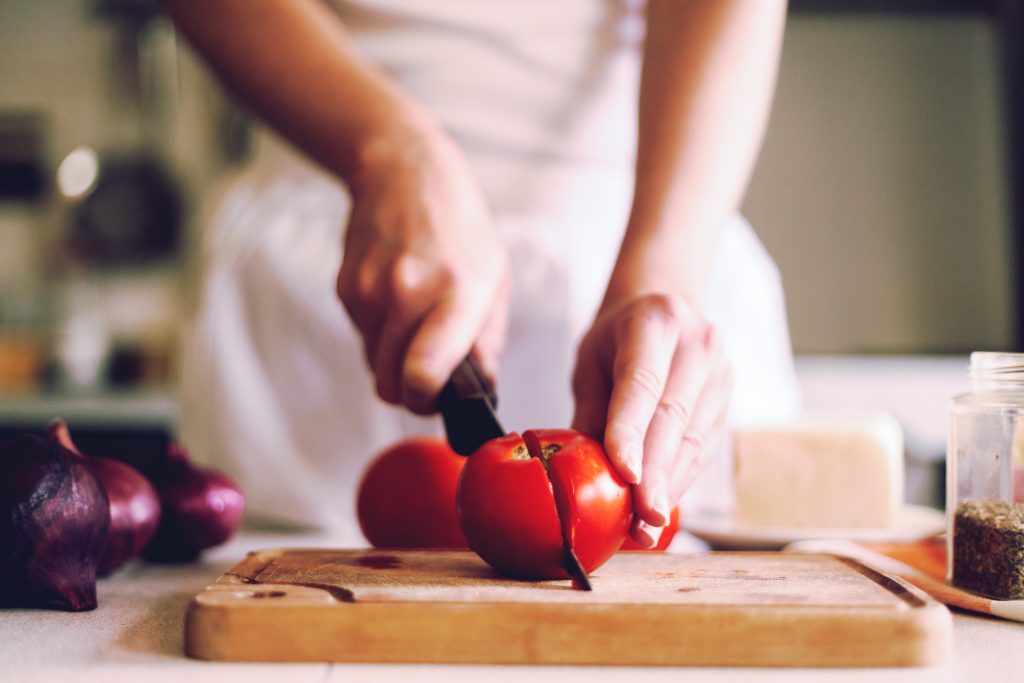 I'm teaching a knife skills class at Findlay Kitchen on September 29 from 6:30 – 9:30 pm.
If you're in Cincinnati, I would love for you to join us!
Why take a Knife Skills Class? Well, 90% of what you do in the kitchen involves a knife so you should know how to use one. Learning some proper technique will make you a faster, safer, and better cook. It will be fun, too!
It's a hands-on class where we will learn the proper way to hold a knife, how to set up your cutting board, and then do a bunch of slicing, dicing, chopping, and mincing.
You can sign up for the class here and there are more details below.
---
WHY DO I NEED A KNIFE SKILLS CLASS?
To make your kitchen life easier. Once you know some proper knife skills, everything in the kitchen becomes faster, easier and safer. Additionally, 90% of kitchen tasks involve cutting something with a knife. If you are going to take one cooking class, this should be it.
To be honest, most of you probably hold a knife incorrectly and don't even know it! We will go over the safest ways to use and store your knives. By the time we finish, you'll be confident at the cutting board.
WHAT WILL WE LEARN?
Kitchen safety, proper knife handling techniques, how to choose a knife, how to hold a knife, how to set up your cutting board, slicing, dicing, chopping, mincing, etc.
BUT I ALREADY KNOW HOW TO CUT STUFF…
Well, I'll teach you some other techniques and a few other skills and tricks to help. I promise you'll come away learning something. I've worked in professional kitchens and know some short cuts (some may call them 'life hacks') to help make prep faster and easier!
WHY ARE YOU QUALIFIED TO TEACH US?
I received professional culinary training at Midwest Culinary Institute. I spent a few years as a corporate chef in the Executive Kitchen at American Financial Group / Great American Insurance — you may know it as that big tower with the tiara downtown. I've done catering and private chef work. Now, I teach classes! Bottom line: I've cut up a lot of veggies.
HOW MANY PEOPLE WILL BE IN THE CLASS?
12 people max.
IS THE CLASS HANDS-ON?
Yes. Each student will have a station equipped with an apron, cutting board, several knives, and a big pile of vegetables.
WILL I GET TO PRACTICE?
Yep! I'll demo each skill and then everyone will go back to their station to practice. I'll have a few extra of each vegetable so if you want more practice, you'll have that option.
I'M SCARED ABOUT KNIVES AND KNOW NOTHING ABOUT COOKING! WILL YOU BE THERE TO HELP?
Yep, me and three very qualified assistants will be helping students with each skill.
WILL THERE BE BEER AND WINE?
Do you even know me? Yup. Rhinegeist and Braxton beer and red and white wine. Also bottled water. If you want a non-alcoholic option, just let me know and I'm happy to make accommodations.
WILL I LEAVE HUNGRY?
Nope. We will have bahn mi sandwiches and spring rolls from Pho Lang Thang. You can also snack on the veggies as we are working.
WHAT DO I GET TO TAKE HOME?
All of the vegetables you chop, slice, and dice in class. I'll provide ziploc bags so you can take home what you want.
WILL IT BE FUN?
Yup!!
HOW DO I SIGN UP?
You can sign up here.