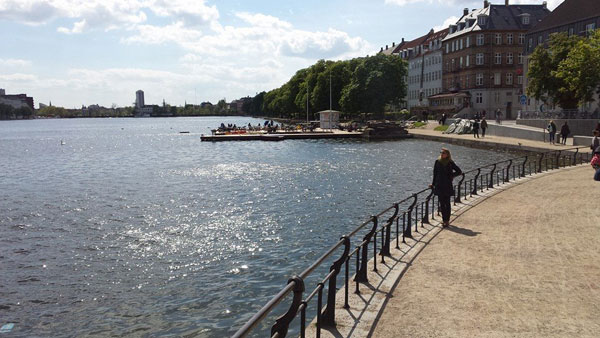 Jessie Svet Reedtz was introduced to me by Missy Hanley, my friend and the subject of the last Hungry Traveler Interview. I've never actually met Jessie in person but after chatting with her online and reading her interview answers, I feel like I know her. We have so many common interests that it's surprising our paths never crossed we were both studying at The University of Cincinnati.
Jessie is a seasoned traveler, an accomplished cook, and basically just a really awesome person. I had a blast learning more about her life living in Copenhagen and experiences living in India and Japan. By reading her interview answers, I couldn't help but sense her adventurous personality and love of life.
Jessie has so much travel advice and so many stories to tell that I decided to break her interview into two parts. In part one, Jessie tells us about moving to Denmark and what it's like to live in Copenhagen.  Part two is more focused on travel and some of her best eating experiences from around the world.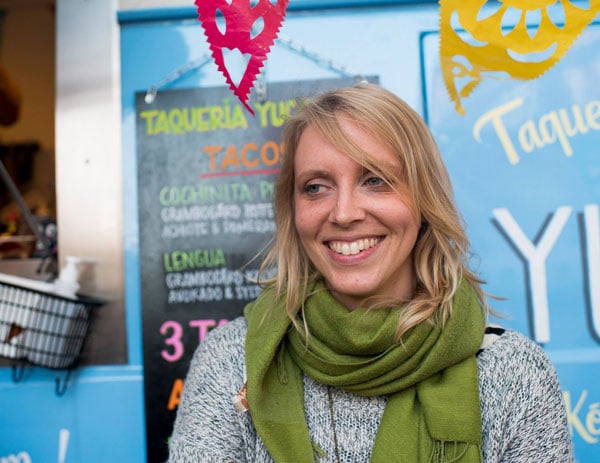 Q: Let's start with some background. Can you tell us about yourself and how you ended up in Copenhagen?
I grew up in Akron Ohio, and studied marketing and journalism at the University of Cincinnati, but was always involved with nonprofits. After working as a grant writer for a year, I was given the chance to teach English and yoga at a school in a village outside of Chandigarh India, as well as do some location scouting and assess the program for future grant funding. It was a 10-week gig, so I quit my job, hopped on a plane and about three weeks later I just happened to meet the Danish man of my dreams. We had a 30-day first date, and five months later he proposed. I've been in Denmark for over three years now and I love it. I've had the chance to study a bit of multimedia design for free, I learned Danish and I worked for two years doing online marketing for an international engineering firm. I am now finally settling into what looks like a career shifted towards the design and communication side of things. I'm now working with motion graphics and interaction design and am putting together a portfolio that I'm pretty excited about.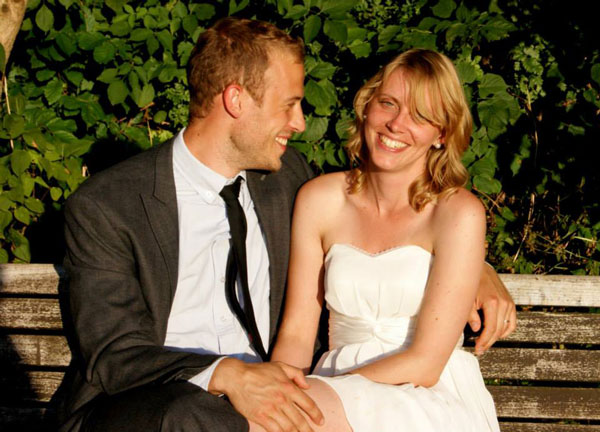 Jessie and her husband Lasse
Q: What was it like moving to Denmark?
It was so easy to move to Denmark! Copenhagen is a beautiful European city with all the things you expect from a country's capital. It has been named Monocle's Most Livable City the last two years and Denmark consistently ranks as one of the happiest countries in the world. Danes are also the best speakers of English as a second language. I love cities, so there was always something to keep me busy while I waited for my residency permit to be approved. I could go on and on but you can just read about it here or watch a video about it here.
The flip side of that coin: I've moved quite a few times and every time you move there are a few common barriers that make it difficult. For example, you don't know anyone and you don't really have a routine or a community yet. I love meeting new people and talking to strangers, but this is just a time consuming and lonely process some of the time. I generally try to join a club or volunteer, and say yes to everything!
Danes are pretty serious about winter hibernation when we only have around seven hours of daylight. But even this downfall has an upside! It's called 'hygge' which is difficult to translate, but in the winter it means lots of candles and hot tea and good friends in a cozy place together. It's sort of an atmosphere and sort of an action.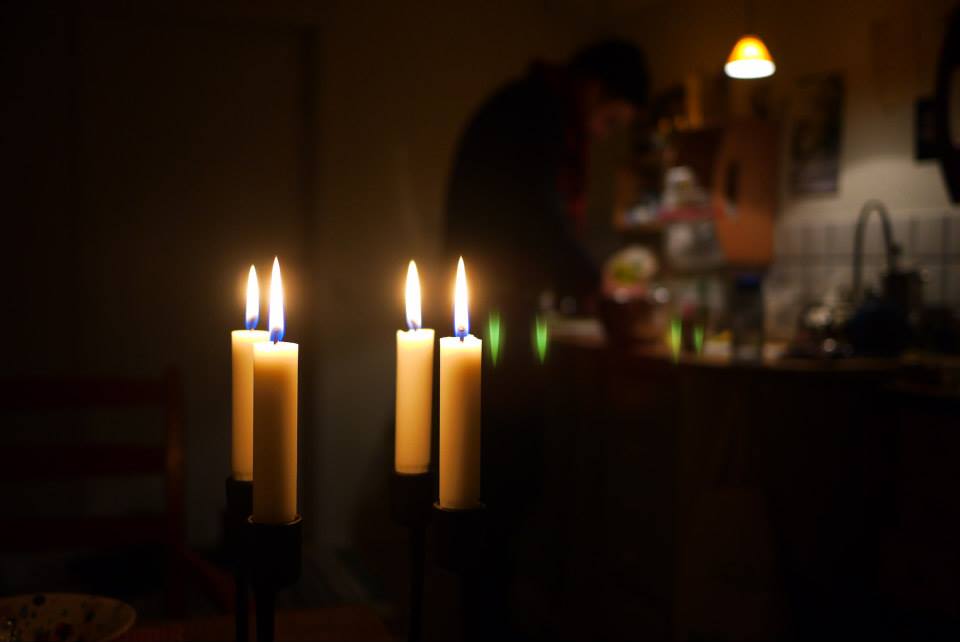 Hygge
Q: What are the biggest pros and cons of living in Denmark?
Denmark's biggest downfalls are the dark winters and the attitude towards immigration. But honestly, I was crazy in love so I really wasn't worried about anything and I hardly noticed my first winter. We laugh at ourselves now looking back, because we just couldn't wait any longer to be together.
I feel a bit odd saying it, but I didn't understand the meaning of the word freedom until I moved to Denmark. Copenhagen is a clean safe city with free healthcare, free education, near perfect public transportation that is affordable and a political system in which people feel like they can effect change translates into a life where you truly can pursue your passion and move up an income bracket. Many people complain about the 'crazy high' taxes (which are only around 40% for most people), but nobody realizes that minimum wage is well over double compared to the U.S., so it evens out for the majority of the citizens. In my opinion, there are a whole lot of things that just seem to work over here.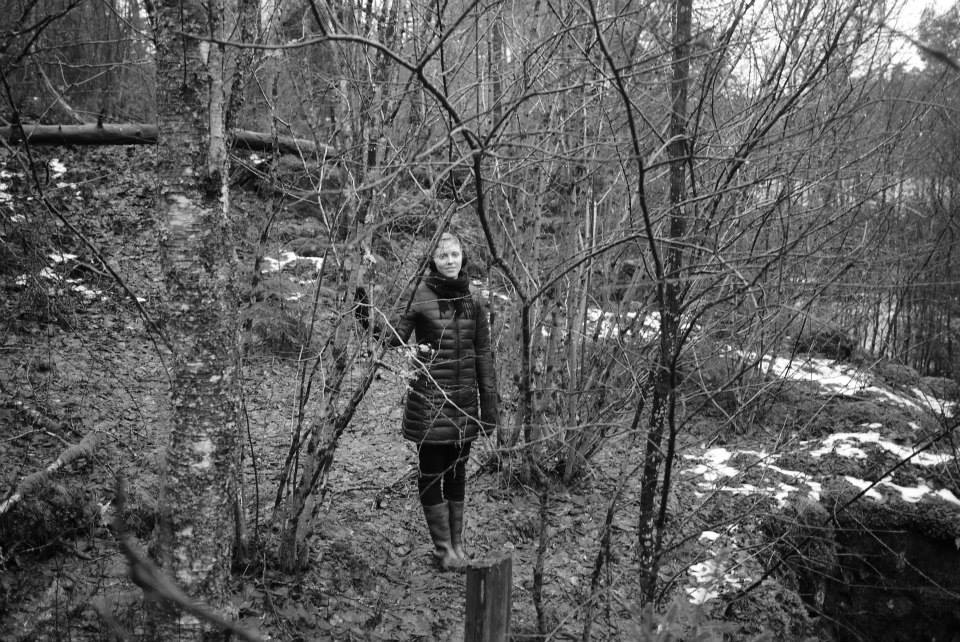 Jessie in Sweden
Q: What's the best reason to plan a trip to Denmark?
You should probably come for the food! Copenhagen just had 18 stars awarded to 15 restaurants and is the home of Noma, one of the best restaurants in the world. The Boston Globe just came through for that very reason and you can read about their experience here.
Q: How has living in Denmark changed you?
I sleep with the window open in the winters because I really want that fresh air and I eat cheese and jam on bread and call it breakfast sometimes.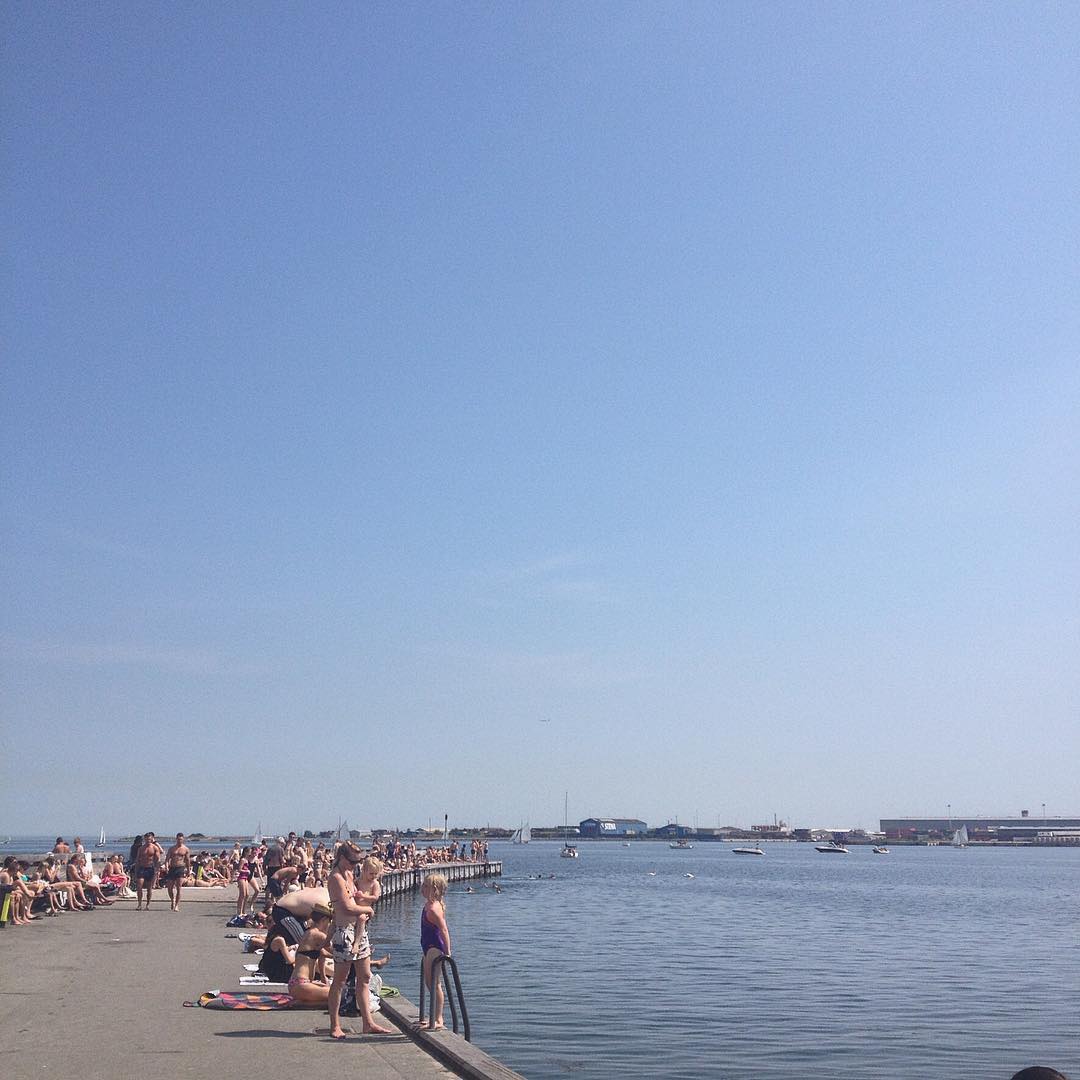 A Danish pier
Q: Talk us through your weekly diet. How do the Danes really eat?
Danes eat either granola or cheese and jam on bread for breakfast. Pickled herring and rye bread is as Danish as you can get. Put them together and you're eating the most common type of smørrebrød in the country. They eat smørrebrød or a hot prepared meal for lunch at work. Most students brown bag it, but if they don't they can also get smørrebrød or a hot meal at the school canteen.
Dinner is often cooked at home, This is a pork and potatoes country at it's heart. The food culture is shifting in the capital and some of the grocery stores are doing a good job at educating the average Dane about international food. Curry is pretty popular and there are 'Mexican' sections in a lot of the stores, but it feels like the American version of taco night from the 90's. Where the Danes really excel is their local produce and dairy products. Next to their pork chops you'll find leeks and fennel, more varieties of kale and cabbage than America can dream of, plenty of spring strawberries and a variety of cheese and yogurt. If a Dane had a hot meal for lunch, they might do cold smørrebrød for dinner. It's super easy, fast and cheap. Other varieties include, liver pate with pickled beets, shrimp with mayo, cold cuts with pickles or fried fish fillet with remoulade.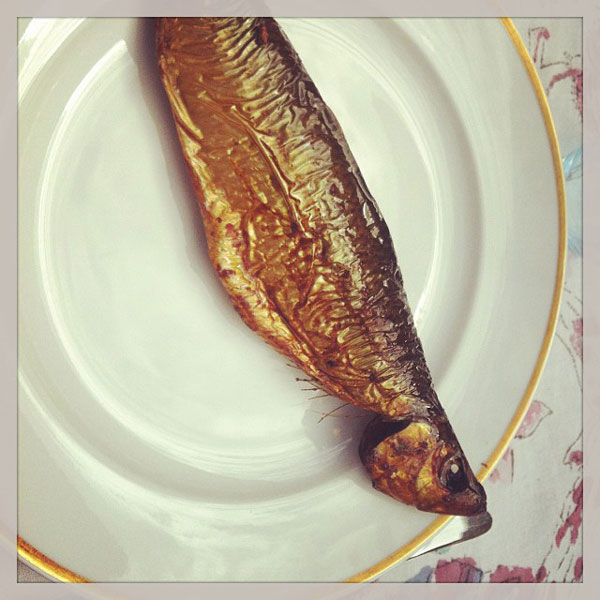 Smoked herring
Q: We hear a lot about the new Nordic cuisine and how it has influenced some of the top chefs across the world. How has it impacted dining in Scandinavia? 
Noma took a step back in time when it began foraging for many of the foods that grow here naturally which Danes had forgotten about. Chef Rene Redzepi did it with artistic presentation and sat them beside some experiments which are on the cutting edge of food science. He took old world and new world and made them look like friends on the same plate. His popularity had a huge impact on the food culture in Copenhagen and I'm betting that it doesn't end anytime soon. Danes like to cook and like to learn. Having a hobby is a valuable thing and men and women share the responsibility equally throughout the country. Some home delivery grocery and meal services are making it easy to access organic and hard to find ingredients, so it's a pretty exciting time to be eating in Copenhagen.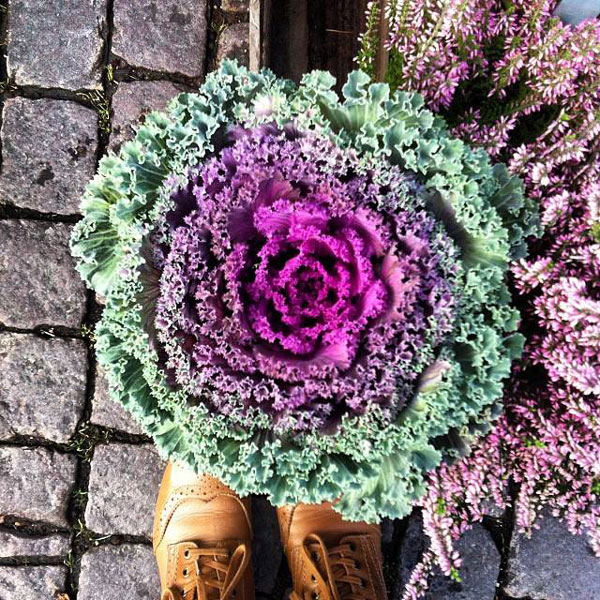 Danish kale
Q: Do you have any helpful advice for eating in Copenhagen?
If you're traveling here, be prepared for expensive eating. It's a bit of a mission to find mid-range restaurants where you'll also be happy with the food, but it is possible. I recommend Smag, or WeDoFood for wholesome food that's fast or that you can take with you. These are to-go places with a few bench seats inside. You can do some research on where to eat dinner on the AOK website. That's the English version of the site Danes use to find out what's new and good in the city.
Why so pricey? It's not the taxes, but the wages. Even the dishwasher is taking home about $20 per hour, which makes for pricey eating. Also, Danes are not the type to eat out all the time. Danes cook at home in the evenings and many have prepared meals served at their offices for lunch. That squashes the mid-range lunch options and means that dining becomes an experience. You typically have a table for two to three hours when you make a reservation and it's always a good idea to make one. Most places offer online reservations, so check online earlier in the day to make plans for dinner. Also, some restaurants close between lunch and dinner, or have dinner service only starting around 5 pm.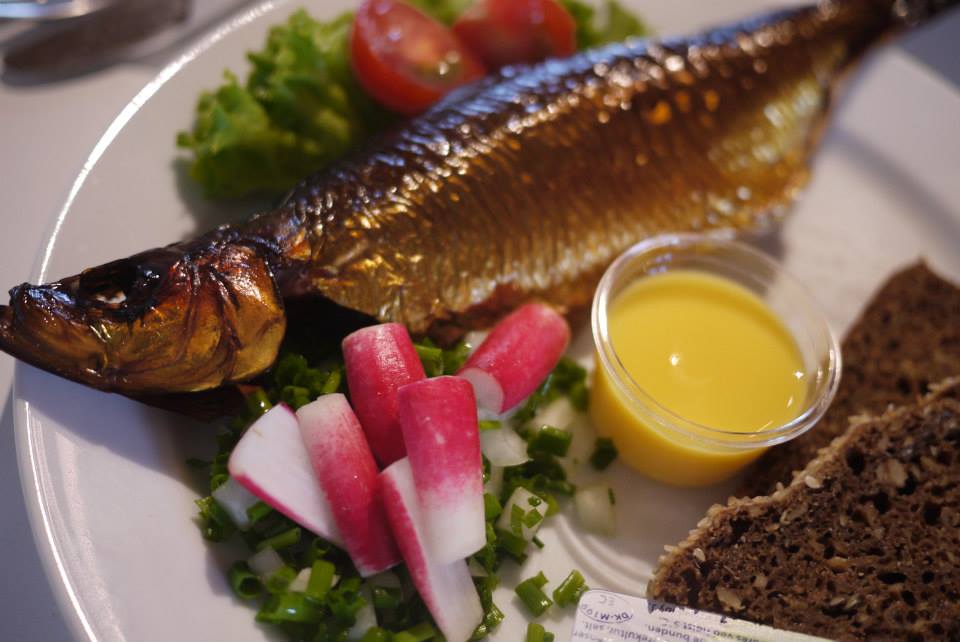 Q: Where are some of the best places to eat right now?
Tovehallerne, a gorgeous glass enclosed mini food market, by Nørreport station in the center of the city. You can try traditional Danish smørrebrød here at lunch, grab awesome coffee at the Coffee Collective, grab a steamed bun sandwich at Bahn Mi Daily, or get the best duck confit sandwich in town at Ma Poule.   Cofoco Restaurants for sit down dining are all amazing right now — specifically Host, Llama, Les Trois Cochons or Oysters and Grill (this one is younger and grittier in the hip part of town). Also great, Manfred & Vin, Relæ, or Bæst where they make their own fresh mozzarella, which is served in this huge marble bowl with high quality olive oil on top and fork. Yes please! They also have great stone fired thin crust pizzas.
Now if we're talking fine dining, the etiquette is European with the fork in the left hand and knife in the right at all times. You can rest both by leaning them on each side of your plate. When you're finished, they go together, fork up, handles to the right. Cheers is 'skål', pronounced skole. At cafes water is serve yourself in a corner somewhere and at a fancy place, you'll likely pay for every glass of H2O, so get it sparkling or upgrade to a cocktail.
Standard 'cheap' night out fast food for Danes is a 'kebab', and by kebab, I actually mean shwarma or gyro. It's a pita or durum bread with shaved meat or grilled kebab removed from the stick with lettuce, tomato and a bit of garlic cream sauce. Add the hot sauce yourself. They are fantastic!
Next biggest move is a pizza in the park. There are a ton of 711s throughout the city with ok-ish salads and sandwiches, yogurt and snacks. But you could also stop in a grocery store such as Netto, Fakta, Fakta Q, Kiwi, SuperBrugesen… this list goes on, but Irma is the high-quality expensive one. Just ask someone working in a shop where the closest supermarket is.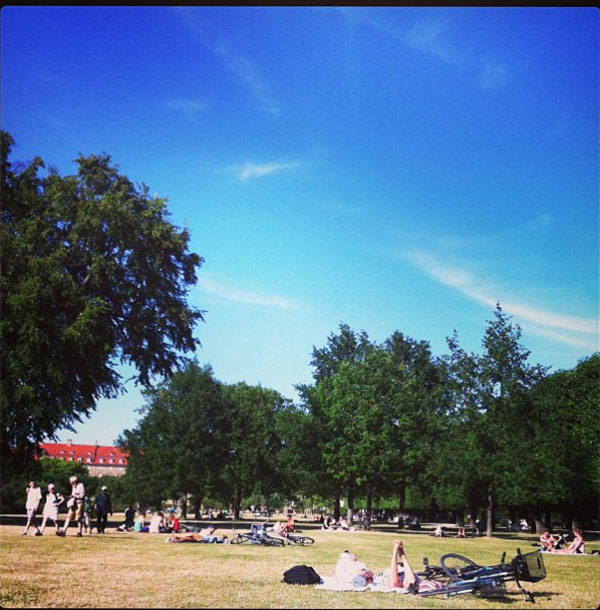 Pizza in the park
Danes are big on picnics, and you can drink in the park so most of us just swing by the supermarket and grab a bottle of twist top wine. Ok really Danes drink beer, so you often see Carlsberg or Tuborg, which is equivalent to Budwiser. If you're feeling like a decent beer, go for a Mikkeller on the expensive and complex side or a smaller Danish brewery on the cheap side. You can buy them by the bottle and spot them by the funny Danish letters Å Æ or Ø.
You could also try a Danish hotdog on the street, which holds it's own next to a Chicago or NYC style dog. It comes with mustard, fried onions, pickles and an extra long bright red sausage.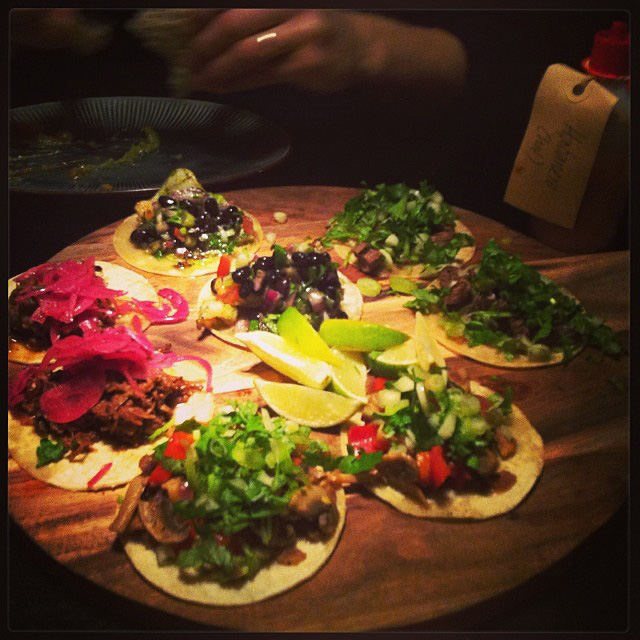 Mexican food in Copenhagen
Q: Speaking of grocery stores, what would one find in the USA section of the international aisle in a Copenhagen grocery store?
The only weird thing is that they mix US, UK and Australian products on the same shelf. But you'll find plenty of American brands, or brands that are popular in the US, at the store outside of the American section. Coke, Heinz, French's, Nestle, Reese's, KitKat, Oreo, Kellogg's and Hellman's are all here. The American aisle has things like marshmallows, canned pumpkin, mac and cheese, boxed cake mixes from Betty Crocker and Dr. Pepper. Oh, once I saw marshmallow fluff.
Q: What foods do you miss the most from home? What do you cook when you're trying to get a taste of home?
I make corn bread every once in a while, and I made a blueberry pie last week. I don't miss much really. You can get plenty of it here. We have good maki rolls at Sticks&Sushi, American-style mexican food at Taco Diner where I can get a smothered burrito with refried beans and a coke, chicken tikka masala or curry at Bindia and even a decent Boston cream donut at The Donut Shop. McD's is global and unfortunately so is my nugget habit.
I miss things that are really specific for a place, that you can't replace. But every time you move, you lose something and you gain something. I miss Swenson's double cheeseburgers in Akron Ohio, I miss Gold Star Chili cheese fries in Cincinnati, I miss having a garden to grow enough basil to freeze homemade pesto for the winter. But when I move away from Denmark I'll miss flødeboller, I'll miss the special Danish rye bread and curried herring, and smørrebrød (open faced sandwich on rye). I'll miss Hyldeblomst saft (Elderflower juice). I will NOT miss finding licorice (and ammonia flavored licorice, WTF Denmark?) every time I turn around though!
Swensons in Akron, Ohio
Q: Do the Danes hold any misconceptions or stereotypes about Americans?
They think everyone is fat, rich and has 2 cars. There's a love-hate relationship with the US. They don't want to be like Americans, but they are still fascinated by us. Also, they don't realize the scale of poverty or homelessness in the US, but I think that's sometimes also true for Americans.
Q: What stereotypes or misconceptions do Americans hold about the Danish?
That we don't have running water, that everyone wears wooden shoes and bonnets and lives next to a wooden windmill. My mom thought that a garbage man and a lawyer had the same income because of socialism. Also, sometimes people get confused and think Denmark is in Holland that that we speak Dutch. I find that generally Americans don't realize that many cities in Europe are totally modern, functional places, with many of the amenities you expect and some you don't.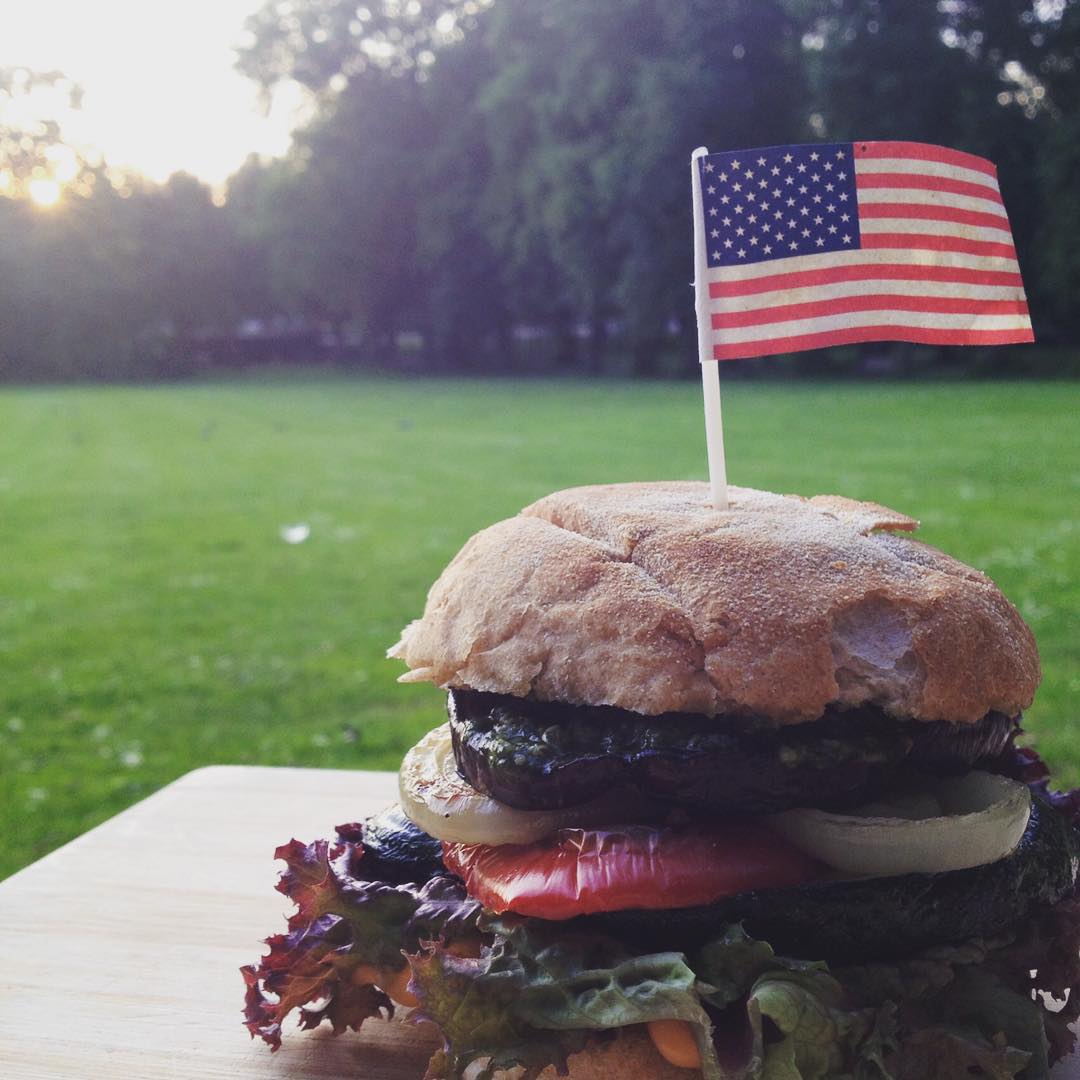 A taste of home on the Fourth of July
 Q: What has your experience as an expat been like?
If I did it over again I would have applied for my residency before I moved here so that I could get started working as soon as I got off the plane, and I would have moved here in the spring when the city is waking up.
But, once my visa was approved, everything was available. Once I started applying, it only took about a month to land a good job and I picked up a restaurant job within a week. It depends how fast you can get your applications out. I love the workplace culture here. The structure is very flat, there is a ton of autonomy and respect no matter your position in the organization. This also means there is a high level of trust in you as an employee and you need to be able to plan your own work, stick to your own deadlines and set your own boundaries with colleagues.
Danes generally believe that no one person is better than another and every one is responsible for being well informed and having opinions on the latest news stories. Politics is a welcomed conversation, and nudity is not considered sexual, it's just nudity. You're allowed to drink in public and be naked in public, both within reason, which naturally leads to the fact that all topics are fair game. Fortunately, Danes hold their alcohol well and are respectful people who are up for interesting and deep conversations.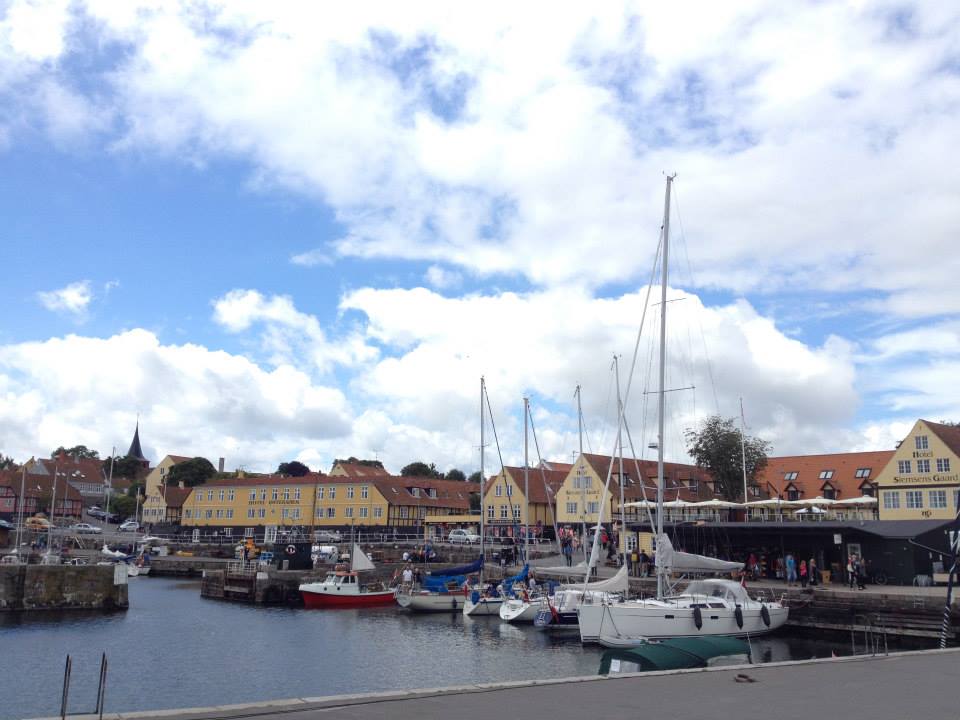 Bornholm, Denmark
Q: When you leave Denmark, what will you miss?
Hygge and bicycling
Check back soon for the second part of our interview with Jessie where she talks about all of her travels and the best food experiences she's had around the world! 

Jessie in Paris
About Jessie
Jessie Svet Reedtz was born in San Diego, CA but grew up in Northeast Ohio, where she moved around frequently with her parents.  She first fell in love with travel at age 18 when she flew to NYC alone for two weeks with only $200. Jessie went to college at the University of Cincinnati where she ran a hotdog stand and completed two study abroads in Japan and Chile. She worked as a grant writer for a nonprofit in Cincinnati, OH after graduation. While volunteering for 10 weeks in India, she met the love of her life and within a year was married and living in his hometown of Copenhagen, Denmark. She is currently studying motion graphics and interaction design and recently launched a food blog with a fellow hungry traveler. She enjoys yoga, pesto, pie and icelandic yogurt. You can find Jessie and her new blog, Eating Copenhagen, on Instagram at @jessiereedtz and @eatingcopenhagen respectively.