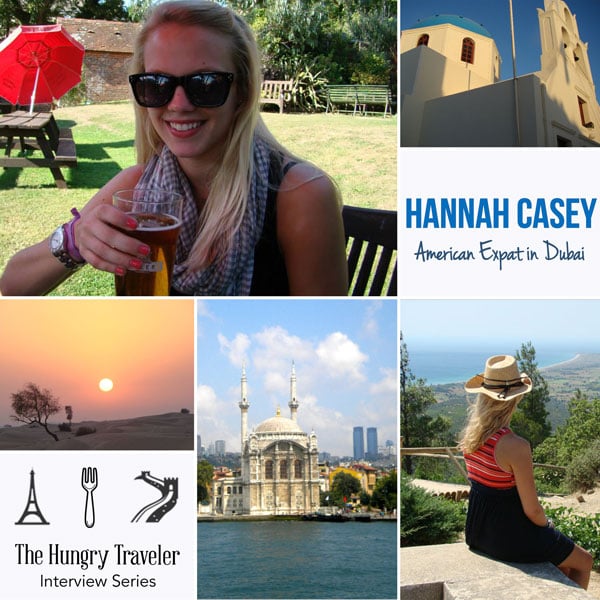 Hannah and I went to Perrysburg High School together.  She's one of those people that always seems to be doing something interesting, whether it's traveling or getting really good at yoga.  Hannah has spent the last year and a half as an American expat in Dubai.  I asked her if I could interview her to find out more about moving to Dubai, her life in the Middle East, and to get some of her best travel advice (she's a wealth of travel knowledge).  I had fun learning about Hannah's expat life and now I'm dying to travel to Dubai.
In the true spirit of The Hungry Traveler, Hannah also shared her favorite hummus recipe, which she talks about in the interview below.
Make a big batch of hummus, grab some pita, and enjoy the interview.
Q. Let's start with some background.  How does a girl from Perrysburg, Ohio end up living in Dubai? 
A. I grew up in Perrysburg, Ohio and then moved down to the great city of Columbus to attend The Ohio State University. After I graduated in 2013, I originally planned to backpack across Europe over the summer but it didn't end up happening. I knew I wanted to take at least a year out of college to figure out my career plans (grad school? career field?), so I was looking at the prospect of living in my brother's basement and looking for a full-time job. Lucky for me, I had recently started dating a dashing young Englishman, Matt, who had grown up in the wonderfully mysterious Dubai. I should also mention that Matt ended up at OSU after being recruited for the Men's Golf Team. His plans after graduation were to move back to Dubai and turn pro. When Matt left Ohio in August, we decided we couldn't bear to be apart, so my backpacking money went towards an extended trip to Dubai. I ended up finding a job within the first three weeks of my stay and I've now lived here for nearly a year and a half. I currently work as the head of marketing for a health & fitness club.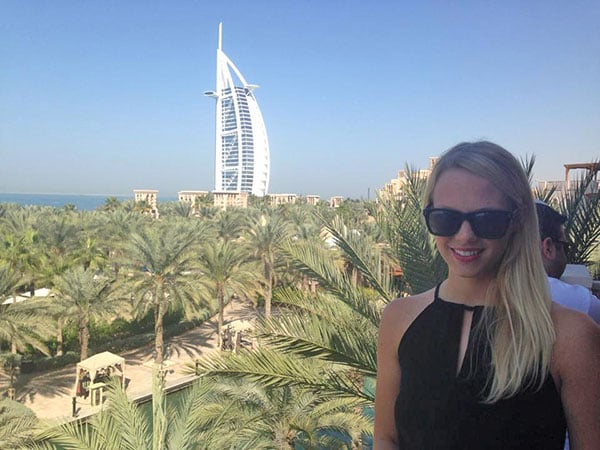 Q. Tell us about your experience moving to Dubai and now living as an American expat in Dubai. Was it tough to transition to life in the Middle East?
I wouldn't say I was worried about moving out here, since I knew I would have the support of Matt and his family who have been here for 20 years. The hardest part about living in Dubai is definitely being so far away from my family and friends. The time difference makes it hard to keep in touch, so it can be a bit isolating living out here.
When I moved here I quickly realized that Dubai is not actually so different from the US. Emiratis have a deep respect for Western culture, so I have never felt uncomfortable being an American in the Middle East. I also feel safe living here because the UAE is the most politically, religiously, and economically stable country in the Middle East. They have no tolerance for violence or extremism, which I think is one of the reasons people from so many different backgrounds and races can live peacefully together here. To be honest, there are times when I feel safer here than I would in America. In my opinion, that is the biggest misconception about Dubai.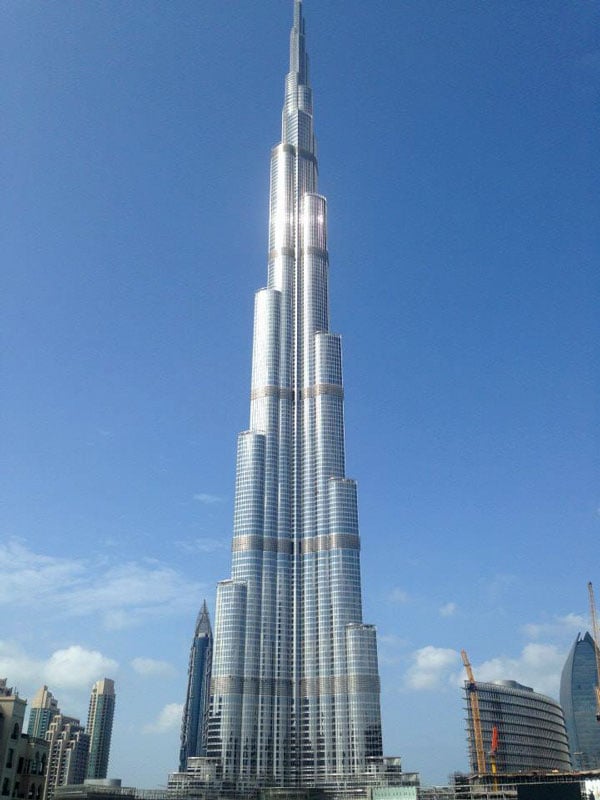 Q. While I was preparing for this interview, I was rather disappointed in myself to realize I don't know much about Dubai.  Of course, when I think of Dubai, skyscrapers, luxury, and opulence come to mind, but I don't know anything about the cuisine.  What's the food like in Dubai? 
A. The most interesting part of the food scene is brunch. Friday afternoon brunch is an institution. While the concept of weekend brunch is pretty universal, brunch here is taken to the next level, in true Dubai fashion. Since it is a Muslim country, alcohol consumption is only permitted in licensed establishments, which are hotels and golf clubs. Hotels extend themselves to be more like miniature cities in order to get around this. Every Friday, hundreds of hotel restaurants host all you can eat and drink buffets for 80-200 dollars a person. While this may sound expensive, when you consider that alcohol is heavily taxed here and a beer is never less than $10, it isn't so bad. Upscale hotels (you can be sure there are many here) serve absolutely incredible spreads. My favorite brunch location is at a hotel called Al Qasr, which overlooks the Burj al Arab and the Arabian Gulf. The hotel combines its restaurants to create what can only be described as a bacchanal of gourmet dining. Upon arrival you are greeted with a glass of prosecco, which will be refilled constantly throughout the day. I usually start with oysters, fine Spanish cheese, and prosciutto. The next course is usually sushi, then maybe some Thai curry or handmade pasta, and freshly opened coconut with a splash of Malibu. It is hard to even describe how spectacular the entire experience is, and it must be seen if you ever find yourself in Dubai.
The cuisine in Dubai reflects the international culture that the city was built on. Since Dubai is largely made up of expats, you are sure to find any type of meal from around the world, which makes the dining experience exciting and fresh. Chicken Shawarma is one of the wonderful foods I was introduced to in Dubai. Similar to a Greek gyro – it's a pita filled with seasoned meat thinly sliced off a rotating spit with Arabic pickles, garlic mayonnaise, and French fries. It is one of the cheapest things you can eat here, but I'd happily choose shawarma over a Big Mac any day of the week.
Dubai LOVES American food! Burgers shops are everywhere here and American franchises are all over the place. It's so funny because Chili's is very popular here (as it is in the US) and the experience is absolutely the same. The décor, tables, menu, taste, even down to the glassware is identical. It's both comforting and frightening!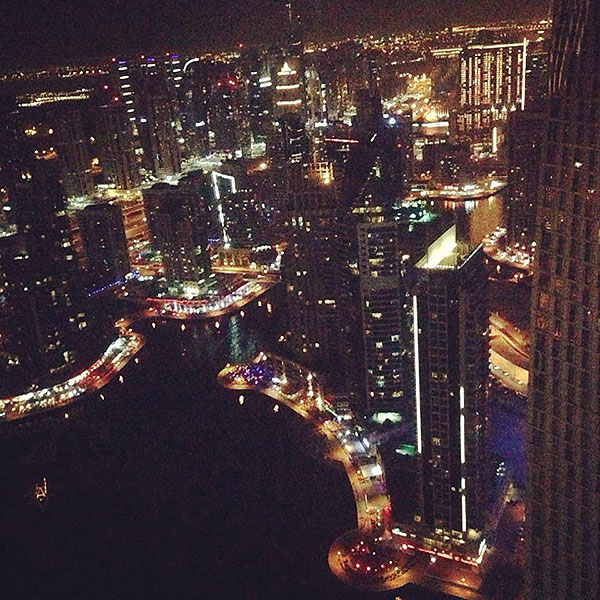 Dubai at night
Q. It certainly doesn't sound like the food in Dubai is leaving you wanting, but are there certain foods from home that you miss? What do you cook when you're trying to get a taste of home?
A. One thing I have never been able to find here are good crackers. For some reason the Ritz and saltines here are just terrible! Also, they have a poor selection of cereal – it is entirely too healthy. I miss authentic Mexican food and Kombucha.
Unfortunately there isn't an American grocery store here. The grocery store I go to is owned by South Africans, but it stocks Waitrose products, so it is predominately British food and brands. There are plenty of American products, but they tend to be more expensive. A bag of Tostitos cost the equivalent of $5.50 here, so certain foods have become a luxury for me. Strawberries and blueberries can cost up to $10 a carton!
I tend to bake when I'm a bit homesick, I find it relaxing and comforting. This past Thanksgiving I made pumpkin bread to remind me of home.
Q. What is your advice for first-time visitors to the Middle East?
A. The first thing anyone will tell a woman traveling to the Middle East is to dress modestly. Dubai is much more relaxed about this, but elsewhere it is very important. It's not that you will necessarily get in trouble (though I do know of people who have been escorted out of malls for "inappropriate" clothing), but you are 'inviting' unwanted attention from men. Dubai is much more modern in its treatment of women, but this is not necessarily the norm for the region. I found that I was heckled and catcalled more while in Istanbul than I ever have been in Dubai.
The most important piece of advice I have for anyone traveling in the Middle East is to be respectful. You may not agree with some customs or behaviors, but it is very important to reserve judgment, or at the very least try to look at things from an unbiased perspective. Certain words, phrases, and actions that are not offensive to us can be viewed as highly derogatory. One thing I learned here was never to call someone an "idiot," even in a flippant way. It is considered deeply rude and offensive. The best way to learn from Arab culture is to observe. Try to learn and understand without stereotyping a whole culture. If you show respect, you will get respect in return.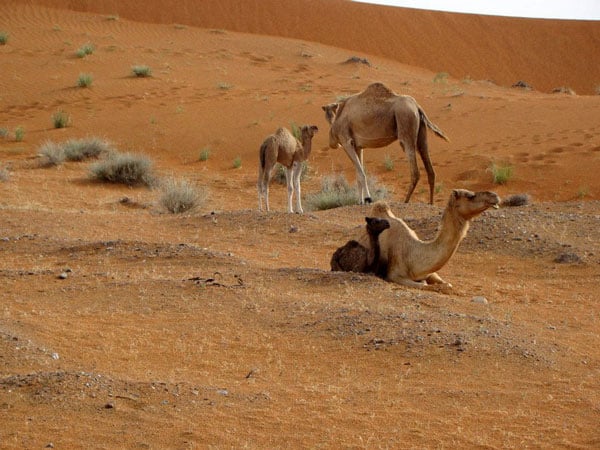 Camels in the desert
Q. Okay, I'm convinced.  I would love to visit Dubai some day.  Can you help me plan my trip? 
A. Number one tip: Do not visit Dubai in the Summer…unless you want to experience desert temperatures with Floridian humidity!!!!
I recommend staying in a resort hotel, where you have access to a beach and pools. The best way to see Dubai is to split your time between having a relaxing vacation and exploring the city. Visit Old Dubai (roughly 50 years old), the amazing buildings (Burj al Arab, Burj Khalifa, Jumeirah Beach Hotel, Cayan Tower), and definitely hit up Wild Wadi, the original Dubai waterpark. Also, you must go on a desert safari which involves dune bashing then a heritage show. You will also need to visit the Dubai Mall, which is the largest mall in the world. It sits underneath the Burj Khalifa, and is home to the largest single tank aquarium and largest fountain show in the world. If you haven't realized already, Dubai really likes to have record breaking ANYTHING.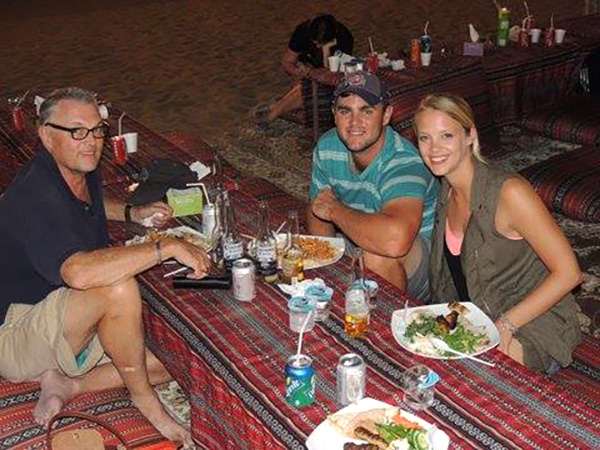 Hannah, her dad, and Matt enjoy dinner at Heritage, a desert safari
Q. When you leave Dubai, what will you miss?
A. I will miss the wonderful people I've met here. I think moving to Dubai just after college was a great way to enter the "real world." The thing about Dubai is that most of the people you meet are in the same situation. Many people are out here for work, far away from their families, and looking to make friends. Leaving college was a bit of a shock for me because I was so used to having built-in friendships. My best friends were my floormates freshman year. It was a huge step out of my comfort zone to make friends in a place I'd never been, but once I met my best friend out here (through work) I found I was suddenly part of an awesome group of people. I didn't realize how much I took my friends for granted until I was living as an American expat in Dubai and had no friends to speak of for the first four months.
I'll miss the weather (generally) because it's so beautiful. I'll miss being able to drive 15 minutes and be in the middle of the desert to watch the sunset. I will definitely miss the amazing Arabic/Lebanese food here. I consider hummus a food group, so unlimited access to that will be sorely missed. Luckily, I've sharpened my hummus-making skills and have the recipe down pat now. I'll miss the weird and wonderful extravagance of going to 5 star brunches. Dubai is a wonderful place that I will miss dearly when the time comes, but I will look forward to new adventures and welcome opportunities to travel with open arms.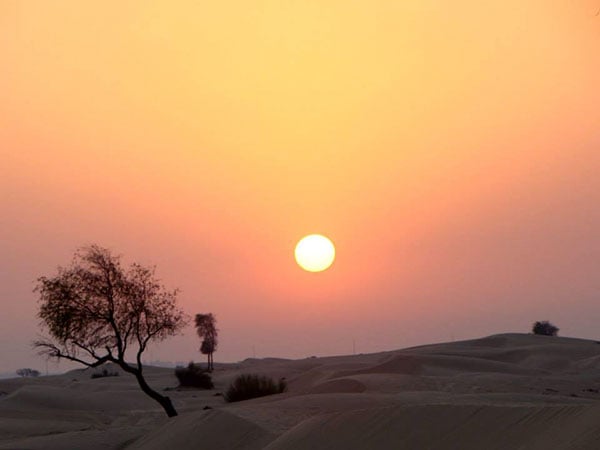 A desert sunset
Q. Now that we've learned a lot about Dubai, let's talk about some of your other travels. Can you share some of your favorite travel memories?
A. I am very fortunate to have grown up in a family where travel, the arts, culture, and history are considered as valuable as an education. My sister has lived in England since 1998 and now happens to be an hour's drive from Matt's house so I have spent a lot of time in Sussex and London. I've also been to Ireland/Northern Ireland, Paris, Turkey, Greece, Italy, Mexico, Canada, the Bahamas, and Oman. In the states, my favorite places are the Outer Banks, New York, Mississippi, Alabama, Nashville, Chicago, and all the random cities I've seen on "battlefield" excursions (my dad and I are big history buffs). I have absolutely loved all of these places and have brilliant memories from all the trips.
I'd say my favorite trip was Turkey and Greece in 2010 with my parents. We started in Istanbul, which was nothing like I expected and absolutely wonderful. The Blue Mosque, Hagia Sophia, and Grand Bazaar are unparalleled. It is the first city I recommend to fellow travelers. From Istanbul we drove up along the coast staying in a few seaside towns and visiting the ruins of Troy, Ephesus (incredible!) and Pergamon. We then went to Greece where we stayed on the islands of Rhodes and Santorini, then Athens. Santorini definitely lives up the its hype. It is hands down the most beautiful place I have ever seen.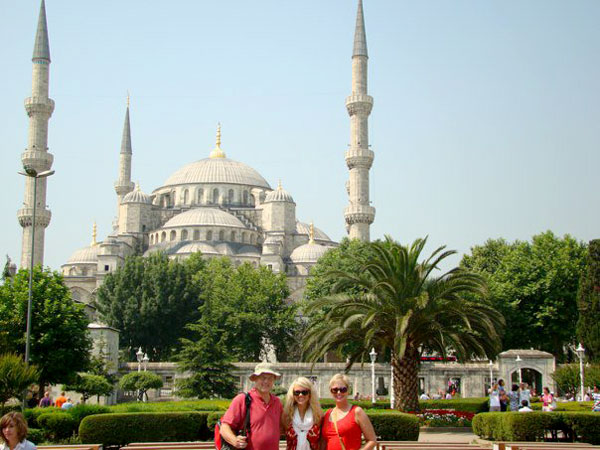 Hannah and her parents at Hagia Sophia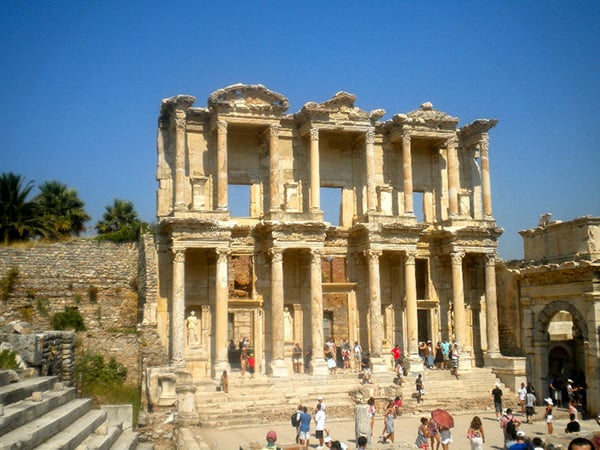 Ephesus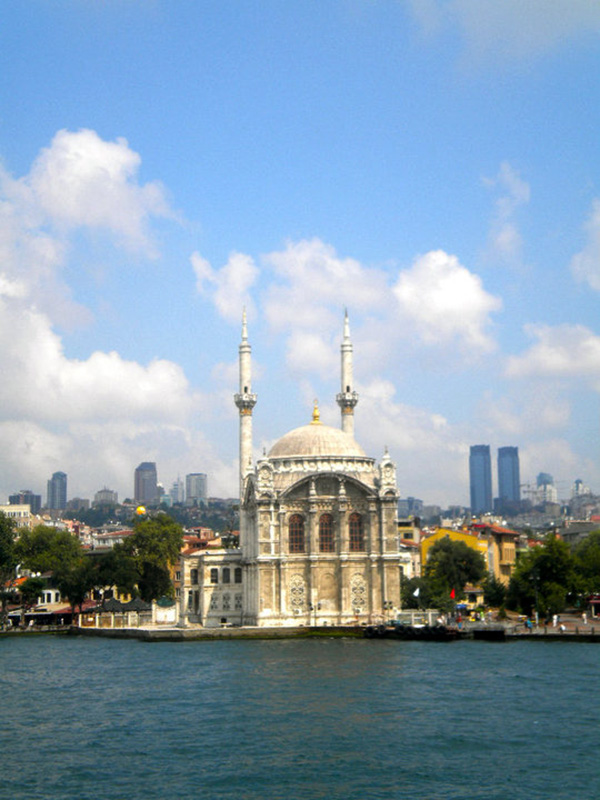 Ancient meets modern in Istanbul, Turkey
The best thing about Santorini (besides everything) was meeting some fellow Buckeyes. One morning while walking around Fira, a kid came up to us and asked if we were from Ohio since he saw my dad was wearing an OSU hat. We started talking to him and it turned out he was an OSU student on vacation with his mom. We parted ways and took a bus to the next town. This bus ride was a total nightmare, so by the time we got to Oia we sat down in the first café we found. I looked over to see a guy wearing an Ohio State Alumni t-shirt. He and his wife, who were on their honeymoon, had met in a Russian lit class at OSU. At the end of the meal, we stood up to take the classic O-H-I-O picture. My mom was going to stand in as an honorary Buckeye when in walks the kid from earlier that day! It made me realize what a small world it is, and that I went to a pretty amazing school.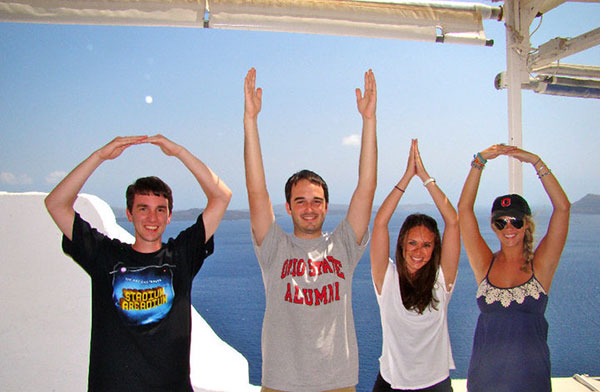 Hannah and fellow Buckeyes take the classic O-H-I-O photo in Santorini, Greece
Q. From Dubai to Turkey, and Italy to England,  you've been to some pretty amazing places.  From all of your adventures, what are your top three most memorable dining experiences? 
A. Imago at the Hotel Hassler in Rome. One of the most famous hotels in Rome, it is atop the Spanish Steps and the restaurant, Imago, has panoramic views of Rome. To be honest, the whole experience was so overwhelming and extravagant that I barely even remember the food! My dad maintains it is the most expensive meal he's ever bought, but we all agree it was worth it. The most incredible part was when we left, there was an opera concert on the Spanish Steps, so we were greeted by my favorite aria (I was studying opera at the time). It was truly magical.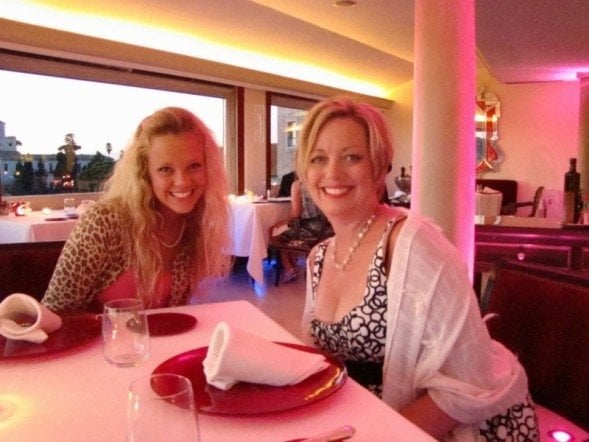 Hannah and her mom having dinner at Imago at the Hotel Hassler in Rome
Al Muntaha Restaurant at the top of the Burj al Arab. The Burj al Arab is famously the "only 7 star hotel in the world," and it is nothing short of spectacular. The building, shaped like a sail, has the largest atrium on the planet and the interior is covered in real gold. For a special 50th birthday, Matt's family and I celebrated at Al Muntaha, the rooftop restaurant (it actually is free hanging off the back of the building). It may sound strange, but I had a gourmet sort of brisket and macaroni dish – not your ordinary BBQ fare to be sure. Delicious and jaw-dropping.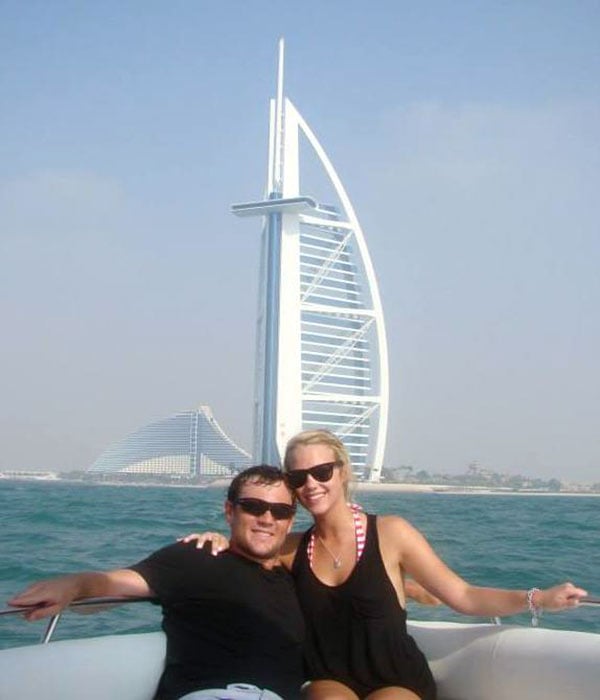 Hannah and Matt in front of the Burj al Arab.  You can see Al Muntaha Restaurant floating off the top of the building.
Home-style Fried Chicken on a highway somewhere between Mississippi and Louisiana. I can't remember the name of this place, but my dad and I were recommended it by some locals in Vicksburg, Mississippi. It had apparently been featured on "Diners, Drive-Ins, and Dives" as the best fried chicken in the U.S. of A. It was an old train depot with plastic patio furniture set up inside. It was true home-style Southern fried chicken, which you served yourself from a buffet. I don't even particularly like fried chicken, but this was to die for. The best part was that Mama, the chef, came out and greeted us.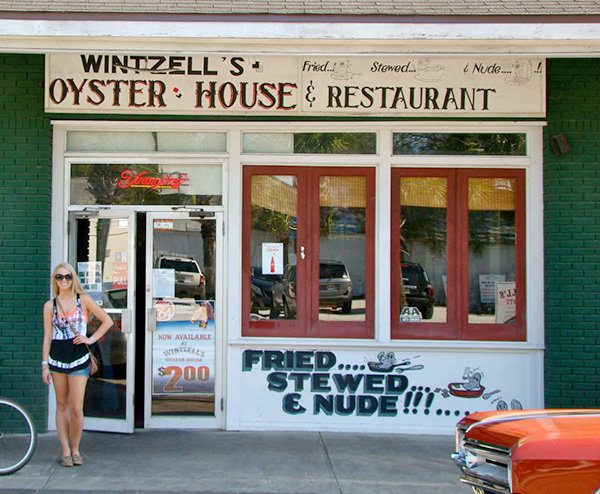 Hannah at her favorite stop for oysters, Wintzell's in Mobile, Alabama.  She also recommends the fried pickles. 
Q. Let's talk drinking. Any memorable drinking experiences across the globe?
A. My first glass of red wine in a beautiful little restaurant in Florence. Drinking champagne on New Year's Eve aboard a 100ft yacht overlooking the coast of Dubai. Trying ouzo, a traditional Greek liquor which is often served at the end of a meal with your check. Watching the sunset in the desert with a gin & tonic in hand. Whenever I'm in the States or England, I make sure to try as many beers as possible since the selection is so limited in Dubai.  It's a guilty pleasure.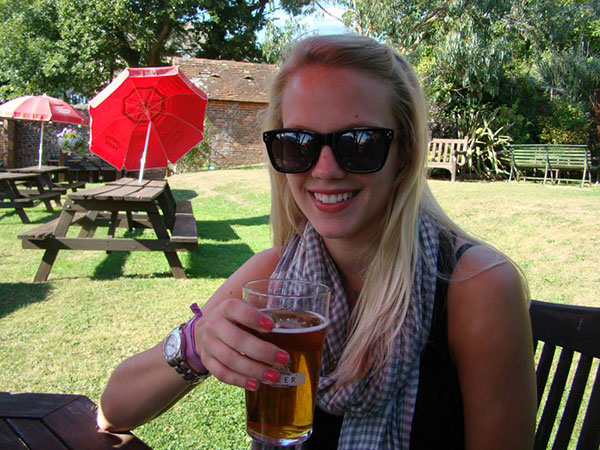 Hannah enjoying a pint in England
Q. What is your travel food philosophy? How do you discover the local cuisine?
 A. I like to try to the local cuisine everywhere I travel. Admittedly, I am not the most adventurous eater, but I will try anything I am not physically repulsed by! I'm a bit old fashioned when it comes to traveling, and still refer to guide books. I also find that I'm often in places without internet access, so books are very helpful in these situations. Picking a guidebook is no easy task, I recommend doing your research and finding an author who has a similar travel philosophy to you. Also, I always ask the hotel concierge and locals I meet for recommendations. Be aware that some hotels get commission for referring guests so it's not necessarily a personal tip. Friends are also a great resource.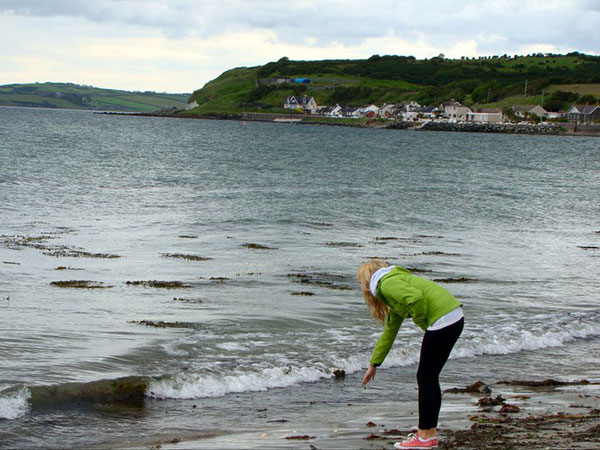 Northern Ireland
 Q. Do you have a go-to airport snack? What is your strategy for eating on long-haul flights?
A. I get very bloated when I fly, so I try to avoid salt for a week before traveling. The first thing I do after airport security is buy a large bottle of water and ask it to be refilled throughout long flights. Travel time home from Dubai is generally about 24 hours start to finish, so I try to get my body on US time in flight. I figure out what time I would be eating in Dubai and in Ohio, and try to find a balance between the two and sleeping. I try not to worry about what I'm eating while travelling because it's just an added stress, so I eat very well before and after a travel day and indulge in the airport or during the flight. There's nothing worse than being hungry on a 15 hour flight! Pringles tend to be my go-to snack, because they don't get crushed in a carry-on bag!
Q. I know getting back and forth between Perrysburg and Dubai is brutal. How do you survive the long flights and layovers?
A. With travel time being between 20-30 hours each way, I have to be strategic. In my carry-on I must have  baby wipes, my iPod, Evian facial spray, lotion, hand sanitizer, chargers, toothbrush/toothpaste, headphones, my iPad, a crossword puzzle book, a change of underwear, a hair brush, deodorant, water, and medications. I make sure to put any liquids (that would be ALL cosmetics, ladies) in a clear ziploc for easy passage through security. I used to bring all sorts of things to keep me entertained during the flight, but now I rely on the in-flight movie selection, my kindle, and crossword puzzle to do the trick.
For shorter flights I usually wear leggings or jeans, but on a long-haul flight I only wear loose-fitting, breathable clothes. My go-to travel outfit is a cotton maxi skirt and tank top with a cozy sweater, scarf, and converse. I also always bring flip flops for the plane in case I take my shoes off during the flight or my feet start to swell. During layovers I make sure to freshen up, which makes the whole experience a lot more bearable. Babywipes are my number 1 traveling essential. I've also found that I can't fly without face spray – it seems frivolous and unnecessary to carry around water in a can, but it is so refreshing when you're in a dry cabin. Also on long flights, makeup is a no. I'd rather look like crap in the airport than have my skin and eyelashes dry out before I land.
I have taken a sleeping pill on two over-night flights, and never had a good experience. They make me feel out of control, I end up crying, and I always have hallucinations – think a mild case of Kristen Wiig in Bridesmaids. Sleeping pills can be a lifesaver if you are on a red eye and plan on sightseeing after landing, but I suggest taking one at home before you travel so you can see how your body reacts. A nap upon arrival can sometimes be the best thing for you and make your first day on vacation a lot more bearable!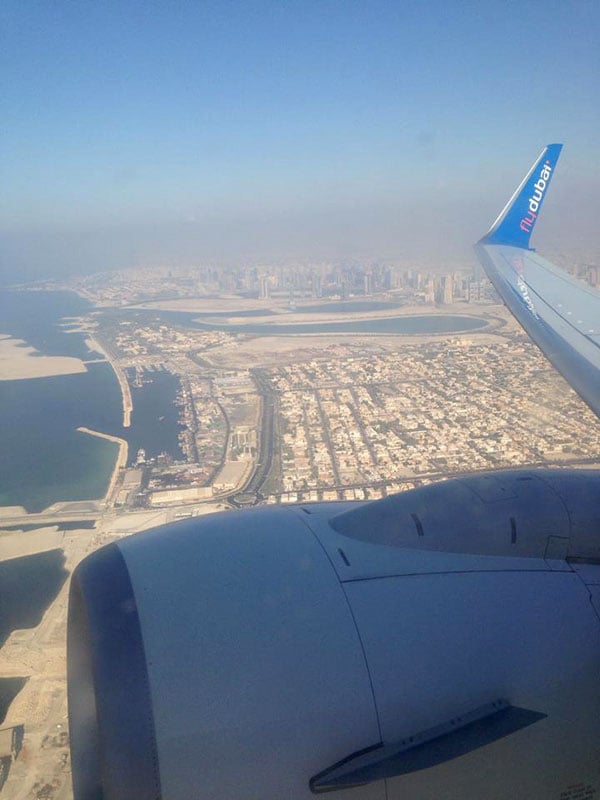 Dubai from the sky
Q. Getting sick while abroad is the worst nightmare of many travelers. How do you stay healthy while traveling?
 A. Water: If you're unsure about the water, drink bottled. It's more expensive, but your stomach may thank you. Look up the water advisories for your destination beforehand and if it's questionable, stock up on a case of water when you arrive. Be sure to DRINK TONS OF WATER! It is so easy to get dehydrated when you're traveling, so make sure you always have some with you. I bring a Nalgene bottle in my suitcase and carry it around everywhere. It's convenient but also a constant reminder to stay hydrated.
Sun: Avoid getting too much sun. I can tell you from experience that sun poisoning is very real and very painful. Not only will you be in horrible pain and discomfort, but you will also vomit. It's terrible, but completely avoidable.
Digestion: Bring senna tablets (a natural laxative) with you. Changing time zones can wreak havoc on your digestive system, and being backed up is no fun when you're on vacation. Sorry for the TMI, but it's the truth!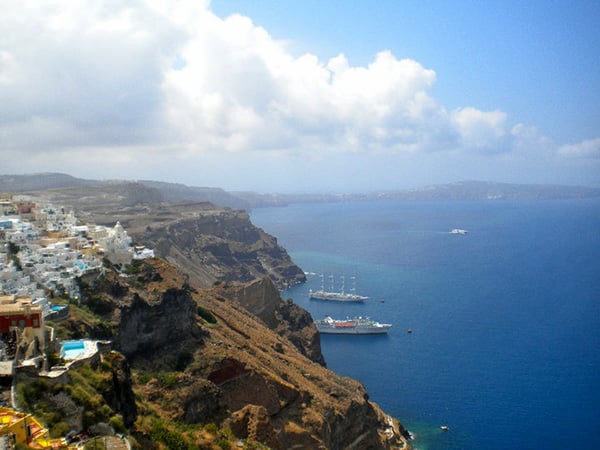 Sunny Santorini
Q. What are your travel essentials?
A. Carry-On: Your carry-on is more than just what you need on the flight. There is always the possibility that your suitcase won't arrive with you, so be sure you are prepared. Never put medications or valuable jewelry in a checked bag! My carry-on essentials are baby wipes, my iPod, Evian facial spray, lotion, hand sanitizer, toothbrush/toothpaste, chapstick, an eye mask, ear plugs, a crossword puzzle book, a change of underwear, a large scarf, a hair brush, dry shampoo, deodorant, water, playing cards, medications, jewelry, mini Febreze (available at Target), a change of clothes, and a bathing suit if necessary.
Gadgets: iPhone, iPod, and iPad – which sort of makes me cringe. I may be the last person on the planet to still use a 64G iPod classic, but it is my travel buddy since it has awesome playlists from previous vacations and it rarely runs out of battery. If you are going to need your phone when you land, I suggest not listening to music on it!
Suitcase: I used to be infamous for overpacking, but since I started traveling on my own, I know to keep it simple. Bring slightly less than you think you'll need and it will be the perfect amount. Plan outfits ahead of time so that you don't end up with three skirts and no tops to match. Also, if you plan to do any shopping, leave room in your suitcase. My mom always takes a big reusable shopping bag and puts it on the bottom of her suitcase just in case it's overweight on the way back.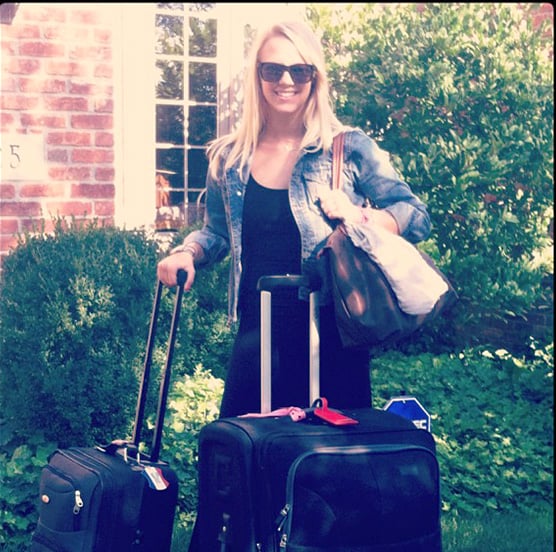 Hannah, before heading to the airport, on the day she moved to Dubai
Q. We've gone over all of the travel essentials and you definitely have shared some great advice.  Let's end on a fun note. If you could be transported to one place at one specific time, where would it be and why?
A. I would have to say Paris in the Twenties! My favorite art and literature period is Modernism, and Paris was the place to be for artists and writers like Ernest Hemingway, F. Scott and Zelda Fitzgerald, Gertude Stein, Salvador Dali, and Picasso during that time. It was time of great societal change and revolution, which is a romantic concept to me. It was also the birth of the "expat" which, as an American expat in Dubai, I have a keen appreciation for the concept! If I could live in any movie it would be "Midnight in Paris" for this exact reason!
Q. And finally, tell us what's on your travel radar?  Where are you dying to go?
A.
Thailand, Sri Lanka, Bali – Elephant riding, yoga on the beach, fresh fish and fruit…paradise!
Cambodia/Vietnam – Angkor Wat, Phnom Pehn, Ho Chi Minh City
All of France – Bread, cheese, wine, and museums = heaven
Buenos Aires – I've been fascinated with Argentina since I begged my mom to take me to see Evita at the age of 4
Prague – Quintessential Europe. I've heard amazing things!
Macchu Picchu – Self explanatory
Costa Rica – Hanging out with monkeys, hiking, swimming…dreamy!
Petra, Jordan – This UNESCO site has fascinated me, it's next on my list!
South Africa and New Zealand –  Whale watching!
Italy – Part deux. Revisit my favorite cities (Florence, Lucca, San Gimignano) and explore new ones…oh, and eat my weight in pasta, pizza, and Chianti.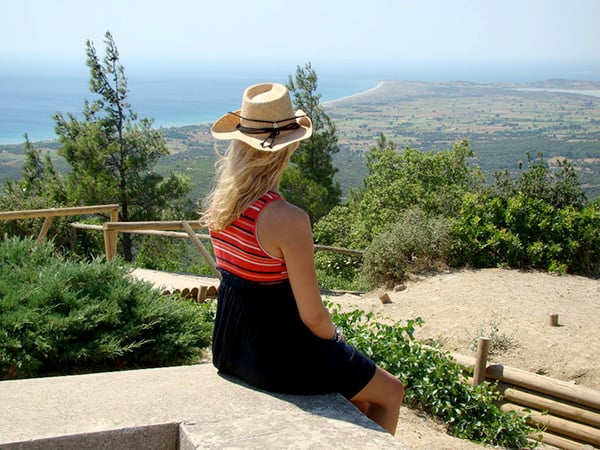 Taking in the view in Turkey
Hannah Casey was born in Perrysburg, Ohio and went to the Ohio State University.  She enjoys travel, yoga, and fitness.  Hannah currently lives in Dubai and works as the head of marketing for a health and fitness club.  You can find her on Instagram as @HannahDC_ and on Pinterest as @HannahDalton.