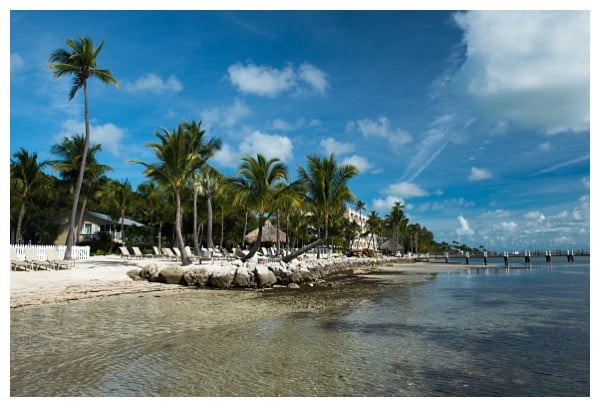 One of the best American road trips is driving the 150 miles from Miami to Key West. Making your way out of the Miami congestion, you'll find Highway 1, also known the Overseas Highway, which connects all of the islands together and connects the islands to the mainland.
This is not a road trip you should do in one direct shot. Plan to make multiple stops or break your trip up over a few days.  The journey through The Keys is just as much fun as the destination of Key West.
You'll start by driving through Homestead, Key Largo and Plantation Key. About two hours into the drive, you'll reach my favorite stop on the trip, Islamorada.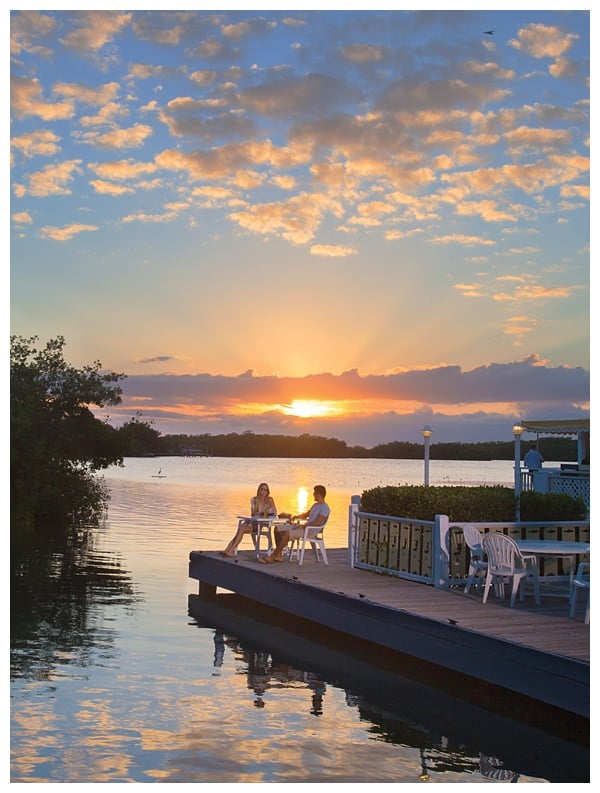 Islamorada, known as a village of islands, is made up of six islands: Plantation Key, Windley Key, Upper Matecumbe Key, Lower Matecumbe Key, Indian Key, and Lignumvitae Key. You may recognize Islamorada as the setting of the excellent show Bloodline on Netflix.
Islamorada is best known as the sportfishing capital of the world. Backcountry sportfishing and saltwater fly fishing were pioneered here. But Islamorada is much more than just a fishing haven, it's also a great place to eat!
Where to Eat in Islamorada, Florida
Chef Michael's is known for elegant dining in a casual island setting. The menu features upscale fish and modern American dishes and is known to have the best variety of freshly caught fish in Islamorada. Chef Michael Ledwith, the restaurant's namesake chef-owner, got his start in some of New York's best restaurants. He eventually made his way down to the Caribbean where he learned the art of cooking seafood. He created a name for himself in Central Florida but the island life called him to The Keys and his restaurant is known as one of the best in the Upper Keys. Try the hogfish, the catch of the day, or join Chef Michael for his legendary Sunday brunch.
If you are just driving through Islamorada and can't stay for long, my favorite lunch spot is The Green Turtle Inn. An Islamorada icon, the Green Turtle Inn has been a local favorite since 1947. You may recognize it from its appearance on Diners, Drive-Ins and Dives on the Food Network. I like 'the Turtle' for its authentic Keys cooking and nostalgic old-Florida feeling. The laid back diner is open for breakfast, lunch, and dinner and you'll find Florida Keys specialties and southern staples on the menu. I recommend the burger and the desserts are fantastic.
Morada Bay Beach Cafe is an outdoor Mediterranean cafe set in the sand. You'll follow a tropical flower lined path and then walk through the sand to get to your table, which is set overlooking blue waters and palm trees. This is the perfect place to start your vacation and get into relaxation mode. If you're staying awhile, enjoy the cocktails, frozen drinks, and extensive wine list. If it's just a short road trip stop, you can enjoy the island-inspired menu featuring local seafood and produce.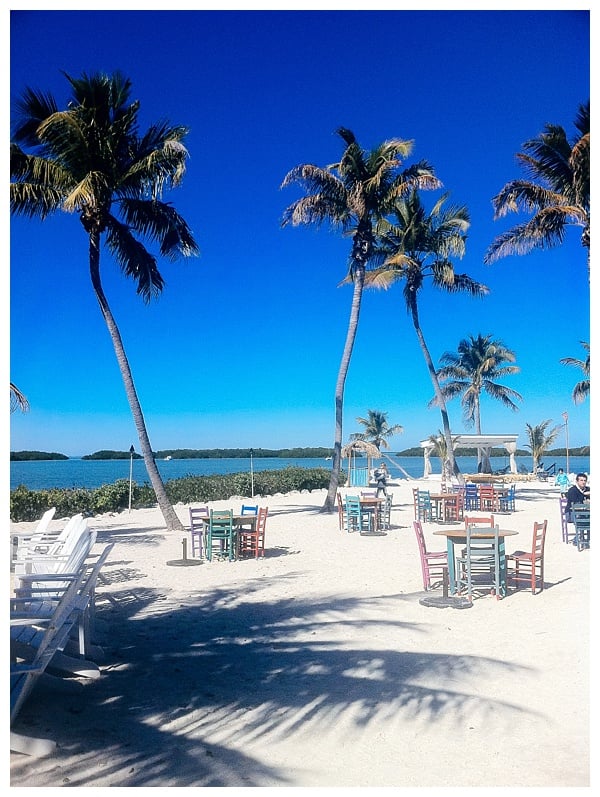 OO-Tray offers a modern twist on Islamorada cuisine. The global offerings include wahoo fish wontons, lobster tempura, and mussels in a coconut curry sauce. Besides the daily catch, the menu offers land items such as Filipino pork belly, duck wings, and flat iron steaks. There are plenty of vegetable options to round out the menu. My recommendation would be to order the 'hook and cook' which features the daily catch pan seared, finished in the oven, and paired with a choice of pineapple chimichurri, sundried tomato vinaigrette, or tomato mango chili sauce. You can also bring your own fish and have them cook it for you. OO-Tray has an extensive list of hand-crafted specialty drinks and offers a wide variety of bourbons and whiskeys.
Catch and Cook your Dinner
Another great Islamorada experience is to head out on a local charter boat and catch your own dinner. Many restaurants will cook it for you (ask your charter boat captain for recommendations), or if you're staying somewhere with a kitchen, you can cook it yourself.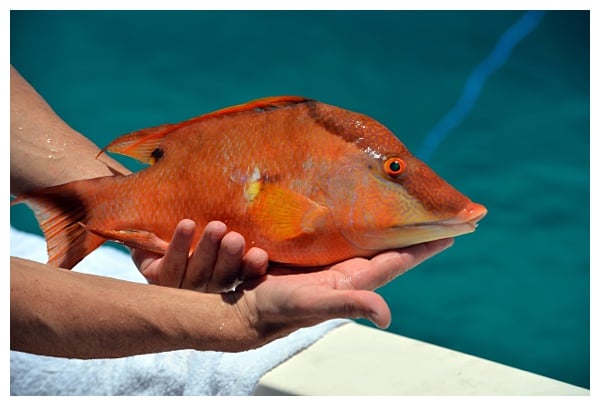 When traveling, it's always fun to eat something that you can't get anywhere else, and when you're in The Keys, you need to try the Hogfish, a mild white fish. While the name isn't the most appealing, hogfish is a local Islamorada specialty. It's best prepared simply and Chef Michael has graciously provided a recipe for his Hogfish Adriatic. He recommends pairing the dish with seasoned steamed quinoa and grilled asparagus.
If you don't have access to hogfish but want to try the recipe at home, you can use the same preparation with any lean, firm fish such as grouper or monkfish.
The sauce can be used as a dip for bread or veggies, so you could forgo the fish and just make that.
Chef Michael Ledwith
Yields 4 servings
Hogfish Adriatic
Ingredients
For the Adriatic sauce:
1/2 cup fresh cilantro
1/2 cup fresh flat-leaf parsley
1/2 cup fresh basil
2 cloves garlic
1/2 cup good olive oil
2 tablespoons Fire Cider or apple cider vinegar
Juice of 1 lemon
salt and pepper, to taste
For the Fish:
4 six-ounce hogfish fillets
salt and pepper, to taste
nonstick cooking spray
Lemon wedges, for serving
Instructions
Make the sauce:
In a food processor, add all of the ingredients for the sauce and puree until velvety.
Taste the sauce and add salt and pepper to adjust the seasoning. If the sauce is too thick, slowly stream in olive oil until you reach the desired consistency.
Serve the sauce at room temperature or refrigerate the sauce in a covered container for up to 1 week.
Grill the fish:
Prepare grill for medium-high heat. Clean and oil the grates.
Season the fish on both sides with salt and pepper. Lightly spray both sides of each fillet with nonstick cooking spray.
Once the grill is hot, grill the fish until lightly charred and almost cooked through, about 4-6 minutes. Flip each fillet and grill until just cooked through, about 1-2 minutes longer. Transfer the fillets to a serving platter and drizzle with the sauce. Serve immediately with the lemon wedges on the side.
Notes
The sauce also makes a great dip for crusty bread or fresh vegetables.
7.8.1.2
66
https://www.thehungrytravelerblog.com/where-to-eat-in-islamorada-florida/
Thank you to The Florida Keys for sponsoring this post.