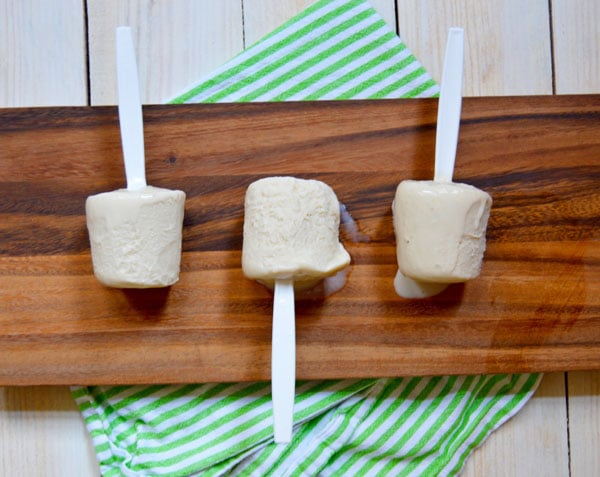 This recipe is funny to me.  I've combined two things that I only marginally like to create a recipe I love. Well, that may not be the most inciting introduction to a recipe I am hoping you will actually make, so let me explain…
My relationship with bananas is complicated. I do not like eating bananas whole (it's a texture issue) but I love eating banana in things like banana bread or muffins. And, if given a choice, I will ALWAYS pick a scoop of ice cream over a popsicle. I like popsicles but I'd much rather have the decadent creaminess of ice cream than the usual icy sweetness of a popsicle.
However, last week I realized I hadn't made popsicles since I was a child and I decided to give it a try. In an effort to avoid the dreaded grocery store, I decided to only use things I had on hand — sweetened condensed milk, coconut milk, bananas (from a short-lived smoothie kick), a splash of vanilla extract, and a pinch of salt. I zipped them all together in a blender, crossed my fingers, and patiently waited for them to freeze. A few hours later, I was pleasantly surprised on how just a few ingredients could come together and create a creamy, flavorful frozen treat. These banana coconut paletas came out way more delicious than I expected and a new blog recipe was suddenly born.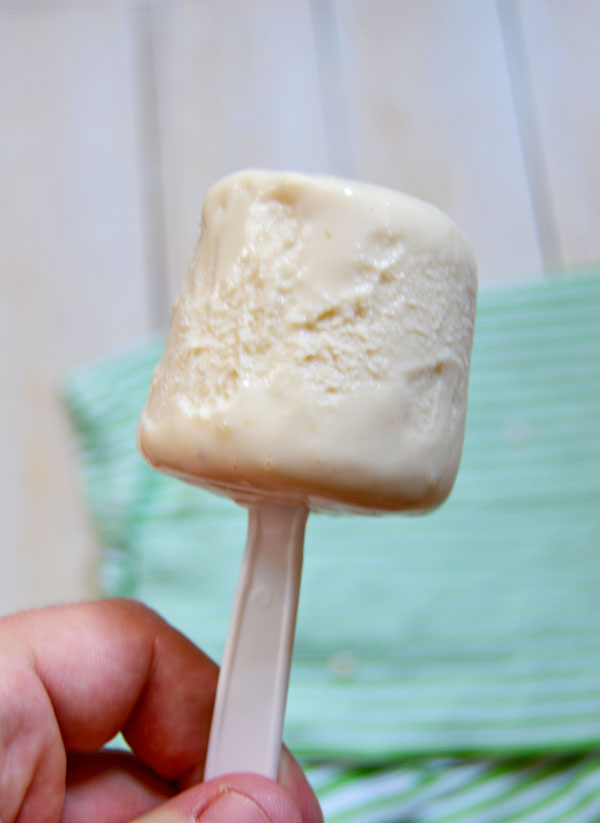 Paletas, Latin American ice pops, come in two main varieties: water and fruit juice-based or cream-based. Fruit paletas are known for bold flavors and bright colors while the cream paletas are loved for the smooth, rich texture . Paletas are sold all over Latin America from stands known as paleterias or from vendors known as paleteros.
The beauty of this recipe is that the ingredients combine to make a popsicle that is as creamy and rich as ice cream. Sweetened condensed milk, banana, and coconut milk are all creamy and smooth in their own right and when combined with a splash of vanilla extract and a pinch of salt, magic happens. The banana fades nicely into the background, sweetened by the condensed milk and complemented by the coconut to create a wonderful tropical flavor reminiscent of the islands.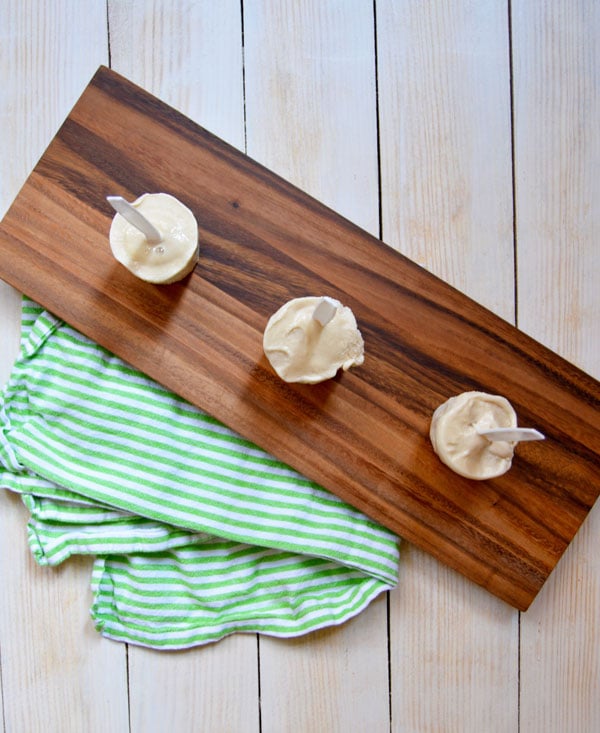 Banana coconut paletas are the easiest recipe I've posted on this blog to date. You simply puree the ingredients together, pour the mixture into cups, insert the sticks, and freeze them until firm.
I prefer to use an immersion blender for easy clean up but a regular blender will do the job just fine.
I first tried to make these in plastic popsicle molds but I found they stuck and I couldn't remove them. I recommend using paper cups and tearing away the paper when you are ready to eat them.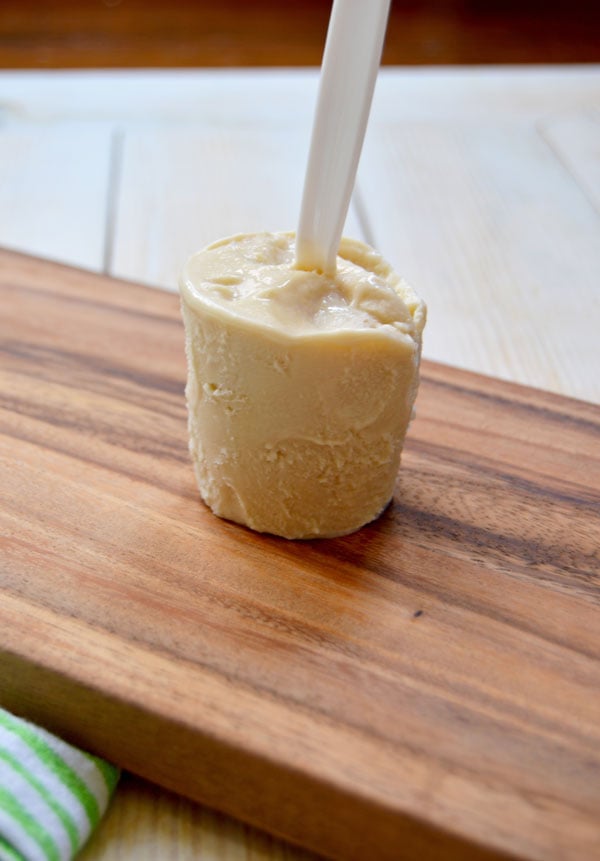 You may notice I did not use traditional popsicle sticks and that's only because I couldn't find them at the store. I resorted to plastic spoons, which work just fine and are a good option if you do not have popsicle sticks on hand.
To get the sticks to stand up straight, freeze the popsicles until they are semi-firm, or about two hours, and then insert the sticks. They should be able to stand up straight, but if they fall over, take them out and wait a few more minutes before trying again. Once the sticks are inserted, let the paletas freeze until they are completely firm.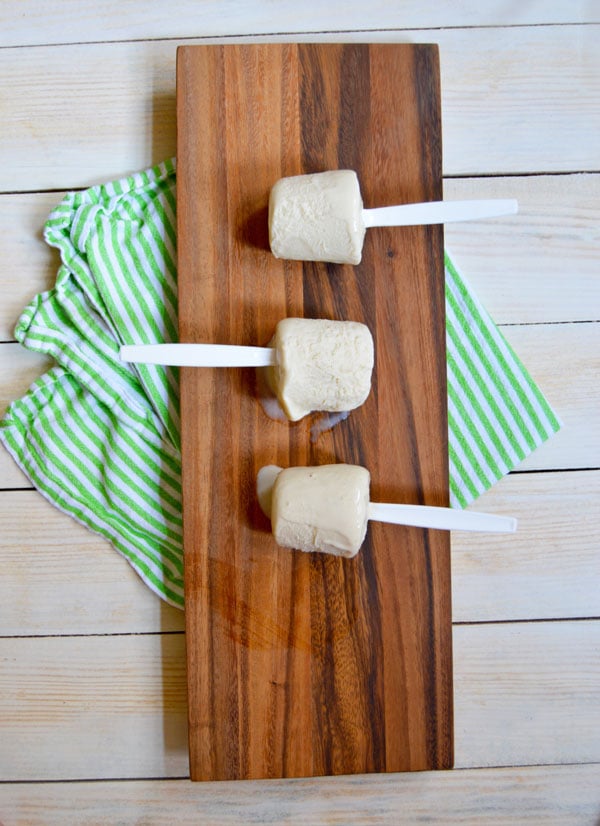 If you would like, soften the banana coconut paletas for just a minute after removing the paper and then roll them in shredded coconut, toasted nuts, or even chocolate shavings. I like them simple and unadorned but a coating makes for a pretty presentation and a nice textural contrast.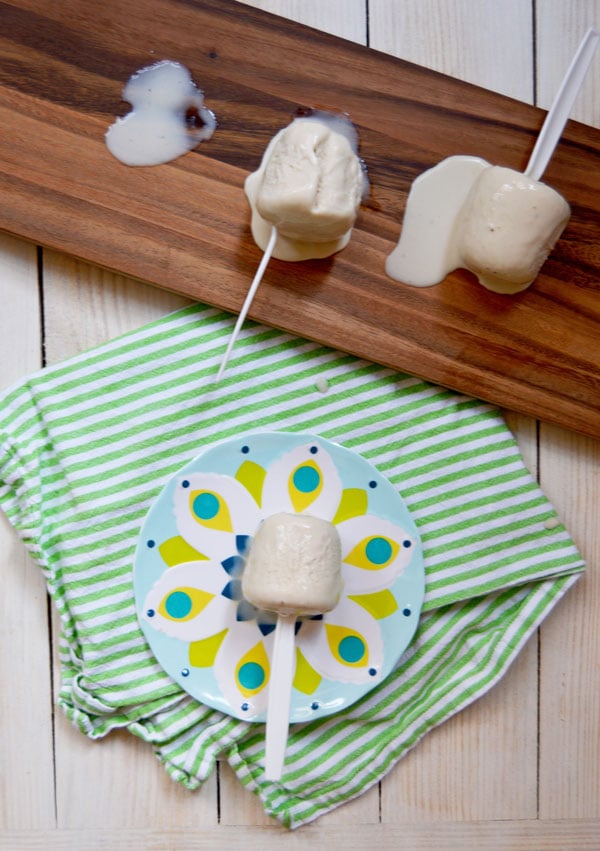 Jordan Hamons | [The Hungry Traveler|http://www.thehungrytravelerblog.com]
Yields 5-
Banana Coconut Paletas
Paletas, frozen ice pops, are a favorite summer treat in Mexico and Latin America. The banana and coconut milk blend with the sweetened condensed milk to create a popsicle that is creamy, sweet, and full of flavor. The paletas are very difficult to pull out of popsicle molds so it is best to make them in small paper cups and tare the paper away right before eating. You may consider rolling them in some shredded coconut, chocolate shavings or toasted nuts before serving.
Ingredients
1 can (13.5 ounce) coconut milk
1 can (14 ounce) sweetened condensed milk
1 banana
1 teaspoon vanilla extract
Pinch kosher salt
Instructions
Puree all ingredients in a blender until smooth.
Divide the mixture evenly between eight (5-ounce) paper cups.
Freeze the popsicles for about 2 hours or until they are semi-frozen and the sticks can stand up straight on their own. Add the popsicle sticks and freeze until firm and completely frozen, about 3 more hours. To serve: take the paper away from the popsicle and eat immediately. Paletas will keep in the freezer for a week or two.
7.8.1.2
42
https://www.thehungrytravelerblog.com/banana-coconut-paletas/
This recipe is part of Food Network's weekly Summer Soiree celebration where we are celebrating the best of summer cooking. Check out the links below for more great summer recipes:
The Lemon Bowl: Chocolate Peanut Butter Magic Shell
Creative Culinary: Strawberry, Lemon and Basil Sherbet
The Heritage Cook: Grilled Plums and Port Parfaits (Gluten-Free)
TasteBook: Triple Chocolate Mousse Pie
Dishin & Dishes: Peanut Butter Cup Ice Cream
Homemade Delish: Jalapeno and Peach Gelato
Napa Farmhouse 1885: Healthy Chocolate & Greens Fudgsicles
Red or Green: Ice Cream Sandwiches with Frozen Yogurt
The Mom 100: Easy Chocolate Mousse
Weelicious: Fruity Lemonade Ice Pops
Taste with the Eyes: Figs and Sabayon à la Julia Child
Healthy Eats: Puddings, Pops and Pies: 7 Desserts Best Served Cold
In Jennie's Kitchen: Seven Sensational Frozen Treats
FN Dish: 8 Desserts to Check Off Your Frozen-Treat Bucket List