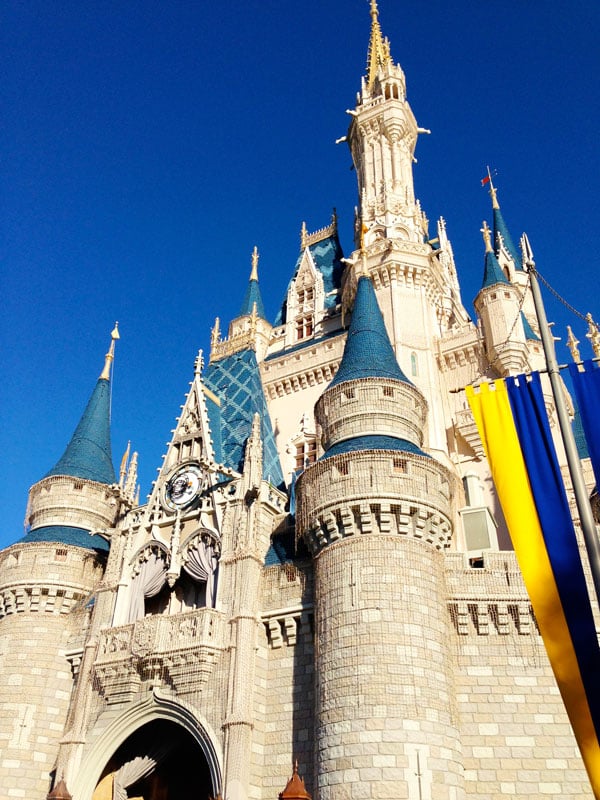 My love affair with Disney started with my first trip to Walt Disney World in 1993 and I've been back over 15 times since, along with 3 trips to Disneyland (Anaheim, California), visits to Hong Kong Disneyland, Disneyland Paris, Disney's Aulani Resort in Hawaii, and a Disney Cruise.  It's on the Disney Cruise that I first remember falling in love with Disney dining. 
We took the cruise for my 10th birthday and it was one of the inaugural voyages for the Disney Magic, the new cruise line's first ship.  At that time, the Disney Channel ran a special program several times a day that explored the new ship and featured a restaurant called Animator's Palate, with which I quickly became obsessed.  This restaurant was designed to tell the story of Disney animation using the dining room to simulate an artist's notebook.  The room starts out black and white and, with each course being served, brings classic Disney characters to life.  Throughout the meal, sketches appear on the walls and transform from black and white to vivid color while classic Disney orchestral music plays overhead.  Even the servers play along and start in black and white uniforms and but by the end serve dessert wearing brightly colored vests.
Although I was scared to death of being on the open seas for a few days, I thought this restaurant was the coolest thing in the world and I was so excited to eat there our first night on the ship. Almost immediately after boarding, I made my parents take me directly to the restaurant to scope it out.  Even though they were closed, we were able to peek inside and see the dining room.  I'm glad I went because that was all I saw of the restaurant, when unfortunately, we hit some rough seas and I ended up in bed instead of at dinner that night.  My mom stayed back with me but my dad made it to dinner along with our friends who were on vacation with us.  My dad made it through the end of the dinner but he said that with each course, not only did the walls add more color, but the dining rooms lost guests who were looking a little green, and by the end he was one of only 3 people left.  I will go on another Disney Cruise some day just to ensure I get to eat at Animator's Palate!
Dining at Disney can be magical and there is way more than the turkey legs and popcorn you're picturing  (although those each hold a special place in my heart).  My Disney trips are now very focused on food and I'm looking forward to sharing my favorite Disney restaurants with you.  There are some really wonderful experiences and meals to be had but all of the options can get overwhelming.  To make it easier, I'm going to break this series down by the different theme parks and resorts.  So, let's start where it all begin.  Here are the 9 Best Restaurants at Disney's Magic Kingdom:
If you're going to make one reservation for your Disney trip, make it here and make it far in advance.  Located in the Beast's Castle in Fantasyland, Be Our Guest is one of the Magic Kingdom's newest restaurants and offers counter service at lunch and table service for dinner.  The menu is French-inspired with dishes like croque monsieur, coq au vin, and ratatouille, and it's also the first Magic Kingdom restaurant to serve beer and wine.  The experience is absolutely magical and will make you feel like you're in the movie Beauty and the Beast.  Tables are offered in the Ballroom, the Rose Gallery, and the West Wing but be sure to walk around and see every room.  Check out this great photo tour from Disney Food Blog.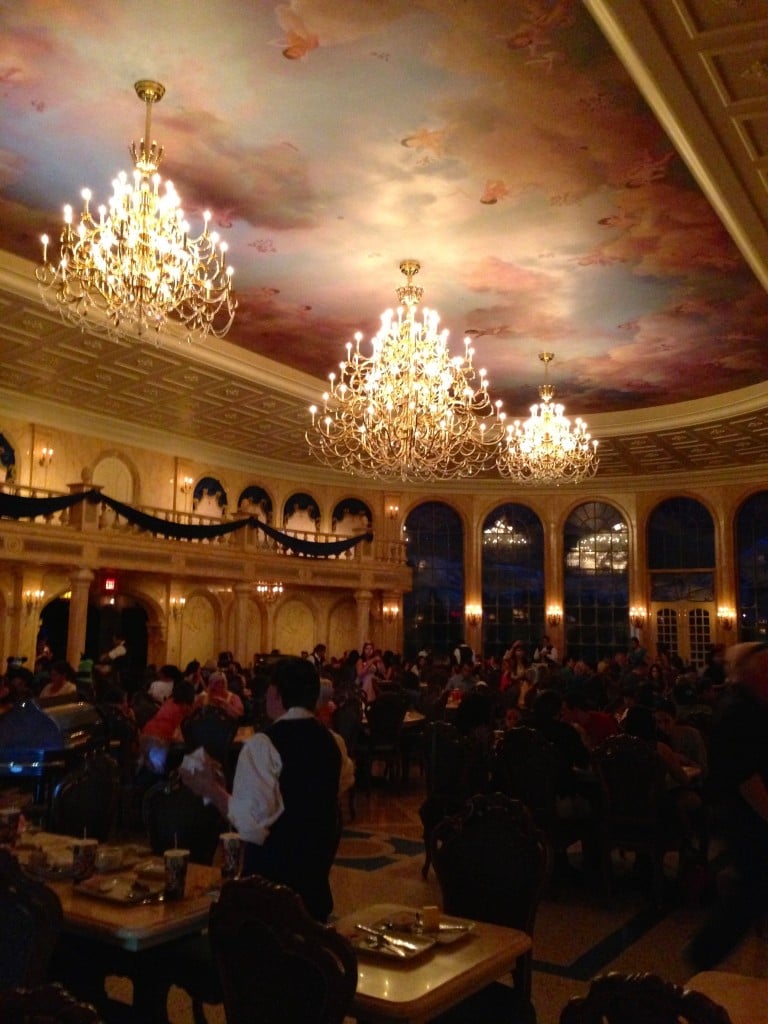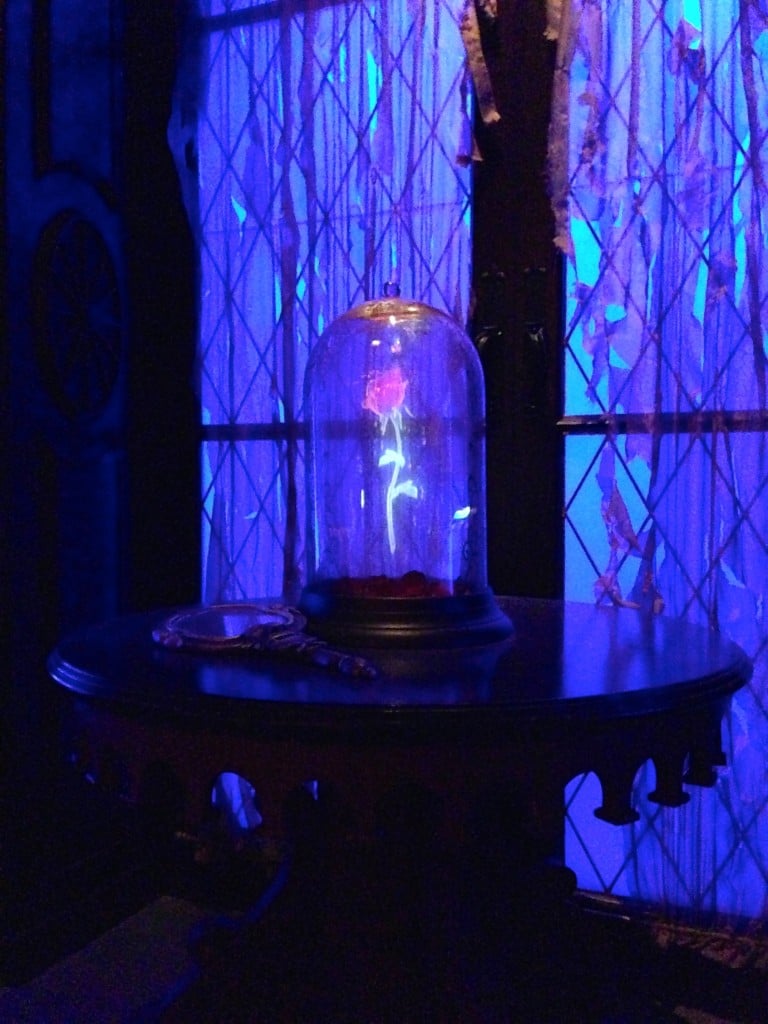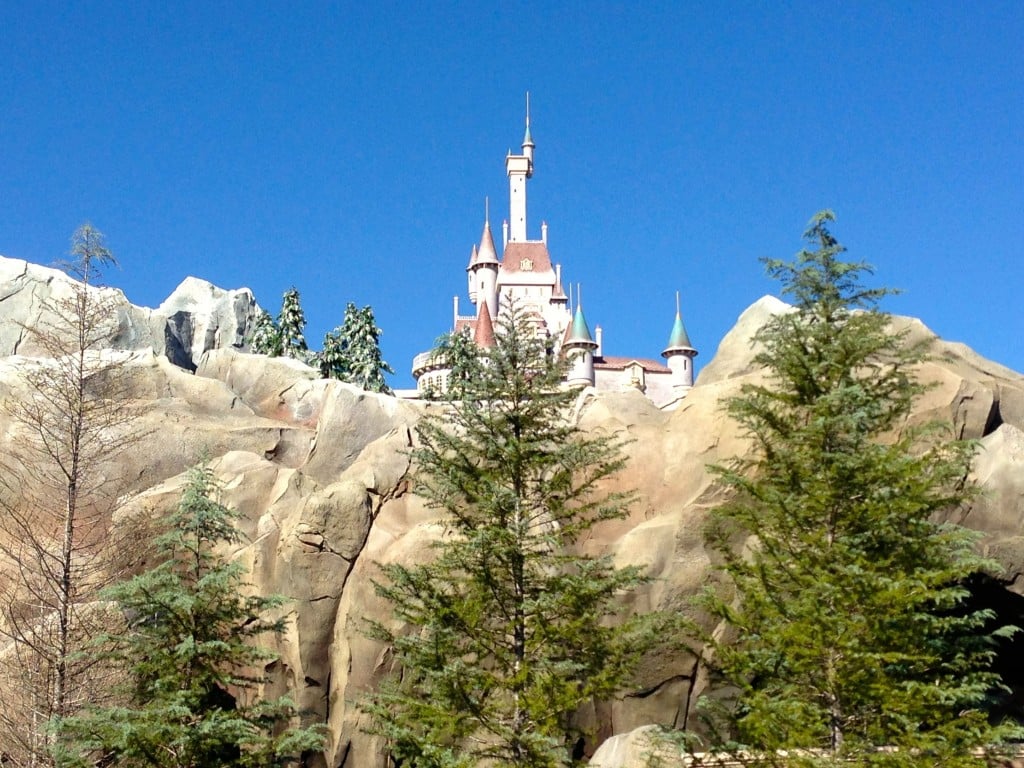 What more needs to be said other than you get to eat in the castle? The food, while good, isn't the star here, but that's okay with me.  As you enter the castle, you're greeted by Cinderella and given a photo opportunity, then shown up a winding staircase to the dining room, outfitted with huge hanging tapestries, red and purple velvet, and stained glass windows overlooking Fantasyland.  I recommend going for breakfast where you will meet the Fairy Godmother, Suzy, Perla, and several princesses.  Reservations are required and must be made far in advance.  Great photos can be found here.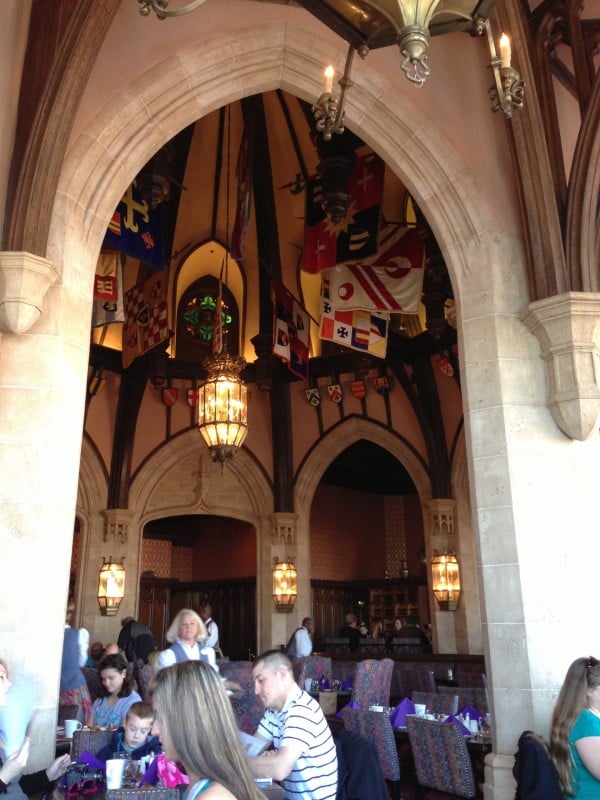 This baseball-themed hot dog shop is a Main Street icon serving a variety of hot dogs, nachos, and ballpark foods.  Keep it simple and get the classic hot dog and fries.  After getting your food at the counter, you can eat in the dining room or take it outside, which is a good option if there is a parade happening. I recently went to the Casey's Corner at Disneyland Paris and watched a woman eat her hot dog like you eat corn-on-the-cob; instead of taking bites from the end, she look tiny bites all across the hot dog.  Strange.
There are two main draws at The Crystal Palace: the beautiful location and the chance to see all of the characters from Winnie the Pooh. The restaurant offers a huge buffet and the food is some of the best in the Magic Kingdom with classic dishes including puffed french toast, lasagna, bread pudding, pineapple upside down cake, and 100 Acre Woods waffles.  Find out more info at Disney Food Blog.
Disclaimer: I have never eaten at Tony's.  However, some of the biggest Disney experts I know (my cousins Valerie and Jacqui) have and told me it definitely deserves a place on this list.  I trust them and I'm going to make sure I try Tony's on my next trip.  Tony's is themed around Lady and the Tramp and offers table service Italian cuisine with dishes such as calamari and spaghetti with giant meatballs.  The patio seating looks wonderful and would be a great place to enjoy a relaxing lunch and some Main Street people watching, especially during a parade. Check out this full review from Disney Food Blog filled with great photos.
This restaurant makes the list for one dish alone: Ooey Gooey Toffee Cake. Yes, the dessert is completely amazing, but really there are many reasons to visit Liberty Tree Tavern.  Located in Liberty Square, it's themed after a late 18th century home and each room is decorated to honor someone pivotal to the United States Revolution, think George Washington, Ben Franklin, Paul Revere, etc.  Dinner is served family-style and features Thanksgiving like items, while lunch is served a la carte and leans American with dishes such as  pot roast, a cheeseburger, and a BLT.  This is a great lunch spot and be sure to pay attention to the great details in the decor.  And seriously, get the Ooey Gooey Toffee Cake.  Check out the menu here.
Disney's Imagineers got Gaston's Tavern right.  You immediately feel like you are transported to a French village pub and even if you don't eat there, it's worth just walking through to take a look.  The menu offers pub fare and snacks such as pork shanks (Gaston's version of a turkey leg), cinnamon rolls, and chocolate croissants.  Gaston's is a lot of fun and a good place to take a break for a quick snack.  Great photos can be found here.
This is one of the best quick service restaurants on Disney property and worth a stop for the rotisserie chicken alone.  There is plenty of seating which makes it a great place for a quick lunch in the Magic Kingdom.
While this Adventureland staple is not a restaurant, it is one of the best snacks you'll find on Disney property.  No trip to the Magic Kingdom is complete without the Pineapple Dole Whip from Aloha Isle.  This is so good and has such a cult following that the gift stores even sell shirts featuring the treat.  Don't miss it.
So am I missing anything?  What are your favorite Magic Kingdom restaurants?  Stay tuned for my upcoming post on the best restaurants at Epcot, Disney's Hollywood Studios, Disney's Animal Kingdom, and the Disney resorts.