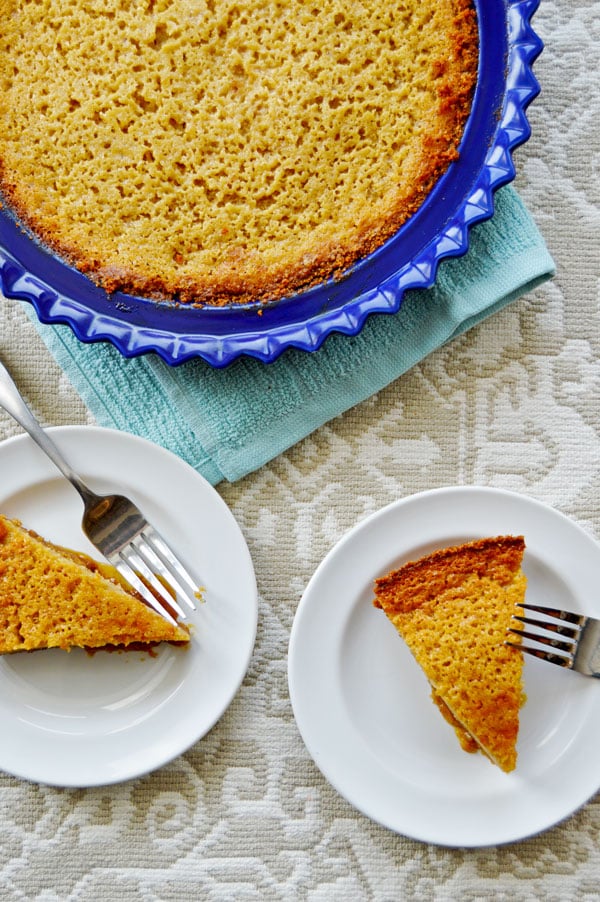 I helped cater a special high-end lunch earlier this week. I'm talking stone crabs from the Florida Keys, black truffles flown in from France, and 60 day dry-aged strip steaks.
I spent most of my morning making the roasted beet carpaccio course with the help of Tim, my lovely assistant (or maybe I was his assistant?). We started by roasting and peeling red and golden beets, then punching out circles, and slicing them into coins using a mandolin. We then repeated the entire process, except this time using tiny, baby beets.  We candied hazelnuts, made an aniseed vinaigrette, chopped chives, fine diced green apples, and made a goat cheese torchon, all individual components of the final dish.
To plate the course, we covered the plate in concentric circles of individual slices of beets, alternating colors between each slice. We brushed the beets with the vinaigrette and seasoned them with salt and pepper.  Another layer of beets went on top, followed by the green apple, candied hazelnuts, and micro greens. Before the plates went out the door, we shaved the goat cheese torchon on top, finished with another sprinkle of a flaky sea salt, and wiped down any stray beet juice.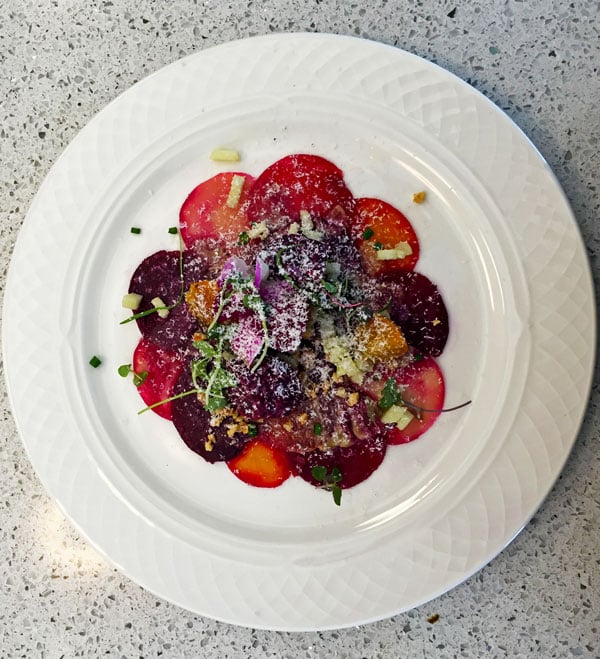 The beet carpaccio was a stunning dish; vibrant and visually interesting.  Was it delicious? Absolutely.  But, it was an incredible amount of work.  Each of the components was tedious and time consuming, requiring two cooks to work nonstop the entire morning to only create 25 servings.  I respect and admire this style of cuisine and often wonder how chefs can even come up with such creative, intricate dishes, and while I enjoy cooking like this from time to time, it's not the food I enjoy most.
I've realized and accepted that fancy, complicated, and intricate are not adjectives used to describe my style of cooking.  I prefer food that's simple, where you're blown away that so few ingredients can work together to make something that tastes so good. This is the cooking that relies on perfect technique, quality ingredients, a skillful cook, and not much more.  I think that, usually, this is the food people want to eat, not something with a foam or gel.  I favor dishes where the work is worth the reward, or even better when it surprises you that such little effort can produce such amazing taste. My past business professors would want me to refer to this as a 'good return-on-investment.'
Brown sugar pie and buttermilk pie are two recipes that come to mind when I think about simple baking.  These pies each come together easily and rely on the quality of the ingredients from which they are made. These are easy pies to cook at home, taking few dishes, common pantry ingredients, and a relatively short amount of time. I first had buttermilk pie at Husk in Nashville, made by the widely lauded chef Lisa Donavan while she was still at the helm of the pastry kitchen. Buttermilk pie was brought to the United States by southern settlers and gained popularity because it used inexpensive ingredients that were available in abundance year round. Brown sugar pie is similar in origin and tastes almost like the inside of a pecan pie but without the nuts.
Brown Sugar Buttermilk Pie takes the best of both pies – inexpensive ingredients, simple preparation, and incredible flavor.  The texture is custardy, almost like a soft bread pudding with a golden brown slightly caramelized top, and the buttermilk nicely cuts the sweetness of the brown sugar, which is complemented by fresh lemon and nutmeg.  It's a pie with humble roots but sometimes simplicity can be just as elegant as a dish with fourteen components.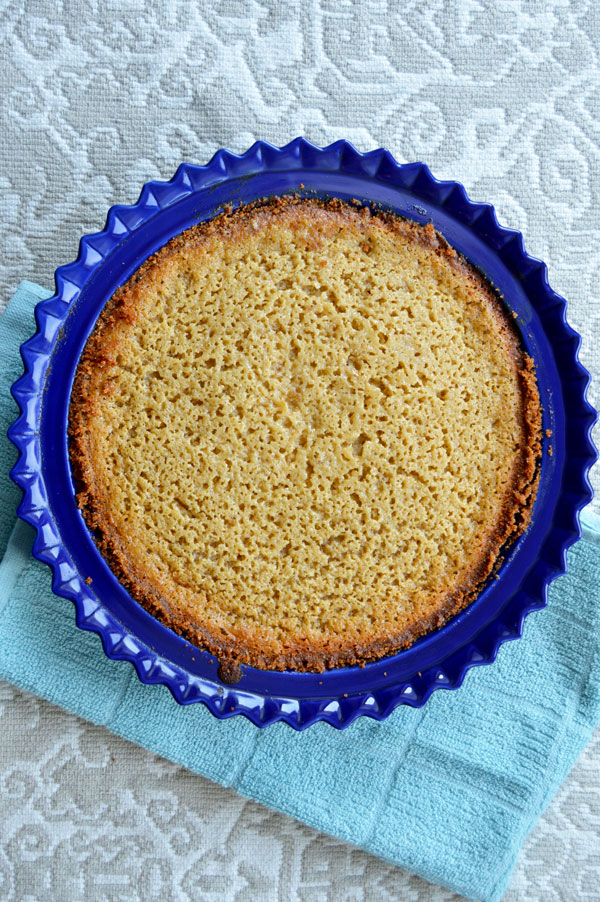 BROWN SUGAR BUTTERMILK PIE
First, a word about ingredients.  While this pie comes together simply, you'll want to doing a little prepping before you're ready to bake.  The butter should be melted and cooled, the eggs lightly whisked, and the buttermilk brought up to room temperature (or at least not directly out of the refrigerator).  It may seem unnecessary, but if the butter is too hot it can cook the eggs and if the buttermilk is too cold it can solidify the butter.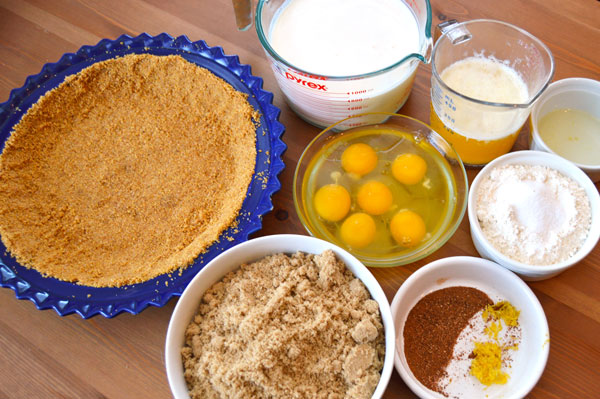 This isn't the most beautiful, show-stopping pie, but there's still a lot to love. The top of the pictured pie is a little crackly, but I've since tweaked the recipe (lowering the oven temperature to 325) and it allows for a smoother, tighter top.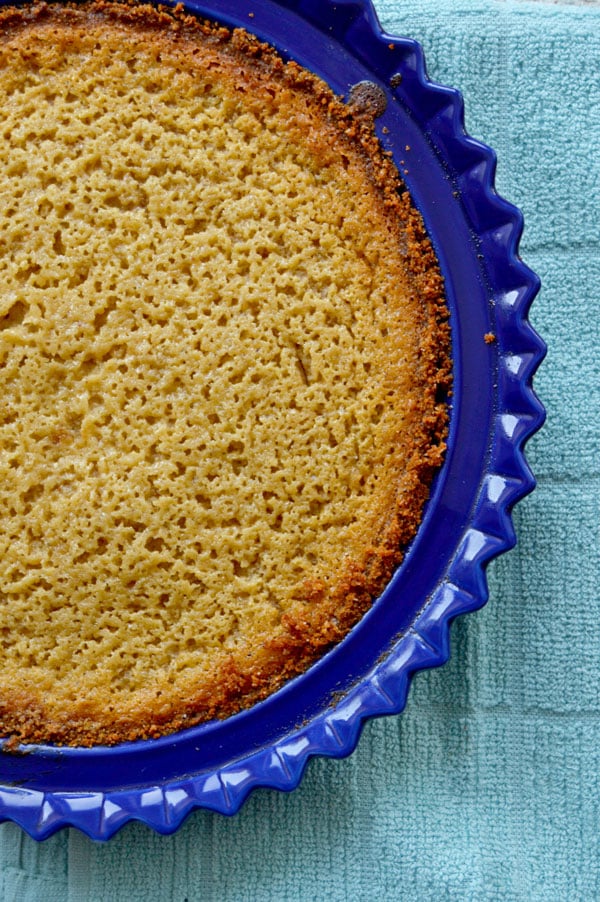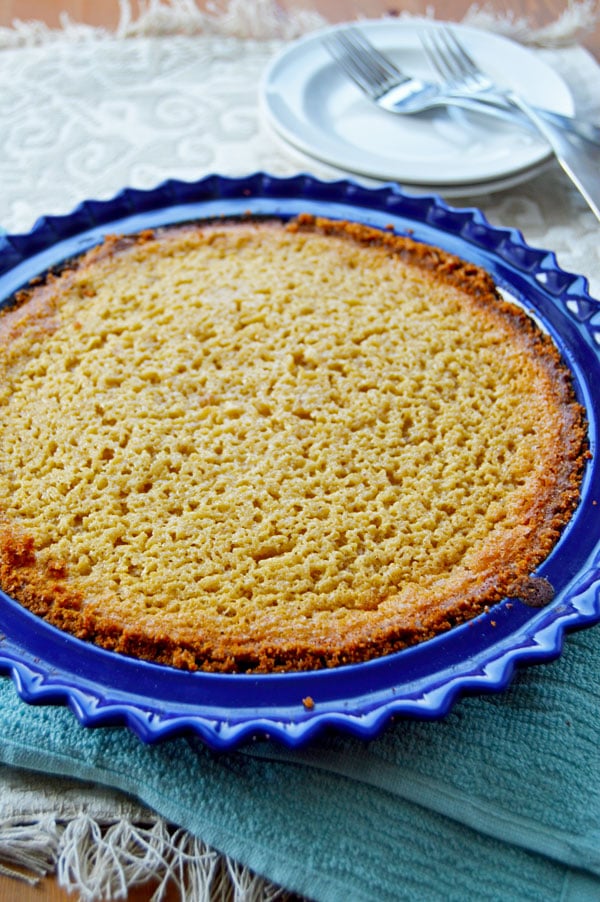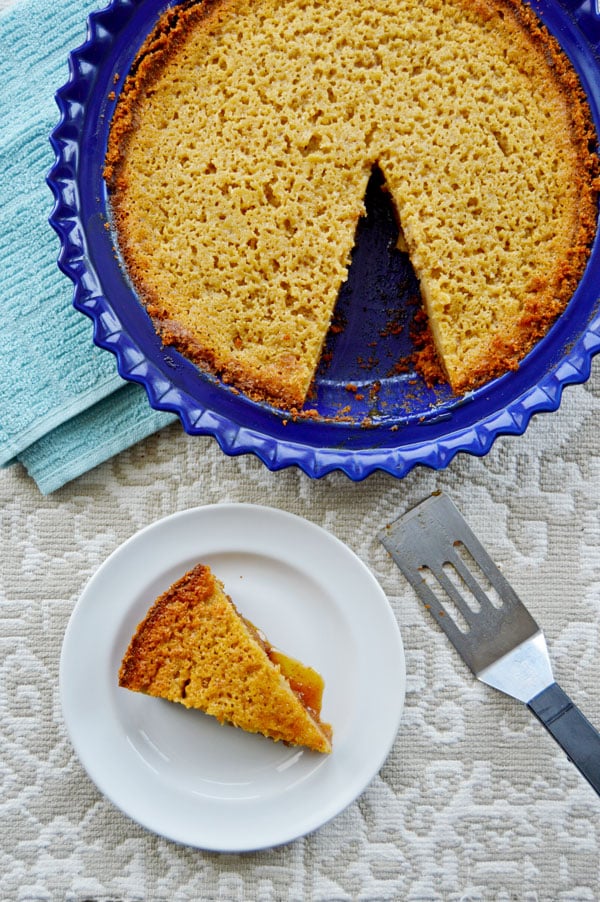 The graham cracker crust is soft (but not soggy) and becomes nearly cohesive with the filling of the pie.  The pie should remain just slightly gooey in the center and a dollop of barely sweetened whipped cream or creme fraiche would be a perfect garnish.

Jordan Hamons | [The Hungry Traveler|http://www.thehungrytravelerblog.com" target="_blank]
Yields 9-
Brown Sugar Buttermilk Pie
Ingredients
For Crust:

2 cups graham cracker crumbs
1/2 cup (100 grams / 3.5 ounces) granulated sugar
1 teaspoon cinnamon
1/8 teaspoon salt
8 tablespoons (113 grams / 4 ounces) butter, melted
For Filling:

6 eggs, lightly whisked
2 cups (400 grams / 14.11 ounces) firmly packed light brown sugar
1/2 cup (62.5 grams / 2.2 ounces) all-purpose flour
1 teaspoon kosher salt
1/2 teaspoon lemon zest
1 tablespoon lemon juice
1 1/2 teaspoons vanilla extract
1/2 teaspoon freshly grated nutmeg
8 tablespoons (113.4 grams / 4 ounces) butter, melted and cooled
1.5 cups buttermilk, room temperature
Instructions
For the Crust:
Preheat the oven to 325 degrees.
Whisk together the graham cracker crumbs, sugar, cinnamon, and salt in a medium bowl. Pour in the melted butter and stir together until moistened. Press the crumbs into the bottom and sides of a 9-inch pie plate. Bake for 10 minutes or until lightly golden brown. Let cool completely.

For the filling:

While the crust is cooling, in a large bowl whisk together the eggs, brown sugar, flour, salt, lemon zest, lemon juice, vanilla extract, nutmeg and butter until smooth.
Slowly whisk in the buttermilk and whisk until mixture is smooth and homogenous.
Pour the filling into the pre-baked pie shell and place it in the oven on a baking sheet. Bake for 50-60 minutes or until the surface is lightly browned and the filling is set. It will jiggle slightly but a knife inserted should come out clean. Let cool completely. Serve at room temperature, or slightly chilled, with a dollop of barely sweetened whipped cream.
7.8.1.2
19
https://www.thehungrytravelerblog.com/brown-sugar-buttermilk-pie/