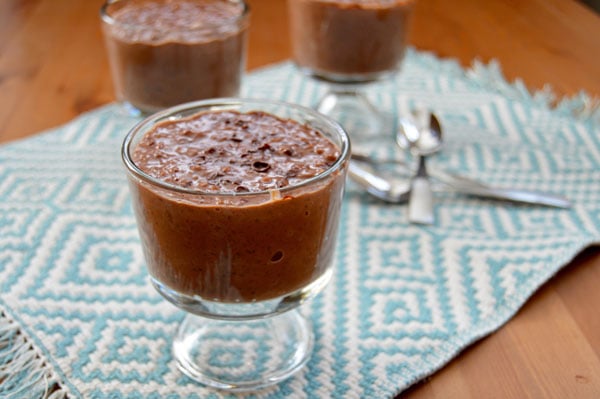 For the next stop on the Rice Pudding Around the World series, we're headed to the Philippines…
When asked about my favorite cities and countries around the world, my two answers are Paris and the Philippines. Paris is a given, but my response of the Philippines is often met with a bit of surprise.
A few years ago I studied abroad in Asia and spent the summer traveling through South Korea, China, and Hong Kong, learning about the Asian business environment, visiting companies and attending lectures, and spending way too much time on planes, busses, and boats moving between destinations.  After the planned portion of the trip, students were given a free week to travel before returning  home, and my group of friends decided to spend in it Boracay, an island in the Philippines.
Leaving from Hong Kong, it took us one taxi ride, two flights, two shuttles, one boat ride, and two buses to arrive in Boracay (and don't even ask about getting home), but we couldn't have been happier to be there. English was widely spoken, there were no alarm clocks, no company visits, and our next flight wasn't for a week. We had nothing to do but drink, enjoy the beach and ocean, and have fun. We could finally relax without worrying about being constantly observed and graded and it was a much needed break from our other study abroad companions (Traveling in China in 90-degree heat really brings out the best in people).
Spending a week on one of the world's most beautiful islands, with your best friends and copious amounts of cheap alcohol can lead to a lot of fun.  We went on a banana boat ride, chartered a yacht and were treated like celebrities, went on a sunset cruise where a few of us almost drowned, attempted (and miserably failed) our hotel's 'famous' 7 Drink Challenge, parasailed, and finished the week with a seafood banquet cooked especially for us by the chefs at the hotel.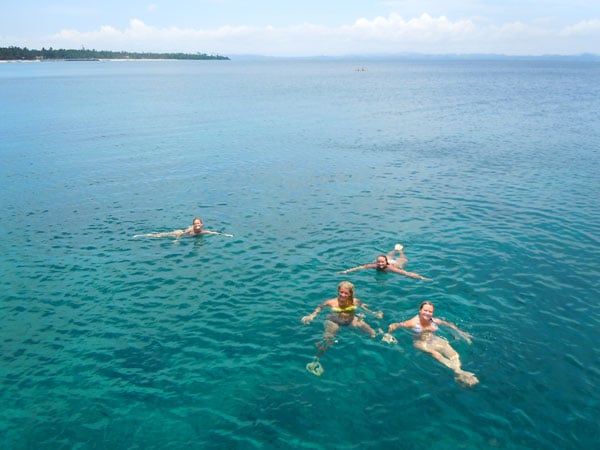 We jumped off our chartered yacht for a swim…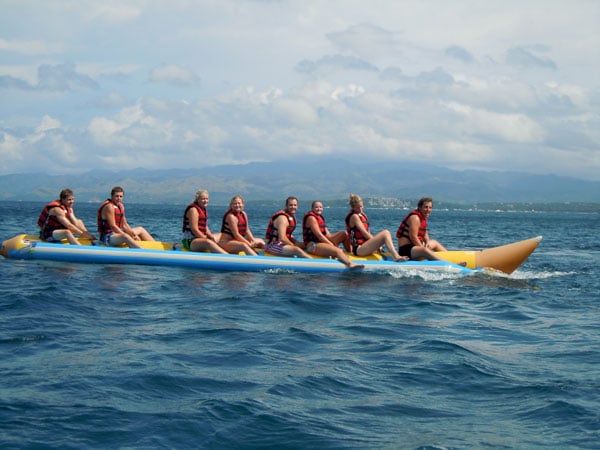 Banana boat ride – I'm not sure I've ever laughed harder in my life
One of my favorite parts of the trip was having breakfast on the beach each morning.  Breakfast vouchers were included as part of the hotel package and it became a bit of a game to see which members of our group would actually make it to breakfast. I made it every morning (the food was too good to miss) but one member of our group (I won't name names) sadly never made it to breakfast once.  I ordered the same thing every day, the Boracay Breakfast consisted of a platter of garlic fried rice, scrambled eggs, and marinated pork, one pancake on the side, and a pot of coffee.  It's without a doubt the best breakfast I've ever had.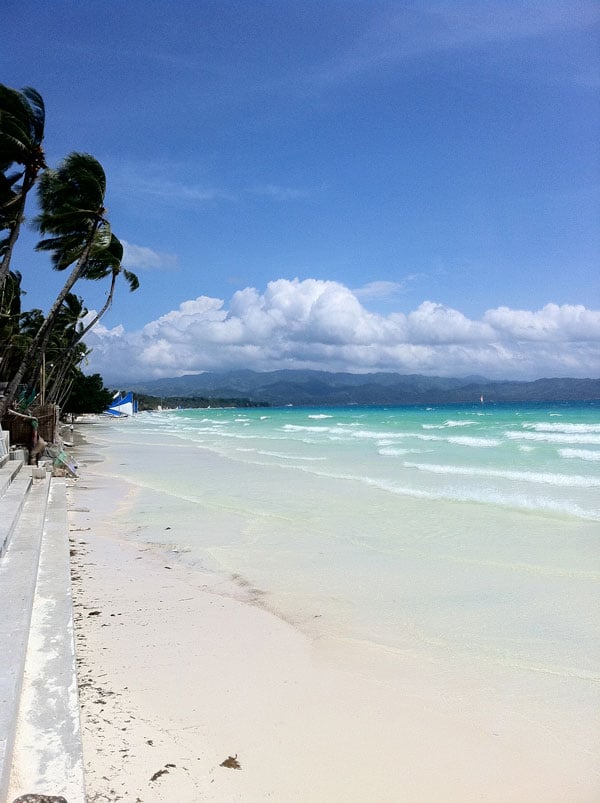 The view from breakfast
Doing some research, I read about a famous Filipino breakfast delicacy called champorado, a chocolate sticky rice pudding.  While champorado was not served at our hotel, the Boracay Beach Club, I found the dish intriguing and knew it would be a good stop for the rice pudding around the world series.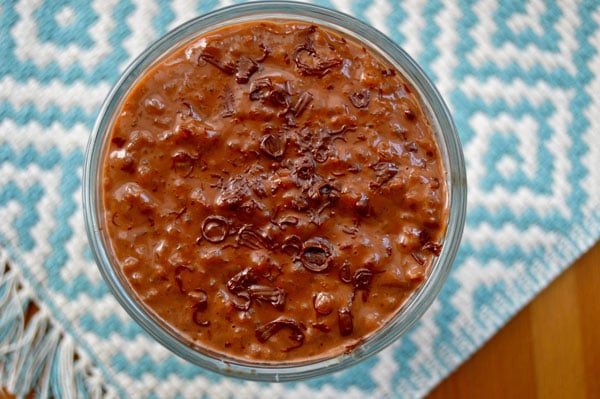 Champorado is a traditional filipino breakfast dish.  Champorado is made into a pudding by boiling sticky rice with cocoa powder or semi sweet chocolate.  It's such a popular dish in the Philippines that grocery stores sell special chocolate bars called tablea and boxed mixes to use for making champorado at home. Served warm or chilled, it's often garnished with tuyo, a dried salted fish, and a drizzle of evaporated or condensed milk and served with pan de sal (sweet buttery rolls) for a hearty breakfast or mid-afternoon snack.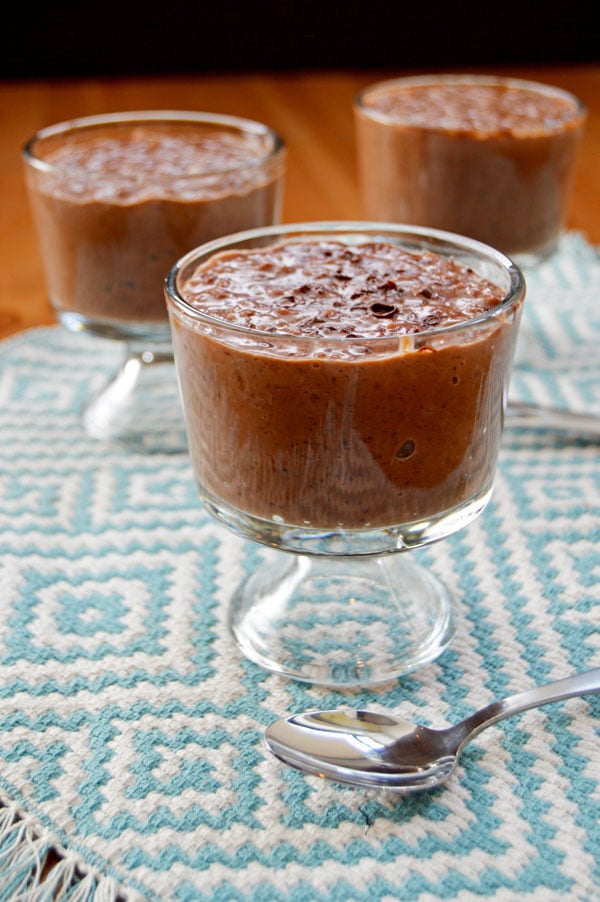 The history of champorado is said to be traced to the galleon trade between Mexico and the Philippines. The Mexican traders brought with them their knowledge of champurrado, a chocolate-based warm and thick drink often served with churros for breakfast in Mexico. Rice was eventually added and over time the dish evolved into today's champorado.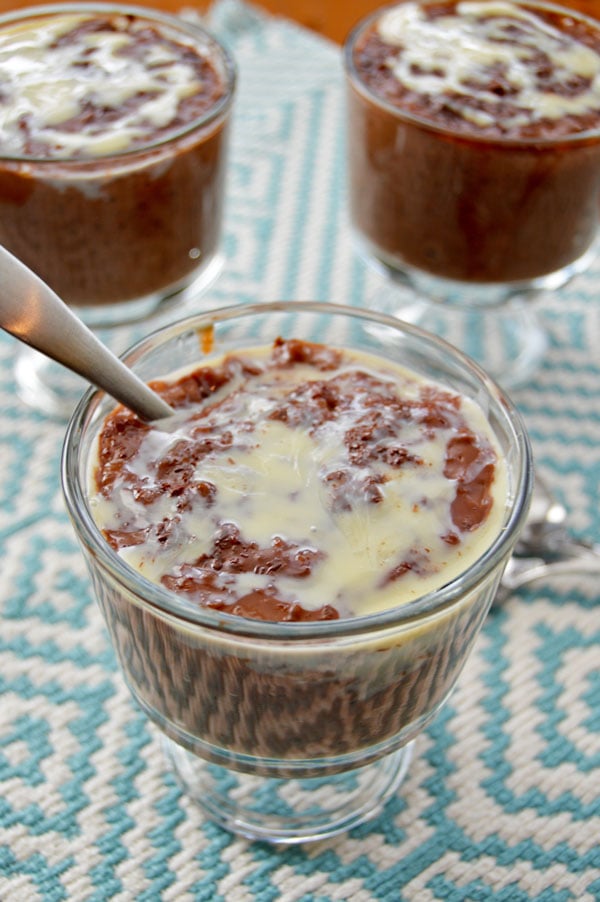 Jordan Hamons | [The Hungry Traveler|http://www.thehungrytravelerblog.com" target="_blank]
Yields 6-8
Champorado - Filipino Chocolate Rice Pudding (Rice Pudding Around the World)
Ingredients
1 cup sticky rice
5 cups water
1/2 teaspoon kosher salt
6 ounces semisweet chocolate, finely chopped
1/2 cup heavy cream
7 ounces sweetened condensed milk, plus more for drizzling
Instructions
In medium saucepan, combine the rice, water, and salt over medium-high heat. Bring it to a boil and then reduce the heat to low. Cover the pot and let simmer for 15-20 minutes, stirring occasionally until the rice is cooked and the water is mostly absorbed, but the mixture is still a little milky.
Place the chocolate in a medium heatproof bowl. While the rice is simmering, place the heavy cream in a small saucepan and bring to a boil (you can also do this step in the microwave). Pour the hot cream over the chocolate and let sit 5 minutes. Whisk until the mixture is smooth and homogenous.
Remove the pot from the heat and stir in the melted chocolate and sweetened condensed milk. Return to heat for 5 minutes to finish cooking.
Serve warm with a drizzle of sweetened condensed milk.
Store for up to three days tightly covered in the refrigerator. The champorado will thicken as it's chilled. You can rewarm it with a little milk or water or serve it chilled with a generous drizzle of milk to loosen it.
Notes
Sticky rice can be purchased at Asian markets and is sometimes called sweet rice or glutinous rice. If you cannot find sticky rice, sushi rice (or short grain white rice) can be substituted, using 2 cups of rice and 3 cups of water then following the recipe as directed.
7.8.1.2
20
https://www.thehungrytravelerblog.com/champorado-filipino-chocolate-rice-pudding/