Buttermilk Biscuits — This is my favorite recipe for flaky and tender buttermilk biscuits! These versatile biscuits are good for everything from biscuits and gravy to strawberry shortcake, or for just eating with some butter and honey or jam!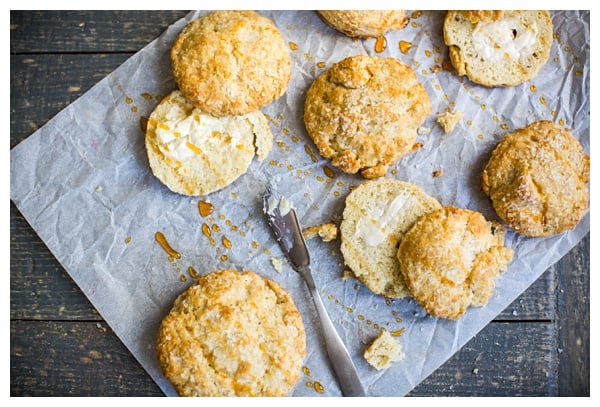 Beaten biscuits… Touch of grace biscuits… super flaky biscuits… drop biscuits…
All of these biscuits are delicious and each one serves its respective purpose well. But, it's also a good idea to have a reliable recipe for a versatile biscuit.
I like all biscuits, but this is my favorite all-purpose biscuit. It's sturdy enough for a biscuit sandwich, perfect for drenching in sausage gravy, and tender and flavorful enough to eat simply with butter and honey or jam.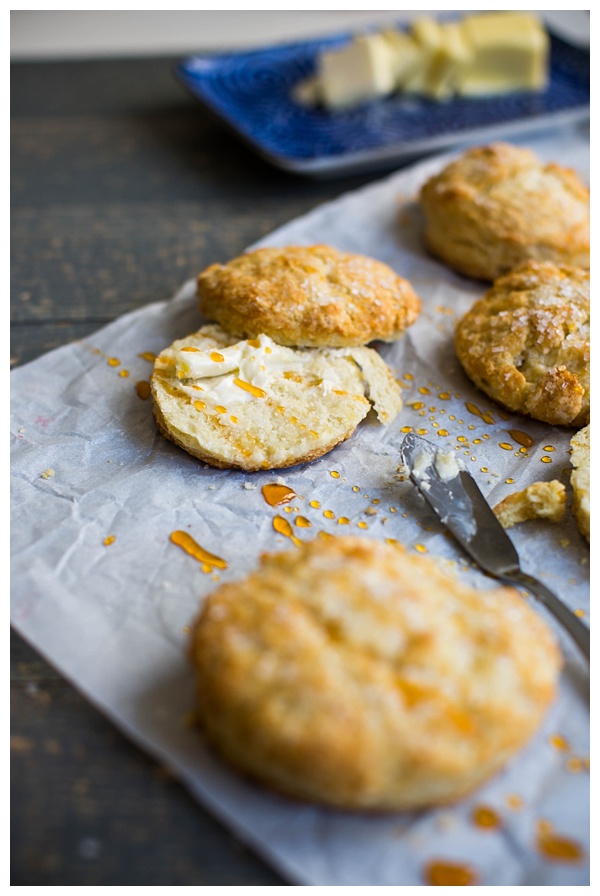 This is my standard recipe but you can use it as a blank canvas and get creative. Mix a tablespoon of sugar into the dough for sweeter biscuits or shortcakes. Add in some chopped bacon and shredded cheese for a savory biscuit for sandwiches. Fresh herbs are a welcome addition. I always brush the tops with egg wash and add a sprinkle of crunchy sugar, flaky salt, or sometimes both.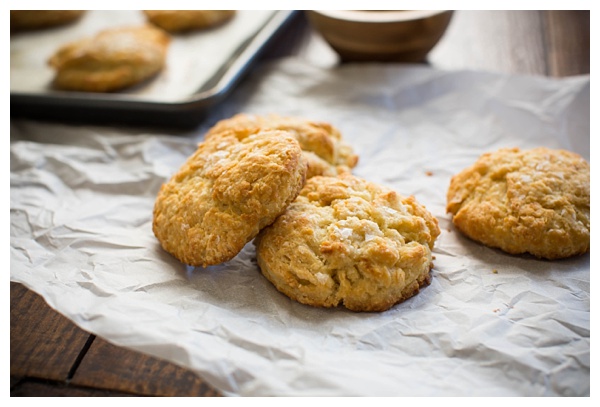 Tips for Baking Buttermilk Biscuits
Keep the buttermilk and the butter very cold. Similar to making pie crust, you want the ingredients to be cold so you can work the butter into the flour without melting it.
You can use a circular biscuit cutter (as pictured in this post) or simply use a knife and cut the dough into squares of any size. I like to cut them around 2-3 inches.
If you use a biscuit cutter, try to cut the biscuits as close as possible to avoid excess scraps. Only re-roll the scraps once, otherwise the biscuits will be tough. Press the biscuit cutter straight down and avoid twisting the cutter as you cut the dough.
You can add a tablespoon of granulated sugar if you want a sweeter biscuit.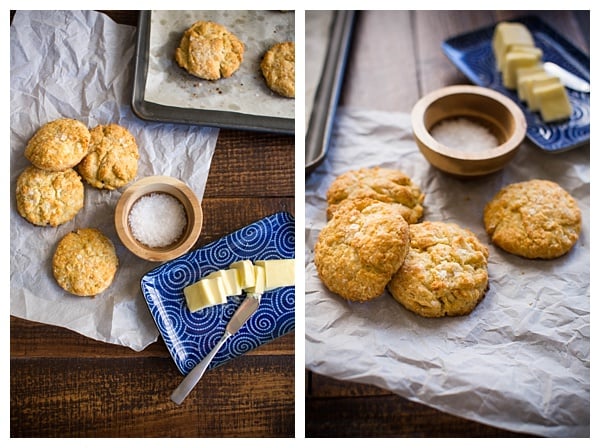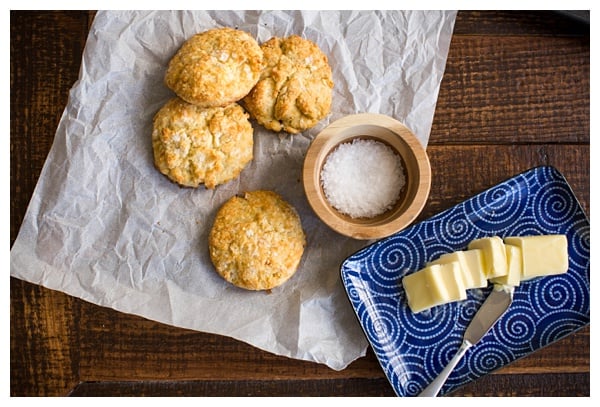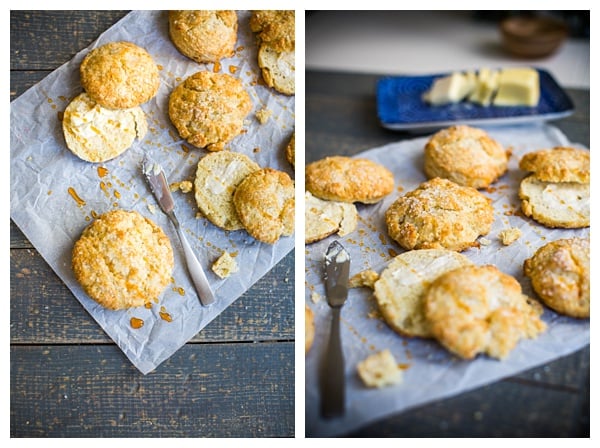 Jordan Hamons
Yields 8-10 Biscuits
Buttermilk Biscuits
Ingredients
2 cups (240 grams / 9 ounces) all purpose flour
1 teaspoon (6 grams) kosher salt
2 teaspoons (10 grams) baking powder
1/2 teaspoon (3 grams) baking soda
6 tablespoons (84 grams / 3 ounces) unsalted butter, very cold, cut into 1/2-inch dice
3/4 cup (182 grams / 6 ounces) whole buttermilk, very cold
3 tablespoons (42 grams) unsalted butter, melted, for brushing
Flaky sea salt for garnish
Instructions
Line a baking sheet with parchment paper and set aside.
In a medium bowl, whisk together the flour, salt, baking powder, and baking soda.
Add the diced butter to the bowl and use your fingers to rub the butter into the flour until it resembles a coarse meal and the pieces of butter are around the size of peas.
Make a well in the center and pour in the cold buttermilk. Use a fork to stir in the buttermilk until everything is just combined and moistened.
Turn the dough out onto a lightly floured work surface. Lightly knead the dough a few times just until it comes together and is evenly moistened. Pat the dough into a rectangle about 10 inches wide x 5 inches tall and about 3/4 inch thick. Use a bench knife to cut the dough into 2 by 2 1/2 inch squares. You should get about 8 biscuits.
Place the biscuits on the prepared baking sheet about 2 inches apart. Brush the top of the biscuits with the melted butter and sprinkle them with the sea salt. Place in the refrigerator to chill for about 30 minutes. While the biscuits are chilling, preheat the oven to 450 degrees with a rack positioned in the middle.
Bake the biscuits, rotating half way through baking, until they are golden brown, about 10-12 minutes. Let cool on the baking sheet for 2-3 minutes and then transfer to a wire rack until they are cool enough to handle. Serve immediately.
Notes
The biscuits can also be cut using a circular biscuit cutter. For sweeter biscuits, whisk 1 tablespoon sugar into the dry ingredients and omit sprinkling the tops with sea salt.
Biscuits are best served immediately after baking. However, you can keep them in an airtight container and reheat in the oven before serving.
The biscuits can be formed, placed on the baking sheet, and refrigerated overnight. You can also form them, place them on the baking sheet, and freeze them for up to 3 months.
7.8.1.2
69
https://www.thehungrytravelerblog.com/buttermilk-biscuits/