My Food with Friends cookbook review is in partnership with Blogging for Books. They send me great cookbooks and I write honest reviews about them here.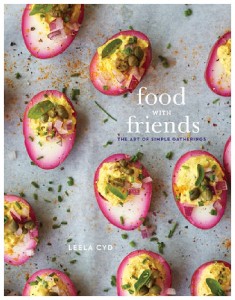 Food with Friends Cookbook Review
What is Food with Friends about?
Food with Friends is all about the art of simple gatherings. The author, Leela Cyd, shares recipes for small bites and treats that are simple to prepare but have special touches that make them whimsical and fun. This is food that you would make for a party to impress your guests, but without having to spend all day in the kitchen.
What I Liked: 
Absolutely gorgeous photography and food styling. The design is truly the highlight of the book, and the small size makes it easy to read while in bed or relaxing on the couch.
Fun and interesting recipes. Many of the recipes have unique touches that take them from simple to special.
Unexpected flavor combinations. These are not your average appetizers and nibbles. The author takes familiar dishes and puts a modern spin on them to keep them interesting.
Things You Should Know:
All of the recipes are vegetarian. Not a bad thing, but I did not realize it until I spent some time with the book. I'm not sure my friends would not be pleased if I had them over and there was no meat at the party.
Several recipes take harder-to-find ingredients such as curry leaves or edible flowers. This isn't a huge issue but I don't love having to hunt down ingredients.
The book definitely veers more towards sweets and desserts. Obviously, I love desserts but when I'm planning a party, I usually have more trouble figuring out the savory options. I love the dessert ideas in Food with Friends, but more savory recipes would be helpful too. There's nothing worse than going to a party and leaving hungry.
The food and styling in this book is so gorgeous that I worry I would be disappointed with how my food turned out. Everything looks so good, especially with the perfect garnishes and props, that I'm not sure I could replicate it.
3 Recipes I Can't Way to Try: 
Chili-Lime Pineapple with Coconut Cream — All of my favorite flavors in one dish. I think I'm going to host a party just so I can make this for someone.
Bananas on Fire — Bananas aren't my favorite but this is just a great name! These are flambeed bananas with a creme fraiche topping. It sounds amazing.
South Indian-Style Veg Cutlets with Spiced Mango Butter — Inspired by the roadside cafes and coffee shops in Southern India, these patties would be a hearty, yet healthy addition to any party. The mango butter just sounds amazing.
Who Should Buy this Book? 
Anyone interested in fun, vegetarian party food
Those who love to entertain and are looking for new ideas and unexpected flavors
Anyone who enjoys beautiful food photography and styling. This book is just stunning.