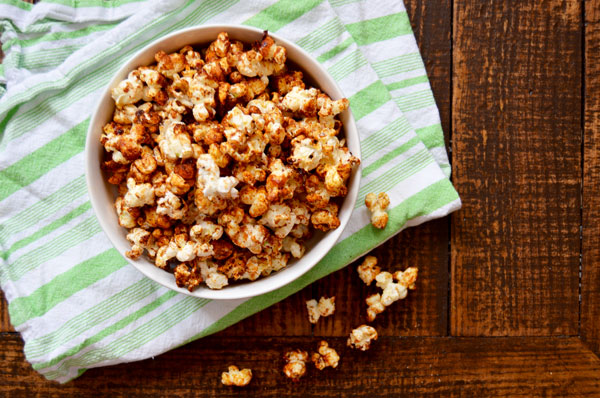 I'm not the best at grocery shopping and I don't like to keep a lot of snack foods in my apartment because I have no self-control. But there are times when I need a snack and an apple or hummus just isn't going to cut it. That's when I turn to popcorn to satisfy my snack cravings.
There's no special grocery shopping required. I keep some dried corn kernels in my pantry and get creative with the seasonings. Butter, truffle salt, parmesan, honey, and sriracha are always in my kitchen and make excellent popcorn toppings (just not all at the same time).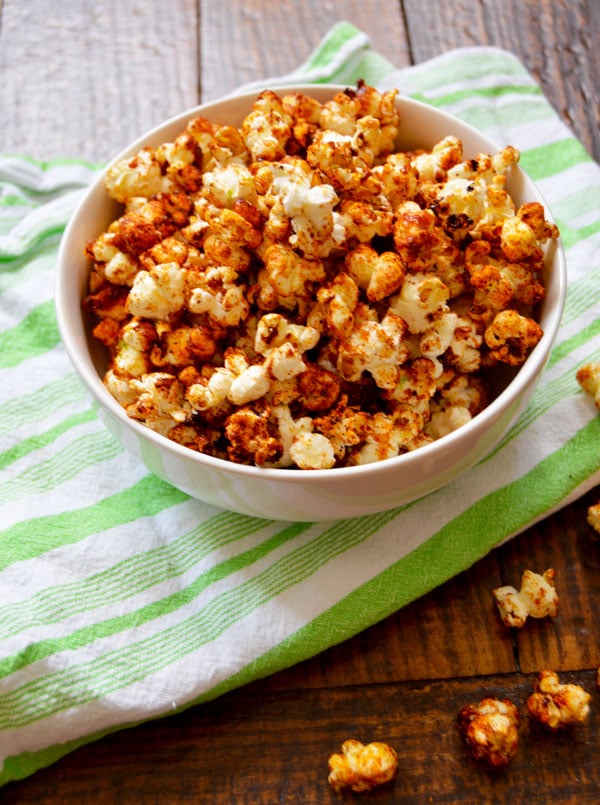 A few weeks ago I discovered a great bistro in Chicago called Spoke & Bird. It's a neighborhood restaurant serving thoughtful, healthy food and wonderful coffee. I knew it was a quality place as soon as I walked in the door and noticed many of my favorite cookbooks on their kitchen shelves. Yes, I judge restaurants by their cookbook selection.
I should be honest and admit I can't actually take any credit for the discovery. Spoke & Bird was introduced to me by my friends Nicki and Kari who live in the neighborhood. Not only are they gracious, wonderful hosts with a beautiful apartment, but they have the very best food recommendations in all of Chicago.
Spoke & Bird is the kind of place I would eat every day if I lived nearby. While there on my last visit, I picked up a bag of ancho chili lime kettle corn made by & Popcorn, a Chicago small-batch popcorn maker. The popcorn was absolutely delicious and I've been thinking about it ever since. After a few test runs, I was able to re-create the recipe.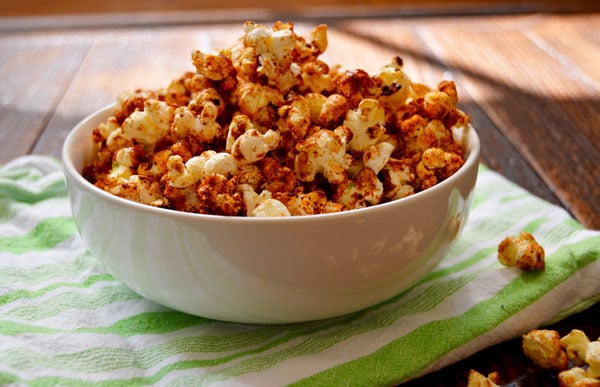 A few tips on making popcorn at home:
1. Make sure your oil is sizzling hot before adding the kernels. I like to put a few kernels in to test the oil and then add the rest once the initial tester kernels pop.
2. Once the popping slows down, remove the pan from the heat. Don't want until all of the kernels pop or some of them will burn.
3. There will be a few un-popped kernels and maybe a few burnt pieces. Just pick them out when you see them.
4. Taste the popcorn and adjust the seasonings to your preference. You may want a little more salt or a little more lime juice. This recipe uses less seasoning than normal so you can adjust it to your liking.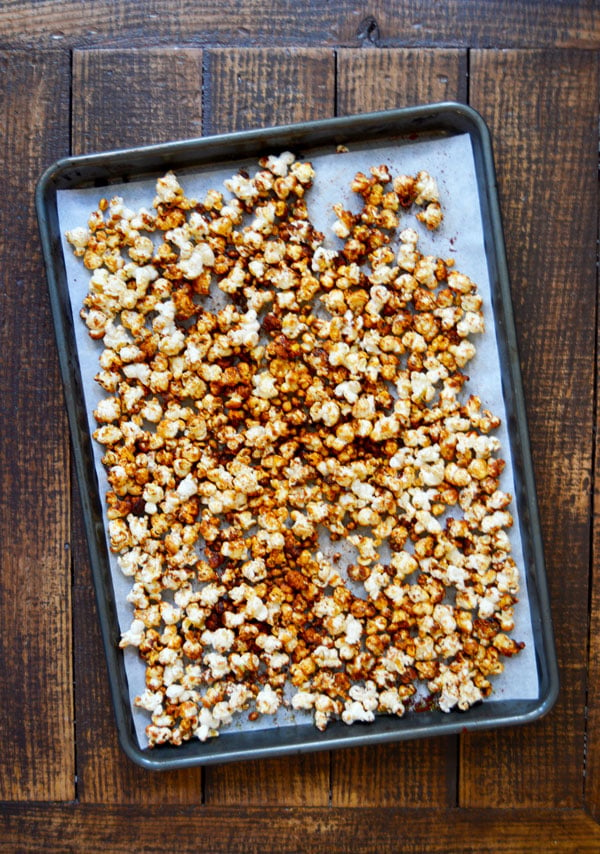 For a great step-by-step photo tutorial on making kettle corn, check out this post from The Kitchn.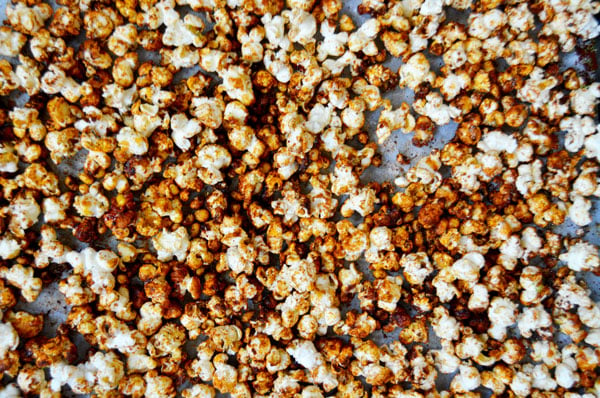 Jordan Hamons | [The Hungry Traveler|http://www.thehungrytravelerblog.com" target="_blank]
Yields 6-8
Chili Lime Kettle Corn
Ingredients
3 tablespoons coconut oil
1/2 cup popcorn kernels
1/2 cup granulated sugar
2 teaspoons kosher salt
1 teaspoon ground ancho chili pepper (or more to taste)
2 teaspoons finely grated lime zest (from about 2 limes)
1 large lime wedge
Instructions
Line a large baking sheet with parchment paper and set it close to the stove.
Add the coconut oil to a large saucepan and turn the heat to medium-high. Add 3-5 kernels of corn and cover the pot. These tester kernels will indicate when the oil is hot.
Once the tester kernels pop, add the remaining kernels, sugar, and salt. Quickly stir everything together to coat all of the kernels and replace the lid.
As the kernels start to pop, shake the pan occasionally. As the popping increases, shake a bit more vigorously and consistently.
When the popping slows down (1-2 seconds between pops), remove the pan from the heat and pour the popcorn onto the baking sheet. You will have a few un-popped kernels but that is ok. If you wait for every single kernel to pop, some will start to burn.
Sprinkle the ancho chili pepper and lime zest over the popcorn and squeeze the lime wedge over top. Toss to combine. Use a spoon or your fingers to spread the popcorn into an even layer and pick out any unpopped kernels or burnt pieces. Taste the popcorn and adjust the seasonings as desired.
Let the popcorn cool for a few minutes so it can crisp up. Eat immediately or store in an airtight container for a few days.
7.8.1.2
41
https://www.thehungrytravelerblog.com/chili-lime-kettle-corn/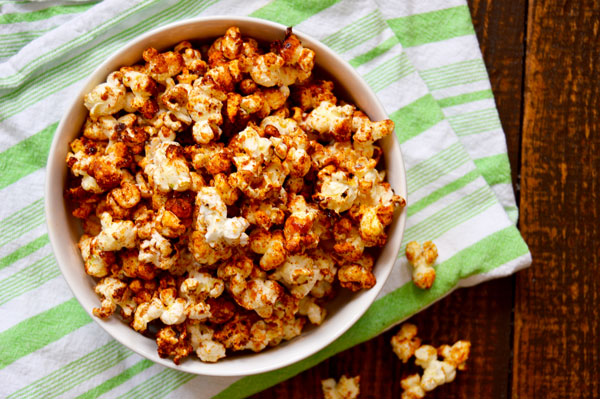 For another delicious popcorn recipe, check out my Truffle Parmesan Popcorn.