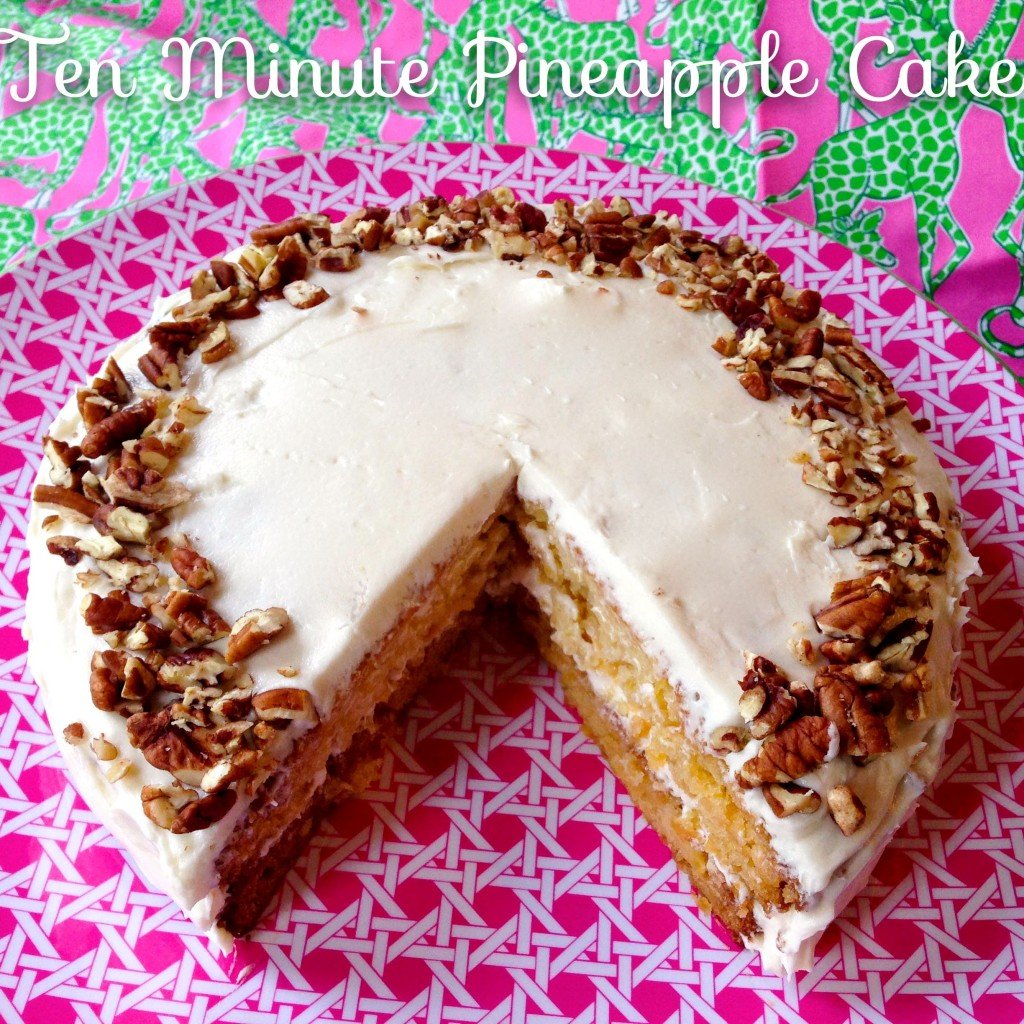 My neighbor, Chris, has been making this cake for a long as I can remember and it's everything I want in a cake: delicious, quick, and foolproof.  Pineapple cake was the star of my high school graduation party, a huge hit at my grandparents 50th wedding anniversary (it was 5 years ago and people are STILL asking me for the recipe), and recently devoured at a very fancy dinner for Cincinnati's most prominent businesspeople.
Easy to dress up or down, this cake is perfect for any occasion and you can make it in 10 minutes.  Using the juice from the canned pineapple gives you a moist cake bursting with pineapple flavor, while the slight tang from the cream cheese frosting perfectly contrasts the sweetness. For all of this flavor, you would think it was harder to make, but really, it only takes minutes and it's so good your friends will still be asking for the recipe years later.
Follow the recipe below and you'll have a perfect dessert for any gathering or you can double the recipe and have enough for 24 cupcakes or a beautiful two-layer cake.
The cake is wonderful served plain or simply sprinkled with toasted coconut or pecans, but if you want to impress, serve it with a drizzle of salted caramel or raspberry sauce (or both!).
Chris, my neighbor and one of the best cooks I know, and her schnoodles, Vinnee and Toenee.

Ten Minute Pineapple Cake
Ingredients
For Cake
2 cups (400 grams/14.1 ounces) granulated sugar
2 cups (250 grams/8.8 ounces) all-purpose flour, sifted
2 large eggs, lightly whisked
2 teaspoons baking soda
1 (20-oz) can crushed pineapple, undrained
For Frosting
8 ounces cream cheese, at room temperature
1 stick (113 grams/4 ounces) unsalted butter, at room temperature
1.5 cups (187.5 grams/6.6 ounces) powdered sugar
1 tablespoon vanilla extract
For Garnish
1 cup toasted coconut or pecans (optional)
Instructions
For Cake: Heat oven to 350°F. Prepare a 9 x 13 baking dish with pan spray.
In a large bowl, use a spoon to mix together all ingredients for the cake until just combined.
Pour batter into prepared pan. Bake at 350°F until golden brown and a toothpick inserted into the center comes out clean, about 25-30 minutes.
For Icing: While cake is baking, combine all frosting ingredients in the bowl of a stand mixer fitted with the whisk attachment. Mix until smooth.
When cake is finished, remove from oven and let cool for 5 minutes. Frost cake while it is still very warm. Sprinkle the top with toasted coconut or pecans.
Serve chilled or at room temperature. Cake will keep covered in refrigerator for 2-3 days.
7.8.1.2
1
https://www.thehungrytravelerblog.com/chriss-ten-minute-pineapple-cake/