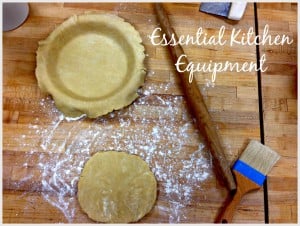 A friend recently asked me for advice on the essential kitchen equipment that she should purchase to outfit her kitchen.  She was overwhelmed by the choice of sets, different materials, and which cookware is truly necessary.  Equipping your kitchen for the first time can be difficult but you don't need a lot of kitchen equipment to cook well.  Crowding your kitchen with gadgets and gimmicks will only slow you down and cause frustration. Instead, invest in high quality, versatile kitchen equipment that will last for ages and make you a better, more efficient cook.
I've put together a list of what I consider Essential Kitchen Equipment.  I've included how the item is used in the kitchen, advice on what to look for when shopping, and recommendations with links to the exact equipment I use in my home kitchen.  I'm discussing cookware to start, but in the coming weeks I'll also share my lists for essential knives, bakeware, tools, and cookbooks.  Before we talk about Essential Kitchen Equipment, let's go over a few tips for buying new cookware.
Tips for Buying Cookware
1. Avoid buying cookware in sets.  Buy exactly what you need instead paying for a set that might include pans you'll never use.  This is just a general rule, and I'm sure there may be exceptions so you should always consider your options.
2. The heavier, the better. A good pan or pot should feel heavy and have thick cladding on the bottom.  This helps conduct heat better and more evenly.
3. Look for oven-safe cookware.  You want to be able to sear a piece of meat on the stovetop and then slip the skillet into the oven to finish cooking.
4. Consider your cookware to be a collection.  Instead of buying everything you need at once, acquire your cookware piece-by-piece so you can wait for discounts and sales.
5. Clad cookware is usually your best bet. Cookware is made from a variety of metals, most commonly copper, aluminum, cast iron, clad, and stainless steel.  Copper, while beautiful, is usually not worth the expense.  Aluminum scratches and dents easily and is best used in combination with other metals. Cast iron is great for skillets but heats up slowly and is very heavy. Stainless steel is a poor heat conductor and should also be combined with other metals.  Clad cookware is generally the best option. Cladding is made from layers of metal that have been bonded under intense pressure. It heats evenly and quickly and is easy to care for.
6. Do your research. America's Test Kitchen is a great resource for equipment reviews.  It's worth taking a look before buying anything.
Essential Kitchen Equipment –
Cookware
Let's start with a general list of what cookware every kitchen needs:
1.  Traditional Skillet
2. Cast Iron Skillet
3. Nonstick Skillet
4. Dutch Oven with Lid
5. Stockpot
6. Roasting Pan with Rack
7. Saucepans with Lids
8. Rimmed Baking Sheets
9. Wire Cooling Racks
10.  Glass Baking Dish
Now, read on for more details and specific product recommendations.
Traditional Skillet
Size: 12-inch is essential but it's nice to have smaller (8- or 10-inch) options too.
Purpose: Searing, browning, pan frying, pan roasting
Look for: Heavy clad construction, oven-safe handle, stainless steel interior, flared sides
Recommendation: All-Clad 12-inch Stainless Fry Pan
Cast Iron Skillet
Size: 12-inch
Purpose: Frying, searing, baking cornbread, etc.
Look for: Preseasoned, straight sides
Recommendation: Lodge Logic 12-inch Cast Iron Skillet
Nonstick Skillet
Size: 12-inch is essential but smaller (8- or 10-inch) options come in handy too.
Purpose: Eggs, pancakes, sautéing delicate items, stir-fries, searing fish
Look for: Oven safe handle, dark non-stick surface
Recommendation: T-Fal Basic 12.5 Inch Fry Pan and T-Fal Soft Handle 9″ and 11″ Skillet Set
Dutch Oven with Lid
Size: 6 Quarts or larger
Purpose: Braising, soups, stews, frying, steaming, boiling
Look for: enameled cast iron or stainless steel, tight fitting lid, at least 9-inches across cooking surface
Recommendation: I have the Sur La Table 8-Qt Dutch Oven but America's Test Kitchen recommends the more affordable Lodge Cast Iron Enamel 6-Quart Dutch Oven
Stockpot
Size: 10 Quart
Purpose: steaming lobsters, cooking pasta, large batches of soup, making stock, boiling corn
Look for: heavy construction, thick bottom, wide diameter
Recommendation: Le Creuset 10 Quart Stockpot
Roasting Pan with Rack
Size: 15 x 11 inches or larger
Purpose: Roasting large cuts of meat, Thanksgiving turkey, roasting vegetables
Look for: Make sure it fits in your oven, stainless steel with aluminum core, light interior, upright handles, flameproof (so you can put it on the stovetop), a V-rack to lift meat off the bottom of the pan and facilitate circulation
Recommendation: I have the All-Clad Stainless Roasting Pan with Rack and Lifters but the less expensive Calphalon Contemporary Stainless Roasting Pan is recommended by America's Test Kitchen
Saucepans with Lids (2+)
Size: 4-Quart and 2-Quart options are essential
Purpose: Rice, sauces, vegetables, custards, gravy, pastry cream, reheating leftovers
Look for: Long handles, tight-fitting lids, heavy construction
Recommendation: All Clad 4-Quart Stainless Steel Saucepan with Lid and All Clad 2-Quart Stainless Steel Saucepan with Lid 
Rimmed Baking Sheets (2+)
(aka sheet pans or jellyroll pans)
Size: You should have at least two 18 x 13 inch sheet pans but it's helpful to have a few smaller options too
Purpose: Baking cookies, roasting vegetables, cooking meat, baking sheet cakes, cooking perfect bacon
Look for: light-colored surface, 1-inch rim, heavy and sturdy construction,
Recommendation: Chicago Metallic Aluminum Half Sheet Pan (Make sure you buy at least two)
Wire Cooling Racks (2+)
Size: 17 x 12 inches
Purpose: Cooking perfect bacon, cooling baked goods, roasting meat and poultry
Look for: Woven grid (not bars that run in one direction), dishwasher safe
Recommendation: Stainless Steel Baking and Cooling Rack (Buy at least two)

Glass Baking Dish
Size: 9 x 13
Purpose: Casseroles, marinating meats,
Look for: Dishwasher safe, sturdy construction, handles, made of clear glass
Recommendation: Pyrex 9 x 13 Glass Baker