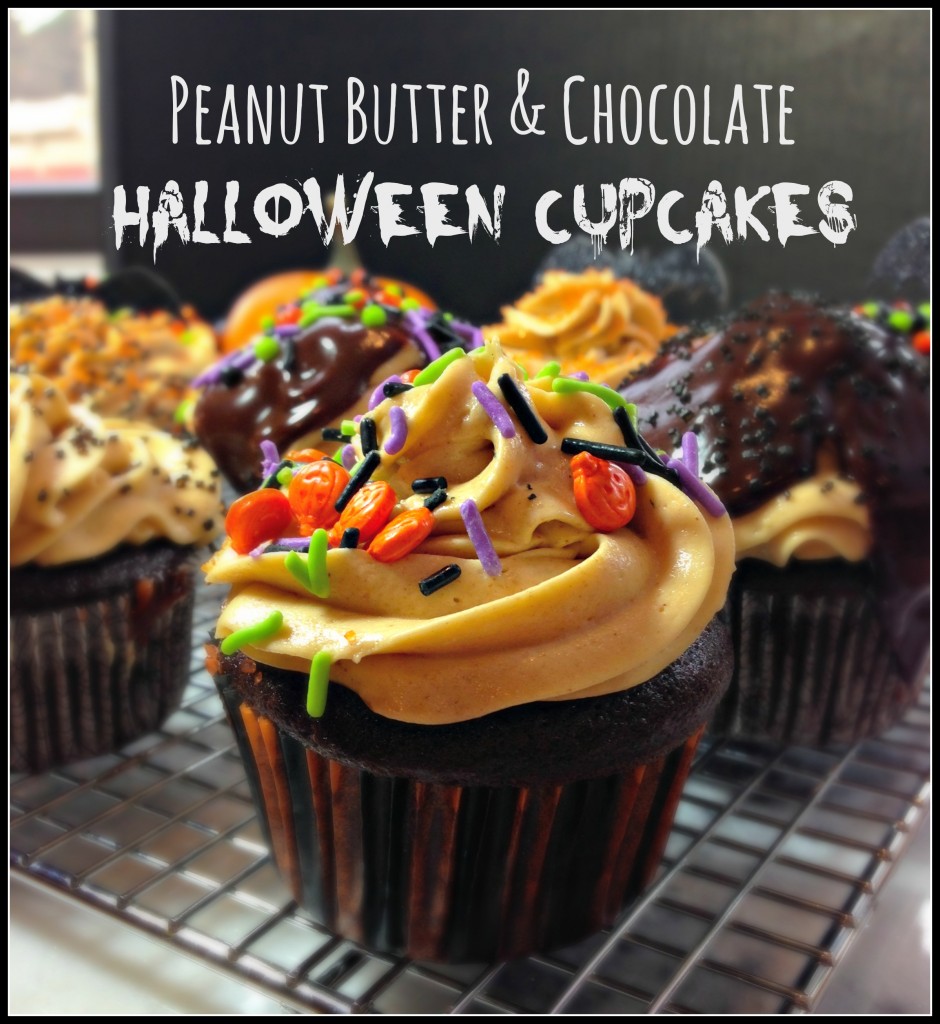 I had my 5th birthday party at Chuck E Cheese.  I don't remember too much about it except that Chuck E Cheese provided a birthday cake for the kids to decorate. At some point during the party, a server brought out a plain white frosted cake with several cups of different colored sprinkles and various tubes of icing and told the kids to have fun.  As the birthday girl, I tried to direct the cake design, but having made it our mission to use every last decoration, what was once the cake very quickly turned into a huge mound of sprinkles with big globs of icing on top.  Luckily my mom planned ahead and brought a backup cake.
I was reminded of these childhood birthday parties when I started decorating these cupcakes.  Now, don't get me wrong, there's nothing childish about peanut butter & chocolate cupcakes made from a base of dark chocolate cake, topped with smooth, creamy peanut butter mousse, and finished with a drizzle of rich, shiny chocolate ganache.  Once I broke out the sprinkles I was a kid again and couldn't be stopped from using all of the different varieties, just like at Chuck E Cheese.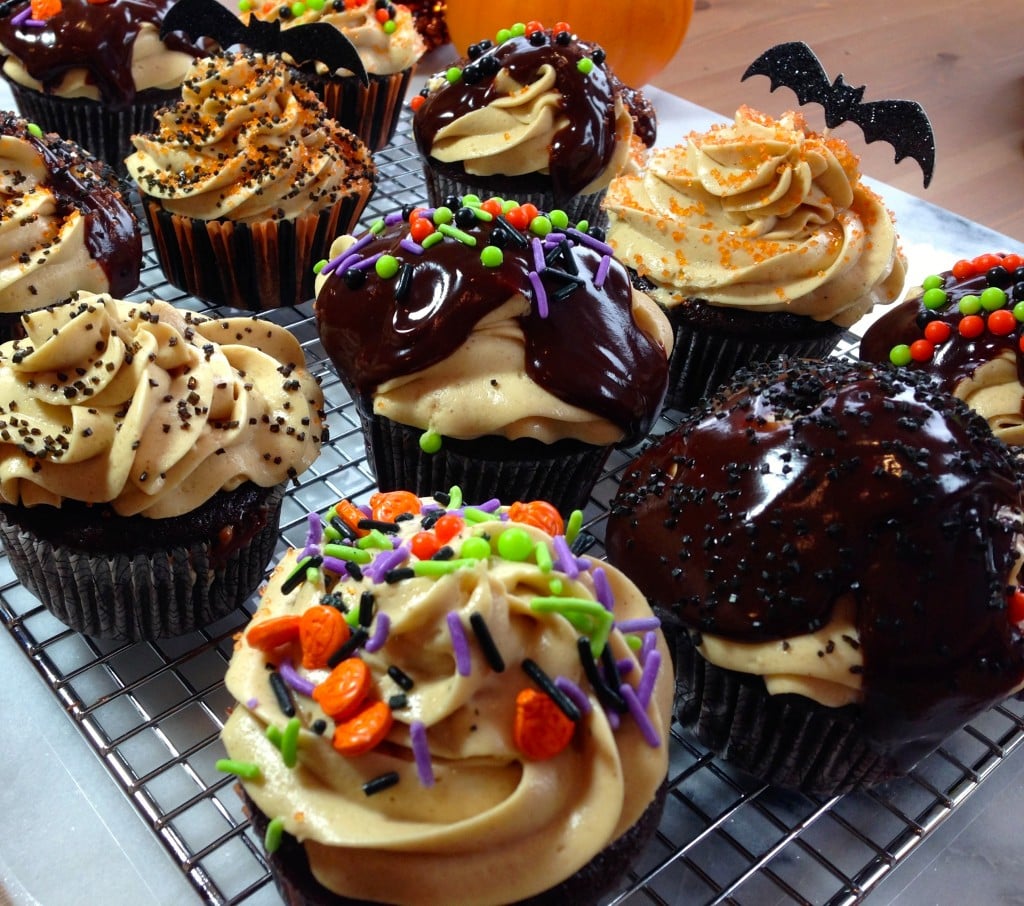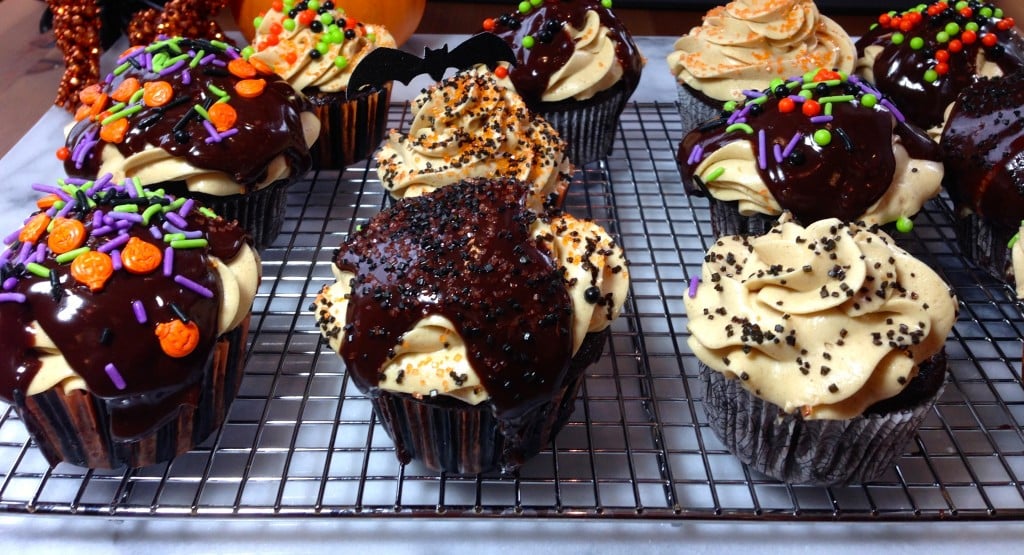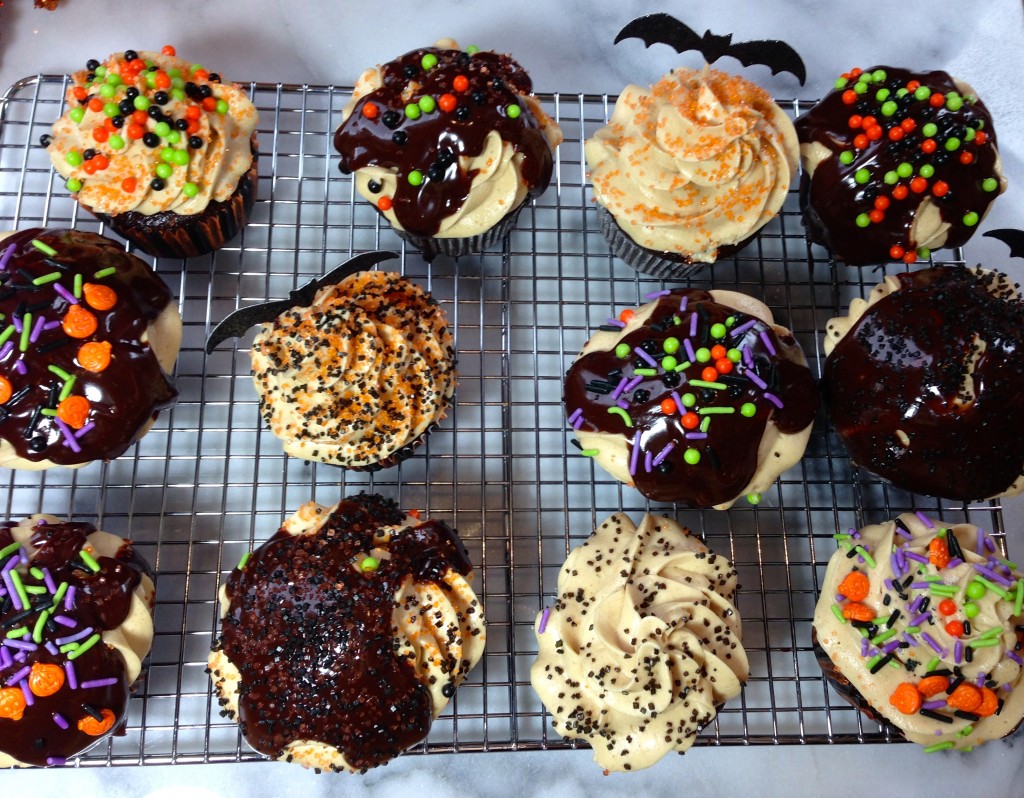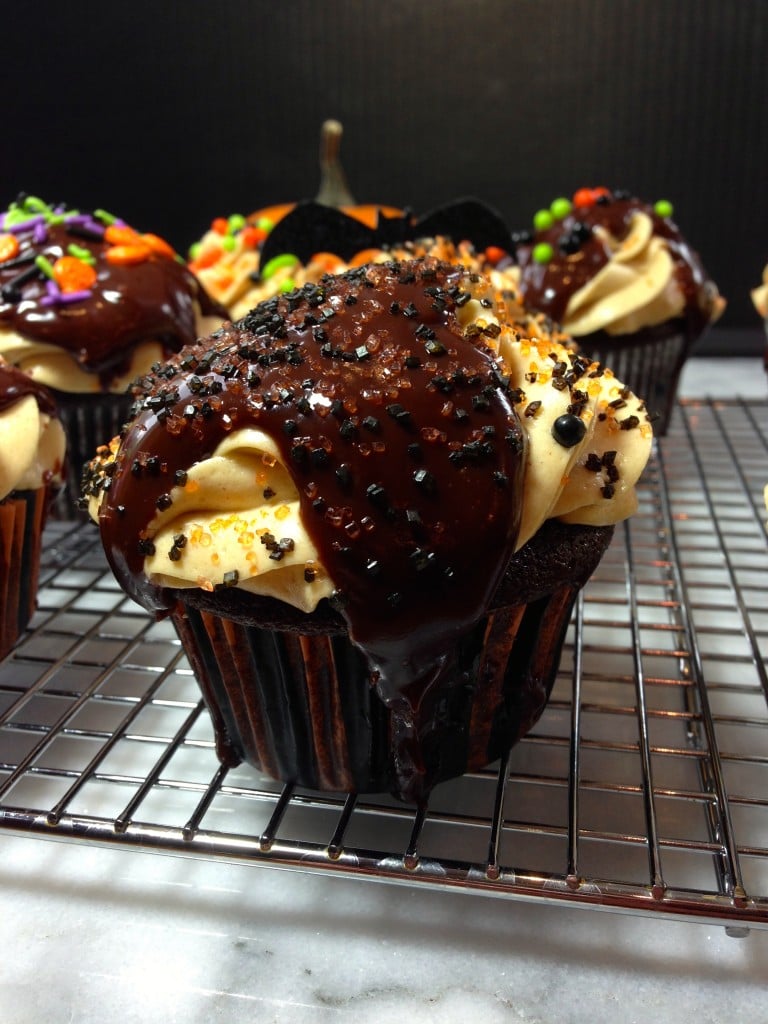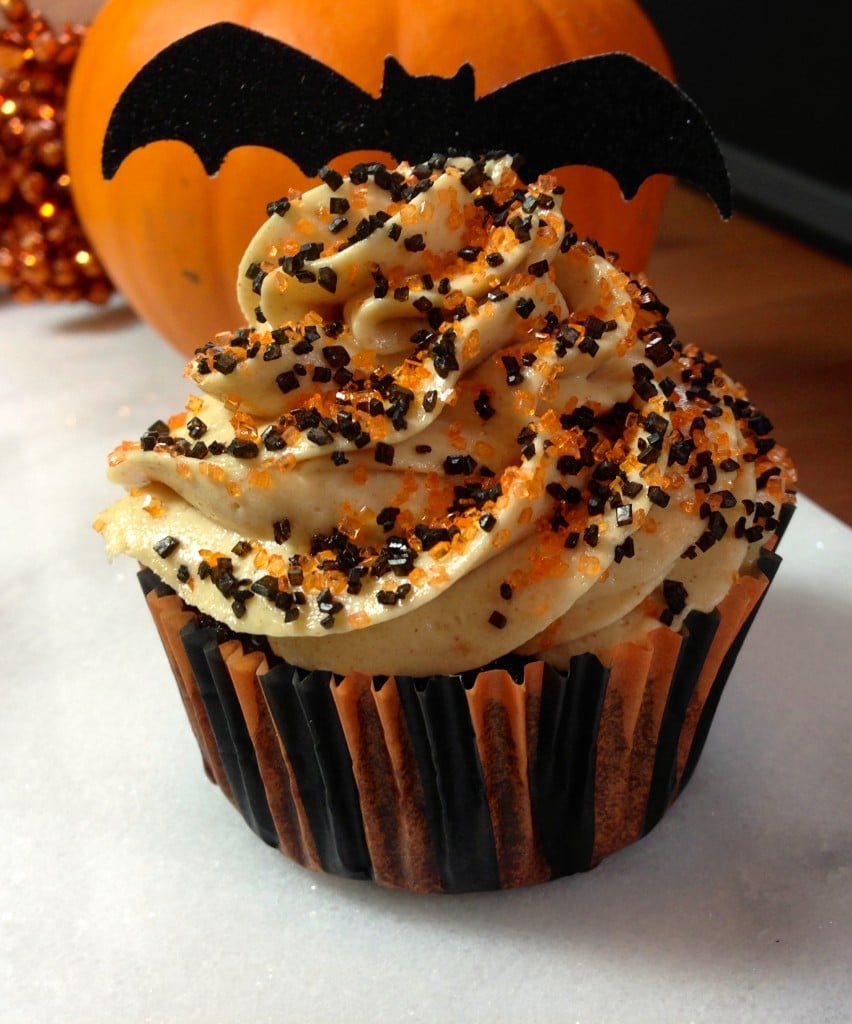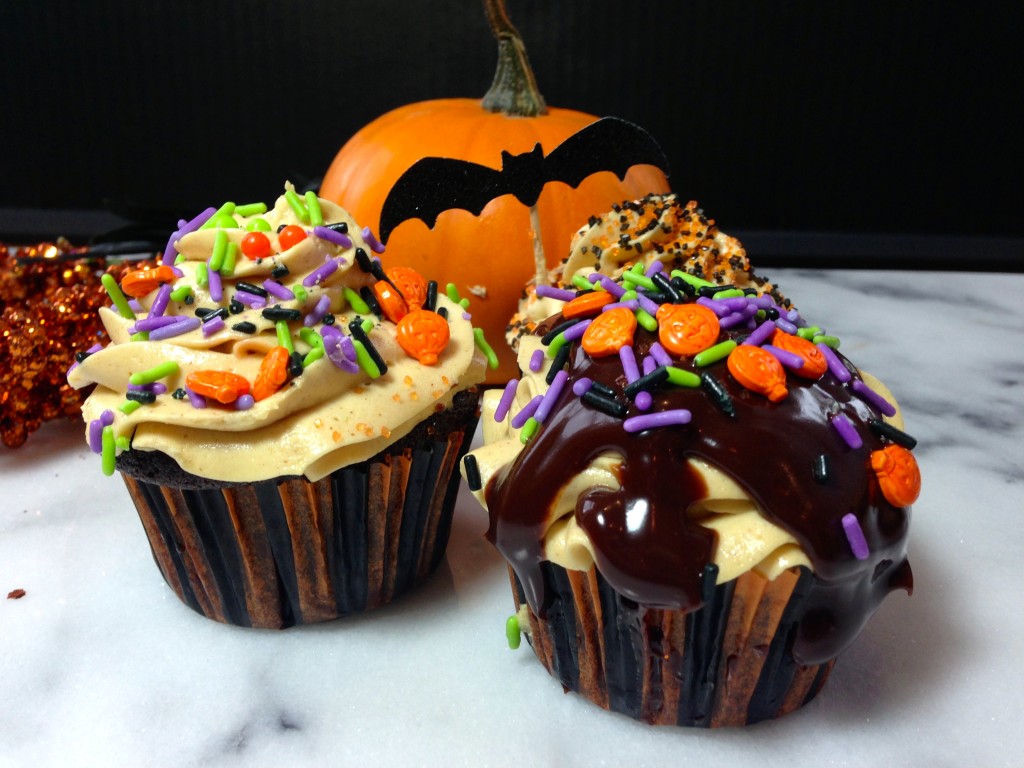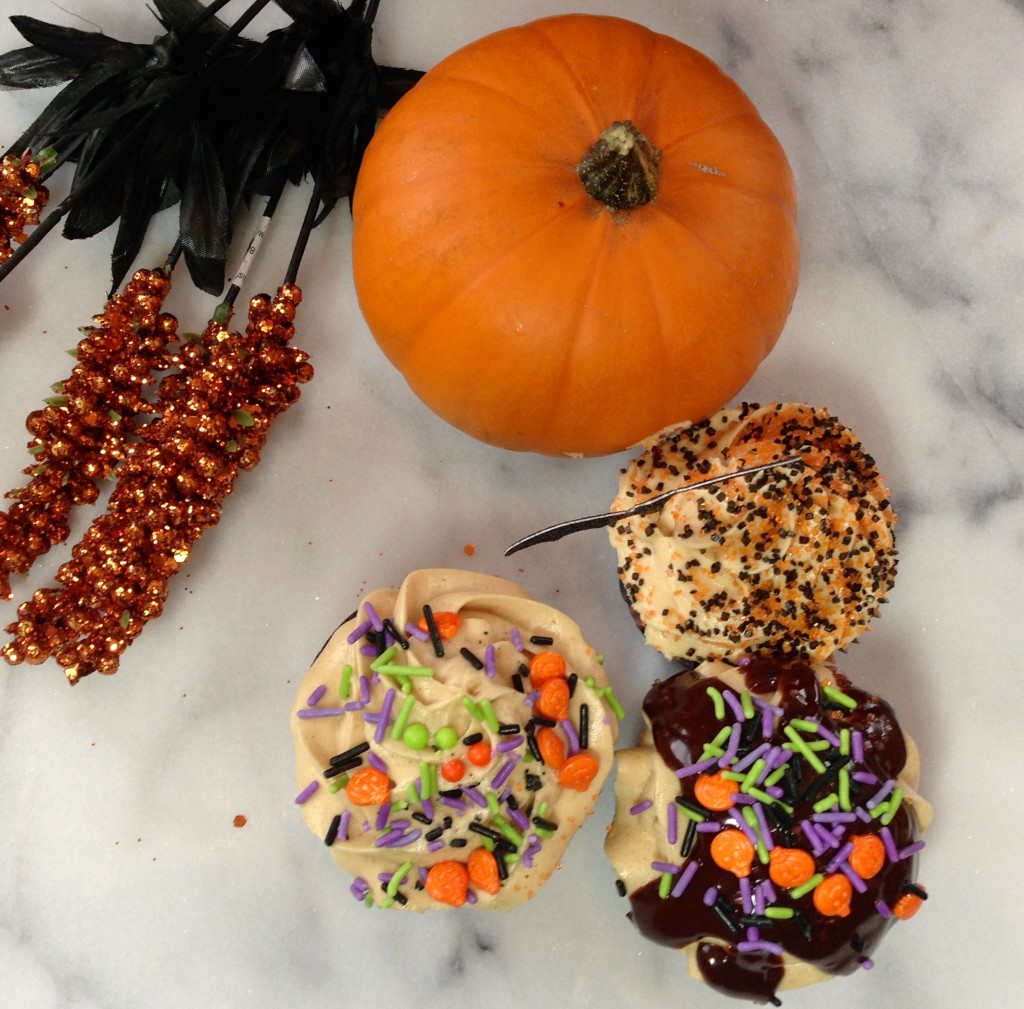 Peanut Butter & Chocolate Cupcakes
Ingredients
3 ounces Semisweet Chocolate Chips
1/3 Cup (1 ounce) Dutch-Processed Cocoa Powder
3/4 Cup Hot Coffee
3/4 Cup (4.25 ounces) Bread Flour
3/4 Cup (5.25 ounces) Granulated Sugar
1/2 Teaspoon Kosher Salt
1/2 Teaspoon Baking Soda
1/4 Cup + 2 Tablespoons Vegetable Oil
2 Large Eggs
2 Teaspoons White Vinegar
2 Teaspoons Vanilla Extract
Halloween Sprinkles
Instructions
Adjust oven rack to middle position and heat oven to 350 degrees. Line a standard-size muffin pan with cupcake liners.
Place chocolate chips and cocoa powder in a medium bowl. Pour in the hot coffee and whisk until smooth. Refrigerate until cool, about 20 minutes.
In a small bowl, whisk together the flour, sugar, salt, and baking soda. Set aside.
Once cool, remove the chocolate/coffee mixture from the refrigerator. Add the oil, eggs, vinegar, and vanilla and whisk until smooth. Add the dry ingredients and whisk until smooth.
Divide batter evenly among the cupcake cups. Bake until cake is set and firm to the touch, about 15-20 minutes. Let cool in pan for about 10 minutes then remove and set on wire rack to finishing cooling.
Once completely cool, frost each cupcake using a piping bag fitted with the star attachment. Pour the ganache over the cupcakes and decorate with sprinkles as desired.
Refrigerate.
Notes
Adapted from Cook's Illustrated's Ultimate Chocolate Ganache Cupcakes
7.8.1.2
8
https://www.thehungrytravelerblog.com/peanut-butter-chocolate-cupcakes-halloween/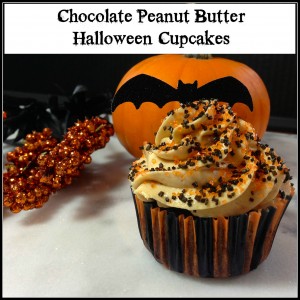 These cupcakes are great any time of the year and look just as great without the sprinkles.  If you're looking for more fall cooking ideas, check out Pumpkin Pie Overnight Oats and Pumpkin Cheesecake Crescent Roll Rounds.