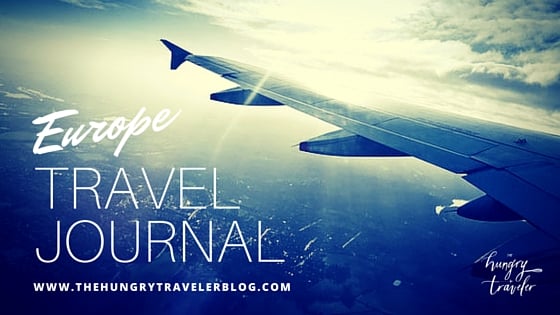 Right now I'm writing to you from a train traveling from Brussels to Amsterdam. I'm a bit behind on my travel journal entries but it's hard to sit down and blog when there are frites to eat and beers to drink. However, instead of sleeping like my travel companions, I thought I would take the train ride to write about my first few days in Paris.
As I am writing from the train and struggling with spotty wifi, please excuse and typos and grammatical errors. This is not intended to be my best, most well-editing writing, but instead a casual journal entry.
---
Wednesday, September 9
I arrived to Paris on Wednesday morning around 8 am. The flight was seamless other than a few minor annoyances, specifically the flight crew not turning the lights off during a red-eye flight. I had a pair of German ranchers in front of me and they were telling people they had their horses boarded in the cargo area under the plane. I don't know if it's true but it makes me laugh to think it was.
As I made my way through the terminal, I rounded the bend to enter the immigration and customs area and my heart immediately sank. There must have been over 1,000 people waiting in a line that looked like it would take 5 or 6 hours minimum. I got in line, sweaty and tired, and just tried to have a positive attitude (although I felt a meltdown coming on quickly). After about 35 minutes, the line started moving very quickly and I made my way to the front. It turns out they were just letting people through and not checking or stamping passports. I was happy to avoid the line, but it's also a bit scary (Do they really not care who is entering their country?) and I was sad to miss out on a passport stamp.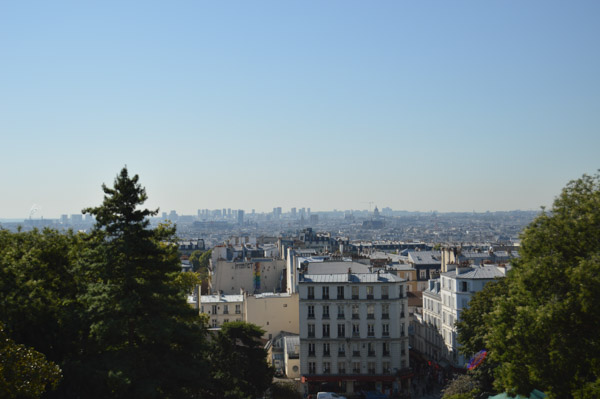 I found my driver and we made our way to The Hotel Odyssey. Luckily, the hotel had my room ready for me so I was able to take a short caffeine nap, shower and change. My hotel room was interesting. It was themed like a spaceship and each room was based around one color – my room was dark purple. Everything was very clean and the bed was comfortable but the room was tiny. I was tripping over myself and I wasn't even sharing the room with anyone else. The light switches were built into the bed and it took me a good 45 minutes to figure that out. The hotel staff claimed the phone was built into the bed too but I never could find it… even after searching several times. The location was convenient, the staff friendly, and most importantly, the wifi was flawless. It's not my favorite hotel in Paris but the price was good and I would stay there again if I needed to.
After a bit of a rest, I made my way to the meeting location for the Paris Charms and Secrets Bike Tour. On my walk there, I passed the Hotel du Louvre and decided to stop inside for lunch. For me, the hardest thing about jet lag is making decisions. Where should I eat? What should I get? Maybe I should just sleep? I forced myself to stop into the hotel brasserie and order something. I knew it wouldn't be great but I needed some food and it was an easy option. I ordered a goat cheese salad and it was okay. Salad is not what I want when I am jet lagged but I forced myself to eat a few bites along with some baguette.
I made my way to Place Vendome to meet the Paris Charms and Secrets Bike Tour. Our group had about 13 people and we were led by our guide Barthelemy. Once everyone arrived, we introduced ourselves and were able to take a quick practice ride on the E-bikes — an electric bike that gives you some assistance when you ride.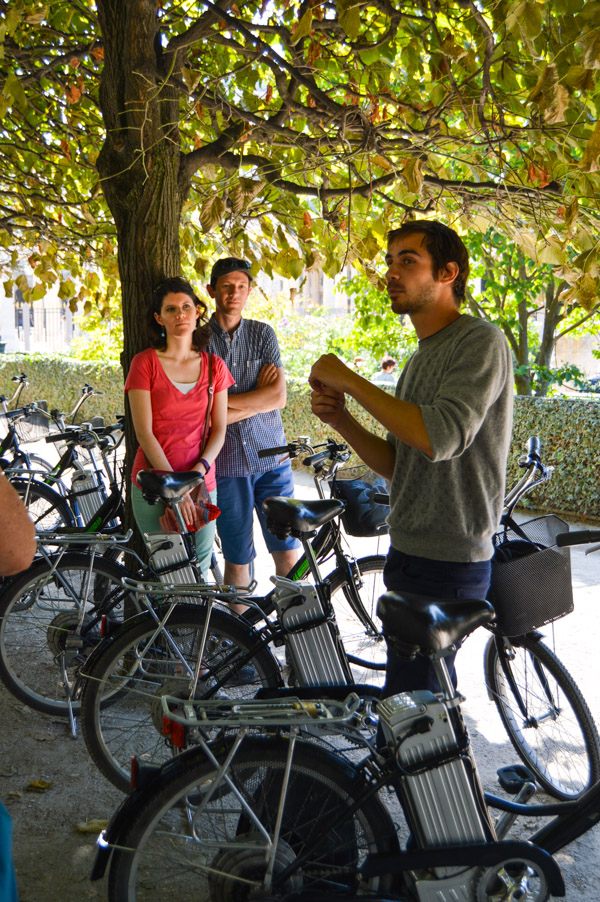 Our bike tour covered a lot of group. We went to some major spots such as the Louvre, the Palais Royal, and the Pantheon but we also discovered some hidden gems such as the Arenes de Lutece and the Congregation of Holy Spirits.
I was initially nervous about riding bikes in Paris. I don't often ride bikes at home and traffic in Paris is crazy. Our guide did a great job of keeping us safe and we took back roads when possible. The tour was so much fun and the perfect cure for jet lag — fresh air, exercise, and no decision making needed! I learned a lot about Paris and it was the perfect first day in the city. I would do the tour again in a heartbeat.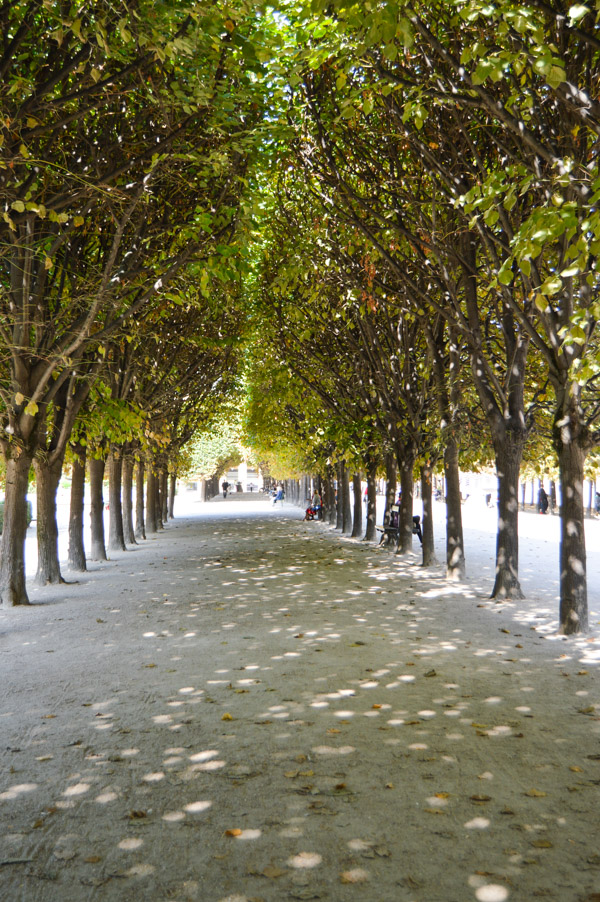 I met Katie, a fellow solo traveler from Australia, on the bike tour and asked her if she wanted to get dinner together. We went to Le Relais de L'Entrecote. It's not gourmet, it's not modern, and it's not the most inventive food but it always hits the spot. All you do is tell the server what you would like to drink and how you would like your meat cooked and they take care of the rest.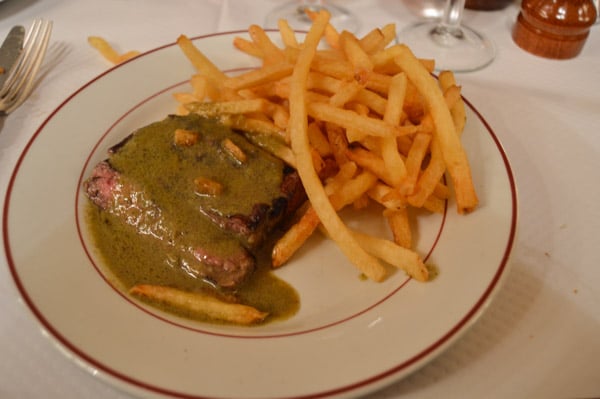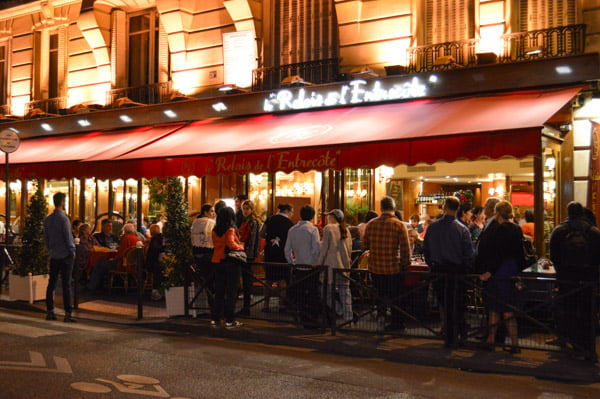 After dinner, we headed over to the Eiffel Tower to take some photos.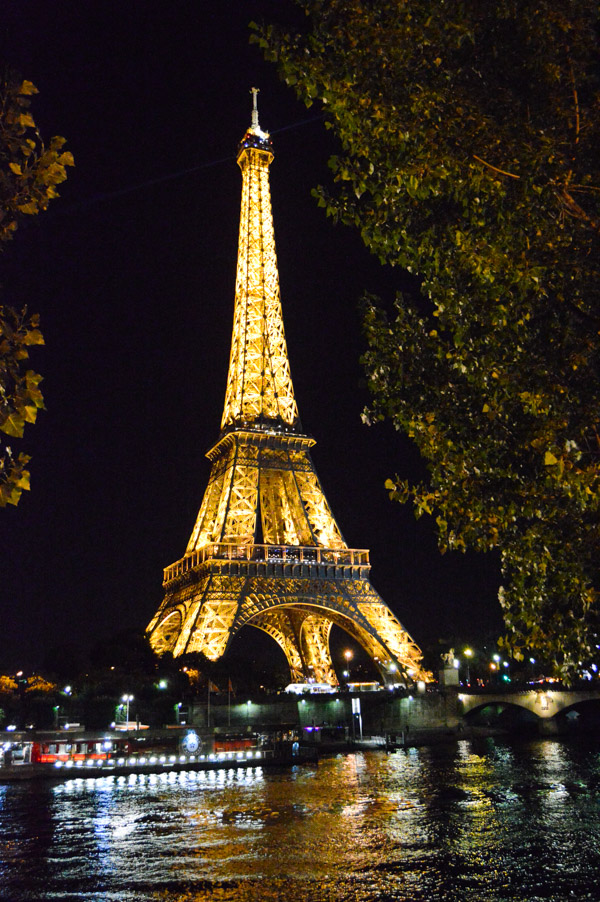 Thursday, September 10
On Thursday morning, I got up early and headed up to Montmartre. I hadn't spent much time in this area of Paris and I thought it would be a good way to spend the morning before heading to my cooking class nearby.
I walked up to Sacre Coeur and got some photos of the basilica and took in the great views of Paris. Honestly, I was expecting a lot more steps and did not think the climb to the top was that bad. I walked around inside the church for a few minutes but unfortunately did not have time to go to the top of the dome.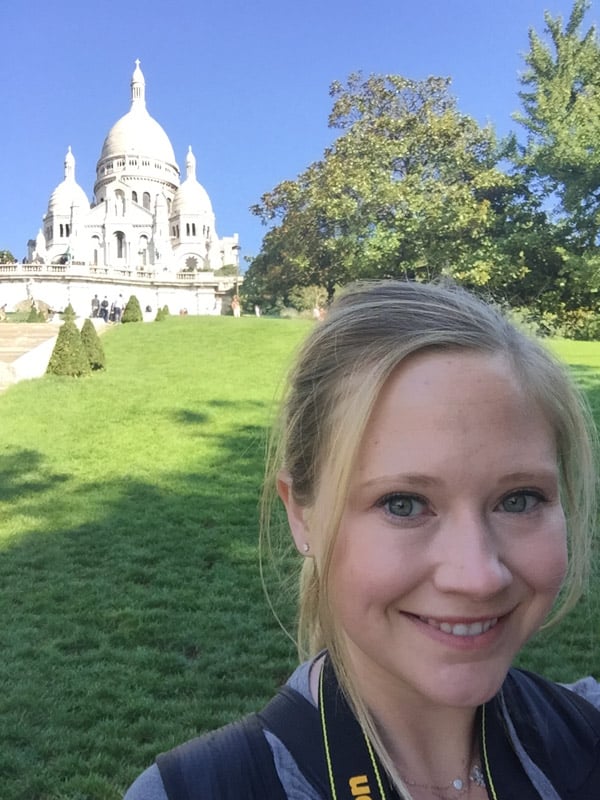 I followed the Rick Steves Montmartre walk which took me past many of Picasso, Van Gogh, Renoir, and Toulouse-Lautrec's old stomping grounds. I also saw the only vineyard in Paris.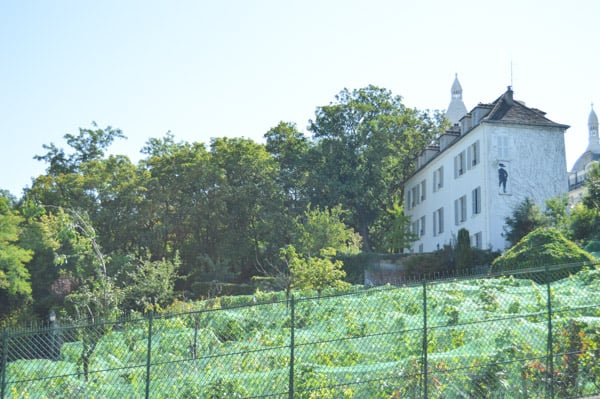 The best thing I saw was this dog hanging out by herself outside. This was a highly trafficked area and she was out there by herself with a sign that said "Please D'ont Touch."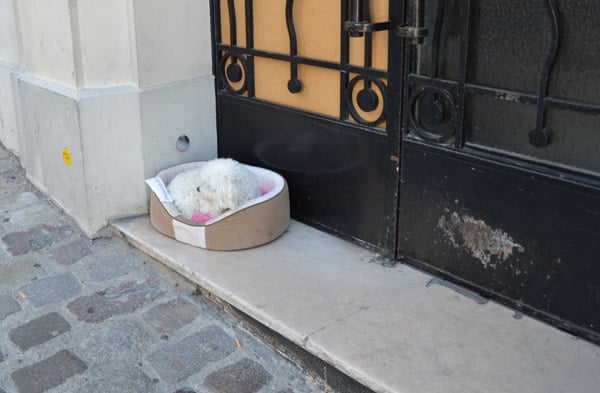 That afternoon, I headed to Cook'n with Class to take their French Bistro Desserts class. I am going to do a full post about this in a few weeks but I will tell you that it was absolutely awesome. We made tarte tatin, vanilla orange tarts, chocolate souflees, creme brûlée, and madeleines. I had a blast and learned so many new tricks and techniques.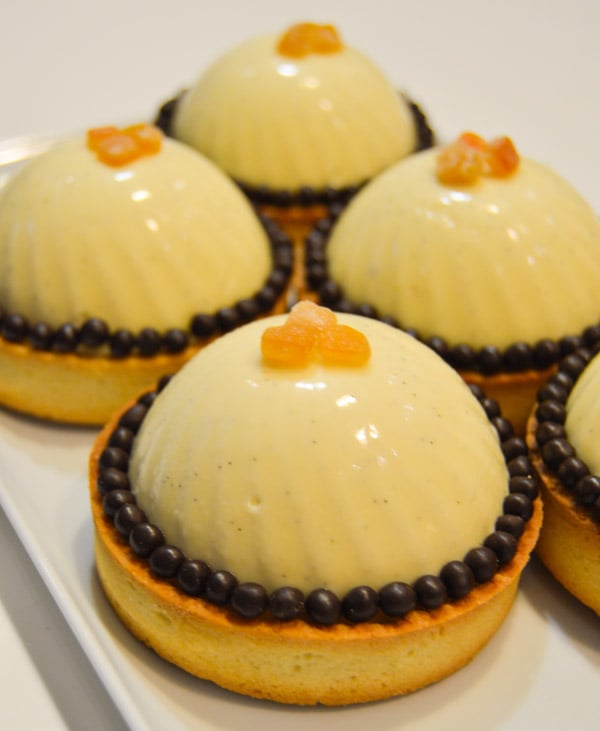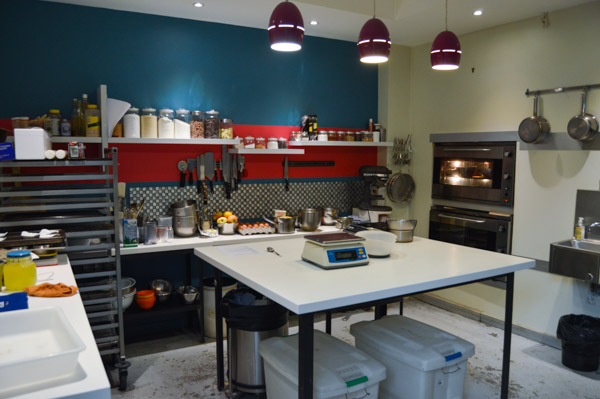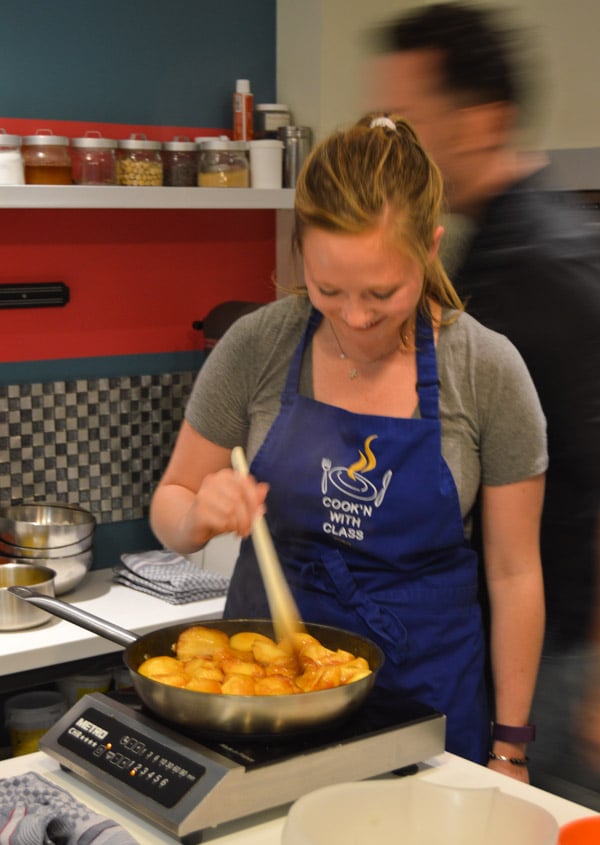 That evening, I met my friend Alisa Morov of Sweet Pea Paris for dinner at Restaurant Pierre Sang Boyer in Oberkampf. I met Alisa last year when I took her Bistro to Baguette Tour through Context Travel. After staying in touch via social media, she graciously agreed to meet me for dinner while I was in Paris. The restaurant offers 6 courses for dinner and no menu is available. You are served each course without an explanation and then after you're done eating, the server quizzes you and you have to guess what you just ate. It is tough! It's a fun way to dine and you are sure to be surprised when you find out what you actually ate. This was one of my favorite courses… egg, mushrooms, cream sauce, etc.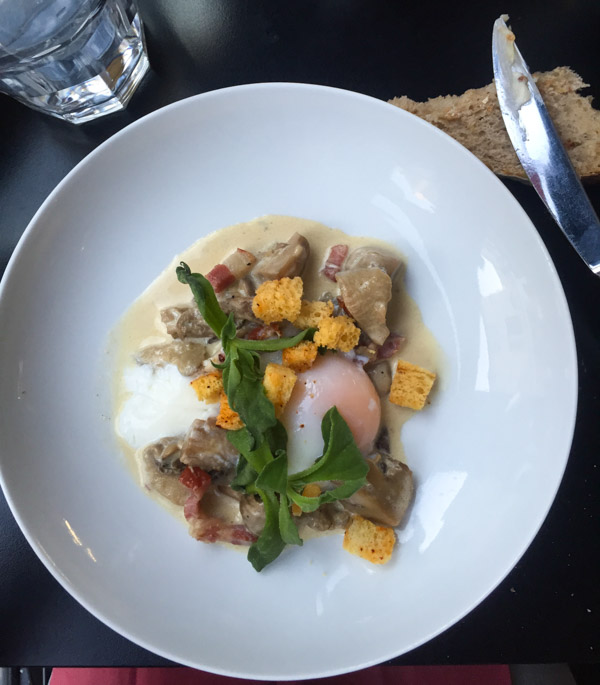 Friday, September 11
On Friday morning, I took a class on French Eclairs at La Cuisine. La Cuisine has a great location and a beautiful space. I learned so many new tricks and techniques about eclairs and had so much fun with Chef Rick and the other students.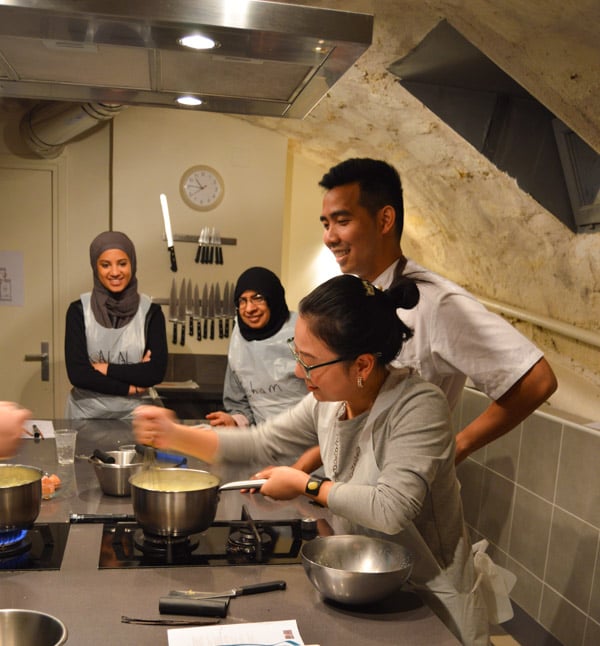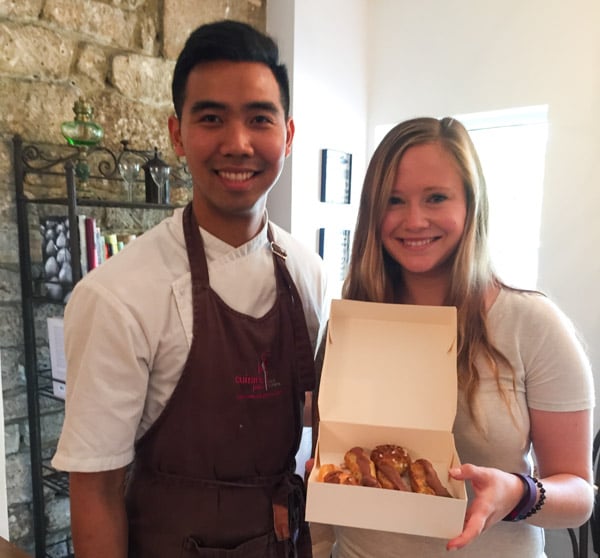 After class, I met my friend Robyn Webb for lunch. Earlier this year, I met Robyn through IACP (International Association of Culinary Professionals) and when we found out we would be in Paris at the same time, we made plans to meet for lunch. Robyn made a great pick and took us to A Mere, a new restaurant from a young French chef. Only a few entrees are offered and we both had the duck dish with figs. It was phenomenal and I think the best duck I've ever had.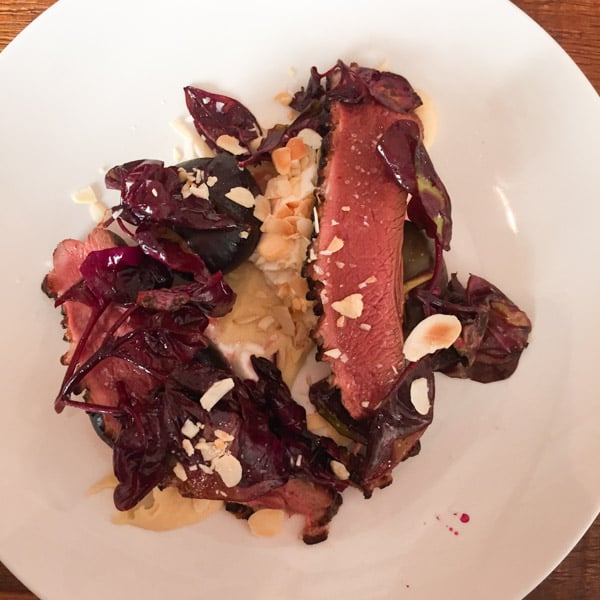 After lunch, Robyn and I headed up to Ble Sucre, a patisserie often considered to have the best croissants, kouign-amann, and madeleines in Paris. I got one of each!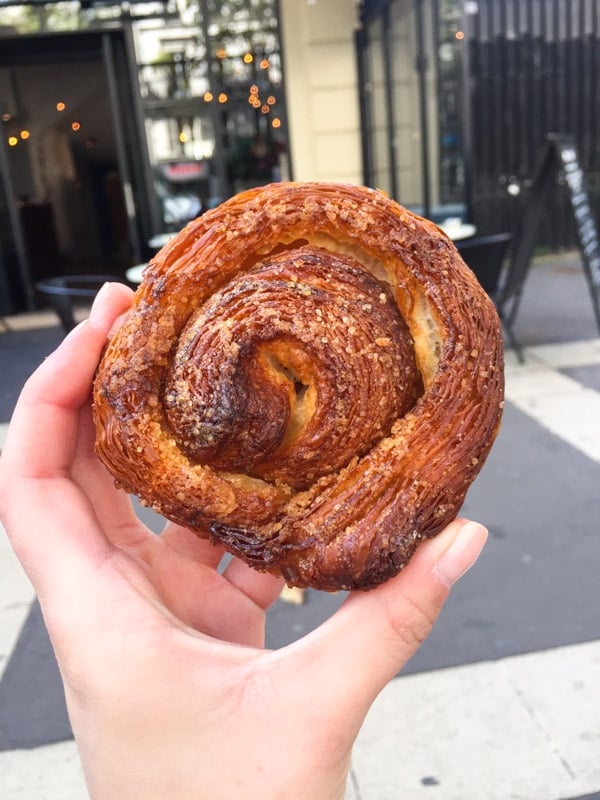 The funniest thing happened a few minutes later when Robyn and I ran into Alisa (from dinner the night before) and Jill Colonna, a cookbook author and friend of Robyn's). Alisa and Jill had just happened to have lunch together a few blocks over. In a city as big as Paris, it was pretty crazy to run into them.
After parting ways with Robyn, I decided to walk through Le Marais to check out a few pastry shops. After learning about eclairs that morning, I knew I needed to stop by L'Eclair du Genie to do some 'field research.' I had a vanilla-pecan eclair and a salted caramel eclair and both were phenomenal.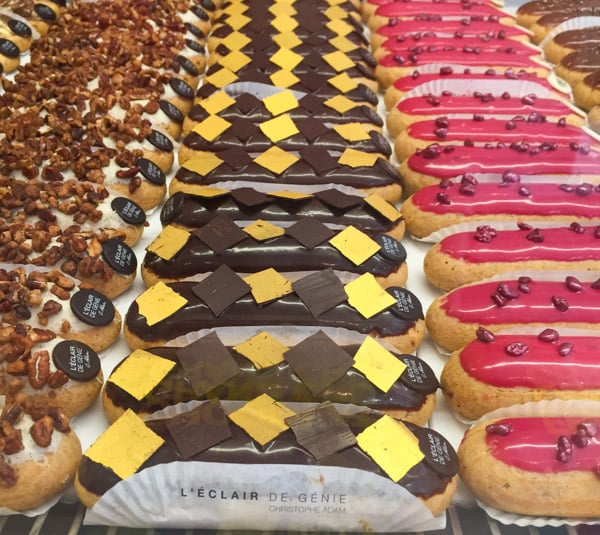 That night, I was scheduled for a 'Night Out with Anto.' I found Anto's Paris on TripAdvisor and decided to book his tour after reading such great reviews. I wouldn't exactly call this a tour but it's a classier version of a pub crawl. Basically, you can sign up and Anto will take you and a few other travelers out to his favorite bars and spots in Paris. He also offers daytime activities with picnics, bike rides, etc. It is an awesome way to meet people and to discover hidden local spots. Here I am with fellow travelers from Miami and India.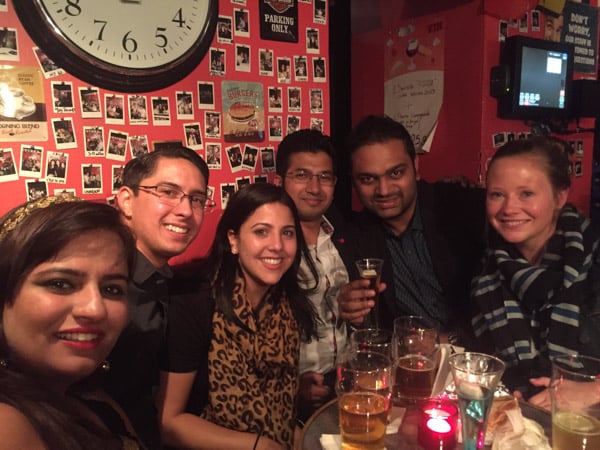 We started at a wine cave, got crepes, went to a live music bar, and had a few other stops in between. It was an absolute blast and so much fun to experience local places while hanging out with people from all over the world. Our group had people of all ages and nationalities. I would highly recommend this to anyone visiting Paris.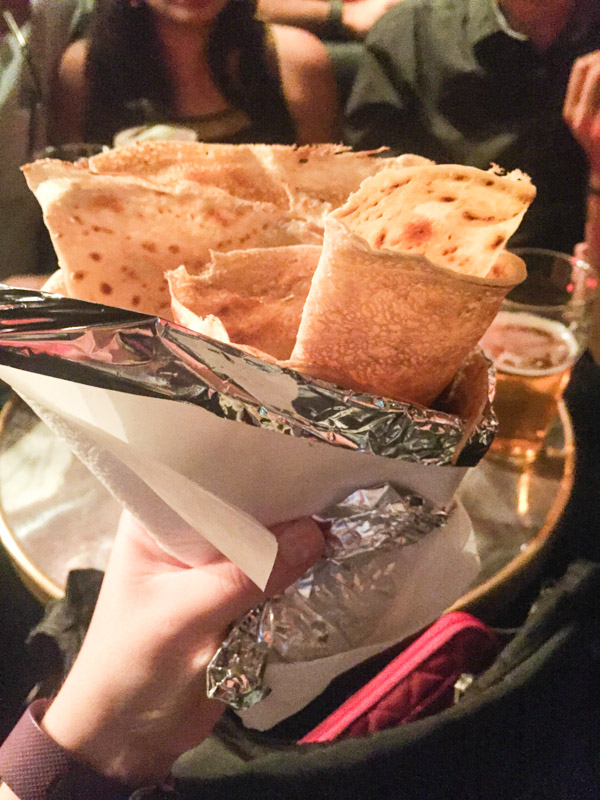 I will update soon with what I did on Saturday and Sunday in Paris and a complete recap of Brussels and Bruges in Belgium. But right now my train in arriving in Amsterdam and we need to head to our reservation at the Van Gogh museum.  I'm posting more frequent updates on Instagram and Facebook so you can also follow me there to keep up with my day-to-day happenings.