In preparation for all of my travel this fall, I've reached out to some of my favorite food blogger friends and asked them to share their favorite recipes as guest posts. 
Today's guest post is from Jane Bonacci of The Heritage Cook.  I met Jane through IACP (International Association of Culinary Professionals) and she quickly became my IACP 'fairy godmother.' Jane guided me through my first IACP conference where I did not know a single person. She reached out to me in advance and was there to go to the events with me, introduce me to her friends and our IACP colleagues, and give me pep talks when the days got long.  Since the conference, Jane has become the first person I turn to when I need blogging and food writing advice.  Jane generously provided four guest posts so you will get to know her and her wonderful recipes over the next few weeks. Up first, her famous ranch-flavored cole slaw.   
---
When I was little, I would go to picnics, Girl Scout dinners, or church socials and there was always a huge bowl of slaw on the table. No matter how many times I tried it or who made it, I hated it. It was slimy to me without much flavor. I was much happier with a big helping of macaroni salad. And then I grew up.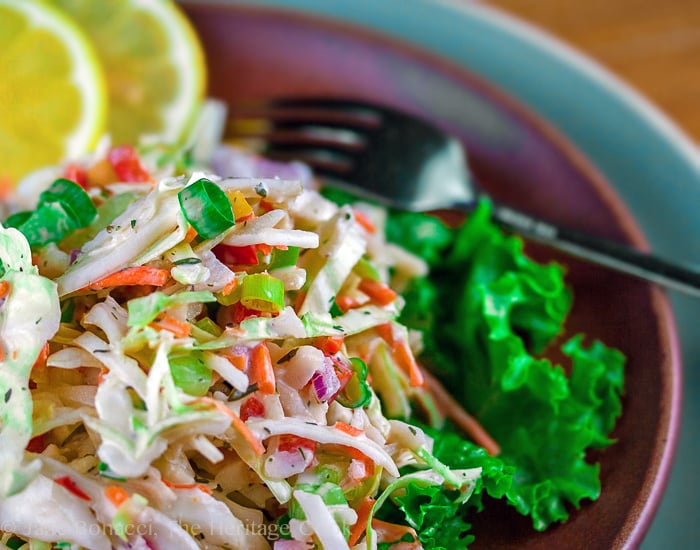 One day I decided to make slaw from scratch; sliced a whole head of cabbage, grated in other vegetables and made a mayo-based dressing. It tasted amazing to me. Nice and crunchy with bold flavors from the fresh vegetables. This was nothing like the salads I had been served before. It was actually edible!
Because it was my first attempt and I didn't know better, it really was cabbage swimming in a sea of dressing. I hadn't learned to salt the cabbage yet to release some of the water before dressing the salad. Consequently, the dressing was thoroughly diluted. But even with that, it was still the best I'd ever had.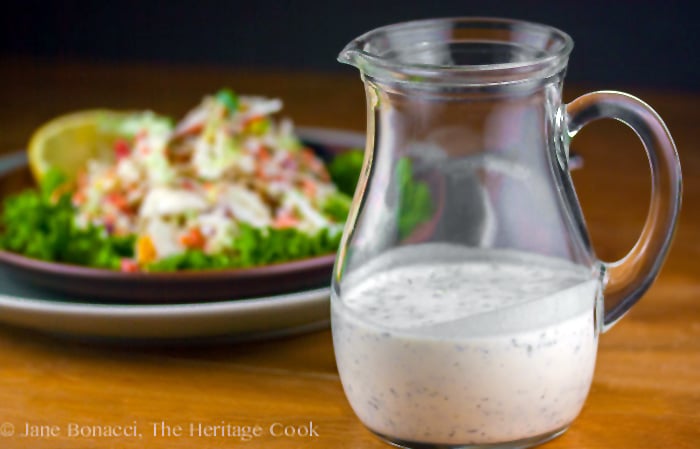 Since then I have tried many versions with different kinds of vegetable combinations. I always seem to come back to a fairly classic blend of cabbage, carrots, and bell peppers. With that base you can create a wide variety of flavor profiles to suit your tastes and to complement your other dishes.
Today's version uses a homemade Ranch-style dressing – one of my favorites. I love the creamy mayonnaise blended with thyme and dill, shallots and green onions, and kissed with a touch of fresh lemon juice. I could eat this every day!
I call this kind of slaw "Confetti" because the finely cut vegetables look like pieces of confetti in the slaw. It is a party in a bowl!!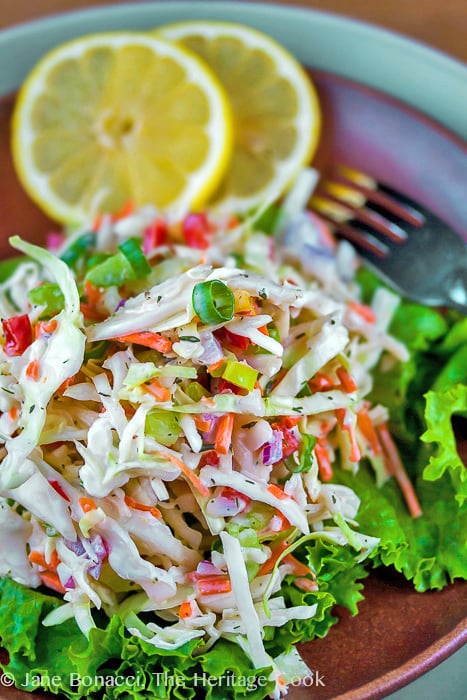 Ranch-Flavored Cole Slaw (Gluten-Free) Recipe
© 2014 Jane Bonacci, The Heritage Cook. All rights reserved.

Jane Evans Bonacci | [The Heritage Cook|http://www.theheritagecook.com]
Yields 6-8
Ranch-Flavored Cole Slaw (Gluten-Free)
Ingredients
Dressing
1 cup low-fat buttermilk
1/2 cup low-fat mayonnaise
2 teaspoons freshly squeezed lemon juice
1 teaspoons granulated sugar, optional
1/4 teaspoons very finely minced fresh garlic
2 teaspoons minced fresh chives or very finely minced green onion
1/2 teaspoons finely minced shallots
1/2 teaspoons dried mustard
2 teaspoons dried thyme leaves
1/2 teaspoons dried dill weed
Kosher or sea salt and freshly ground black pepper, to taste
Slaw
1 small head green cabbage, cored, quartered and each piece very thinly sliced
Kosher salt
1 red bell pepper, cored and finely chopped
1/2 yellow bell pepper, cored and finely chopped
3 carrots, peeled and shredded
2 celery stalks, trimmed and finely chopped
1/2 small red onion, peeled and very finely chopped
Instructions
Make the Dressing: In a medium bowl, combine the buttermilk, mayonnaise, and lemon juice. Whisk until smooth. Add sugar, garlic, chives, mustard, thyme and dill. Whisk again until everything is evenly distributed.
Cover and refrigerate at least 2 hours to give flavors a chance to blend. Taste and add salt and pepper to taste. The dressing can be used right away, but for the best flavor, return it to the refrigerator and leave overnight. Dress the slaw the following day.
Prepare the Cole Slaw: Place the cabbage in a colander and liberally sprinkle with salt. Toss lightly and sprinkle on a little more salt. Set the colander over a large bowl and set aside for 30 to 45 minutes. The salt will leach out most of the water from the cabbage, leaving it crispier.
Rinse the cabbage very well under cool running water, making sure that all the salt has been removed. Set the colander aside again to drain thoroughly.
Assemble the Cole Slaw: In a very large mixing bowl, combine the cabbage and prepared vegetables. Toss to evenly mix everything together. Add 1/2 to 3/4 cup of the dressing and toss to coat all the vegetables evenly. Taste and adjust seasonings, adding more dressing if desired. Cover and refrigerate any remaining dressing.
Transfer slaw to a serving bowl, cover and refrigerate at least 30 minutes. If any extra liquid accumulates in the bottom of the bowl while the slaw is resting, drain before serving.
© 2014 Jane Bonacci, The Heritage Cook. All rights reserved.
7.8.1.2
46
https://www.thehungrytravelerblog.com/ranch-flavored-cole-slaw-from-the-heritage-cook/
© 2014 Jane Bonacci, The Heritage Cook. All rights reserved.