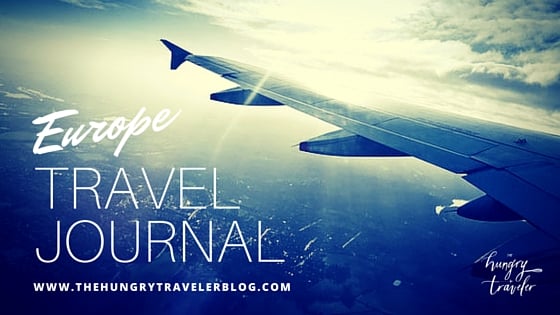 There's one thing I know for sure about Paris: no matter how much time I am there, it is never enough. I had an absolute blast in Paris last week. I'm going to follow up with some more in depth posts but I wanted to share a brief overview of what I've been up to.  A few days ago I shared an update for the first few days of my trip and now I am following up with more.
As I am writing from a strange Airbnb in Berlin and struggling with spotty wifi, please excuse and typos and grammatical errors. This is not intended to be my best, most well-editing writing, but instead a casual journal entry.
---
Saturday, September 12
I got up early and headed up to Montmartre for the Morning Market Class with Cook'n with Class. For this class, we started by shopping at the market and then went back to the school and made lunch out of the ingredients we purchased. I met Chef Constance and three other students near the train station and we headed to the market.
Grocery shopping is much different in France, and in my opinion, much more pleasant. We went to the butcher, the fish store, the cheese shop, and the produce market and made our selections at each place. We started by picking out our proteins (chicken and monkfish) and then bought other ingredients to complement them.
Constance does not start with a menu in mind. She simply looks around the market to see what looks good and creates the menu as she shops.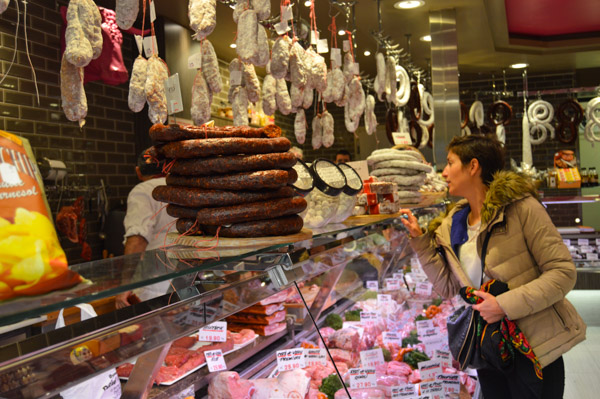 We were able to make suggestions on what we bought at the market. Constance encouraged us to tell her if something looked good to us or if we wanted to try something in particular. I saw escargots at the fish shop and since I had never tried them before, I asked Constance if we could buy some.
She made the escargots for us as an appetizer for our lunch. The butter, garlic, and parsley sauce was wonderful but the snails themselves are just ok and a bit rubbery. I mean, they are snails — what do you really expect? Nonetheless, it was fun to try them.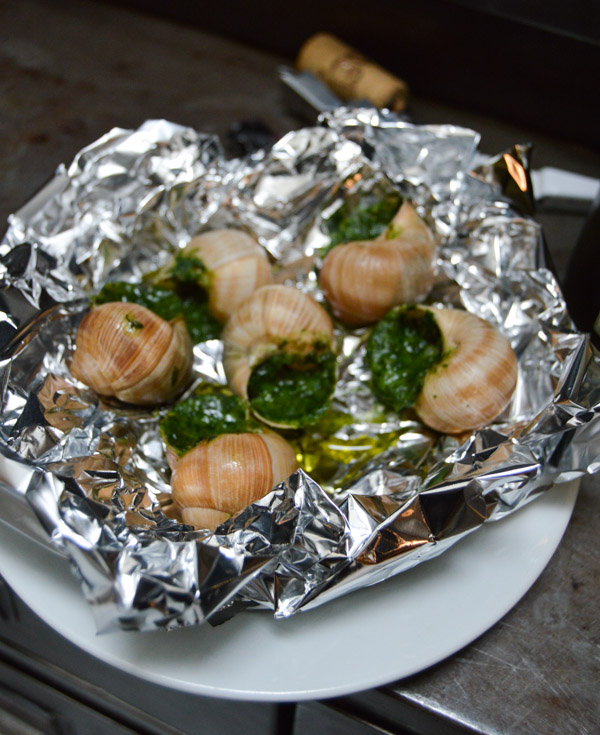 I'm going to write a full post on the class but it was absolutely phenomenal. Constance has worked in several Michelin 3 Star restaurants and it was fascinating to watch her work. The idea of creating a menu as we shopped was new and refreshing to me. I usually decide what I want to cook and then do my shopping but I love the philosophy of basing your cooking around the ingredients.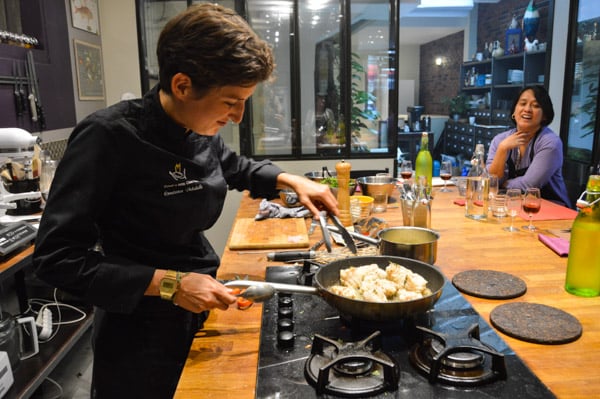 Our menu consisted of an appetizer (chicken roulade), a main course (the monkfish with razor clam sauce pictured below), a cheese course, and dessert (a chocolate tart with salted caramel).  I'm not typically the biggest fan of monkfish but this was absolutely incredible.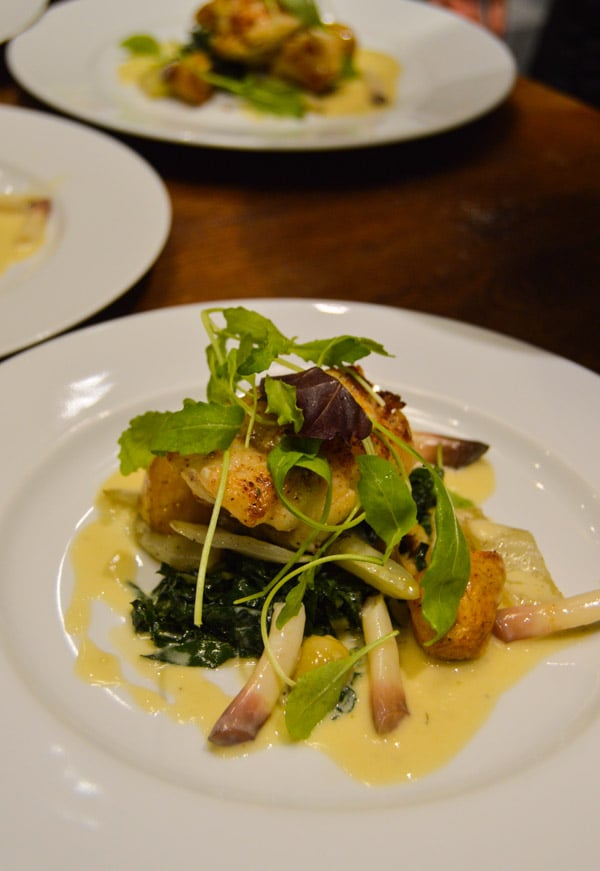 After the class, I went back to the hotel to rest for a bit and then headed out to wander around and take some photos. Paris is the best walking city in the world. I can roam around for days and always find new things to look at and places to explore. It's especially gorgeous at night.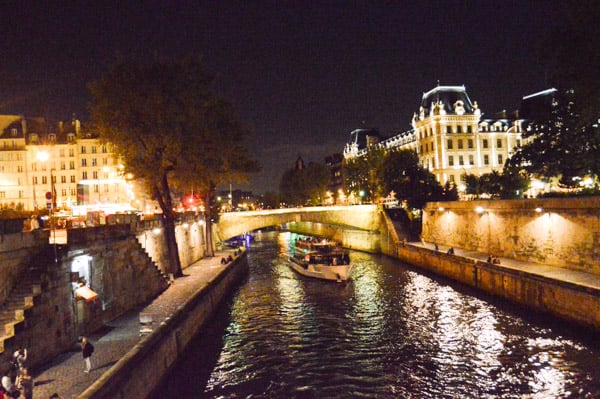 Taking photos in Paris is frustrating. It's nearly impossible to capture the beauty of everything and do the city justice.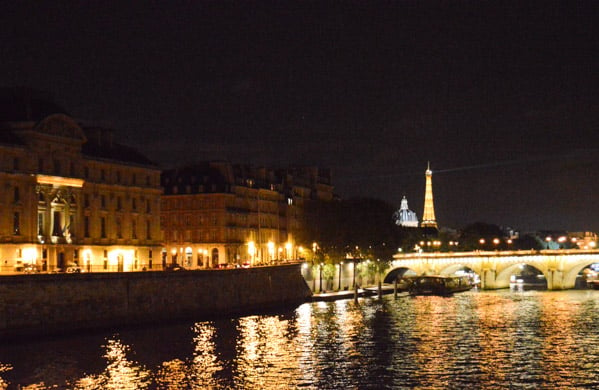 I ventured into the Louvre courtyard late that night and found it nearly empty and amazingly beautiful.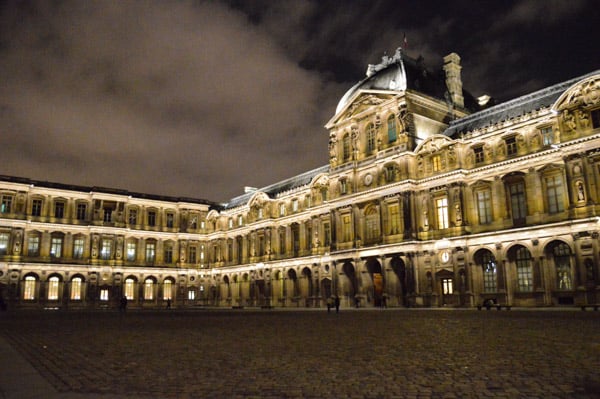 Next time you're in Paris, make sure to go to the Louvre at night. You will have it nearly to yourself and it's stunningly beautiful.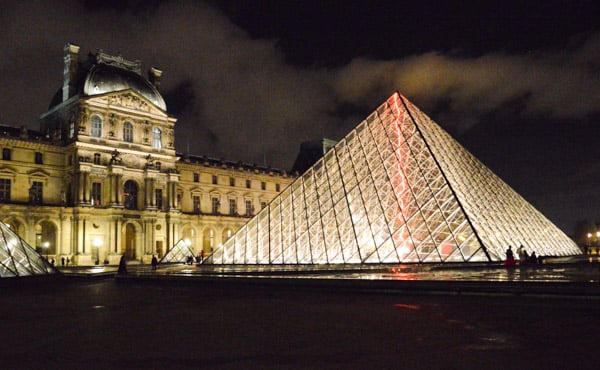 Sunday, September 13
I've always enjoyed  photography but unfortunately my skills do match my interest. I find it overwhelming and I get so frustrated when I cannot capture the image I want. In researching activities and tours in Paris, I came across Better Travel Photos Paris and knew it was the perfect way to learn more about photography.
Better Travel Photos pairs you with a professional photographer and together you spend the day exploring Paris and taking photos.
I met my guide, Nadia, in Le Marais and we started our day by having coffee at a cafe and talking about some photography basics. After we finished our espressos, we decided to start taking photos at the cafe.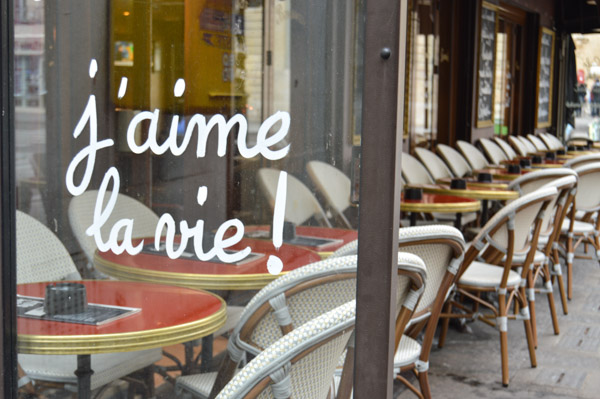 Nadia taught me about my camera and about the basics of composition. We walked around and took photos of anything that looked interesting. After the cafe, our first stop was the Hotel de Sully where I learned about taking photos in the pouring rain…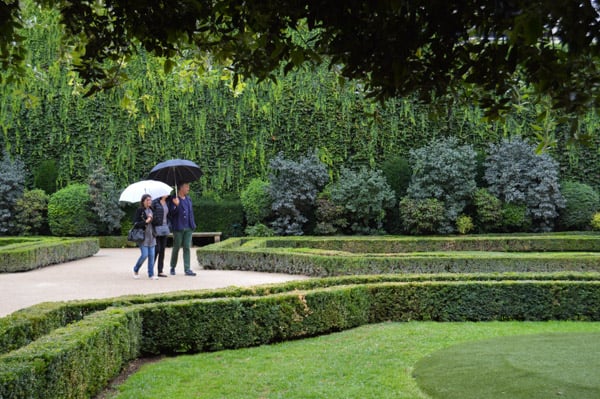 We then walked to the Place des Vosges and stopped to shoot the covered walkways on the way there.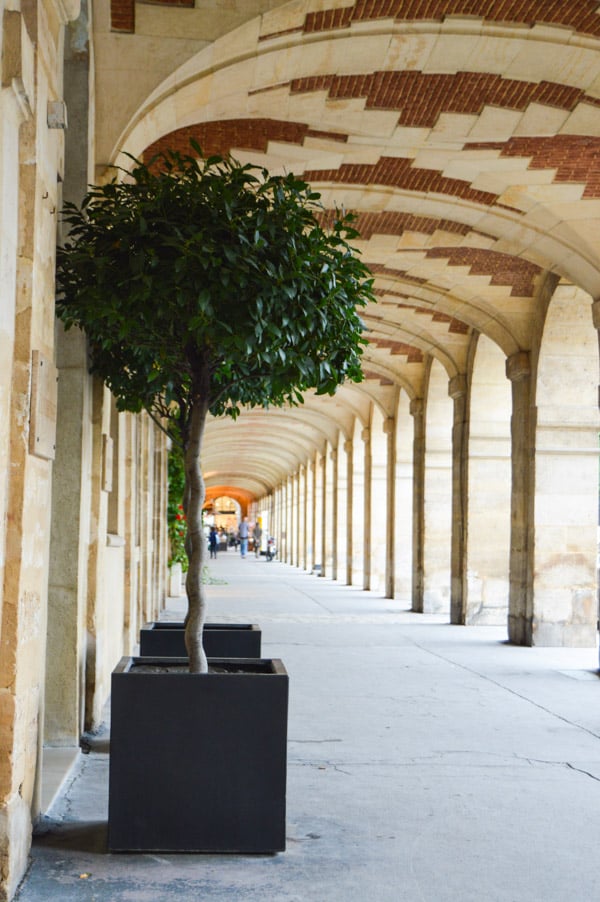 The Place des Vosges is one of my favorite spots in Paris. It was once home to Victor Hugo and is the oldest planned square in Paris.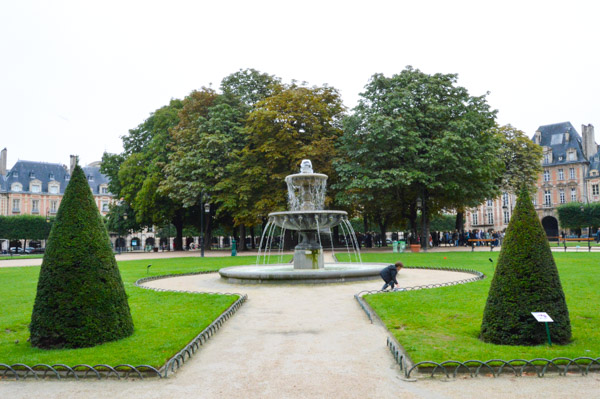 We talked about capturing motion and telling a story with photos. Before I took a photo, Nadia kept asking me what I wanted the photo to say and reminding me to capture that within the shot.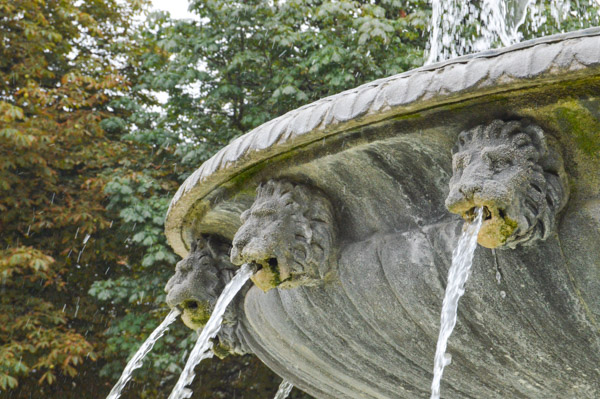 We made our way to the Carnavalet Museum and learned more about shooting in the pouring rain…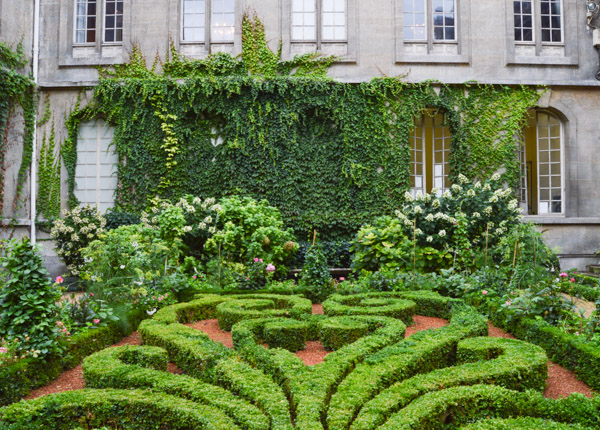 We talked about depth of field and adding pops of color to photos…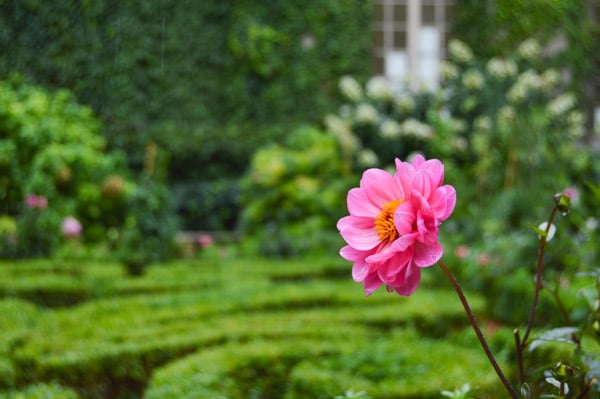 I learned so much on the Better Travel Photos Paris tour and I now feel much more confident in my photography skills.
After the tour, I checked into the Hotel du Petit Moulin, a gorgeous hotel in the Haut Marais area. I'll be writing a full post on the hotel but here's a sneak peek of my room…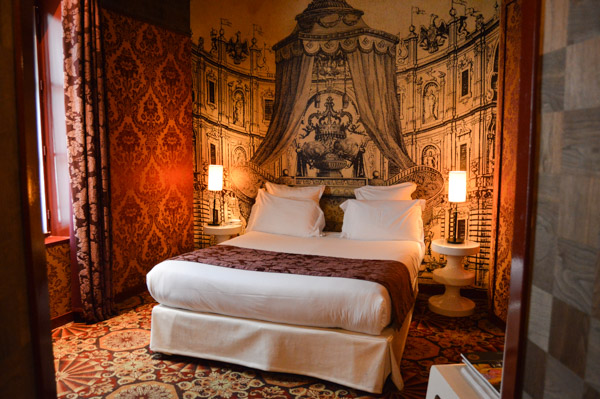 My room at the Hotel du Petit Moulin
That night, I went on the Midnight in Paris on Wheels tour. Midnight in Paris is  my favorite movie and when I found the tour on TripAdvisor, I couldn't resist.
Nicolas, the owner, picked me up at 9 pm and we spent the next three hours driving all over Paris in one of his awesome cars. We stopped for photos, took a break for ice cream, and explored every neighborhood of Paris. There wasn't much traffic that night and it felt like I had Paris all to myself.  Nicolas has lived in Paris his entire life and knows the entire history of the city. I learned so much and discovered many little known places throughout the city. It was a magical evening and a great last night in Paris.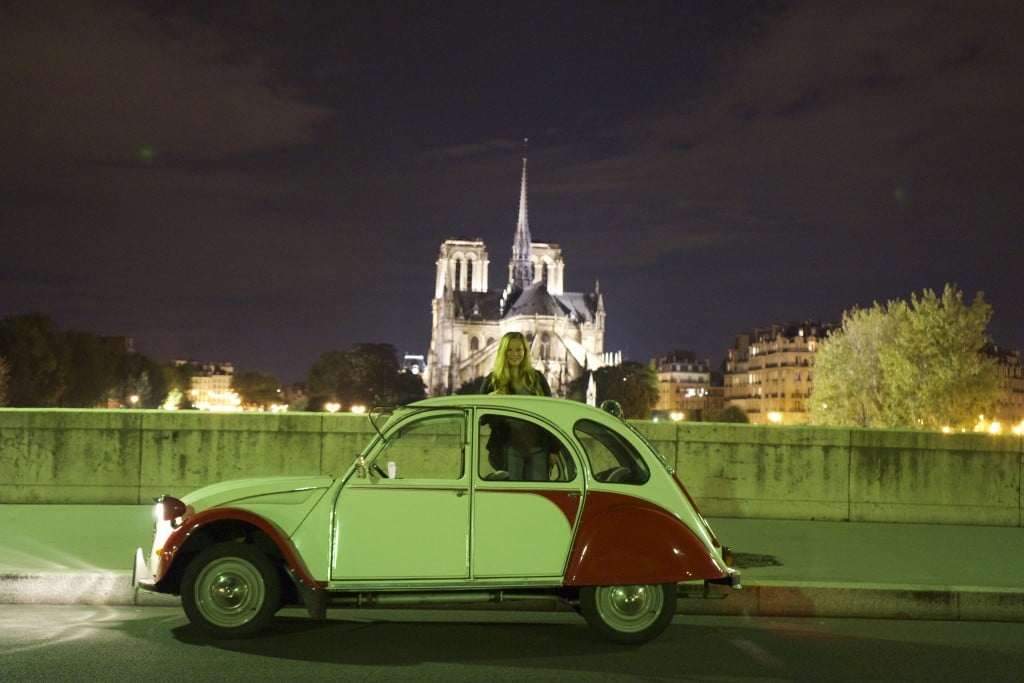 On the Midnight in Paris on Wheels Tour behind Notre Dame
I'm a bit behind on my blogging but I'll be updating about Brussels and Amsterdam soon. I'm posting more frequent updates on Instagram and Facebook so you can also follow me there to keep up with my day-to-day happenings.