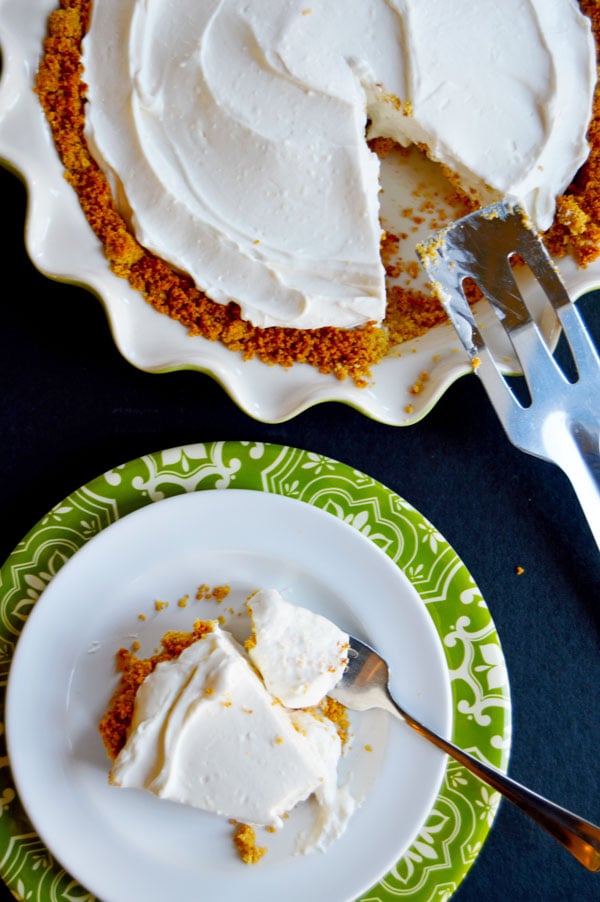 I recently spent a few days in Chicago exploring the city and eating incredible food.  Within 72 hours I was able to have dinner at the Publican, breakfast at The Bongo Room, a polish sausage at the White Sox home opener, lunch at Xoco, snacks at Eataly, drinks at Old Town Pour House, more drinks at The Second City, even more drinks at the Lagunitas taproom, chicken fingers at Blackfinn (not ashamed) and a final breakfast at Little Goat Diner.   Every meal was great but a definite standout was dinner at Sepia.
A few hours before meeting at Sepia, I texted my friend Annie who was joining us for dinner that evening and asked her to promise me she would order dessert.  Annie agreed but also called me a 'dessert bully.'  Instead of being offended, I'm actually kind of proud of the nickname, especially if it means I convince people to eat more dessert.
For me, there's nothing worse than being out to dinner and realizing I'm the only person interested in dessert. I always feel like I am holding up the rest of my party so sometimes I pass and try to convince myself I'm too full or not interested by anything on the menu. But if I am being honest, it's a rare occasion that I don't want dessert so I sometimes find myself begging (or bullying) my dining companions to order dessert, not only to prevent myself from being the only one eating, but also so I can steal a few bites of whatever they order.
I may be a dessert bully but I don't discriminate. It was during dessert at Sepia that I realized I love elegant restaurant desserts created by top pastry chefs just as much as I love homemade desserts thrown together by home cooks using simple ingredients. While I always respect and appreciate the skill and technique needed to create fancy plated desserts, it's often the desserts without pretense such as bread puddings, cookies, and cheesecakes that I find myself craving again and again.
Fluffy cheesecake ranks up there as one of my favorite desserts and it's about as simple as you can get.  My neighbor Chris (you know her from her pineapple cake recipe found here) has been making fluffy cheesecake for as long as I can remember.  Chris makes her version with Cool Whip but I've updated the recipe to use fresh whipped cream instead. Fluffy cheesecake comes together easily, is a great option for parties and is always a crowd pleaser. This recipe is a great standby to have in your repertoire and you'll find yourself making it time and time again.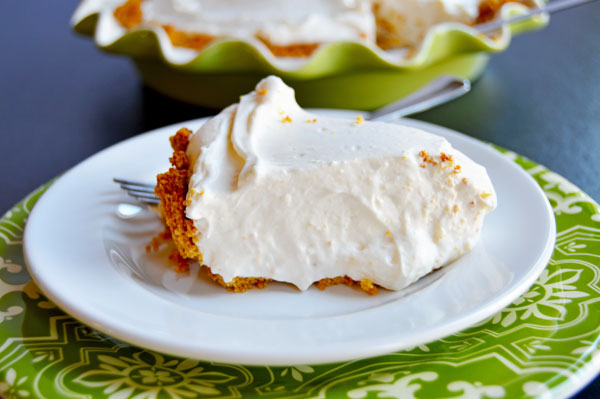 FLUFFY CHEESECAKE
Before we start baking, let's go over the recipe and talk about some tricks to make sure you get the best cheesecake possible.
Before making the whipped cream, put your mixer bowl and whip attachment in the freezer for 10-15 minutes.  Cream whips better when it's cold and having a cold bowl and whip makes the job even easier.
You also want to make the graham cracker crust, bake it, and have it completely cooled.  Check out this post with a recipe and step-by-step photo tutorial for graham cracker crusts.
Make sure the rest of your ingredients are ready – the cream cheese should be softened and the sugars, vanilla, and sour cream should be measured and ready to go.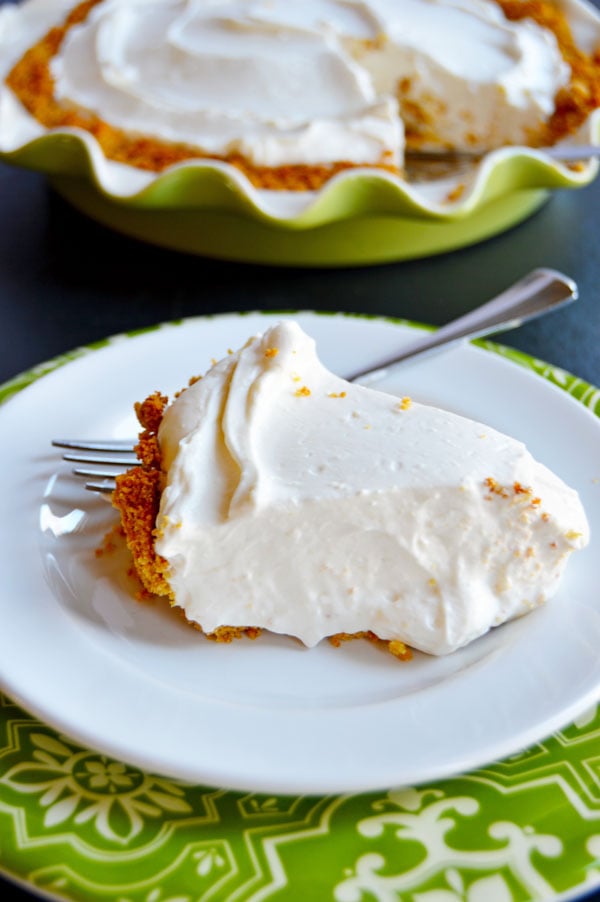 Once you're ready to bake (I guess we should say cook because the cheesecake isn't baked, but 'cooking a cheesecake' just sounds weird), the first step is to make the whipped cream.  Pour the heavy cream and powdered sugar into a clean, chilled mixer bowl and whip it until stiff peaks form.  Scrape the whipped cream into a clean bowl and refrigerate it until we're ready to use it after the next step.
Using the same bowl (you don't need to wash it), beat together the cream cheese, sugar, sour cream, and vanilla until smooth.   Make sure there are no lumps of cream cheese or clumps of sugar remaining.
Now, take the whipped cream you made a minute ago and fold it into the cream cheese mixture.  You want to work rather gently (or you'll deflate the whipped cream) but still make sure the cream cheese and whipped cream are completely incorporated and homogenous.  Otherwise, you'll have bites of cheesecake that are not fluffy.
Once the filling is ready, spoon it into the pre-baked graham cracker crust and chill the cheesecake for 4 hours or until set.
Jordan Hamons | [The Hungry Traveler|http://www.thehungrytravelerblog.com" target="_blank]
Yields 9-
Fluffy Cheesecake
Ingredients
1.5 cups heavy cream, chilled
1/2 cup (62.5 grams / 2.2 ounces) powdered sugar
1 package (8 ounces) cream cheese, softened
1/3 cup (67 grams / 2.4 ounces) granulated sugar
1 cup sour cream
1 tablespoon vanilla extract
9-inch graham cracker crust, baked
Instructions
In the bowl of a stand mixer fitted with the whisk attachment, on medium-high speed, whip the heavy cream and powdered sugar just until stiff peaks form. Scrape the whipped cream into a clean bowl and refrigerate until step 3.
Using the same stand mixer bowl (you don't need to wash it), fitted with the paddle attachment, beat the cream cheese until smooth, about 2 minutes on high speed. With the mixer on low, gradually add the sugar and then mix on medium-high speed until smooth. Scrape down the sides and bottom of the bowl then add the sour cream and vanilla and mix until combined.
Remove the bowl from the mixer and take the whipped cream out of the refrigerator. Gently fold the whipped cream into the cream cheese mixture until fully incorporated and homogenous. Spoon the filling into the prepared graham cracker crust and refrigerate for 4 hours or until set.
Notes
For best results, chill the bowl and whip attachment in the freezer for 15 minutes before making the whipped cream.

8 ounces of Cool Whip can be used instead of the fresh whipped cream. Omit the 1.5 cups of heavy cream and 1/2 cup of powdered sugar. Follow the instructions starting with beating the cream cheese in Step 2 and fold the Cool Whip into the cream cheese in place of the whipped cream in step 3.

If you want to fill a 9-x-13-inch pan, double both the filling recipe and the crust recipe.
7.8.1.2
29
https://www.thehungrytravelerblog.com/fluffy-cheesecake/