In preparation for all of my travel this fall, I've reached out to some of my favorite food blogger friends and asked them to share their favorite recipes as guest posts. 
Today's guest post is from Jane Bonacci of The Heritage Cook. On her blog, Jane shares both old and new recipes in hopes that culinary traditions will continued to be passed down from one generation to the next. 
Today, Jane is sharing the recipe for her fantastic North African spiced grilled turkey burgers. Earlier this fall, Jane shared her famous ranch-flavored cole slaw recipe, a recipe for the most incredible fully loaded green chile potato skins, and some healthy and wholesome vegetable and shrimp stuffed avocados so be sure to check those out too! 
Hot summer nights chasing fireflies with my cousins. Playing hide and seek while mom made dinner. The smell of burgers cooking on the barbecue, filling the neighborhood with mouthwatering aromas. These are the memories of the summers in my youth.
When I was young, all the dads in the neighborhood were masters of the grill – whether they knew how to cook or not. It was their domain and they proudly donned their aprons and brandished their spatulas with aplomb. Mom made all the rest of the meal, but it was my dad who got the applause when the meal came to the table.
Unfortunately, more often than not, the burgers were overcooked, dry and needed a massive slathering of ketchup, mustard and mayonnaise to choke them down. Of course we didn't know any better so we thought they were wonderful.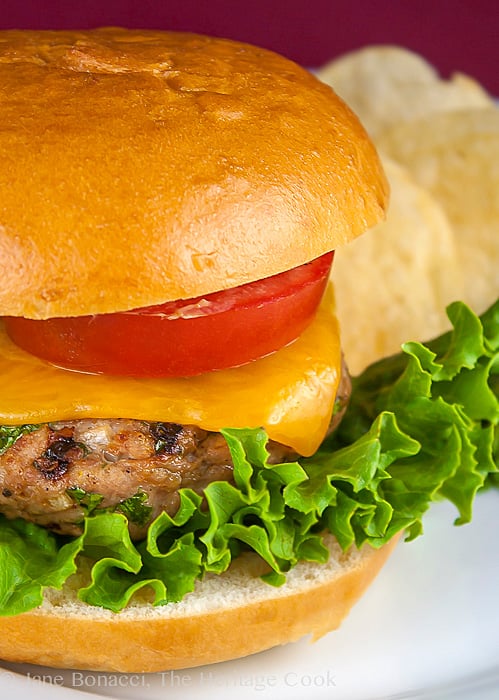 When I grew up, I discovered how burgers were supposed to be cooked and that they could actually be tender, moist and flavorful without a ton of condiments needed. Never press your burgers down on the grill with a spatula – that just forces all the wonderful juices out and can cause flare ups. And don't overcook them. Use an instant read thermometer to know when they are done. It may seem like a hassle, but you will get consistently great results and no risk of serving undercooked poultry to your guests!
The Artist loves when I use North African seasonings and asked if I would flavor the burgers with harissa. Harissa comes in either a paste or dried, ground powder form. The paste is usually very hot, so be careful if you decide to go that route.
I added harissa to some mayonnaise along with garlic to create an aioli. This is simply a fancy way of saying a flavored mayonnaise. If you've been reading this blog very long, you know I like to layer flavors. I love how it intensifies the hit to your taste buds and makes everything taste better!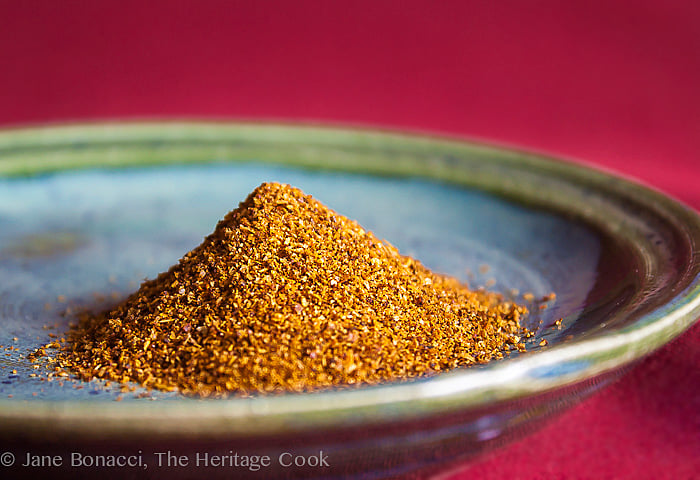 When forming your patties, make sure you keep them all the same size and thickness. This will help them cook at the same rate. And always press an indentation into the top of each one. When the inevitable bulging occurs during cooking, your final patties will fill in the indentation and wind up flat instead of rounded.
The bun in the photos is a beautiful brioche that The Artist got to enjoy. I ate mine wrapped in lettuce for the gluten-free version. I love the extra crunch and the lettuce helps keep my fingers clean. You can also use gluten-free hamburger buns if you and your kids want a more traditional burger.
Grilled Turkey Burgers with Harissa Aioli Recipe from The Heritage Cook
© 2014 Jane Bonacci, The Heritage Cook. All rights reserved.

Jane Bonacci | The Heritage Cook
Yields 3
Grilled Turkey Burgers with Harissa Aioli
Ingredients
Harissa Aioli
1/2 cup mayonnaise (Lite or low-fat is fine)
2 to 3 tsp dry Harissa seasoning
1/4 tsp garlic powder
Kosher or sea salt and freshly ground black pepper, to taste
Turkey Burgers
2 tbsp Harissa Aioli (from above)
2 tsp olive oil
1 tsp dry harissa seasoning (gluten-free if needed)
1/4 tsp ground coriander, optional
1 lb ground turkey, preferably dark meat (it's moister)
1/4 cup fresh cilantro leaves, stems discarded, leaves finely chopped
1 shallot, peeled and very finely minced
1/2 tsp kosher or sea salt and
Freshly ground black pepper, to taste
4 slices cheese, such as Cheddar, white Cheddar, Havarti, Monterey Jack, etc.
Hamburger buns (gluten-free if needed)
Harissa Aioli (from above)
Green lettuce leaves, rinsed and patted dry
4 slices ripe tomato
Instructions
Make the Harissa Aioli: In a medium mixing bowl, combine the ingredients. Whisk until smooth and evenly colored. Cover and keep in the refrigerator until you put the burgers on the grill. Set the bowl on the counter to warm up slightly.
Prepare the Turkey Burgers: In a large bowl, whisk together the aioli, olive oil, harissa and coriander (if using). Add the ground turkey, cilantro, shallots, harissa seasoning, coriander (if using), salt and pepper. Mix together with your hands until everything is evenly blended. Divide the meat mixture into fourths and working with 1/4 at a time, form them into patties. Place the patties on a parchment-covered baking sheet and refrigerate for at least 15 minutes, while the grill heats up.
Preheat the grill on high or build a hot charcoal fire. Wipe the grates with a paper towel dipped in olive or canola oil. (Use tongs to keep your hands from getting burned.) The oil on the grates will help keep the delicate turkey burgers from sticking as badly.
Remove the burgers from the refrigerator and place on the grill, directly over the heat. If you are using a gas grill, close the lid and reduce the heat to medium-high. If using charcoal, leave the lid off unless you start to get flare-ups. Putting the cover on the grill will stop the flames by shutting off the oxygen.
Cook the burgers about 4 to 6 minutes per side, carefully slipping a metal spatula under them and flipping in one quick motion. They are done when an instant read thermometer registers 160°F when inserted horizontally into the center of the burger. Transfer to a clean baking sheet, top each burger with a slice of cheese, and tent with foil to keep warm and finish cooking. If you want to melt the cheese a bit more, you can always put the burgers under the broiler for a couple of minutes.
Lightly toast the hamburger buns if desired. Generously smear the inside of both sides of buns with the Harissa aioli. Place a lettuce leaf on the bottom bun. Place a burger on the lettuce. Add a slice of tomato and set the Harissa-coated bun on top. Serve immediately.
Notes
© 2014 Jane Bonacci, The Heritage Cook. All rights reserved.
7.8.1.2
49
https://www.thehungrytravelerblog.com/grilled-turkey-burgers-with-harissa-aioli/
For more of Jane's recipes, check out
The Heritage Cook
.