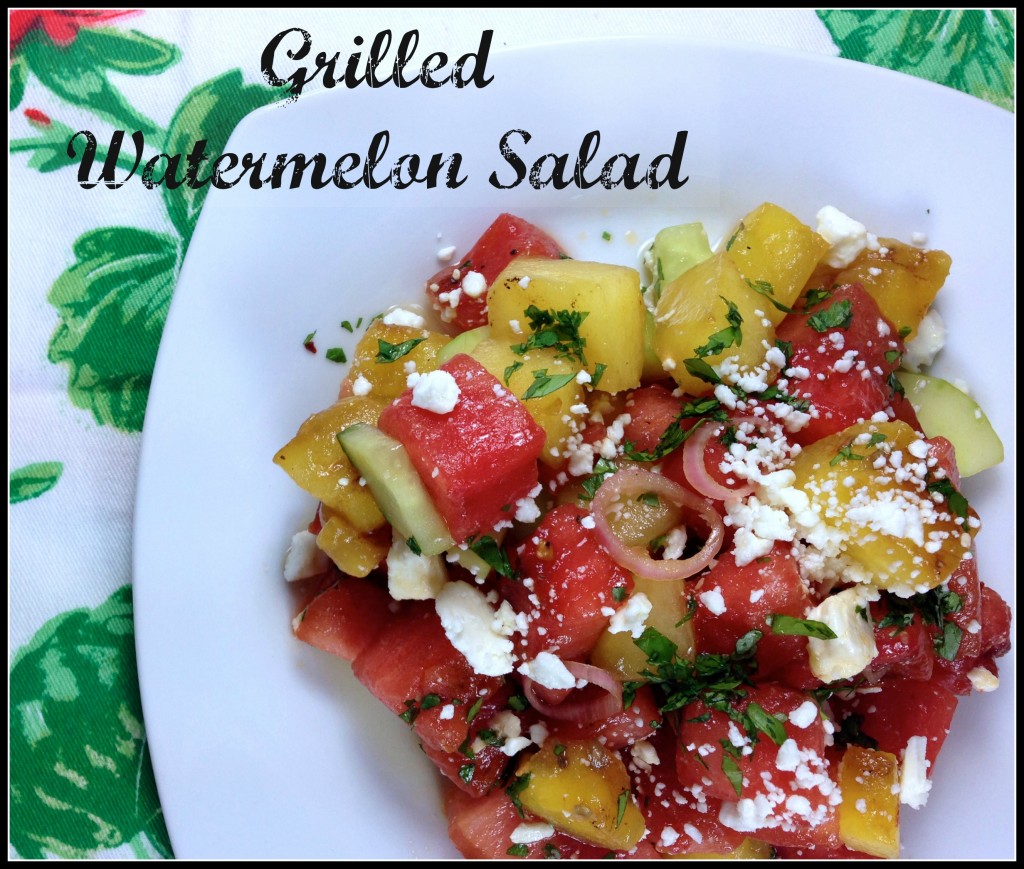 My boyfriend, Graham, started a small garden on my fire escape this year. Well, it started small and then kind of exploded and now we have tomatoes, cucumbers, snap peas, cilantro, basil, sweet peppers, zucchini, and even pumpkins. I think it might be a fire hazard but we won't worry about that for now.  We needed to use the cilantro so the other night I made a grilled watermelon salad.  Before we get to the recipe, a photo of our urban garden.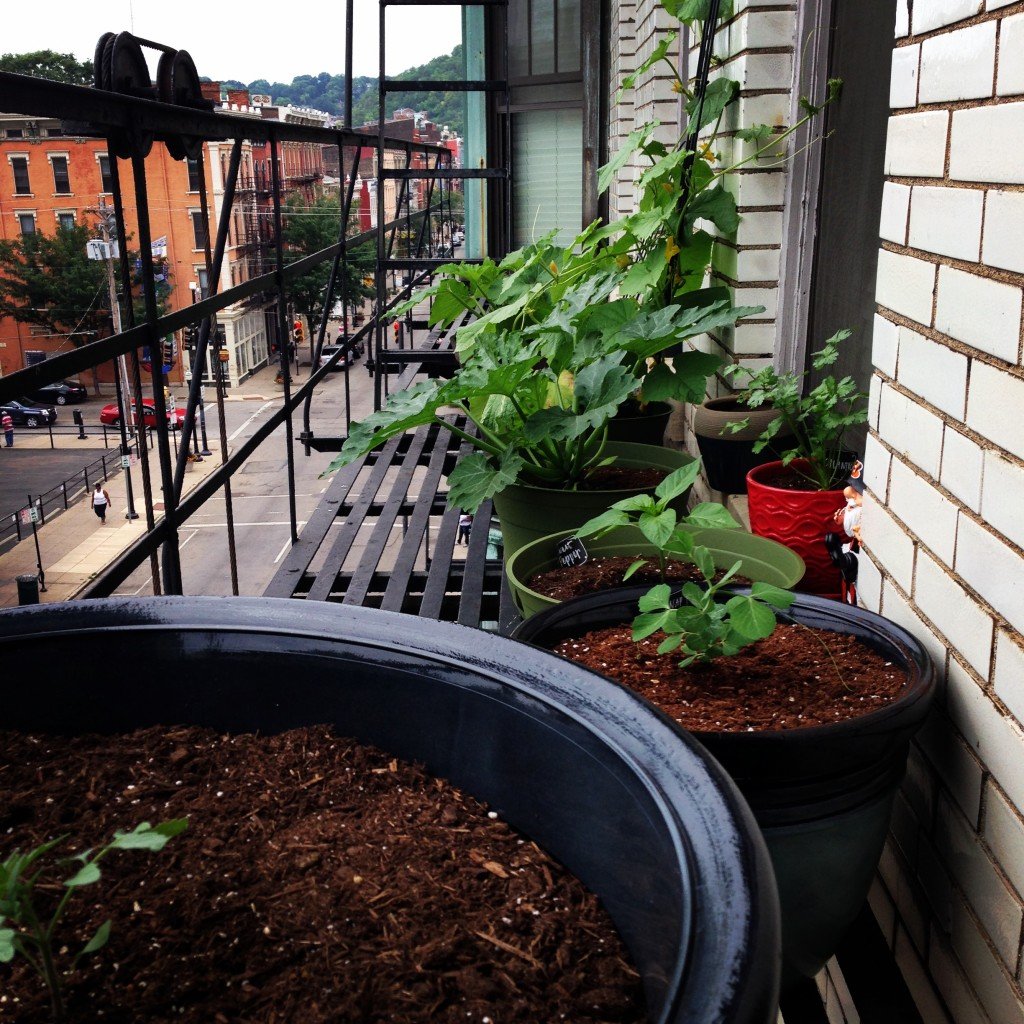 There are two things I want to tell you about this grilled watermelon salad:
1. Grilled watermelon salad is one of my favorite summer dishes.  It's refreshing, easy to make, and that perfect combination of sweet and salty.  Try it and I promise you'll like it.
2. It does not photograph well. At all.  I'm no food stylist or expert photographer, but usually I can pull off a decent shot.  Well, I fought with this salad for a long time and just could not get a photo I loved.  But that's okay because it still tastes really, really good.
So as the last days of summer are upon us, give grilled watermelon salad a shot.  If you can chop and dice, you can make this recipe. Don't let cutting the watermelon intimidate you, just watch this tutorial.   This salad is good whether the watermelon is grilled or not.  If you don't want to mess with grilling, simply cut the watermelon into 1-inch pieces from the start and skip the grilling process. Without grilling, it will look a little something like this: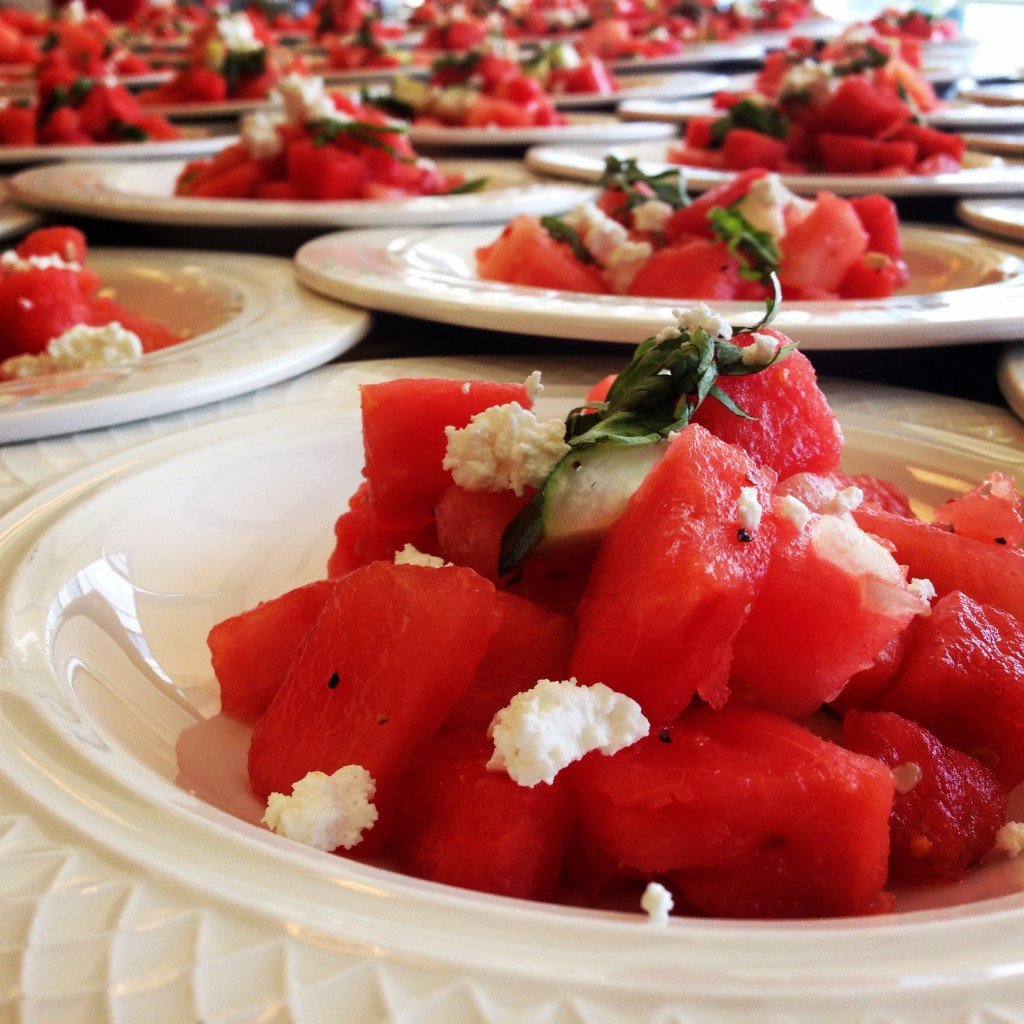 [heading_entrance title="Grilled Watermelon Salad Recipe" text="" custom_class=""][/heading_entrance]
This recipe was inspired by and adapted from Cook's Country's Watermelon Salad.  They have a great trick that eliminates a watery salad – simply rub the watermelon with the sugar and let the excess juice drain for 30 or so minutes.
Ingredients
6 cups seedless watermelon (I used a combination of regular and yellow watermelon)
2 teaspoons sugar
1 shallot, sliced into thin rings
3 tablespoons white wine vinegar
1/2 teaspoon red pepper flakes
1/2 teaspoon salt
1/4 teaspoon black pepper
1 english cucumber, peeled, quartered, seeded, and cut into 1/2-inch pieces
3 tablespoons extra virgin olive oil
1/4 cup cilantro, finely chopped
3/4 cup feta cheese, crumbled
Instructions
Peel watermelon and slice cross wise into 1-inch thick pieces.
Toss watermelon with 1 teaspoon sugar in large bowl. Transfer watermelon to colander set in sink or over a large bowl and let drain for 30 minutes.
In the meantime, combine shallot, vinegar, red pepper flakes, salt, pepper, and remaining 1 teaspoon sugar in bowl. Let sit.
Prepare a medium-hot grill or grill pan. Lightly brush the watermelon with olive oil. Once the grill is hot, grill the watermelon for 2-4 minutes per side, or until grill marks appear. Transfer to a plate and repeat with remaining melon.
Once watermelon is cool enough to handle, cut into 1-inch pieces. Combine watermelon with cucumber.
Add olive oil to shallot/vinegar mixture and slowly whisk to incorporate. Add to bowl with watermelon and toss gently.
Refrigerate for at least 30 minutes or up to 3 hours to let flavors combine.
Add cilantro to salad, season with salt and pepper, and gently toss. Sprinkle with feta just before serving.
7.8.1.2
2
https://www.thehungrytravelerblog.com/grilled-watermelon-salad/
Please let me know if how the grilled watermelon salad turns out for you.  Follow me on Facebook, Tweet me, find me on Instagram, or comment below!