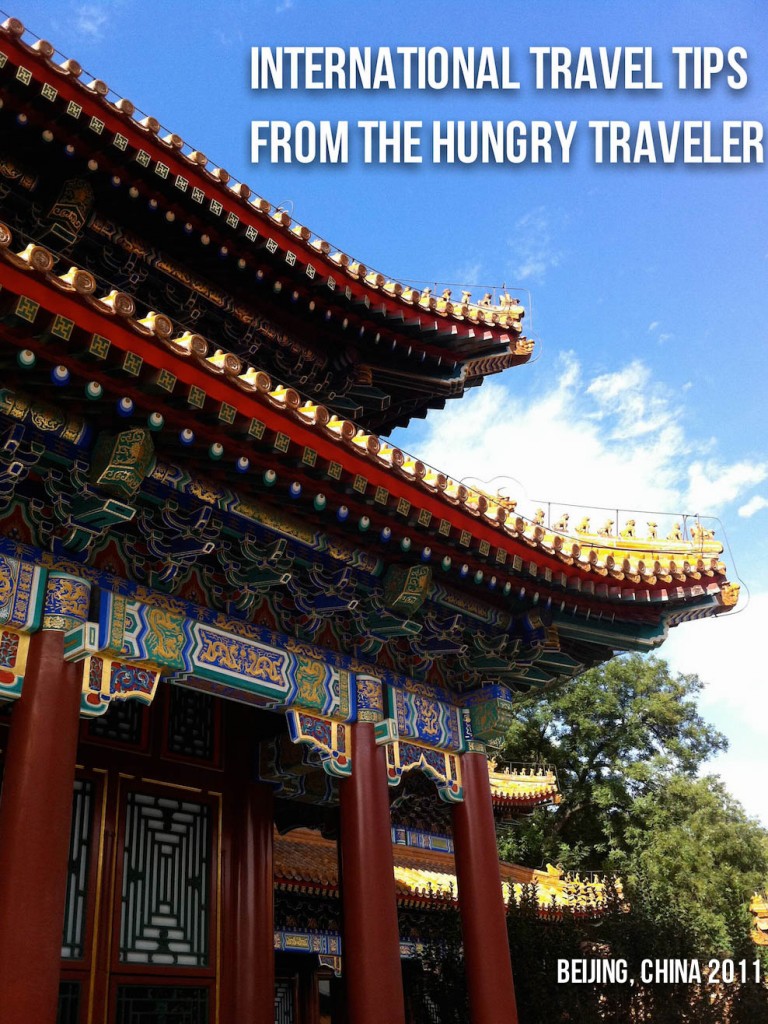 I've been fortunate enough to travel quite a bit over the past few years. While spending extended amounts of time in both Europe and Asia, I've learned many international travel tips that have made my life abroad much easier. And as much as I live for the actual travel,  I think the planning process is almost just as fun.  While there's nothing more exciting to me than the anticipation of a trip, my mom is just the opposite and finds it stressful and anxiety-inducing.  If you ask her before a trip if she's excited her answer is, "I just need to get there first".  Once she gets on the plane, she's okay, but there's so much to worry about beforehand that she misses the actual anticipation and excitement before the trip.
I've learned a lot along the way, and the more you travel, the less stressful it gets.  Sure, there is always the worry of a missed connection or lost hotel reservation, but if you follow my travel preparation strategy (a little corny, I'll admit), "Prepare for the worst. Expect the best," you will be able to easily recover from any unfortunate situation.
Here is my best tip for staying organized in your trip planning process and while you are traveling:
Start a folder in your email specifically for your trip.  Add copies of all important emails and information to this folder.  This helps stay organized during the planning process and also allows for easy access while you're traveling, especially if you can access email on your phone.
Here are some suggestions on what to keep in the folder:
Trip Itinerary
Flight Reservation Confirmation
Hotel Reservation Confirmation
Shuttle / Rental Car Confirmation and pick up information. Make sure to have the phone number of your shuttle/driver company in case your flight comes in late or you can't find them.
Restaurant Reservations
Links to any interesting articles about your destination
Important Phone Numbers (hotel, airline help lines, etc.)
A scanned copy of your passport
Scanned copies of any travel visas
Travel Insurance information
A list of places you want to visit (restaurants, museums, etc.) and their addresses
Copies of any email correspondence you had with the hotel
Confirmation of any tickets purchased prior to the trip (tours, museum passes, etc.)
Scanned photos (both front and back) of your credit cards, insurance card, international student card, debit card, etc.
Health Information – the name and phone number of your doctors and the name and information of any medications you take
If studying abroad, any correspondence about your program with advisors, the school, the dorms, etc.
A few more tips:
Forward a copy of important emails to someone at home that you trust.  I recommend doing this with your passport, flight and hotel information, credit cards, health information, and insurance info.
Make the subject lines of the email clear and concise to make searching easier.  Ex) FLIGHT INFORMATION or HONG KONG HOTEL CONFIRMATION
Consider printing a hard copy of all of this information and keeping it in your luggage.  You may also want to give a hard copy to a trusted friend or relative at home. If you're traveling with a friend, it's a good idea to also give them a copy of the information and ask him/her to pack it in his/her suitcase.
For more international travel tips, check out my post Paris for Beginners: Tips for Stress-Free Travel