Jalapeño Vanilla Peaches with Buttermilk Cheese may sound like a strange combination but this dish actually taught me an important lesson about seasonal cooking: less is more.
Chefs often talk about "letting the ingredients shine" and I didn't really know what that meant until I tasted the Jalapeño Vanilla Peaches at Zingerman's in Ann Arbor, Michigan.  It's such a simple combination but the jalapeño and vanilla perfectly complement the ripe peaches, creating tons of flavor with few ingredients.  I like this served with a bit of fresh vanilla buttermilk cheese, but if you're short on time or energy, feta works nicely or no cheese at all is wonderful too.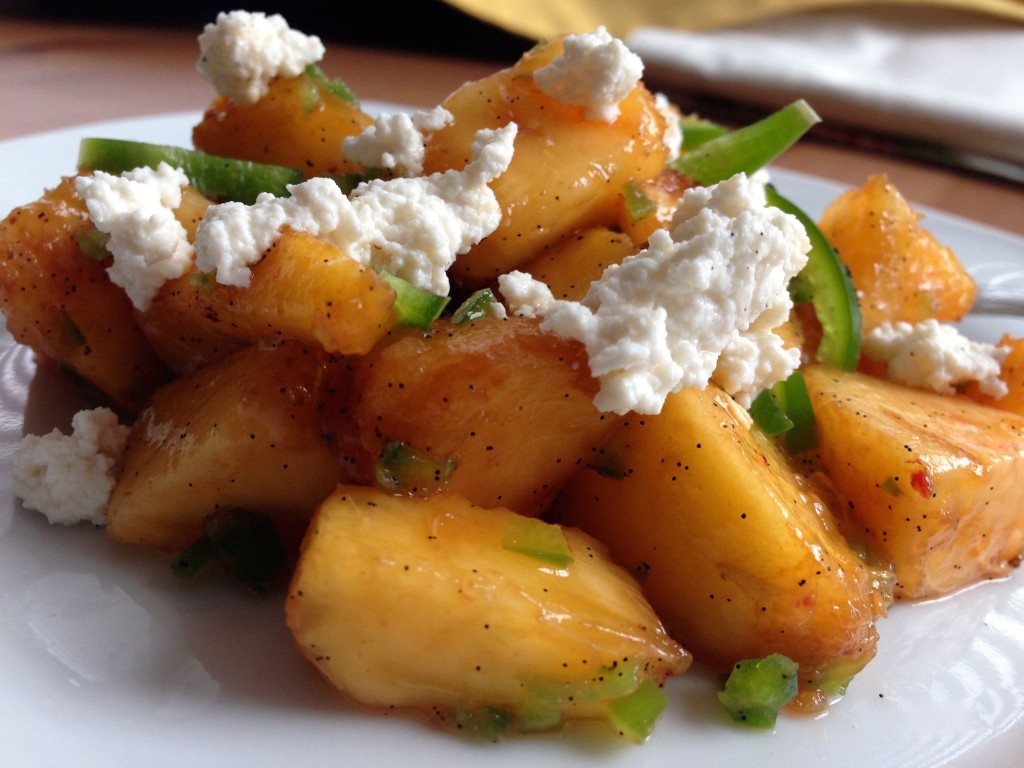 Since the jalapeño has the seeds and ribs removed, it provides a subtle spiciness and peppery flavor without too much heat, acting as the perfect balance to the sweet peaches.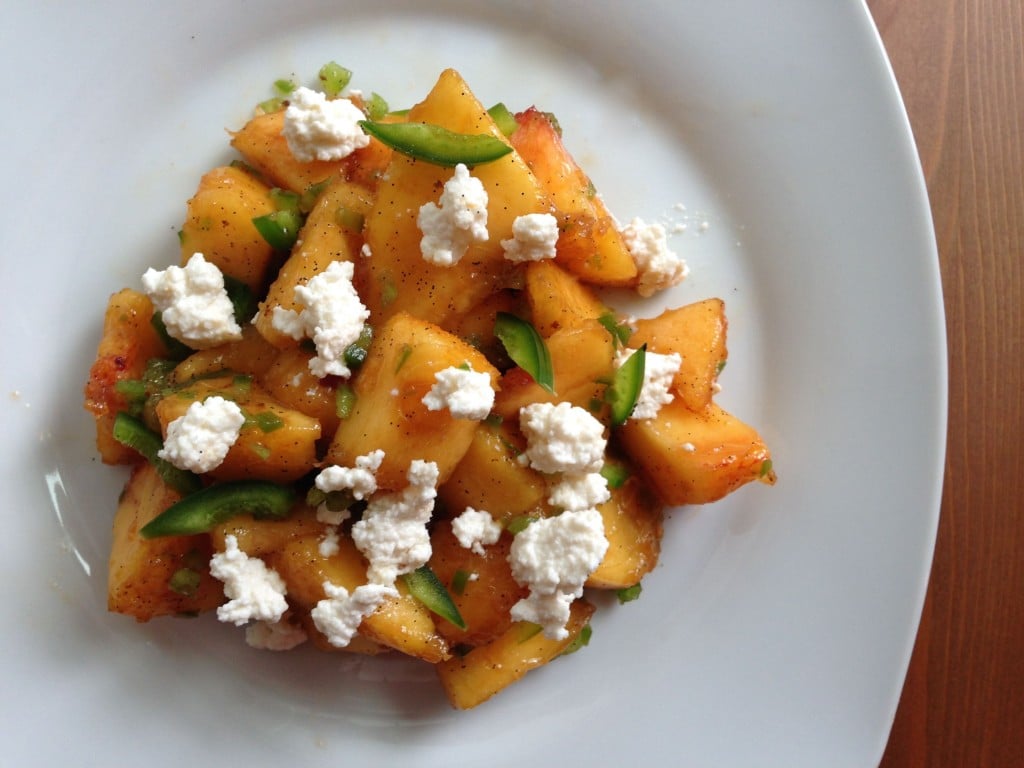 Save this recipe for when you have the ripest, sweetest peaches of the season.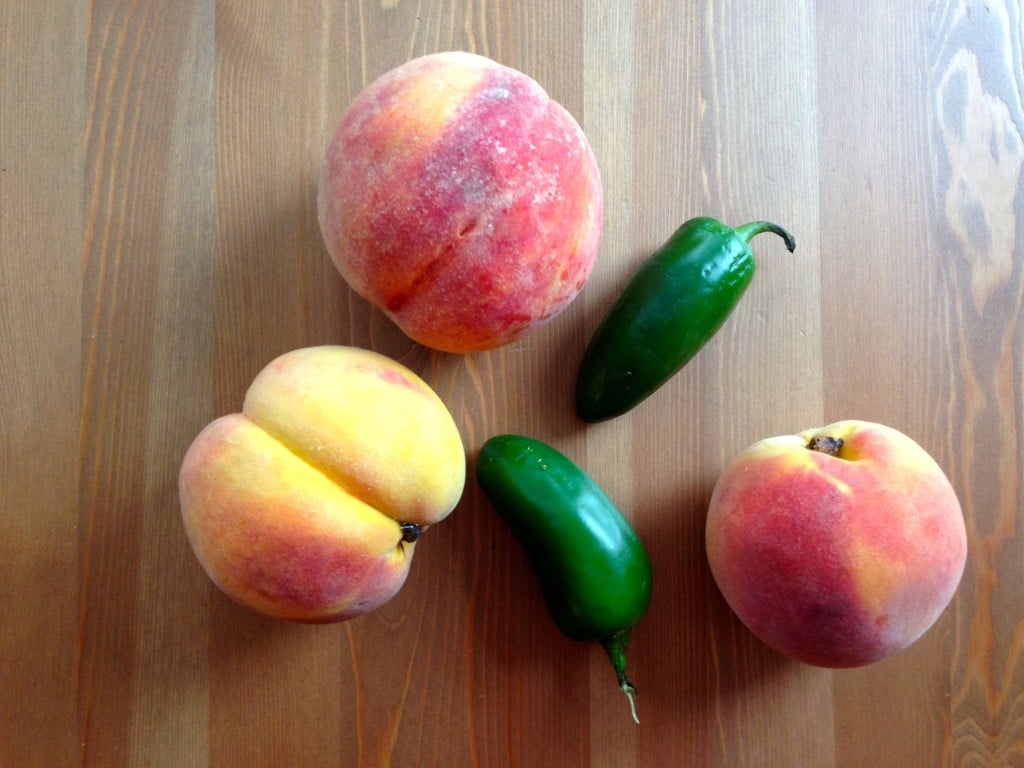 Jalapeño Vanilla Peaches with Buttermilk Cheese
Ingredients
For the Fresh Vanilla Buttermilk Cheese (Adapted from Lee Bros. Simple Fresh Southern Cookbook)"
2 cups whole milk
3/4 cup whole buttermilk
1 tablespoon sugar
1 teaspoon vanilla extract
1/2 teaspoon kosher salt
To assemble the salad:
4 large peaches, peeled and cored, and diced into 1-inch pieces
4 medium jalapeños, seeds and ribs removed, minced
1 vanilla bean
Fresh buttermilk cheese
Instructions
For the Buttermilk Cheese:
Line a colander or strainer with a double layer of cheesecloth. Place in a baking dish or bowl and set in sink.
Combine all ingredients in a medium saucepan over medium-high heat. Let simmer until it has separated into white curds and translucent whey, about 8-10 minutes. After separated, let pot stand off heat for 5 minutes.
Gently pour or ladle the mixture into the cheesecloth-lined strainer. Let drain for 3-5 minutes and then gather the cheesecloth and squeeze to release excess liquid.
Serve immediately or let drain further and cool to room temperature. Cover and refrigerate until ready to serve (up to 2 days).
To assemble the salad:
In medium bowl, combine diced peaches and minced jalapeños.
Cut vanilla beans in half lengthwise. Scrape out seeds with back of pairing knife and add to bowl with peaches and jalapeños. Gently stir to evenly distribute and combine ingredients.
Let sit at room temperature for 20 minutes to allow flavors to come together.
Just before serving, sprinkle with buttermilk cheese.
7.8.1.2
70
https://www.thehungrytravelerblog.com/jalapeno-vanilla-peaches-buttermilk-cheese/