Loaded Smashed Potatoes — crispy smashed potatoes topped with cheddar cheese, bacon, sour cream, and scallions. A fun weeknight side dish or perfect party appetizer!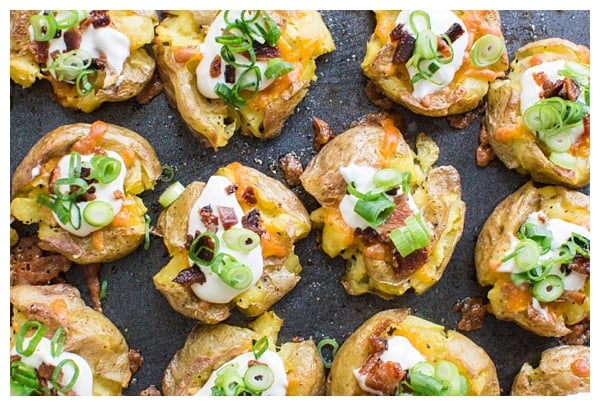 I'm always looking for ways to make weeknight cooking easier. It's not the cooking (we all know I love to cook!), but it's the dishes that really drive me crazy. There's nothing worse than finishing a great dinner, and then having to spend an hour cleaning up the kitchen.
I love shortcuts that save time and dishes, but don't rely on canned or boxed products. One of my newest favorite finds is Side Delights Steamables. These are potatoes that you can steam in the bag and then mash or smash. They cook in 8 minutes and all you do is microwave them in their bag. No extra dishes required! It's much easier and quicker than having to boil potatoes on the stove.
I've been playing around with different ways to cook these potatoes and they make weeknight side dishes so easy. I love crispy smashed potatoes and I recently decided to load them up with my favorite potato toppings!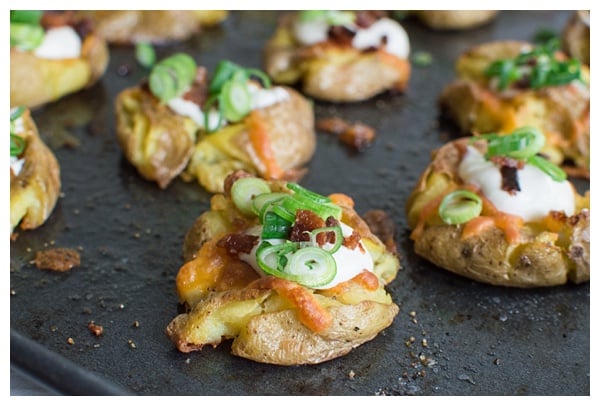 How to Make Loaded Smashed Potatoes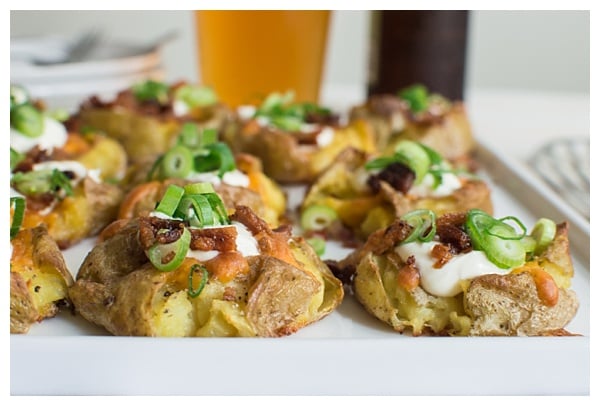 The key to these loaded smashed potatoes is using Side Delights Steamables golden potatoes. These potatoes are ready to steam in the bag, so you just microwave them and don't have to deal with boiling potatoes and dirtying more dishes. They are triple washed so you don't have to worry about scrubbing them clean, and they are ready to eat in 8-9 minutes.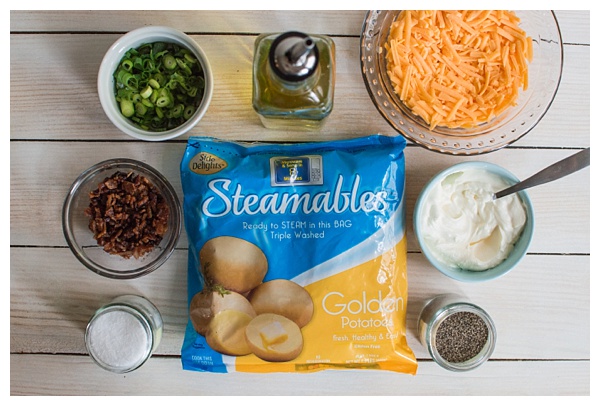 The first step is to microwave the potatoes for 9 minutes then let them sit in the microwave for 1 minute. Take them out and cut open the bag. Leave them sit for a few minutes until they are cool enough to handle.
While the potatoes are cooling, generously drizzle olive oil over the rimmed baking sheet. You want to use plenty of olive oil to prevent the potatoes from sticking to the baking sheet.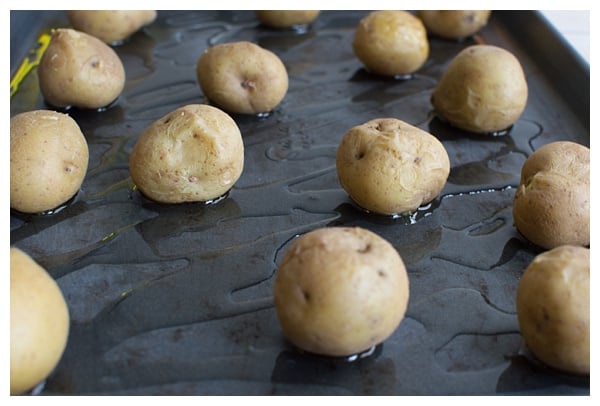 Spread the potatoes out evenly and use the heel of your hand to smash them down. You want them smashed, but still mostly intact.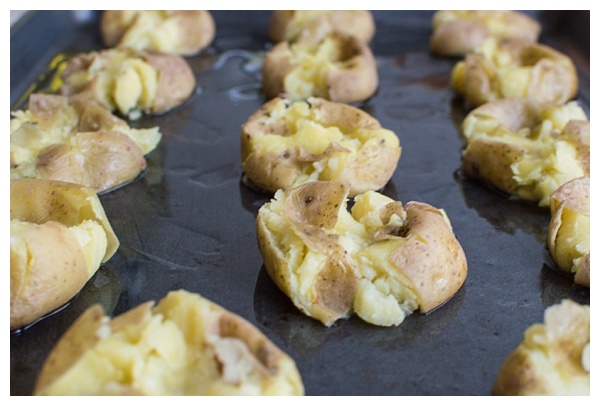 Once you smash the potatoes, give each one a drizzle of olive oil and a nice sprinkle of salt and pepper.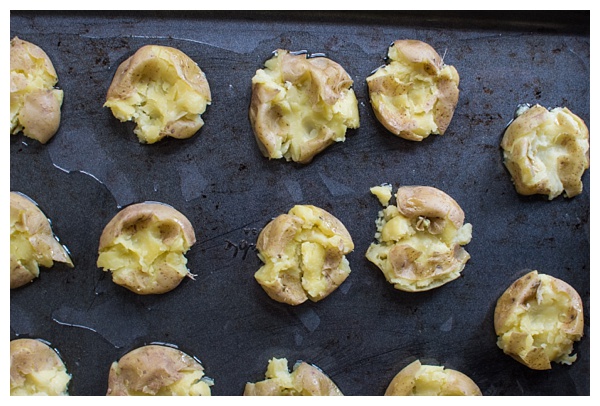 Then, top each one with the shredded cheddar cheese.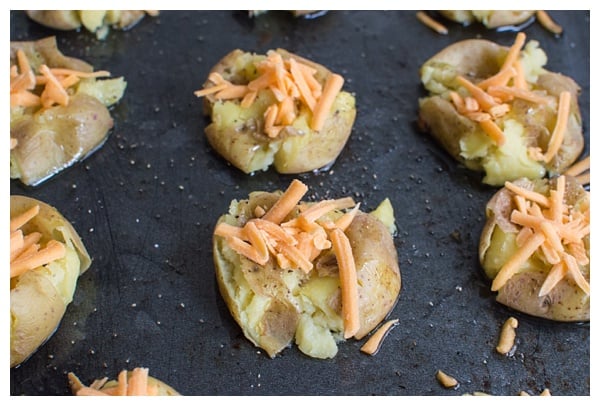 You'll bake them until the cheese is melted and the potatoes are crispy.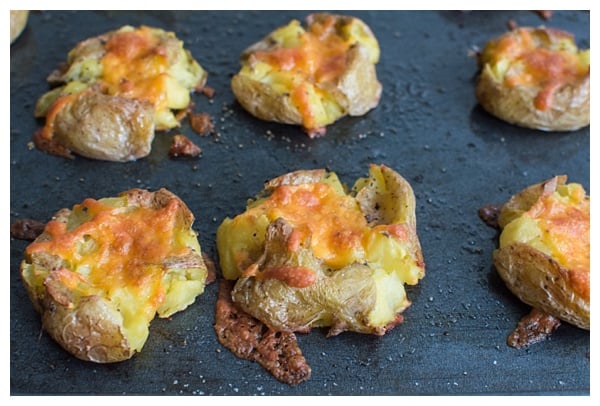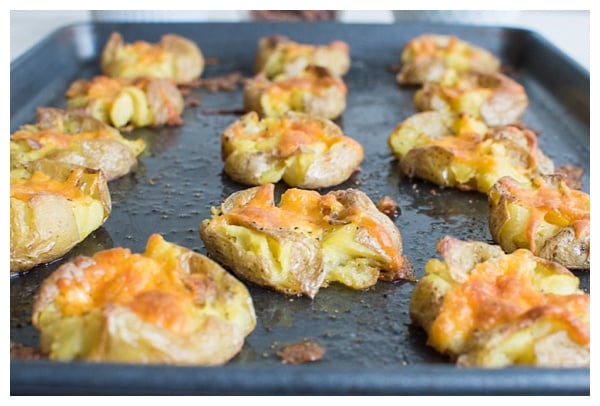 Finally, top each one with sour cream, bacon, and sliced scallions. You could also use chives.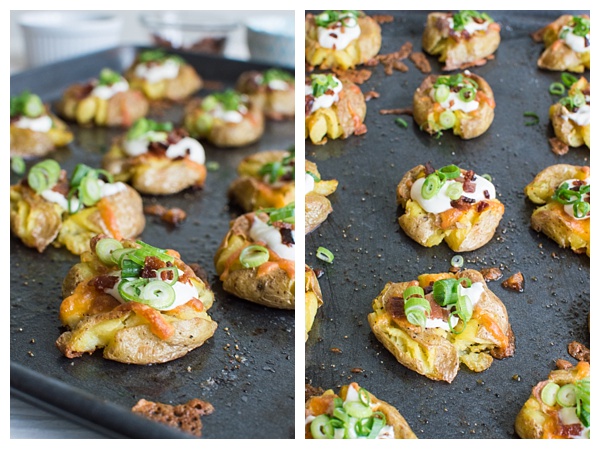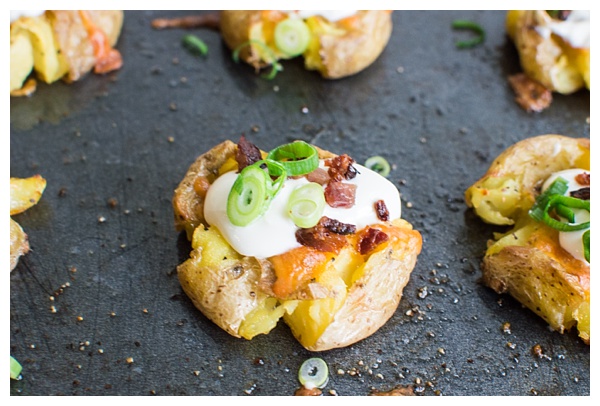 These make a great weeknight side dish or an easy appetizer for a party. They go exceptionally well with beer and are also delicious with wine or cocktails.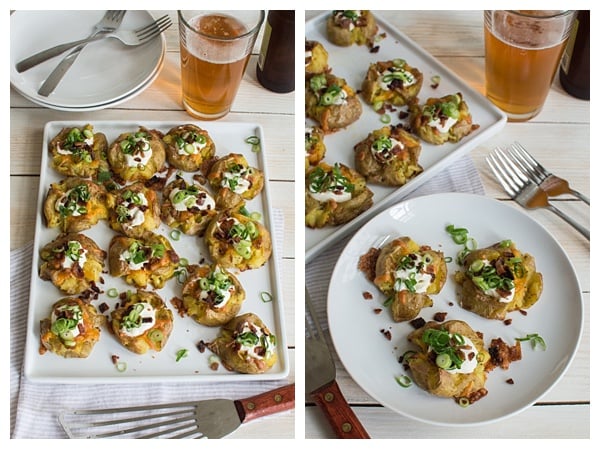 LOADED SMASHED POTATOES RECIPE
Yields Serves 6
Loaded Smashed Potatoes
Ingredients
1 (1 1/2 pound) bag Side Delights Steamables Golden Potatoes
Plenty of olive oil
Kosher salt
Black pepper
1/2 cup shredded cheddar cheese
1/2 cup sour cream
3 strips bacon, cooked until crispy and chopped into bits (about 1/4 cup)
3 scallions, finely sliced
Instructions
Preheat the oven to 400 degrees F and position a rack in the middle.
Microwave 1 bag of Side Delights Steamables for 8-9 minutes and let rest for 1 minute. Cut open the bag and let them cool off until they are cool enough to handle.
Generously drizzle a rimmed baking sheet with olive oil. Spread the potatoes out evenly on the baking sheet.
Using the heel of your hand, press down on each potato until it is smashed but still somewhat intact. Drizzle each smashed potato with olive oil and sprinkle with salt and pepper. Top each one with about 1 tablespoon of cheese.
Bake in the preheated oven for about 15-20 minutes or until the cheese is melted and the potatoes are crispy.
Top each potato with sour cream, bacon, and scallions. Serve warm.
7.8.1.2
91
https://www.thehungrytravelerblog.com/loaded-smashed-poatoes/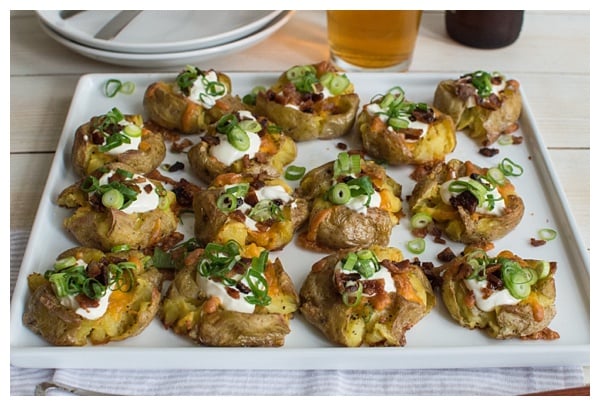 Here are a few other ideas for easy weeknight sides you can make with Side Delights Steamables:
Crispy Curried Smashed Potatoes – Hungry Couple NYC
Smoky Chipotle Garlic Mashed Potatoes – Boulder Locavore
Smashed Potatoes with Dill Sour Cream Topping – Poet in the Pantry
Ricotta Herb Mashed Potatoes – Snappy Gourmet
Gouda Smashed Potatoes – A Cedar Spoon
Buffalo Smashed Potatoes – The Tomato Tart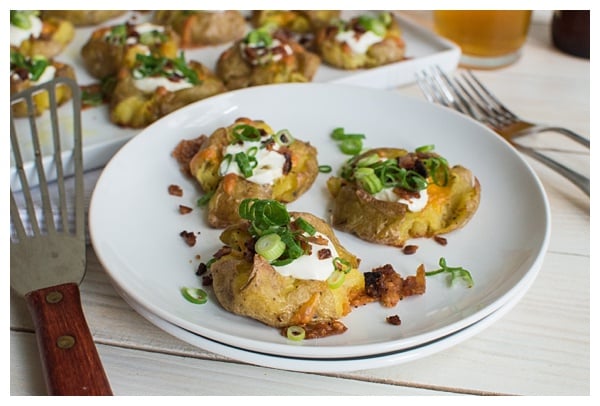 Thank you to Side Delights Steamables for sponsoring this post.
Get more ideas for creative side dishes here:
Devour: Thanksgiving Side Dishes That'll Hold Up to Reheating
The Lemon Bowl: Oven Roasted Brussels Sprouts with Bacon
Foodtastic Mom: French Style Sweet Potato Soufflé
Feed Me Phoebe: Gluten-Free Stuffing with Vegan "Creamed Spinach" and Leeks
The Hungry Traveler: Loaded Smashed Potatoes
Healthy Eats: 7 Lighter Takes on Essential Thanksgiving Sides
Dishin & Dishes: Bacon Wrapped Butternut Squash Wedges
The Mediterranean Dish: Jeweled Couscous with Pomegranate and Lentils
The Fed Up Foodie: Festive Orange Spinach Salad
A Mind "Full" Mom: Parmesan Garlic Slow Cooker Mashed Potatoes
Creative Culinary: Golden Onion Casserole with Thyme and Toasted Bread Rounds
Swing Eats: Creamed Spinach
Taste with the Eyes: It's Back – The Stuffing Everyone Loves!
In Jennie's Kitchen: Pan Seared Cauliflower
FN Dish: Stovetop vs. Oven-Baked: Battle of the Thanksgiving Side Dishes