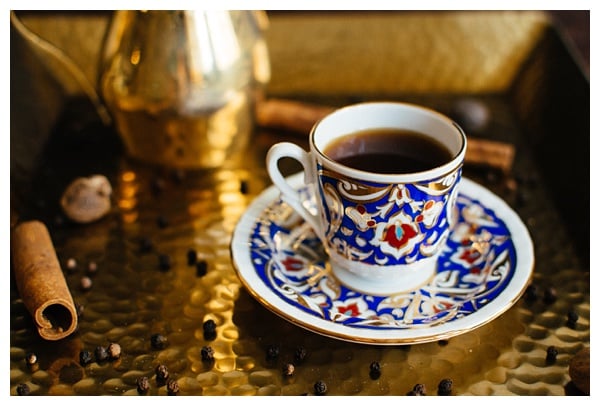 Moroccan spiced coffee is a fragrant blend of dark coffee and warm spices. It's very popular in Morocco, but many visitors miss out on the experience, as Moroccan spiced coffee is rarely served in street cafes and is typically made at home. Spiced coffee tastes completely different than a traditional cup of coffee, yet it's still familiar with its pleasant aroma and comforting warmth.
I love Moroccan spiced coffee because it's something you can easily make a part of your daily routine, yet it feels exotic and a bit luxurious. You can use the recipe below as a starting point, but you'll want to adjust it to your preferences. Personally, I like to bump up the cardamom and black pepper and cut back on the cinnamon. You could also add a pinch of sesame seeds or anise seed.
It may take some tweaking to find out exactly how you like your spiced coffee. You may want more or less spice, and you may want a stronger or weaker brew. I usually drink my coffee with cream, but with Moroccan spiced coffee, I forgo the cream and stir in some sugar.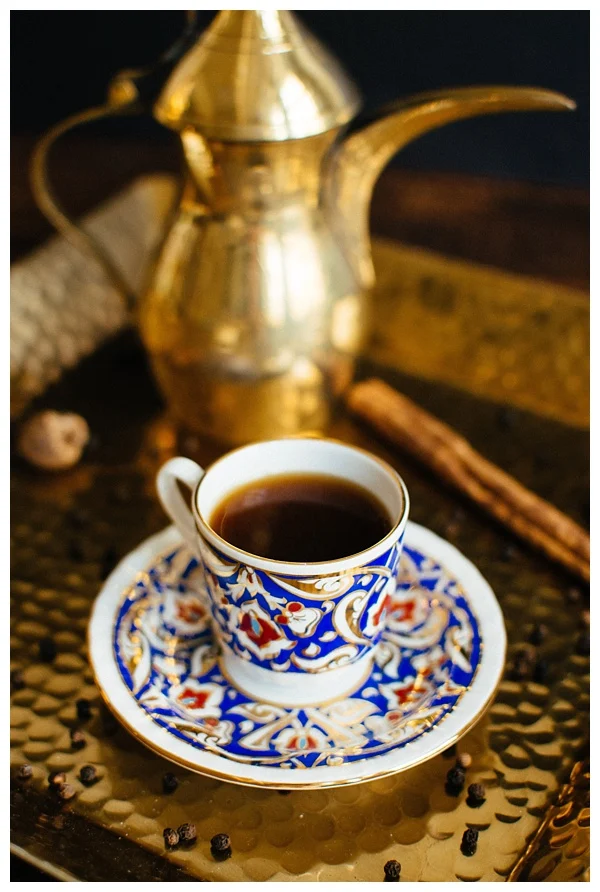 In the recipe for Moroccan spiced coffee below, the instructions specify using a French press, but you can brew Moroccan spiced coffee using the brewing method you typically prefer (automatic drip pot, pour over, etc.). All you have to do is stir together the spices and coffee grounds and proceed as usual. I typically brew coffee in an Aeropress, but this French press is great if you're making coffee for a group.
You can use whole beans and grind them yourself (your best, most flavorful option) or use pre-ground coffee (there's no shame, I buy ground coffee too). Whatever you choose, make sure you pick a dark roast like this Midnight Blend. I spend entirely too much time and money at my local Penzey's store but using fresh spices makes a huge difference in this, and any other, recipe.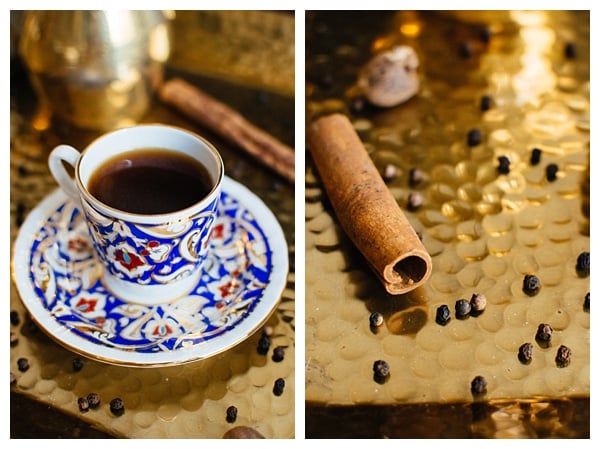 Moroccan Spiced Coffee Recipe
Yields 4 cups
Moroccan Spiced Coffee
Ingredients
1/2 cup whole coffee beans (or 6 tablespoons freshly ground coffee)
1/2 teaspoon ground cinnamon
1/4 teaspoon ground ginger
1/4 teaspoon ground cardamom
1/4 teaspoon kosher salt
1/8 teaspoon ground clove
1/8 teaspoon ground black pepper
1/8 teaspoon freshly grated nutmeg
4 cups water
Cream and sugar (optional)
Instructions
If using whole beans:
Place the coffee beans and spices in a burr grinder and grind on the coarsest setting until you reach a rough texture similar to breadcrumbs. Pour the spiced grounds into the bottom of a French press.
If using ground coffee:
In a small bowl, stir together the spices and the coffee grounds. Pour the spiced grounds into the bottom of a French press.
In a stovetop or electric kettle, heat the water to around 195 degrees. You can do this by bringing it to a boil and then letting it rest for around 1 minute.
Once the water is ready, pour about 1/2 of the water over the coffee and let it sit for 30 seconds.
Use a spoon to gently stir the mixture and then add the rest of the water. Place the lid on the French press and leave the plunger all the way up. Let brew for 3 minutes.
Press the plunger all the way down and pour the coffee into cups. If you are not drinking it immediately, pour it into a carafe or pitcher for serving. If you leave it in the French press, it may become bitter.
Serve the coffee black, or with sugar and cream as desired.
Notes
This recipe can be adapted to the brewing method of your choice. Simply stir together the spices and ground coffee before proceeding to brew your coffee as your normally do. Feel free to modify the spices to your liking.
7.8.1.2
64
https://www.thehungrytravelerblog.com/moroccan-spiced-coffee-recipe/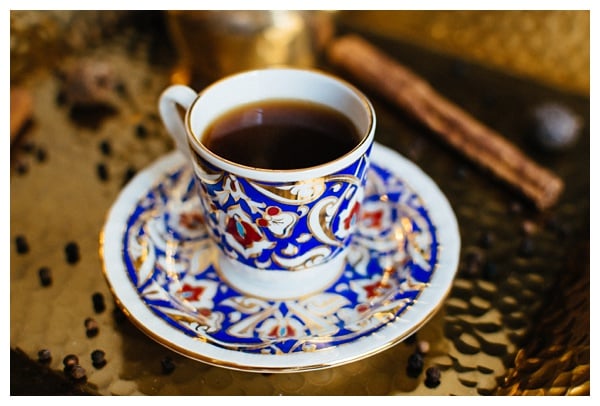 Over the next few months, I'll be sharing some of my favorite coffee specialties from around the world. I'm kicking off the series today with Moroccan spiced coffee but check back in every month for a new coffee recipe.
---
To receive recipes and travel stories in your inbox, subscribe to my mailing list here.
---
This post was in partnership with Atlas Coffee Club.
Atlas Coffee Club curates the best coffee from around the world and delivers it as a convenient monthly coffee subscription. Designed to bring the world of coffee to its customers, Atlas Coffee Club sources a variety of premium coffees to suit coffee lovers, beginners and connoisseurs alike.