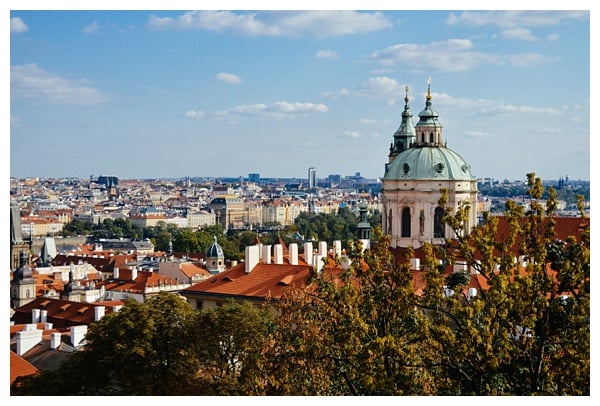 Prague is best known for its bridge, clock, and fairytale-like town square, but there are also plenty of delicious foods to eat in Prague. Prior to traveling to Prague, I didn't know much about Czech cuisine. By doing some research, talking to some friends, and taking an excellent food tour, I had a great introduction to all of the best foods to eat in Prague. I was pleasantly surprised by all that Prague had to offer and I'd be happy to eat here again any day! The challenge of writing (and reading) these posts is the cravings they induce. Unless you will be in Prague soon, proceed with caution and consider yourself warned.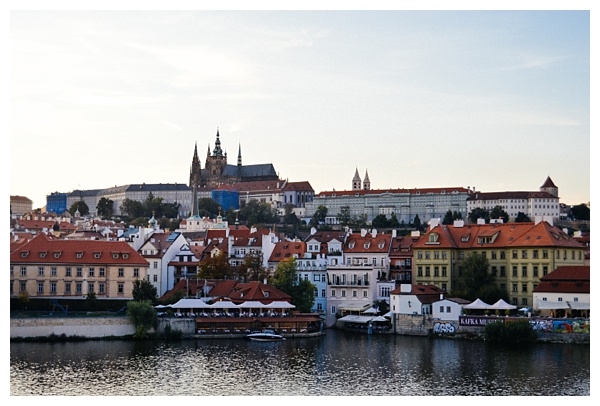 Before visiting a new city, I like to make a list of specific foods to eat. Usually these foods are unique to the location or have a special quality that I would be unable to find elsewhere. I hope you enjoy this list of my favorite foods to eat in Prague and please be sure to comment with your thoughts and additions.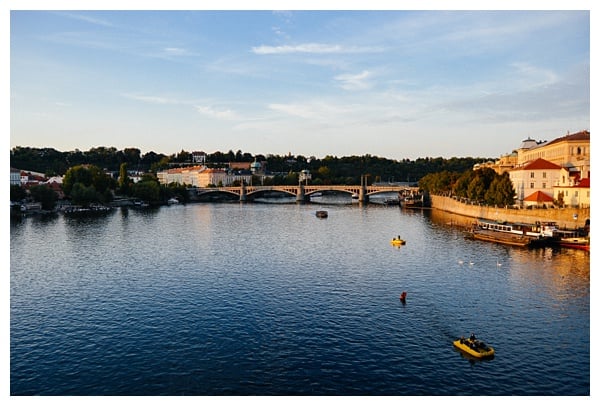 ---
My Favorite Foods to Eat in Prague 
Trdelník – Chimney Cake
Out of all the foods to eat in Prague, I was most excited about Trdelník, or chimney cakes.
These pastries are Transylvanian and Slovakian in origin but commonly found around Central and Eastern Europe in countries such as Hungary, Austria, Romania, and the Czech Republic.
Trdelník are made of rolled yeast dough that is wrapped around a stick and roasted over an open flame until golden brown and crispy on the outside, and tender and gooey in the middle. The hot dough is then brushed with butter and rolled around in a cinnamon-sugar and nut mixture.  You can also get different flavors spread inside such as Nutella or melted chocolate. I think they are best plain.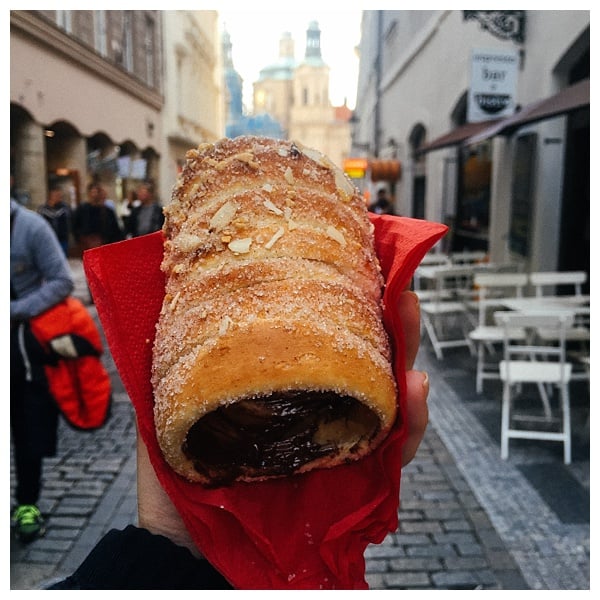 You'll find trdelník stands all over the city and some are better than others. Look for stands that are serving them hot off the fire. Trdelník don't have a long shelf life and you want them fresh and hot. They are cheap and delicious so I recommend trying as many as possible.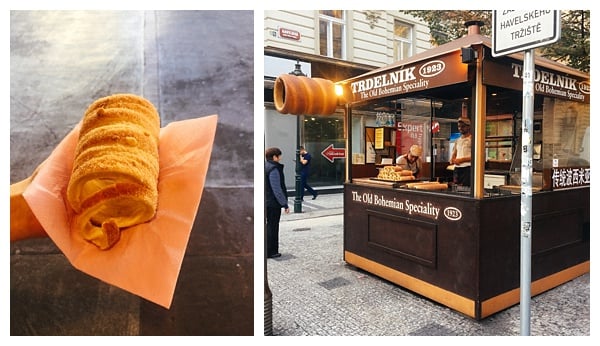 Trdelník // You can find these at stands across the city. I suggest trying as many as possible to find the best ones!
Svíčková (braised beef) with dumplings at Cafe Louvre 
Cafe Louvre has been in business since 1902 and has welcomed famous thinkers such as Albert Einstein and Franz Kafka. The business hit a brief pause in during the 1948 communist coup, when all of the interior fixtures were thrown out the window onto the street below. The cafe has long served as an office for local writers, philosophers, and students.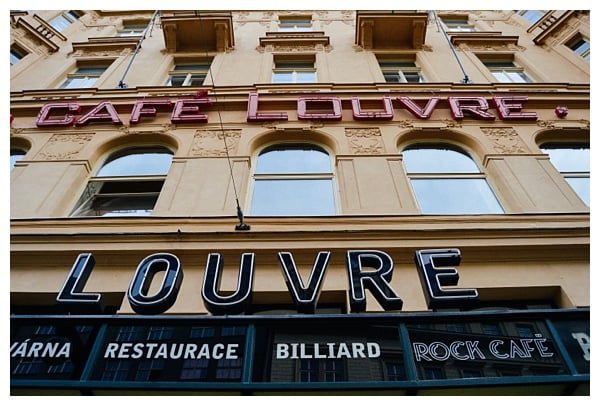 I visited Cafe Louvre twice while in Prague. I stopped by with Annie and Biff for lunch and then happened to visit again the next day for dinner and dessert on the Eating Prague Food Tour. I ordered a simple sandwich on my first visit but was much more satisfied with the beef and dumplings I had the next day.
Svíčková with dumplings is a classic Sunday family dinner in the Czech Republic. The dish consists of sirloin beef that has been marinated and braised a day in advance. The meat is then covered in a root vegetable cream sauce and served with bread dumplings, a slice of lemon, cranberry sauce, and a dollop of unsweetened whipped cream.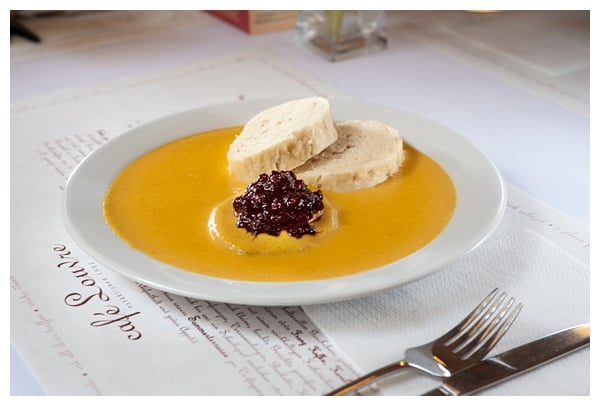 Photo Credit: Eating Prague Food Tours
This dish stands out, even among all of my other favorite foods to eat in Prague. The combination of sweet, savory, creamy and salty was so different than the food I am used to eating back home. It was satisfying and restorative and exactly the sort of comfort food I like to eat.
I look forward to making this dish at home using this recipe for svíčková that was created by my tour guide, Jan. He tested and re-tested until he got the recipe just right.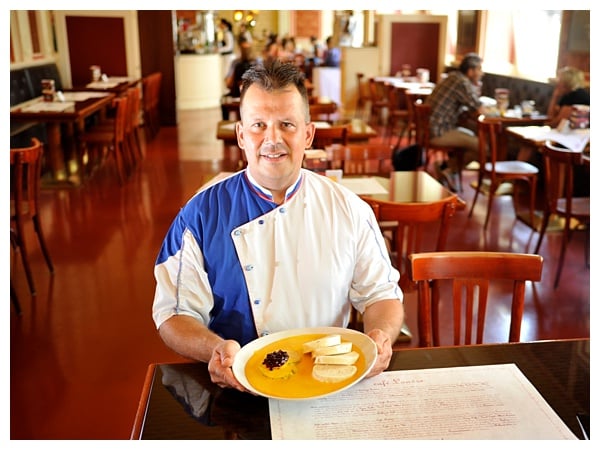 Photo Credit: Eating Prague Food Tours
Cafe Louvre is a tourist hot spot, but there's a lot of history and it's a fun experience. It's worth going for the atmosphere and especially for the beef and dumplings. If you don't have time for a full meal at Cafe Louvre, I'd suggest at least stopping in for a drink or dessert.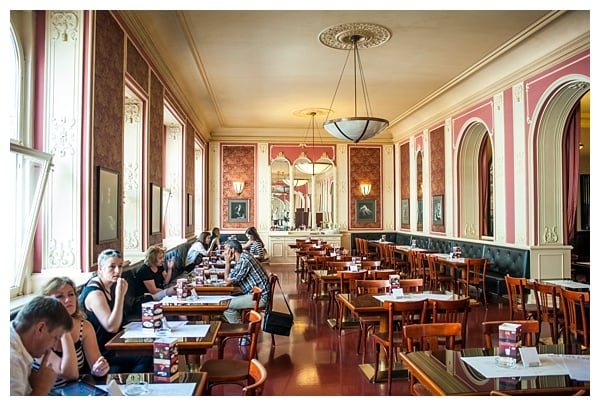 Photo Credit: Eating Prague Food Tours
Cafe Louvre // Website // Address: Národní 22, Prague 1
Gingerbread at Perníčkův Sen
Not only is this the cutest bakery I've seen, but the gingerbread was some of the best I've had. At Perníčkův sen, the owners make gingerbread and regional Czech cookies using the traditional recipe of honey, butter, nuts, and warm spices.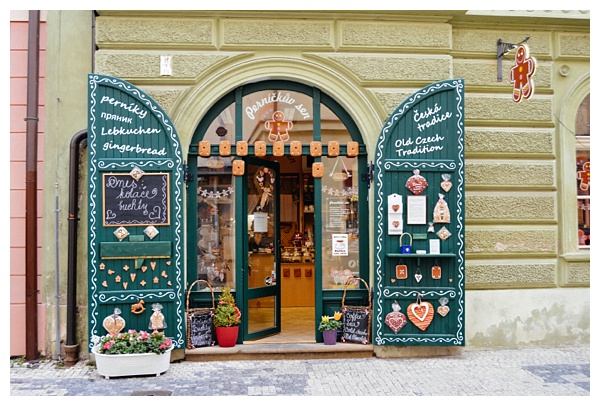 I tried three different cookies — a vanilla crescent, a plum jam and walnut biscuit, and a kolache filled with poppy seeds and topped with streusel. Each were completely different but absolutely delicious. The flavors are different than the typical overly-sweet American cookie. These cookies were balanced with nuttiness and warm spices.
The biggest mistake I made in Prague was not buying cookies here to bring home. After leaving the store, I knew I should have bought more but ran out of time and didn't make it back to the shop.
I'm still craving them so much that I even recreated the recipe for the kolache. Check out my recipe for poppyseed gingerbread kolache if you want to try making them at home.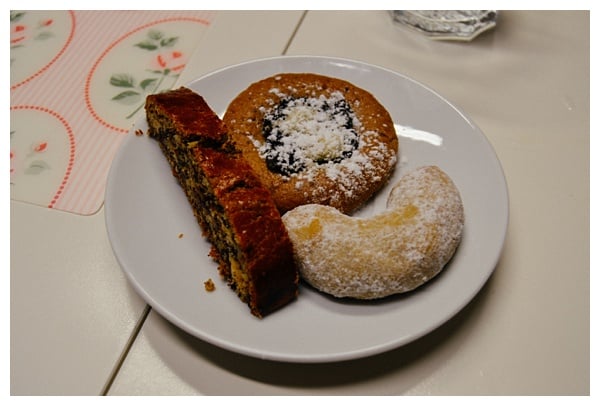 Perníčkův sen // Website // Address: Haštalská 21, Prague 1
Drinks and Snacks at T-Anker
When we arrived in Prague, our Airbnb host graciously picked us up from the train station. You could tell he loved every opportunity to show off his city. After just a few minutes in his car, he started giving us rapid fire recommendations of places to go and things to do in Prague.
The recommendation he was most enthusiastic about was a restaurant called T-Anker. Having left Berlin early that morning, we were starving and decided to take his advice right away. We didn't know what to expect but we knew T-Anker was located only minutes from our apartment so we started walking.
After a few blocks, some steps, and a sketchy elevator, we arrived to this view…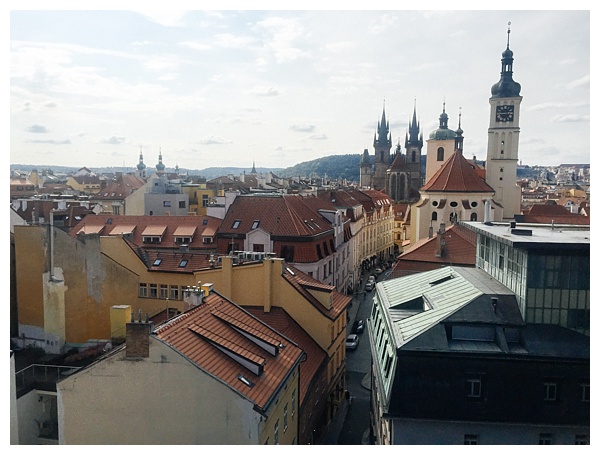 The food was good, but not extraordinary.  The beer was fantastic and the view was amazing. It's a must-visit for a drink or snack, and also provides a decent lunch (like the chicken salad pictures below). But really, you just can't beat that view.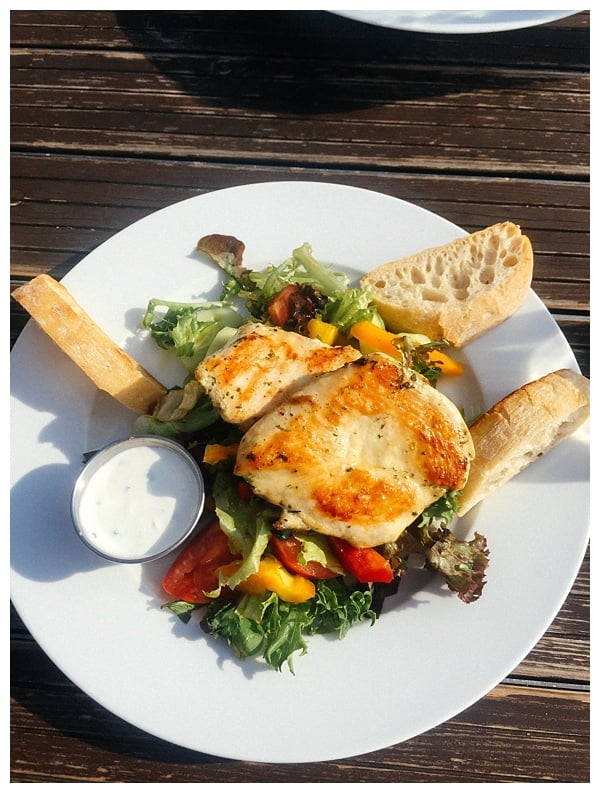 T'Anker // Website // Address: OD Kotva – 5th floor náměstí Republiky 656/8 110 00 Praha 1
Beer, Everywhere! 
The beer in Prague is some of the best that I've had anywhere. Even if you're not typically a beer drinker, you should give it a try in Prague.
If you visit Prague Castle (you should), consider a visit to Strahov Monastic Brewery after your visit. You'll find a brew pub, restaurant, and a lovely outdoor patio that's the perfect place to relax after a long day of sightseeing. The brewery dates back to the 17th century and still brews beer using traditional recipes from long ago. Order the unfiltered St. Norbert beer in either dark or amber.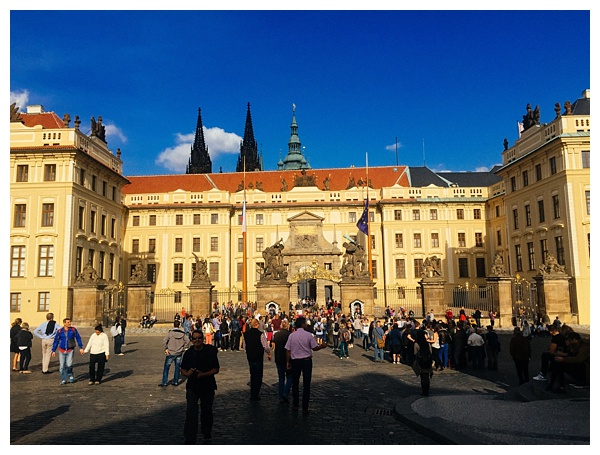 Prague Castle Courtyard
Another great place to drink beer is at Lokál, a chain of pubs that serves Pilsner Urquell straight from the tank. It's the freshest beer you'll ever have and one of the most delicious.
If you look at the Lokal beer menu pictured below, you'll notice it's different than what we're used to ordering in the US. "Slice," "sweet" and "creme" refer to the amount of head, or foam, on the top of the beer. Creme is almost all head, sweet is a bit less, and slice is the least amount of head.  You can see examples by clicking here and scrolling to the bottom of the page.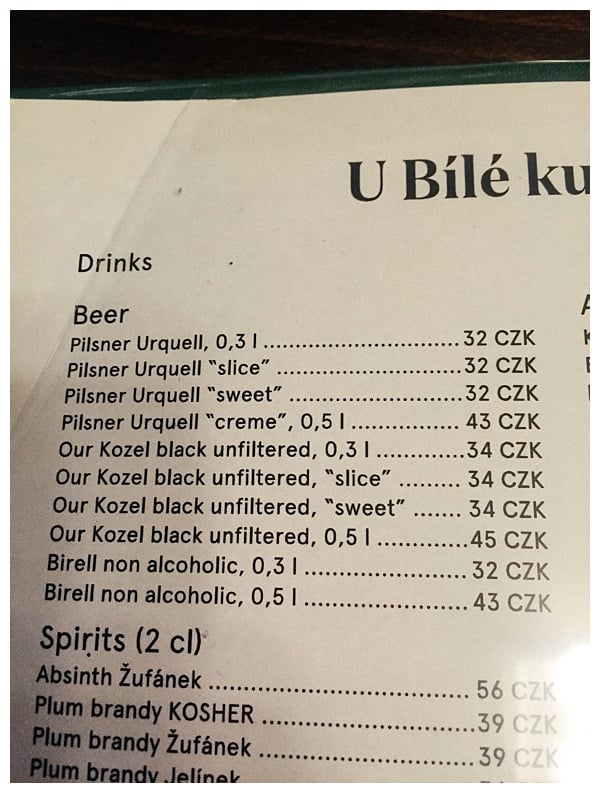 U Fleku is a tourist destination but don't let that dissuade you from visiting. I wouldn't recommend the food (aside from a snack or appetizer) but the beer is worth the trip. They only serve one type of beer, a dark lager that dates back hundreds of years. Be sure to walk around the restaurant and take in the history. Eventually a very persistent server will come around and insist you buy shots but learn from my mistakes and just say no.
If the weather is nice, there's no better place for a beer than the rooftop at T'anker, mentioned previously in this post. You'll be able to take in the skyline of Prague while enjoying the sunshine and beautiful patio.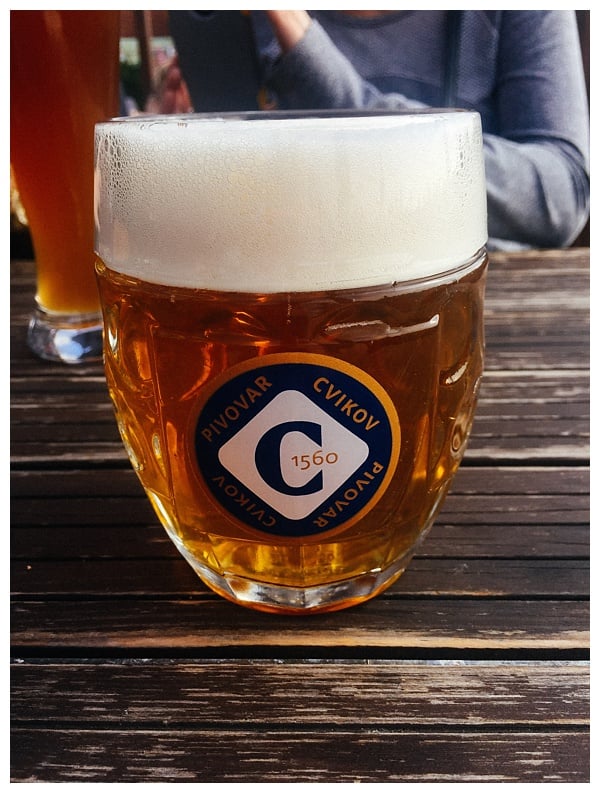 I didn't have a chance to visit, but I have heard wonderful things about Prague Beer Museum. It's not an actual museum and the name is just supposed to be a funny name for a bar. They offer a wide variety of beers and specialize in flights.
Strahov Monastic Brewery // Website // Address: Strahovské nádvoří 301, Prague 1
U Fleku // Website // Address: Křemencova 11 Praha 1 110 00
T'Anker // Website // Address: OD Kotva – 5th floor náměstí Republiky 656/8 110 00 Praha 1
Lokal // Website // I recommend the Dlouhááá or U Bílé Kuzelky locations. 
Prague Beer Museum // Website // Address: Dlouhá 46, 110 00 Prague 1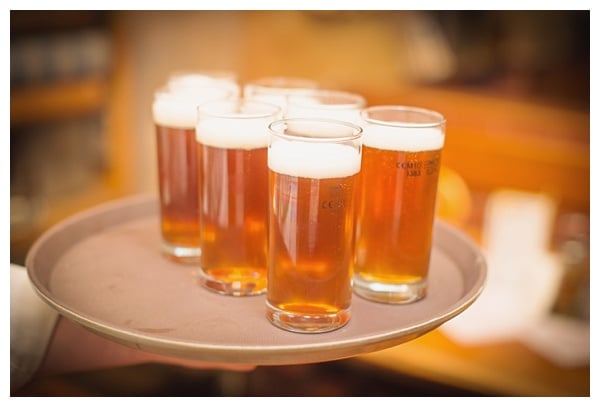 Photo Credit: Eating Prague Food Tours
Festival Food and Burčák at the Young Wine Festival
My friend Missy (you may remember her from this interview) introduced me to her friends Jen and John who live in Prague. They offered to meet up with us in Prague and invited us to the burčák festival. Burčák is young wine that has only been partially fermented. It comes in two varieties (red and white) and is only served from August to the end of November. It's sweet, fizzy and highly carbonated, and ranges from 1-7% alcohol.
Even if the festival isn't going on while you're in town, you should be able to find burčák at local bars and restaurants, or you can check out this listing of farmers markets. If you need more reason to seek it out, legend has it that you must drink 7 liters of burčák a year to remain healthy.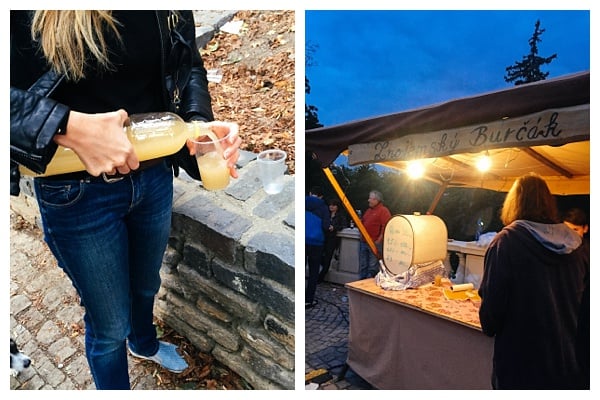 The great thing about attending a wine festival (or any kind of local fair) is you get the opportunity to sample food from local vendors. I recommend walking around and just trying a variety of whatever looks good. Another good option is to see which stands look the busiest and go for those, or watch what other people are walking around with and try to find that.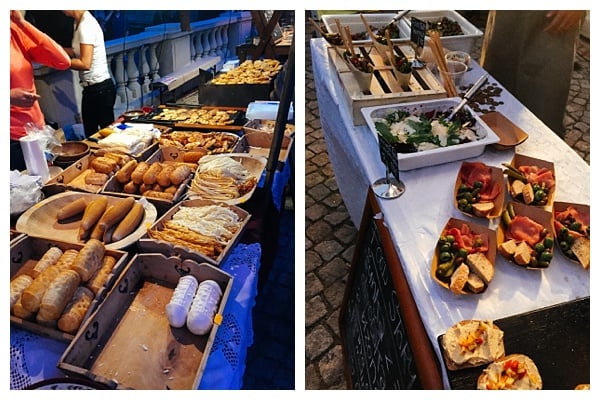 Young Wine Festival // Website // The dates and locations change each year so be sure to check online to find out if there will be a festival happening when you're in Prague. 
Wine at the Vineyard Gazebo
While we were at the wine festival, we had a chance to visit the Vineyard Gazebo, located in Havlíčkovy sady park. Located near the gazebo is Villa Gröbe, a summer home built in the late 1800s for industrialist Moritz Gröbe. The villa is not open to the public, but you can visit the gazebo which sits at the top of the fully functioning vineyard and offers sweeping views of Prague. The gazebo features a full restaurant and wine bar.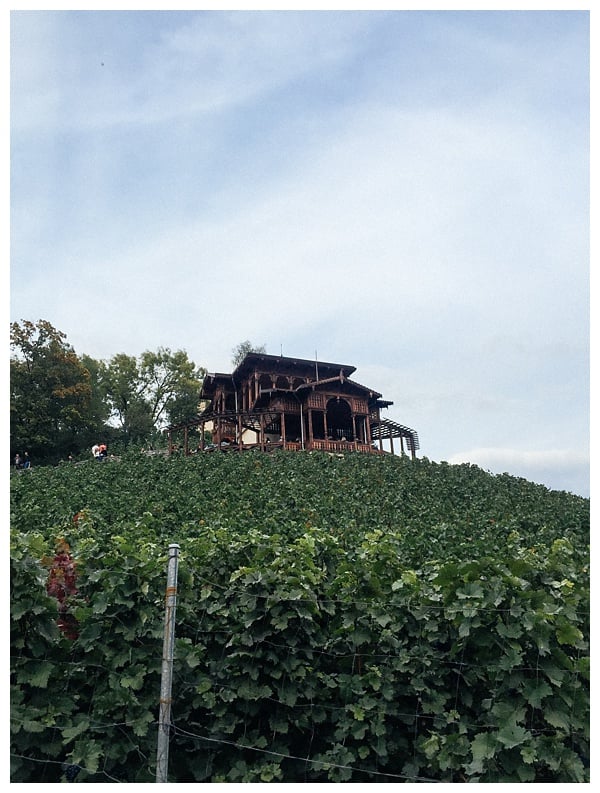 The park and gazebo are a bit outside the city center, but it's an easy commute and only a few stops on the metro. It's worth the short trip because you get out of the tourist heavy zones and get to experience Prague in a more relaxed, local setting. And since you're out of the city center, you get to take in the fantastic views while drinking wine. While you're there, be sure to explore the park and check out the playground, grotto, and walking trails.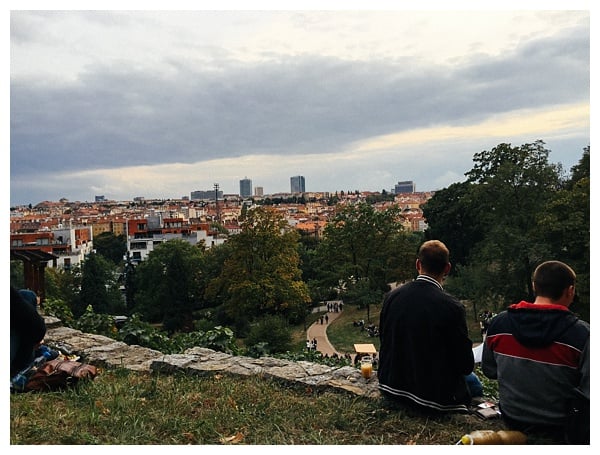 Vineyard Gazebo // Website // Address: Havlíčkovy sady 1369 , Praha 2 – Vinohrady, 120 00
Chlebíčky (Open-Faced Sandwiches) at Sisters Bistro
Open faced sandwiches, known in Czech as chlebíčky, are a staple of Czech cuisine, but Sisters Bistro is putting a modern twist on the traditional offerings. Sisters, located in central Prague, is one of the hottest new spots in the city's dining scene. The chlebíčky consist of toppings on a piece of fresh bread, but the toppings vary from ham and potato salad to smoked mackerel.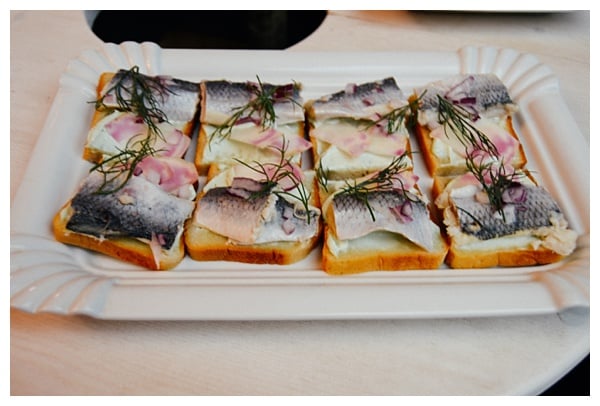 Herrings sandwiches at Sisters
Open faced sandwiches are known as a traditional Czech fast food and are often served at delis or show up as finger food at parties and meetings. The owners at Sisters are paying tribute to the classics, but also putting a creative spin on things, for example pairing wasabi mayo with pickled herring. Their chlebíčky are known to be the best in town because they pay attention to every element — the bread, toppings, sauce, and garnish. There is sure to be a punch of flavor in every bite.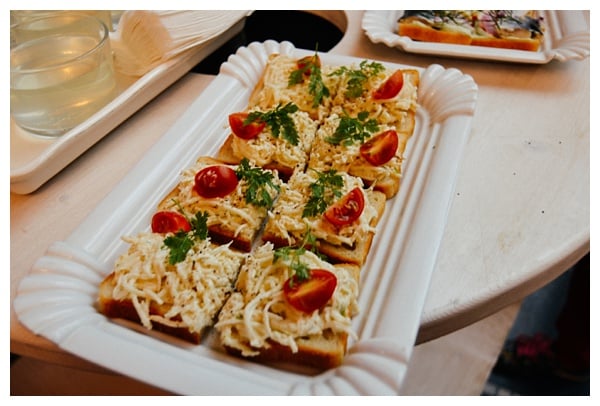 I tried three different varieties – herring, celery root, and beet puree with goat cheese and beat leaf. The herring was a big hit among the group, and if you are a fish-lover you will enjoy it. My favorite was the beet and cheese but the celery root was nice too. There are different options available daily so you can take a peek at the case and choose what looks good.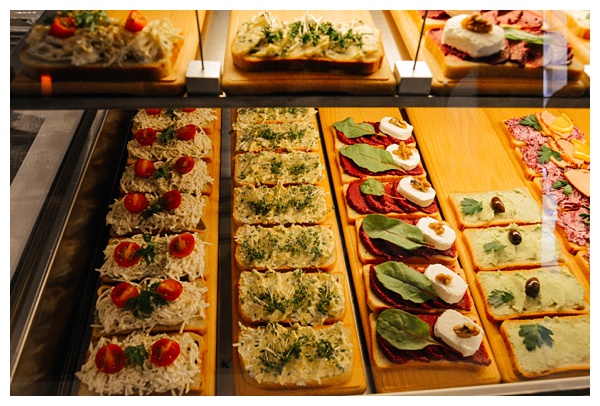 Sisters is the perfect spot for lunch or a cheap snack. You could easily make a meal of several sandwiches and the daily soup, or just stop in to try one or two or as a small snack. Either way, it's a great way to try both traditional and modern Czech cuisine.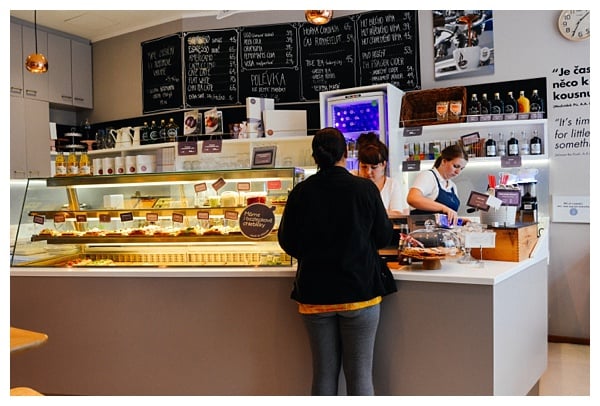 Sisters Bistro // Website // Address: Gourmet passage – Dlouhá 39, Prague 1
Meat and Sausage at Naše Maso
Naše Maso is known as Prague's best butcher shop, but they also have a kitchen that serves simple, traditional Czech meals at reasonable prices. The butcher shop features floor to ceiling windows so you can watch the cooks and butchers at work. You'll see meat aging and talented professionals preparing the daily offerings.
Naše Maso translates to 'our meat' and the name is meant to imply that the animals are raised to high standards specified by the butcher shop. They work with farmers all over the country who raise the animals exactly how they request. They control all the details from the raising of the animals to the butchering process to the aging. No additives or chemicals are used. It's 'their meat' through and through.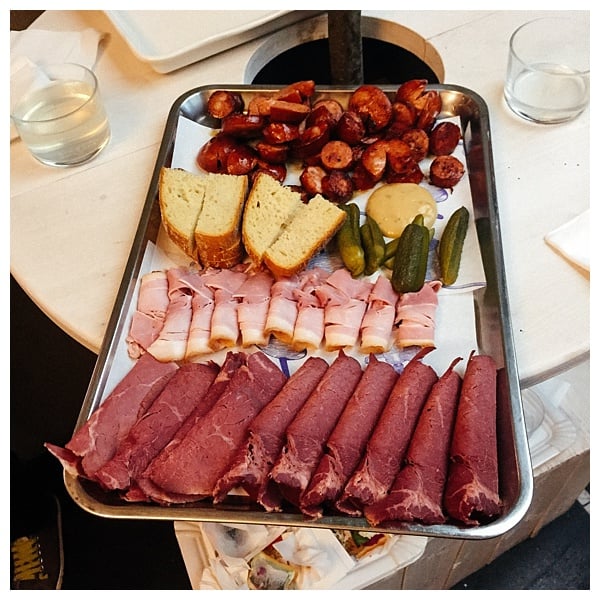 I wasn't able to try the meat loaf but I've been told it's the best in Prague (and maybe even the world). The offerings change daily but you can expect things along the line of Prague ham, burgers, lager-and-onion braised pork belly, and a variety of sausages and steaks. From what I understand, you can also choose any cut of meat from the case and they will grill it for you on the spot. Don't forget a glass of the Czech beer that's on tap.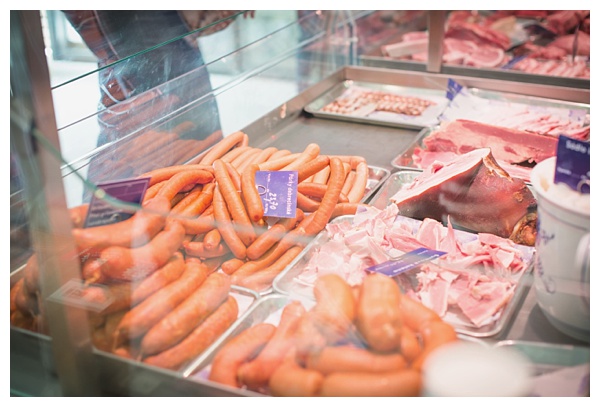 Photo Credit: Eating Prague Food Tours
Naše Maso // Website // Address: Gourmet passage – Dlouhá 39, Prague 1
Traditional Czech Cuisine at Lokál
The number one recommendation for where to eat in Prague was Lokál. Friends sent me the link on Facebook, our Airbnb host recommended it right away, and our tour guide led us past it on his tour and pointed it out as the best place to try traditional Czech dishes. We had high hopes and secured a reservation for the first night.
The best part of our meal at Lokál was the honesty of our waitress. When I ordered schnitzel and bread dumplings, she gave me a funny look and said, "No, that will not be good." I was a bit taken aback and she explained that the bread dumplings were dry and needed to go with something saucy like goulash or soup. We said we wanted to try them anyways and she begrudgingly put the order in. Sure enough, the bread dumplings were terrible on their own and we should have trusted her judgement. It was refreshing to have the honest opinion of a server and she turned out to be completely correct.
Aside from the dry dumplings (they would be good with goulash), the meal was delicious. I had the schnitzel and potatoes, Annie ordered the sausages, and Biff tried the schnitzel with potato salad. You should also consider trying the fried cheese and goulash.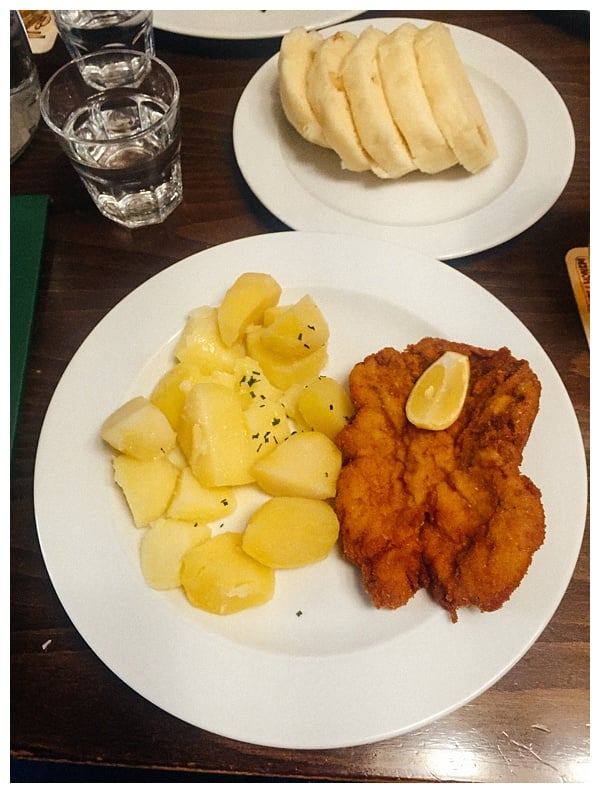 There are five Lokáls scatted across Prague. Some say that the original Dlouhá location is the best but we went to the U Bílé Kuzelky restaurant, located underneath Prague Castle, just across the Charles Bridge. We timed it just right and were able to cross the Charles Bridge right around sunset and enjoy a beer at a cafe on the water before heading to dinner.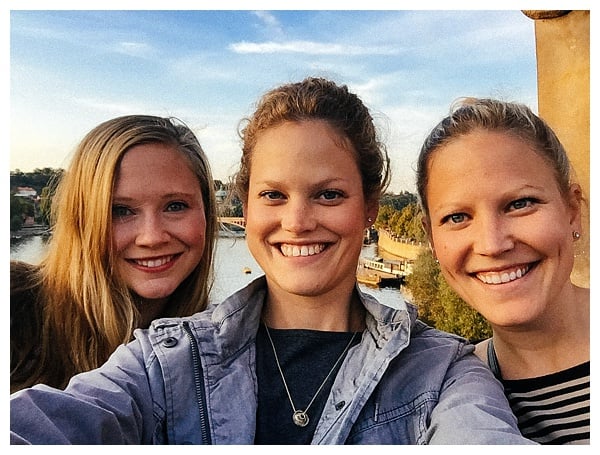 Me, Annie, and Biff walking over the Charles Bridge and heading to dinner at Lokal. 
Lokál // Website // There are multiple locations but I recommend the Dlouhá or U Bílé Kuzelky locations. 
Sauerkraut Soup at Zvonice
I'll be honest, sauerkraut soup didn't sound great to me either. But then I had a small taste and changed my mind immediately .
Sauerkraut soup is a traditional old-Bohemian specialty and Zvonice makes the best in Prague. The soup consists of sauerkraut, roasted chanterelle mushrooms, venison sausage, a mashed potato dumpling and drizzles of sour cream and basil oil.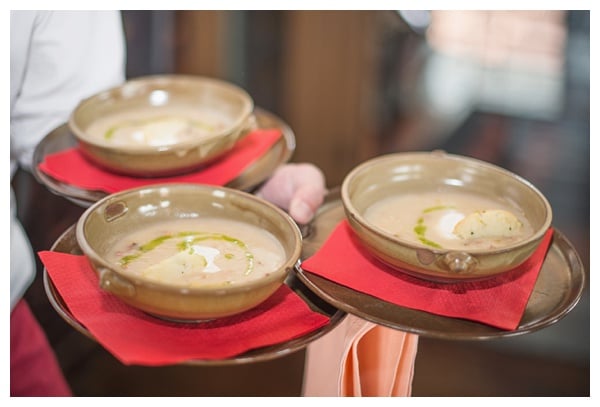 Photo Credit: Eating Prague Food Tours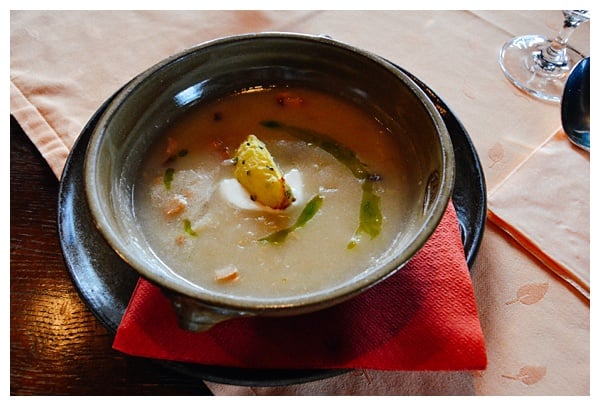 Zvonice is an award-winning restaurant located in the top of a belltower and features gorgeous views of Prague's skyline. The menu features Old Czech dishes along with elegant fare such as wild game, escargots and pâtés and terrines. It's a charming and romantic place and a beautiful setting for a special occasion.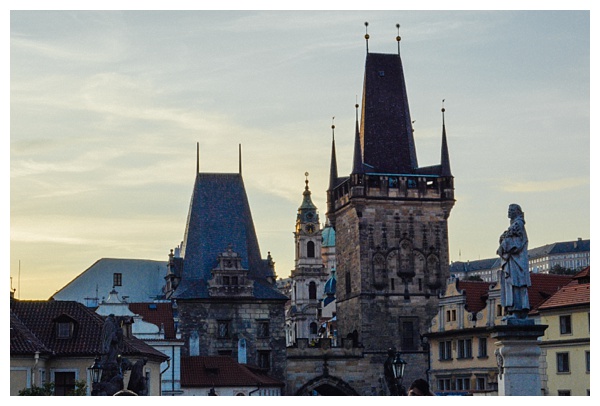 The bell tower dates back to 1472 and contains St. Maria's bell which was originally cast in 1518. Zvonice is the only restaurant in Central Europe located inside of an ancient gothic bell tower.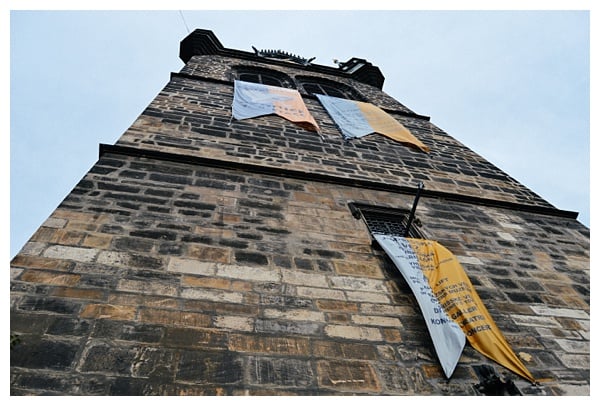 Photo Credit: Eating Prague Food Tours
When the restaurant was built, great consideration was given to retain the historical integrity of the structure. The builders were not allowed to remove any original materials from the building. They had to great creative so you'll see some of the original stone boulders used in the table bases and you'll notice exposed wooden beams, oak floors, original walls, and beautiful iron works. The center of the restaurant is consumed by the Bell of St. Maria and the tables line the perimeter.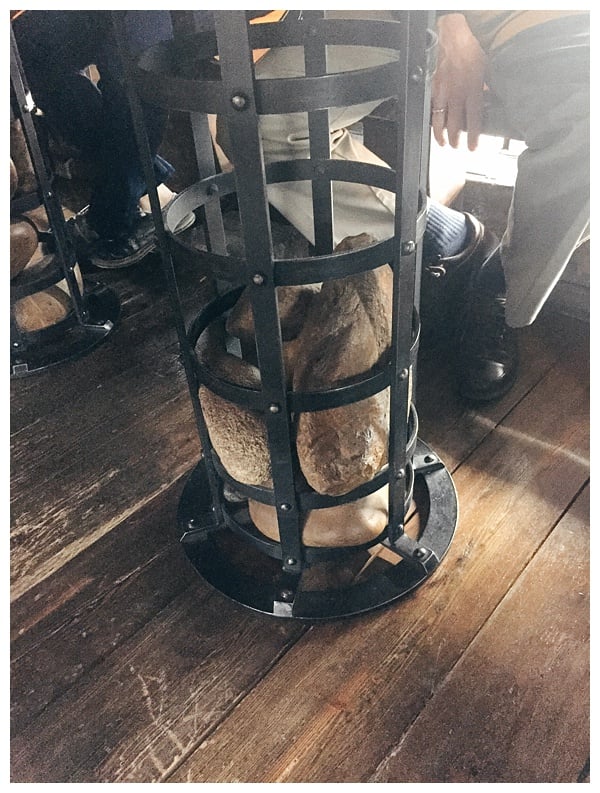 Zvonice // Website // Address: Jindřišská Street, Prague 1
Anything on the Eating Prague Food Tour
I discovered many of these foods on the Eating Prague Food Tour. It was the best experience I had in Prague and I highly recommend joining them for a walking tour. You'll taste delicious food and also look about the history and culture in Prague.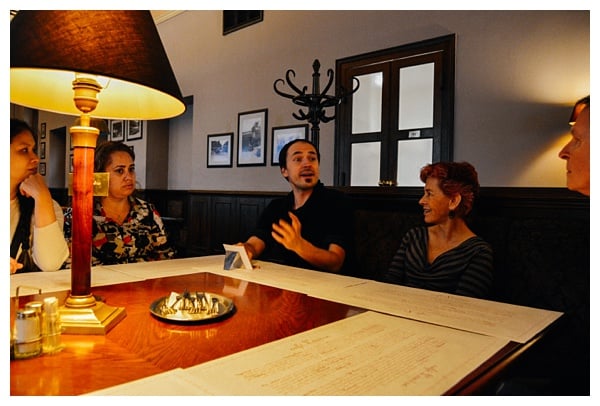 Eating Prague Food Tours // Website // Blog // Facebook // Instagram // Tripadvisor Reviews
---
What are your favorite foods to eat in Prague? Please comment and share your suggestions!
---
For more on what to do in Prague, check out my Prague Destination Page.
For more great foods to eat in Prague, check out Eating Prague's Foodie Guide and the Taste of Prague Blog.
---
Never miss a post! Subscribe here to receive my latest blog posts in your inbox.
---
Some of  my favorite foods to eat in Prague were discovered when I was on the Eating Prague Food Tour. I was hosted as a guest on the tour but all opinions mentioned in this post are my own.
---