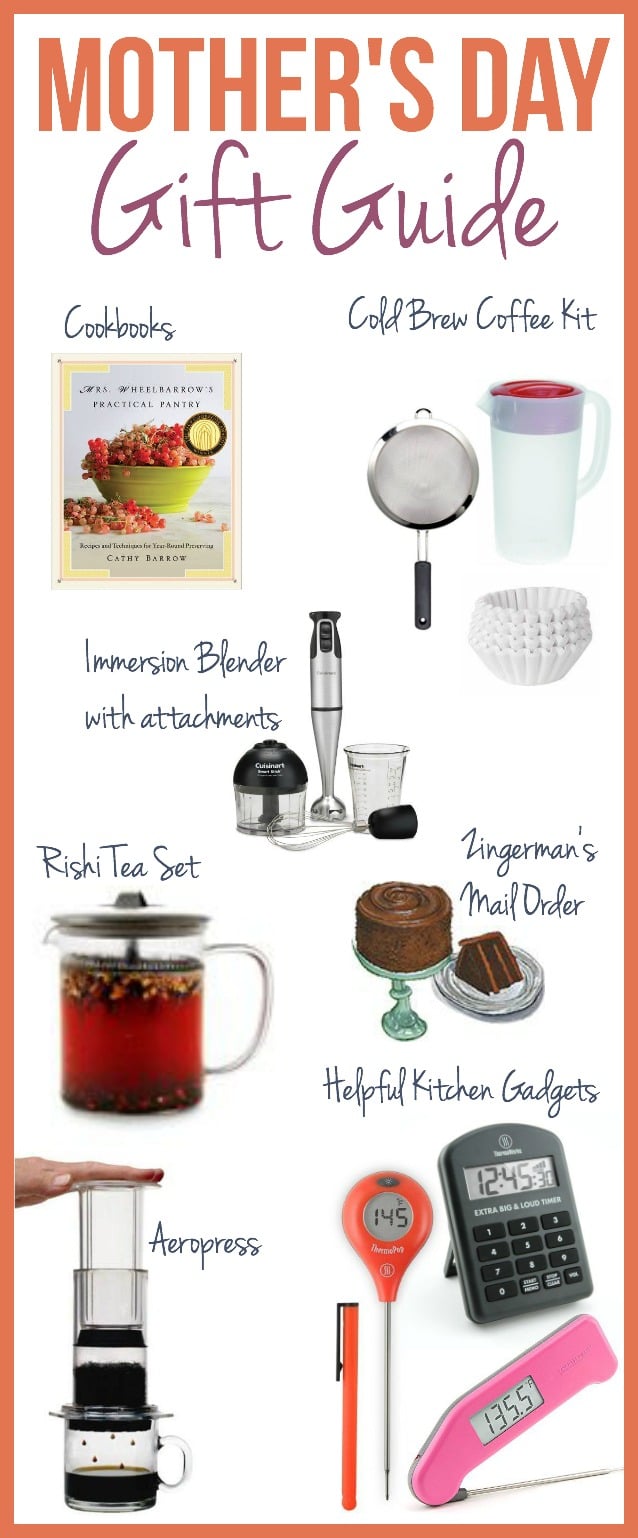 If your mom is anything like mine, she may be difficult to buy for. My mom doesn't want much but when she does want something, she usually buys it for herself before I get the chance.  Every holiday and birthday bring gift-giving challenges.
While I have no idea what to get my mom for Mother's Day this year, I can give you some ideas on what to buy for yours.  The following Mother's Day Gift Guide includes some of my favorite kitchen and food related things. They are all items my mom owns and loves and I think your mom will enjoy them too!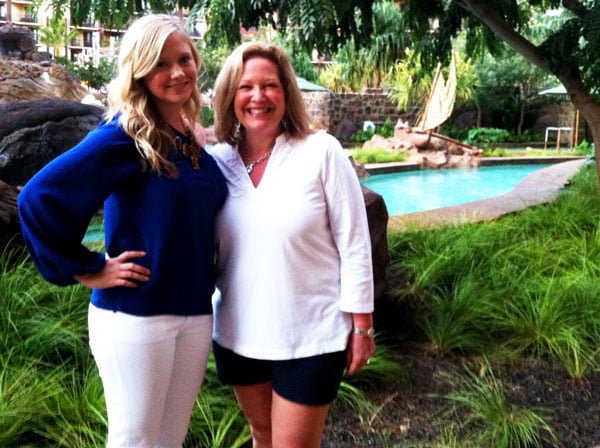 My mom and I at Disney's Aulani Resort in Hawaii 
Throughout this post you will find links that will direct you to the sites where you can purchase the gifts I've suggested. I've also compiled several of the items into an Amazon Store which you can get to by clicking here.  For full disclosure, when you buy products through my Amazon store, I earn a very small referral fee.  My goal here isn't to make money but to easily refer you to the exact versions of the gifts I recommend.
1. A Top-Rated Cookbook
Cookbooks are my favorite gifts both to give and receive.  Usually, I write the date with a little note inside the front cover to commemorate the occasion. My Aunt Nancy has always done this when she's given me books and I've picked up on the practice. It makes it special (and the recipient can't return it!). Here are a few cookbooks that I am enjoying right now:
Food52 Genius Recipes: 100 Recipes That Will Change the Way You Cook
This book is a collection of some of the smartest and most remarkable recipes for everything from guacamole to chocolate mousse. The recipes include unique methods, foolproof techniques, and simple tricks that are sure to teach and inspire even the most experienced cook.
Flavor Flours: A New Way to Bake with Teff, Buckwheat, Sorghum, Other Whole & Ancient Grains, Nuts & Non-Wheat Flours
This book is all about baking with non-wheat flours.  The premise of the book is not an effort to avoid gluten but instead an encouragement to use non-traditional flours which can give unique flavors and textures to baked goods.  If your mom loves to bake, she will appreciate this book whether she is gluten-free or not.
Mrs. Wheelbarrow's Practical Pantry: Recipes and Techniques for Year-Round Preserving
This book has inspired my mom and I to take on a canning and preserving project this summer. If your mom is an experienced canner she will love the recipes in this book.  If she's never canned before, the thorough tutorials will get her started.
Cookie Love: More Than 60 Recipes and Techniques for Turning the Ordinary into the Extraordinary
A new, edgier take on baking cookies from Chicago's Mindy Segal of Mindy's Hot Chocolate.  She elevates traditional cookies and makes them fun and unexpected.  If you're lucky, your mom will be inspired and you can reap the benefits of this gift in the form of freshly baked cookies!
Lighten Up, Y'all: Classic Southern Recipes Made Healthy and Wholesome
If your mom loves southern cooking but is health-conscious, this is the book for her. Virginia Willis is awesome and her recipes are modern and delicious but still approachable.
2. Iced Coffee Kit
It's easy and economical to make iced coffee at home. I love going to coffee shops but I truly prefer the version of cold brew that I make myself (my mom taught me how!).  Last summer, I wrote a step-by-step guide with photo tutorials and gave a list of the equipment needed (equipment is really too strong of a word when it's actually just a few tools).  Why not get your mom the supplies and package them together in a pretty box? You could even start the first batch of cold brew together.  Here's everything you need:
12 ounces high quality ground coffee  – Any coffee will work but try to find a nice local specialty coffee or order my favorite blend from Zingerman's.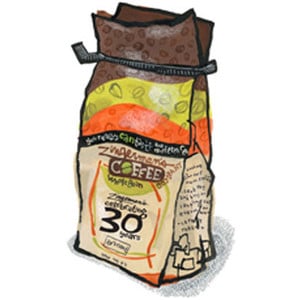 8-Inch Fine Mesh Strainer
Two 2.25 Quart Rubber Pitchers with Lid
Basket Coffee Filters
Don't forget to direct her to the iced coffee tutorial found here!
3. Aeropress
If iced coffee isn't your mom's thing, then consider getting her an Aeropress. Not only has it been voted to make the best tasting, purest cup of coffee, but it is quick, easy to clean, and takes up very little space.  She can even travel with it or take it camping (if thats's her thing).  I like it because it makes a single cup of coffee so if you're drinking alone, you don't have to feel bad about wasting an entire pot.  Your mom will be surprised at how much smoother and richer of a cup it makes than a traditional drip pot. Don't forget to include some high quality or locally roasted coffee with the gift and a hot water kettle is a nice addition too.
AeroPress Coffee and Espresso Maker
4. Rishi Tea
Earlier this year, I became obsessed with Rishi teas.  If your mom has never experienced the pleasure of drinking high quality tea, then it is time you introduce her to the wonderful teas from Rishi. I recommend getting her the Simple Brew Loose Leaf Tea Pot and a sample set of teas to try.  You may also consider including a hot water kettle (the model linked here allows you to set the temperature which is awesome for brewing tea) which makes tea brewing easier and quicker.  If your mom prefers her tea iced, then Rishi's iced tea bags cannot be beat.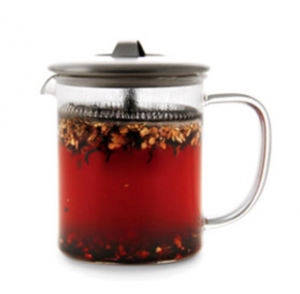 5. Helpful Kitchen Gadgets
I'm not one for a bunch of kitchen gadgets but there are a few that I think should be mandatory in every kitchen, specifically a large, loud timer and a reliable thermometer.
ThermoWorks Extra Big and Loud Timer
The absolute best kitchen timer.  It's big, loud, easy to use and sticks right on your refrigerator. Trust me, it's way better than relying on the built-in microwave or oven timers.

ThermoWorks ThermoPop Super-Fast Thermometer
A reliable, highly accurate thermometer at a very affordable price point.  There should be at least one of these in every kitchen (I have several!).
ThermoWorks Super-Fast Thermapen Professional Thermocouple Cooking Thermometer
A big, bad high powered thermometer.  If you really want to show your mom how much you love her, this is the way to go.  It's especially great if your mom does a lot of roasting large pieces of meat, bread baking or grilling. I've given Thermapens to several family members and every few months one of them texts me and tells me how much they love it.
6. Immersion Blender with Chopper Attachment
Immersion blenders are an essential tool for pureeing soups and sauces but I've recently become especially fond of the chopper attachment.  It's awesome for quickly chopping and mincing things like garlic, shallots, nuts, herbs, or ginger.  My co-worker Tasha texted me this morning about how much she loves using it at work and I immediately knew I should add it to this list (thanks for the reminder, Tasha!). Your mom may claim she doesn't need another gadget in the kitchen, but this is one that will get used frequently.
Cuisinart Smart Stick Immersion Hand Blender with Attachments
7. Zingerman's Mail Order Gift Basket
If all else fails, just call Zingerman's.  This is my go-to gift for any occasion where I need to have something special delivered.  Zingerman's has plenty of gift baskets listed online but you could also just order cookies, baked goods, or some high quality specialty ingredients.  Once you pick what you want, they will take care of the rest and your mom will receive a beautifully wrapped package of some of the best food in the world.
Here's a link to Zingerman's Mother's Day gift suggestions.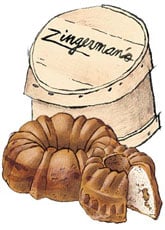 What are you giving your mom for Mother's Day? Comment below with more suggestions and gift ideas. After all, I still need to figure out a gift for my mom!