Ohio Pig Farm Visit — I visited a pig farm in Clinton County, Ohio as part of my partnership with the Ohio Pork Council. This post is a recap of my experience.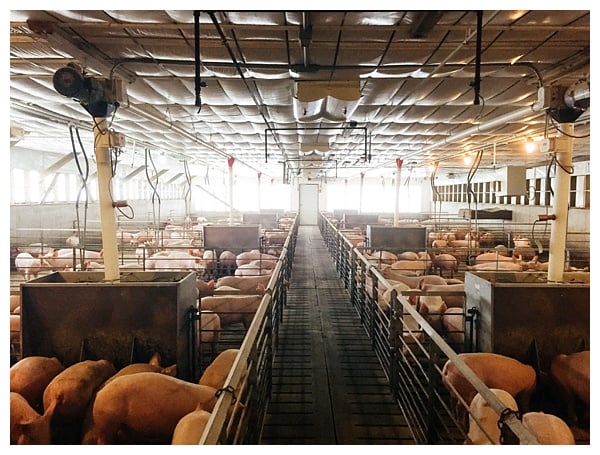 Having grown up in Northwest Ohio, I'm no stranger to farms. But two years ago, when I visited a tomato farm and canning facility, I realized I knew nothing about farming. I learned so much from that visit so when the Ohio Pork Council invited me to visit a pig farm, I knew I needed to take advantage of the opportunity. As a chef and food person, I think it's important to understand how our food is produced.  I love to learn and it makes me a better, more responsible chef and eater.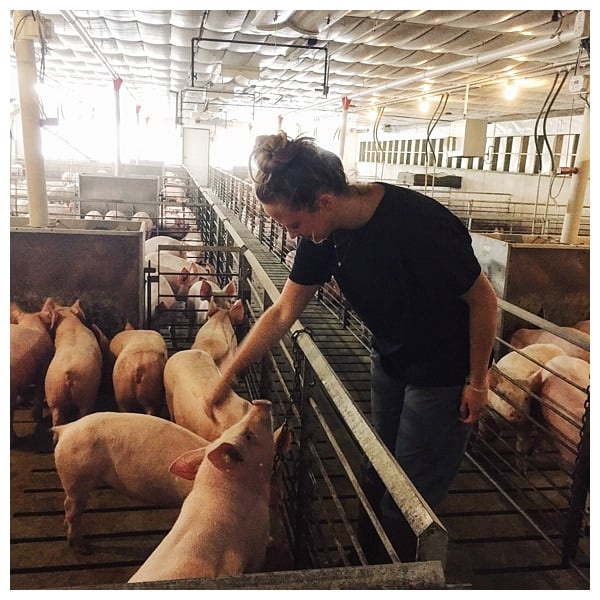 On a chilly Thursday morning in December, I made the 1-hour drive from Cincinnati to Sabina, Ohio. Sabina is located in Clinton County and is about half way between Cincinnati and Columbus.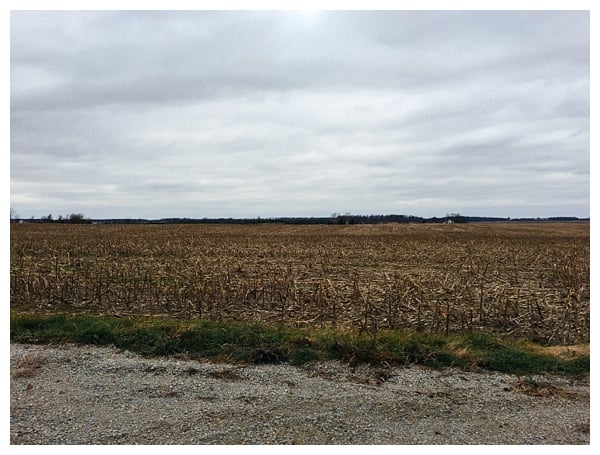 The farm I was invited to visit is owned by John and Connie Surber. They also own Premier Solutions which was originally a grain, feed and fertilizer company. Now, the company has grown into feed production, grain processing and livestock export. What started as a business serving three Ohio counties has grown to have their products and services reach countries around the world such as China, Vietnam, Turkey, Russia and Brazil.
Premier Solutions also raises breeding pigs which are shipped throughout the US and to Mexico and Canada. In this video, Connie talks about why pig farming is important to her family.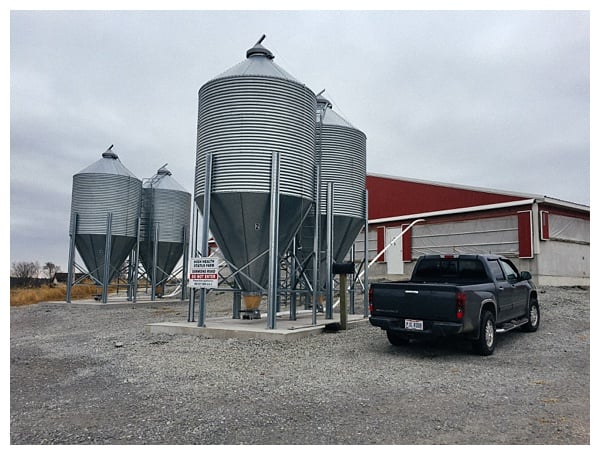 To be honest, I was nervous to visit the pigs. It was completely out of my comfort zone and I didn't know what to expect. Rebecca, John and Connie's daughter-in-law, manages the barn I was visiting and called me the evening before to chat about my visit. Asking her questions was helpful, but I still wasn't sure what I was getting myself into.
Once I met Rebecca, she was so kind and immediately put my nerves at ease. Before heading to the barn, we had coffee with John and Connie and I learned about their operation. I quickly realized how lucky I was to have this opportunity and became excited for the incredible learning experience. The Surber's hospitality was incredible and I felt like an honored guest all day.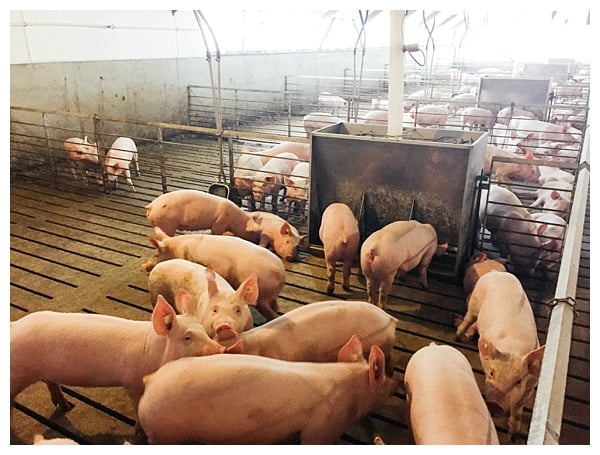 We toured some of their properties and made our way to Rebecca's barn.
The barns are secure and strictly regulated and visitors are kept to a minimum. This is all in order to keep the pigs safe. Any human that enters the barn is required to "shower-in and shower-out." When you enter the barn, you enter the "dirty" room where you have to sign the log and take your temperature. The dirty room leads directly into a shower, which leads directly into the "clean" room.
Visitors to the barn are required to strip their street clothes in the dirty room and shower before proceeding into the clean areas. You also have to wear barn clothes that live in the barn and never leave. I was only allowed to bring an un-opened package of underwear. This is to prevent sickness from entering the barn. Pigs can get sick from human diseases so the utmost care is taken to prevent the pigs from getting sick.
For me, the showering was the worst part of the experience. It's just uncomfortable but I'm told the first time is the worst. It wasn't as bad as I expected, but I will say that this city girl is not used to the aroma of well water!! That was worse than the smell of the pigs!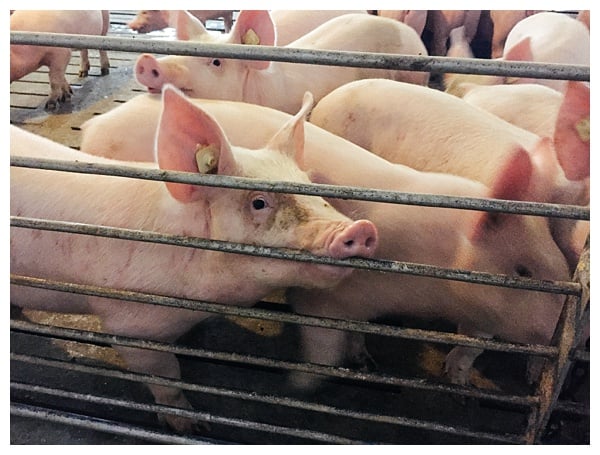 After leaving the clean room, I entered the barn office. These barns are state-of-the-art in the pig farming world.
The office contains the mechanics that regulate and control the entire barn. The temperature, the airflow, the feed, the water and all important functions are controlled from these dials and valves. If there's a flu or sickness in the barn, the animals can even be medicated via the controls in this office.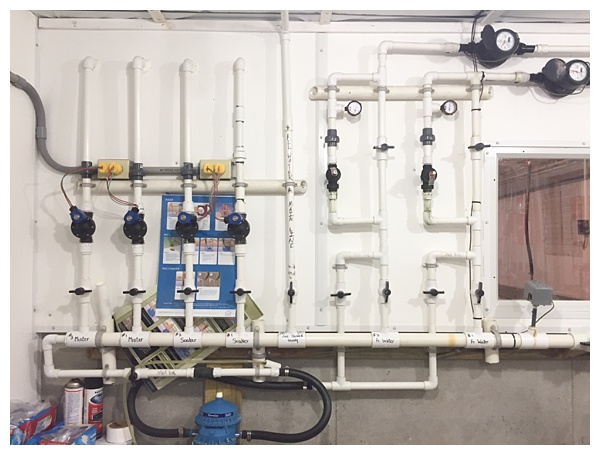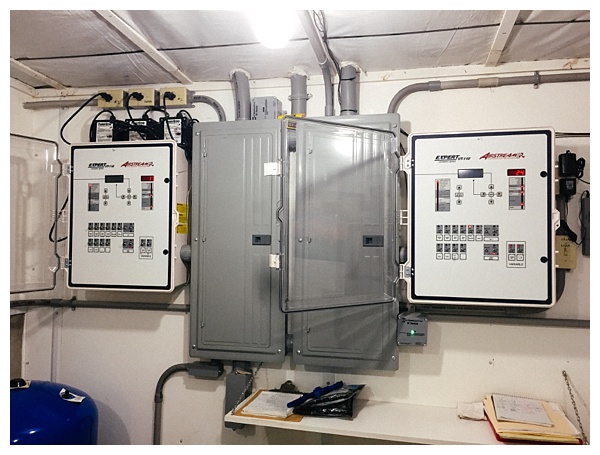 After learning about the controls, it was time to meet the pigs. I was nervous the smell would be overwhelming, but it was actually barely noticable. As you can see in the photos, there are drains in the floor that help manage the waste and keep the barn clean.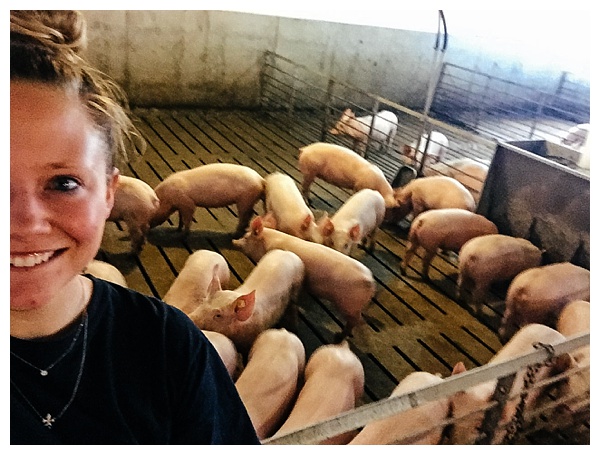 Pigs do not have sweat glands so it's hard for them to regulate their internal body temperatures. Extreme hot or cold is stressful for them and can cause illness. The moderate temperature of the barn is crucial to the health of the pigs.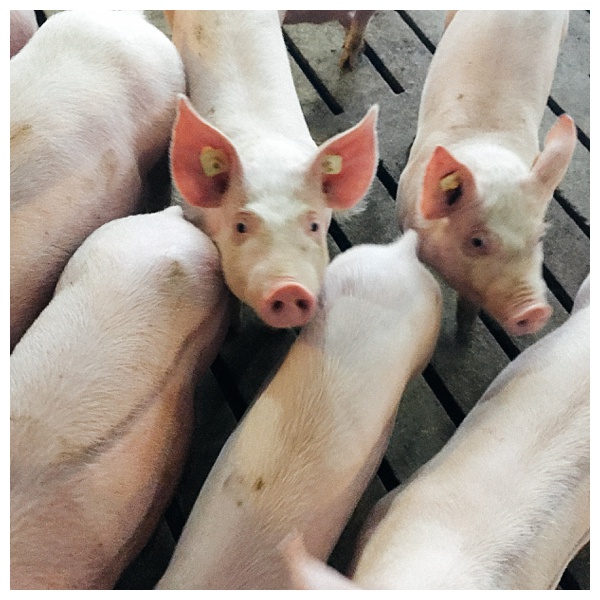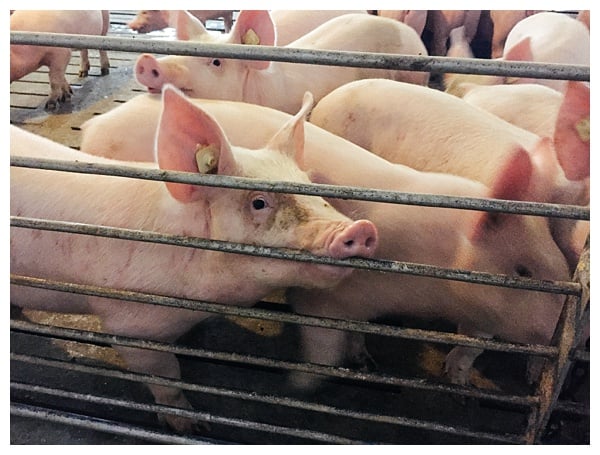 Rebecca had chains added to the pens because the pigs like to chew them when they are bored. It gives them something to do and keeps them behaved!

The pigs are separted into pens. Each pen has a hierachy and there are definitely pigs who are in charge and pigs who rank low on the totum pole. Rebecca said that sometimes the low-ranking pigs try to jump pens and join a new pen in hopes they may rank higher. The pigs do not like this and it usually ends up in a fight.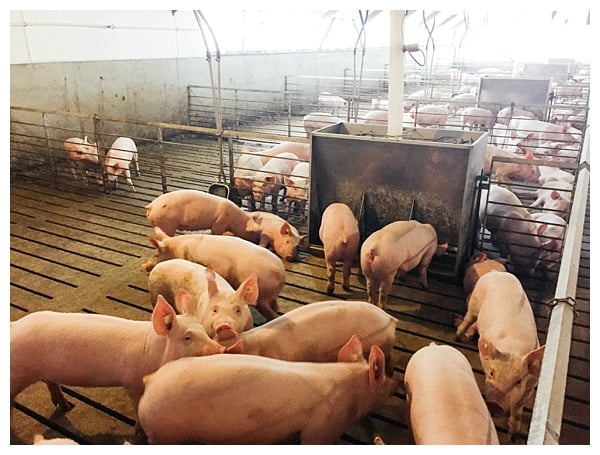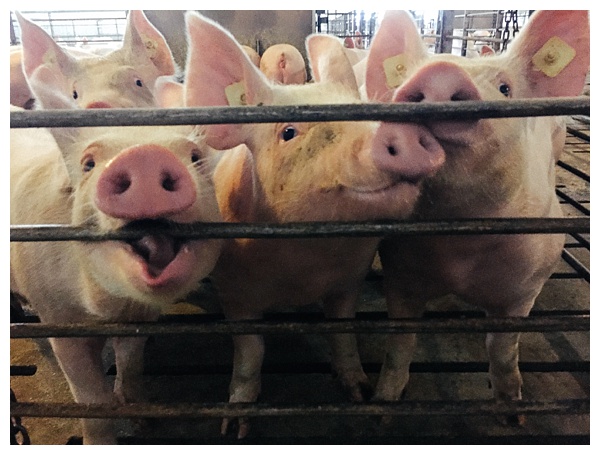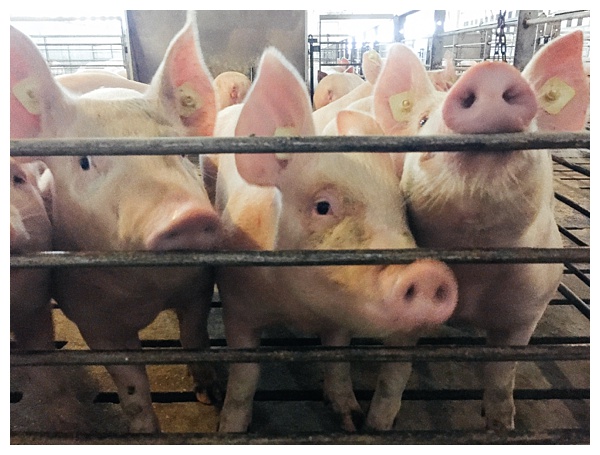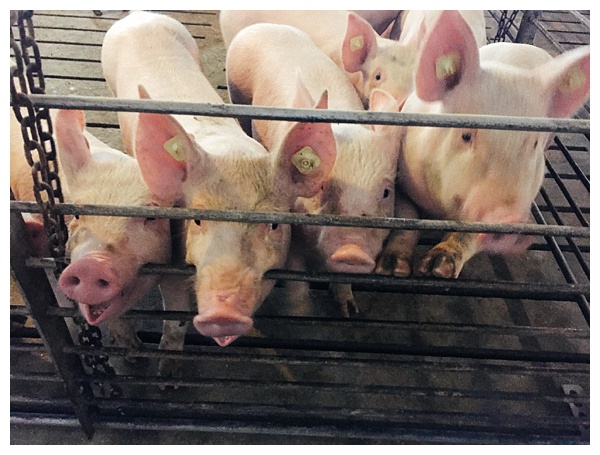 It took me a bit to warm up to the pigs. They were only around 10 weeks old but weighed nearly 100 pounds each. When you get close to their pens, they all kind of swarm and push each other in order to get closer. They just want attention but I was a little scared to put my hand in there. I knew I couldn't leave without petting them so I finally made myself be brave and pet them. Of course it was fun and they loved the attention.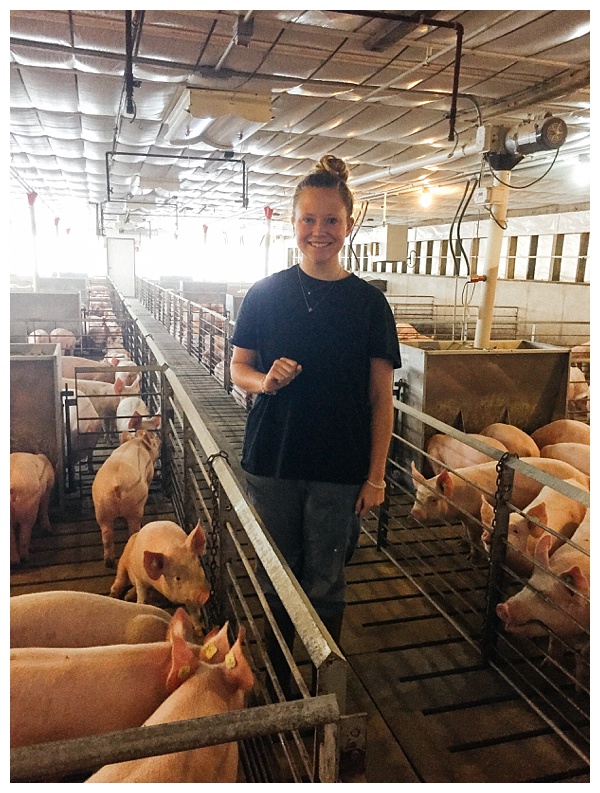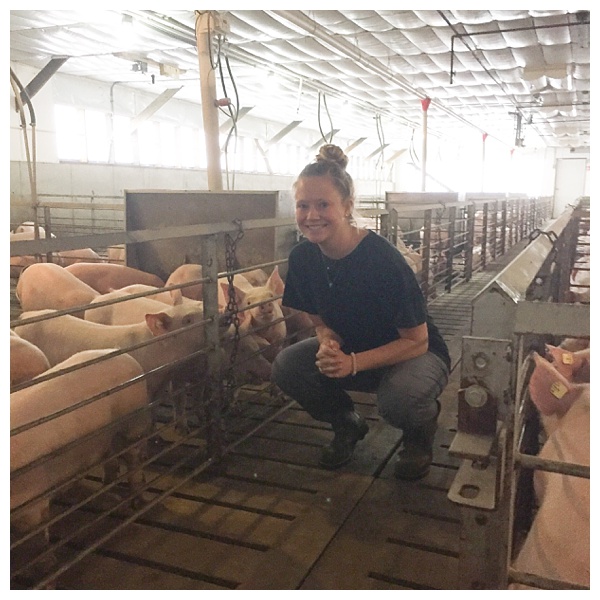 Rebecca visits the barn daily. She checks to make sure everything is working correctly and then interacts with the pigs. She tries to touch every pig, every day. She also makes sure no one is hurt, sick, or acting weird.
As you can see, she's completely comfortable with the pigs. They all wanted attention and got very excited when she entered their pens.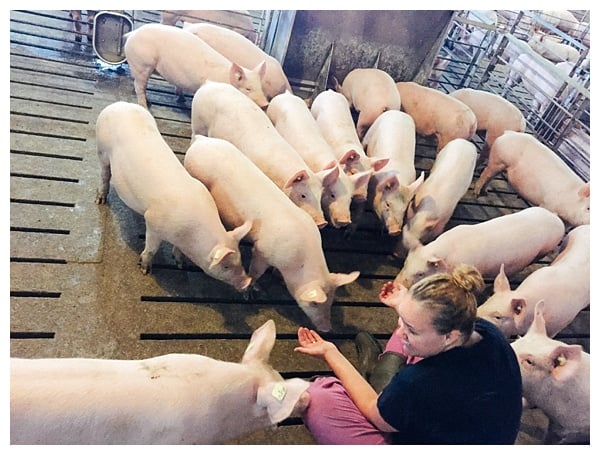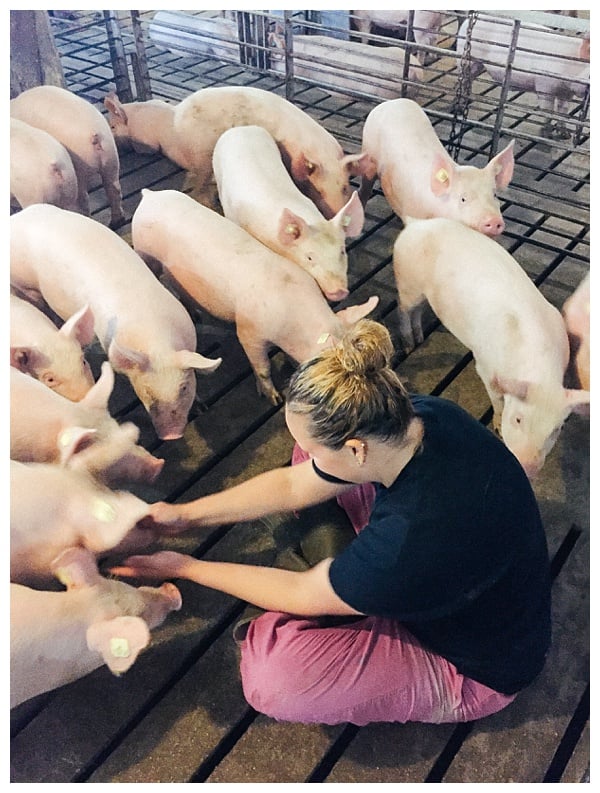 They like to bite at loose clothing and boots so you have to be careful!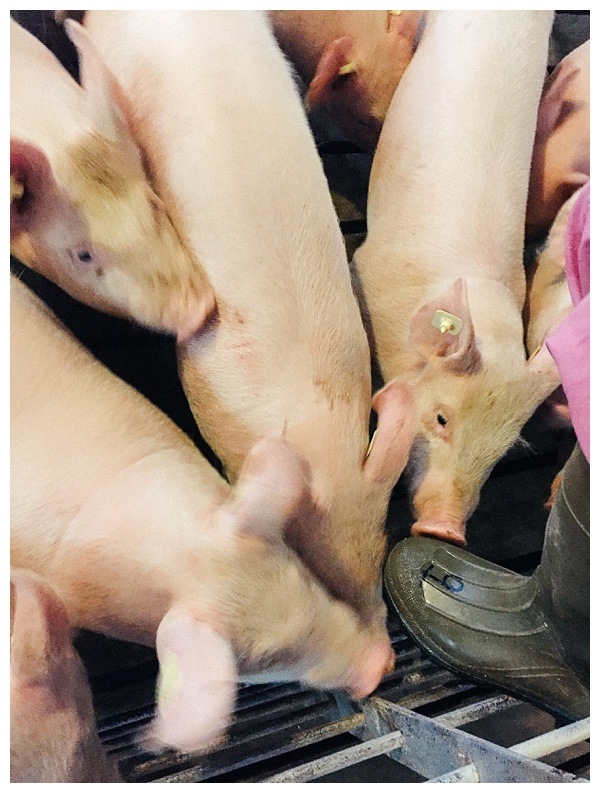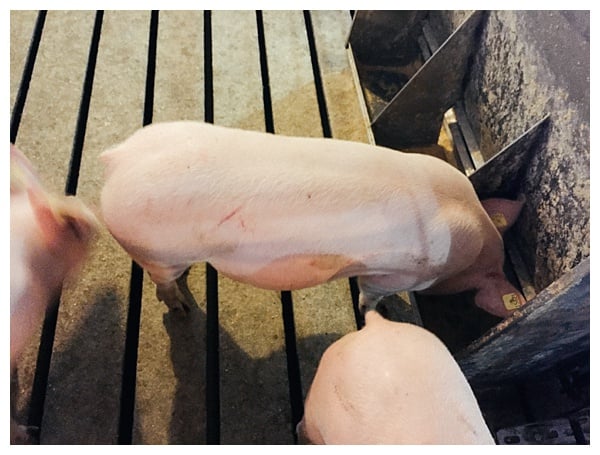 I was impressed with the cleanliness of the barns and the health of the pigs. Sure, it's a bit overwhelming to be in a barn with hundreds of livestock but it was much calmer and less intimidating than I expected.
I was also blown away by Rebecca and her knowledge of the pigs. She truly cares for these animals and does everything she can to keep them happy and healthy. Getting to spend the day with her really made my experience and taught me so much about modern farming.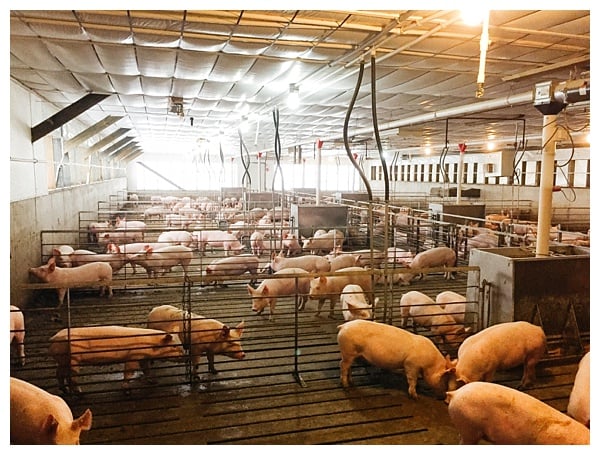 After leaving the pigs, we had to "shower-out" and take another shower before leaving the barn. You can tell this is definitely a male-dominated industry because there's nothing fun about having soaking wet hair outside in December. If I worked in the barn on a daily basis, I would definitely have short hair.
We then went back to the Surber's house for lunch. My recap of lunch will be continued in the next post…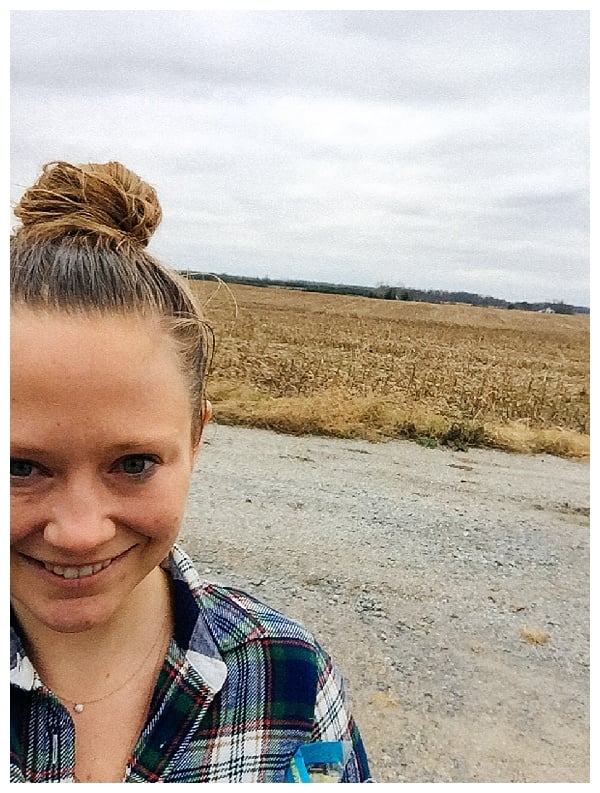 For more on my partnership with Ohio Pork, check out these posts:
Apple Cider Marinated Pork Chops with Apple Pan Sauce
Thank you to Ohio Pork for sponsoring my Ohio pig farm visit and this post.