Sweet and Spicy Bacon inspired by the famous Chronic Bacon at Nashville's Biscuit Love. A rub of brown sugar, cayenne pepper & spices make this bacon sweet, spicy & smokey. This post is sponsored by OhioPork.Org. All opinions are my own.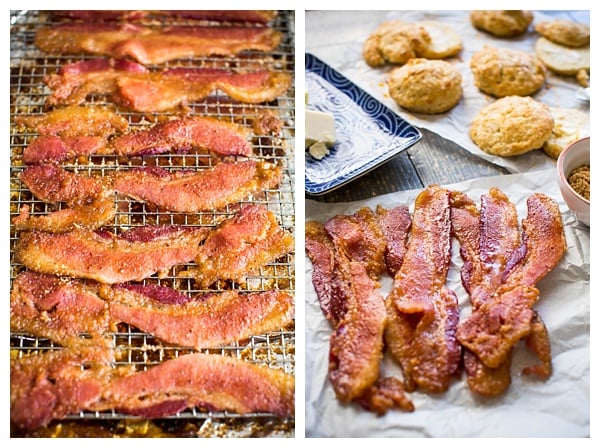 Before we get to the bacon, let's start with the important stuff. I'm working with the Ohio Pork Council on this post and they are giving away a $300 Le Creuset Dutch Oven. To enter the contest, simply take this short survey on pork cooking and eating preferences.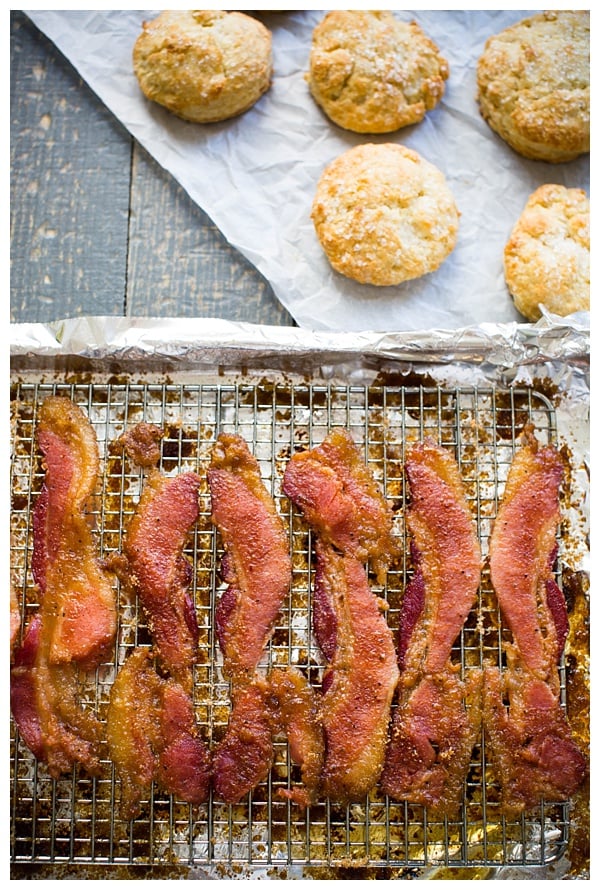 As a born and raised Ohioan, pork has always been a staple in my diet. Living in the Midwest has its perks and I've been spoiled by the quality of locally-raised pork that is available to me.
I love to know where my food comes from and the people that produce it. Food tastes better when you know its story. One of my favorite things about living in Ohio is that I often have opportunities to interact with farmers and food producers. It's fun to know who is producing your food, whether it's the line cook at the restaurant or the farmer who grows the ingredients.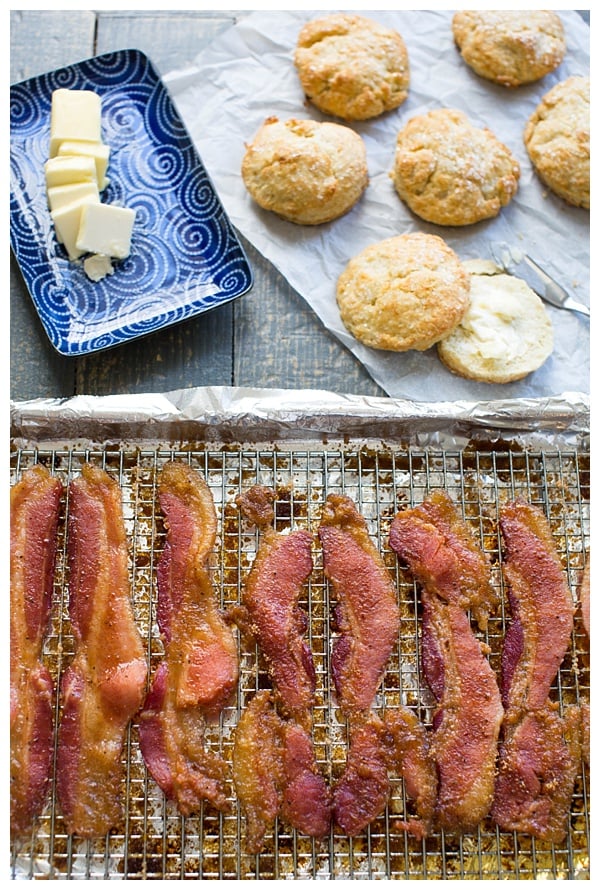 One of my favorite things to buy local is Ohio pork and I'm lucky because I've met some great pork farmers. My mom and I buy as much as we can from Weber Ranch, a northwest Ohio farm that specializes in pastured pork. We went and toured the farm last summer and we see them every week at the Perrysburg Farmers Market. They send email updates and even post on Facebook. It's fun to follow what is happening on the farm and I love knowing the people who produce the high-quality bacon, sausages, and pork chops that I enjoy cooking.
The great thing about Ohio is that there are similar opportunities all over the state. No matter where you live, I encourage you to try to buy local and get to know where your food is coming from.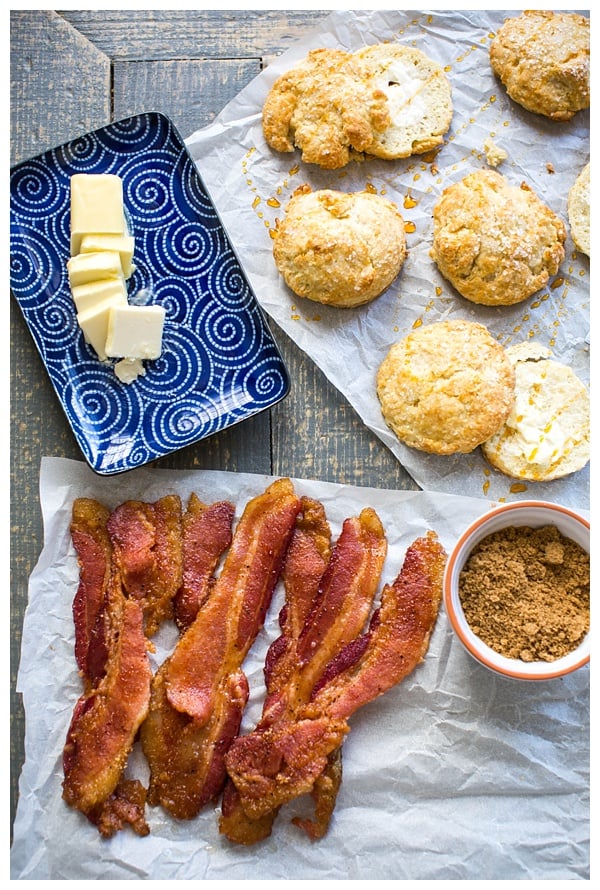 I've had different versions of candied bacon, but this sweet and spicy bacon was inspired by the famous Chronic Bacon that's served at Biscuit Love in Nashville, Tennessee. It was great at the restaurant, but it was even better when I made it at home with local Ohio bacon.
This bacon is addicting because it hits all of those taste points that make food delicious — sweet, spicy, salty, and savory. It's great for breakfast (especially with these buttermilk biscuits) but also makes a nice appetizer or bar snack. No one will ever complain if you're feeding them sweet and spicy bacon.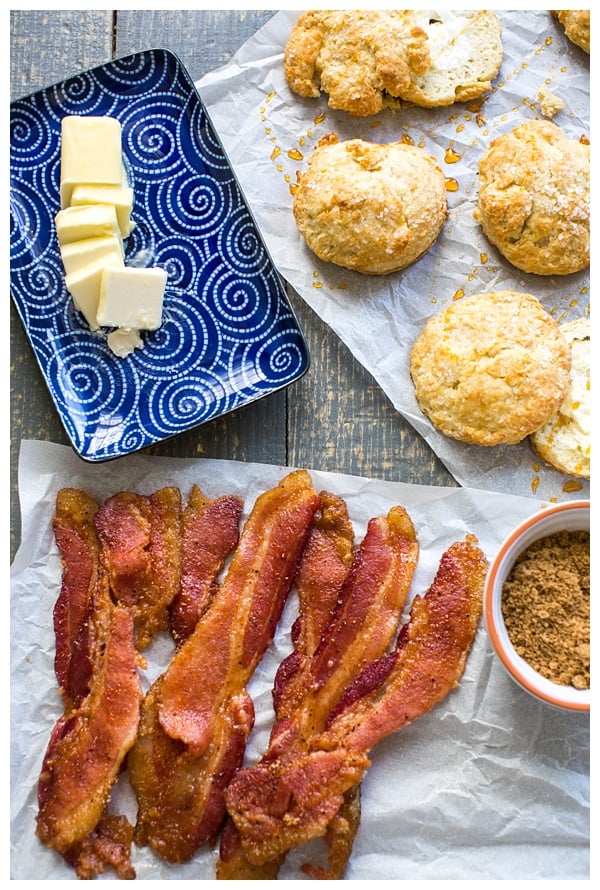 Sweet and Spicy Bacon Recipe
Ingredients
1/4 cup dark or light brown sugar
1/4 teaspoon crushed red pepper
1/4 teaspoon cayenne pepper
1/4 teaspoon black pepper
1 pound thick sliced bacon
Instructions
Preheat the oven to 350 degrees F.
Line two baking sheets with foil and place a wire cooling rack inside of each baking sheet. If you do not have wire cooling racks, you can place the bacon directly on top of the foil.
In a small bowl, mix together the sugar and spices. Add the bacon and toss everything together until the bacon is well coated on all sides.
Arrange the bacon slices in a single layer on the cooling rack in the prepared baking sheet (if you aren't using cooling racks, place the bacon directly on the foil). You can place them close together or even touching because they will start to shrink up as soon as they hit the oven. Sprinkle any remaining sugar mixture evenly over the bacon slices.
Place the baking sheets in the oven and bake for 12-15 minutes. Check the bacon and continue baking, checking it every couple of minutes. You want the bacon to be a dark golden brown and slightly crisped. The sugar should be bubbly and caramelized. It will bake for around 25-30 minutes total. Remove the baking sheets from the oven and let the bacon cool on the rack for 5 minutes then transfer it to a serving platter. Be sure to remove the bacon from the rack while it is still warm or it will stick.
7.8.1.2
74
https://www.thehungrytravelerblog.com/sweet-and-spicy-bacon/
Le Creuset Dutch Oven Giveaway
Take this survey on pork cooking and eating preferences for your chance to win a Le Creuset Dutch Oven worth $300. You even get your choice of color! This is one of my most-used kitchen items so be sure to fill out the quick survey and enter the giveaway.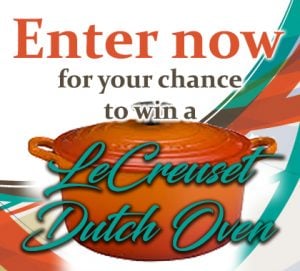 Recipe Credit: Jordan Hamons
Photo Credit: Becca Russo