Bacon-Wrapped Dates — Dates are stuffed with Manchego cheese and slivered almonds, then wrapped in bacon and drizzled with honey. Perfect party appetizer!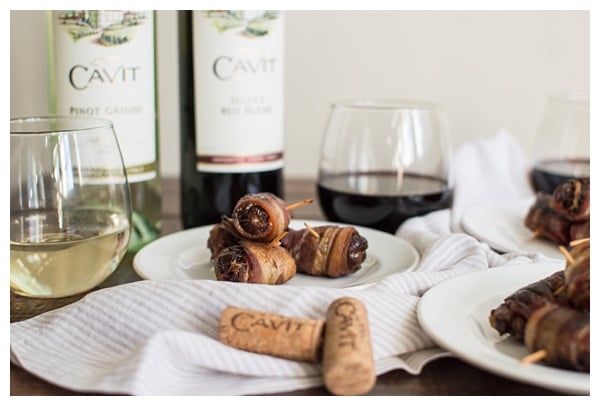 For my Garde Manger class in culinary school, our final project was to set up a holiday buffet. We were broken into teams and our job was to plan a buffet that incorporated everything we learned in the class. The requirements included appetizers, a carving station, terrines and pates, cured meats and other small bites.
We did several of these group projects in culinary school and every single one was a challenge. When you bring together 5-6 cooks who have different expertises and interests, it's hard to come up with a cohesive buffet that makes sense. Without a doubt, every group had a teammate who worked in an Italian restaurant and wanted to make the whole buffet Italian. Another person would be really into southern food and want to do that as the theme. Menu planning was always a challenge.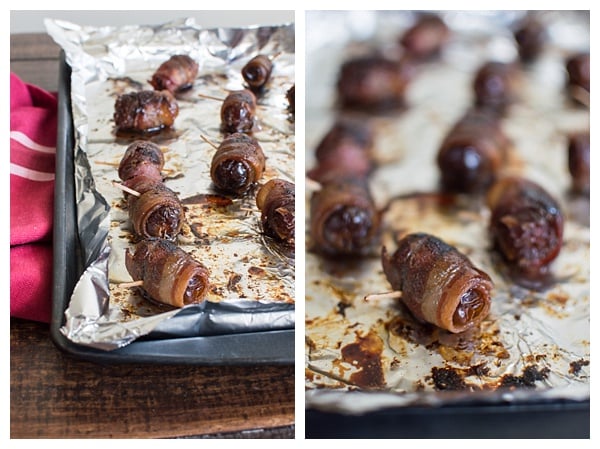 Around the time of the holiday buffet project, I had just started a new job. I was stuck trying to figure out what appetizer I wanted to contribute to the buffet, so I decided to pick the brains of the chefs at work.
When I asked Chef Jon about his favorite appetizers, he immediately said, "Devils on Horseback!." I'd never heard of it before and needed an explanation. The name is used loosely and applies to many different appetizers, but he was referring to dates that are stuffed with something and wrapped in bacon.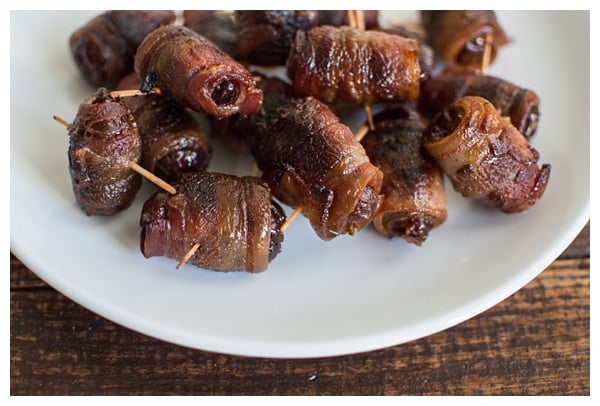 For the holiday buffet, I filled the dates with a spicy mango chutney and a piece of Manchego cheese. My chef wasn't convinced at first, but then he tried one… then another… then another. We were graded both as a group and on our individual contributions, and I happily received high marks on both.
Bacon-wrapped dates may not be the prettiest appetizer, but they are always a hit. They have become a staple and I love making them for parties and events. I switch up the fillings and in this version I have stuffed them with Manchego and slivered almonds. I also like to add a drizzle of chile-infused spicy honey right before serving.  Other ideas include filling them with blue cheese, Parmesan, or goat cheese. Nuts are nice because they give some crunch. You could also drizzle them with truffle honey for a luxurious touch. Any kind of spicy chutney works great too.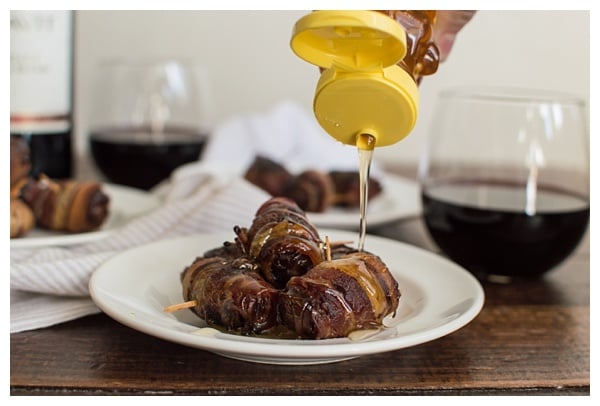 The bacon-wrapped dates are a great addition to any cocktail party and they pair especially well with wine. I especially enjoy Cavit's Select Red Blend and Pinot Grigio. I prefer to drink red with the bacon-wrapped dates, but white works too!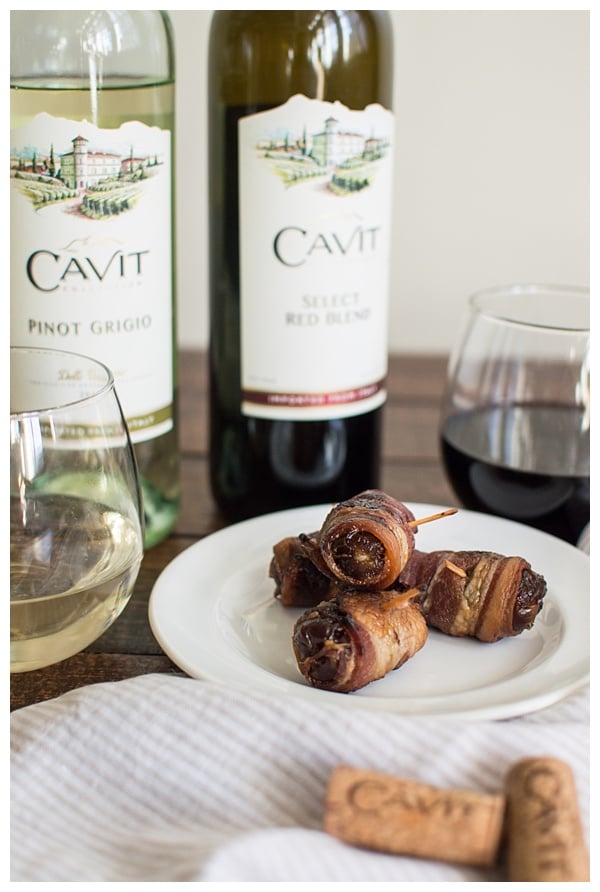 Yields 16 dates
Bacon-Wrapped Dates with Manchego & Spicy Honey
Ingredients
16 Medjool dates
4 ounces Manchego cheese
16 slivered almonds
8 strips thinly sliced bacon
Toothpicks
Spicy Honey (such as Mike's Hot Honey) — optional
Instructions
Preheat the oven to 400 degrees F. Position a rack in the center of the oven. Line a rimmed baking sheet with foil.
Use a paring knife to carefully slice the dates lengthwise about 3/4 of the way through. They should still be intact on one side but you want a big enough opening that you can easily fill them. Remove the pit from each date.
Cut the cheese into 16 small cubes. The pieces of cheese should be small enough to fit inside of the dates.
Stuff each date with a piece of cheese and a slivered almond. Press the date closed.
Cut the strips of bacon in half. Wrap a half-strip of bacon around each date. Secure with a toothpick. Place each date on its side on the baking sheet.
Bake the dates for 15 minutes and then flip each date to its other side. This will help the bacon cook evenly. Bake for 10-15 minutes longer or until the bacon is crisp.
Place the dates on a serving platter and drizzle them with the spicy honey (if using). Serve warm or at room temperature.
Notes
The dates can be assembled up to a day in advance. Keep them covered and refrigerated and pop the tray in the oven when you're ready to serve. You can also freeze the unbaked dates for up to 3 months.
7.8.1.2
92
https://www.thehungrytravelerblog.com/bacon-wrapped-dates-manchego-spicy-honey/
If you're looking for other cocktail party appetizer ideas, check out these posts: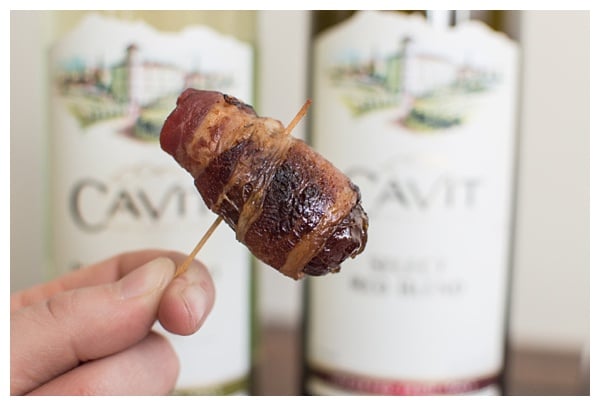 Thank you to Cavit for sponsoring this post.