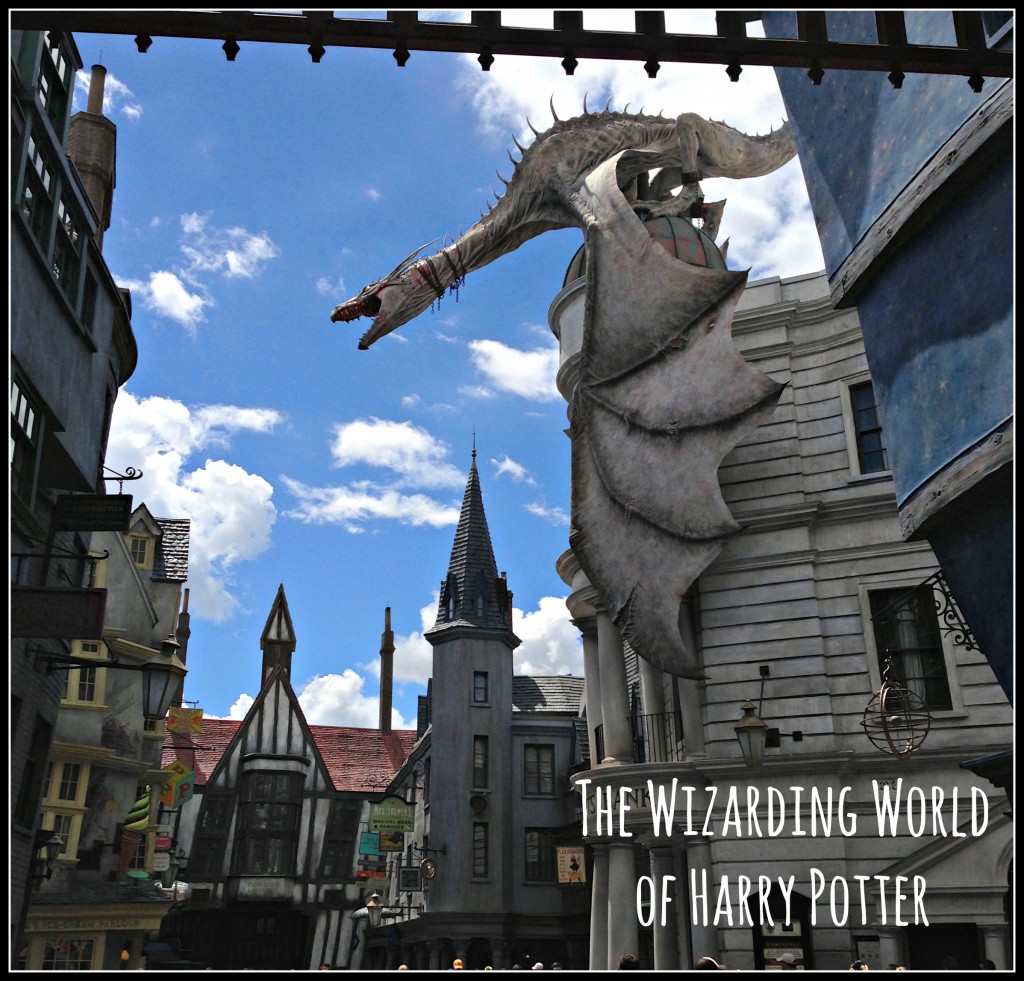 I went to The Wizarding World of Harry Potter yesterday.  I've been on vacation this week in New Smyrna Beach, Florida with my boyfriend, Graham.  He's a huge Harry Potter fan who has read the series over 7 times and seen the movies more times than it's possible to count.  New Smyrna Beach is only an hour east of Orlando so I suggested we take the day and go visit the theme park.
I've always loved theme parks and I had read that aside from the massive crowds, The Wizarding World of Harry Potter was absolutely amazing. While it was 90 degrees and incredibly humid yesterday, we were lucky to be able to go on a day with low crowds.  Overall, The Wizarding World of Harry Potter was a lot of fun and an enjoyable experience but I do have some thoughts on the good, the bad, the surprises and the disappointments of the day.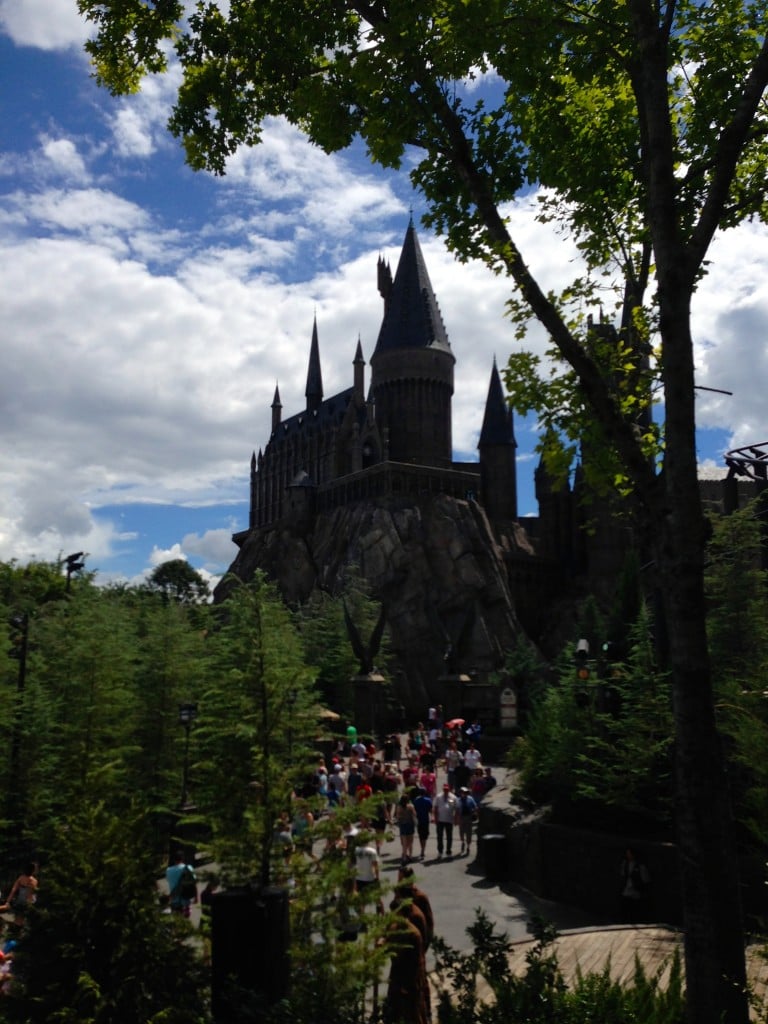 But before we get to those thoughts on The Wizarding World of Harry Potter, it would only be fair if I gave these two disclaimers:
1. I'm a diehard Disney fan and, in my opinion, Universal Studios just doesn't compare. I find the parks to be a little dated and not as clean or well run as Disney. My thoughts may be a little biased because I can't help but think that Disney just does things better.
2. I'm not a diehard Harry Potter fan.  I enjoy the books and the movies but I'm not someone who lives and breathes for Harry Potter. However, I have dressed up and done a party hop around Toledo attending  four different midnight Harry Potter book release parties so maybe I would classify as a slightly above average fan.
Here are my thoughts after a day spent at The Wizarding World of Harry Potter:
[heading_entrance title="The Good" text="" custom_class=""][/heading_entrance]
Theming and Attention to Detail – Walking into Diagon Alley or Hogsmeade, you really feel like you've been transported into the book.  The theming is exceptional and every detail has been crafted to make the experience unique.  It's fun to just walk around and look at all of the different store windows and alleyways, but it's a bit of a tease to see snow on building tops when it's 90+ degrees outside. Just being here, looking at your surroundings, and letting your imagination run a little wild is the best experience the park has to offer.
Hogwarts Express –   True to the story, you ride the Hogwarts Express from King's Cross in London to Hogsmeade, and in this case, it's also your means of transportation between Universal Florida and Islands of Adventure. Having been in the real King's Cross in London, this replica is nearly dead on.  Once you board the train, your compartment is identical to how it's depicted in the book/movie.  Looking out the window, a movie is shown that depicts the journey you're taking to Hogsmeade.  This is a great way to start the day and really makes you feel like you're living in Harry Potter's world.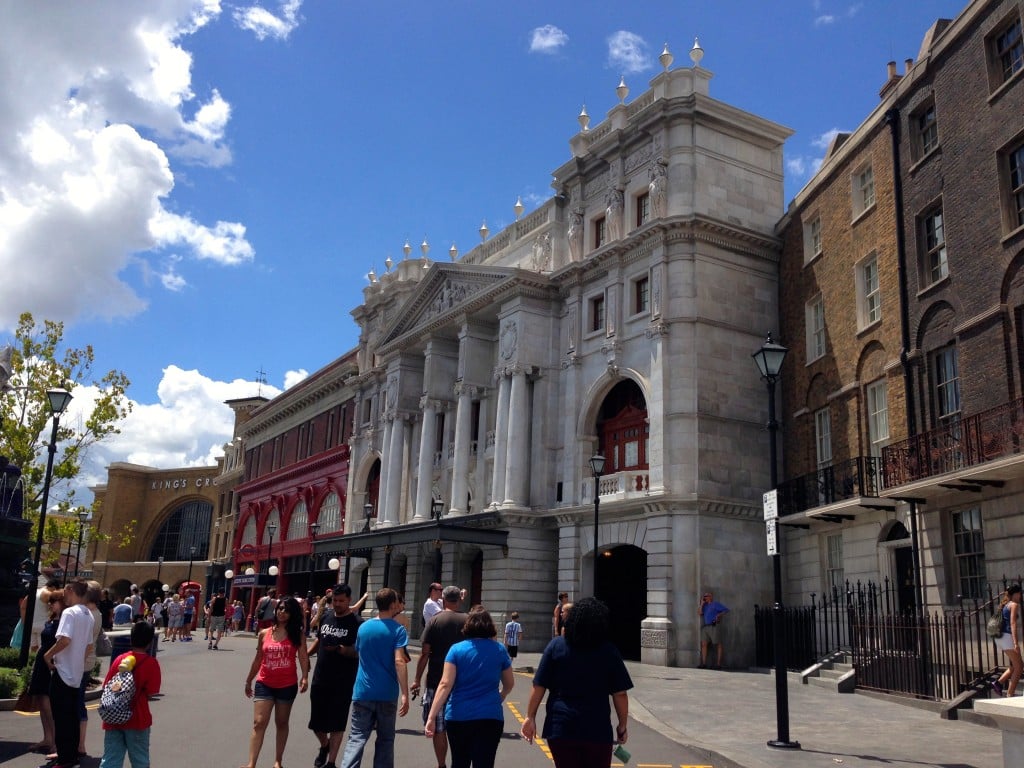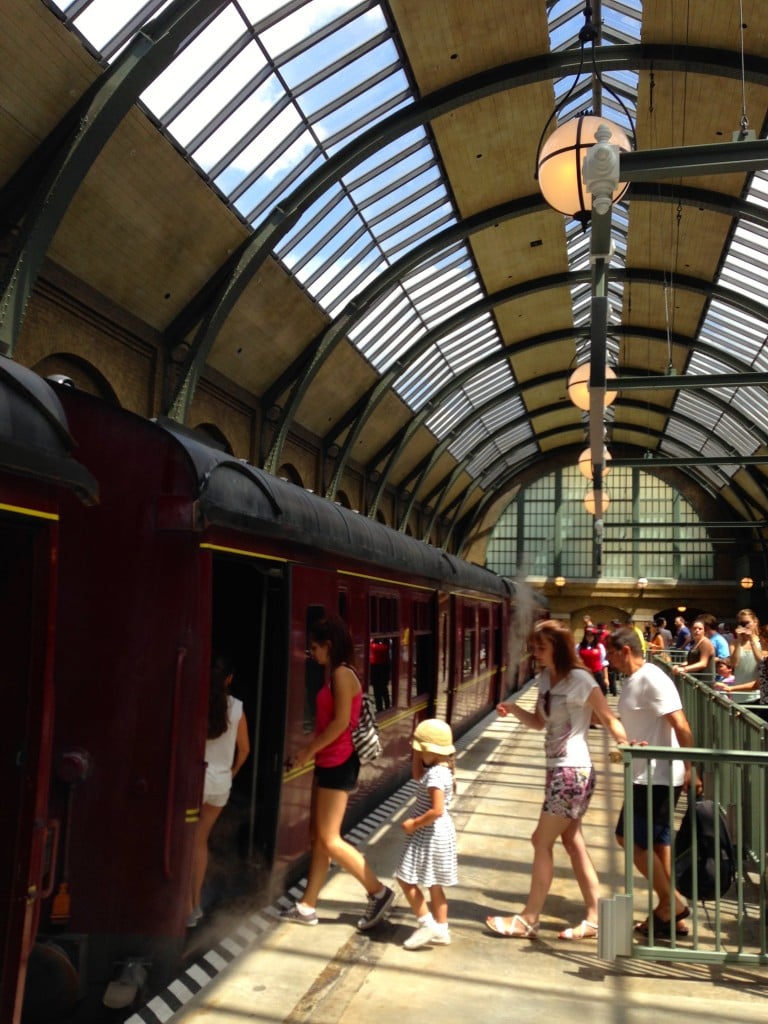 Themed Food and Drinks – Being the food nerd I am, I think this was my favorite part of the experience.  To start our time in Diagon Alley, we had the requisite Butterbeer and also tried the Butterbeer ice cream.  The Butterbeer was great (reminiscent of butterscotch and cream soda) but I would skip the ice cream next time and instead try one of the fun flavors (sticky toffee pudding, salted caramel blondie, strawberry peanut butter) from Florean Fortescue's Ice Cream Parlour. We had lunch at the Three Broomsticks and while the food was just ok, the atmosphere and design were incredible.  With long wooden tables, a fireplace in back, and an inn above, it's just how I imagined it from the book. I applaud Universal for keeping the food in theme and offering British pub fare, as opposed to when parks often theme the restaurant and then just offer standard cheeseburger and hot dog favorites.  After dealing with crowds of people in 90 degree heat, we felt it was only right to treat ourselves to the signature Hogs Head Brew, a refreshing lager exclusive to the park.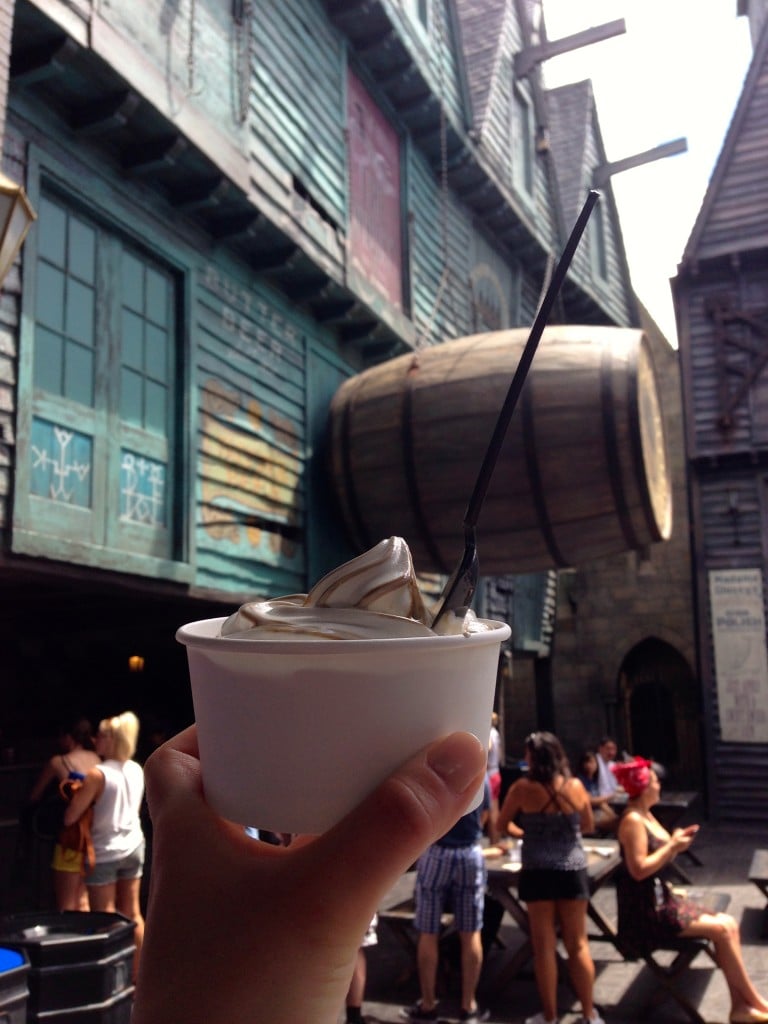 Harry Potter and the Escape from Gringotts Bank – You may call me crazy but the best part of this ride is the line.  While waiting to get on the ride, the queue leads you through the lobby and halls of Gringott's Bank.  Again, the attention to detail is fantastic and it really brings the story to life, complete with the goblins that run the bank.  It's worth walking through the line even if you have no desire to ride but the ride was fun too, although tamer than I expected.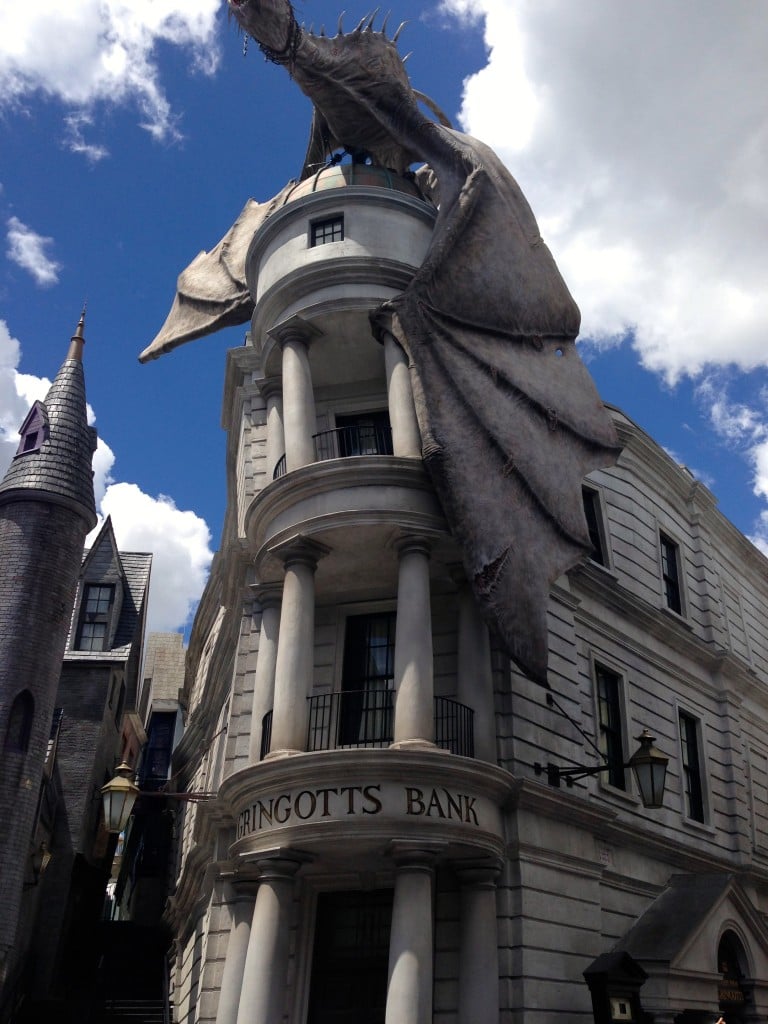 Harry Potter and the Forbidden Journey – You'll also see this listed in The Bad later in the post.  The line for this ride is a room-by-room tour through Hogwarts Castle.  Even if you don't want to ride the ride, you have the option of entering a separate line that just lets you tour the castle.  It's beautiful, interactive, and definitely worth seeing.  Read below for my thoughts on the ride itself.
[heading_entrance title="The Okay" text="" custom_class=""][/heading_entrance]
Tickets – It's a common misconception that The Wizarding World of Harry Potter is a stand alone theme park, but in fact it's just sections, or lands, within Universal Studios Florida and Islands of Adventure. Hogsmeade, the original part of the Wizarding World of Harry Potter opened at  Islands of Adventure in 2010 and this summer, Diagon Alley opened at the Universal Studios Florida Park.  What this means is that in order to go to both Diagon Alley and Hogsmeade, you have to buy a multi-park ticket, around $140 for one day.  I've got mixed feelings about this because, on one hand, both Diagon Alley and Hogsmeade are pretty similar in design, consisting of a major thrill ride, themed restaurants, and tons of gift shops. By splitting them between two parks, visitors to either park get a taste of Harry Potter.  On the other hand, if you're going to Universal only to experience Harry Potter, you're forced into buying a more expensive ticket and navigating between two parks.
[heading_entrance title="The Bad" text="" custom_class=""][/heading_entrance]
The Size – I don't understand why they made The Wizarding World of Harry Potter areas so small.  The gift shops, streets, and main traffic flow areas are so crowded and cramped that it's often uncomfortable.  We were there on a very slow day and at times it was incredibly frustrating trying to get around.  I can't even imagine being here during peak season.  All I can picture is a massive grid lock. We didn't have to wait more than 20 minutes for anything, but I've read that lines for the big rides can have wait times of nearly 5 hours on busy days.
Lack of Attractions – There really isn't all that much to do.  If you're interested in visiting all of Islands of Adventure and Universal, it works out well. However, if you're like we were and  just there for Harry Potter, it's a bit disappointing. Both Hogsmeade and Diagon Alley have a one major thrill ride, one themed restaurant, and tons of gift shops, but not much else. I would like to see them add shows or maybe have characters walking around.
Shopping – A main part of the Harry Potter experience is shopping in the stores from the story such as Honeyduke's, Ollivanders, and Zonko's.  I don't have an issue with with encouraging shopping and it was fun actually seeing the stores from the book.  While it's a bit boring if you're not interested in buying robes and scarves, the problem is that the shops are really tiny.  There are often lines just to get inside and once you're in, it's nearly impossible to move around without bumping into someone or something.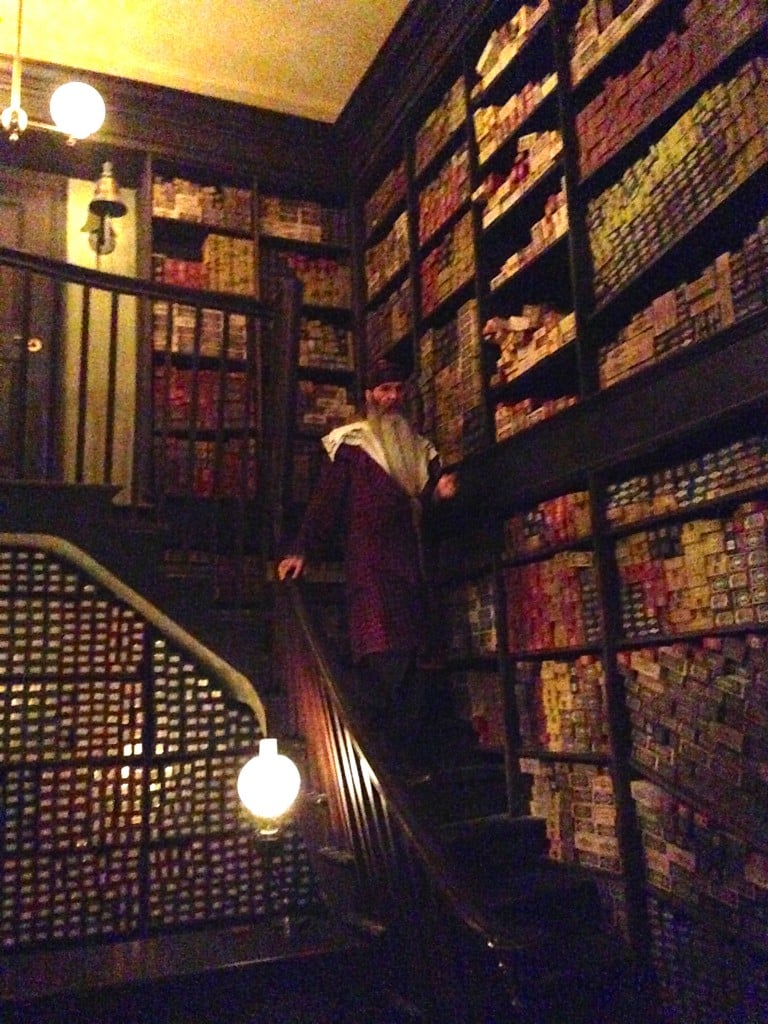 Lockers – Many of the rides prohibit bags of any kind and require you to rent a locker.  This isn't a big deal because the lockers are attached to the ride and free for the first hour.  However, they use a computerized fingerprint scanning system to open and reopen the lockers and it's really temperamental. The locker rooms are very small and dark (you can't see inside some of the lockers so be sure you have all of your possessions) and it was a complete madhouse trying to use the computer system, complete with people cutting and getting angry at each other when the computer malfunctioned. And again, this was a slow day!
Harry Potter's Forbidden Journey – I'll be honest and say I'm not the biggest roller coaster lover.  I had debated even going on this ride but then I read so many reviews about how amazing it was and decided to give it a try.  It's a combination simulator and roller coaster that simulates Harry Potter flying around Hogwarts using a robotic arm technology. To put it simply, I hated it.  It's incredibly jerky and basically just shakes you in all directions for 5 minutes until you're completely disoriented and dizzy.  I've never wanted to get off a ride so badly.  If you have even slight motion sickness, don't even think about getting on this ride.  However, many people say this is the best ride they've ever been on so maybe it's just me.
Would I recommend going to The Wizarding World of Harry Potter?  Yes, but with a caveat.  Don't go during peak season or any day that might be incredibly busy.  I can't imagine how it would be anything other than frustrating.  With the cramped spaces and small scale of the park, it's just not equipped to handle major crowds.  But, if you're in Orlando during the off season, there's no question that Harry Potter fans will have fun here.
Have you been to the Wizarding World of Harry Potter?  What were your thoughts?  Do you have any advice for those planning a visit?  Please comment below and share your thoughts.