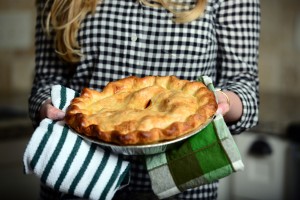 Every week, I post a new addition to my Tips for Better Baking series. These are some of my best tips and tricks that have made my kitchen life easier and helped me become a better baker.
Be sure to check back each Tuesday for the newest trick, and in the meantime,  click on the links before to learn more about each tip.
#1 – Buy a scale, start weighing your ingredients, and get comfortable working in grams. 
#2 – To bring cold eggs to room temperature, warm them in a bowl of hot tap water for 10 minutes. 
#3 – When mixing liquid ingredients or making whipped cream, wrap your mixer bowl in plastic wrap to avoid splatters.
#4 – Easily soften butter to room temperature by leaving it out on the counter overnight.
#5 – Get to know your oven with an external oven thermometer
#6 – Before working with a sticky dough, wet your hands or spray them with cooking spray to keep them clean. 
#7 – Separate eggs using your hands. Crack the egg into your hand, let the white fall through your fingers into the bowl, and dump the yolk into another bowl. 
#8 – Always toast nuts to release the essentials oils and make them more flavorful and fragrant.
#9 – Crack eggs on a flat surface such as the counter, not on the side of the bowl.
#10 – Less is always more when decorating baked goods.
#11 – Don't forget the salt!
#12 – Zest citrus onto parchment paper
#13 – Soften brown sugar in the microwave.
#14 – Cold eggs are easier to separate
#15 – Store dry goods in clear storage containers
#16 – Mise en place
#17 – Proof bread in a marked container
#18 – Always use fresh citrus
#19 –  Give pie dough 1/8 inch turns for a perfect circle
#20 – Use a cup to easily fill a pastry bag
#21 – Make buttermilk with milk and lemon juice 
#22 – How to quickly soften butter
#23 – Store yeast in an airtight container in the freezer
#24 – How to keep spices fresh
#25 – How to check the firmness of whipped cream
#26 – Grate your own nutmeg
#27 – Use a hot knife to cleanly slice cheesecake
#28 – Freeze the mixer bowl and whisk attachment before making whipped cream
#29 – Heat cream before adding it to caramel sauce
#30 – Trust your instincts
#31 – Invest in a quality thermometer 
#32 – The best way to cut apples
#33 – Secure towel with a bowl before whisking
#34 – Measuring sticky ingredients
#35 – Always bake pies on a foil-lined baking sheet
#36 – Cups to Grams Baking Conversion Chart
#37 – How to rescue over-whipped whipped cream
#38 – Always sift cocoa powder
#39 – How to prevent burnt caramel sauce
#40 – Baking Powder vs. Baking Soda