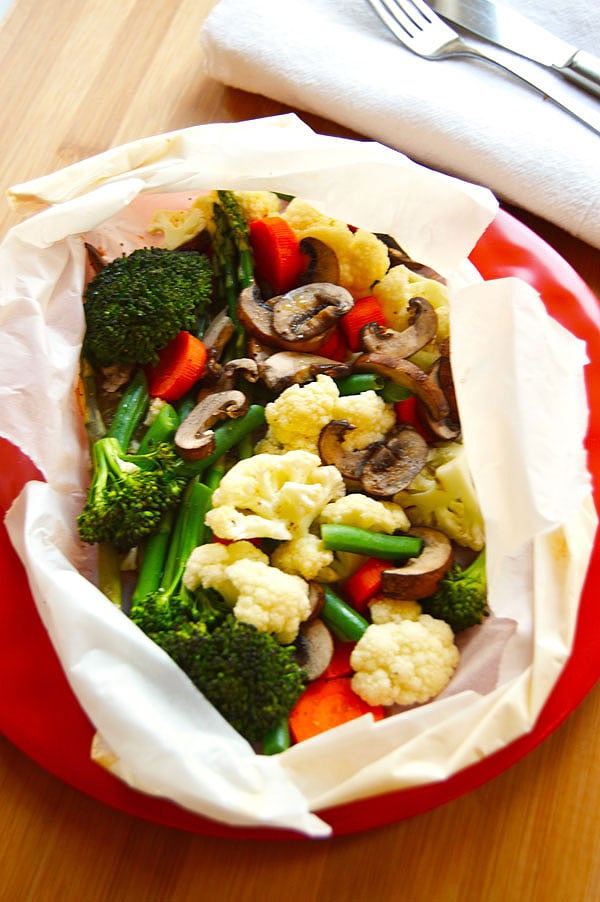 I first learned about cooking vegetables in parchment in the culinary nutrition course I took in culinary school.  In an effort to learn about nutritiously adding flavor to food, my chef-instructor invited  Colonel De, Cincinnati's spice guru, to lecture our class on cooking with herbs, spices, and seasonings. Colonel De taught us about getting creative and using little known spices and unique seasoning blends to add new flavors to our cooking.  After the lecture, we were given an assignment to cook vegetables in parchment without adding any salt, butter, or oil.  We had to use the new seasonings and spices we learned about that day.  This fun (and surprisingly difficult) assignment taught us that there are ways to season food other than the crutches of salt and butter we usually lean on.
Cooking in parchment (also known as en papillote in French or al cartoccio in Italian) is taught as a healthy cooking technique.  While many foods can be cooked using this method, typically vegetables or fish are sprinkled with herbs and seasonings, sometimes given a drizzle of stock or white wine, then wrapped in parchment paper to create a tight enclosure. The parchment paper wrapping swells in the oven, containing the liquids and using the trapped moisture to steam the food.  The packets are served piping hot then opened at the table so the diner can smell the aroma when the steam billows out. This technique is found in cuisines around the world and can be modified to use with nearly any type of food or flavor combination. In Indonesia, in a method known as pepes, the food is often wrapped with large banana leaves as opposed to parchment paper and in Mexico, a popular dish is mixiote de cordero, lamb cooked in parchment with chilies and garlic.
When I took my first serious cooking job, the executive chef taught me how to make these veggie packets using the same parchment cooking method I had learned in school.  While these were not offered on our standard menu, the chef had made one for a customer on a special occasion and the idea took off.  We had orders for vegetables in parchment on a daily basis, sometimes receiving special requests 5 or 6 times a day.  It became a bit of a joke in the kitchen when we would spend all morning cooking that day's menu offerings and then everyone just ordered veggie packets!
Although I complained about making them, I could see the appeal.  It's an easy, flavorful way to eat vegetables.  With only minimal salt and pepper and a drizzle of olive oil, cooking doesn't get much healthier than vegetables in parchment.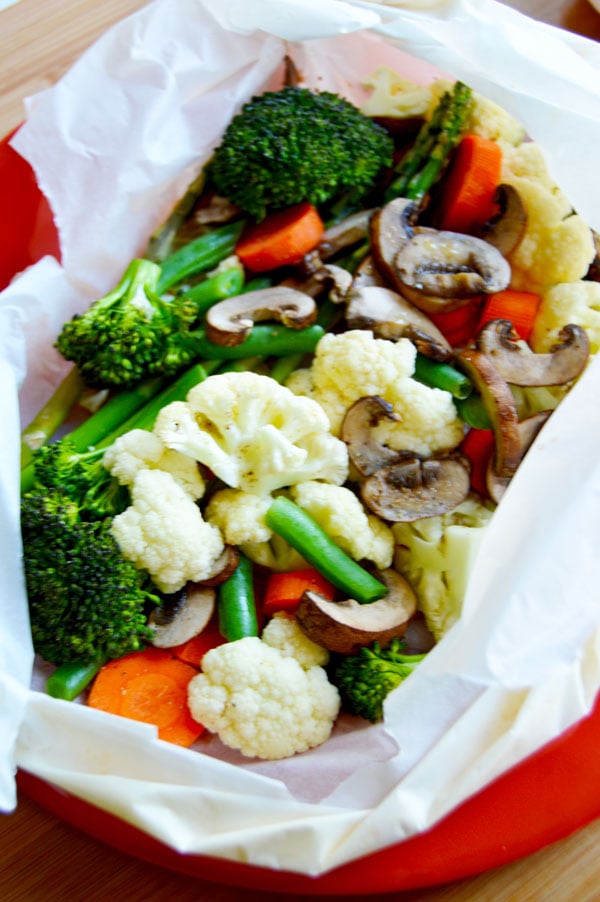 Veggie Packets – Vegetables in Parchment
You can use nearly any vegetable when cooking vegetables in parchment.  These are my favorites but you should modify it to include what you like to eat.  Some other vegetables that work well are zucchini, yellow squash, red bell peppers, red onion, cherry tomatoes, sugar snap peas, brussels sprouts, and baby yukon potatoes.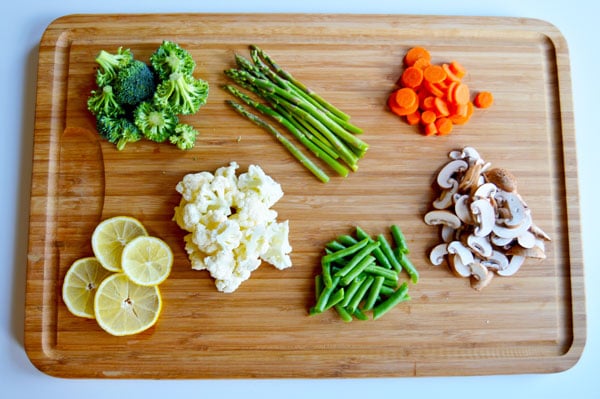 The first step is to cut the vegetables into small uniform pieces that will cook quickly and evenly.  I usually make sure everything (with the exception of asparagus) is around bite-sized.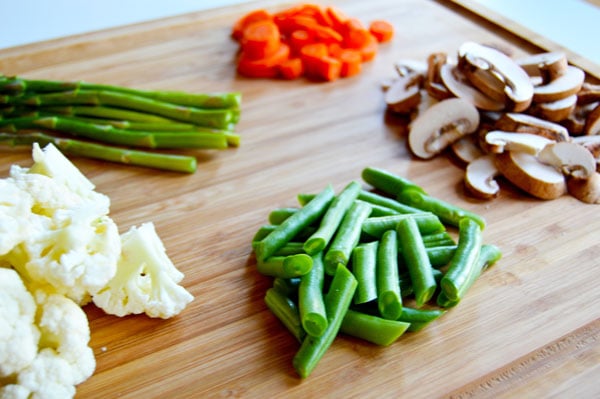 The recipe I'm sharing today is a basic blueprint and meant to be modified and made your own.   Here are some ideas:
– Substitute a splash of white wine, stock, or even a tablespoon of butter for the olive oil.
– Add a pinch of chopped herbs such as thyme, scallions, basil, or parsley. Lemon zest and red pepper flakes would add nice flavor too.
– Switch out the lemon slices for a different aromatic such as garlic, lemongrass, chopped green olives, or a slice of fresh ginger.
– Finish the packets with a sprinkle of cheese when they come out of the oven.  Either feta or parmesan would work well. You could also add a sprinkle of toasted sesame seeds or toasted bread crumbs for a bit of crunch.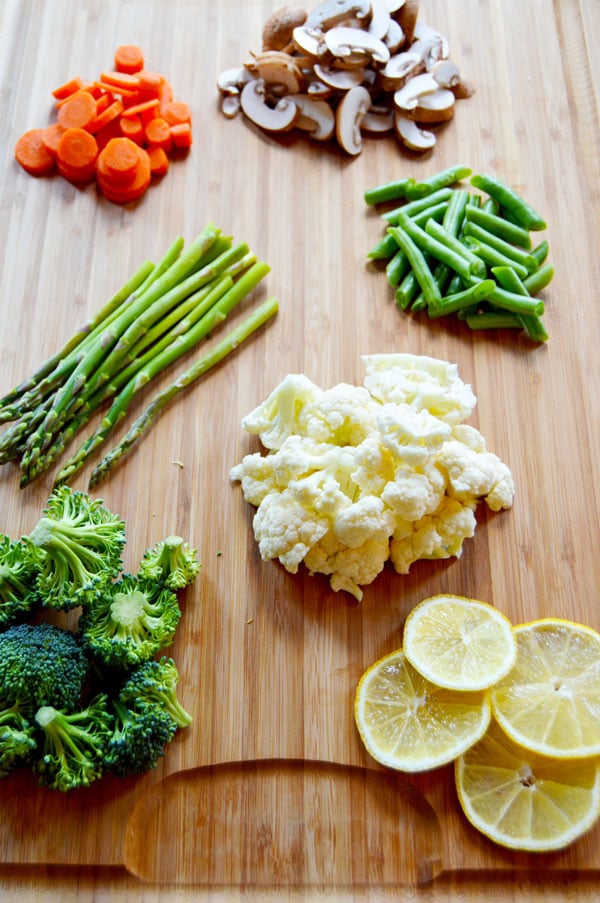 Start by taking a 24″ by 12″ sheet of parchment paper and fold it in half. Open it back up and place two lemon slices in the middle, near the crease.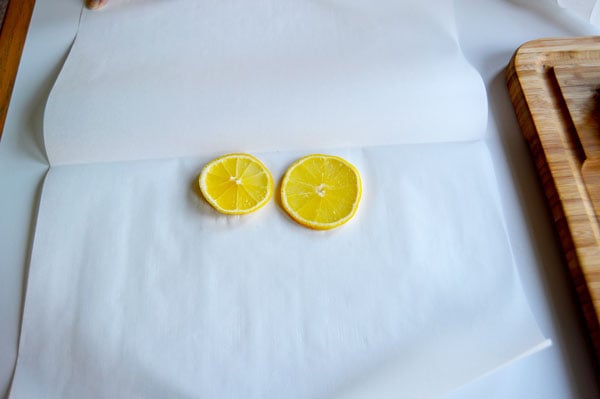 Line up the asparagus spears on top of the lemon slices.  If you're using any sprigs of herbs, add those now too.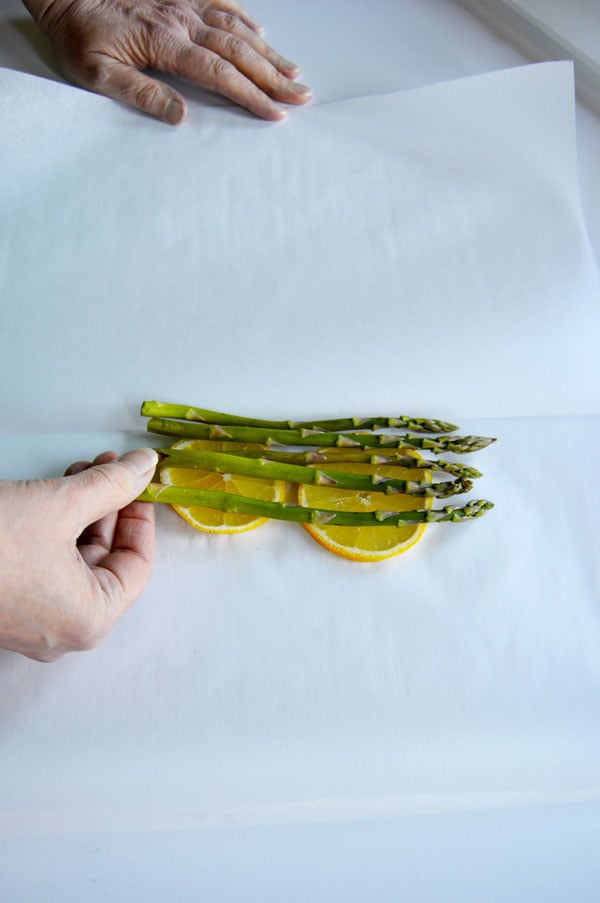 Neatly pile the remaining vegetables on top.  Try to keep them in a small mound.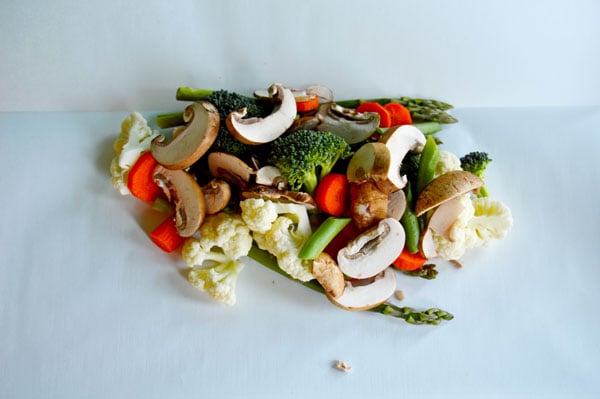 Be sure to season the vegetables generously with salt, pepper, and a liberal drizzle of high quality olive oil.  If using chopped herbs, add those too.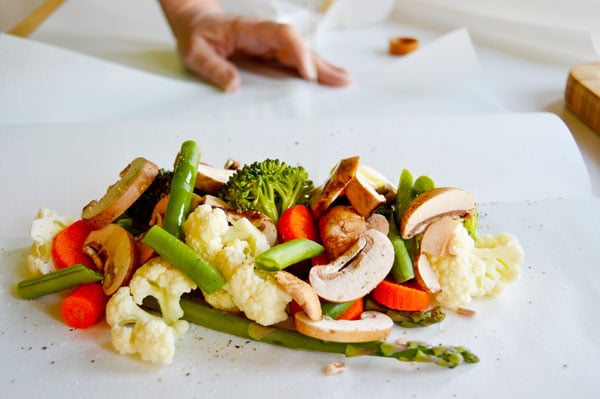 Keeping the vegetables mounded and in the center, begin to fold the packet together. Start by folding in the outside corner and then continue to make small folds around the perimeter of the packet.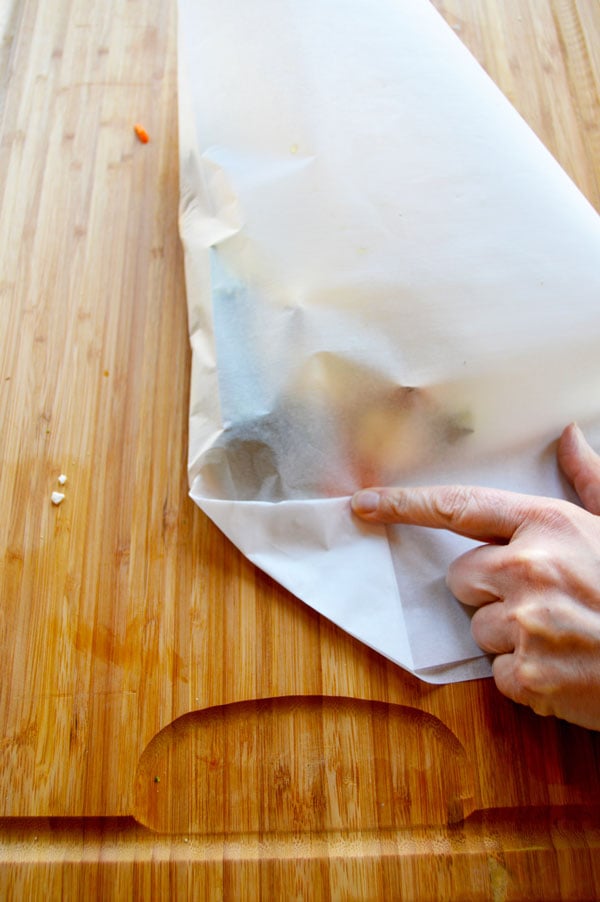 There's no right or wrong way to do this and everyone has their own style.  Just make sure your folds are tight and will keep the packet securely closed.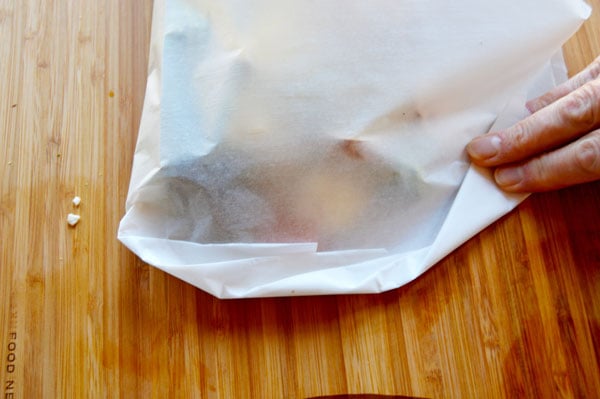 As you're working, you may need to gently shake or nudge the vegetables in order to have space to continue folding the parchment. Just don't work too aggressively or you may undo the work you just did.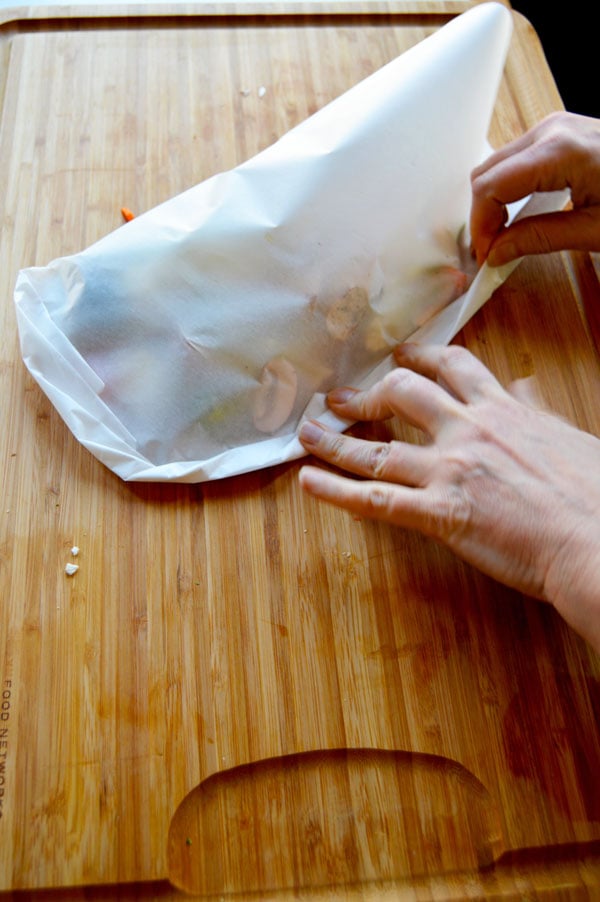 Once you've worked all the way around, tightly crimp the end of the parchment by folding it down and around the back. It creates a little tab like you can see on the top right corner of the packet below.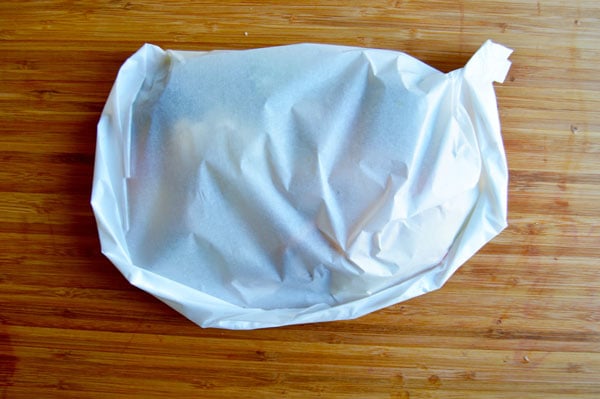 The packets bake in a 400-degree F oven for about 12-15 minutes.  If you like your vegetables on the firm side, 12 minutes is about right.  If you're looking for a softer texture, go with 15 minutes.  There's no perfect time here – it just depends on your preference so test it out and see. To test the doneness of the vegetables, you can press them through the parchment or open up one packet and taste a small piece of broccoli or cauliflower, which take the longest to cook.
Once the packets come out of the oven, place each on a dinner plate and carefully tear open the top using scissors or a small knife.  Be careful and watch out for the hot steam that will be released.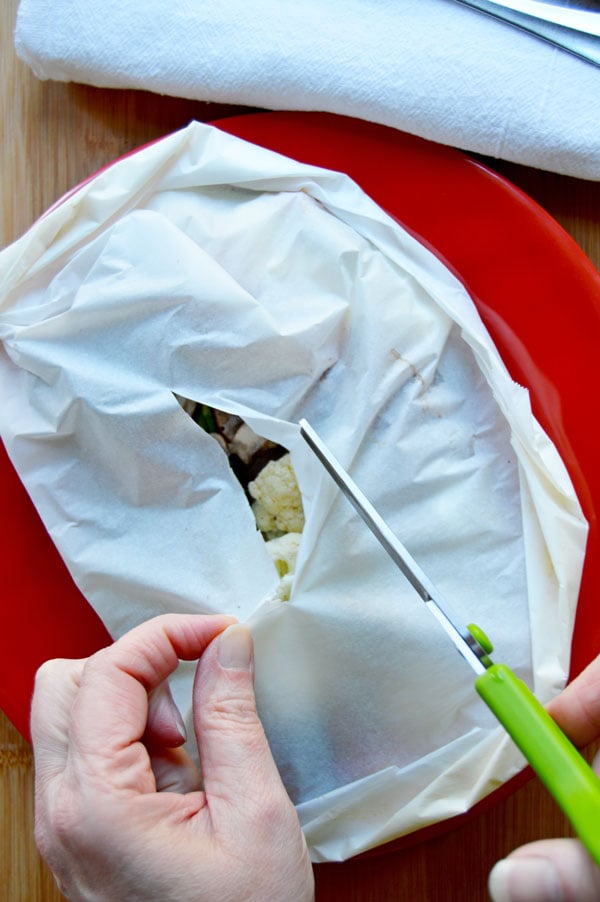 If you like, now is the time to sprinkle the vegetables with some cheese or breadcrumbs.  You may also want a little more salt and pepper or another drizzle of olive oil. Serve the vegetables in the parchment.
You can make up a few packets ahead of time and refrigerate them for up to a day before baking.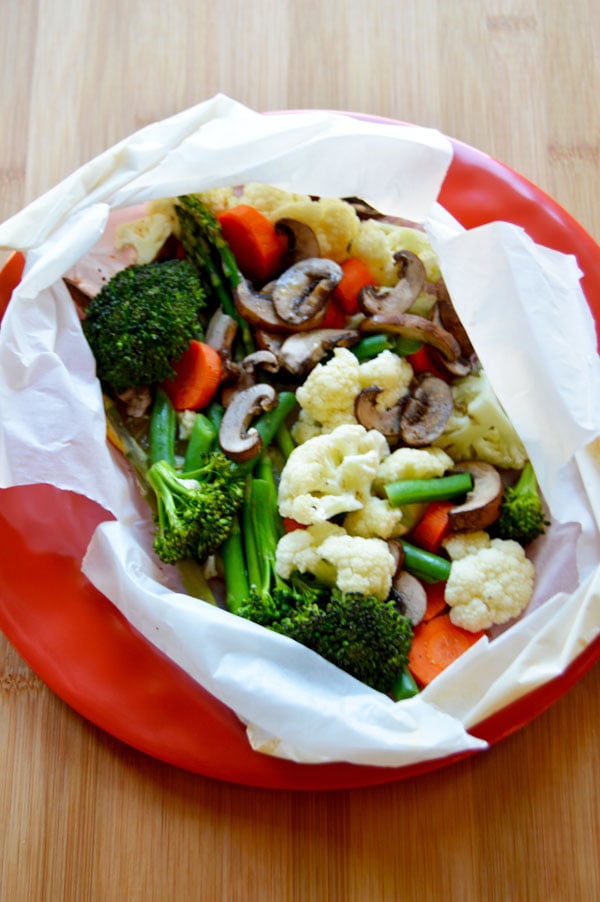 Jordan Hamons | [The Hungry Traveler|http://www.thehungrytravelerblog.com" target="_blank]
Yields 2
Veggie Packets: Vegetables in Parchment
Ingredients
4 thin lemon slices
12-14 asparagus spears, trimmed
15-20 green beans/haricots verts, trimmed and cut into 1-inch pieces
8-10 baby portabello mushrooms, washed and thinly sliced
2 cups broccoli florets, cut into bite-sized pieces
2 cups cauliflower florets, cut into bite-sized pieces
1 medium carrot, peeled and thinly sliced
2 tablespoons high-quality olive oil
1/2 teaspoon kosher salt, plus more to taste
1/2 teaspoon black pepper, plus more to taste
Instructions
Preheat the oven to 400-degrees F. Place two 24" by 12" sheets of parchment paper on a clean work surface. Fold each piece of parchment in half across the width.
Place two slices of lemon on each sheet of parchment, putting the lemon in the center near the fold. Evenly divide the asparagus spears between the two packets, placing them neatly on top of the lemon slices.
Evenly divide the rest of the vegetables between the two sheets of parchment. Place them directly on top of the asparagus in small mounds.
Drizzle each mound of vegetables with 1 tablespoon of olive oil and sprinkle each packet with 1/4 teaspoon kosher salt and 1/4 teaspoon black pepper.
Fold the other half of the paper over and make small folds around the perimeter to create a tight seal. The vegetables should be completely enclosed. Place the packets on a baking sheet and bake until the vegetables are just tender, about 12-15 minutes
Remove the baking sheet from the oven and carefully put each packet on a dinner place. Using a small knife or scissors, cut an opening in the top of each packet, being watchful of the hot steam that will escape. Season each packet to taste with salt and pepper and add another drizzle of olive oil, if desired
Notes
Packets can be made up to a day in advance and kept in the refrigerator until ready to bake.
7.8.1.2
25
https://www.thehungrytravelerblog.com/veggie-packets-vegetables-in-parchment/