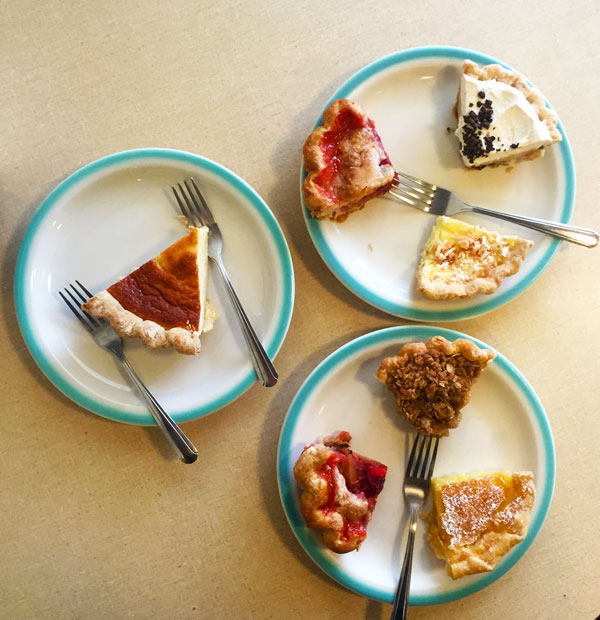 Food is always my priority when I travel and I am lucky to have great friends who go along with my crazy eating plans.
Last weekend, I convinced Annie (you met her here) to do a pastry tour of Chicago with me. We came up with a list of bakeries together and Annie planned out our route and transportation.
Annie and I started early and spent our day crisscrossing the city in order to eat the best pastries. We tried to pace our way through our list of stops but we eventually burnt out and didn't make it to all of them. We were impressed that none of our stops disappointed and we're already making plans to go back and try more of what these bakeries have to offer.
Annie and I will be traveling in Europe together later this summer so this was a good practice run for the eating we will be doing on our trip. By the end of our pastry tour we had learned a few lessons – 1) Walking a lot helps digestion, 2) Never  schedule doughnut stops back-to-back, 3) By the end of the day you will feel pretty awful, but it will be worth it.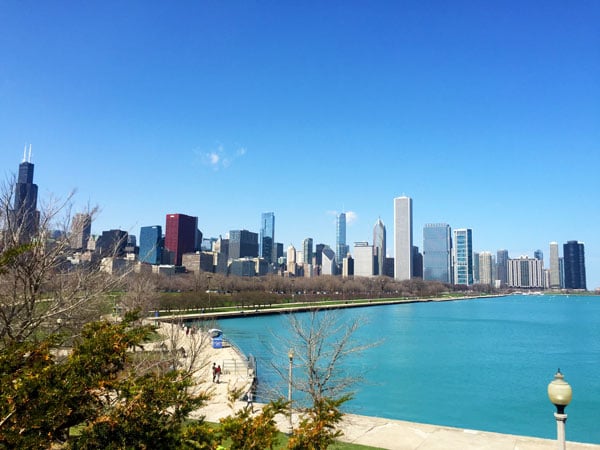 The Chicago Skyline from Navy Pier
Here are some of our favorites (in no particular order):
1. Floriole
Floriole began as a small stand selling pastries in Chicago's famed Green City Market. Now in a beautiful cafe in Lincoln Park, the menu has expanded to include breads, sandwiches, salads, and pastries. They are committed to using the best ingredients available and source most dairy and meat locally. Organic flour and sugar, Valhrona chocolate, European butter, and cage-free eggs are also used to create their extensive menu offerings. The baguette has been named one of the 10 Best in American by Bon Appetit and Fodor's Travel recognized them as one of the Top 10 Bakeries across the US.  The space is airy and comfortable and if you sit in the back, you can watch the bakers hard at work in the open kitchen. Everything I tried was perfectly balanced with intriguing flavor combinations that left you wanting another bite. Make sure to try the ham and cheese croissant.
Website // 1220 W. WEBSTER AVE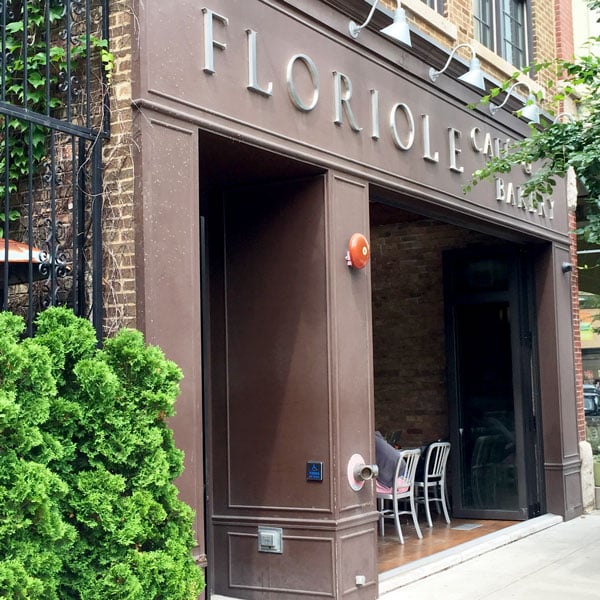 Floriole in Lincoln Park
2. La Fournette
La Fournette is an authentic French bakery and cafe from Master Baker and World Baking Champion Pierre Zimmermann. After decades of running his family bakery Boulangerie Zimmermann in the Alsatian village of Schnersheim, France, Pierre and his wife decided to open a bakery in Chicago. La Fournette has an extensive selection of breakfast breads and pastries and also offers crepes and sandwiches that are made-to-order for lunch. La Fournette is also known for its extensive selection of authentic French breads. Be sure to check-in on Yelp and they will reward you with a free macaron.
Website // Old Town: 1547 N. WELLS STREET. // Lincoln Park: 2468 N. CLARK STREET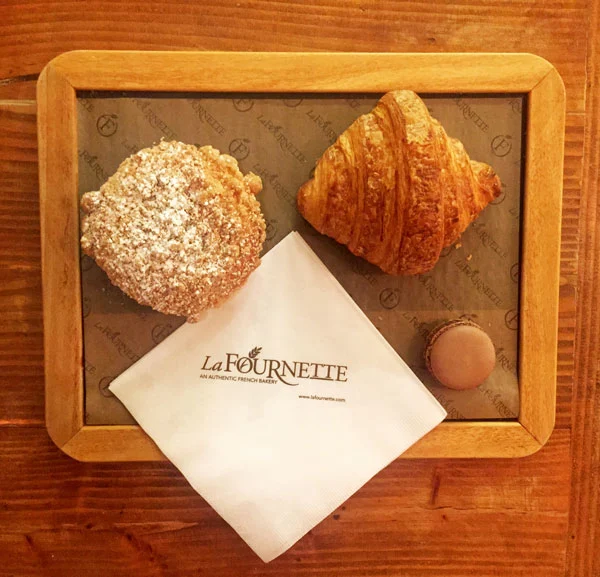 A streusel brioche, traditional croissant, and chocolate macaron at La Fournette in Old Town
3. Hendrickx Belgian Bread Crafter
Hendrickx is an authentic Belgian bakery known for bread, croissants, and pastries. They also offer soups, salads, and sandwiches that would make a perfect light lunch. I was excited by the unique flavors of croissants and chose a wonderful hazelnut croissant with a nutella filling. Next time, I hope to try some of the breads Chef Renaud Hendrickx is known for.
Website // 100 E WALTON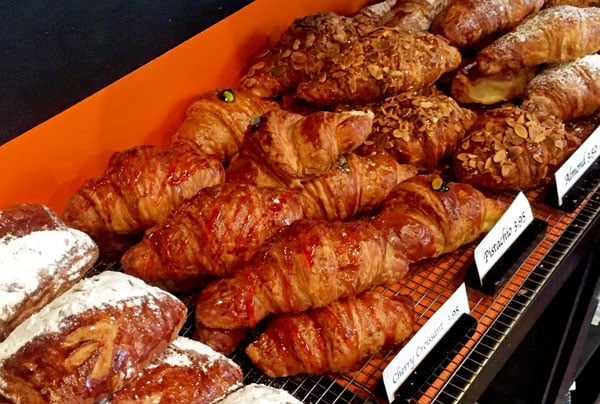 A variety of the croissant flavors available at Hendrickx Belgian Bakery
4. Little Goat Bakery
Little Goat Bakery, Chef Stephanie Izard's bakery, offers a wide array of creative baked goods including muffins, scones, bread, pastries, croissants, and sandwiches. The bakery is attached to Little Goat Diner and features a large window where you can watch the bakers hard at work. There's also a full espresso bar and some grab-and-go options so you can pick something up for a quick breakfast or lunch. Little Goat's chocolate chip cookie is one of the best I've ever had.
Website // 820 W RANDOLPH ST.
5. Firecakes
Doughnuts are a big thing in Chicago and Firecakes offers some of the best.  The Firecakes recipe is based off of an heirloom recipe created by the owner's wife's great-grandfather when he was a baker in the early 1900's at a logging camp in Wisconsin. The original doughnut cutter is even on display. Firecakes' signature doughnut (and my favorite)  is a honey glazed that is nearly the size of a frisbee but more unique flavors are offered such as buttermilk old fashioned, triple valrhona chocolate cake, butterscotch praline, and maple glazed pineapple and bacon.
Website // 68 W. HUBBARD STREET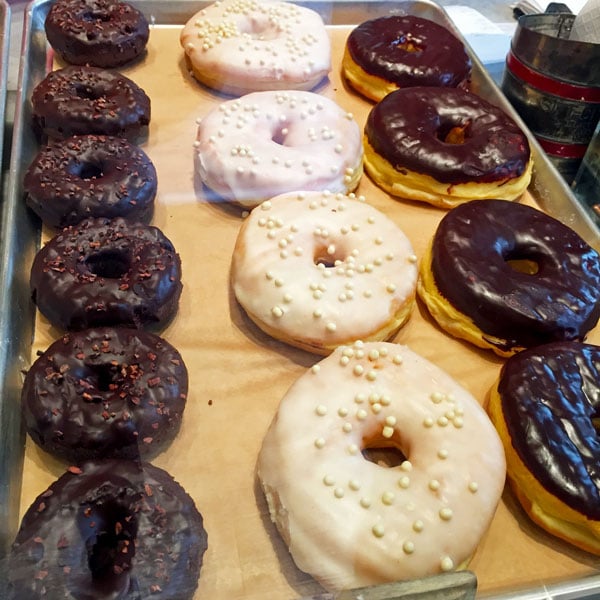 Doughnuts the size of frisbees at Firecakes
6. Hoosier Mama Pie Company
Hoosier Mama Pie Company is described as 'a new artisanal pie company striving to be a great "old" pie company'. Traditional flavors of pie are offered and everything is made by hand using the best ingredients. If you are able to go on a Friday, pie flights are available and you can pick 3 flavors of pie to try. The shop is a little out of the way but it's a wonderful place to relax over a slice of pie and cup of coffee.
Website // 1618 1/2 CHICAGO AVE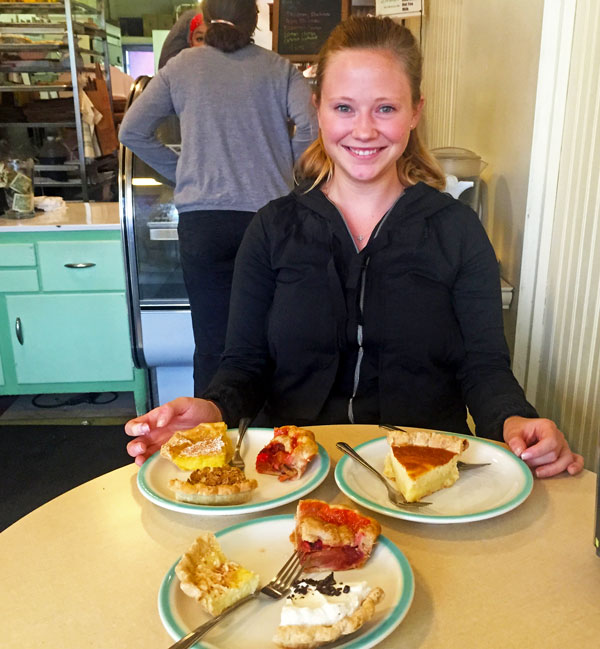 Friday pie flights at Hoosier Mama Pie Company. Pictures clockwise starting from the top left: buttermilk, strawberry rhubarb, espresso cream, coconut custard, apple rhubarb crumble, lemon chess, and another slice of strawberry rhubarb. 
7. The Doughnut Vault
The Doughnut Vault is a tiny bakery selling a few limited flavors of old-fashioned doughnuts just until they sell out. Buttermilk old fashioned, gingerbread stack, glazed (chestnut, chocolate, and vanilla) are offered daily along with one speciality flavor such as pineapple or orange cream. Get there early for the best flavor selection but don't be surprised if there is a line out the door and around the block. They also sell doughnuts out of their truck and you can check for locations on their website.
Website // 401 1/2 N. FRANKLIN STREET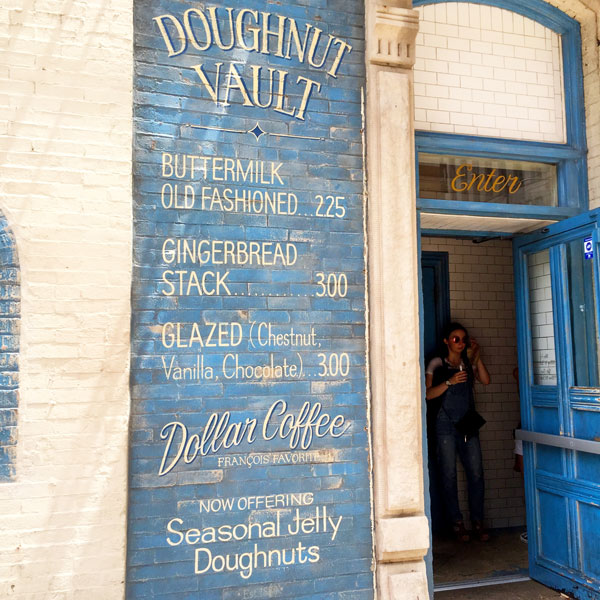 The entrance to The Doughnut Vault. Luckily there was no line during our visit.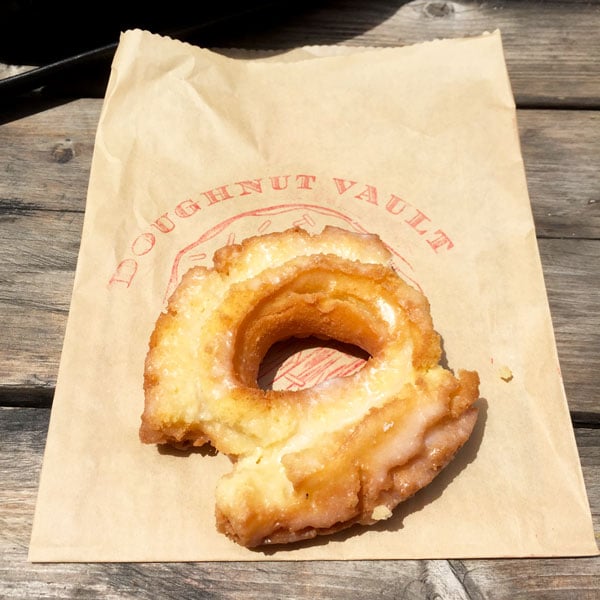 The buttermilk old fashioned at The Doughnut Vault
8. Stan's Donuts
Originally in Los Angeles, Stan's Donuts has now made a name for itself in Chicago. The menu offers classic yeast and cake doughnuts but also features whimsical and fun flavors such as the glazed pretzel twist, peanut butter banana pocket, and lemon pistachio old fashioned. The cafe is welcoming and cozy and I especially love the wall of Kitchenaid mixers on display in the Wicker Park store. It's a good thing I do not live nearby or I have a feeling I would be stopping in for a doughnut and cup of Intelligentsia coffee every morning.
Website // Wicker Park – 1560 N. DAMEN AVE. // Streeterville – 259 E. ERIE STREET. Suite 100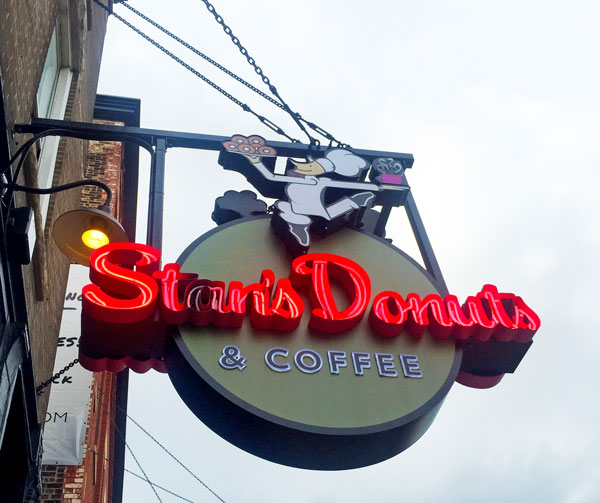 Stan's Donuts in Wicker Park
9. Alliance Patisserie
Alliance Patisserie is known for creating modern pastries using classic French techniques. The bright and comfortable storefront is a lovely place to spend an afternoon catching up with friends over unique pastries. Alliance Patisserie specializes in French macarons, petits gateaux (a cross between a traditional cake and an elegant plated dessert), and viennoisierie (croissants, scones, and other breakfast treats). There is also a menu of seasonal sandwiches and salads and several savory options you can grab on the run.
Website // 615 N. STATE STREET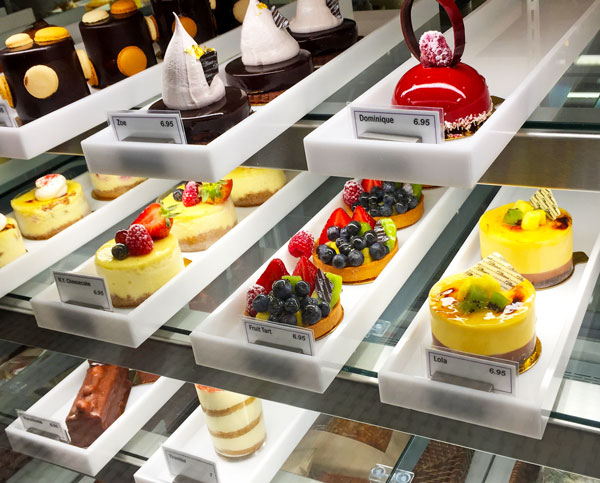 A look inside the pastry case at Alliance Patisserie. Many of the petits gateaux are named after employees past and present.
 10. Mindy's Hot Chocolate
While not technically a bakery, it's worth stopping in to Mindy's Hot Chocolate for a meal or just for dessert. The menu offers high quality, seasonal American fare but the desserts are what really stand out. Be sure to try the outrageous hot chocolates, the fabulous cookie plate, or any of the elegant and creative plated desserts.
Website // 1747 N. DAMEN AVE.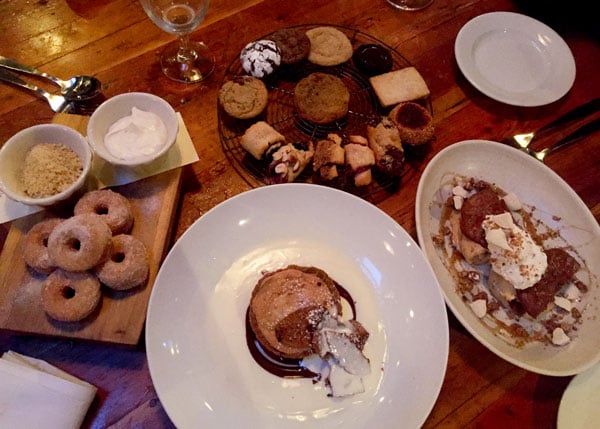 An array of desserts at Mindy's Hot Chocolate. Pictured clockwise from the left: snickerdoodle doughnuts, the cookie platter, butter pecan and brown sugar ice cream sandwich, and chocolate chip cookie dough soufflé tart
What are your favorite bakeries in Chicago? Please share by commenting below! 
If you liked this post, you may also enjoy:
My Favorite Foods to Eat in Paris