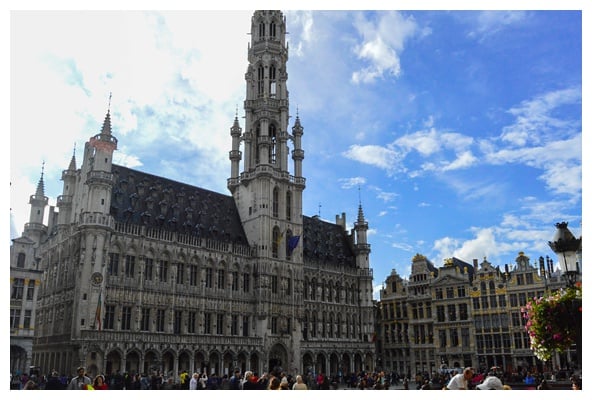 Brussels Grand Place – look closely and you'll notice the entire building is off center! 
When I sat down to write this post, I sent a text to Annie and said that I was having a hard time figuring out what to write about the Brussels Beer and Chocolate Tour.
Her response was, "All you need to say is JUST DO IT!"
Truly, that's all I really need to write. If you find yourself in Brussels, you like beer and chocolate, and you want to have an absolute blast, then sign up. Just do it!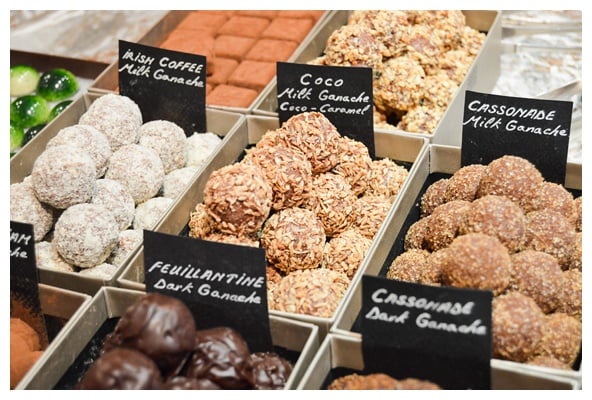 Chocolate truffles from Frederic Blondeel
On a more serious note, the reason I've struggled to write this post is because words in a blog post will never convey the amount of fun we had on the tour and I feel like I am not doing the experience justice.
When we started planning our trip to Europe, my goal was to find a food tour or cooking class in each city, but I struggled finding a food tour in Brussels. I posted in Facebook groups, begged for help in online forums, and did countless Google searches. All of my queries fell on deaf ears and my Google searches only returned a massive group tour that was said to be overrun with drunk study abroad kids (no offense, I was once one of them). I was sure there had to be a good food tour in the city and frustrated that I couldn't find it.
I had almost given up when I found the Brussels Beer and Chocolate Tour by The Brussels Journey on TripAdvisor. The description promised a tour of the best of Belgium's two treasures — beer and chocolate — and I immediately knew it was perfect for our group.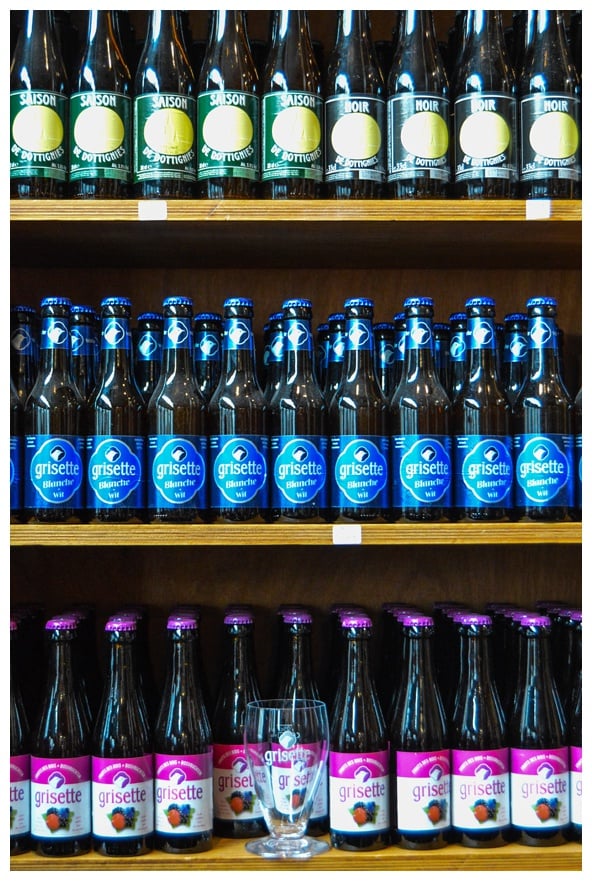 A wall of Belgian beer at Le Comptoir des Saveurs
Without question, the Brussels Beer and Chocolate Tour was the highlight of our stay in Belgium. Marie was a fantastic guide and taught us about Belgian culture while leading us to the finest Belgian chocolates and the highest quality Belgian beers, all while in the company of other friendly travelers. The Brussels Beer and Chocolate Tour is an absolute must-do in Brussels.
Here's a full recap of our experience…
Brussels Beer and Chocolate Tour
We were a bit run down the day of our tour. We spent the morning at the EU Parliament Building and, if I'm being honest, we found it quite boring. I usually like history and government but this just didn't do it for me. After leaving the Parliament, it immediately started pouring down rain and we were stuck about 2 miles from our hotel without a taxi in sight. We finally made it back to the hotel, pulled off our soaking wet clothes, and relaxed for a bit. We hadn't completely dried out but headed back out in the rain to meet our tour group.
We met Marie, our tour guide, at Chocopolis Chocolate Factory just off of the Grand Place. Our group had about 12 people from around the world but the majority were Americans. As soon as we started the tour, Marie's infectious personality and sense of humor lifted our spirits from the long day.
Chocopolis may not produce the absolute finest chocolates in Brussels but they are of good quality and will ship anywhere in the world. It's a fun place to start the tour because you can see into the production rooms and get an idea for how the chocolate is made. There was even a replica of the Brussels Town Hall made out of chocolate, and, of course, Mannekin-Pis chocolate figurines for you to take home for all of your loved ones.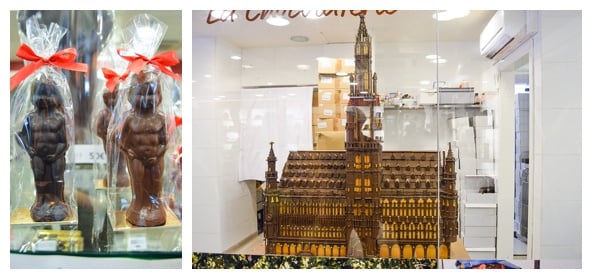 Mannekin-Pis and Brussels City Hall made from chocolate at Chocopolis
We got to watch the chocolatiers finish some of the chocolates with the signature garnishes. It was interesting to watch the work and the chocolatier made the very precise application look easy.
Our first taste of the tour was a chili chocolate.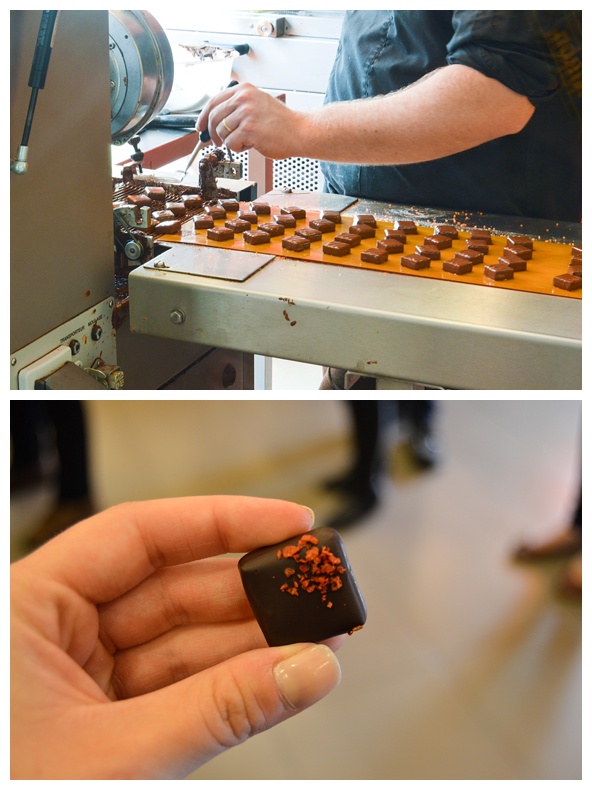 The production line and the chili chocolates at Chocopolis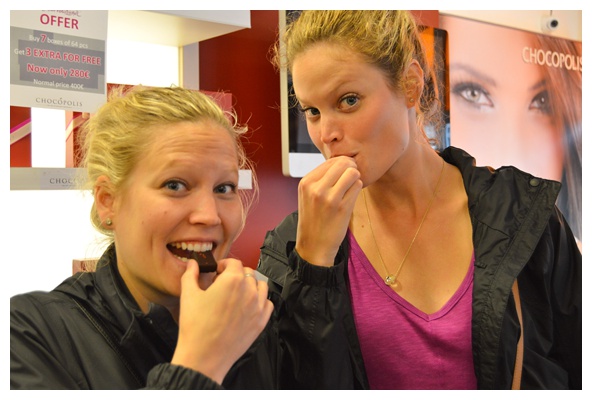 Biff and Annie enjoying the first bite of the tour
Our next step was Frederic Blondeel, a chocolatier known for their bean to bar chocolate production. We tried a single origin 80% chocolate from Vietnam, a hazelnut and almond praline heart, and a white chocolate, dark chocolate, and passion fruit truffle. This was my favorite chocolate shop of the tour and I still regret not buying some pralines to take home with me.
While we tasted the chocolates, Marie taught us about the chocolate making process and how the origin of the cocoa beans affects the taste of the chocolate. Throughout the tour, I most appreciated Marie's honesty. She was frank with us and told us what each shop did best and what was worth skipping. Her opinions were spot on.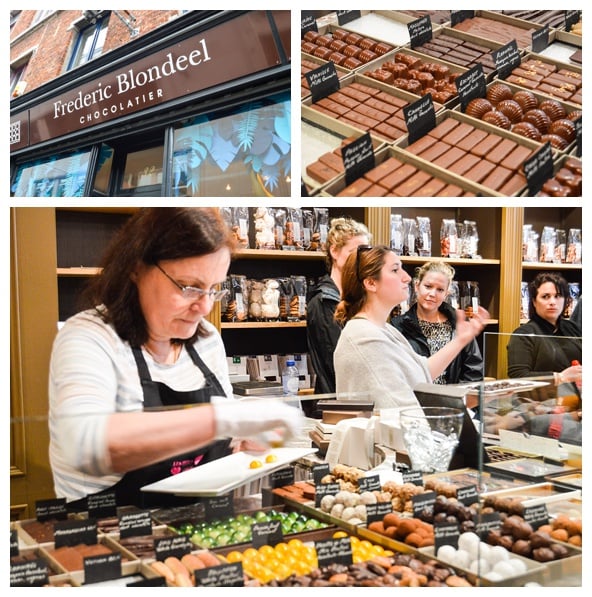 The impressive chocolate case at Frederic Blondeel
Pierre Marcolini is considered the Chanel of chocolates and releases a new 'collection' of flavors each season. I visited his shop in Paris last year and was thrilled at the chance to taste more of his amazing creations. Our group tried a Madagascar ganache (unbelievably rich!), earl grey tea truffle (interesting in a good way), and a dark chocolate with coffee and cardamom (interesting in a not so good way). Marie picked out the more unique flavors so we could experience how the chocolatiers get creative with their flavorings.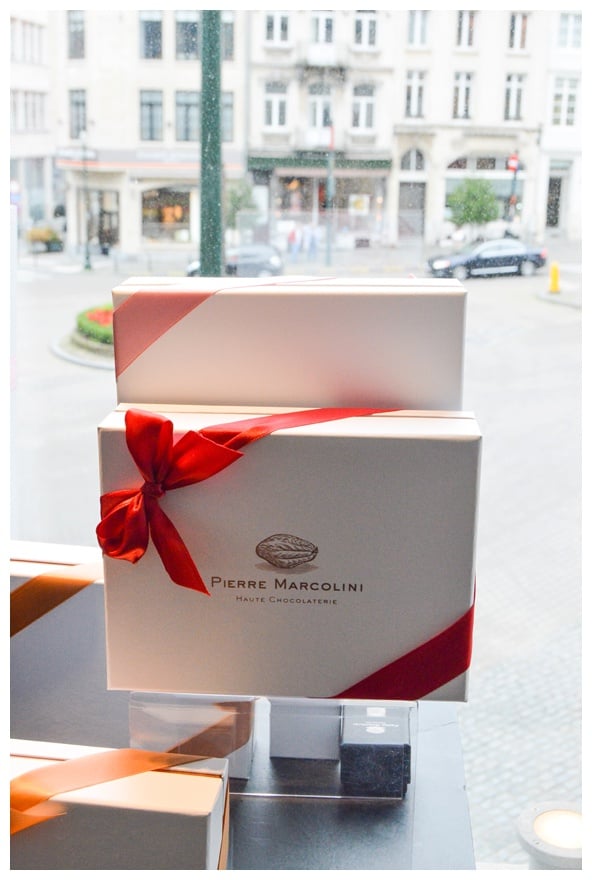 Chocolates at Pierre Marcolini
Our next stop was Mary Chocolaterie, one of the oldest and most celebrated chocolate shops in Brussels. Mary, the founder and namesake, set up her first shop in the middle of the Rue Royale to benefit from the traffic of nobility. Her plan worked and Mary quickly became the favorite chocolate shop of the Belgian royal family. The shop we visited was located under one of Brussels beautiful covered passageways and was elegant and glamorous inside. Mary shops are known for their intricate window displays and beautiful packaging. We tried one of the signature strawberry champagne rose truffles and it truly tasted like it was made for royalty.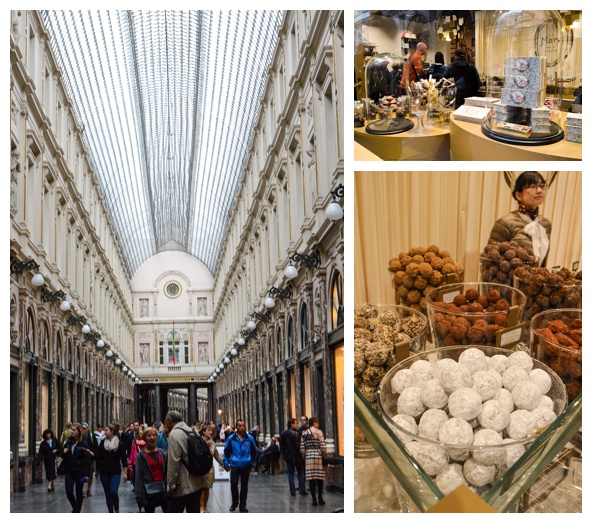 Mary, located inside of a covered passageway, is as elegant as you would imagine.
Our last chocolate stop was at Meert, a historic French pastry shop with Belgian origins, which Marie liked for their pastries and teas. We were able to choose from a selection of chocolates and I was lucky enough to snag a salted caramel.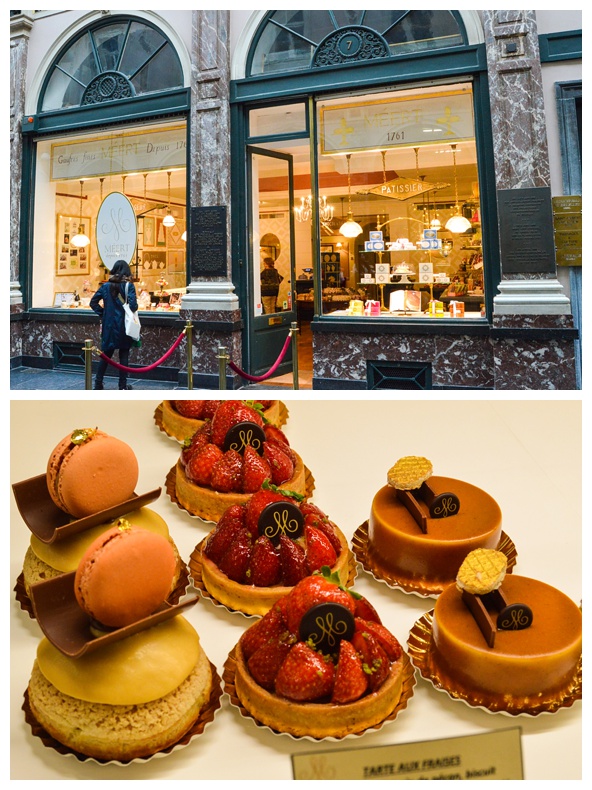 Pastries from Meert
We received around 8-10 tastes (full pieces of chocolate) from the finest chocolate shops in Brussels. It was the perfect amount and the walking in between stops helped counteract the richness of the chocolate.
I was there equally for the chocolate and beer but several of the couples on the tour were divided. There were a few people who didn't drink and were only there for the chocolates and a few who didn't care about chocolate but were beer enthusiasts. Marie made sure everyone was happy at all of the stops. Even if you are not a huge chocolate or beer lover, you will enjoy this tour. It's as much about Brussels and Belgian culture as it is about the food and drinks.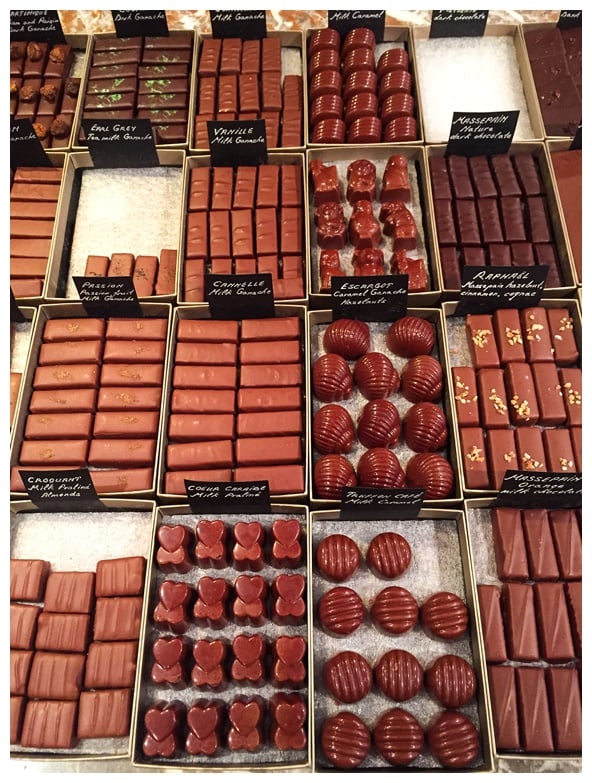 Another look at the chocolate case at Frederic Blondeel
In need of a short intermission, we took a stroll around the Grand Place and Marie shared her knowledge of Brussels history. The highlight was seeing the Mannekin-Pis dressed up and Marie told us his outfit was from one of the fraternities at a local university. Essentially he was dressed as the Belgian equivalent of a frat boy. It was the fraternities rush week and they dressed up the Mannekin-Pis to celebrate.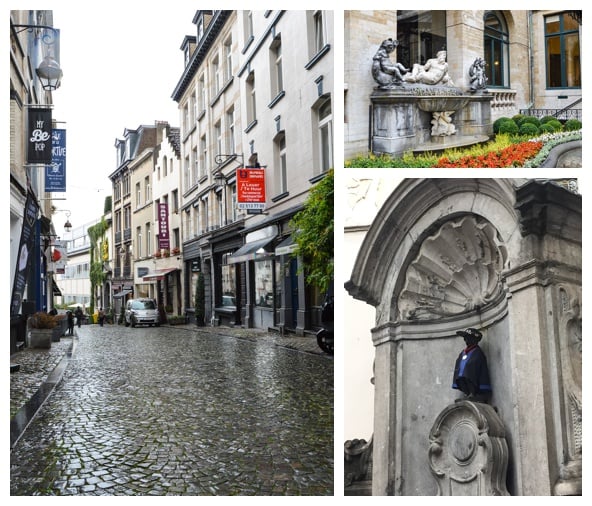 A rainy Brussels street, a garden behind Town Hall, and the Mannekin-Pis dressed up
Now that we had a belly full of chocolates, we moved on to the beer portion of the tour. As you may know, Belgian beers are strong. Very strong. So please excuse that my memory is a bit hazy and the photos are a bit blurry…
Our first stop on the beer portion of the tour was at Toone Royal Theater. The historic bar is tucked in an alleyway and is known for their puppet show and cheerful service. We didn't see the show but we got to know the friendly bar cat while tasting the kriek, a beer made by fermenting lambic with sour cherries.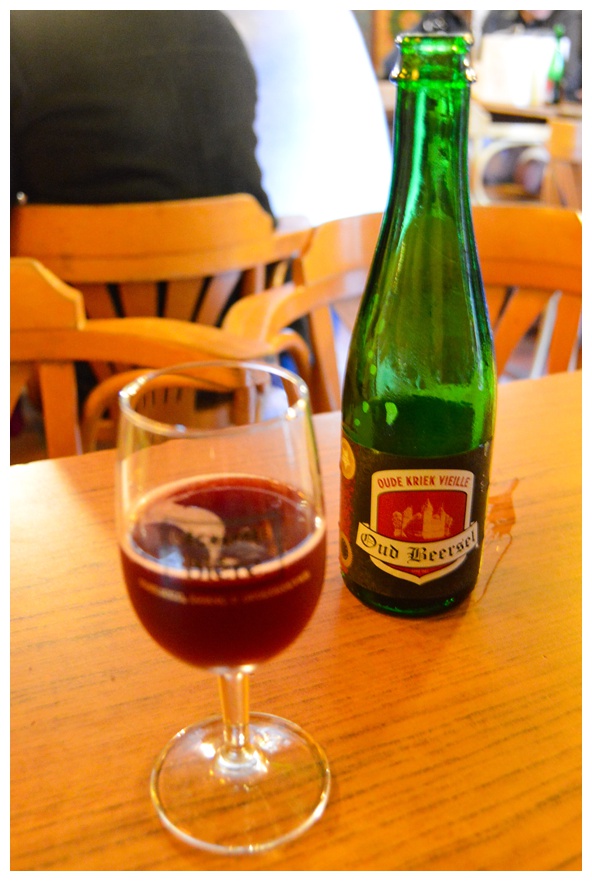 Our next stop was Le Comptoir des Saveurs, a beer, wine, and gourmet food shop located near Grand Place. We had a private area reserved upstairs and we started the 'tasting'. Tasting isn't the best word to use considering Marie ordered countless bottles of beer and we each got at least a half glass of each kind. There was no pressure to finish the beer but you could definitely have more if you wanted it.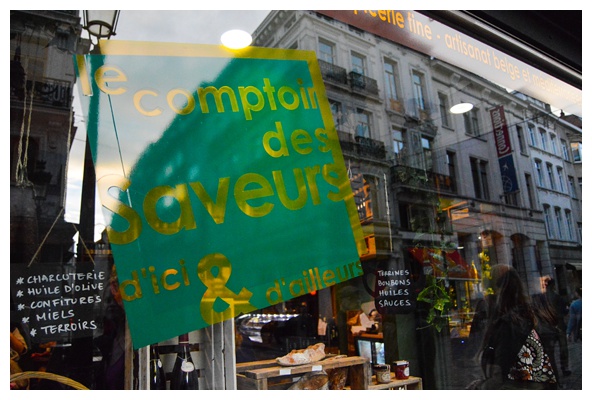 We were served some cheese and charcuterie plates to enjoy with the beer. I hate to say it because it's not beer or chocolate, but this might have been the best part of the tour. The meats and cheeses were phenomenal and a nice balance to all of the chocolate and beer. I still haven't stopped thinking about that chorizo and manchego.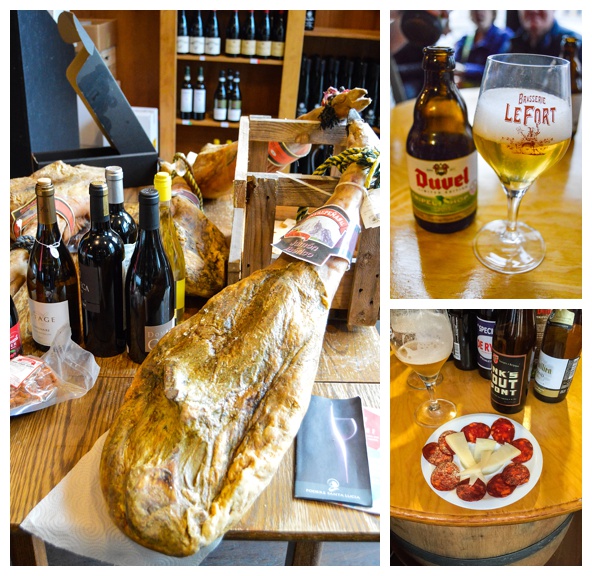 We tried many styles of Belgian beer (Trappist, Abbey , Tripels, Dubels, etc.) and Marie educated us about each one. She has an incredible knowledge of beer and does a great job explaining the characteristics of each style. Marie is truly passionate about beer and it shows in her work.
Marie saved a box of salted caramel praline chocolates from our stop at Pierre Marcolini and passed them out to enjoy with the Monk's Stout Dupont. This was the only time we paired chocolate and beer together and it really worked. The richness of the caramel was balanced by the salt and the slight bitterness of the beer.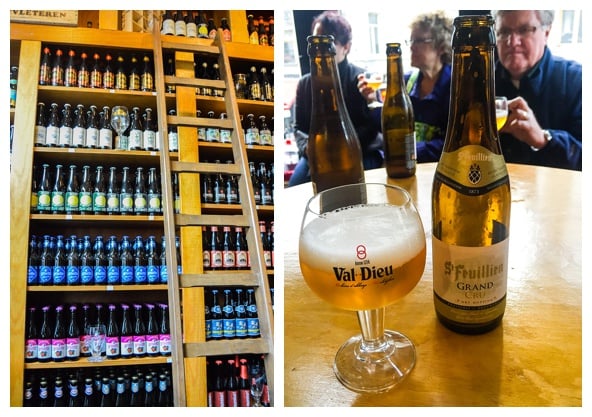 Our final stop was at Au Bon Vieux Temps, which is one of the oldest pubs in Brussels and dates back to the 16th century. The pub is hidden down a tiny alley and inside there's a dark cozy atmosphere complete with a huge fireplace. With the stained glass windows and dark wood, it almost feels like you're drinking in a church. Au Bon Vieux Temps serves Westvleteren XII which is considered by some to be the best beer in the world. Our tour winded down as we tried several more Belgian beers under the watchful gaze of a Virgin Mary statue.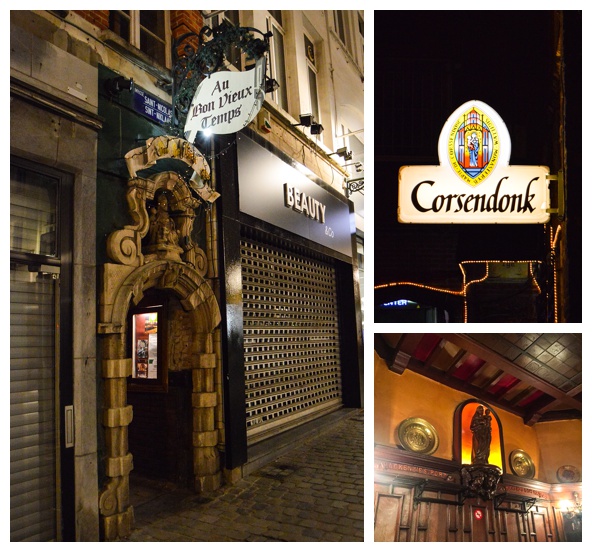 We were sad the tour was over and it was time to part ways with the group but we were ready to get some fries to help soak up all of the beer and chocolate.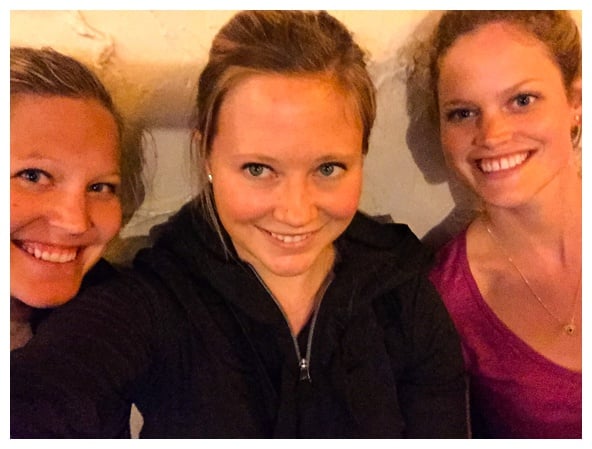 Luckily, Marie's favorite Belgian frites stand, Fritland, was only a few blocks away. Not surprisingly, we ran into several members of the group who had the same idea we did.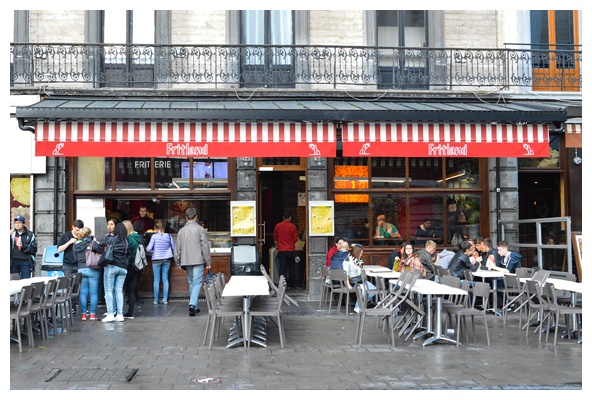 Truly, I cannot recommend the Brussels Beer and Chocolate tour highly enough. I will absolutely do it again the next time I am in Brussels.
A Few Suggestions:
Eat something before the tour. You'll be satisfied with the amount of beer and chocolate samples you receive, but it's a good idea to have something in your stomach before the tour.
If you see something you want on the tour, buy it. I've often made the mistake of saying, "I'll come back and get it tomorrow" and then I run out of time. Marie's tour offers discounts at some of the shops.
If you enjoy the tour, don't forget to tip your guide.
Leave a TripAdvisor review after the tour. It only takes a few minutes of your time but is extremely helpful to small business owners like Marie.
Be sure to ask about Marie's other tours. She is starting craft beer and food pairing tours soon.
---
The Brussels Beer and Chocolate Tour
Led by Marie from The Brussels Journey
Website // TripAdvisor Reviews // Facebook  // Instagram
---
For more on Brussels, check out this post: 
Europe Travel Journal: Belgium
---
Never miss a post! Subscribe here to receive my latest blog posts in your inbox.
---
Thank you to Marie of The Brussels Journey Brussels Beer and Chocolate Tour for having me as a guest on her tour and sponsoring me to write this post.