Many people know Amsterdam for the museums, Red Light District, and liberal social policies, but I don't often hear of people traveling to the Netherlands for the food.
Before visiting Amsterdam, I knew nothing about Dutch cuisine. I had some ideas of things I wanted to try — Indonesian food, pancakes, apple pie, fries with mayo — and some ideas of the things I didn't really want to try but had to anyways — herring.
If I visit a new city or country and don't learn about the food, I feel like I didn't actually visit. In the weeks before the trip, I was starting to get nervous I wouldn't get the true Amsterdam culinary experience. Fortunately, I found Eating Amsterdam Food Tours and jumped at the chance to tour the Jordaan neighborhood with a local food expert, meet shopkeepers and food purveyors and learn about traditional Dutch food.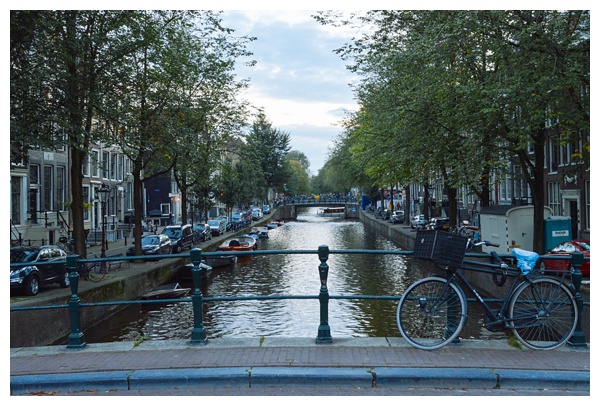 Jordaan Food and Canals Tour
The Jordaan is one of the most historic and beautiful neighborhoods in Amsterdam. Originally a working class neighborhood, The Jordaan has become one of the most expensive and upscale areas in The Netherlands. The neighborhood is home to many art galleries and specialty shops and has some of the best restaurants and food stores in Amsterdam.
It seems I wasn't the only one who knew nothing about Amsterdam's cuisine. At the beginning of the tour, our guide Eileen asked our group to name some traditional Dutch dishes and we only came up with apple pie, pancakes, and herring. She assured us we would be trying the best of those dishes that the city had to offer but she hoped we could expand our Dutch food knowledge too.
Cafe Papeneiland
The tour started at Cafe Papeneiland, a traditional Dutch brown cafe that has been in business for nearly 400 years. It's loved by locals and tourists alike and once you step inside, it won't take you long to figure out why. Traditional Dutch pubs are called 'brown cafes' because of their dark, cozy wooden interiors and nicotine-stained walls and ceilings. Luckily, smoking is no longer allowed in these cafes so you can enjoy the atmosphere without the smell of cigarettes.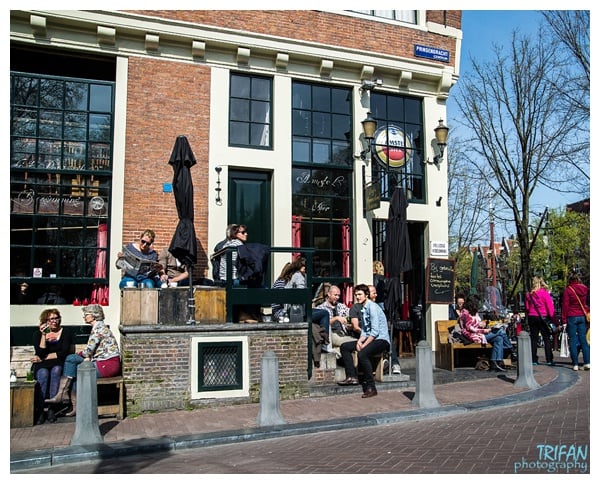 Photo Credit: Eating Amsterdam Tours
Cafe Papeneiland has been owned by the same family for years and all of the men share the same name – Tiel. The cafe is located at one of the most well-known corners in Amsterdam and is quite close to the Anne Frank House. You can't beat the view of the canal from the patio.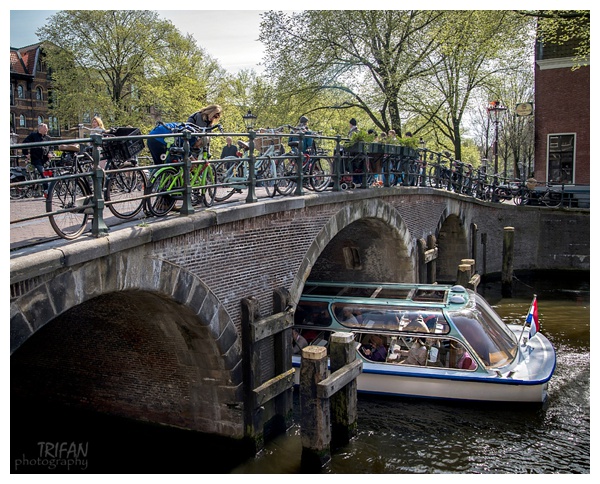 Photo Credit: Eating Amsterdam Tours
Cafe Papeneiland is famous for their apple pie and one look at it explains why. The pie is made from scratch and they have been using the same recipe for nearly 100 years. Each person on the tour got a huge slice of pie with fresh whipped cream and choice of beverage. We sat at a sunny table and got to know each other while enjoying our pie and learning about the cafe and the basics of Dutch cuisine.
In the US, we often refer to an apple pie with a crumble topping as 'Dutch Apple Pie' but I learned that the true Dutch apple pie is something else entirely. The pie at Cafe Papeneiland has a sweet, cakey crust and juicy, spiced apple filling with a sprinkle of raisins throughout.
This was our first taste of the day. I'm not sure if there is any possible better way to start a food tour.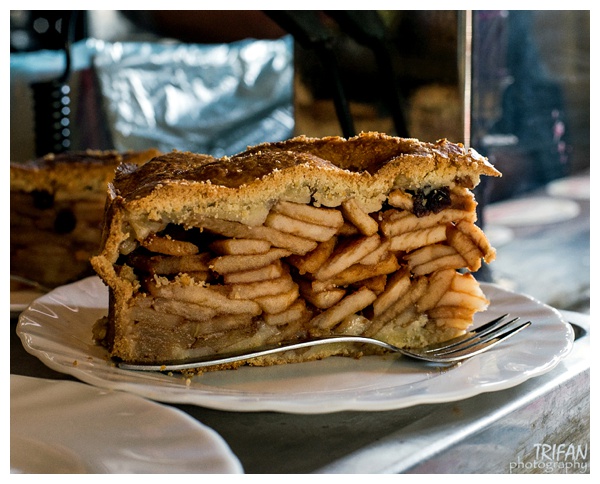 Photo Credit: Eating Amsterdam Tours
Bill Clinton once came by the cafe to try their famous pie. He enjoyed a slice of pie and a cappuccino at the cafe and loved it so much he ordered an entire pie to go. I wish I would have done the same!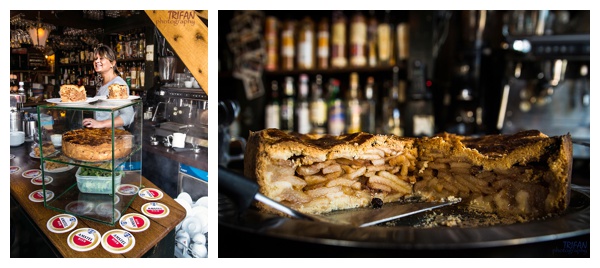 Photo Credit: Eating Amsterdam Tours
The cafe feels like a cross between the neighborhood coffee shop and the local pub. For many Amsterdamers, the neighborhood brown cafe is an extension of their living room. In the morning, you'll see people enjoying coffee while reading the newspaper, while the evening crowd will catch up with friends over a beer. I know this because I went there twice in one day and did it myself!
It's not difficult to understand why people enjoy hanging out here. The place just has charm. I especially loved the taps… and the cold beer that came out of them.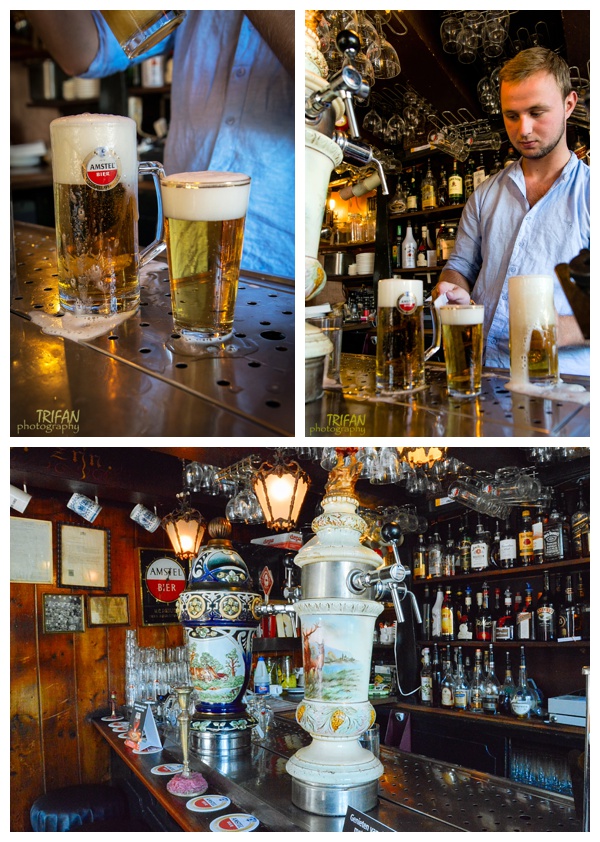 Photo Credit: Eating Amsterdam Tours (top two photos, bottom photo is mine)
Cafe Papeneiland is one of the oldest cafes in Amsterdam and its history is what gives the cafe its gezelligheid, a Dutch word meaning a cozy, quaint, convivial atmosphere. It just has character… and even a cafe cat!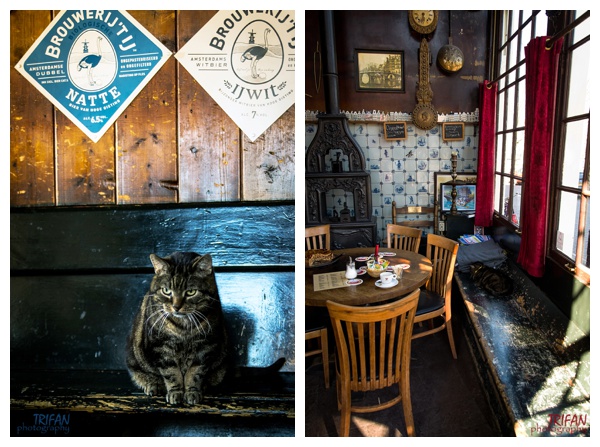 Photo Credit: Eating Amsterdam Tours
Cafe Papeneiland has a wonderful patio where you can sit and watch the bikers and canal boats go by. In fact, after the tour, I met up with Annie and Biff and insisted we go back so they could experience the cafe too. We happily passed a few hours drinking beers and enjoying the atmosphere on the patio. It's the perfect spot for a restorative drink and dessert after a long day of touring Amsterdam.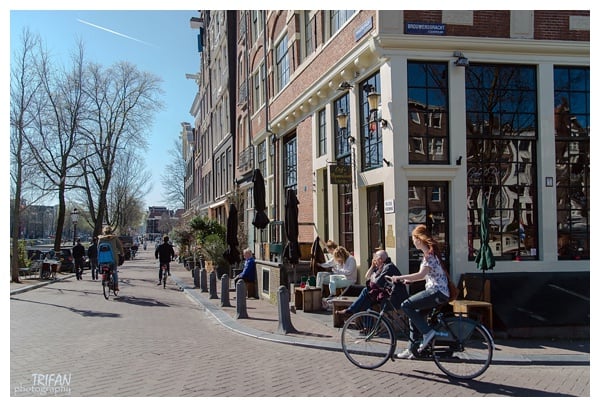 Photo Credit: Eating Amsterdam Tours
Swieti Sranang Surinamese & Indonesian Cafe
Our next stop was Swieti Sranang, a toko (takeaway counter) that specializes in Surinamese and Indonesian food.  Swieti Sranang is owned by Henk and his wife Juliet, who was born in Indonesia but grew up in Suriname. Juliet makes everything herself and you can taste the freshness and quality of the food.
Having been unfamiliar with Surinamese and Indonesian cuisines, this was a wonderful introduction. Indonesia and Suriname were both former colonies of the Netherlands and Amsterdam is known for its abundance of Indonesian and Surinamese cuisine.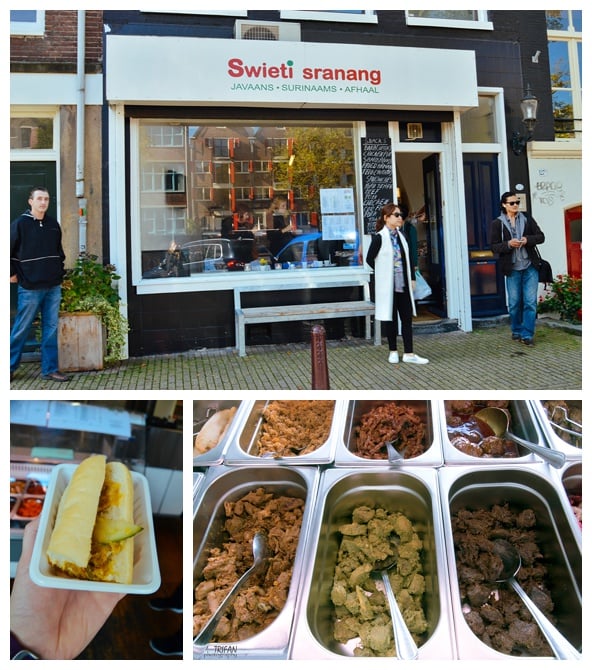 Photo Credit: Eating Amsterdam Tours (bottom right photo. Other two photos are mine)
Our second taste of the tour was broodje pom, a Surinamese sandwich made from chicken, apple, and the malanga root vegetable. The sandwich was meaty, tart, spicy, and unlike anything I'd tasted before. I loved it.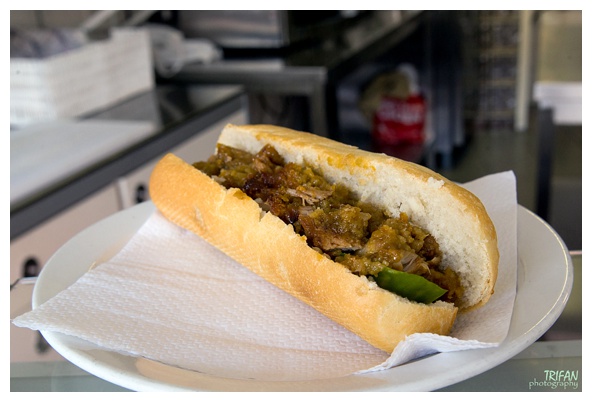 Photo Credit: Eating Amsterdam Tours
This may not look like much but this baka bana (broiled plantain with peanut sauce) was one of the best bites of the tour. I'd never tasted this dish before but the combination of sweet plantain and spicy peanut sauce was wonderful.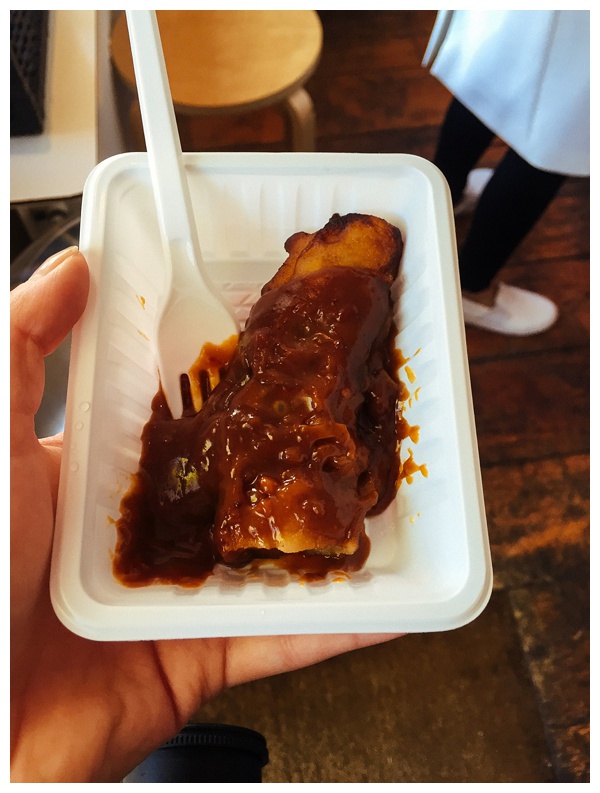 Butcher Louman Butcher Shop
Butcher Louman is an Amsterdam institution that has been in business for over 100 years. The Louman family founded the shop in 1890 and the family has owned and managed the shop ever since.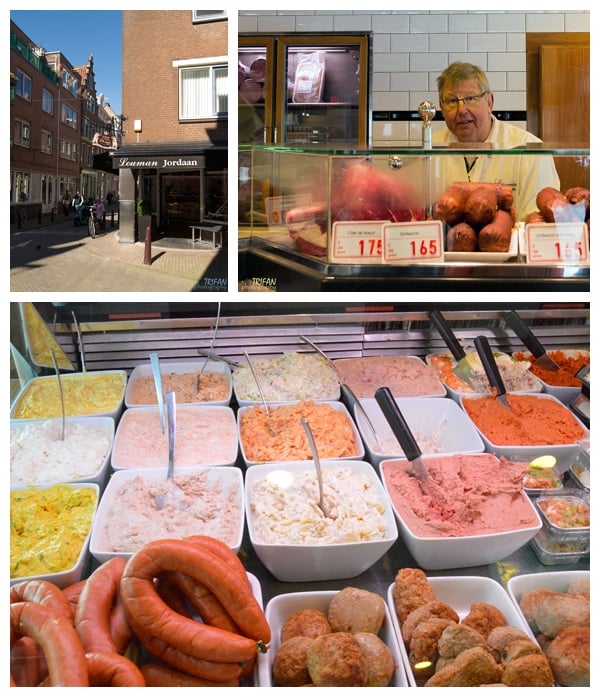 Photo Credit: Eating Amsterdam Tours (Top two photos, bottom photo is mine)
The shop is best known for their traditionally made smoked sausages. We tried two different sausages and the texture was much different than anything I'd ever tried before. The ossenworst is a blend of beef and spices that's just lightly smoked so it's nearly raw when you eat it. It was totally new to me. The flavor was great but I struggled with the texture. The other sausage was a mixture of beef and pork and while the texture was still different, the flavor tasted similar to the sausage I know from home, and with a bit of mustard, it was delicious.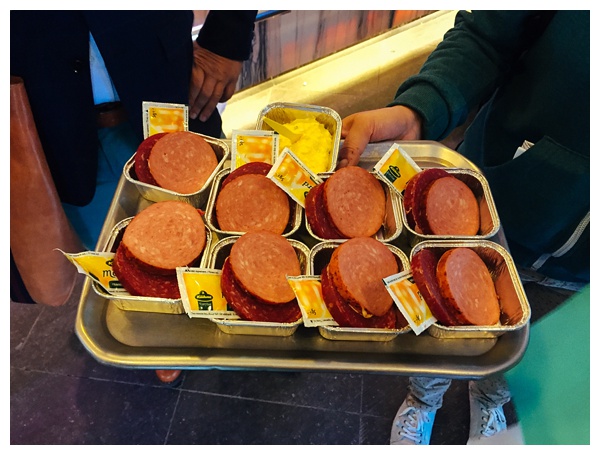 People from all over the city come to Butcher Louman to buy their sausages, meats, salads, and meatballs. When we visited, people were lined up out the door in order to buy their products and stock up for the weekend.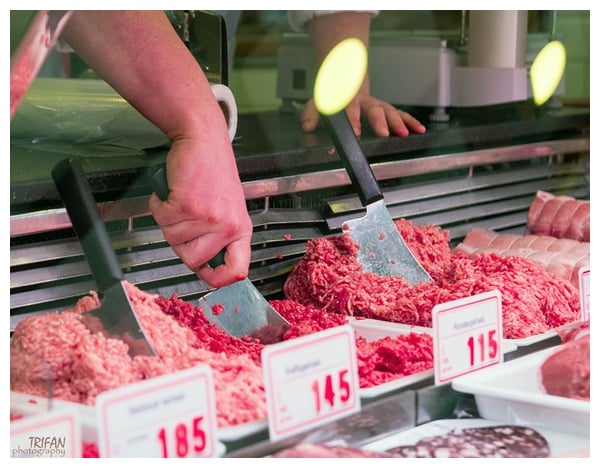 Photo Credit: Eating Amsterdam Tours
Vis Plaza Fish Shop
The best known Amsterdam food tradition may be herring. There are herrings stands all over the city and it's one of those things you just have to try when you're in town. I made a promise that I would try herring in Amsterdam and I thought the tour would be a better option than taking my chances with a random street stand.
Luckily, we visited Vis Plaza, the best fish shop in the Jordaan. The shop is owned by a family of fishermen and all of the fish is purchased from small Dutch fishing boats to ensure freshness and sustainability.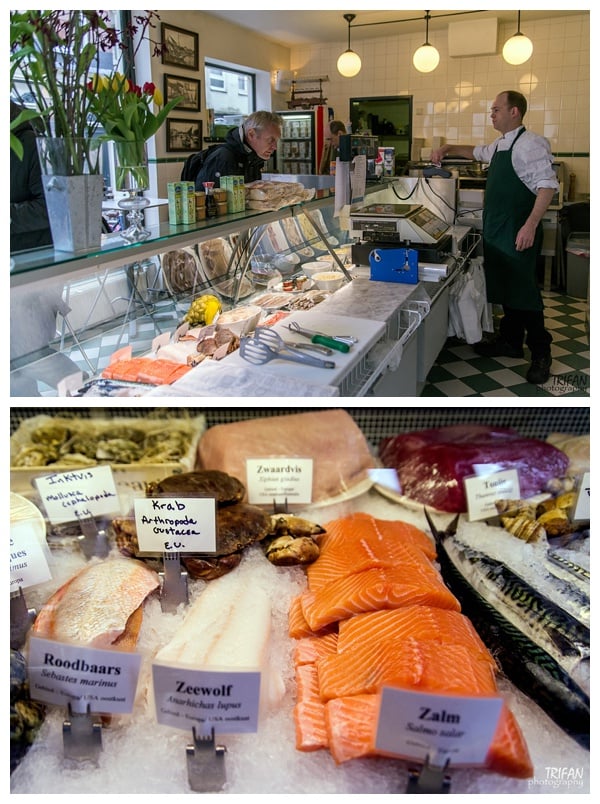 Photo Credit: Eating Amsterdam Tours
Herring in Amsterdam isn't completely raw but instead preserved in brine. Herring has been popular in Amsterdam ever since the city opened its ports to foreign trade. It's popular to eat it whole, in a sandwich, or in small pieces with pickles and onions and a Dutch flag toothpick.
I can't say I was looking forward to the herring tasting part of the tour but I made a promise I would taste everything. Fortunately, there were pickles and onions to 'complement' (mask) the flavor of the herring.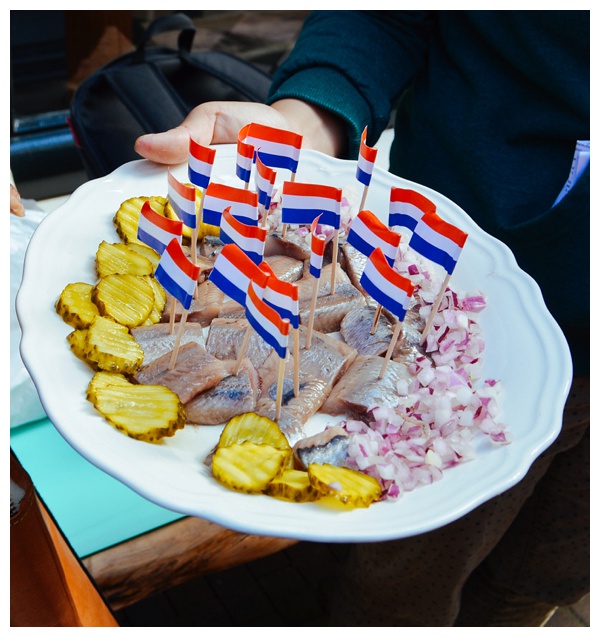 Truly, it was much better than I expected. I chose a small piece and the onion and pickle definitely helped. I can't say I went for seconds (give me a break, I was battling a terrible cold that day) but I would eat it again next time I'm in Amsterdam. Someone on the tour said it tasted kind of like a type of sashimi or nigiri and I would agree. It was incredibly fresh and tasted of the sea.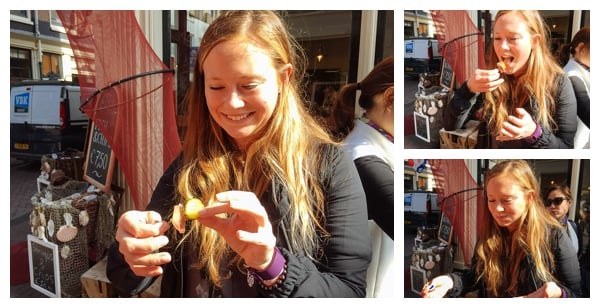 After we made it through the herring, we were rewarded with kibbeling, small pieces of beer-battered, fried white fish (typically cod or whiting) served with remoulade. The fish was just out of the fryer, completely delicious and probably the best fried fish I've tasted. Next time I'm in Amsterdam, I will be coming back here to have the fish and chips meal.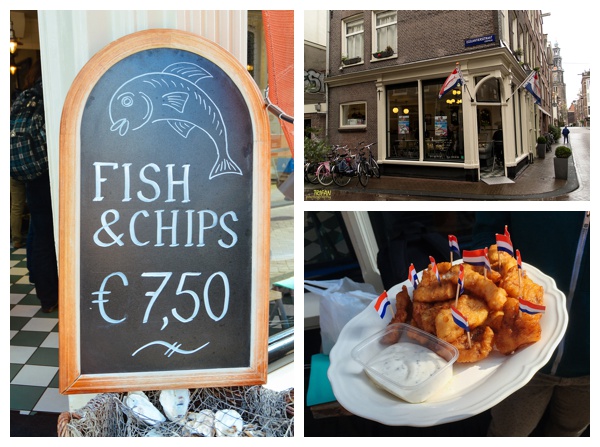 Photo Credit: Eating Amsterdam Tours (Top right photo, other two photos are mine)
Located on a quaint street quarter in the Jordaan, people come from all parts of the city to get the herring and other fish offerings from Vis Plaza.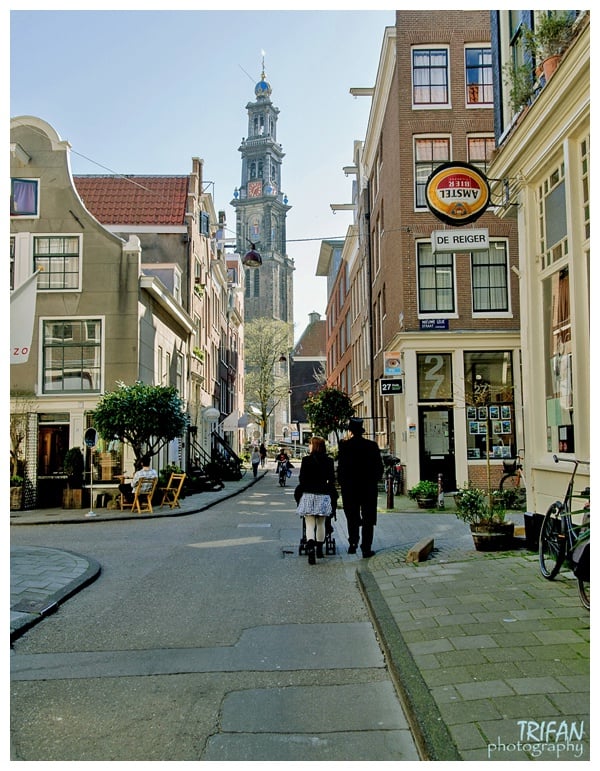 Photo Credit: Eating Amsterdam Tours
Het Oud-Hollandsch Snoepwinkeltje 
100 years ago, Amsterdam was filled with tiny candy shops, and sadly many of them have been replaced by big box stores. But as soon as you step inside Het Oud-Holland Snoepwinkeltje, you'll get a feel for an Amsterdam of long ago.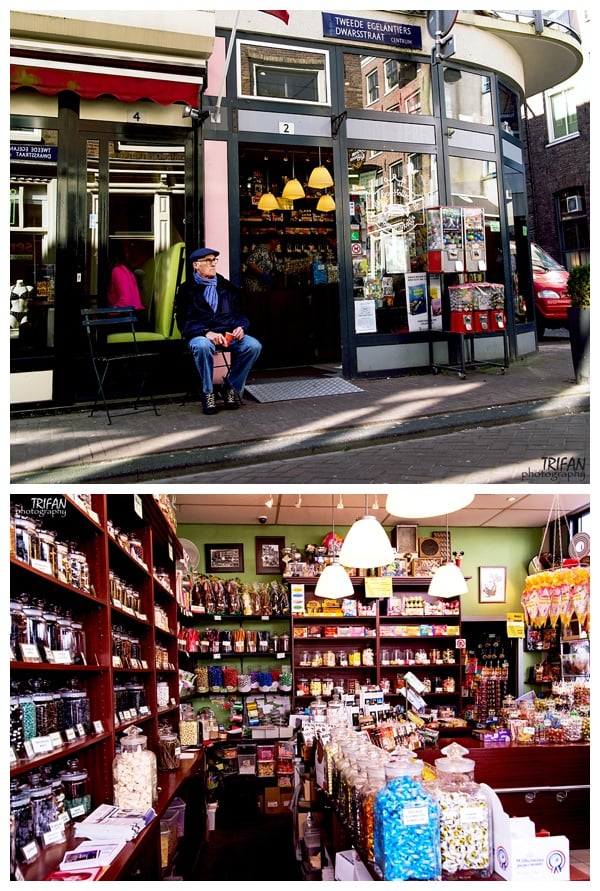 Photo Credit: Eating Amsterdam Tours
We started our stop at the candy store by talking with the owner Mariska who taught us about the Dutch love for candy. The Dutch are likely to keep some candy everywhere – bowls in every room at home, in the car, at work, and even in their pockets. The Dutch call licorice 'drop' and each person in the Netherlands eats an average of more than 4 pounds of licorice per year.
The Dutch actually use licorice for medicinal purposes and will treat the candy store sort of like a pharmacy. There are different types of licorice for colds, stomach problems, and all sorts of ailments and the candy store owner will 'prescribe' you whatever variety will help cure you.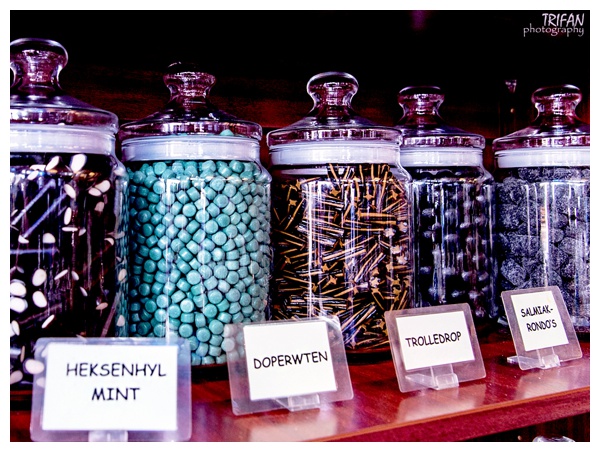 Photo Credit: Eating Amsterdam Tours
Not only is the store full of atmosphere, but it's packed to the brim with candy. We tried three different types of licorice — one that was sweet and bitter, one that was salty, and one made from honey. Dutch licorice ranges from sweet to bitter to salty to sour but there was no red licorice in sight! Mariska generously gave each of us a bag of assorted flavors of licorice to take with us, which being the nice friend that I am, I shared with Biff and Annie.
Even if you don't normally like licorice, I would recommend trying some in Amsterdam. It's much different than the licorice we are used to in the US. I actually enjoyed the salty varieties best.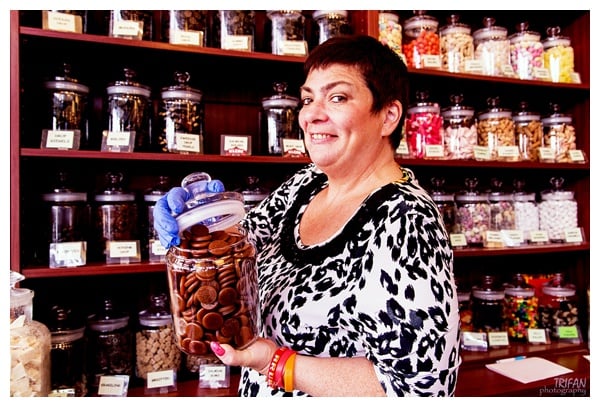 Photo Credit: Eating Amsterdam Tours
Canal Boat Ride on "The Tourist" Salon Boat
It's hard to say what was the best part of the tour, but the ride on the canal boat named the "The Tourist" was definitely the most special. A canal boat ride is a must-do while in Amsterdam but many of the tours are huge boats packed full of tourists and void of any sort of atmosphere. This experience was the exact opposite.

The Tourist took her first voyage in 1909 and is one of the oldest and most luxurious salon boats sailing in Amsterdam today. The boat is in perfect condition and has a beautiful teak interior with original brass metal work, woodcarvings, and Tiffany lamps.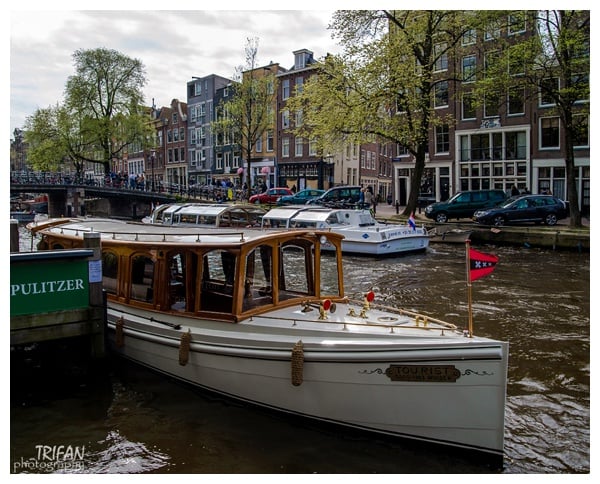 Photo Credit: Eating Amsterdam Tours
In 1946, The Tourist welcomed Sir Winston Churchill and Queen Wilhelmina on board to celebrate the end of World War II. It's pretty remarkable to ride on the boat and think about the others who have been on board in the past.
Photo Credit: Eating Amsterdam Tours
We boarded the boat and were delighted to find a cheese tasting and champagne toast waiting for us! We tried several different varieties of gouda, the most famous Dutch cheese. Some of the gouda was young with a rich, creamy texture but we also tried a complex 3 year old gouda that is paired with fig cake to balance it.
We then tried a type of meatball called gehaktballen. There is a Dutch tradition to eat meatballs on Wednesday. This was started when butchers would slaughter animals on Mondays and needed a way to sell the leftover minced meat towards the end of the week. Of course, there was local beer from Brouwerij 't IJ to wash it all down.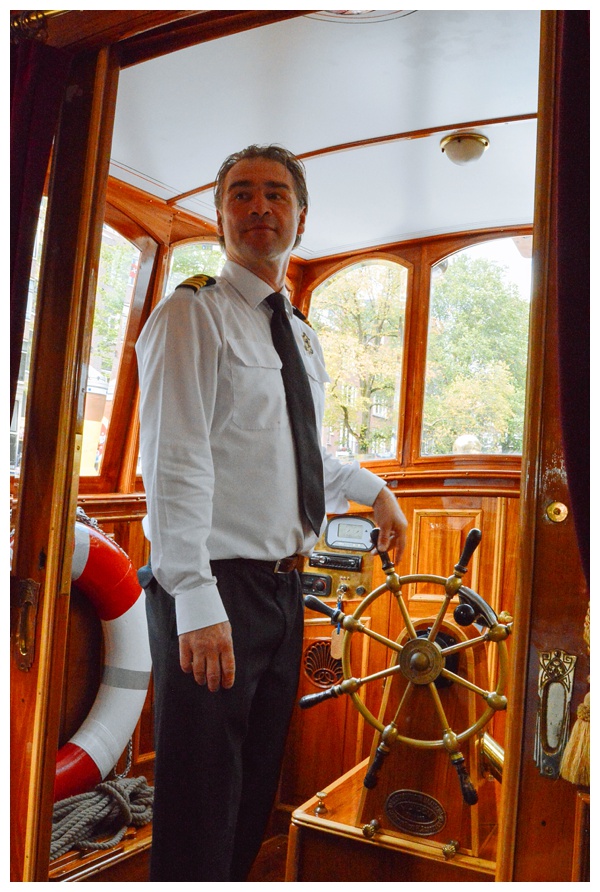 The best part of the ride is the unique vantage point. Seeing Amsterdam from the canals is totally different than seeing it from the streets.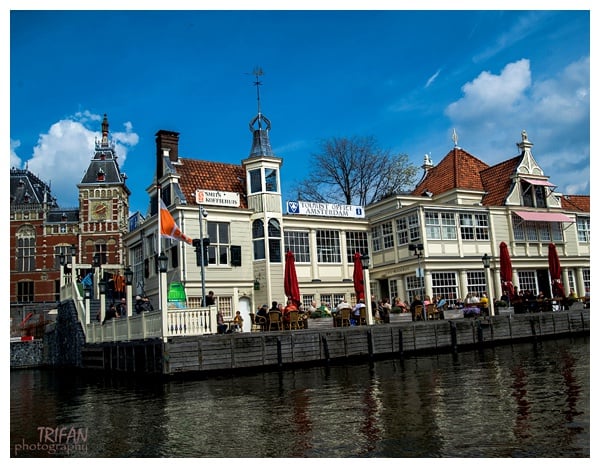 Photo Credit: Eating Amsterdam Tours
If you look closely, you can see how the houses are tilted every which way and some are leaning towards the canal. This is a common occurrence with the row houses and you'll see it all over Amsterdam.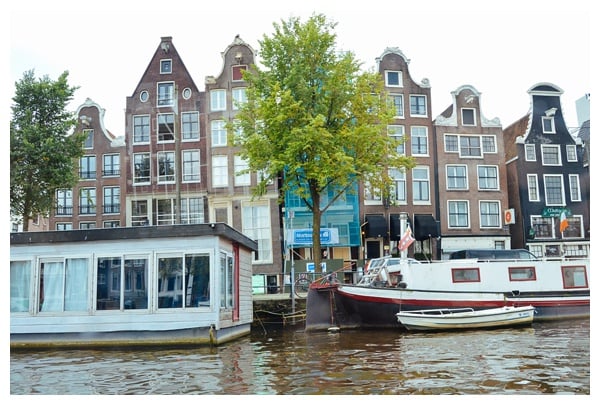 My favorite part of the boat ride was having food delivered to the boat! It was too quick for me to snap a photo (you can see a photo of it here if you scroll down), but as we passed by Amsterdam's famous Holtkamp Bakery, a worker ran an order of bitterballen to the boat. Our captain used a hook to deftly grab the bag and we continued our ride down the canal.
Bitterballen are the favorite pub/beer snack of the Dutch. They are typically made from a beef/veal gravy that is deep fried in crispy bread crumbs and dipped into a bit of mustard before eating. Deep fried gravy is obviously going to be good but when you pair it with sharp mustard and cold beer, it becomes phenomenal. The balls themselves are not bitter and the name comes from the tradition of pairing the gravy balls with Dutch bitters. You'll see them on the menu at many brown cafes, but I've been told Holtkamp Bakery (the place that delivered to our boat) makes the absolute best.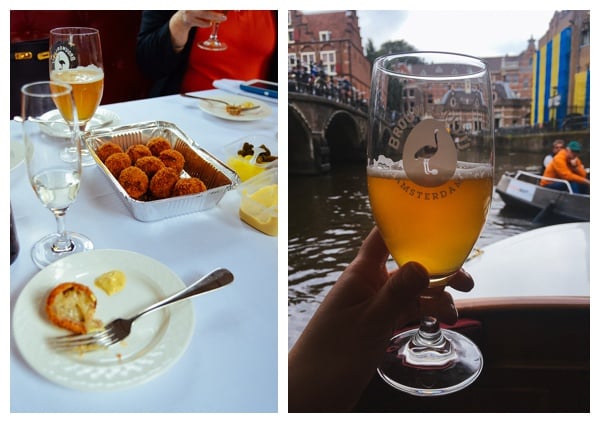 Cafe de Prins 
We finished the tour at another Amsterdam institution, Cafe de Prins. Beloved for the cozy interior and patio overlooking two canals, the cafe is frequented by locals and tourists alike.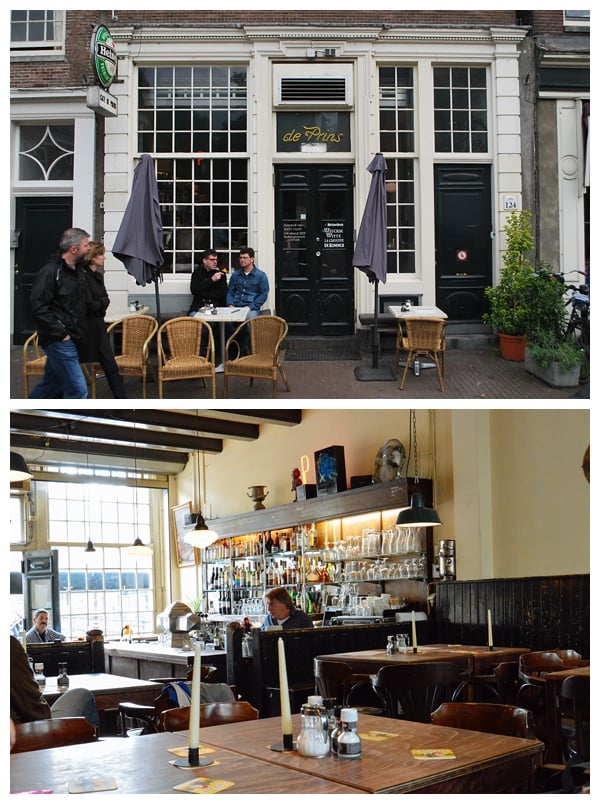 Photo Credit: Eating Amsterdam Tours (top photo, bottom photo is mine) 
We tried poffertjes, tiny puffy pancakes served with butter, syrup, and powdered sugar.  Traditionally made with buckwheat flour and yeast to give them a light, fluffy texture, poffertjes are made with a special iron that has small indentations across the surface. You'll often find them at Dutch markets and fairs where you order them by the dozen and the vendor makes a batch fresh for each customer. It's hard to pick a favorite food tasted on the tour, but these may have been it.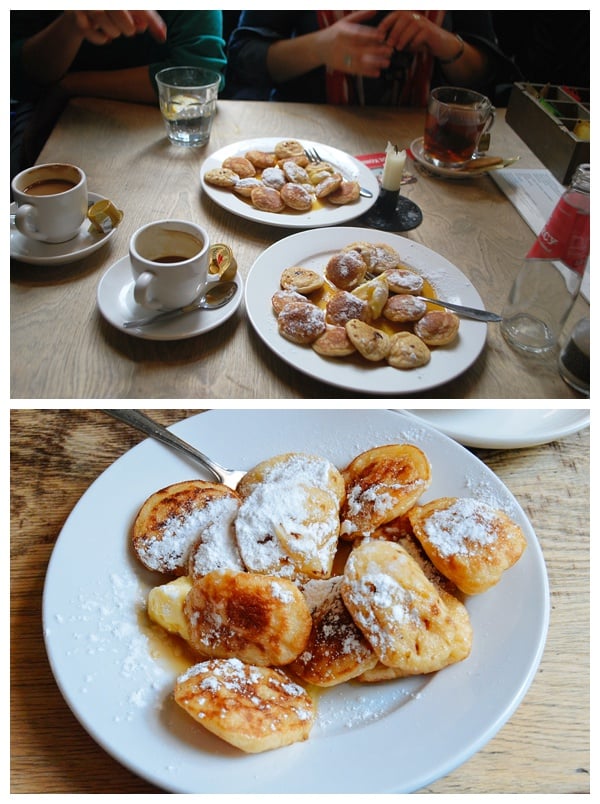 Photo Credit: Eating Amsterdam Tours (top photo, bottom photo is mine) 
Having known nothing at the start of the tour, I was surprised at how much I learned about Dutch food in just a few hours. I loved trying the local delicacies and getting to meet the people who make them. It's always fun to try the specialities in a new city, but getting to meet the producers and shop owners and sharing the experience with other food-focused travelers made it special and memorable.
The Jordaan Food and Canals Tour with Eating Amsterdam Food Tours was the highlight of my stay in Amsterdam. It was fun, educational, and completely delicious. We learned about Dutch cuisine and food traditions but also about the local culture and what it's like to live in Amsterdam. I'm looking forward to doing the Twilight De Pijp Tour next time I am in town.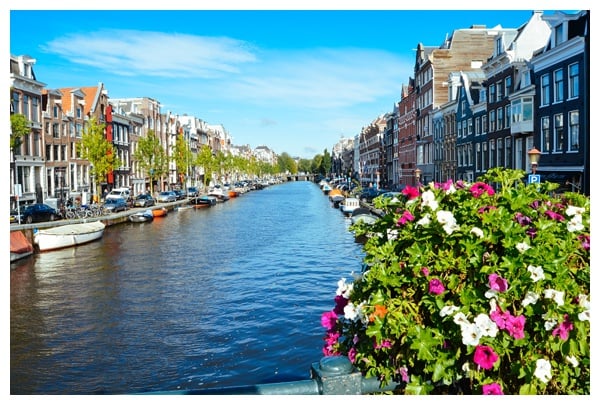 Pros: 
For almost every tasting, you get a full-sized portion. A full piece of pie, your own sandwich, etc. Other food tours will give you just a taste and it's hard to divide something up equally between so many people. There are no issues here because everyone gets their own serving.
You will receive a booklet that gives you the names and addresses of all of the tour stops. This is incredibly helpful to reference after your tour.
Every sample was a generous portion and delicious!
Our guide, Eileen, was gracious, friendly, and knowledgable. She went out of her way to ensure everyone had a wonderful experience.
Meeting the shopkeepers and hearing them speak about their businesses is very special.
The tour was incredibly organized and ran right on schedule. The pace between stops was just right.
You will be VERY full at the end of the tour.
Cons:
You will be VERY full at the end of the tour. I recommend pacing yourself at the beginning and not eating the entire portion of every sample. Otherwise, you may not have room for the samples at the end of the tour.
The food names are hard to remember. It would be helpful if the names of the dishes were included in a handout too.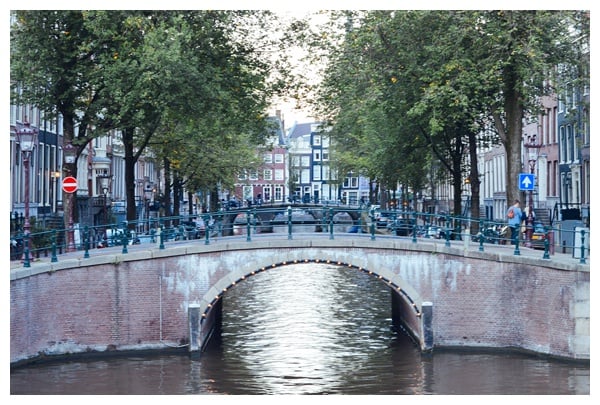 Tips and Advice:
Come very hungry.
Consider pacing yourself at the beginning of the tour. The portions are large and you want to save room for all 12+ foods.
If you want to buy something at one of the shops, buy it. You may not make it back. Licorice would make a great souvenir for those back at home.
Take notes and photos of the shops and the foods you try. It's harder to remember than you think!
Don't forget to tip your tour guide.
If you enjoy yourself, write a TripAdvisor review. It only takes a few minutes and really helps the tour operators.
If you have any dietary restrictions or allergies, please let them know when you make your reservation. They will go out of their way to accommodate you if they know in advance. It's not fair to spring it on guide at the start of the tour and expect them to have alternate samples for you.
---
Eating Amsterdam Food Tours
Jordaan Food and Canals Tour
Website // Blog // Facebook // Instagram // Tripadvisor Reviews
---
For more on Amsterdam, check out this post:
Europe Travel Journal: Amsterdam
---
Never miss a post! Subscribe here to receive my latest blog posts in your inbox.
---
Thank you to Eating Amsterdam Food Tours for hosting me as a guest on the Jordaan Food and Canals Tour and sponsoring this post. All opinions are my own.