Ham Loaf is a Clinton County, Ohio specialty! It's made with ground ham and pork and finished with a savory pineapple glaze. 
This post is part three of a series in collaboration with Ohio Pork. You can read more about our partnership in the first two installments found here and here.  
Keep reading for a chance to win a Kitchenaid Mixer!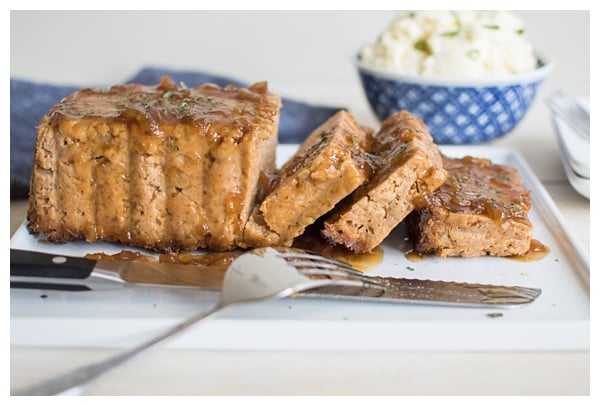 Last week I wrote about my recent visit to a pig farm in Clinton County, Ohio. I had the opportunity to spend the day with the Surber Family and learn all about their farm, the pigs and how they are raised.
You can read all about my visit and check out plenty of photos here: Ohio Pig Farm Visit in Clinton County.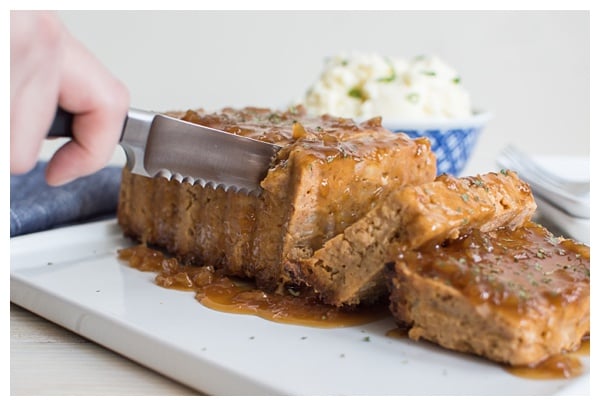 After touring the barns, we went back to John and Connie Surber's house for lunch. Connie is an amazing cook and truly loves to entertain. She had an entire lunch spread ready for us, including her famous Clinton County Ham Loaf. It's similar to a meatloaf, but made using a combination of ground pork and ham. Connie usually uses more ham than pork but she said you can switch up the ratio based on what you have. It's a favorite in their family and she loves to share the recipe.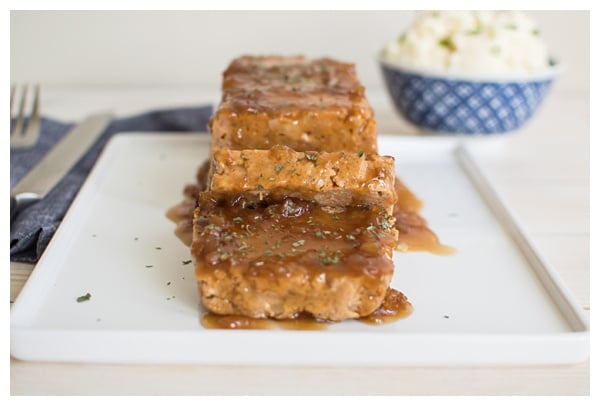 Ingredients
For the ham loaf:
2 pounds + 4 ounces ground ham
12 ounces ground pork
2 large eggs
2 tablespoons yellow mustard
1/2 cup ketchup
1 onion, small dice
1 1/2 cup graham cracker crumbs
3/4 cup whole milk
1 teaspoon kosher salt
1/4 teaspoon freshly ground black pepper
For the glaze:
1 1/2 cup brown sugar
1/2 cup white vinegar
1 teaspoon yellow mustard
8 ounces crushed pineapple
Instructions
For the loaf:
Preheat the oven to 350. Line a rimmed baking sheet with parchment paper.
In a large bowl, use a spatula or your hands to mix together the ham, pork, eggs, mustard, ketchup, onion, graham cracker crumbs, milk, salt and pepper. Place the mixture on a baking pan and firmly shape into a loaf. Place the loaf in the oven and prepare the glaze.
For the glaze:
Combine the brown sugar, vinegar, mustard and pineapple together in a large saucepan. Bring to a boil and let simmer for 1 minute.
After the loaf has been in the oven for 20 minutes, add the glaze and bake an additional 1 hour and 10 minutes, basting 2 to 3 times while cooking. The loaf is finished when it reaches an internal temperature of 160 degrees.
7.8.1.2
93
https://www.thehungrytravelerblog.com/clinton-county-ham-loaf/
Ohio Pork is looking to learn more about how home cooks prefer to cook pork. If you take their simple survey, you can win a KitchenAid mixer worth $350. They even let you pick the color and they are throwing in a sausage attachment too!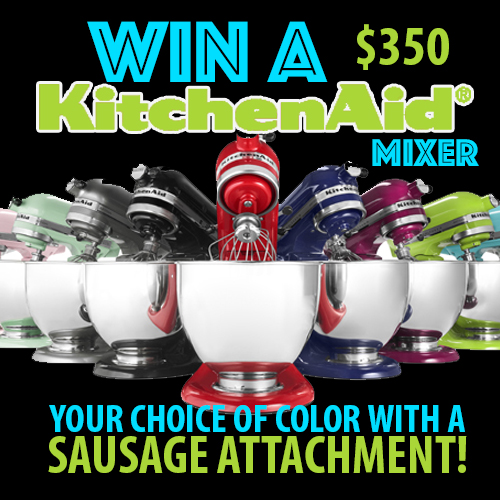 Be sure to check out my other posts in partnership with Ohio Pork: 
Cider-Marinated Pork Chops with Apple Pan Sauce
Ohio Pig Farm Visit in Clinton County, Ohio