In preparation for all of my travel this fall, I've reached out to some of my favorite food blogger friends and asked them to share their favorite recipes as guest posts. 
Today's guest post is from Jane Bonacci of The Heritage Cook. On her blog, Jane shares both old and new recipes in hopes that culinary traditions will continued to be passed down from one generation to the next. 
Today, Jane is sharing the perfect recipe for fall game days and tailgates. Last month, Jane shared her ranch-flavored cole slaw recipe so be sure to check that out too! 
---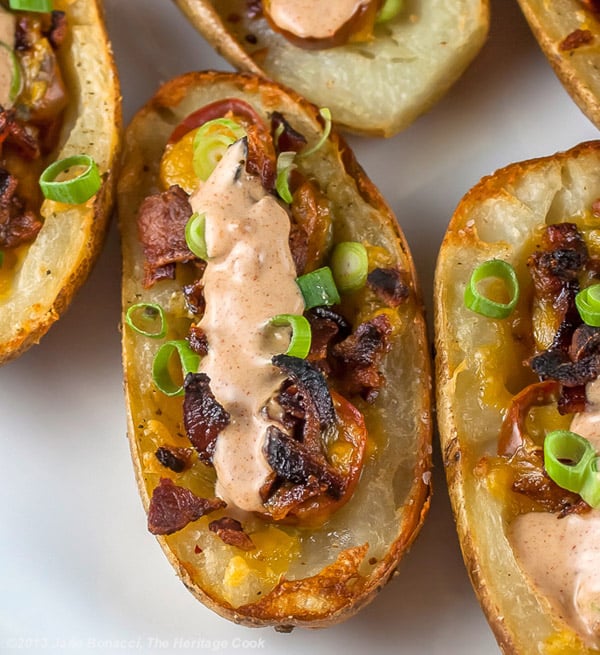 Hallelujah, football season is back! The men in my life are thrilled and I am happy to see the smiles on their faces. When you grown up with three older brothers and a father who are all sports fanatics, a little of it is bound to rub off. I love watching sports, just not as attentively. I am never happier than when I am napping in front of the fire with the game on and everyone yelling!
When I think of foods to serve during the game, my favorites are bacon laden potato skins. So I put on my thinking cap and came up with an improved and more flavorful version just perfect for game day!
I love potatoes. What can I say, I'm Irish. 😉 Potatoes are extremely good for us but so often get a bad rap because we tend to heap on the extras that send the calorie count skyrocketing. If you are watching your weight, you can still use the toppings, just cut back on the amount you add and use lower calorie alternates that give you great flavor.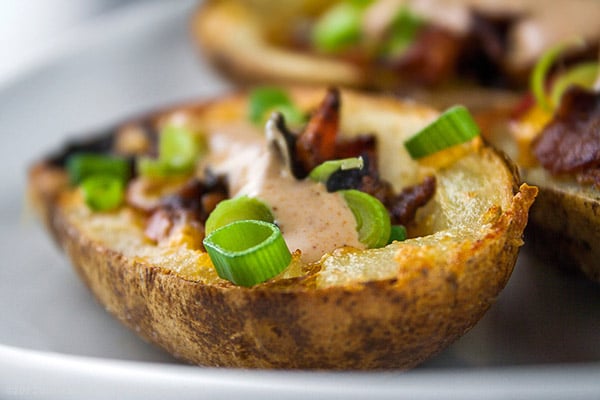 Mexican flavors might not be the first thing you think of when you hear that potato skins are on the menu, but the combination of ingredients is really great. I love the subtle heat of the chiles and if you can find them, use the ones from Hatch, New Mexico. Each year I order fresh chiles from Hatch and keep them in my freezer for dishes just like this. If you don't have access to fresh chiles, the canned version is just fine. I always have a can in my pantry just in case!
The combination of fresh tomatoes, chiles, green onions and cheese was amazing, but what really made these potato skins special was the Taco Sour Cream topping. It couldn't be simpler to make or more delicious. Use your favorite taco seasoning mix and add it along with a little fresh lime juice to sour cream, whisking until smooth. The creaminess blended with the seasonings from the mix make a dip that would be perfect for chips, nachos, taquitos, as well as these potato skins.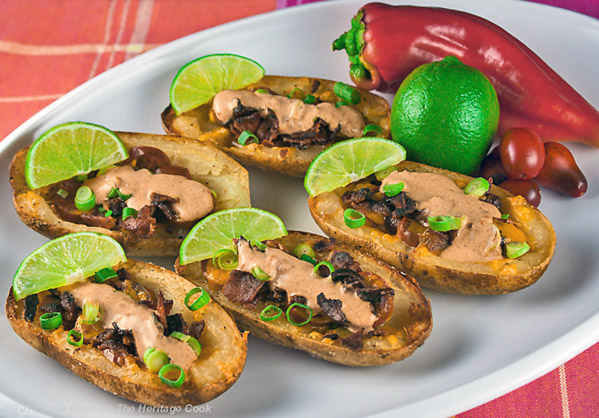 You can serve these as an appetizer before a meal, as a snack while watching sports, or as a casual weeknight meal. If you are sensitive to heat choose mild chiles; if you like spicy food, use a hot variety. If you want a vegetarian option, omit the bacon.
The next time you are hosting game day at your home, enjoying Super Bowl Sunday, or getting ready to watch the World Series (who says great apps have to be reserved for football), put these on your menu list and everyone will be happy campers!
Fully Loaded Green Chile Potato Skins Recipe from The Heritage Cook
© 2013 Jane Bonacci, The Heritage Cook. All rights reserved.
Jane Bonacci | The Heritage Cook
Yields 4
Fully Loaded Green Chile Potato Skins
Ingredients
Potato Skins
8 medium-sized Russet potatoes, scrubbed thoroughly
6 slices bacon
1/4 cup finely chopped, roasted green chiles, fresh or canned both work well
3 medium ripe tomatoes, cored, seeds removed, finely diced
4 tbsp (1/2 stick) melted butter
Kosher salt and freshly ground black pepper, to taste
1-1/2 cups shredded cheddar cheese
3 green onions, trimmed and very thinly sliced
Taco Sour Cream Topping
1/2 cup sour cream
2 tsp freshly squeezed lime juice
1 to 2 tbsp taco seasoning mix, such as Lawry's, McCormick, or Old El Paso brands - be sure to check the labels for gluten ingredients
Lime wedges, for garnish
Instructions
Preheat oven to 375°F.
Bake the Potatoes: Place the scrubbed potatoes on a baking sheet and slide into the hot oven. Bake until potatoes are soft, about 1 hour. Depending on the size of the potatoes it may take a bit longer. Alternately, you can microwave them on high, flipping them over halfway through cooking. Set aside to cool until you can comfortably handle them.
Make the Filling: While the potatoes are baking, make the filling. In a large skillet, cook bacon over medium-heat until crispy. Transfer to a plate lined with paper towels to drain. When cool enough to handle, crumble into small pieces. Transfer to a bowl and add the green chiles and diced tomatoes. Toss to combine and set aside.
When the potatoes are done and out of the oven, turn on the oven's broiler and set a rack about 4-inches from the broiler.
Prep the Potato Skins: Slice each potato in half lengthwise and, using a spoon, scoop out some of the flesh from the center of each half, leaving about 1/2-inch of potato in the skins. You can eat the scooped out potato with a little butter or use it in another recipe such as gnocchi.
Place the potato halves cut-side down on the baking sheet and brush with about half of the melted butter. Sprinkle lightly with salt and pepper. Place under the broiler with the door ajar and cook until the butter starts to bubble, about 2 minutes. Watch them carefully so they don't burn. Don't over-cook or the skins will get tough.
Pull the baking sheet out of the oven and using tongs, flip the potato skins cut-side up. Brush with remaining melted butter, sprinkle lightly with salt and pepper, and return to the oven. Cook until potatoes being to brown and get a little crispy on the edges. Watch carefully to avoid burning. Remove from the oven; leave the broiler on.
Distribute the bacon, chiles and tomato filling down the center of each potato and sprinkle the cheese evenly over the tops. Broil just until the cheese is melted and bubbling. Remove from the oven and sprinkle the green onions over the top. Set aside to cool slightly while you make the topping. You can make the potatoes up to several hours ahead to this point. Cover and refrigerate until ready to assemble and serve. Uncover and reheat in the oven.
Make Taco Sour Cream Topping: In a small bowl, whisk together the sour cream, lime juice, and taco seasoning mix. Taste and adjust seasonings. Can be made a day ahead, covered, and refrigerated. Return to room temperature before topping potatoes.
To Serve: Place two potato halves on each serving plate and garnish with lime wedges. Drizzle some of the topping on each potato and serve while hot, passing additional topping at the table.
Notes
© 2013 Jane Bonacci, The Heritage Cook. All rights reserved.
7.8.1.2
48
https://www.thehungrytravelerblog.com/fully-loaded-green-chile-potato-skins-from-the-heritage-cook/
For more of Jane's recipes, visit The Heritage Cook.