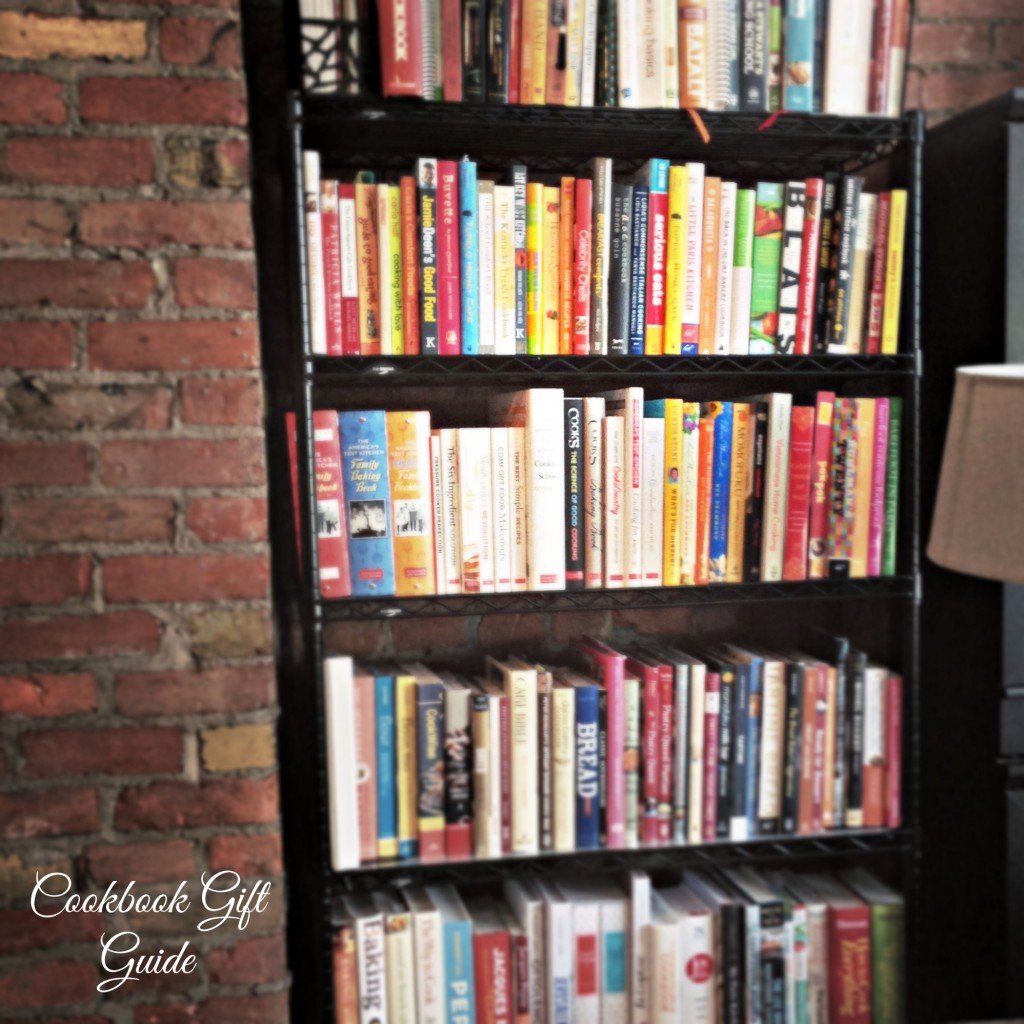 Cookbooks are my go-to gift and you can't go wrong giving books for the holidays.  Before giving one away, I love to personalize it and write a little note in the front cover with the date.  2014 was an incredible year for new cookbooks and I've made a list of my favorites that are sure to make great gifts for anyone on your list.
My Paris Kitchen: Recipes and Stories
If I had to choose, My Paris Kitchen may be my favorite cookbook of the year.  Gorgeous photography of Paris, entertaining stories, and wonderful sweet and savory recipes that always work.  This is home cooking at its best.
The Skinnytaste Cookbook: Light on Calories, Big on Flavor
I don't usually buy diet cookbooks but this one caught my eye.  My friend, Geneva, has long been a fan of the SkinnyTaste blog so I picked up the cookbook and was positively surprised.  There are no gimmicks here, Gina Homolka uses bold flavor to make healthy food satisfying.  You definitely won't feel deprived after eating a meal cooked from this book.
The Baking Bible
The Baking Bible will make a novice baker feel like a master.  Rose is such an experienced writer and her recipes are so well tested that it's hard not to get wonderful results.  This book was one of the most exciting of the year and I have a goal to bake my way through every recipe.
Baking Chez Moi: Recipes from My Paris Home to Your Home Anywhere
Baking Chez Moi was my most anticipated book of the year and it did not disappoint.  Dorie Greenspan is a pro and perhaps my favorite cookbook author.  Her top notch books are complete with foolproof recipes, make ahead suggestions, and storage tips, but my favorite part about Dorie's books are the captivating stories.  Her latest about Parisian home baking is a solid addition to any bookshelf.
Sugar Rush: Master Tips, Techniques, and Recipes for Sweet Baking
Earlier this year I wrote a full review of Sugar Rush and my opinion hasn't changed since then. It's a wonderful book for a novice or a seasoned baker.  The recipes work, the photos are beautiful, and the flavor combinations are unique.  It's a classic in the making.
Prune
This is a book for the advanced home cook or the collector that likes to read cookbooks without actually cooking from them.  Prune is a look into the mind of a chef and how a restaurant kitchen operates.  It's a fun read with a definite voice, including handwritten notes taken straight from the recipes Gabrielle Hamilton gave her cooks at the actual Prune restaurant.   It's meant to feel like you're reading the recipe binder from the Prune kitchen, so no background information is given and it is assumed the reader knows cooking basics.
Make It Ahead: A Barefoot Contessa Cookbook
Ina's books are sure to please nearly anyone on your list. Her latest work features recipes you can make ahead for parties.  Like any of her books, the photography is stunning, the instructions are clear and precise, and the headnotes are engaging.
The America's Test Kitchen New Family Cookbook
A must-have in any kitchen.  I guarantee you will reach for this cookbook often.  I know I do.
Huckleberry: Stories, Secrets, and Recipes From Our Kitchen
Just from looking at the cover, you can tell this is a gift-worthy book.  The photography inside is just as beautiful and the recipes are as wonderful and inviting as the cover leads you to expect.  There is one issue with this book – there have been some errors reported.  However, visiting the Baking and Cooking Through Huckleberry Facebook Group or reading the Amazon reviews should prevent any possible problems.
Egg: A Culinary Exploration of the World's Most Versatile Ingredient
I'm a big Michael Ruhlman fan.  His recipes are thorough and his photography is practical and clear.  While eggs aren't the most glamorous of ingredients, they sure are versatile. This book investigates all of the uses of eggs and presents recipes in which eggs are featured in both starring and supporting roles.
The Homesick Texan's Family Table: Lone Star Cooking from My Kitchen to Yours
I would buy this book for one recipe alone: the Buttermilk Potato Soup with Bacon and Jalapeño.  This is exactly the kind of food I want to eat and it's hard to look through the book without craving every single recipe.
My Perfect Pantry: 150 Easy Recipes from 50 Essential Ingredients
Geoffrey Zakarian transforms 50 pantry ingredients into 150 recipes for restaurant-worthy dishes.  The buttery, rich Brown Sugar Pie is the perfect example of taking five common ingredients and ten minutes of prep time and ending up with a pie my coworker declared the best dessert he has ever tasted.   My Perfect Pantry's best feature is an included picture for nearly every recipe.
Sweet & Southern: Classic Desserts with a Twist
Ben Mims updates classic desserts and puts a twist on them.  Buttermilk Ile Flottante, Coffee Tres Leches, Cream Cheese Pound Cake – these recipes are simply fun. The enthusiastic author writes in a manageable and easy to follow manner but lets his pastry training shine.  You know you're in the hands of a true professional. Sweet & Southern is a wonderful gift for any dessert lover.
For more holiday gift ideas, check out Holiday Gift Idea: Bread Baking with three gift ideas for bakers and bread lovers.