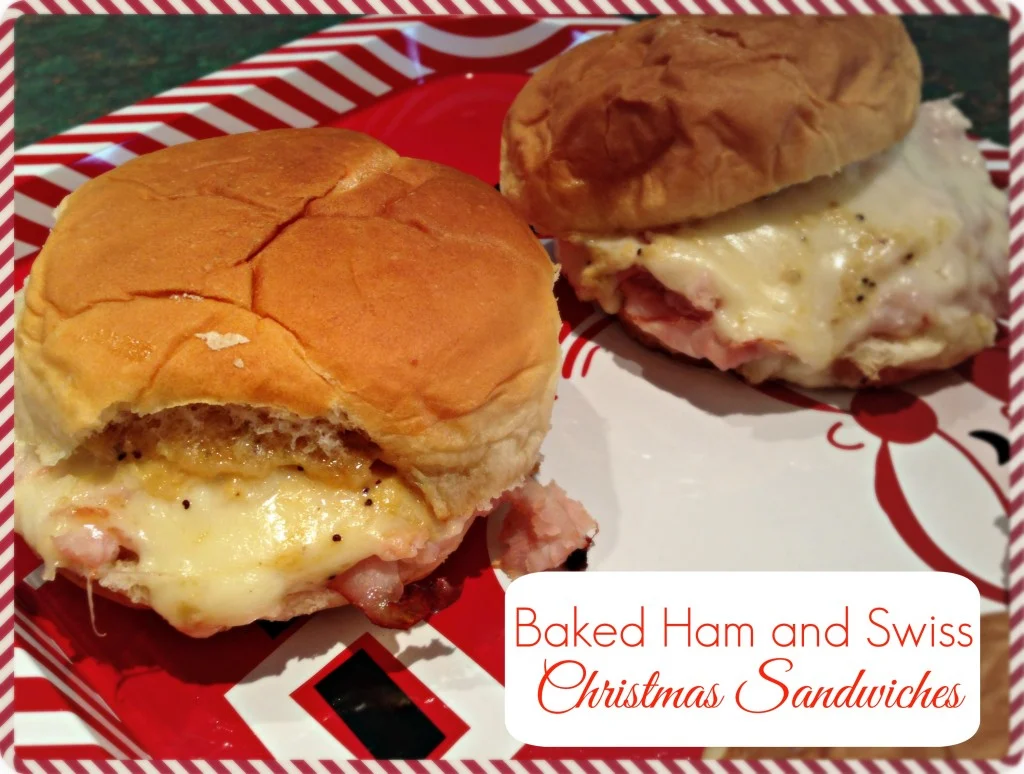 We don't have a tradition for breakfast on Christmas.  Some years we have a make ahead casserole, others we have some pastries and fruit, and last year I made biscuits and gravy.   While our breakfast always changes, our lunch does not.  As soon as we're done opening presents, these baked ham and swiss sandwiches are getting assembled and put in the oven.
My mom has no clue where the recipe came from but she's been eating these baked ham and swiss sandwiches for as long as she can remember.  A few months ago,  I came across similar recipes for 'football' or 'tailgate' sandwiches, consisting of a baked ham and swiss sandwich doused in a buttery poppyseed sauce.  After doing some reading, it seems the recipe  was passed down from Junior League Cookbooks and now there are variations being served at football games all over the south.
These sandwiches may surprise you. They don't look like much and they aren't pretty or fancy, but don't underestimate how great they taste.  Only a few ingredients are needed and you can assemble them within 15 minutes. You even have the option of assembling and wrapping them the day before so they are ready to throw in the oven whenever you want them. Serve them whenever you want, but to me these will always be Christmas sandwiches.
Start by whisking together the ingredients for the sauce.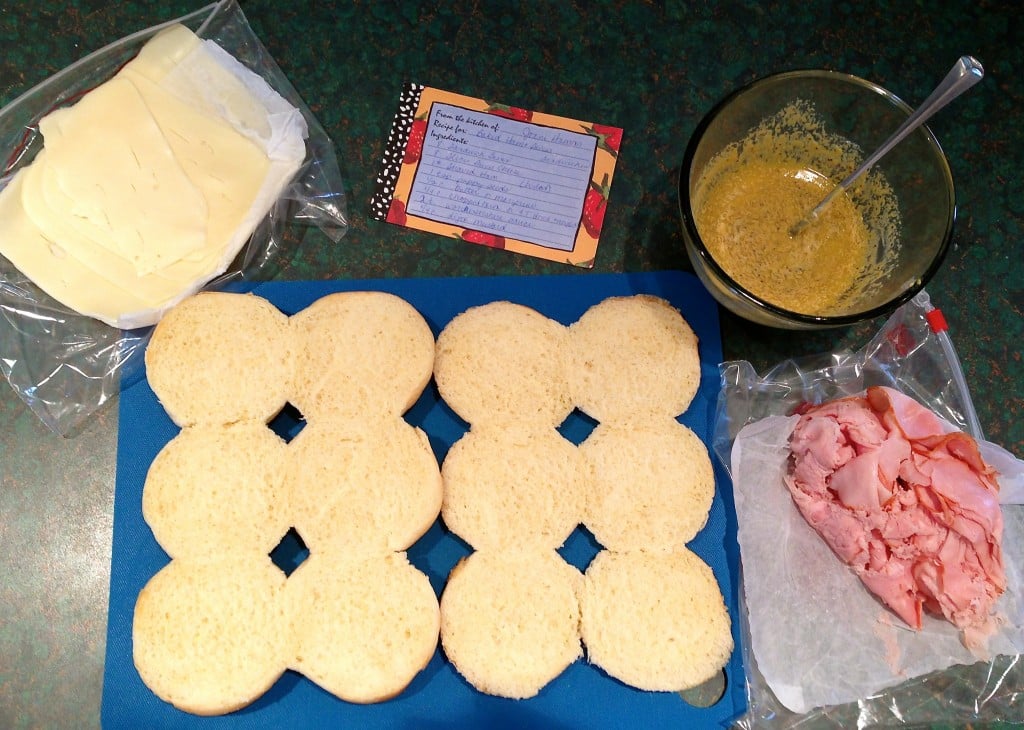 Brush the insides of each bun with a generous amount of the sauce.  If you don't have a brush, just use the back of a spoon.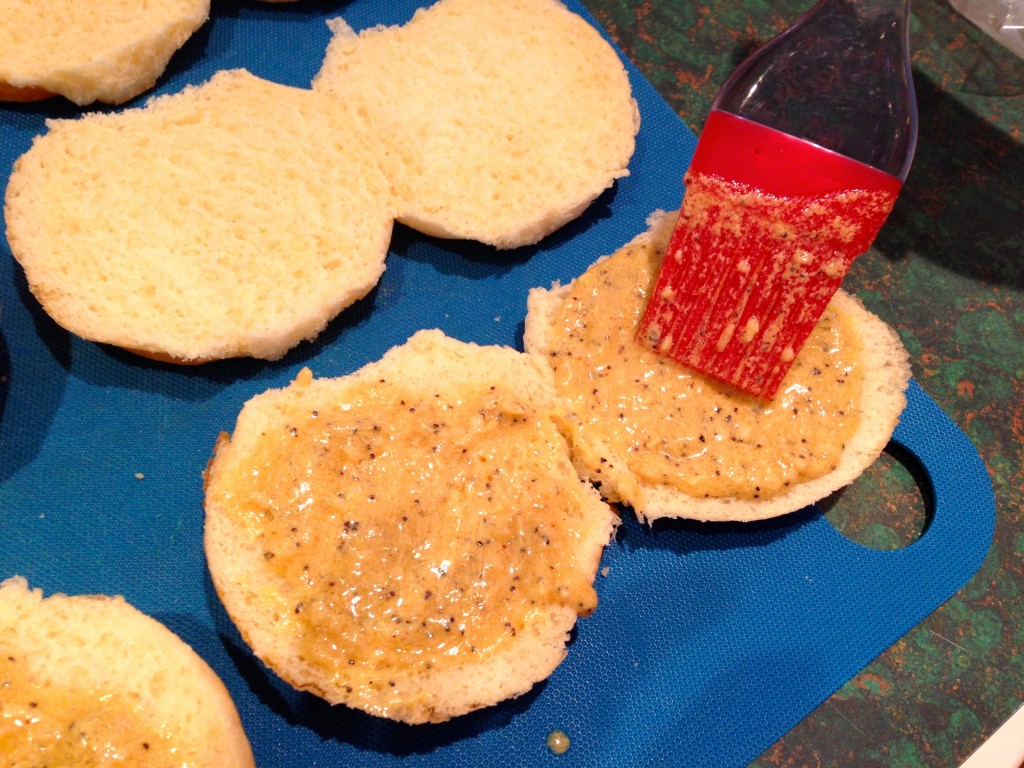 Divide the meat evenly among the buns and top each with a slice of swiss cheese.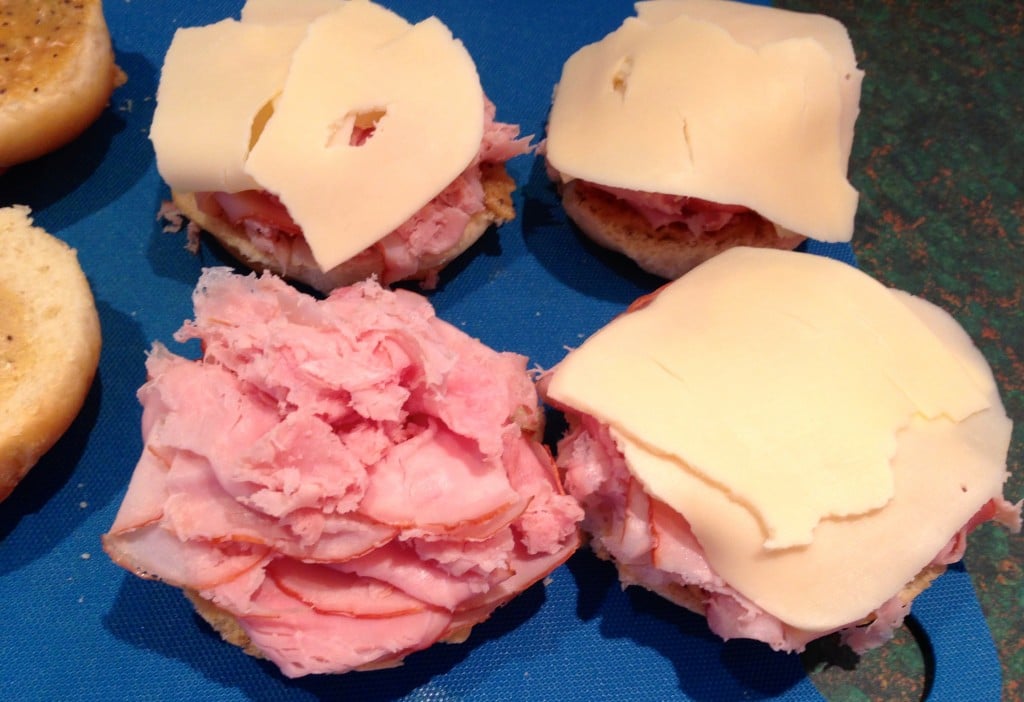 Wrap each sandwich in tin foil.  I usually flip the sandwich upside down so the extra foil insulates the bottom of the sandwich and prevent it from scorching. In all fairness, my mom taught me this trick.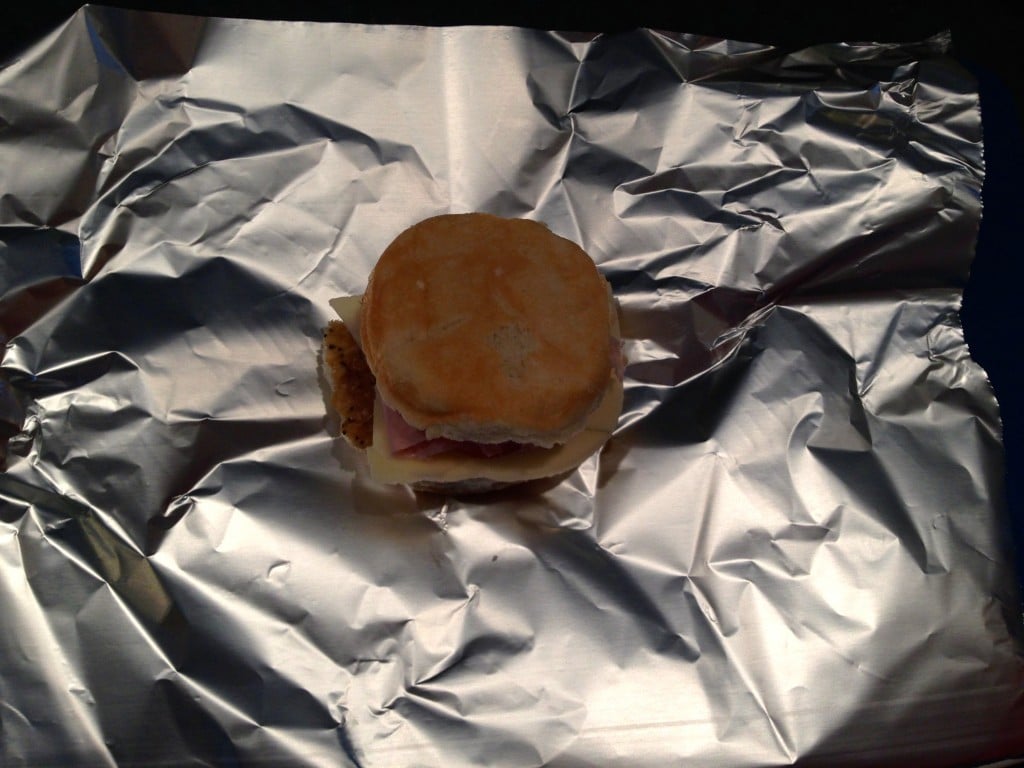 Place the sandwiches on a sheet tray and bake them for 15-20 minutes, or until the buns are toasty, the meat is hot, and the cheese is melted.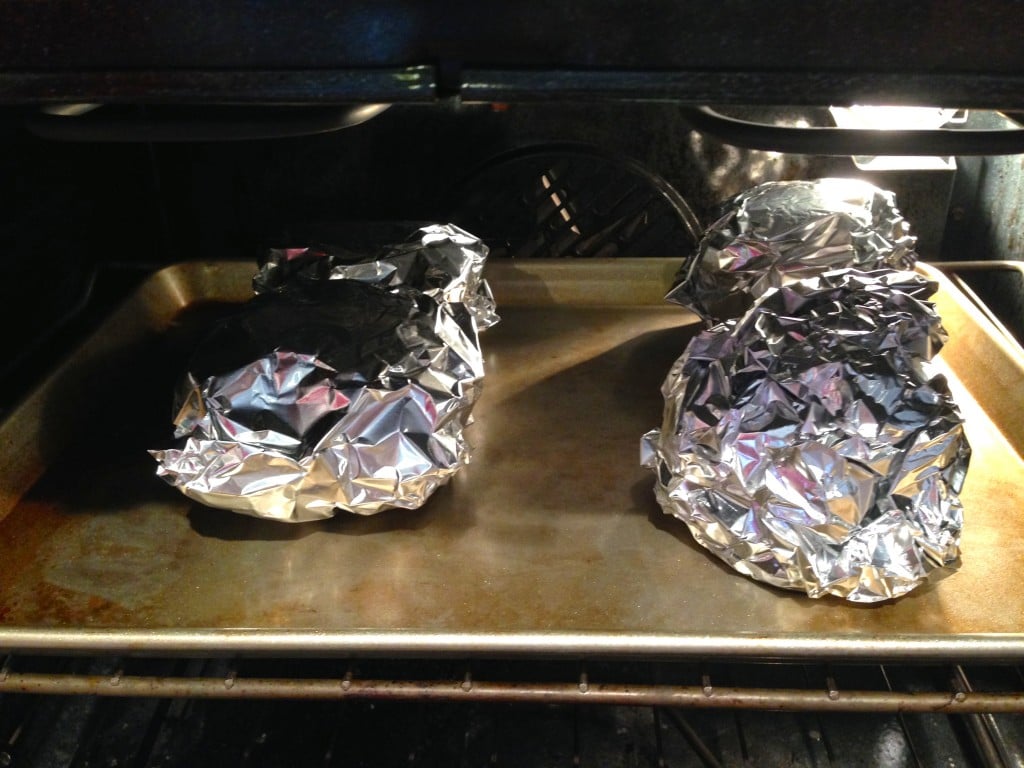 Unwrap your sandwiches and serve them with potato chips and french onion dip. They are best hot but are good at room temperature too.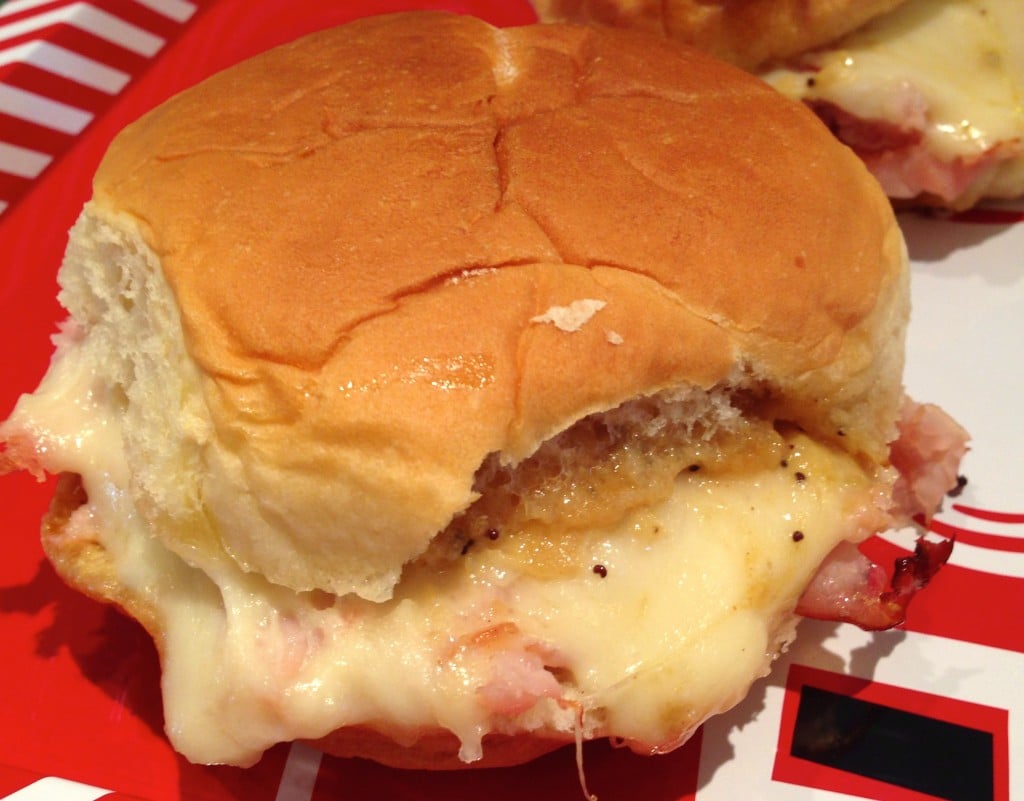 Yields 8 Sandwiches
Baked Ham and Swiss Christmas Sandwiches
Ingredients
Sauce:
8 Tablespoons (4 ounces or 1 Stick) Butter, melted
1 Teaspoon Poppy Seeds
4 Tablespoons Dried Onion, rehydrated (see note)
1 Tablespoon Worcestershire Sauce
1/4 Cup Dijon Mustard
1/4 Cup Brown Sugar
1/2 Teaspoon Kosher Salt
1/2 Teaspoon Black Pepper
For Sandwiches:
8 Sandwich Buns
1# Shaved Deli Ham
8 Slices Swiss Cheese
Instructions
Heat oven to 350 degrees.
To make the sauce: In small bowl, whisk together the melted butter, poppy seeds, dried onion, worcestershire sauce, dijon mustard, brown sugar, salt, and pepper.
To Assemble Sandwiches: Spread sauce onto inside of each sandwich bun. Evenly divide ham on each sandwich bun bottom and top with a slice of cheese and the bun lid.
Individually wrap each sandwich in tin foil and place on a sheet pan.
Bake for 15-20 minutes, or until the bun is toasty, the ham is hot, and the cheese is melted.
Notes
Sandwiches may be frozen. Bake at 300 for 30 minutes.
To rehydrate dried onion, soak dried onion in a little bit of warm water until fully hydrated and then drain excess water. 1/4 cup of fresh minced yellow onion can be substituted.
I prefer to use King's Hawaiian Buns but any soft sandwich bun can be used.
7.8.1.2
11
https://www.thehungrytravelerblog.com/baked-ham-and-swiss-sandwiches/