On the Istanbul Grand Bazaar Tour with Culinary Backstreets, I ate my way through the city's famous Bazaar Quarter and explored one of the largest covered markets in the world.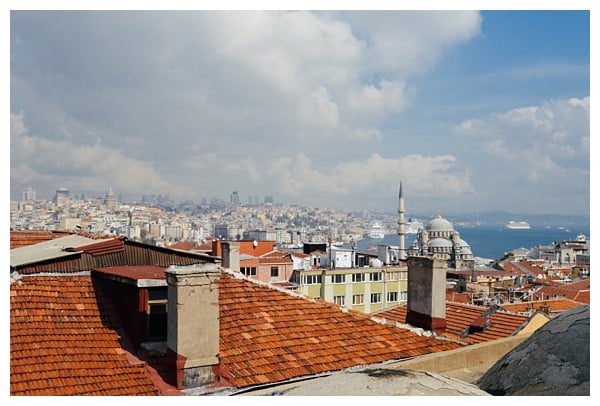 I became obsessed with Istanbul after visiting the Turkish Embassy in Washington D.C. last spring. When I got the chance to travel to Turkey a few months later, there were two things I knew I wanted to do: visit the Grand Bazaar and take a food tour with Culinary Backstreets.
When I emailed Culinary Backstreets and asked for help choosing a tour (all of the options sounded good and I couldn't pick!) they responded that the Grand Bazaar tour was one of their best. Excited at the chance to have an expert guide for the Grand Bazaar, I booked the tour, and knowing I was in good hands, didn't do much additional research. It turns out, I didn't completely understand that the Bazaar Quarter was an entire neighborhood, and much more than just the covered market.
Istanbul's Bazaar Quarter is one of the world's biggest open air shopping centers and the centerpiece, the Grand Bazaar, is the world's largest covered market. For the average tourist walking though the Grand Bazaar, it may feel like it's just a tourist area of pushy salesmen hawking spices, Turkish delight, and pottery. The neighborhood is actually much more and is a truly historic area filled with small craftsmen carrying on the tradition of Ottoman-era trading posts.
Given all of the craftsmen and merchants that work in the neighborhood daily, there are many hidden-gem restaurants that represent food from regions across Turkey. We got to discover all of this and more on our Istanbul Grand Bazaar Tour with Culinary Backstreets.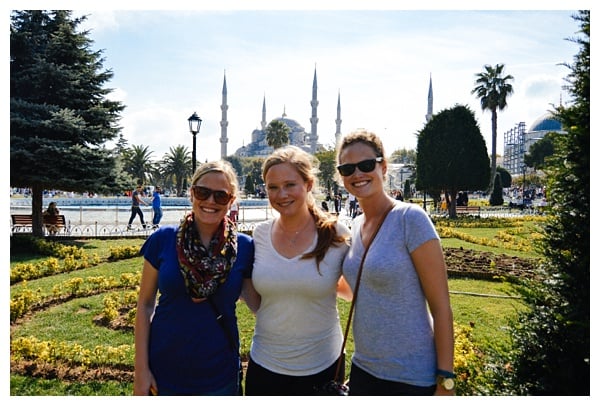 Turkish Breakfast
Our tour started in Sirkeci, the end point of the fabled Orient Express train. We met our guide, Senem, and the rest of the group at the train station and headed to our first stop for a full Turkish breakfast.
A typical Turkish breakfast consists of a spread of cheeses, bread, dips, vegetables, olives, eggs, and honey and jams. On a week day, the average Turk may just eat some bread and cheese, but for special occasions, the breakfast could easily have 8-10 different dishes.
Simit, a sesame covered bread roll, reminded me of a bagel, but less chewy and with more flavor. Simit are sold everywhere in Istanbul and the vendors made me nervous when I watched them carrying huge stacks of simit through crowded streets.
Simit isn't sweet, and despite it's density, doesn't feel heavy in your stomach. It's the perfect vehicle to scoop up all of the delicious dips and spreads.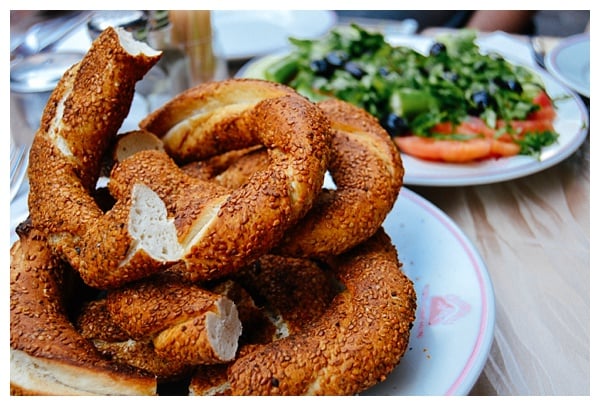 The breakfast was mostly savory but had a touch of sweetness with a plate of dried apricots and figs. These were naturally dried in the sun and tasted pure and fresh, completely different than the weird, super sweet dried fruit you see in the US.
Our breakfast also had a spicy element with a plate of a walnut-tomato-chili dip which we spread over the pieces of simit.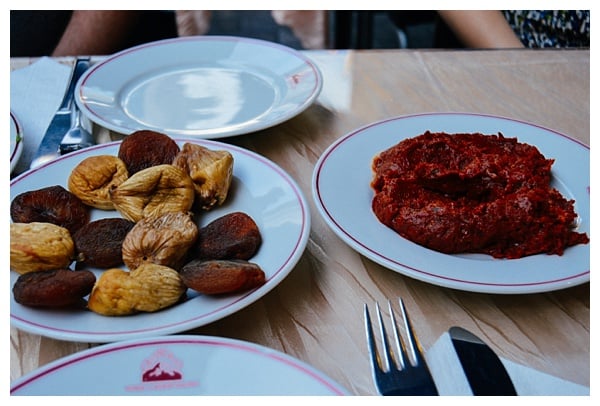 There was a fresh goat milk cheese with herbs and plates of pastrami. One of the most interesting dishes was the marinated thyme. And, of course, there was tea. Surprisingly, Turkish coffee is not traditionally served with breakfast and tea is the drink of choice.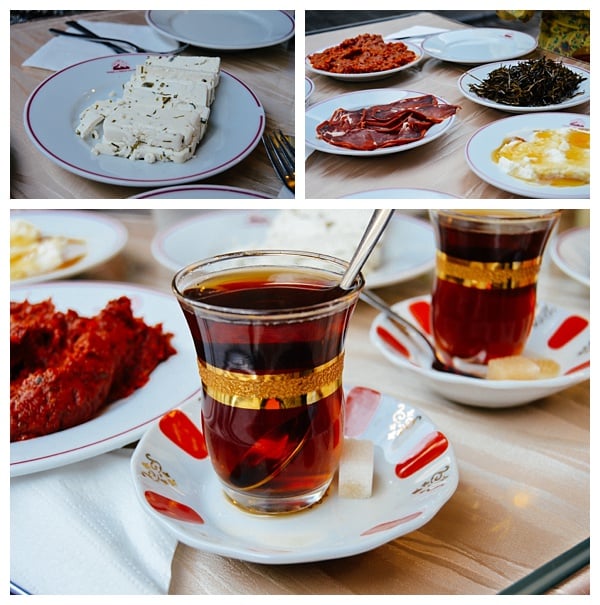 My favorite dish of the breakfast was the kaymak, or clotted buffalo milk cream served with honey. This was the best thing I ate in Istanbul and one of the most delicious things I've ever tasted.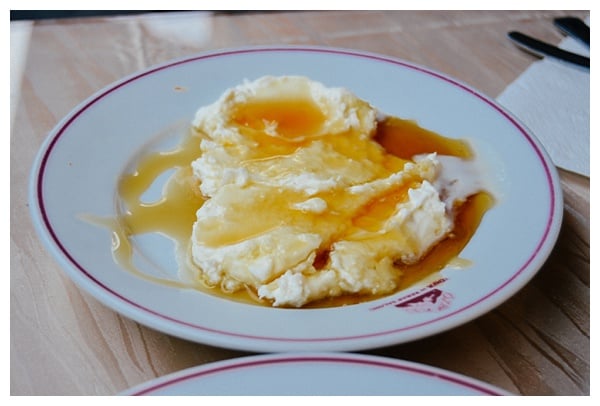 Somehow I missed taking photos (the eating took priority!) but we also had menemen (eggs scrambled with tomatoes, chilies, onions, and spices) and baked eggplant.
I love American breakfast foods but I don't enjoy eating breakfast. I hate starting my day with sugary, heavy, greasy foods. Turkish breakfast was perfect for me. It's filling, satisfying, and wholesome. The foods were flavorful and delicious but I didn't feel sick when I was done eating. I could eat like that every single day and be happy.
Baby Okra Wedding Soup
The next stop was at a restaurant famous for serving the traditional wedding soup from Konya, a major city in Central Turkey. The soup had a light broth with lemony flavor and was full of baby okra.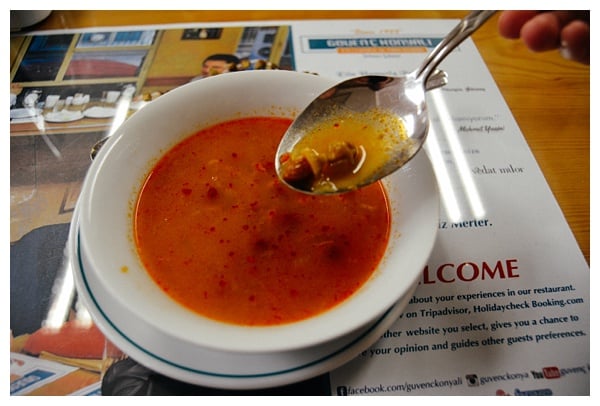 After finishing my soup, I explored the restaurant and stumbled into a group of men making fresh pita. They let me watch them work for a few minutes, and had I not risked missing the tour, I would have jumped in and asked them for a hands-on lesson.
I love the beautiful tiles you see all over Turkey and this oven was no exception.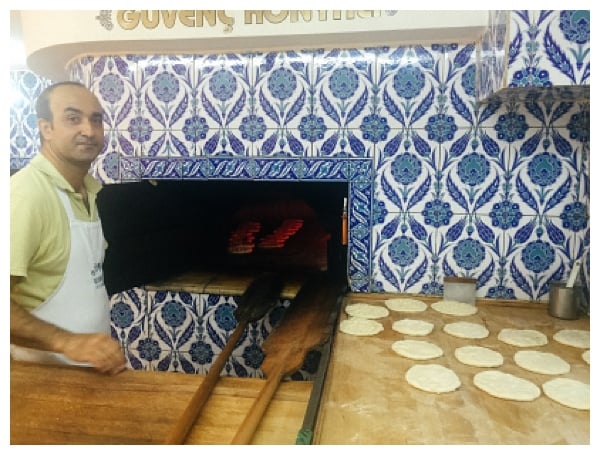 Boerk and Fresh Juice
On nearly every corner in Istanbul, there are fresh fruit and vegetable juice stands. The fruit is always gorgeous and vibrant and I especially love the beautiful pomegranates. We tried an orange pomegranate juice that was naturally sweet and full of flavor.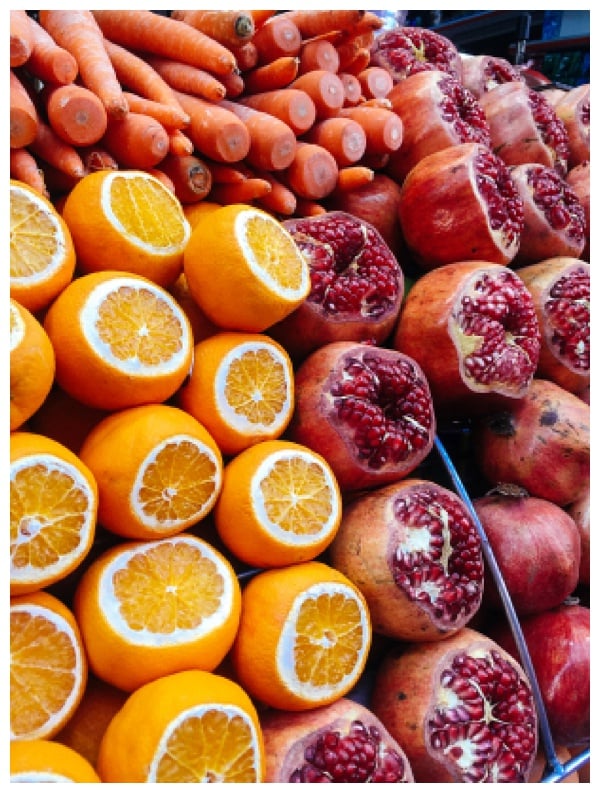 Along with our juices, we sampled a variety of borek. These flaky baked pastries date back to the kitchens of the Ottoman Empire and can be made either sweet or savory. We tried one with meat, one with cheese, and a borek with a sweet cheese and powdered sugar.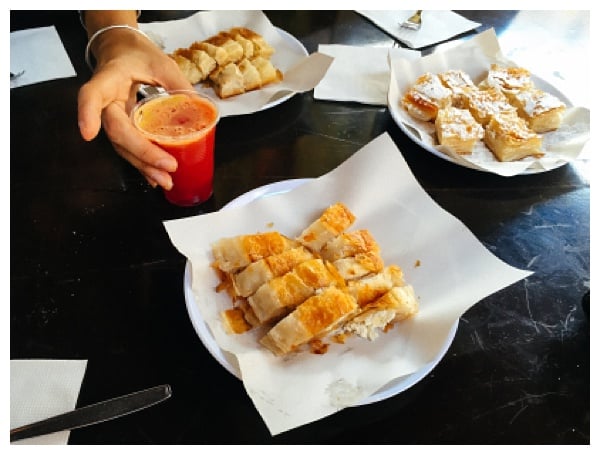 Istanbul is known for its cats and we saw plenty. The people of Istanbul treat them like community pets. They aren't like typical strays and they are well fed and cared for. I enjoyed seeing the cats everywhere but I happened to be traveling with two people who despise cats. They had to get over their fears pretty quickly!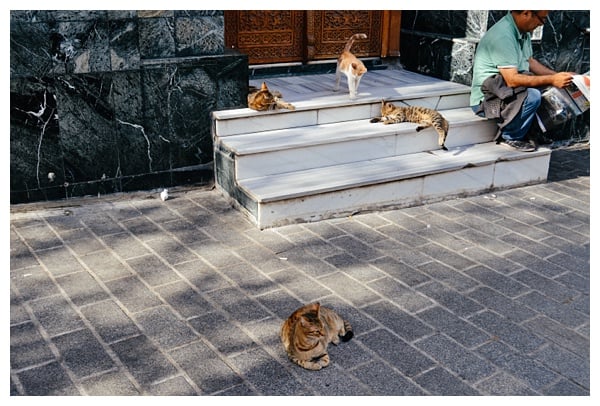 Kokoreç (sweetbreads sandwich)
Soon after arriving in Istanbul, I noticed the nearly constant smell of roasting meat wafting through the air. Between the doner shops and the kokoreç stands, the air is always scented with something delicious.
Kokoreç is a common street food and is often devoured on the way home from a late night of drinking. While the smell is amazing, the sandwich is not for the picky eater. To make kokoreç, sweetbreads are wrapped in intestines and grilled over charcoal. When someone orders a sandwich, the vendor cuts off some meat and chops it up while adding some fresh herbs and spices. The chopped meat is served in a crusty bread that soaks up the juices from the meat.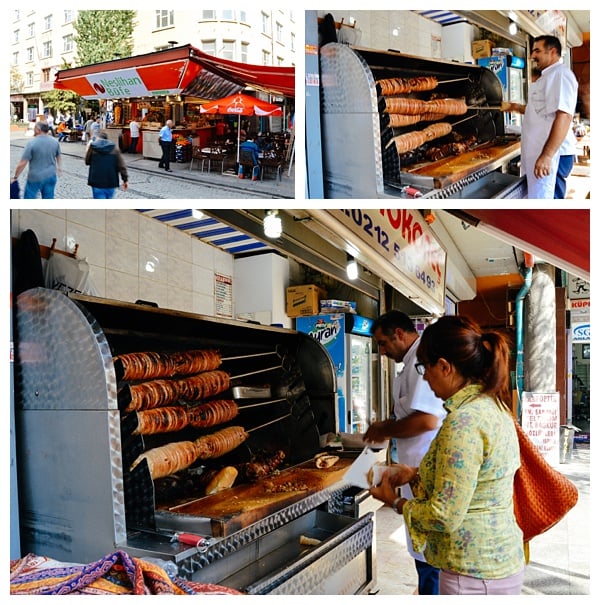 I will be honest and tell you I am not the biggest sweetbreads fan and I am very sensitive to the taste of offal (one of the only foods I do not like). I tried the sandwich and loved the flavor of the herbs and spices, but I couldn't get past the offal taste. If you don't mind sweetbreads, you will find this delicious. I should add that I was completely sober at the time, so had I tried it late night, my reaction may have been different.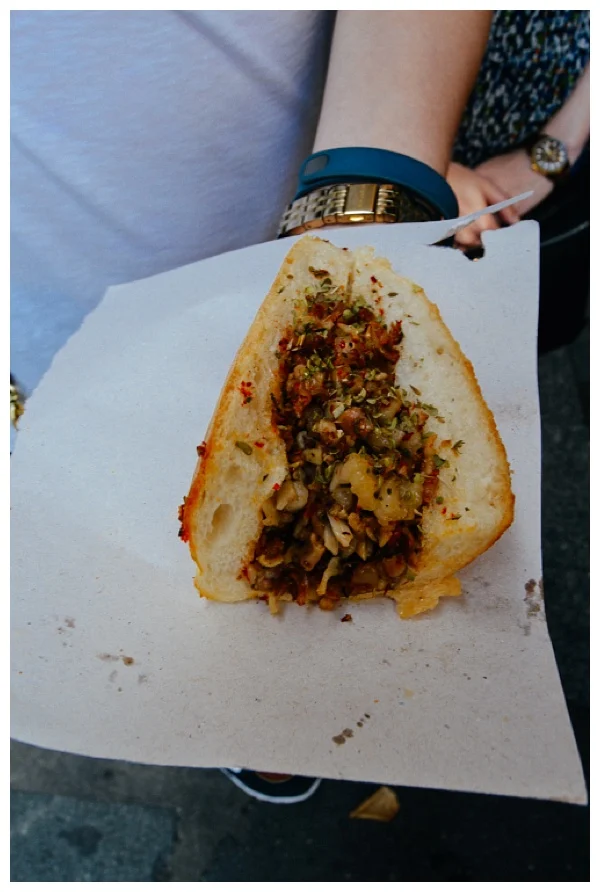 The Bazaar Quarter
About half way through the tour, we were in need of a good walk to let some of our food digest so we spent time wandering around the Bazaar Quarter. This was one of the best parts of the tour because we got to learn about Turkish culture and what it's like to live in Istanbul today.
One of the most interesting Turkish traditions is the circumcision ceremonies for young boys. In the past, the circumcisions were done at home, but now boys go to the hospital and receive the procedure from a licensed professional. This is the first step in the child's journey from boy to man, and the boy is treated like a king for a few days.
Boys are often circumcised before they start school and it's not a private matter. Family and friends are invited to a huge celebration called a sunnet party. These are big parties with food and drinks, and the boy may even ride a horse through town to celebrate the occasion.
The circumcision outfit is an important part of the ritual and the boys are dressed like little kings and adorned with jewels. The child will wear this outfit for a few days before the ceremony so that everyone can see that he's reached an important milestone in his life.
We passed several shops that specialized in selling the special circumcision outfits.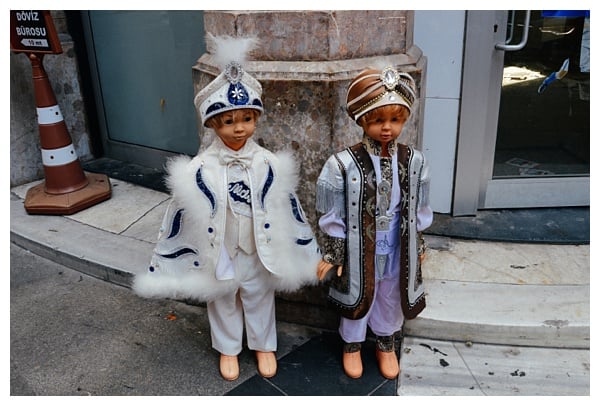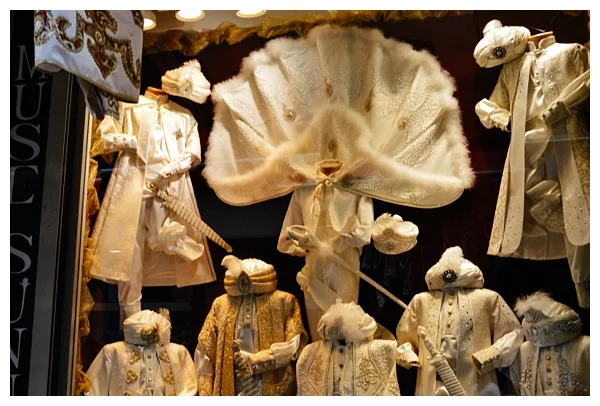 Turkey is a constitutionally secular country but 99% of the population is officially Muslim.
While in Turkey, we had many Turkish people tell us that they were 'modern muslims.' They explained that while they were devout Muslims, they practiced a modern version that was a bit different from the more traditional Islam practiced in other countries in the Middle East. Many Turkish people drink, not many of the women wear head coverings, and the city isn't completely shut down on Friday. That being said, there are also many traditional Muslims living in Istanbul. Istanbul is home to over 2,000 mosques and the call of prayer still sounds throughout the city 5 times every day.
I saw this dichotomy of modern vs. traditional Islam throughout Istanbul. I found it interesting to pass the swimsuit shop where mannequins wearing 'burkinis' stood in front of an ad for a model in a bikini.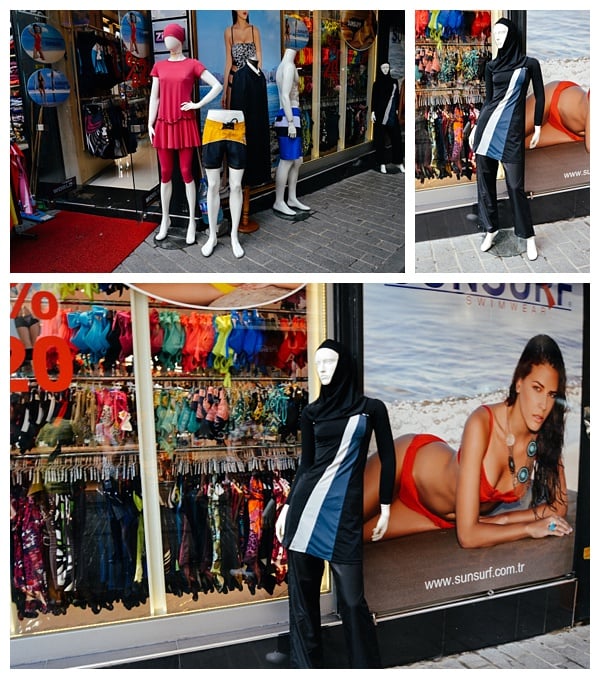 The Bazaar is much more than just spices and trinkets. We got to explore some of the other vendors and discovered shops dedicated to clothing, jewelry, and even wedding dresses.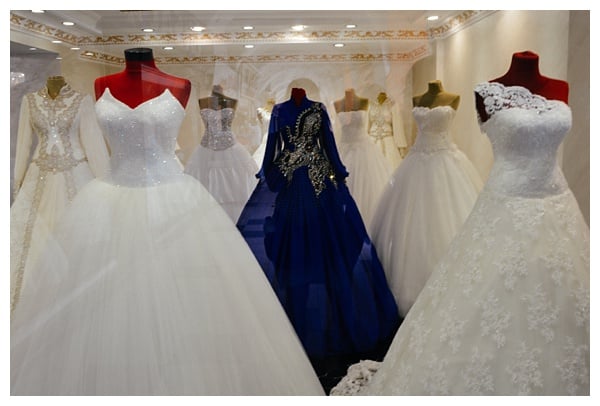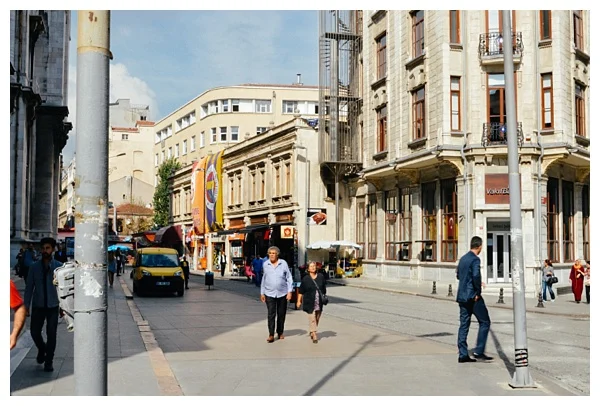 Pide on the Roof 
Pide is the Turkish version of pizza. It's a thin, crispy flatbread covered with toppings like ground meat, onions, cheese and spices.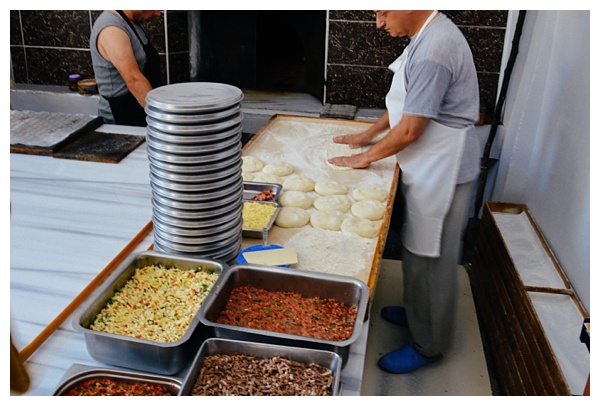 We stopped in the shop to order our pide and drinks, then Senem led us to a secret rooftop overlooking all of Istanbul. A few minutes later, our pizza delivery arrived…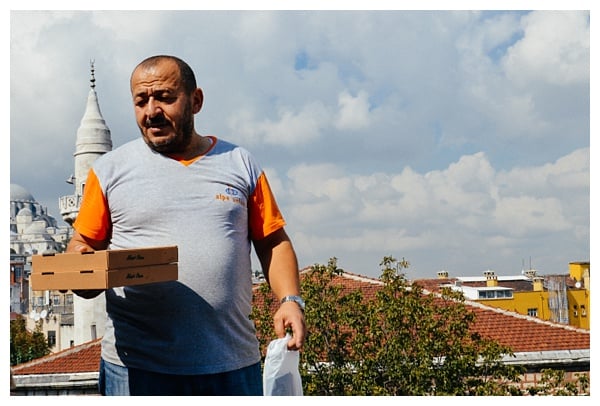 We enjoyed slices of meat and cheese pide while taking in the gorgeous view.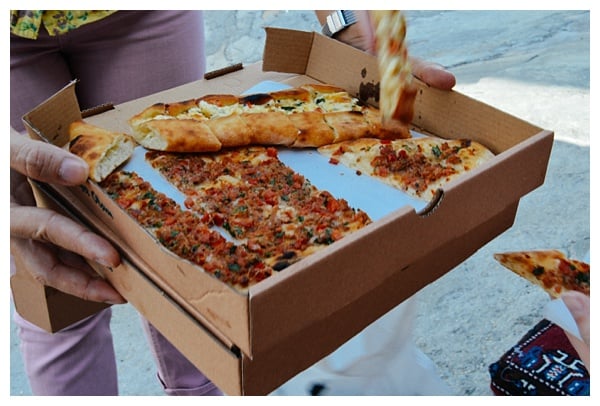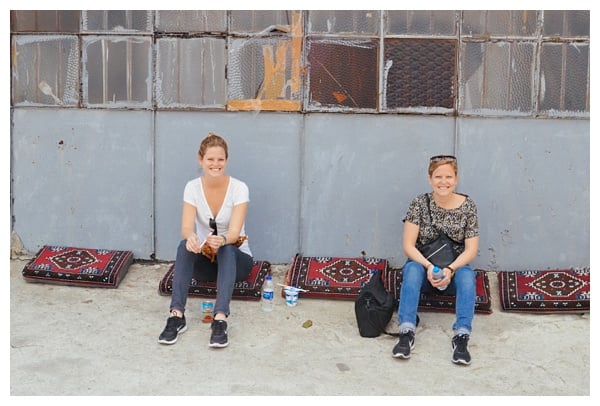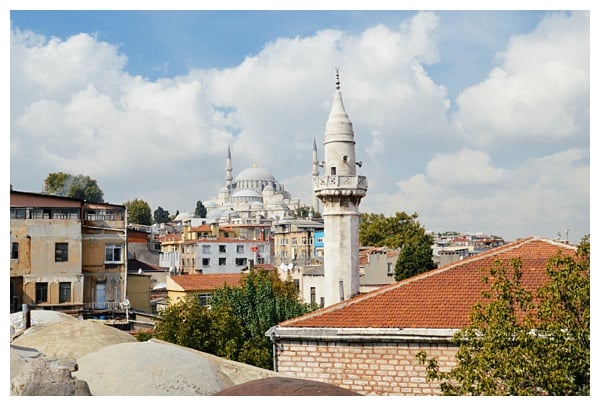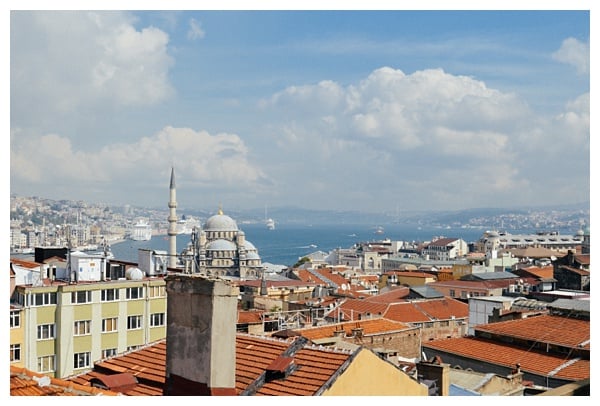 Ayran, the national drink of Turkey, is made from slightly salty yogurt that is thinned to a drinkable consistency. It was unfamiliar to my palette, but after a few sips, I was hooked. It's refreshing and cools you down on a hot day. Not at all sweet, it feels good for you when you drink it and is the perfect balance to anything spicy. After seeing people drinking ayran all over Istanbul, I found myself wishing we had it at home (although ours would probably be loaded with sugar).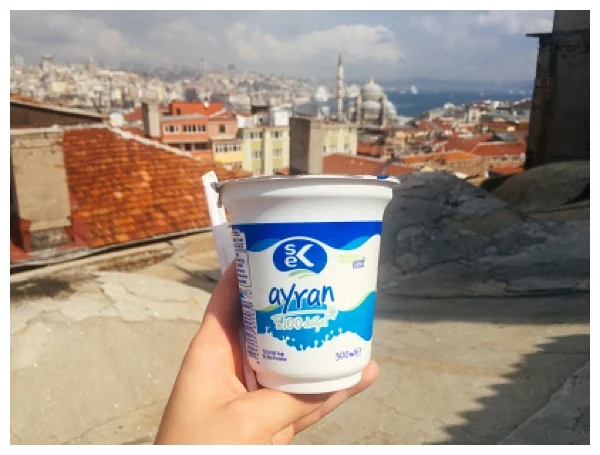 Kadayif and Turkish Coffee
We continued our journey through the Bazaar Quarter and wandered through the different han — traders' inns from the Ottoman-era that are now home to the traditional craftsmen and their workshops — before stopping for dessert and Turkish coffee.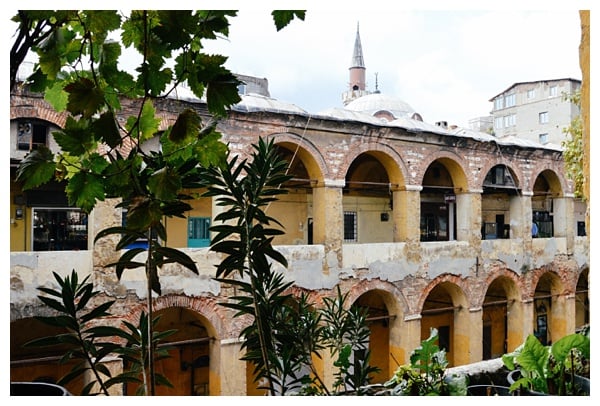 Kadayif is made from shredded dough, sugar syrup, walnuts, and a dollop of water buffalo clotted cream. It's one of my favorite Middle Eastern desserts.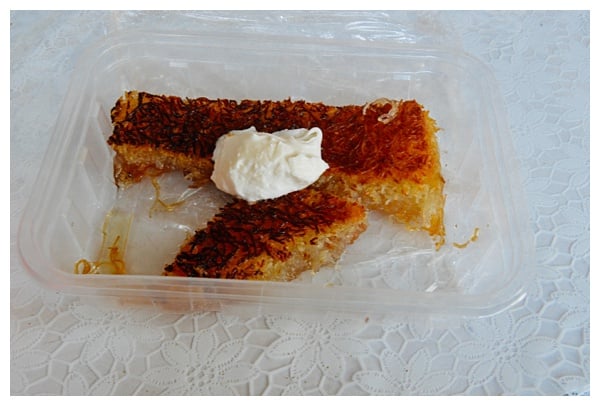 And of course, we had a cat join us.
The Grand Bazaar
The Grand Bazaar is the covered part of the market and one of the largest tourist attractions in the world. It's also known as the world's first shopping mall.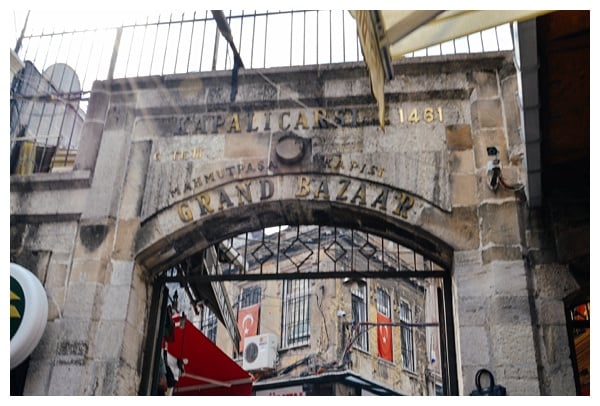 Along with mobs of tourists, there are eager vendors selling spices, Turkish delight, lamps, pottery, tea, and other traditional goods. It can be overwhelming so my advice is to first walk through the Bazaar without stopping at any vendors. This will help you get your bearings and become acquainted with the culture of the market. Then, you can wander through the stalls and stop at any that are of interest.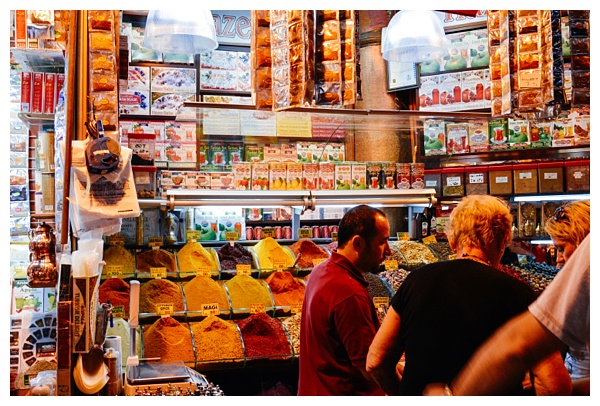 The vendors will try to get you into their stalls and they sometimes get pushy. They are harmless, so just keep walking and ignore them if you're not interested. You'll be offered tea, they will give you samples, they will compliment you. It's entertaining and fun, but you just need to smile, nod, and keep walking if you're not interested. It's all part of the experience.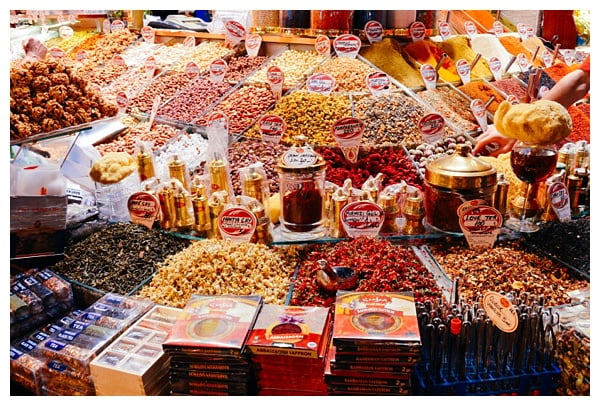 The Grand Bazaar is a good place to buy gifts for friends and family back home. I took back some spices, tea, and Turkish Delight as souvenirs. The vendors will package it for you and even vacuum pack it so it will travel safely. Be ready to bargin with the vendors and know that the first price is never a fixed one.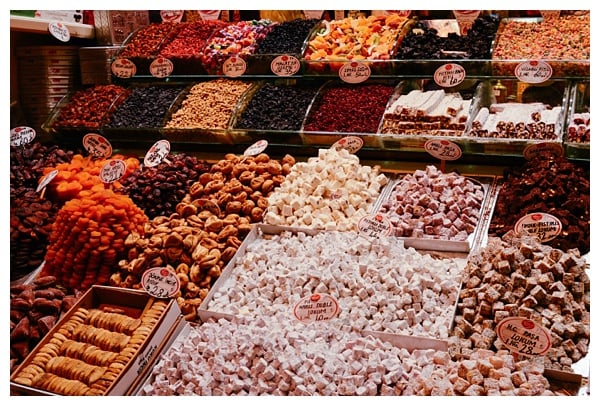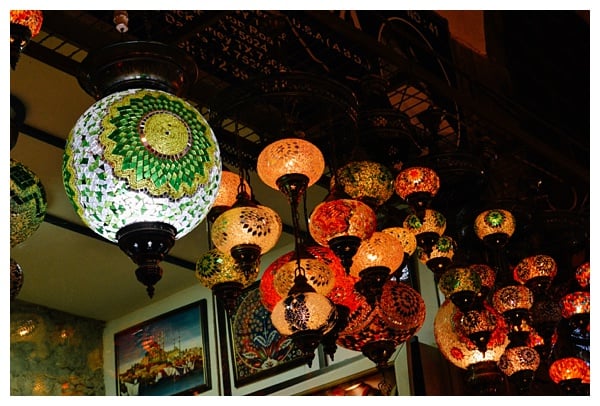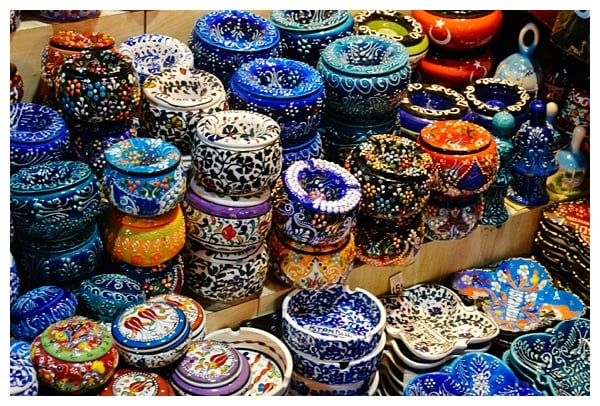 These backpacks belong to the porters who make their living transporting goods between the shops at the market and home with the consumers who purchased them. It was amazing to see the porters navigating through the crowded streets with hundreds of pounds of goods on their backs. The backpacks were lined up here because just across the street was a club where the porters hung out in between making runs.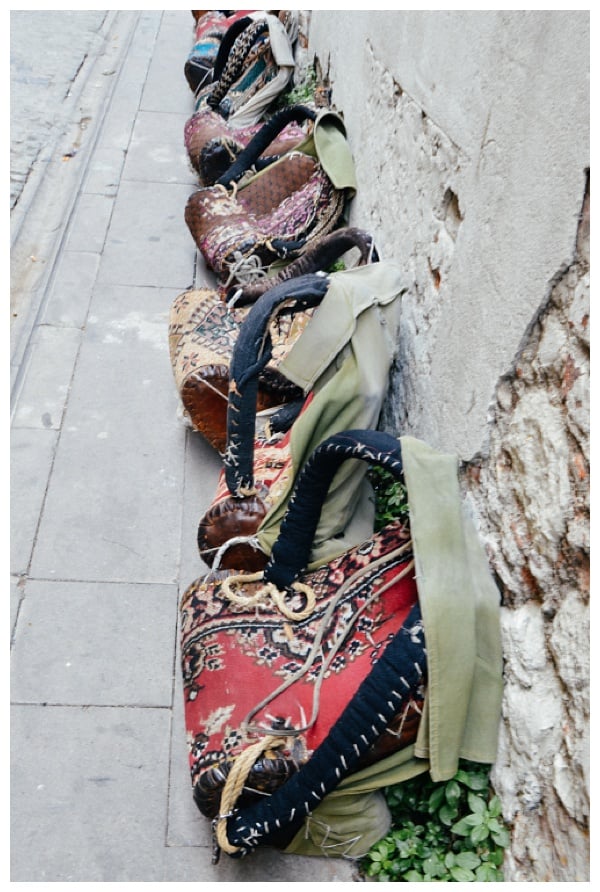 We wandered through the area with yarn and fabric. There was so much to take in and I could have spent days here just observing and photographing.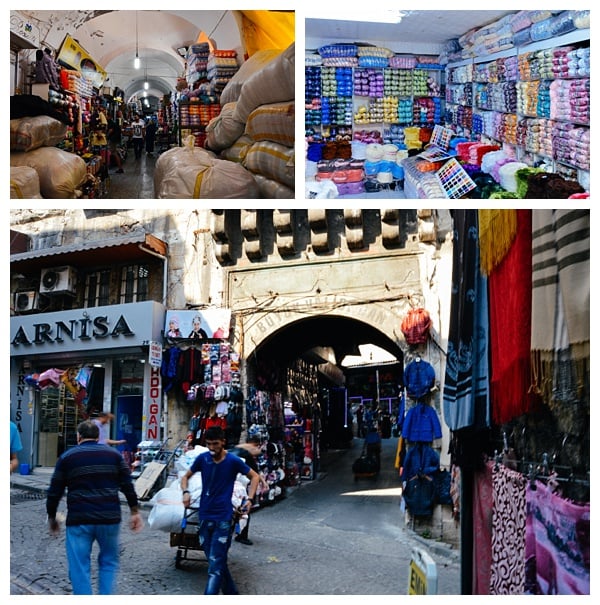 And I found the electrical situation to be interesting…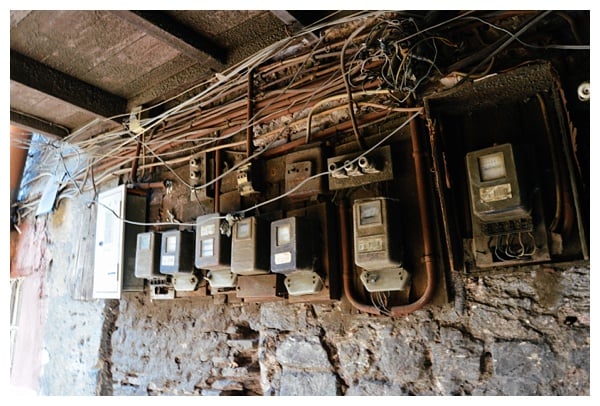 Stuffed Mussels on the Street
As we ventured to our next stop, we were given the opportunity to sample mussels from a street vendor. Our guide warned us that she couldn't guarantee the mussels and said to eat at our own risk. I debated and eventually decided to pass. I'm sure they were fine, but the thought of food poisoning on an 18 hour trip home was enough to make me abstain.
However, another member of our group tried them and said they were absolutely delicious. The mussels were stuffed with rice, pine nuts, cinnamon, raisins, and finished with a squeeze of lemon juice. I will try them next time.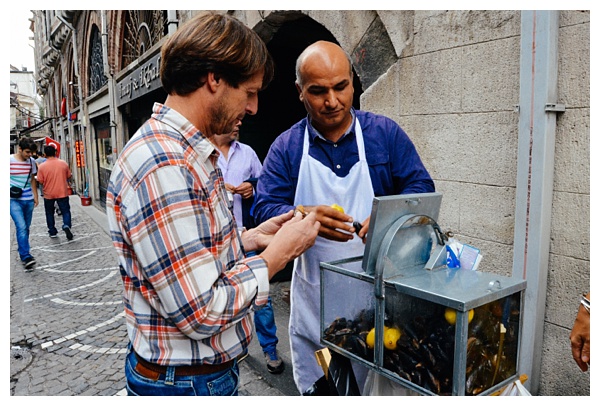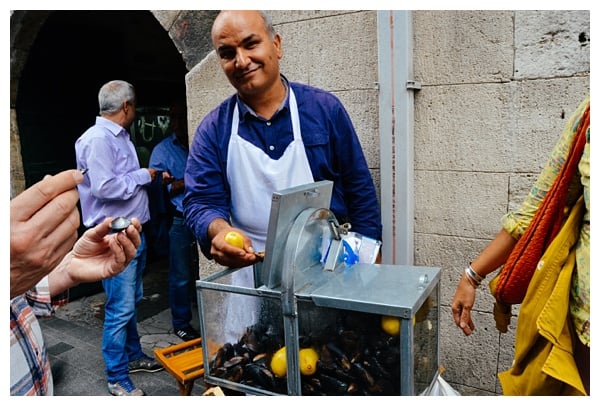 Kebab 
For "lunch" (although I'm not sure how we can call it lunch when we had been eating non-stop all day!) we tried the perfect kebab. The grilled lamb kebab was served with lettuce, tomato, and charred peppers. There was a stack of durum and piles of Aleppo pepper, sumac, black pepper, and cumin. We sat on the street and each made our own kebabs, adding spices and veggies to our liking.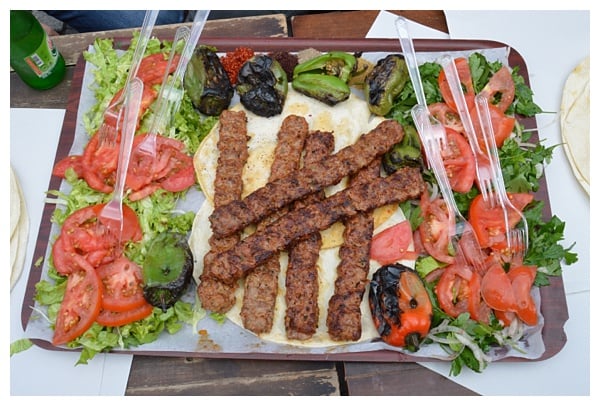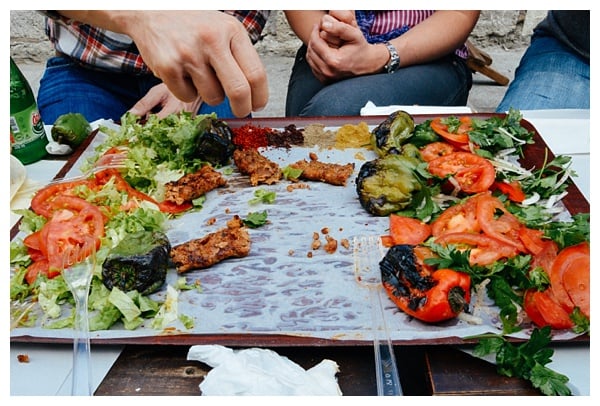 I loved seeing the mix of people all sharing lunch together — young, old, male, female, many nationalities and backgrounds. Food brings people together no matter where you are in the world.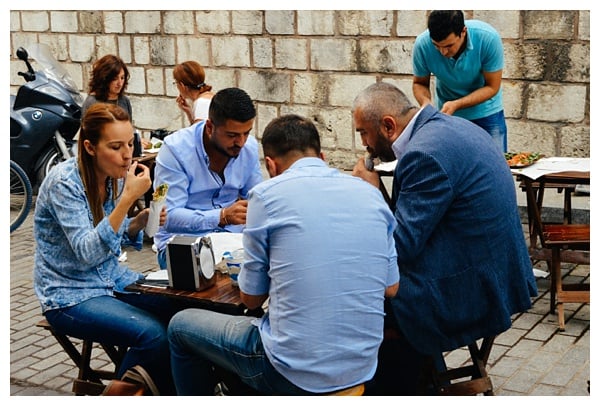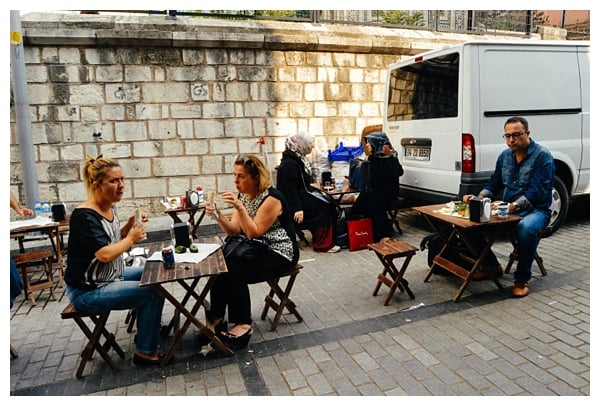 Vegetarian Mezze at Yasmine
Our final stop was for vegetarian mezze and dessert. This food was comforting, flavorful, and nourishing. All of the food is made by a woman named Yasmine and she even uses some produce from her own garden. Although we were in a restaurant, I felt like we were being fed at someone's kitchen table.
I didn't manage to get photos of everything (regretting that now!) but we had stuffed peppers with a yogurt sauce, manti (traditional tiny Turkish dumplings in yogurt sauce), roasted eggplant, hummus, a poppyseed cake with walnuts, and kunefe (baked shredded dough with sweet cheese and pistachios).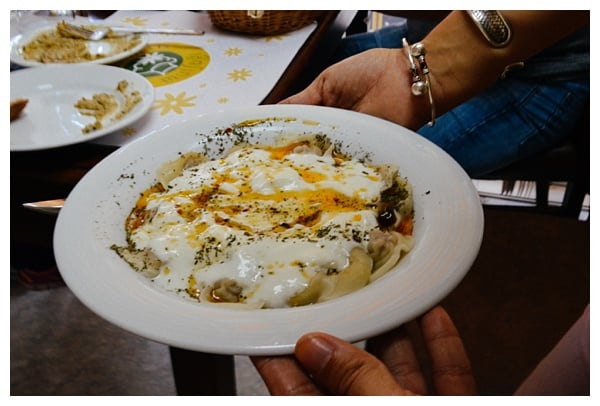 Istanbul is a beautiful, fascinating place. I was captivated by the culture, the kind Turkish people, and the phenomenal cuisine. The city was unfamiliar and stimulating but I never felt uncomfortable. I can't wait to go back.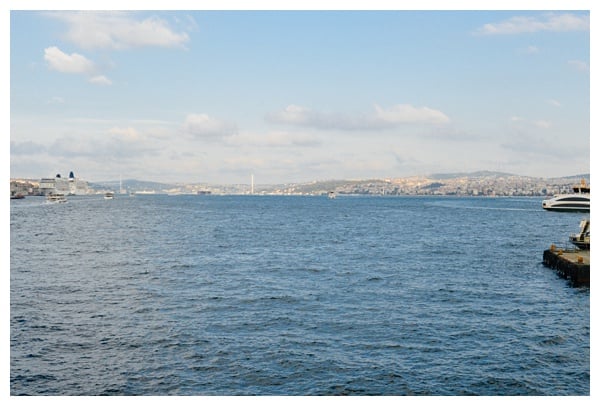 I highly recommend the Istanbul Grand Bazaar Tour from Culinary Backstreets (officially called Culinary Backstreets of the Bazaar Quarter). This is one of the best food tours I have been on and I learned so much about Turkish culture and cuisine. You will eat more than you can imagine and have an absolute blast. It's a must-do in Istanbul!
Istanbul Grand Bazaar Tour
Culinary Backstreets of the Bazaar Quarter Tour
---
For more on Istanbul, visit my Istanbul Destination Page.