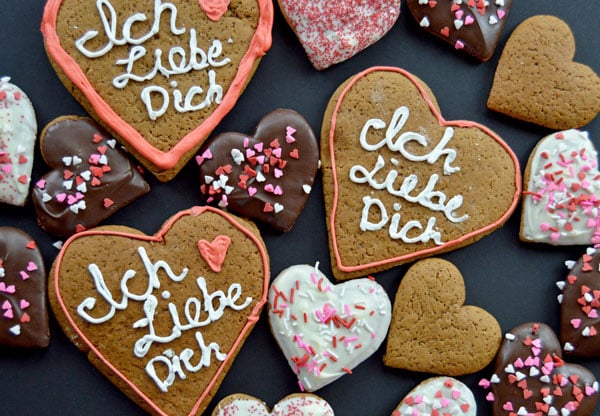 A few years ago, my boyfriend Graham and I spent the week of Valentine's Day in Munich, Germany.  As soon as we landed, the city started experiencing heavy snowfall, wicked winds, and bitterly cold temperatures that ended up lasting the duration of our trip.  Within a few hours, we relented and made our way to a store to buy heavier socks, hats, scarves, and mittens. We didn't let the weather stop us, instead we just slowed down a bit and relied on Munich's famed beer halls to keep us warm and offer a reprieve from the cold.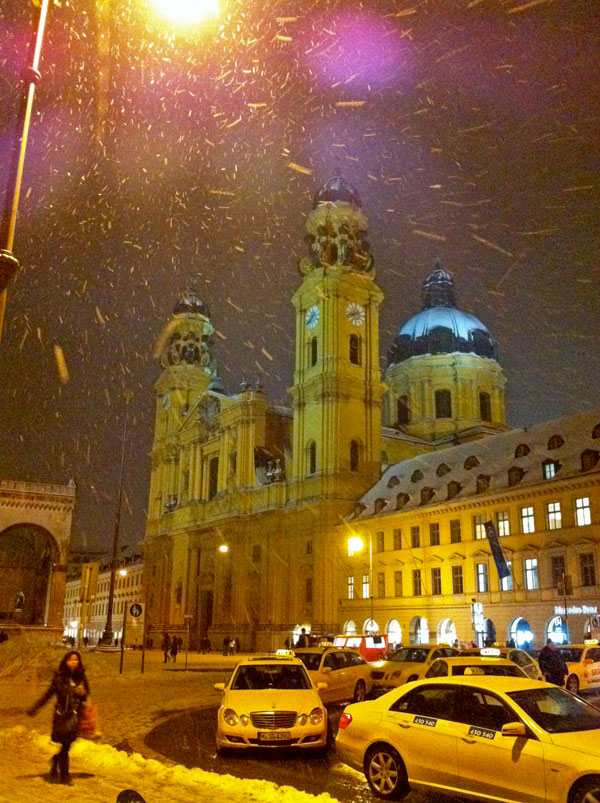 Snowy, cold Munich
Staying in an older hotel and relying on walking and public transportation, we never felt like we could warm up completely.  A few days into our trip, we noticed a brochure in the hotel lobby for Therme Erding, a nearby thermal spa/water park.  I had read about these famous German health spas and knew that many of them were clothing-optional, but the thought of warm temperatures, protection from the snow, and bathing suits was alluring enough that a few naked Germans weren't going to scare me away.
We took the train about an hour northeast of Munich and arrived at a huge complex that was divided into three sections – a water park, a family-friendly clothing-required pool, and the adult sauna section.  Not exactly sure what we were getting ourselves into, we bought our passes and went to the unisex locker rooms, quickly getting acquainted with a bunch of completely naked people.  After the first shock, we got our swim suits on and made our way to the family-friendly area.  There was a huge pool, a swim up bar, different grottos, and it was an (artificially) sunny 85 degrees.  We were finally warm.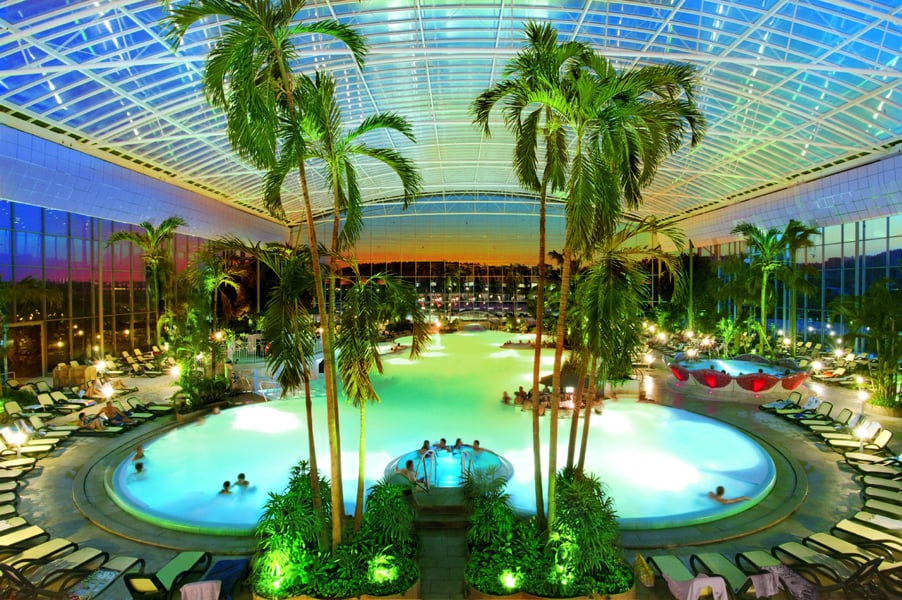 After working up our courage at the swim up bar, we became curious about the adult sauna area next door. We didn't realize that it wasn't just clothing optional, but that the area was 'textile-free,' meaning swimsuits were strictly prohibited and it was a completely nude area, except for the occasional towel.
We lost our swimsuits, tried to achieve maximum coverage with the small towels, and went for it. When in Germany, do as the Germans do…
The nudist spa area of the resort is famous for its themed sauna rooms.  One room was themed like the beach and had a sand floor.  Another was 'fruit' themed and guests enjoyed the citrus fragrance pumped into the room.
The strangest room had a stone hearth and an attendant constantly baking fresh bread.  Call me a prude, but isn't it a bit awkward to sit in a tiny sauna, eating freshly baked bread with a bunch of sweaty strangers? I guess some people are into that sort of thing.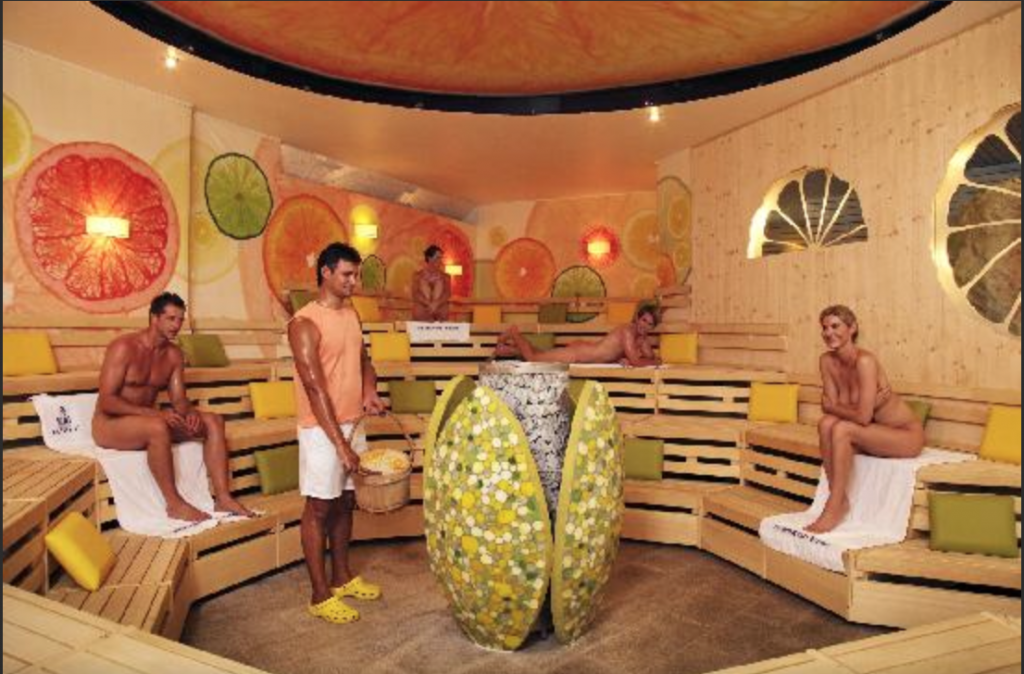 The citrus fruit themed sauna. It looks pleasant here, but imagine it completely packed with people.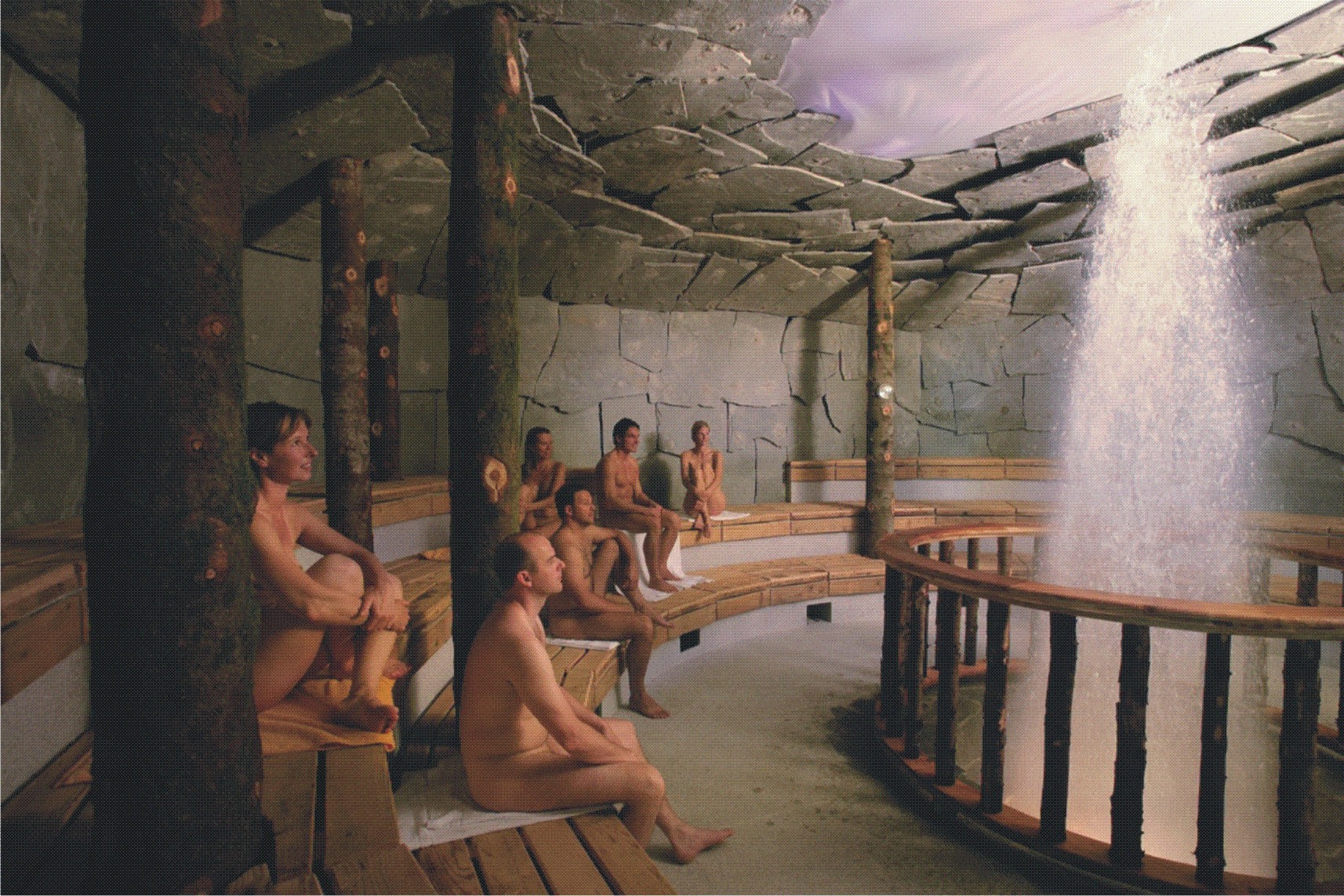 A geyser themed sauna. (Photo Credit: Wikipedia)
We walked around checking out the facilities, unable to stop laughing and becoming increasingly uncomfortable.  I'm not shy but being in such close quarters with a bunch of wet, naked strangers provided a bit of unexpected culture shock.  We looked for a sauna that was unoccupied but they were all crowded.  We tried getting in the pool, which was also crowded, and I was a bit scared of accidentally brushing up a little too closely to a stranger.   The weirdest part of the entire experience was seeing the nudist restaurant. The rather nice dining room was full of completely naked people, drinking, eating and carrying on like normal.
A bit too uncomfortable to enjoy ourselves, we returned to the clothed side, realizing we needed to catch the train home and had just missed the last bus to the station.  We left the warmth and comfort of the spa to find another foot of snow had accumulated and that we had a mile walk to the train station.  Back to snowy, cold reality.
While Graham and I might have been a little out of our comfort zones, there is something cool about seeing (well, not actually seeing, but you know what I mean) people of all ages, shapes, and sizes walking around completely naked and free, comfortable in their own skin.  To me, this is the best part of travel.  Doing something unplanned and unusual, led me to learning about another culture and also about myself, creating an experience and a story I'll never forget.
So you might be asking yourself how a story about a nudist thermal spa ties into Lebkuchen cookies…
Before taking the train to the spa, I noticed vendors at the station selling huge, beautifully decorated Valentine's Day heart cookies.  I wasn't able to try them but I've had the image in my mind ever since.
This year, wanting to recreate those cookies, I did some research and figured out that they are called Lebkuchenherz, or lebkuchen hearts, and are a popular German treat for Oktoberfest, Christmas, and Valentine's Day.  Lebkuchen is similar to a spice cookie or gingerbread and the most famous lebkuchen comes from a town called Nuremberg in central Germany.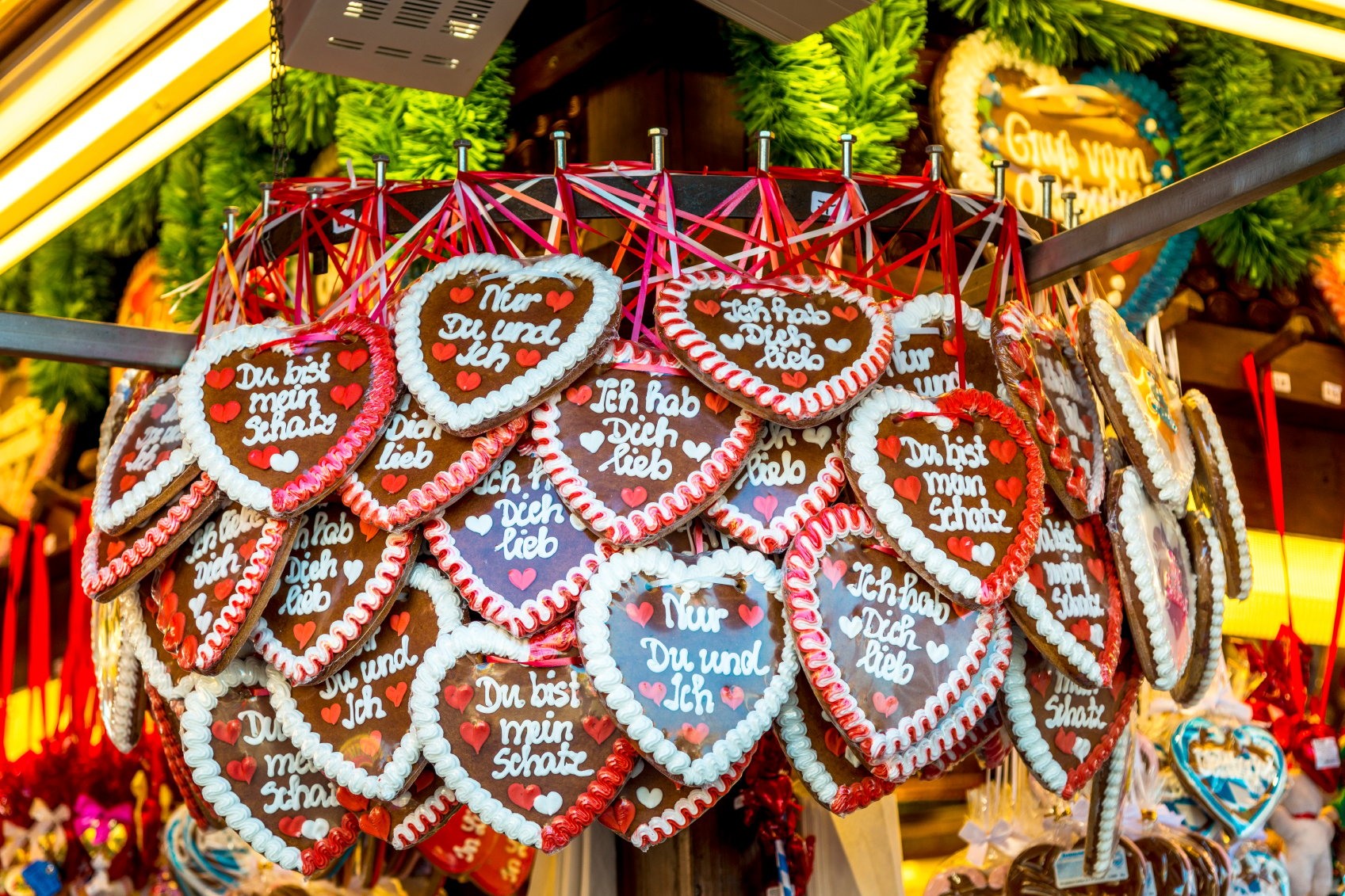 Lebkuchen sold in a market in Germany
The dough comes together quickly.  Just cream together the butter and sugar, add the molasses, and then alternate the dry ingredients and water.  Let it rest in the refrigerator for at least an hour, or preferably longer if you have the time.  This dough is forgiving and easy to work with, you just need to use a little flour to keep it from sticking and gently roll it to 1/4-inch or 1/8-inch thickness.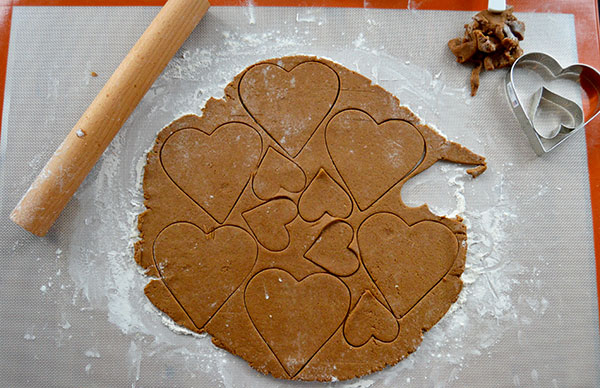 I used a 5-inch heart cutter and a 2-inch heart cutter.  The 5-inch hearts are really quite big but the 2-inch hearts are about the perfect cookie size.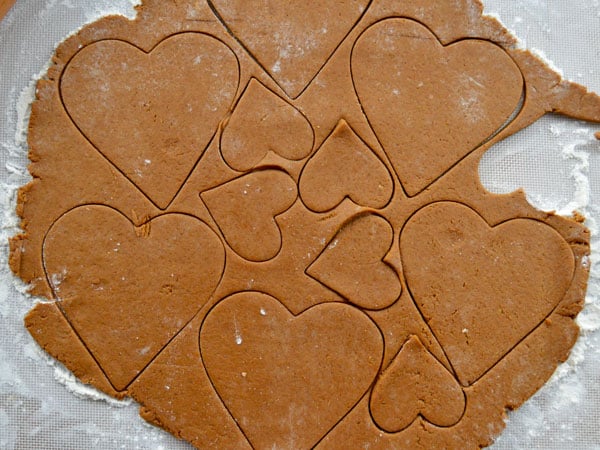 You've got a lot of options when it comes to decorating.  I melted some white chocolate, dipped some cookies in it, then added some sprinkles.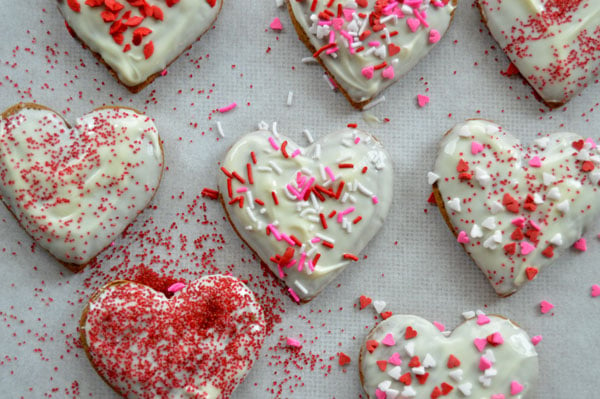 I also dipped some cookies in melted dark chocolate.  I like the way the dark chocolate makes the sprinkles pop and nicely complements the spice of the cookies.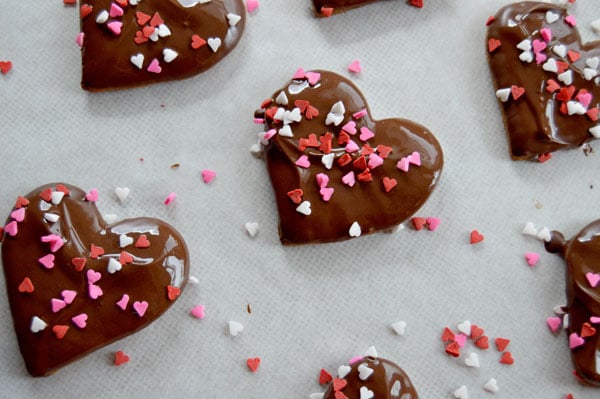 I made some royal icing to recreate the lebkuchenherz I saw in Munich. I'll be honest, I don't really like the taste or texture of royal icing, so I think a chocolate glaze is your best bet when it comes to decorating the cookies.  You can see how things got a bit messy and I'll be the first to admit, my frosting writing skills need a bit of refinement. Let's just say the icing was NOT cooperating with me.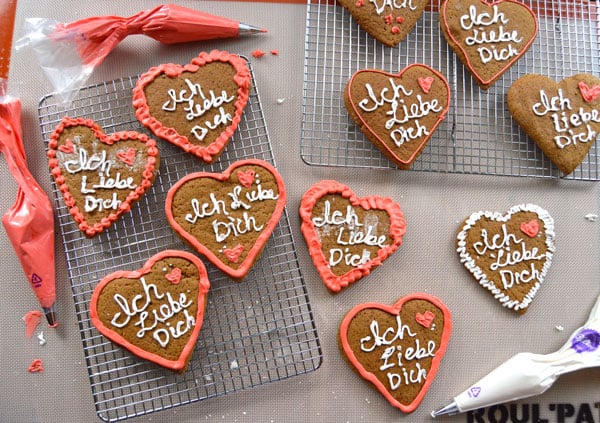 Ich liebe dich means 'I love you' in German.  You could also say 'Du bist mien schatz,' (you're my sweetheart) or 'Nur du und icy' (just you and me).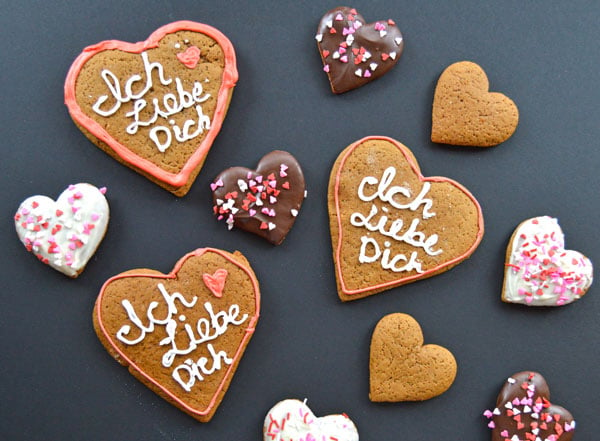 My favorite way to eat these cookies is warm, just out of the oven, no glaze or frosting required.  The cookie has a nice fluffy texture (not hard like some gingerbread) and a deep, satisfying spicy flavor.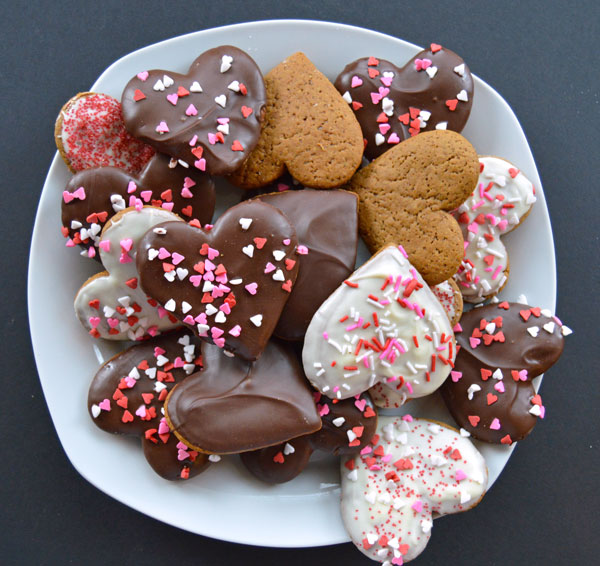 While we normally don't think of gingerbread for holidays other than Christmas, I like the idea of having it for Valentine's Day.  While most Valentine's Day cookies are overly sweet and sugary, these are a spicy, flavorful contrast.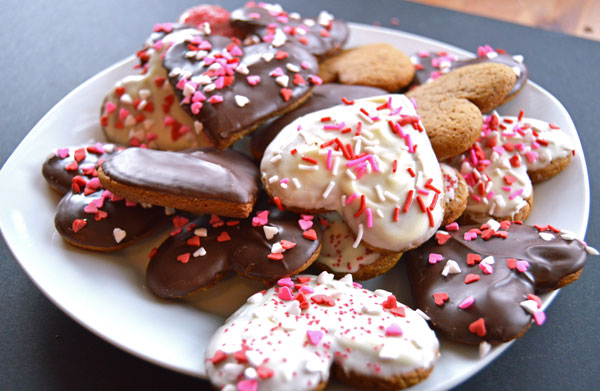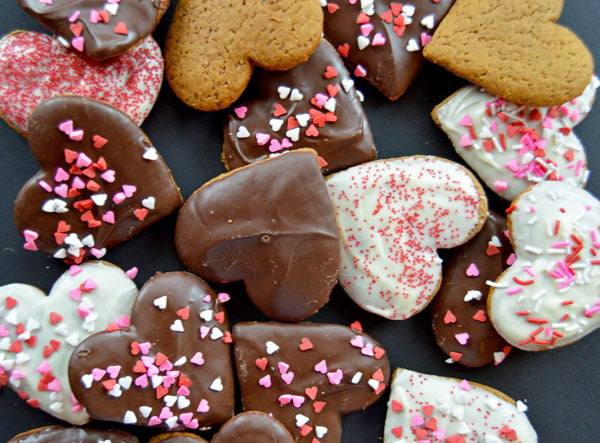 Yields 11 Large (5-inch) and 25 Small (2-inch) Cookies
Lebkuchen – German Gingerbread Cookies
Ingredients
1/2 Cup (114 grams / 4 ounces) unsalted butter, softened
1 Cup (200 grams / 7 ounces) firmly packed dark brown sugar
1 Cup unsulphered molasses
6 Cups (750 grams / 26.5 ounces) all-purpose flour
1 Cup (96 grams / 6.8 ounces) almond flour
2 Teaspoons baking soda
1 Teaspoon ground cloves
2 Teaspoons ground cinnamon
2 Tablespoons ground ginger
1/2 Teaspoon ground coriander
1 Teaspoon ground allspice
1 Teaspoon ground nutmeg
1/2 Teaspoon ground mace
1 Teaspoon lemon zest (from about 1 large lemon)
1 Teaspoon orange zest (from about 1 medium orange)
1 Cup (237 grams / 8 ounces) Water
Instructions
In a medium bowl, whisk together the all-purpose flour, almond flour, baking soda, cloves, cinnamon, ginger, coriander, allspice, nutmeg, mace, lemon zest, and orange zest.
In the bowl of a stand mixer fitted with the paddle attachment, on medium speed, beat together the butter and brown sugar until smooth and creamy, about 2 minutes. Scrape down the sides of the bowl.
With the mixer on, slowly stream in the molasses and beat on medium speed until incorporated, about 30 seconds. Scrape down the sides of the bowl.
Add 1/3 of the flour mixture and mix on low speed until just incorporated. Add 1/2 of the water and mix until just incorporated. Scrape down the sides of the bowl. Add another 1/3 of the flour and mix until just incorporated. Add the remaining water and mix. Scrape down the sides of the bowl. Add the remaining flour and mix until just incorporated. Scrape down the sides and bottom of the bowl, paying careful attention to incorporate any loose bits stuck to the bottom. Mix on low for 15 seconds to ensure everything is homogenous and incorporated.
Divide the dough in half by drawing a line with your spatula down the center of the mixing bowl. Scrape half of the dough onto a large sheet of plastic wrap and flatten it into an even disk, about 6-8 inches across. Wrap the dough in the plastic wrap. Repeat the process with the other half of the dough. Refrigerate for at least 1 hour (preferably longer if you have time) or up to three days.
About 30 minutes before baking, set an oven rack in the middle of the oven and preheat the oven to 350 degrees. Line two cookie sheets with parchment paper and set aside.
Remove one disk of dough from the refrigerator and place on a lightly floured work surface. Working with a lightly floured rolling pin, roll the dough out to about 1/4-inch thickness. For a crisper cookie, roll the dough to a 1/8-inch thickness. Using a heart-shaped cookie cutter, cut hearts out of the dough and place the on the prepared cookie sheet, leaving about 1/2-inch between cookies because they will puff in the oven. The dough scraps can be gathered and re-rolled one time.
Bake the cookies for about 8-10 minutes or until puffed and set. They will still be soft but will harden slightly as they cool. Let cookies cool on the pan for 5 minutes and then use a pancake turner to lift the cookies to a wire cooling rack.
While the first batch of cookies is cooling, remove the other disk of dough and roll and cut out the cookies for the next batch.
Let cookies cool completely before decorating. Cookies can be stored in an airtight container for up to three days.
To decorate: I prefer the cookies plain, but you have many options when it comes to decorating. Consider dipping the cookies in some melted white or dark chocolate and finishing them with sprinkles. You can also decorate them with different colors of royal icing. I prefer Alton Brown's recipe which can be found here .
Notes
If you do not want to use almond flour, increase the all-purpose flour by 1/2 cup (63 grams / 2.2 ounces)
7.8.1.2
16
https://www.thehungrytravelerblog.com/lebkuchen-german-gingerbread-cookies/
So, let's (somehow) tie this all together.  Do you have any Valentine's Day traditions?  Would you ever go to a nudist spa? Do you have any favorite travel memories that came from a completely spontaneous decision? Do you like cookies? Do you want to eat cookies in a nude sauna or is freshly baked bread more your style?