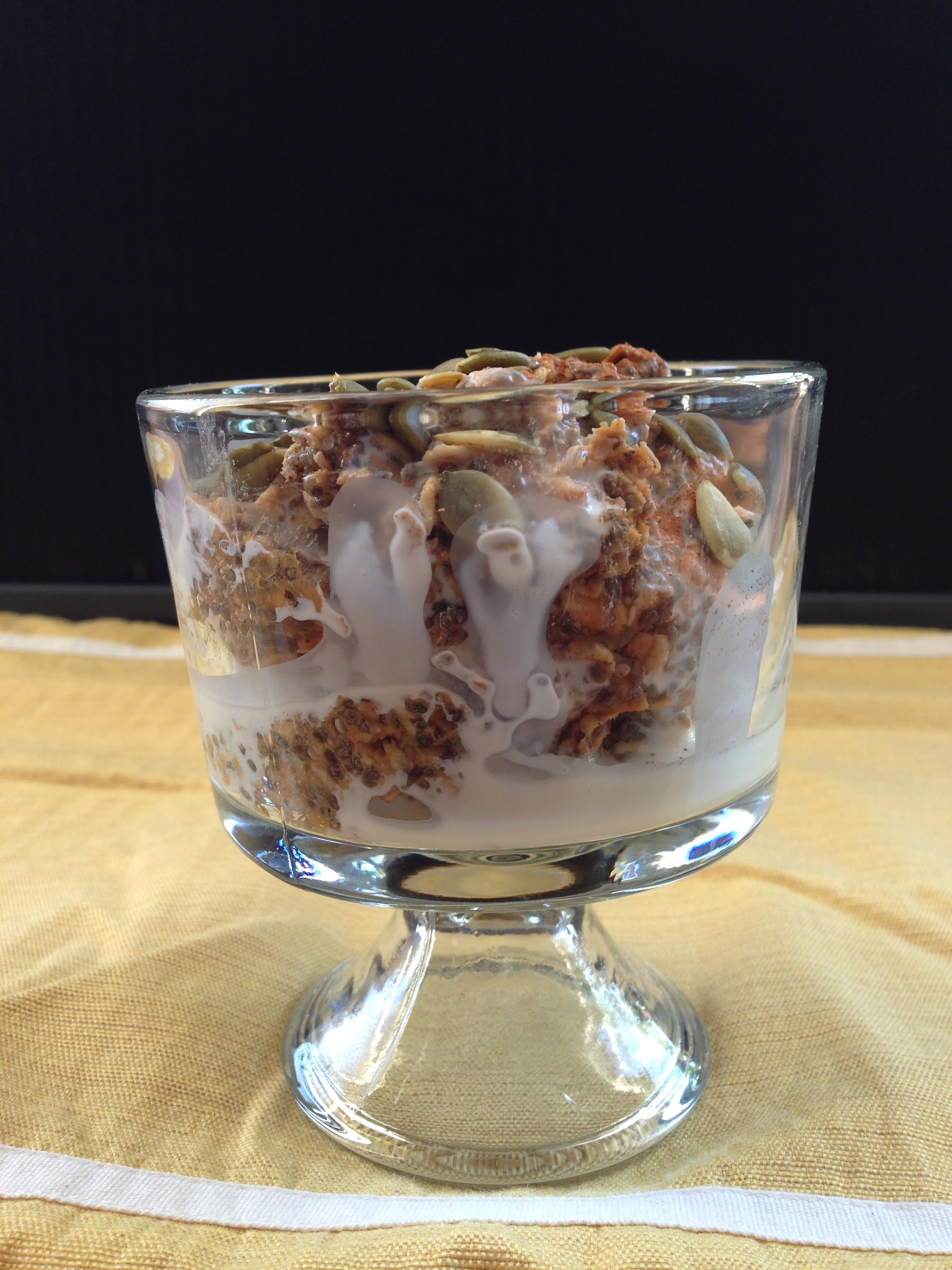 I'm not the kind of girl that likes a healthy breakfast.  I'm a pancakes and bacon, biscuits and gravy, chocolate croissant and cinnamon roll type of girl.  I'd much rather skip breakfast and just have coffee than try to choke down a greek yogurt or protein shake.  It just doesn't work for me.
But, sometimes your pants get tight and you have to face reality.
My work day starts early (7 am) and I am surrounded by food all day long.  Putting it mildly, there is a lot of temptation.  Part of my job requires tasting what I'm cooking and when a dish tastes good, it's hard to leave it at one bite.   I learned the hard way that mindlessly grazing all morning then eating a huge lunch results in gaining a few pounds.  So, to keep it real, my pants are tight and it sucks. So, instead of going to work hungry, I've realized I need to figure out a way to have a healthy breakfast to start my day.  Enter Pumpkin Pie Overnight Oats.
Overnight Oats seem to be having a moment (or maybe they've been in the spotlight for awhile and I just haven't paid attention) and there's good reason for it.  They're simple to put together, can be made in advance, are easy to transport, and have a balance of taste and nutrition.  Given the time of year, I decided to start with a base recipe and then add in some pumpkin and spices.  I'll be the first to admit it's not the prettiest breakfast, but it's nice and comforting (aka filling) and has plenty of fall flavor.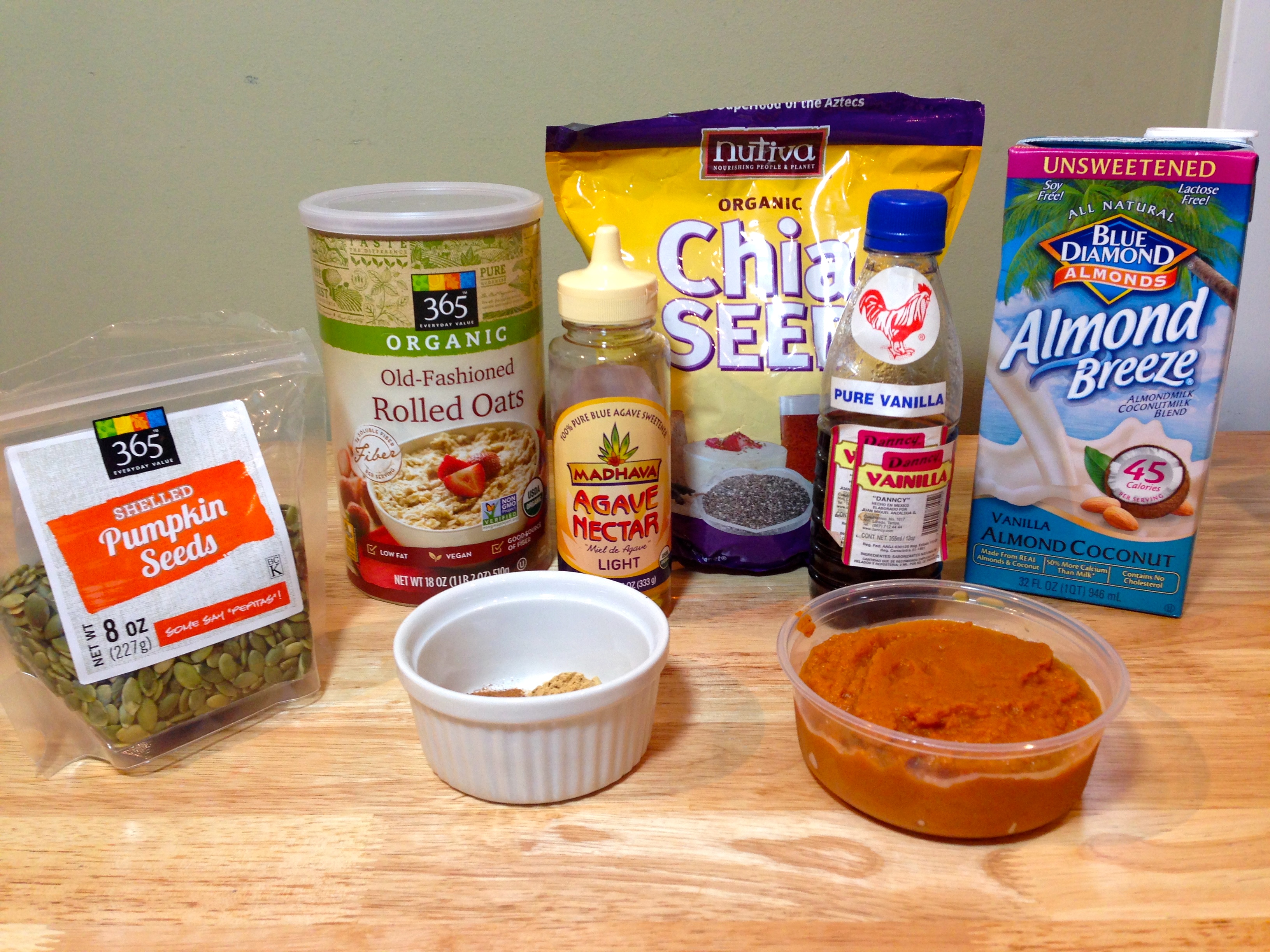 I combined cinnamon, nutmeg, and ginger to get the warm, spicy flavors that are so comforting in the fall.
It may not look pretty, but the beauty is in the ease.  Measure your ingredients, dump them in a bowl, stir it together, refrigerate, and breakfast is ready.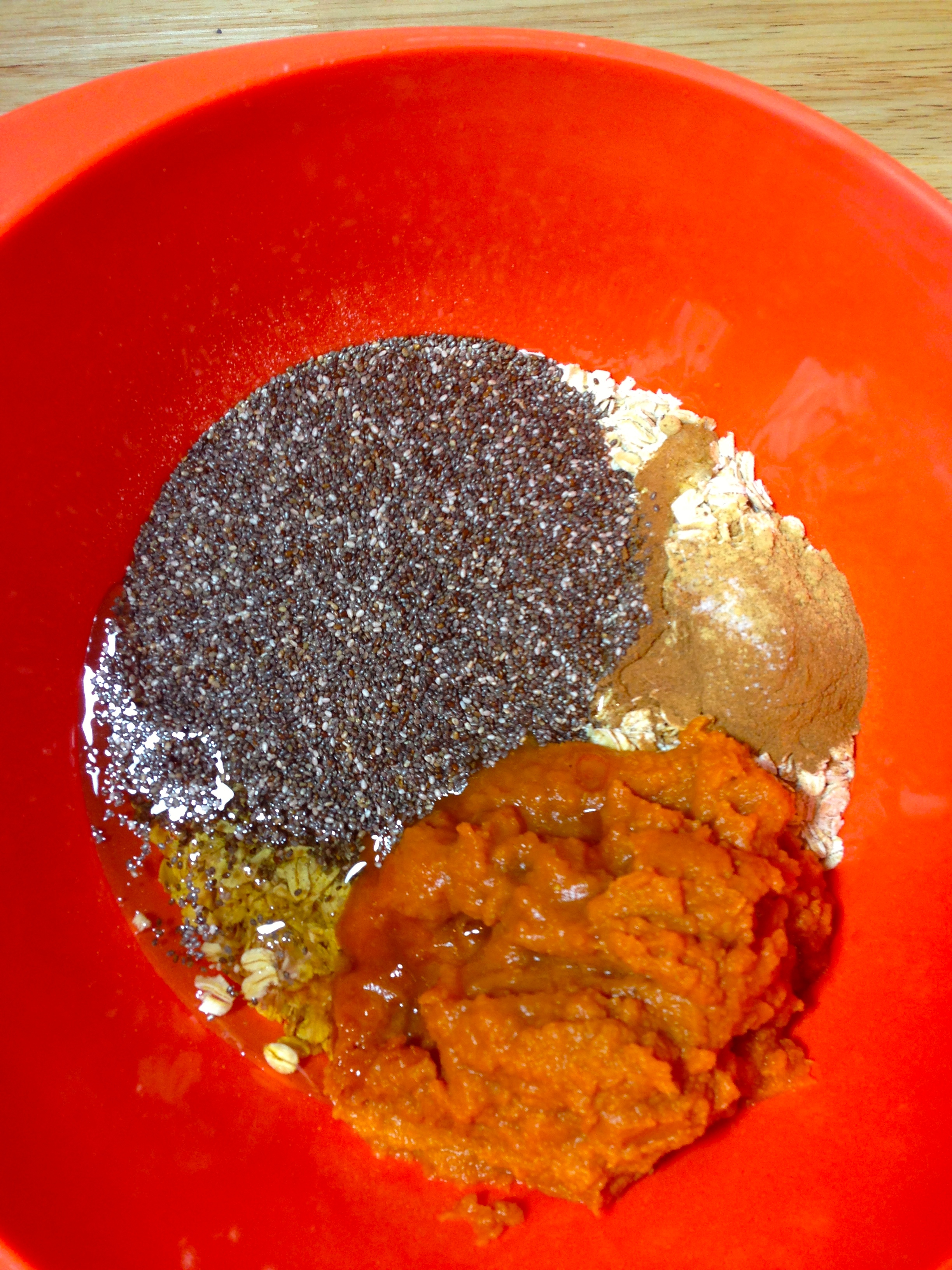 To be honest, most mornings a topping (or garnish if you want to use the chef-y term) is beyond my pre-coffee capabilities and it tastes great without.  Here, I've used some toasted pepitas, a drizzle of milk, and a pinch of cinnamon.
Overnight oats are nice because they are so versatile.  Combine milk with an equal amount of rolled oats, add some dried fruit or nuts, add some flavoring agents (spices, coconut, vanilla, honey, citrus zest, etc.), stir it all together, refrigerate overnight, and you're done.  You can tailor it to your preferences by switching up the milk (almond, coconut, oat, heavy cream, etc.) and playing with the ratio of milk to oats to change the consistency.  This article from Food 52 is a good place to find ideas.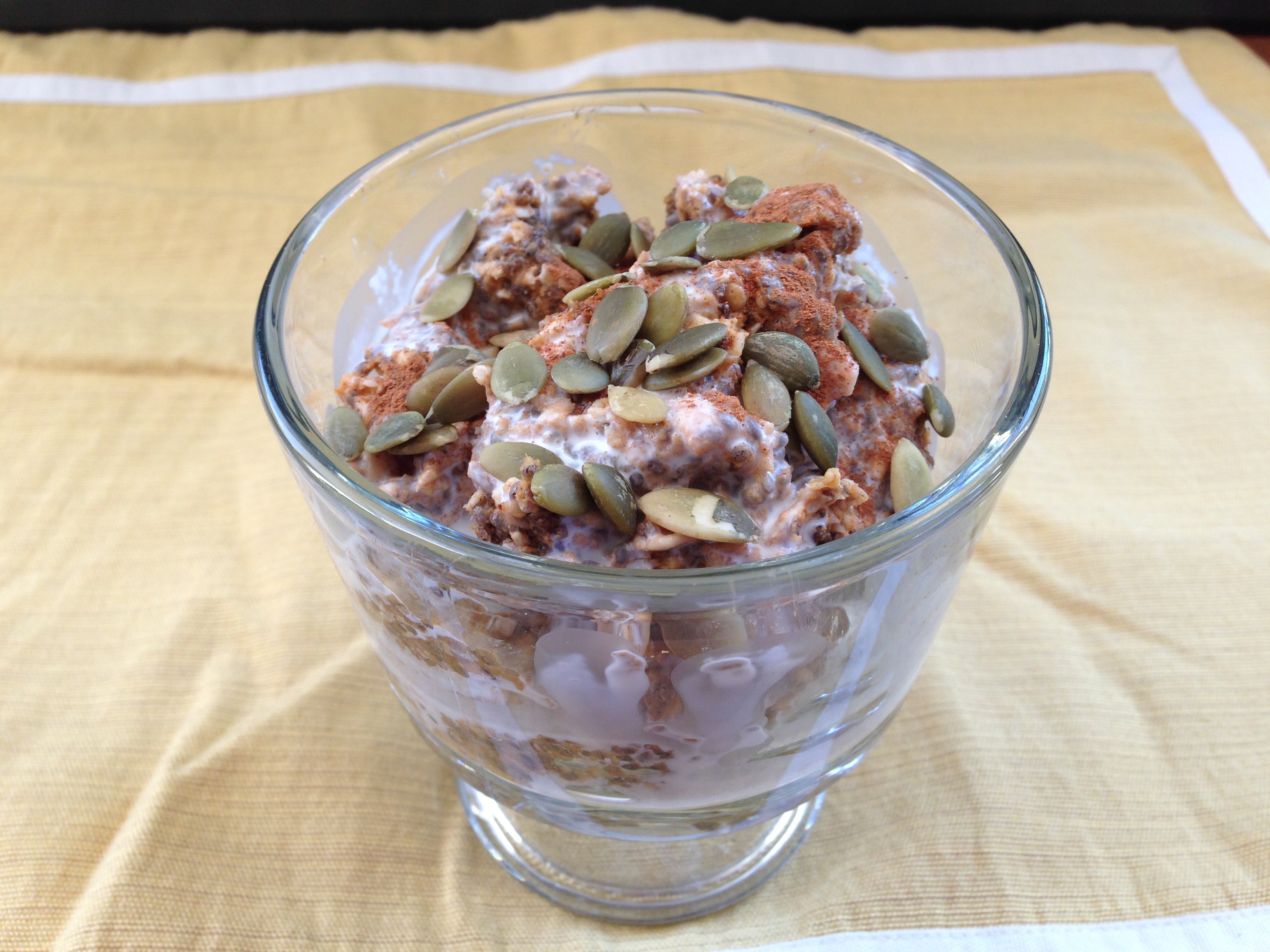 The recipe below makes enough Pumpkin Pie Overnight Oats for about 1 week, depending on your serving size.  After overnight refrigeration, the oatmeal comes out pretty thick, so if you like your oatmeal a little runnier than I recommend increasing the amount of milk.  Speaking of milk, I've used both oat milk and vanilla almond coconut milk with this recipe and had great results with each. Heavy cream would be especially good, and while using it as the main liquid wouldn't help my expanding waistline, a nice drizzle never hurt anyone. Chia seeds can be expensive but I recently found a huge bag at Costco for only $13.
Pumpkin Pie Overnight Oats
Ingredients
2 Cups Old Fashioned Rolled Oats
2 Cups Milk (almond, oat, coconut, cow's milk, etc.)
1/2 Cup Chia Seeds
1 Teaspoon Cinnamon
1/2 Teaspoon Ginger
1/2 Teaspoon Nutmeg
1 Cup Canned Pumpkin Puree
1 Teaspoon Vanilla Extract
Pinch Salt
2 Tablespoons Agave or Honey
Optional - Toasted Pepitas or Pecans for topping
Instructions
Combine all ingredients in a large bowl.
Stir well to thoroughly combine.
Cover bowl with plastic wrap.
Refrigerate overnight.
When you're ready to eat, scoop your desired amount from the bowl and top with toasted pepitas and/or pecans, a pinch of cinnamon, and a drizzle of milk.
7.8.1.2
6
https://www.thehungrytravelerblog.com/pumpkin-pie-overnight-oats/
Is it just me or do you struggle with eating a healthy breakfast?  If you've made overnight oats, comment below with your favorite recipe or flavor combination.  Let me know how you like the Pumpkin Pie Overnight Oats and be sure to comment if you have any questions.