I started playing volleyball when I was 9 years old.  What started as a fun activity, with only a few local tournaments a year, quickly advanced into a highly competitive team traveling across the country to play for a chance to qualify for the national championship.
Tournaments were entire weekend affairs.  Each season, we traveled to Chicago, Columbus, Indianapolis, Baltimore, Minneapolis, Atlanta, and Orlando, and then had a few smaller tournaments in small towns across the Midwest.  My parents and I would leave Perrysburg on a Thursday evening, usually driving but sometimes flying, and get to the tournament site in time to start playing early Friday morning.  We spent most of the weekend in a convention center with only short breaks in between matches to grab something to eat.  The convention centers had pretty standard food offerings – cheeseburgers, chicken fingers, and some sad salads and wraps – and none of which were acceptable on the diet plan our coach assigned to us for tournament days.
There's only so much food you can travel with and then keep in a cooler in a hotel room for the weekend.  We struggled to find options that were portable, nutritious, and would keep me energized for hours of athletic activity. Sometime early in my volleyball days, a family friend, Jamie, served this pecan ranch chicken dip at her house and I became obsessed.  Once my mom realized it was easy to make and would travel well, it became my new volleyball tournament staple.  Throughout the years, many of my teammates caught on and there were several successful volleyball teams fueled mainly by 'chicken dip'.
Last weekend, my mom made chicken dip for the first time in years and I remembered just how good it is.  I don't have volleyball tournaments anymore, but now I would serve chicken dip for guests to graze over with cocktails or as a snack at a party. It's an easy option when you need to take a dish to an event and it's sure to be a crowd pleaser. I prefer serving the dip with wheat thins, but it's great with carrots, celery, or bell peppers too.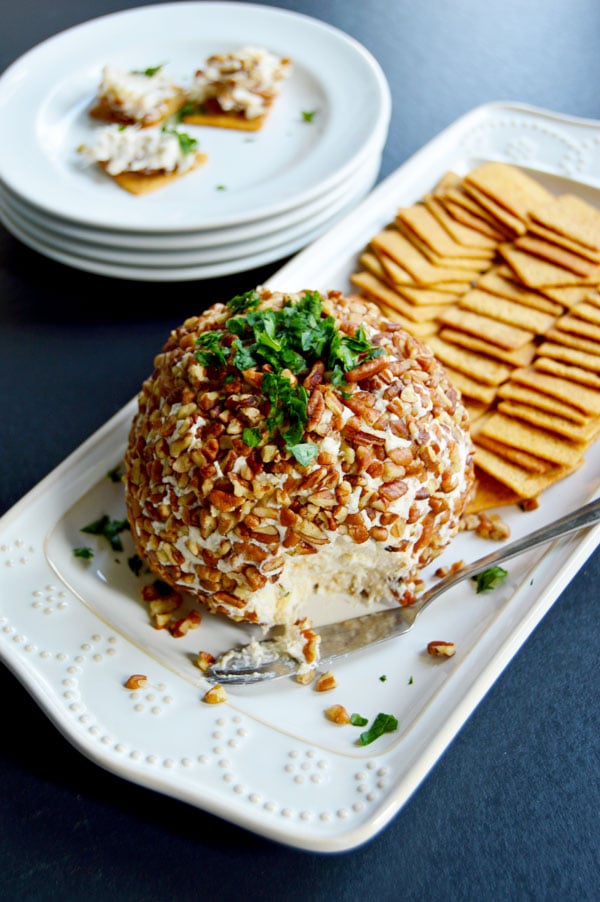 Pecan Ranch Chicken Dip
Pecan ranch chicken dip couldn't be easier to make.  Simply mix together softened cream cheese and a package of ranch dressing mix.  Once they are thoroughly combined, stir in the chicken and continue to mix until everything is smooth.
Tip: Drain the chicken and then use your hands to break it up into small pieces.  You don't want any big lumps or chunks in the dip. 
There are two options for serving the dip.  You can stir the pecans into the mixture and then serve it as a dip in a nice bowl or container.  You can also form the mixture into a ball, roll it in pecans, and serve it as a cheese ball as shown in the photos below.
If serving as a cheese ball, wrap the ball in a piece of plastic wrap and use your hands to lightly press the pecans into the mixture.  This helps to adhere them and prevent them from just falling off.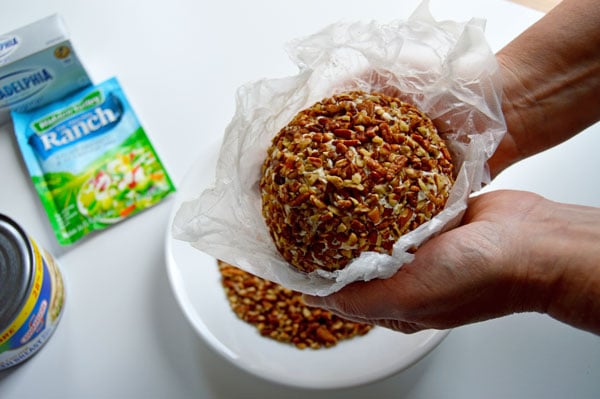 The chicken dip can be served immediate but it is best if you let it chill for a few hours so the flavors can blend together.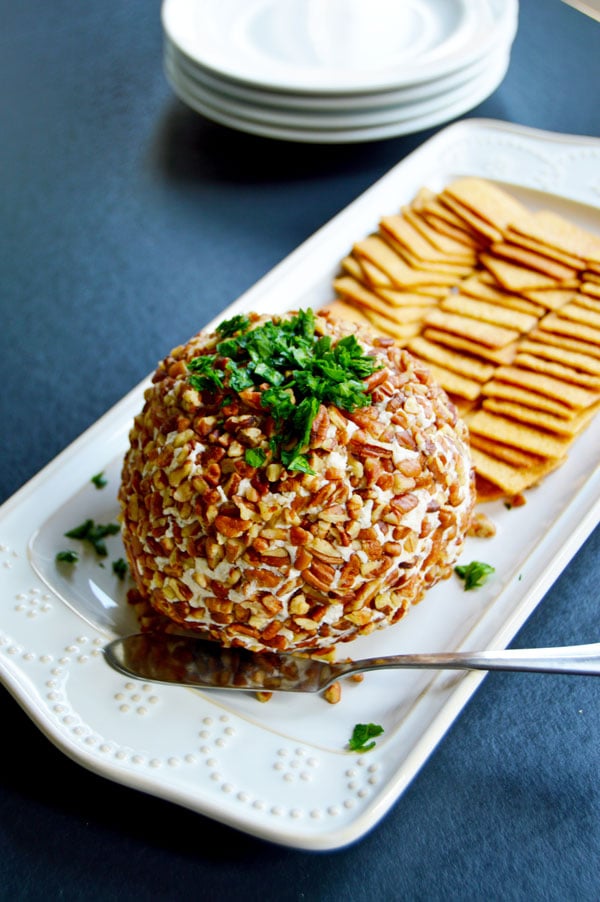 Jordan Hamons | [The Hungry Traveler|http://www.thehungrytravelerblog.com]
Yields 1
Pecan Ranch Chicken Dip
Ingredients
8 ounces cream cheese, softened
1 packet ranch dressing mix
1 12.5 ounce can white meat chicken, drained and broken up
1/2 cup chopped pecans
Instructions
Using a wooden spoon or rubber spatula, in a small bowl, mix the cream cheese and ranch dressing mix together until thoroughly combined.
Add the chicken and mix well, making sure to break up any large chunks. Continue mixing until the ingredients are thoroughly combined and the mixture looks uniform.
There are two options for finishing the chicken dip:
If you want to serve as a dip, stir in the pecans and place the mixture into a bowl. Refrigerate until thoroughly chilled.
If you want to serve it in a ball, form the mixture into a ball and then roll it in the chopped pecans, pressing gently to adhere the pecans. Refrigerate until thoroughly chilled.
Serve with wheat thins, crackers, and vegetables such as carrots, celery, and bell peppers.
7.8.1.2
24
https://www.thehungrytravelerblog.com/pecan-ranch-chicken-dip/