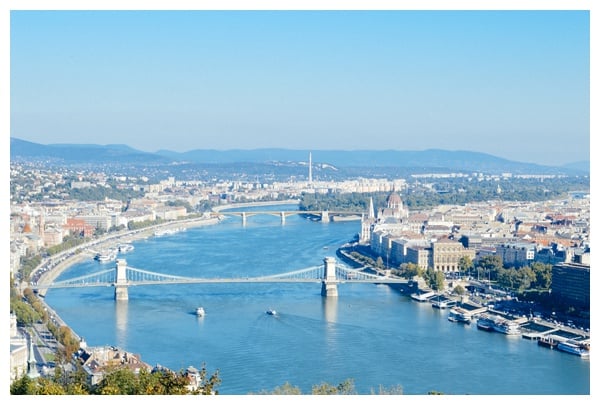 Hungarian cuisine wasn't on my radar until a few years ago when my favorite bakery, Zingerman's Bakehouse in Ann Arbor Michigan, started adding many traditional Hungarian soups, pastries, and cakes to their menu. After trying their Hungarian dishes, I became interested in Hungary's culinary traditions. When I had the opportunity to visit Budapest, my top priority was learning more about Hungarian food, but I was a little overwhelmed by the size and the city and the language barrier. I knew I was going to need some help.
Before my visit to Budapest, I did some online research and put some feelers out to my culinary friends. One name kept coming up — Taste Hungary Budapest Food Tours. I headed to their website and was immediately excited by the offerings — dessert classes, dinner tours, sweets tours, market walks. Once I realized they were the same group that helps Zingerman's lead their Hungarian food tours, I was completely sold.  A few emails later and I was booked to attend two of their tours.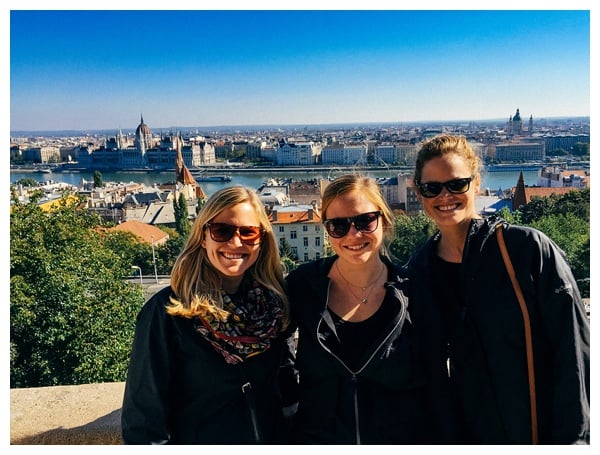 Just a side note, those are not my real sunglasses. I borrowed them from our guide.
Simple peasant dishes that originated when nomadic tribes rode the plains of Hungary are the foundation of traditional Hungarian cuisine. The Italians and Turks introduced new ingredients and later the Austro-Hungarian Empire refined the cuisine. While the stews and casseroles may be humble, the country is known for its elegant cakes and baked goods. While in Budapest, I did a Dinner Walk that explored modern Hungarian restaurants and a culinary walk that introduced me to the classics.
Budapest Dinner Walk
Hungarian Wine and Charcuterie at The Tasting Table
We met our tour group at The Tasting Table, a wine tasting room owned and operated by Taste Hungary. While our guide Elza gave us some background information on Hungarian cuisine, we sampled some Hungarian wines and enjoyed a charcuterie plate with goose cracklings, spicy pork sausage, pumpkin seed oil, smoked duck, beef sausage, and truffled plum jam. We learned than 90% of Hungarian wine is consumed within Hungary.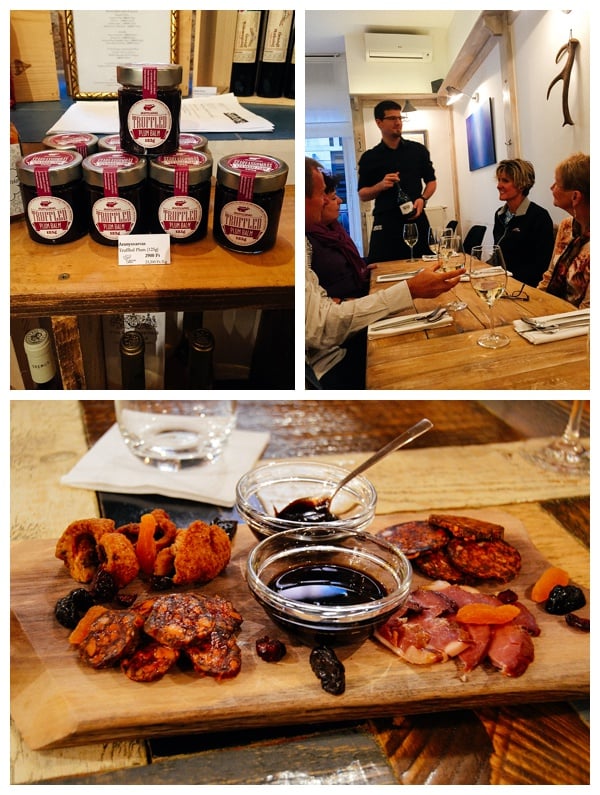 The Tasting Table sells Hungarian wines, artisanal Hungarian jams and condiments, and several high-quality varieties of paprika. It's a great place to purchase souvenirs or gifts for those back home.  I bought a few bags of paprika for my mom, my neighbor Chris, and myself. Had I more room in my luggage, I would have purchased the truffled plum jam and the pumpkin seed oil.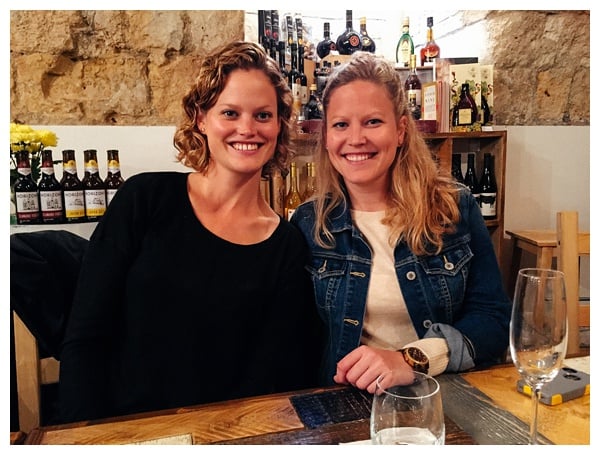 Modern Hungarian at Esca
Our next step was Esca, a modern Hungarian restaurant. An open kitchen and a Nordic-inspired menu bring the "studio concept" to life. Chef Gábor Fehér, one of Budapest's most celebrated chefs, honed his techniques while studying at Le Cordon Bleu in Paris and working in some of the best restaurants in Scandanavia.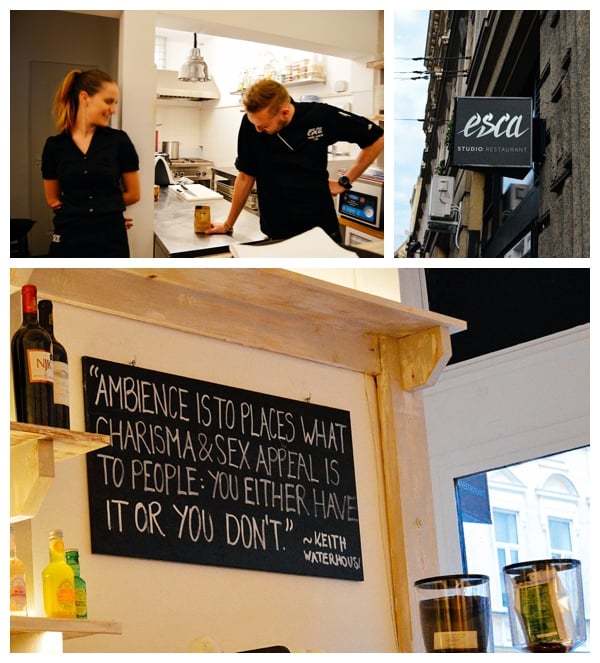 A beautifully plated course of stuffed guinea fowl thighs with a saffron-chive cream sauce and roasted fingerling potatoes arrived before us. The dish was from the rustic Hungarian soup and stew we expected. Elza explained to us that she likes to come here because the cooking is more refined than what you will find at most restaurants in Budapest.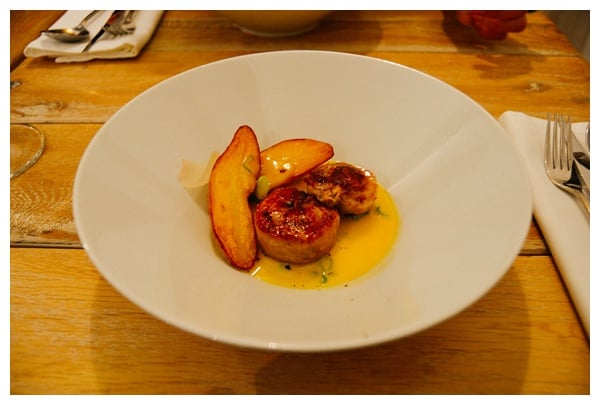 Street Food Soups
Our next stop was at Bors Gasztro Bár for some Hungarian street food. The bistro's creative, wacky sandwiches have gained notoriety in Budapest, but we tried the specialty soups. The packed restaurant was one of the hottest spots in Budapest at the time.

Eating soup in the middle of a bustling Budapest street was goofy, but still very fun experience.
We tried a traditional Hungarian vegetable stew made from dill, sausage and squash called főzelék. I shouldn't call it a stew because to Hungarians főzelék is its own dish — not a stew, not soup but its own thing. It was hearty and comforting and warmed us up on a chilly evening. When I think of Eastern European cuisine, this soup is exactly the type of thing that comes to mind.
In Hungarian cuisine, it's common to serve sweet soups before savory courses. Typically, sweet soups are made of fruit and served cold in the summer, but this restaurant has been experimenting and getting a bit adventurous with their soups. We tried the Nutella and waffle soup. It was good but would have benefitted from a scoop of vanilla ice cream!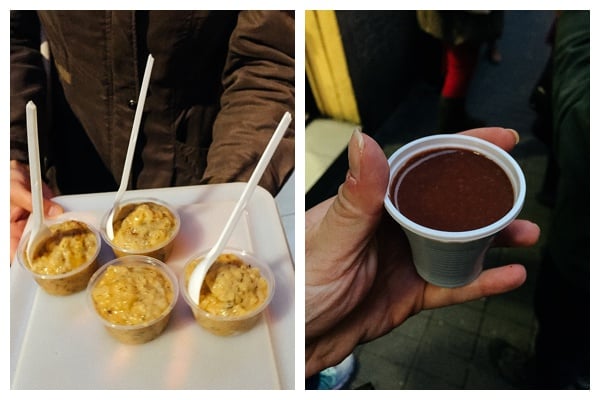 Ruin Bars
Ruin bars are unique to Budapest. The name is self-explanatory: the bars are set in ramshackle old buildings, sprayed with graffiti and filled with junk and mismatched furniture. I promise they are more charming than the description makes them sound. The first ruin bars were started as cheap places to drink and made use of the crumbling, vacant buildings that plagued the Jewish Quarter after the end of World War II.
We visited Szimpla Kert (translates to 'Simple Garden') which was the first ruin pub and is still considered the best by many Budapest locals. There's only a small sign pointing to the entrance, (and while it's very popular with tourists and listed in nearly every guidebook) and the atmosphere makes you feel like you're discovering a secret underground club. It's a laid back place with a come-as-you-are atmosphere.

While at the ruin bar, we each tried a shot of Palinka, a traditional Hungarian fruit brandy, and some local craft beers.
Hungary has one of Europe's highest alcohol consumption rates, and one of the nation's favorite spirits is palinka. It's a type of Hungarian moonshine and often has at least 50% or more alcohol. A few years ago the Hungarian government passed controversial legislation that permitted Hungarians to distill a certain amount of palinka at home as long as they had the proper equipment. For palinka to be called palinka, it must be made from fermented fruit grown in Hungary, be bottled and distilled in Hungary, and have an ABV of between 36.5-80%.
The palinka tastes intensively of alcohol, but discerning palates may be able to detect a hint of the fruit (often apricot or plum).
The shot I had was not at all good, but while you're in Hungary, you should give palinka a try.
Gulyás / Goulash
When you think about Hungarian cuisine, often goulash will come to mind. You'll find different versions of goulash all over central and eastern Europe, but the Hungarian version is said to be the original. Gulyás was first made by cattle herdsman who carried dried meat with them and then reconstituted it with water and spices in cast-iron kettles over open fires out in the fields where they worked. The name gulyás even means herdsmen in Hungarian. The dish grew in popularity and spread across Europe where other cultures put their touch on it and started referring to their casseroles and stews as goulash.
We tried gulyás soup at a kosher restaurant called Macesz Bistro, an eastern European-style bistro in the Old Jewish District. The menu features traditional reimagined Hungarian and Jewish cuisine with a frequently changing menu to reflect seasonal ingredients and fresh produce.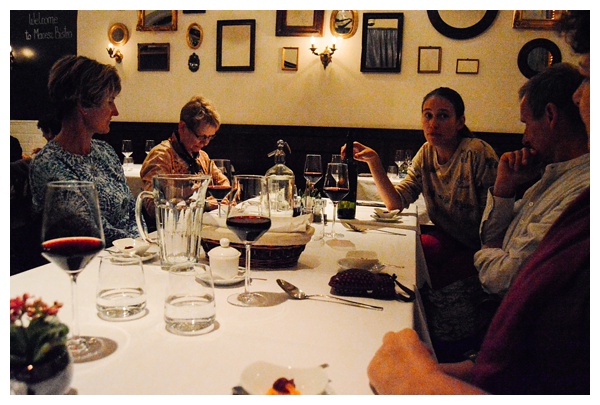 Hungarian gulyás is a soup traditionally made with beef, onions, potatoes, vegetables, and plenty of paprika. The version we tried was a modern interpretation and made with lamb. Although it's a simple soup, the paprika gives it a bold, spicy flavor that turns complex from a long simmer. It's a comforting dish and went perfectly with the red wine (Hungary's famous Bull's Blood blend of reds) we drank.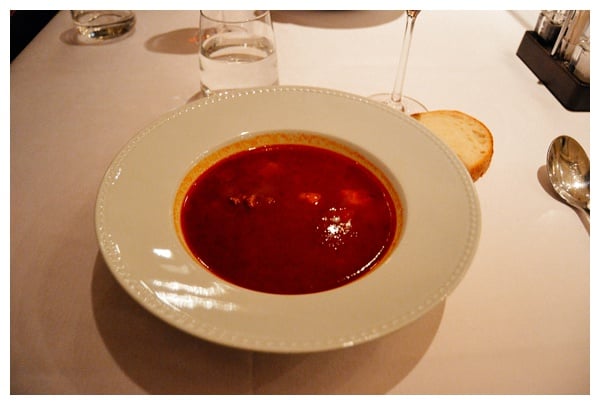 Traditional Desserts at a Hungarian Coffeehouse
Hungarians take pride in their nation's great baking traditions. In this country of sweets-lovers, you'll find coffee houses and bakeries on nearly every corner. Our last stop of the evening was Művész Kávéház, a grand cafe found just a few blocks from the Opera and known as "The Artists Coffeehouse."
We ended our evening by trying a variety of traditional Hungarian desserts. Elza picked out a poppyseed cake, a sour cherry pite, and the Hungarian cake of the year (more on that towards the end of the post).
After visiting Prague and Vienna, I had grown to enjoy poppy seed desserts, and this cake was no exception. Poppy seeds symbolize richness in Hungarian culture and Hungarians eat poppy seed cake for good luck while celebrating the New Year.
My favorite dessert was the pite, the Hungarian version of pie, made with a layer of fruit (often sour cherries, apples or plums), dusted with ground walnuts and sandwiched between layers of flaky pastry.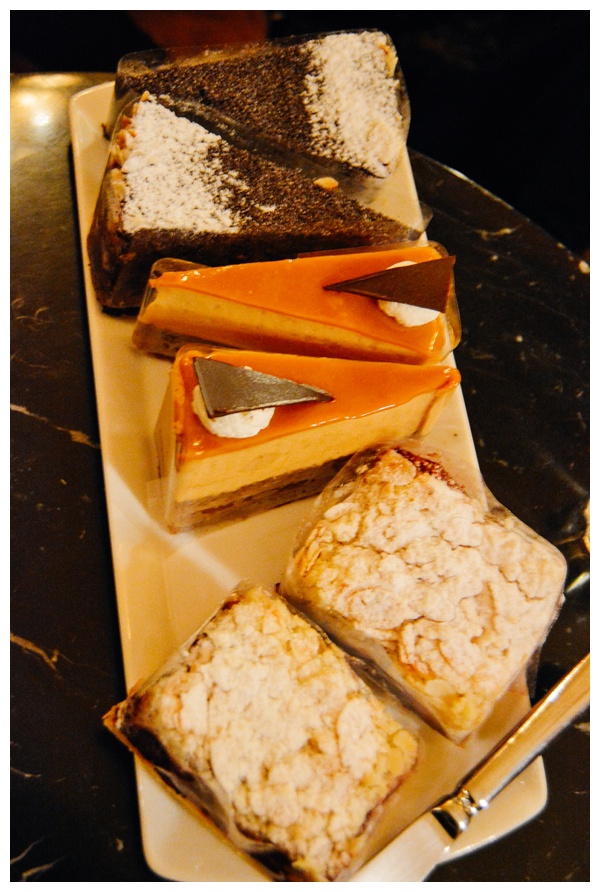 The best part of the Dinner Walk was the group A friendly mother-daughter pair from Akron, Ohio and a lovely husband-wife couple from London joined us for the evening. It was fun to get to know everyone  and share food and travel stories. The British couple asked us about life in the US and the question that most concerned them was "Is Donald Trump really going to be your president?" Unsure of the answer, we moved to a lighter topic and discussed The Great British Baking Show instead.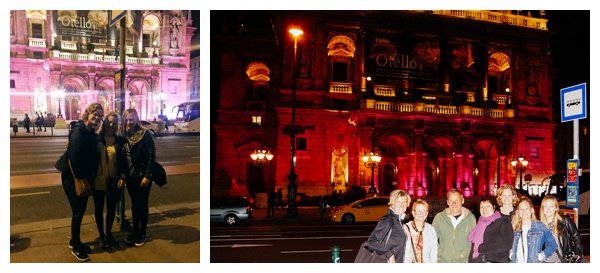 Budapest is gorgeous at night. It's similar to Paris in the fact that you want to see all of the buildings and monuments twice — once in daylight and again when they are lit up at night. While in Budapest, a river cruise is a must. There are plenty of options on the large tourist boats, but I would recommend looking into a private cruise like the tour and wine tasting offered by Taste Hungary.
Look closely at the photo below and you'll see all of the bats that fly around the parliament building at night.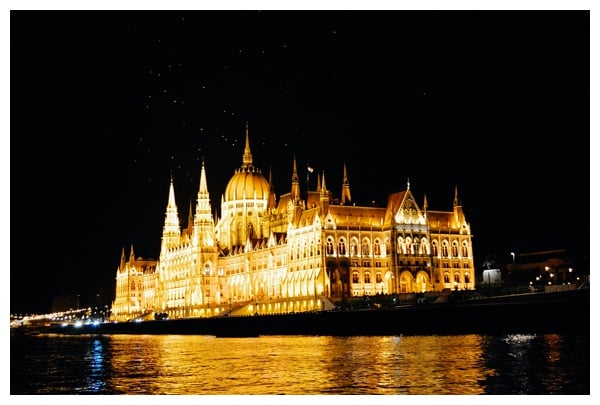 The Dinner Walk was a great look into Budapest's modern culinary scene and bustling nightlife. We explored vibrant neighborhoods and saw how the city comes alive after dark. I enjoyed visiting the restaurants where the average Budapest local would have dinner and learning about the food culture in Hungary. It was fun to see people out and about and to get a sense of how the locals live their lives.
---
Budapest Culinary Walk
The Budapest Culinary Walk serves as an introduction to Hungarian cuisine and ensures you'll get to try all of Budapest's greatest culinary hits during your time in the city. The tour meets at "Budapest's Cathedral of Food" and one of the must-see sights in the city —  The Central Market Hall.
Central Market Hall
The Central Market Hall is the oldest and largest public market in Budapest. Originally built in 1896, the market was nearly destroyed during the World Wars. After a renovation in the 1990s, the market has become one of the most popular attractions in Budapest.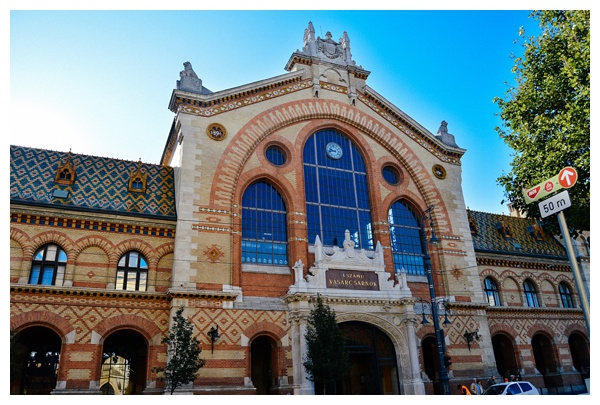 The cavernous market consists of three floors and over 10,000 square meters of food stalls. The basement is home to vendors selling pickles, the butchers, and the fish mongers. The ground floor is mainly spices, produce, baked goods, and charcuterie. Restaurants, cafes, craftsmen, and souvenir stands are found on the top floor.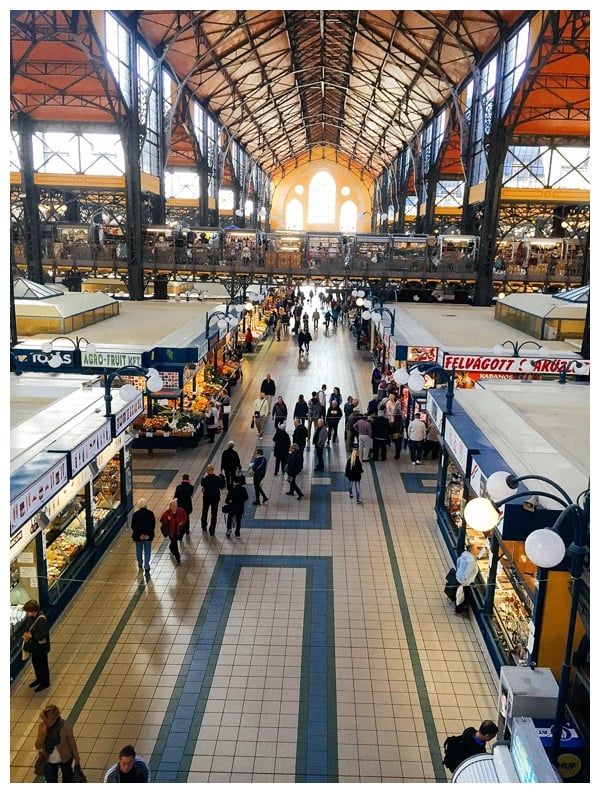 I suggest arriving at the market around an hour before the start of your tour. Unless you have plans to come back to the market later on during your trip, you will want time to explore. Of course, you'll see much of the market during your tour, but it's a good idea to arrive early so you can wander around and potentially buy some souvenirs and take photos.
Unicum
Our tour started with a shot of Unicum, a Hungarian herbal liqueur made from more than 40 herbs and aged in oak casks. Unicum is one of Hungary's national drinks and also comes in a plum flavor. Hungarians drink Unicum as a digestif and often drink several shots throughout the day, before and after their meals.
I can't say I enjoyed the flavor of Unicum, but group tours can be awkward at first, but the shot helped break the ice and get everyone talking.

Lángos
Lángos was the best thing I ate on the culinary walk. A descendant of Turkish pita, the traditional Hungarian snack is made with fried bread, brushed with garlic oil, drizzled with sour cream, and topped with a mound of Trappist cheese.
Our guide, Gabriella, told us it's a typical beach snack for Hungarians, and they often eat it accompanied with palinka or Unicum.
It's often referred to as 'Hungarian Pizza' and sometimes you can find a sweet version made with cinnamon and sugar (which I would very much like to try!).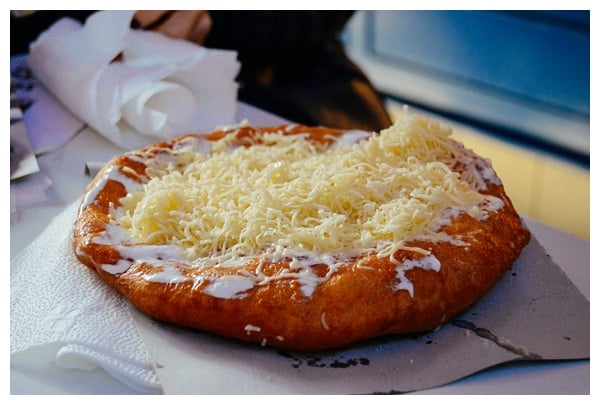 Exploring the Market
With bellies full of lángos and Unicum, we wandered around and explored the market. While you could do this on your own, it was wonderful to have a guide to tell us what we were seeing and to translate for us. I loved looking around and seeing how different the food shopping is from at home.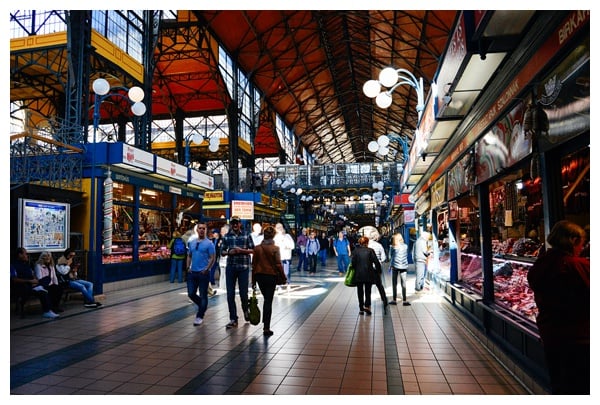 Peppers are an essential ingredient in Hungarian cuisine. Hungarian wax peppers are similar to jalapenos in spiciness and are excellent for cooking. The Hungarians take pride in their peppers…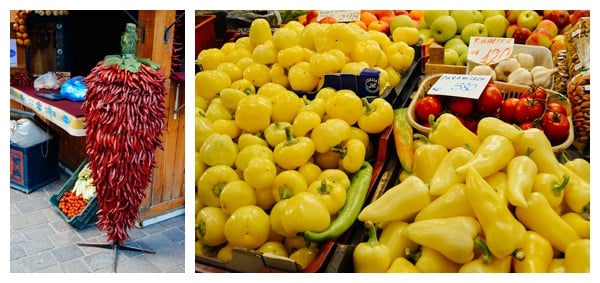 … and they also take pride in their paprika. Paprika is made from sweet and hot red chile peppers. The peppers were introduced to Europe from Mexico, via Spain and Morocco, then quickly made their way to Turkey and Hungary. Hungarian paprika is air-dried (as opposed to smoked Spanish pimenton) and has a smooth, earthy flavor that ranges from sweet to spicy.
Paprika is an excellent souvenir or gift for those at home. You'll find plenty to buy at the market, but I recommend purchasing the higher quality version sold at The Tasting Table.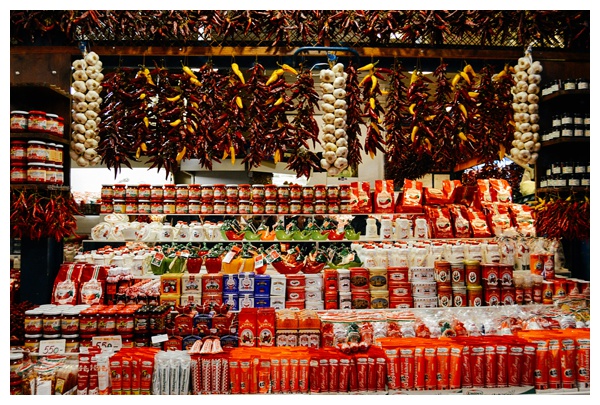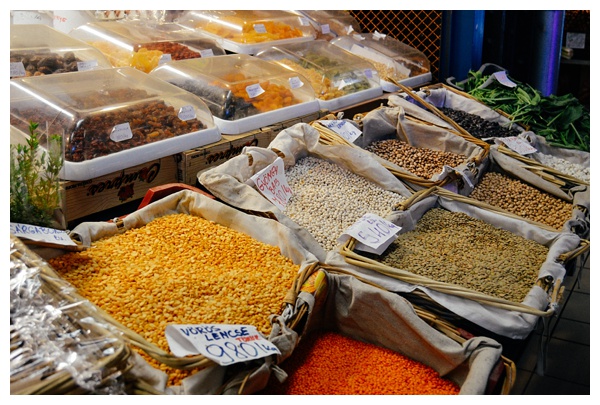 Sausage
Our next stop was a butcher where we tried a variety of sausage including spicy salami, horse sausage, beef tongue, venison, pork liver, and a pork sausage made from the famous hairy pig. My favorites were the salami and the venison, which was surprising because I had a traumatic venison incident as a child and don't often enjoy the flavor.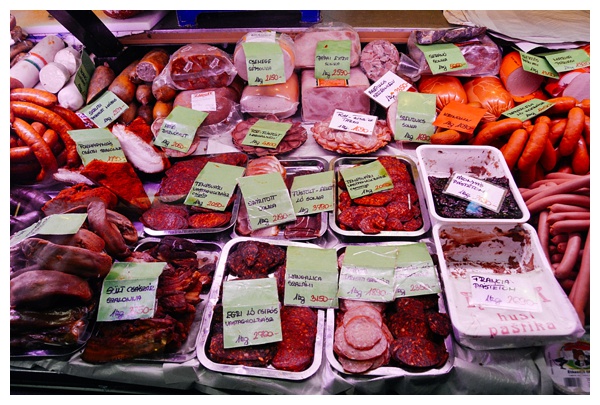 It's fun to go outside of your comfort zone when traveling and it's best to do so on a food tour when you have the support of your group.
I have to be honest and admit that I did not taste the horse sausage. I try to taste at least one bit of everything when traveling, but I just couldn't get myself to eat the horse. I did push myself to try the liver (I've never enjoyed the flavor of liver) and the beef tongue which had an ok flavor despite the unappealing look and texture.
Can you take a guess as to which one is the beef tongue? It shouldn't be hard to figure it out.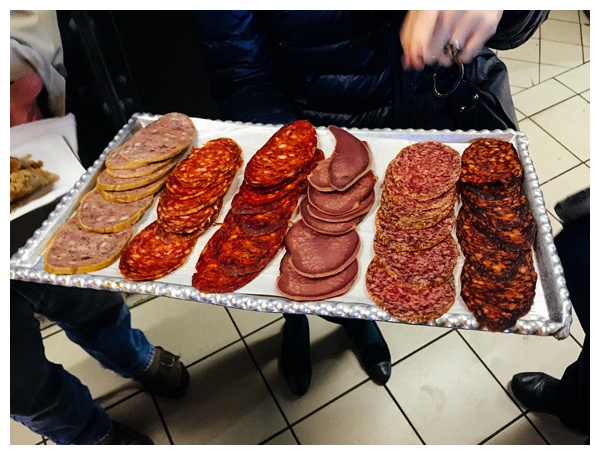 The beef tongue sausage is the fourth from the left. 
I mentioned the hairy pig above, but it deserves an explanation. The Mangalica is a breed of pig that has a thick, wooly coat similar to a sheep. Described as "the Kobe Beef of pork", Mangalica is famous for its fatty, marbled meat and rich flavor. The pigs now live primarily in Hungary's two largest national parks but almost faced extinction before the breed was revived in the 1990s. It's still quite rare and expensive but a must-try while in Budapest.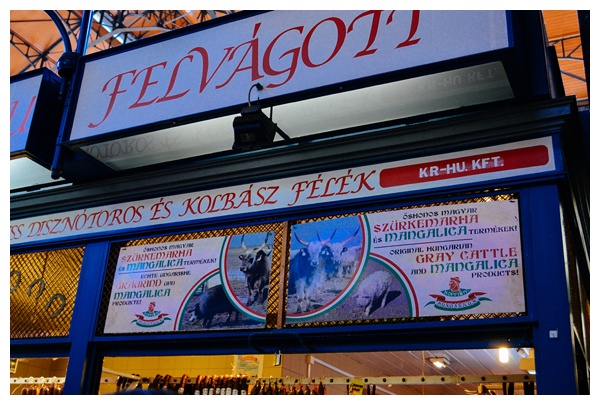 Pork fat is a signature of Hungarian cooking, and we saw cases and cases of lard at the market. Lard provides the rich flavor evident in many traditional Hungarian dishes.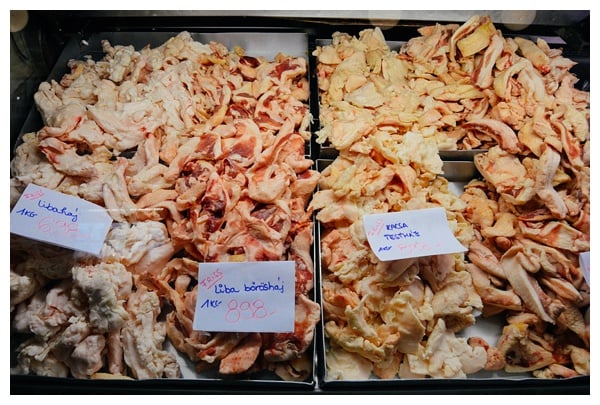 We also saw huge cases of goose and pork cracklings, or deep-fried pieces of pig/goose/duck skin. Don't knock it until you try it. They are addicting.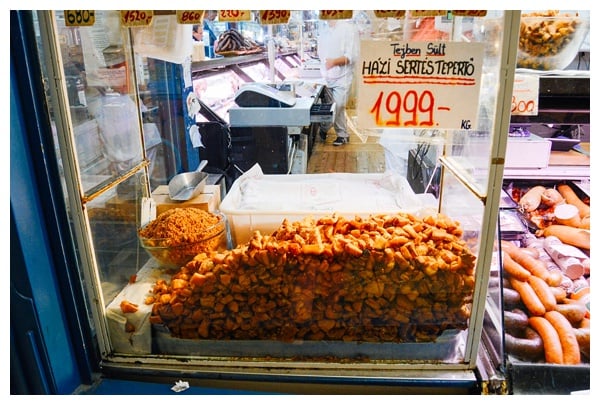 Hungarian Pickled Vegetables
Pickled vegetables are another staple of Hungarian cuisine and date back to the time when fresh vegetables were unavailable in the winter months. At the market, you'll find the pickle vendors in the basement.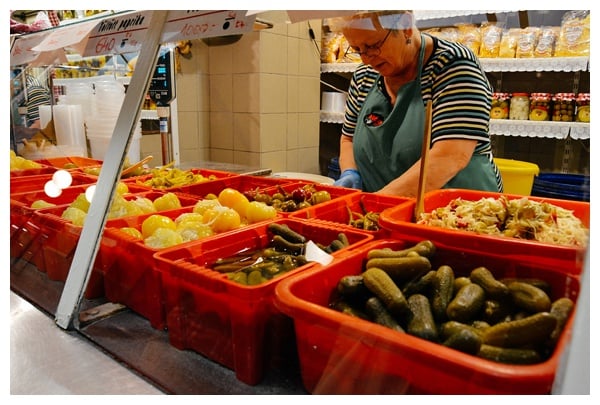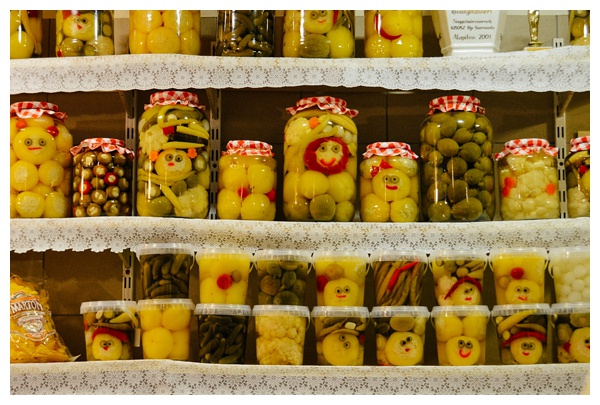 Gabriella purchased a variety of pickles for us — garlic, cauliflower, gherkins, dill pickles, peppers, and some hot peppers. The pickled garlic and cauliflower were my favorites.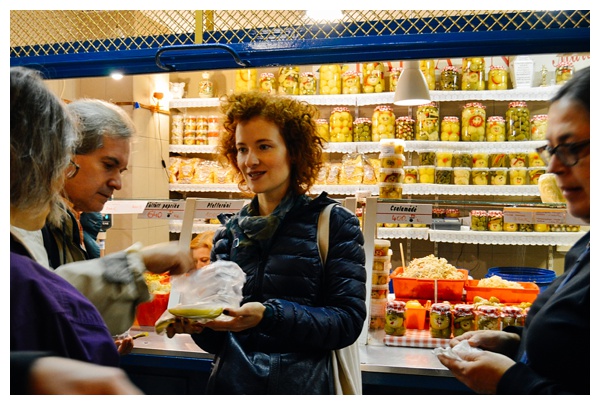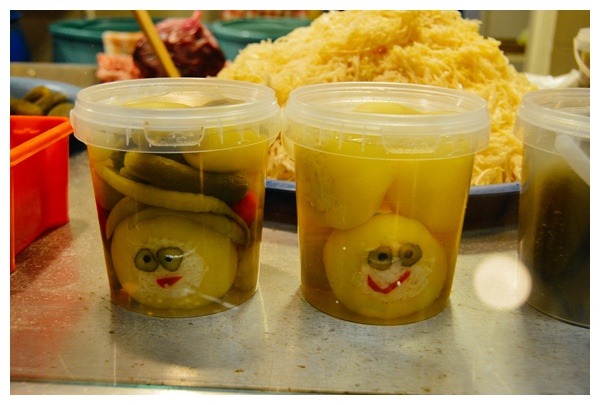 Artisan Chocolates
After leaving the market, we headed to a chocolate shop called Rózsavölgyi Csokoládé and sampled gourmet chocolates with unique flavor pairings. We were each given the opportunity to pick two chocolates, and I chose a crunchy praline (always my favorite) and a balsamic-coffee truffle. I had never tried balsamic and coffee paired together before and it surprisingly worked pretty well.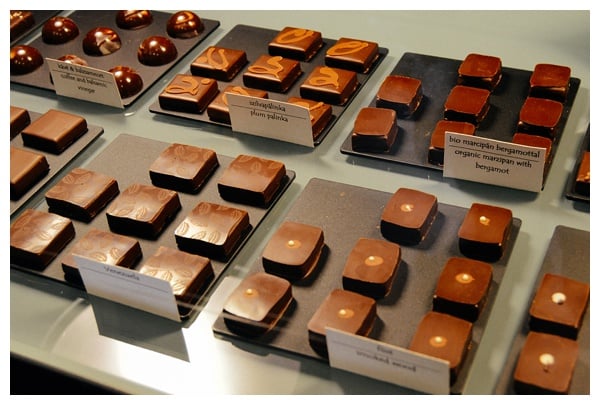 Butcher Shop Lunch Counter
Our next stop was Belvárosi Disznótoros, a butcher shop that is popular with office workers for a quick lunch. The name is quite straight forward and translates to "Downtown Pig Slaughter."
When we arrived, the first thing we noticed was the lack of chairs. Instead of sitting at a table and eating lunch, patrons stand at a tall counter and quickly eat their meals.

We had our choice of soups and I chose the pumpkin. Along with the soup, we received a generous bowl of pogácsa. These tiny cheese biscuits are tender and flaky, completely addicting and the perfect addition to soup (or really anything). They are often served as a snack at coffeehouses or before a meal and sometimes flavored with black pepper, bits of bacon, or ground walnuts. I ate them like popcorn.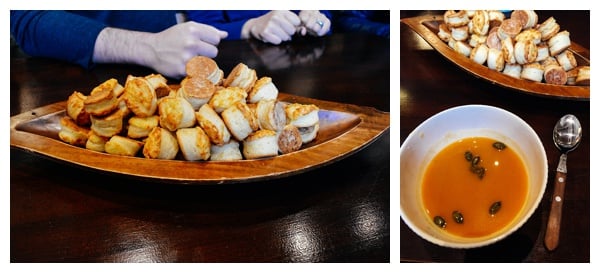 The menu is traditional and offers a variety of grilled meats, sausages, and other hearty Hungarian favorites such as whole pork trotters and black pudding.  We tried the roasted duck leg, a liver rice sausage, and a pork sausage.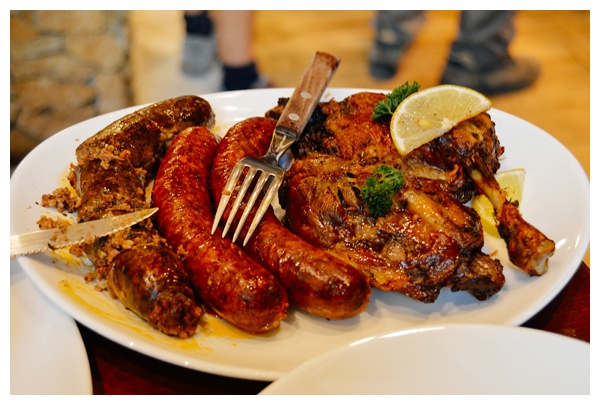 We also tried a variety of pickles, salads, and condiments to eat with the meat. There was a cucumber salad, pickled red cabbage, freshly grated horseradish, a spicy mustard, and some other tomatoes and other bright flavors to cut the richness of the meat.
Two members of our group kept a kosher diet and Gabriella made every effort to accommodate them. Our group benefitted because they were generous to share their kosher dishes, such as the fried cheese and vegetables show below.
It's funny when you're at a butcher shop and your favorite dishes are the vegetables. The meats and sausages were fantastic… but the fried vegetables and cheese were beyond amazing.  We learned that vegetarianism is not very well understood in Hungary and sometimes people don't think about the animal fat used in cooking. The traditional vegetarian dish is a big plate of fried cheese.

Classic Hungarian Patisserie
After lunch, we headed to Auguszt Cukrászda, a traditional Hungarian patisserie that has been in business since 1870. Gabriella ordered a poppy seed roll, estherhazy torta (walnut cake), apple pite, and the famous dobos torte. My favorite part of trying these cakes was learning the history behind them, such as the story of the dobos torte.
The dobos torte is the most famous Hungarian dessert both in the country and abroad. The beautiful cake is made from six layers of sponge cake layered with chocolate buttercream, topped with a crispy caramel biscuit, and coated on the sides with nuts. The caramel layer is cut with a special knife before it hardens and the pieces are arranged on top of the cake. The cake was created by Hungarian confectioner József Dobos who owned a gourmet shop in central Pest and sold high-quality local foods and imported delicacies.
In 1885, József Dobos was hired to cater an elegant reception at the National General Exhibition in Budapest and he decided to create a new cake for the event. Queen Elizabeth and Emperor Franz Joseph were in attendance and tried and fell in love with the newest cake creation. Soon after, József Dobos was made a vendor to The Royal Court and his signature cake became a sensation all over Europe. The caramel and buttercream worked to extend the cake's shelf life and Dobos invented a special shipping container to keep it in perfect condition during their journey.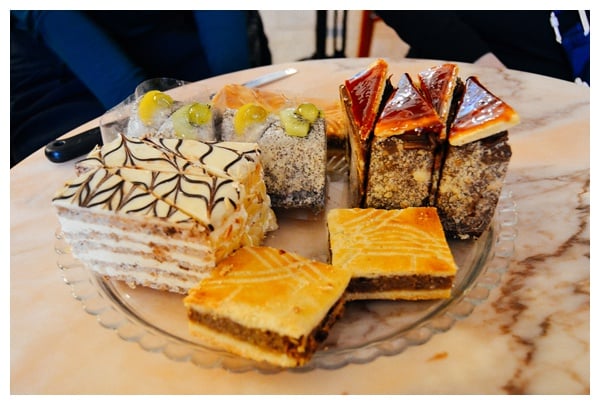 Earlier in the post, I mentioned the Hungarian cake of the year and it's one of my favorite Hungarian traditions. Each year, bakers in Hungary participate in a contest to win the honor of creating the country's birthday cake. Hungary celebrates the nation's birthday on August 20, and the winning cake is announced to the public in a special celebration. The recipe is released, and the cake is sold in bakeries all over the country so everyone can try it.
The 2015 winner was an Apricot Schnapps Peanut Cake made from caramelized peanuts, apricot schnapps syrup, cacao butter and apricot cream, milk chocolate mousse, and a caramel and peanut topping. The flavor combination is creative and worked well. I especially liked the hints of apricot.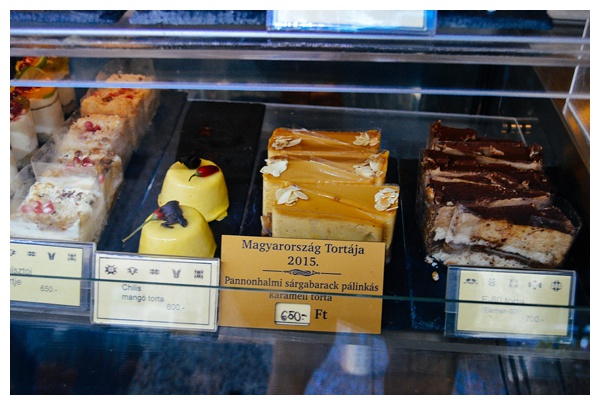 Auguszt was my favorite stop of the culinary walk and I could have spent hours people watching and trying the different desserts. The grand welcoming space felt like everything I imagined a European cafe to be.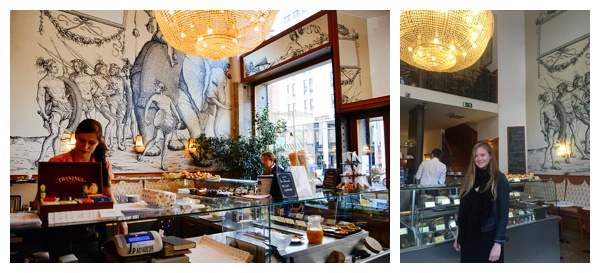 Wine and Cheese Tasting
The finale of the tour was a visit to The Tasting Room for a wine and cheese tasting. We tasted three quintessential Hungarian wines and learned about the country's wine growing regions, varietals, and styles. My favorite was the sweet wine, and I've been regretting not writing down the name because I haven't stopped thinking about it!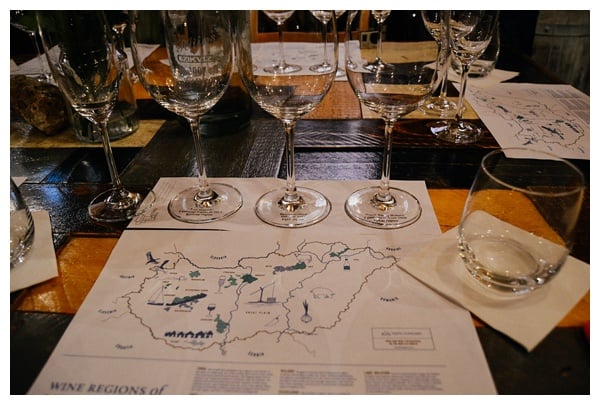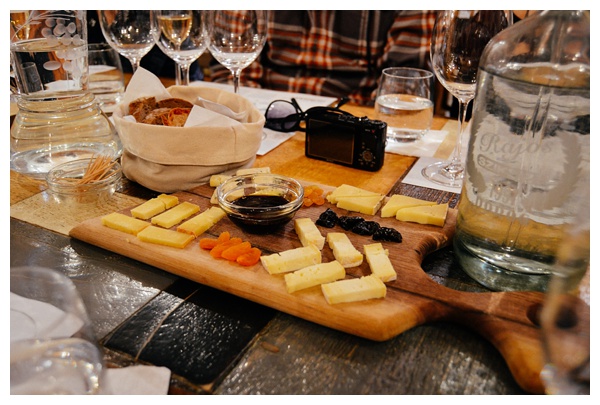 The Budapest Culinary Walk was a fun, enriching experience. I enjoyed trying traditional Hungarian foods and exploring the market with a local guide to tell us what we were tasting and seeing. It was a great contrast to the more modern restaurants we visited during the Dinner Walk. If you only have time to do one, I recommend the Culinary Walk so you can visit the market and taste traditional dishes, but if you can fit two tours into your stay, the dinner walk is a great complement.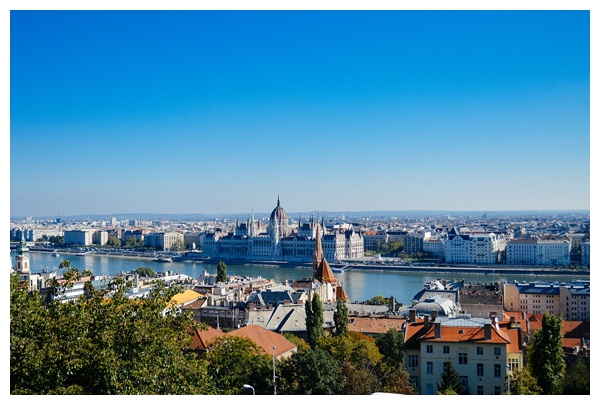 Tips and Advice:
Take notes and photos of the shops and the foods you try. It's harder to remember than you think! Hungarian is a difficult language and photos of the shop names are handy for later reference.
Look for souvenirs and gifts at The Tasting Room.
If you're doing the Culinary Walk, arrive early so you can wander around the market before the tour starts. You'll see several areas of the market, but there is more you'll want to explore on your own.
Don't forget to tip your tour guide.
If you enjoy yourself, write a TripAdvisor review. It only takes a few minutes and really helps the tour operators.
If you have any dietary restrictions or allergies, please let them know when you make your reservation. They will go out of their way to accommodate you if they know in advance. It's not fair to spring it on the guide at the start of the tour and expect them to have alternate samples for you.
---
TASTE HUNGARY BUDAPEST FOOD TOURS
Website // Blog // Facebook // Instagram // Tripadvisor Reviews
Taste Hungary also offers tours in Austria, Slovakia, Slovenia, and Croatia.
---
Never miss a post! Subscribe here to receive my latest blog posts in your inbox.
---
Thank you to Taste Hungary Food Tours for hosting me as a guest on the Budapest Dinner Walk and Budapest Culinary Walk and for sponsoring this post. All opinions are my own.