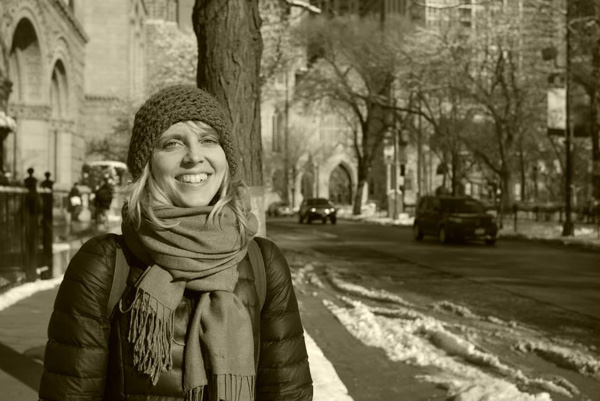 Earlier this summer I (virtually) met Jessie Svet Reedtz when I interviewed her for The Hungry Traveler Interview Series. I loved hearing her travel stories and was captivated by the authentic, honest voice in which she told them.
Jessie had so much travel advice and so many stories to tell that I decided to break her interview into two parts. In part one, Jessie told us about moving to Denmark and what it's like to live in Copenhagen. Before you start reading below, get caught up with the first part of the interview here: The Hungry Traveler Interview: Jessie Svet Reedtz (Part 1)
In the second part of the interview, Jessie shares some of her most memorable dining experiences from around the globe, her best travel tips, and her number one way to avoid getting sick while abroad.
Be sure to check out her new blog, Eating Copenhagen.
---
 What are your top 3 most memorable dining experiences from around the world?
Spaghetti Sauce in Nagoya, Japan — The first time I made spaghetti sauce was from scratch in my apartment in Nagoya Japan in 2006. Yes, I know that it should have been the first time I ate seaweed, or sushi or green tea with rice in it, or moshi, or bubble tea. The whole trip was exciting for my tongue, but that spaghetti sauce was the beginning of something else entirely. I grew up on the boxed, frozen, pre-made, salted and sugared treats of America. There was the occasional homemade pesto at home or pie at a friends house, but I'm talking like once every two years or so. They were special moments, few and far between.
When I got to Japan at the age of 19, I couldn't read the boxes and the milk came from goats. I was eating white bread toast with butter and starting to look skeletal. This was not going to cut it for 6 months. After getting pissed off about a burnt piece of toast, I walked past the plastic wrapped octopus, past the fish with eyes and into the produce aisle at the local supermarket and grabbed all the fresh stuff I recognized and a box of what I hoped was pasta. I was going to cook something, and I hoped it was going to be edible. When I saw my fellow classmates, the Brits, the Aussies and the French laughed at me, the Italians shared some spices, and another American gave a bit of olive oil and told me to start with the onions. Finally someone took the steak knife and plate out of my hands and traded it for a chef's knife and a cutting board. I took a thousand pictures of it and couldn't have been happier with myself when I put it in my mouth. Food! Who would have thought this is how you make it! Without a microwave or anything!
Paper Dosa Streetside in Bangalore India — These are just too much fun! Check out this image to get the idea of what I'm talking about. It's this huge thin crepe-like thing that is half crispy, half squishy, rolled up and served with some spicy veggies inside and a handful of oh-so-tasty dipping sauces! There is normally only about a cup of veggies on the inside, and then you break/rip off pieces of the dosa to dip with. It has crunch, it's soft, it's steaming hot off the grill, but cools fast. There are cooling sauces and chunky sauces and leafy sauces, spices and herbs! I have no idea what was in all of it, but I can't wait to eat another one!
Bones in Paris — Fine dining with a minimalistic laid back atmosphere. Many meals later, many tastebuds have been replaced. This food! Local ingredients, seven courses, rabbit terrine, blood sausage, fresh French radishes, goat milk sorbet with baby strawberries. Take me back!! To be fair, it is totally comparable to Höst in Copenhagen, though with a few less culinary tricks at Bones. There was some foam made from the ash of hay in Copenhagen, while Bones was more down to earth.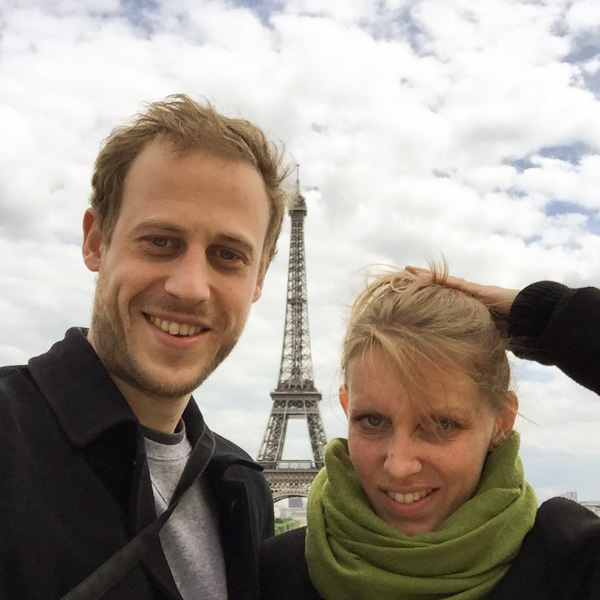 What's on your travel and culinary bucket list?
My husband I were just talking about sea urchins: What are they like? I want to go to Indonesia, to Thailand, back to India. I've never been to a country in Africa but I love me some Ethiopian food. Brazillian grill party maybe? I want to go to all of the places. I'm heading to Prosecco Valley outside of Venice in a few weeks, and maybe to cheese fondue, I mean Switzerland, in August.
Do you have a philosophy for eating when you travel?
Best case scenario, I do a little research online before I leave and save an offline google map with a handful of places to try. GPS works without using data, so you can see where you are on the map and find out if you end up close to one of your pins. Otherwise I eat at places where there's a line or where it's busy, I check out people's plates before I sit down, and I grocery shop for picnics. We were just in Paris and I asked a little old lady to help me pick a hard sausage that she would serve if she had guests over. She took it very seriously and handed one over with a big smile after nearly two minutes. We grabbed a fresh baguette, fruit and some tiny bottles of oil and vinegar and had a damn good lunch in a park near Montmartre.
I've been watching Munchies lately, where they do a series called Chefs Night Out, which is how I found out about Bones. I also look for the local dining awards to tap into what the locals like.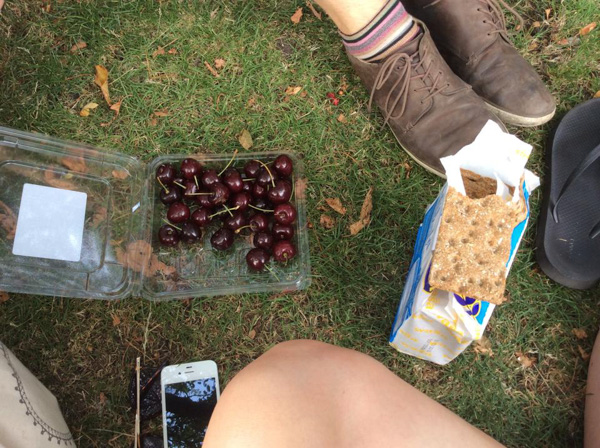 Do you have any insider tips for traveling in Europe?
Oh, I wish I did! I found out that I'm still a newbie last month. I bought an expensive plane ticket from Copenhagen to Venice and then my in-laws asked which train I was taking from Milan. What? I'm going to Venice. Apparently everyone in Copenhagen knows to fly to MXP:Milan for 1/8th of the price and catch a train anywhere else in Italy. So insider tip: Check out the most popular business routes from the city you're flying out of and then look for a cheaper route from there. It won't always work, but that time it would have been way less than half the price I paid…. It still hurts.
What are some of the best desserts you've had around the world?
The hands down best lagkage (a cake made with layers of mousse and other soft mousse like things that you typically eat at birthdays and holidays) in Denmark is at La Glace. It's an adorable little cake shop with ornate metal tables with marble table tops. All the cakes are behind glass, you point at the one you want, get a number and they bring the slice to your table. The coffee is decent but the tea is top of the line, and comes with a little sand tea timer for the perfect cup. My mother-in-law used to go there with her grandma as a child. They are still killing it and expanding the shop this fall. There's only one in the city, not to be confused with the chain Lagkagehuset, which had plenty of delicious pastries, but has nothing on La Glace when it comes to Lagkage. La Glace is also located just off Strøget, the major shopping and walking street through the center of the city. There are also tons of candy (in danish 'slik') shops around town where you can make a mixed bag of sweets. If you love licorice, Copenhagen is the place for you, otherwise, every time someone offers you a dessert, check for licorice before you take a bite!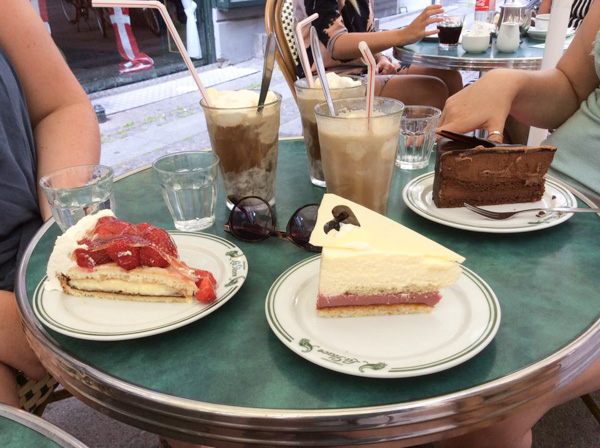 La Glace in Copenhagen
My other favorite is the Lemon Raspberry Cheesecake from The Cheesecake Factory, which I know is totally mass produced and then frozen and then delivered to the restaurant chain where it is thawed and then served, but I worked with some of those ladies who are behind that massive production and having the chance to eat a slice at every shift for 5 months means that I have a deep appreciation for many of their glorious cheesecakes. Godiva chocolate cheesecake?! Carrot cake cheesecake?! Tiramisu cheesecake?! My blood and sweat might have also clouded my judgement at the time, but I still go back for a slice anytime I'm close to one. And now that I think about it, La Glace has a lot of flavor profiles in common with them… My preferences are showing. Now that we're on the topic: Best cheesecake in Copenhagen? Bertels Salon.
Can you tell us about some of your other travel experiences?
Since I moved to Copenhagen, I've been to Berlin, Munich, Paris and my family's summer cabin in the woods in Sweden. Venice and Zurich are on the calendar this summer, but my fingers are crossed for Milan and London soon. We've also been back to the states three times, which was pretty exciting for my husband. He got to visit NYC, Chicago, Miami, and Key West for the first time. We did two mini road trips — one from NYC through Pennsylvania and Ohio to Chicago and the other around Florida, both to visit family and friends.
Japan
Japan was my first time out of the US and I had a blast. I miss and appreciate it more every day that I'm away. I flipped a coin to go on this trip and knew nothing about the country when I stepped off the plane. I only barely knew what the flag looked like and I was pretty sure they ate a lot of rice. I climbed Mt Fuji, went to Tokyo and Kyoto, saw a real geisha, went in an Onsen spa and stayed over night at the temple with the largest Buddha in Japan. I might have also travelled 3 hours for Pizza Hut once. I also volunteered at an elementary school, but the language barrier was too difficult and they were too polite to tell me to leave so I sat in calligraphy classes with kindergarteners while they laughed at my horrible kanji. I thought I was really getting good with the brush but kids are honest about putting you in your place. Also, most of them had enough English to say things to me, while the adults would just smile and bow.
When I left Japan, I stayed at a hostel in Hawaii for two weeks to sort of decompress. It ended up being the perfect way to come back, because it was part Japan, part US and part tropical hawaiian paradise. It definitely eased my reverse culture shock and meant that I could keep eating really good sushi and get my hands on a box of Kraft mac at the same time. I got on a bus at the airport and the bus driver said 'Hi, How are you?' I was SO excited to speak English in public with a stranger! Like a true American, we were friends within 15 minutes, and then we said goodbye and never saw each other again. It was fantastic and so refreshing!
Chile
Chileans do BBQ the right way — in the evening with huge slabs of meat before going out to dance the night away. I got a chance to visit Valparaiso, one of the World Heritage sites, and we got a glimpse of a Dole lettuce packaging plant and a local fish packing plant. It was an international business study abroad so most of the trip was planned for us. I spent a week with a family in Concepcion where we had a maid who made us breakfast every morning and did our laundry every day. Breakfast was fresh fruit, juice and sliced deli meat on toast.
India
India could fill a whole book. It's a place people love or hate. That trip was the first of what will be many in my love affair with India.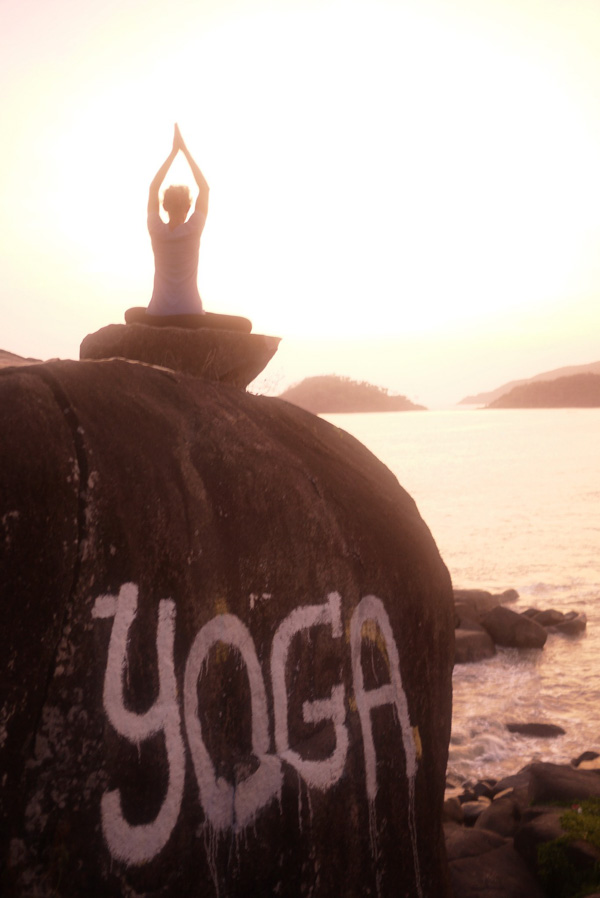 Goa, India
Paris
We ate and drank espresso and ate and drank espresso. We saw the sites and drank the wine and danced and were merry. I was disappointed that all of the impressionist paintings were not in the Louvre, but I got over it as soon as I walked into Musee d'Orsay and it meant a lot to stand in front of Monet's water lilies. We only had one Paris food misstep, but we were stuck on a bus in the rain for over an hour and we were both hangry so I think we paid for a warm seat and peace of mind more than the food. It was a perfect week with my husband and I wouldn't have changed a thing. I can't wait to go back!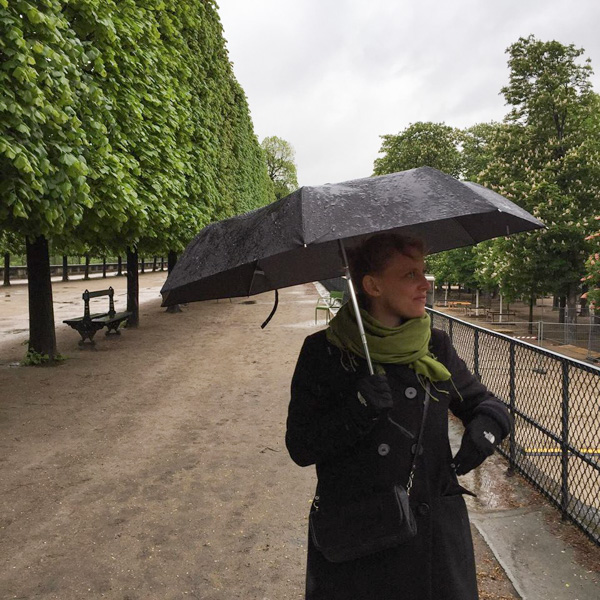 Jessie in Paris
What are your most memorable drinking experiences from across the globe?
Worst: In Japan, a friend and I woke up on the sidewalk outside of the subway entrance at 5am when people started to show up for their morning commute to Tokyo. We had blue tongues, and didn't know what city we were in. One of those times where you curse the Japanese characters on the sign and think 'You mean nothing to me!!'
Best: In Chile, salsa dancing with beautiful strangers at a night club in Santiago while sipping on Pisco Sours. The music was so loud that you felt it in your bones and everyone was smiling. I was very sweaty but I felt strong and sexy.
Do you have a go-to airport snack? What is your strategy for eating on long-haul flights?
My strategy is drinking water and not eating salty snacks. I focus mostly on staying hydrated and all the other miseries of flying tend to go away. I also sleep like a baby if I'm behind the engines with a pair of earplugs, which I always put in my wallet before we leave. The attendants are happy to fill my water bottle once or twice and every time the drink cart comes around I order two cups/bottles. You pee more, but you also end up stretching more by getting up and down which means you feel better when it's over. Staying hydrated also means no headache, no swollen feet, and you're less likely to get a dry throat or dry eyes.
My snacks are normally one or two Lara bars, or other date-based nut bars (but I like the chocolate ones) and a piece of fruit. Bananas are filling, but apples are tough, so that depends on how you pack and where you're going to shove it when you go through security. You can also typically grab a fresh piece of fruit before you get on the plane after security.
My other tips are to ask for a sleeping mask and earplugs, steal the extra pillows and blankets from the empty seats as soon as they close the door, and bring one pair of warm socks in your purse.
How do you avoid getting sick while abroad?
I've worked a lot of food service jobs so my rule is Temperature with a capital T. If it's not COLD cold or HOT hot, and I can't see them prepare it, I won't eat it. I've also boiled my own water when necessary and I took probiotics with me to India but it's anybody's guess if the probiotics made a difference. I've luckily never been sick while traveling, even though other people I was traveling with were. Two times specifically, I skipped a lukewarm meal and they gave me shit, and then they vomited and shat themselves all night. Soooo I'm sticking with Temperature.
What are your travel essentials?
Minimal toiletries, minimal clothes, minimal electronics, one book, one pair of earrings, one pen, one journal, one cloth tote. I generally only have one hard case rolling carry on and a small purse. Here are a few things I pack for every trip:
A Scarf – it's just so versatile. If I need to look fancy, if I'm cold, If the culture is offended by my shoulders, if there's a sudden rain shower, if something stinks, if my towel is missing, if I need to change clothes on the beach… this list is long, so I will stop in the case that I'm still ahead.
Ear plugs and an eye mask – so I can sleep no matter where I am
A water bottle – Hydrate hydrate hydrate
Floss – nothing is worse than having a nice piece of steak wedged between your teeth
Ziplock bags – liquid toiletries, wet bathing suit, nasty shoes, fancy jar of olives to bring home, chocolates that you hope don't melt, stinky work-out clothes, dirty laundry in the same bag as clean.
Why travel?
Because there's no better way to really understand yourself. Scared of travel? My advice is best stated by Shia LeBouf and you can listen to it here.
About Jessie
Jessie Svet Reedtz was born in San Diego, CA but grew up in Northeast Ohio, where she moved around frequently with her parents. She first fell in love with travel at age 18 when she flew to NYC alone for two weeks with only $200. Jessie went to college at the University of Cincinnati where she ran a hotdog stand and completed two study abroads in Japan and Chile. She worked as a grant writer for a nonprofit in Cincinnati, OH after graduation. While volunteering for 10 weeks in India, she met the love of her life and within a year was married and living in his hometown of Copenhagen, Denmark. She is currently studying motion graphics and interaction design and recently launched a food blog with a fellow hungry traveler. She enjoys yoga, pesto, pie and icelandic yogurt. You can find Jessie and her new blog, Eating Copenhagen, on Instagram at @jessiereedtz and @eatingcopenhagen respectively.