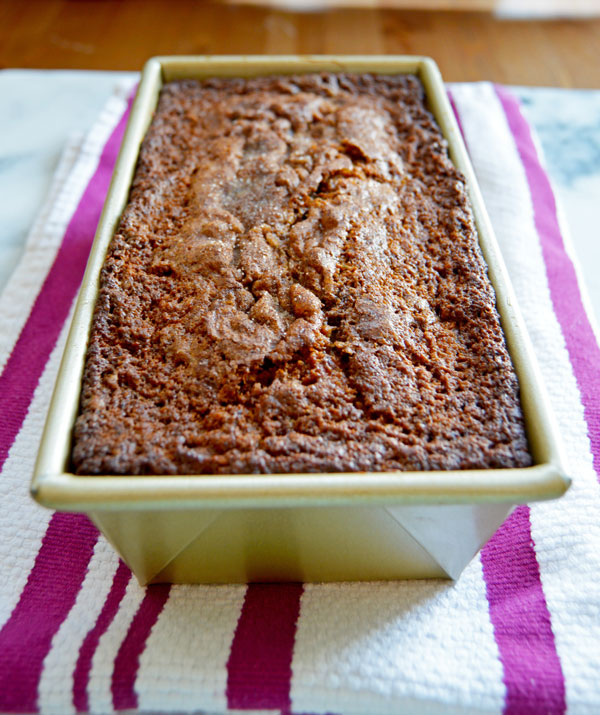 Earlier this week, I finished reading Blood, Bones & Butter
 by Gabrielle Hamilton.  It's often regarded as one of the best chef memoirs, and up until last week, I was certain I had already read it.  I had an image in my head of myself laying on the beach in the Outerbanks in North Carolina reading the book.  I'm not sure what book it was that I was reading on that trip, but when I read that Blood, Bones, & Butter wasn't published until 2012 (five years after my Outerbanks vacation) I realized I hadn't read it and downloaded it right away.
I enjoy reading chef memoirs. Learning how different chefs got their starts and paying attention to their perspectives on the industry and advice for success, I find myself learning something from each book but also relating to the authors.   The long hours, overwhelming heat of the line, and difficult customers are universal across nearly all kitchens, and there are certain things people who spend a lot of time in kitchens have in common, such as Gabrielle Hamilton and I both love cleaning out and organizing walk-in coolers.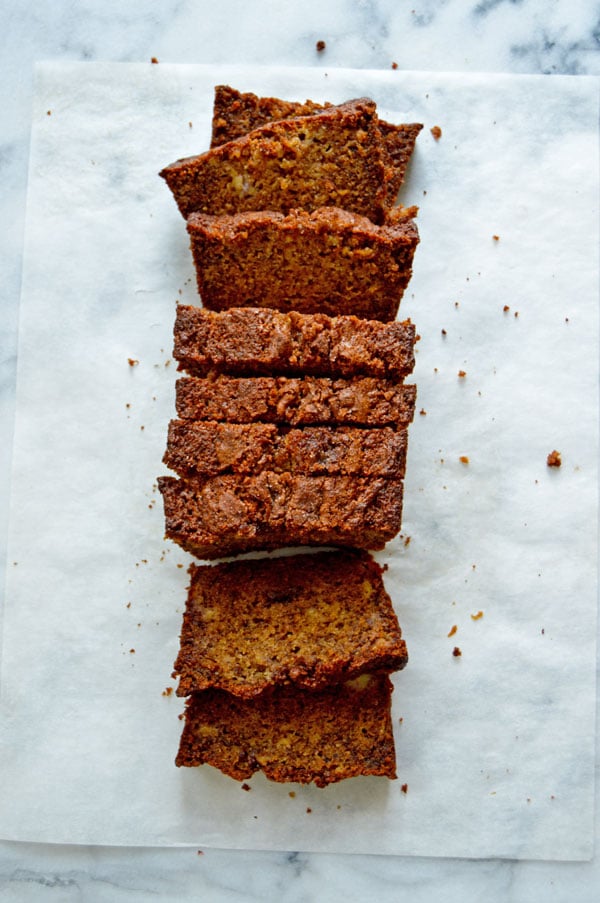 Most chef memoirs include recipes that complement the stories, but for whatever reason, I never tend to cook any of them.  Blood, Bones, & Butter is different though, because instead of including recipes, Gabrielle Hamilton wrote an entire corresponding cookbook, Prune.  The cookbook doesn't include an introduction or any headnotes with the recipes, instead she wants you to to read Blood, Bones, & Butter to put everything into context.
As soon as I finished her memoir, I jumped straight to the Prune
 cookbook and decided to cook something.  Her banana bread stood out to me, since throughout the book she mentions the killer brunch served at Prune where the banana bread is given out to help with the blood sugar levels of the customers enduring the 2 hour wait.  I changed up the recipe a bit, adding some spices and simplifying the mixing process, and ended up with a classic, incredibly moist and delicious buttermilk banana bread.
Making Gabrielle's recipe and eating her banana bread connected me to her story and helped bring it to life.  This banana bread is straightforward and honest, unapologetic and bold, and holds no hidden agendas or facades. It's exactly how I imagine Gabrielle Hamilton to be.
I think I'll need to go back to some of the memoirs I've read in the past and start cooking.
BUTTERMILK BANANA BREAD
This is what a good mise-en-place looks like – eggs cracked, bananas mashed, butter melted and cooled, flour and sugar weighed,  buttermilk at room temperature, vanilla and spices measured.  You'll also want to pre-heat the oven and grease your baking pans.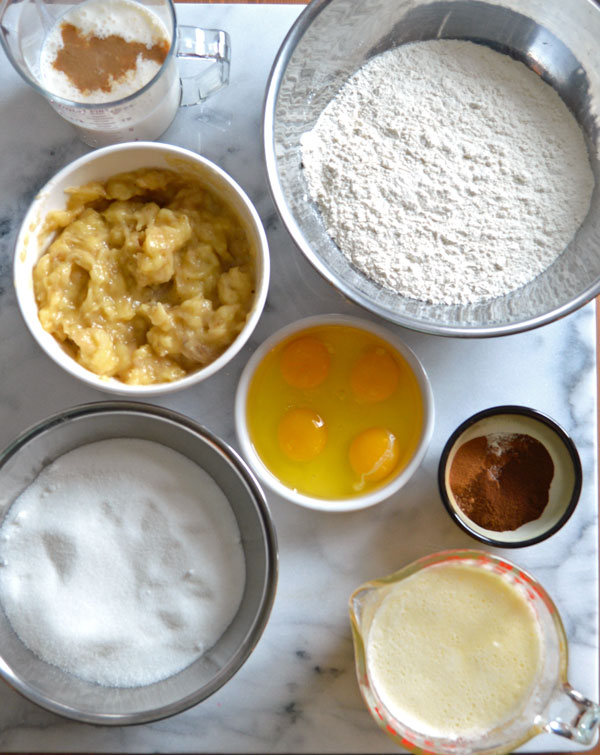 Start by combining all of the dry ingredients (flour, sugar, spices, baking soda, salt) and whisking them together.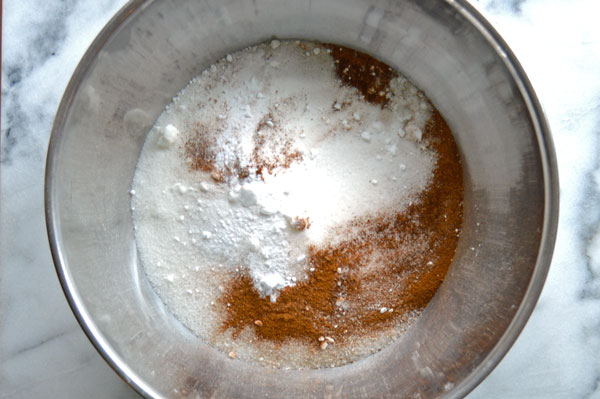 In another bowl, you'll combine the wet ingredients (buttermilk, banana, eggs, butter, and vanilla) and lightly whisk them to combine, but leave it a bit chunky.  Then, lightly fold the wet ingredients into the dry ingredients until just combined with no dry patches remaining, making sure to scrape the bottom of the bowl and loosen any flour that has sunk to the bottom.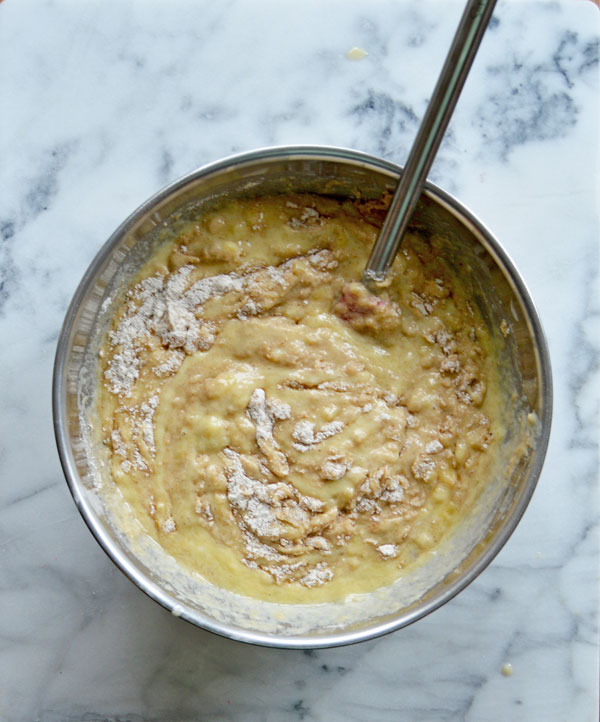 Scrape the batter into two greased loaf pans and sprinkle the top of each with cinnamon and sugar.  Bake for 55-65 minutes at 350.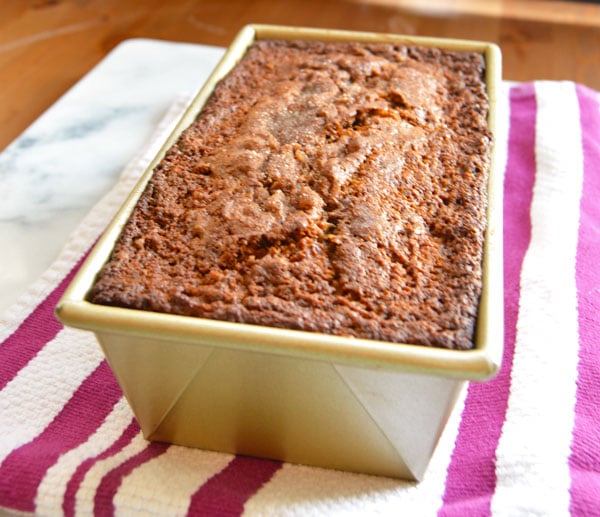 The cinnamon sugar topping gives the loaves a crispy crust, my favorite part of each slice.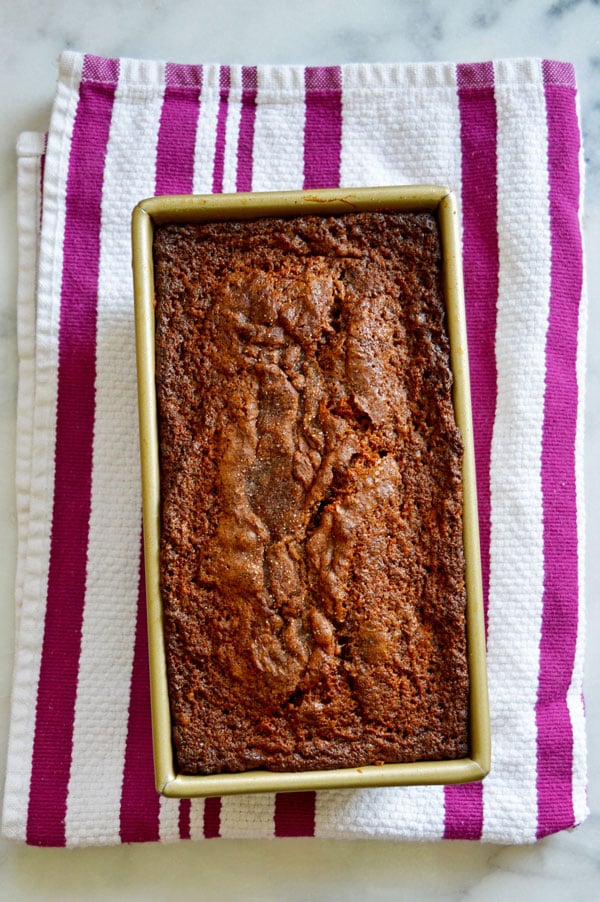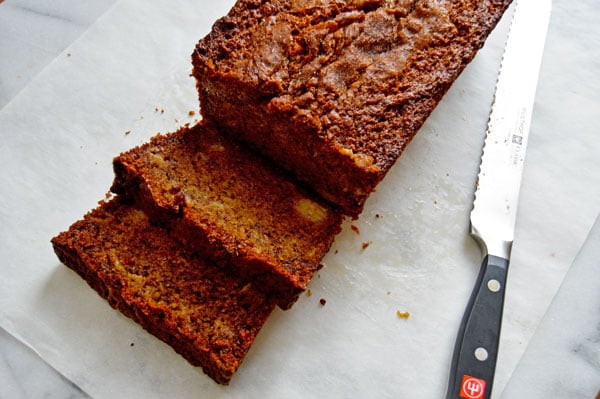 The finished loaf still has visible chunks of banana, which gives a nice texture and also a more interesting look when it's sliced.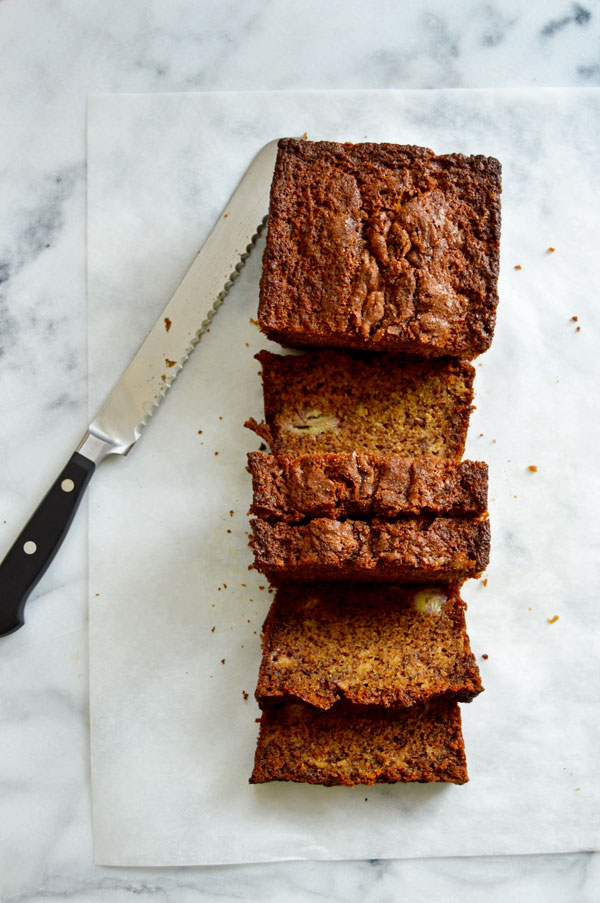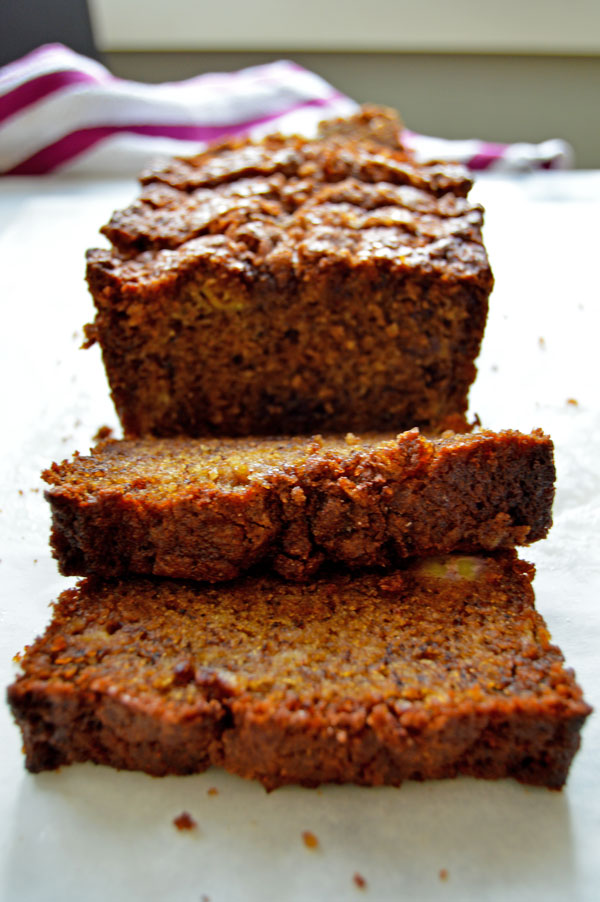 My favorite way to eat banana bread is warm with a little bit of butter smeared on top.  But, this bread is so moist that the additional butter was completely unnecessary.  As they say, old habits die hard.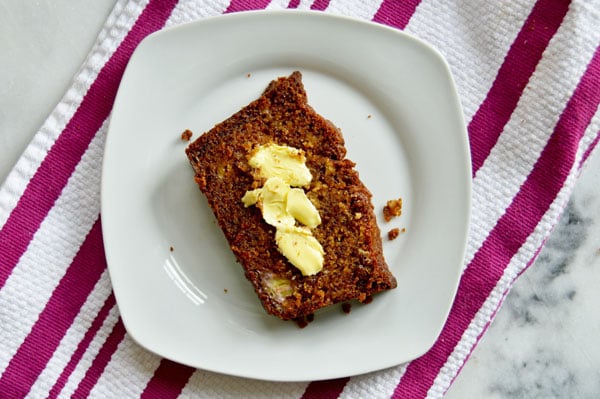 Yields 2 Loaves
Buttermilk Banana Bread
Ingredients
3 cups (375 grams / 13.23 ounces) all-purpose flour
2 cups (400 grams / 14.1 ounces) sugar
1 tablespoon baking soda
½ teaspoon nutmeg
1 1/2 teaspoons ground cloves
2 teaspoons cinnamon
1 teaspoon salt
4 large eggs, lightly whisked
2 cups (454 grams / 16 ounces) butter, melted and cooled
2.5 cups bananas, mashed (from about 5 bananas)
1 cup buttermilk, room temperature
2 teaspoons vanilla extract
For topping:
1 tablespoon sugar
1 tablespoon cinnamon
Instructions
Adjust oven rack to middle position and preheat oven to 350 degrees. Grease bottom and sides of two 9 x 5 x 3 inch loaf pans. Set aside.
In a large bowl, whisk together the flour, sugar, baking soda, nutmeg, cloves, cinnamon, and salt.
In a separate bowl, whisk together the eggs, butter, banana, buttermilk, and vanilla extract. It should be thick and chunky.
Lightly fold the wet ingredients into the dry ingredients until just combined and no dry patches of flour remain. Be sure to scrape the bottom of the bowl where flour tends to hide.
Divide the batter evenly between the two prepared loaf pans. Sprinkle the top of each loaf with the cinnamon and sugar reserved for topping. Bake until loaves are golden brown and a toothpick inserted into the center comes out clean, about 55-65 minutes. Let cool in pans for 10 minutes and then remove and let cool completely on a wire rack.
Notes
Can be kept tightly wrapped in plastic for up to 3 days.
Recipe adapted from Prune by Gabrielle Hamilton
7.8.1.2
17
https://www.thehungrytravelerblog.com/buttermilk-banana-bread/