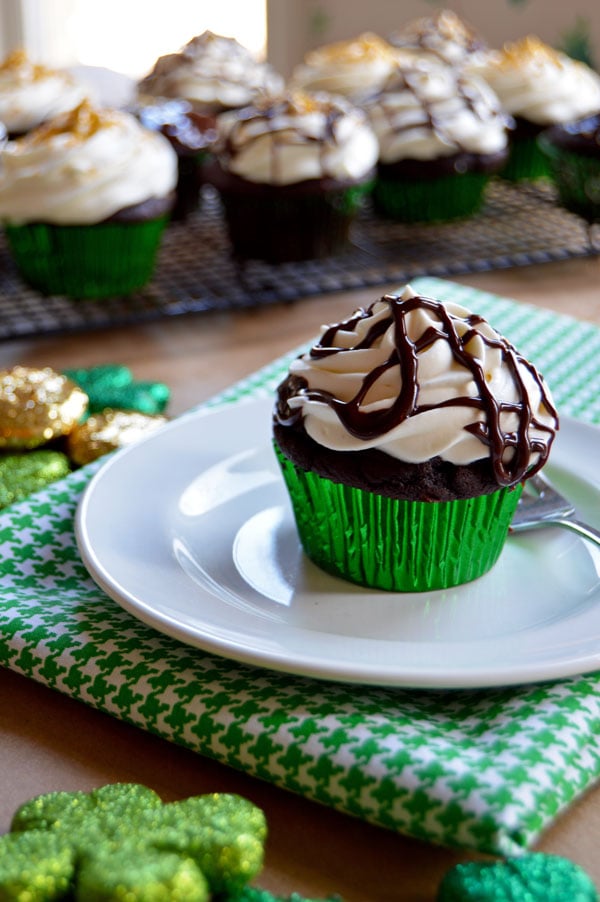 I once spent a week in Dublin, Ireland and visited the Guinness Storehouse, a museum dedicated to the history and traditions of Guinness beer.  The Guinness Storehouse is Ireland's number one visitor attraction and it earns the title for good reason.
We started the self-led tour of the Guinness Storehouse by learning about the brewing processes through interactive exhibits. I had not realized I had an interest in beer brewing, but the displays are captivating and will grab your attention.  After working through the history exhibits, we attended a short demonstration and got certified at pouring the perfect pint.  If you've ever ordered a Guinness at the bar and watched the bartender let the beer sit for a few minutes before serving it to you, you'll learn why.  After we worked out way through the entire museum, we visited the Gravity Bar on the top floor and enjoyed a pint while taking in the panoramic views of Dublin. Whether you're a Guinness fan or not, the Guinness Storehouse is a fun and educational experience and a great way to spend part of the day.
There is a long tradition of cooking with Guinness and the Guinness Storehouse has a restaurant that specializes in serving dishes made with Guinness, such as the chocolate stout cake that inspired these cupcakes.  I decided to pay tribute to two other famous Irish spirits and added Jameson Irish Whiskey and Bailey's Irish Cream to the frosting and ganache.
Jameson also offers tours at the distillery in Dublin.  Unfortunately I haven't been on this tour, but the concierge at my hotel said they give you quite a lot of whiskey and recommended visiting only if you can take a nap afterward.  I plan on taking the tour next time I find myself in Dublin.
An insider tip – Book your tickets online before visiting the Guinness Storehouse.  Not only do you save 10%, you also get to skip the long line when you arrive. 
Guinness, Bailey's, and Jameson Irish Cupcakes
Equipment Recommendations
You don't need any special equipment to make these cupcakes, but there are a few things that will make your life easier.
Disposable 16-Inch Decorating Bags
 – I buy 16-inch piping bags.  If you buy them at a craft store, be sure to look closely or you may end up with 12-inch bags which are too small and you'll have to refill your bag between nearly every cupcake.  Some people prefer the reusable version, but I ALWAYS use the disposable bags.
Large Icing Tip Set
 – This set will give you all of the tips needed to decorate cupcakes.  If you don't have any icing tips, it's good to buy a small set because they come in handy frequently.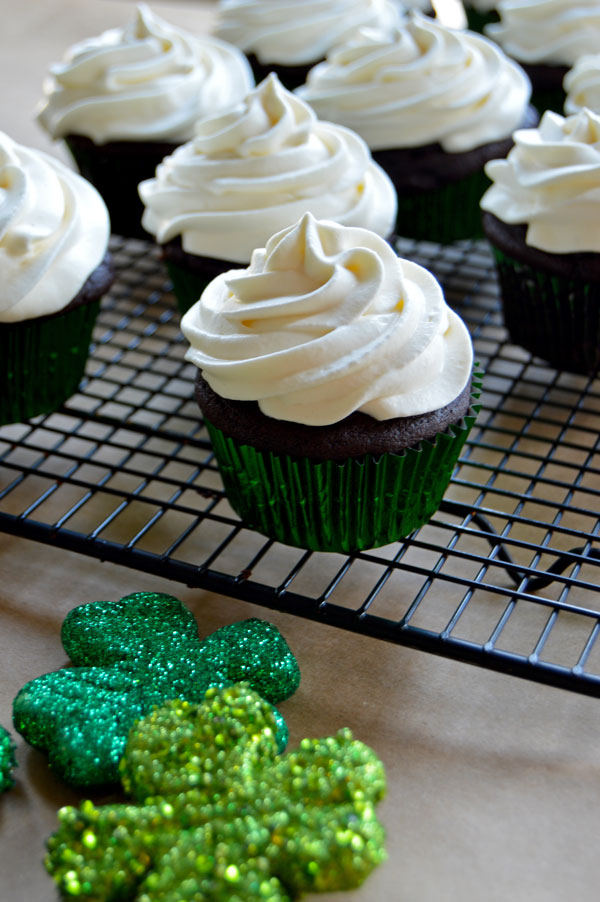 If you want to keep it simple, just frost the cupcakes and forgo the Irish cream ganache and sprinkles. Be sure to keep the iced cupcakes refrigerated or the whipped cream icing will melt.
When you drizzle the cupcakes with the ganache, be sure to let the ganache cool for a minute and use it sparingly.  The warm ganache can cause the whipped cream to melt, but if you don't use too much it shouldn't be an issue.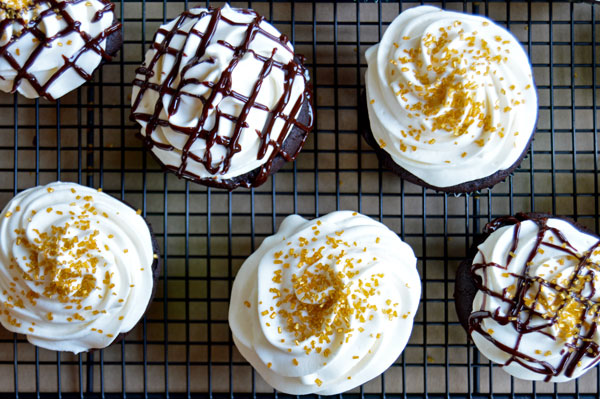 I like the look of gold sprinkles (pot of gold at the end of the rainbow) but you could also use rainbow for a more festive St. Patrick's Day look.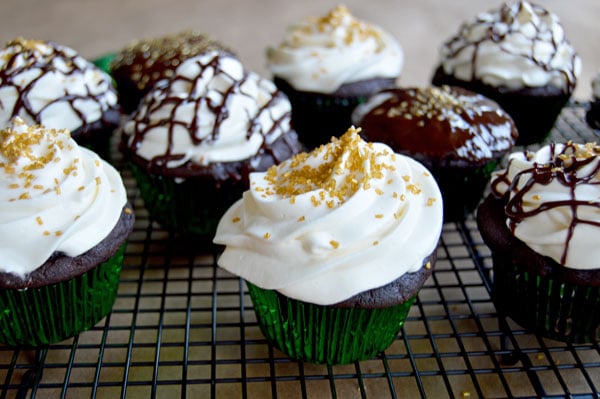 You can also leave the alcohol out of the whipped cream frosting and the chocolate ganache.  If you prefer to only use either the Bailey's or the Jameson, feel free to do so.  Personally, I prefer Bailey's to Jameson.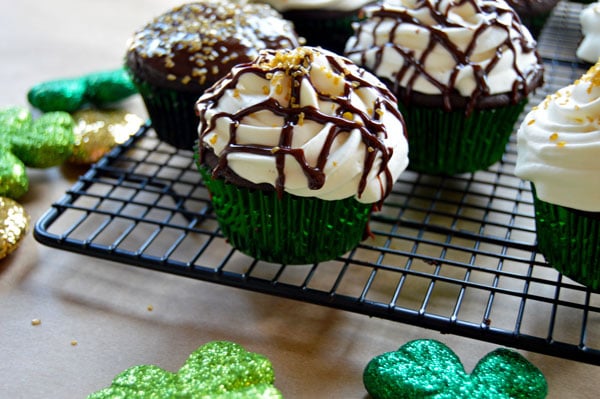 For another option, you can dip the cupcakes in the Irish cream ganache instead of icing them with the whipped cream frosting.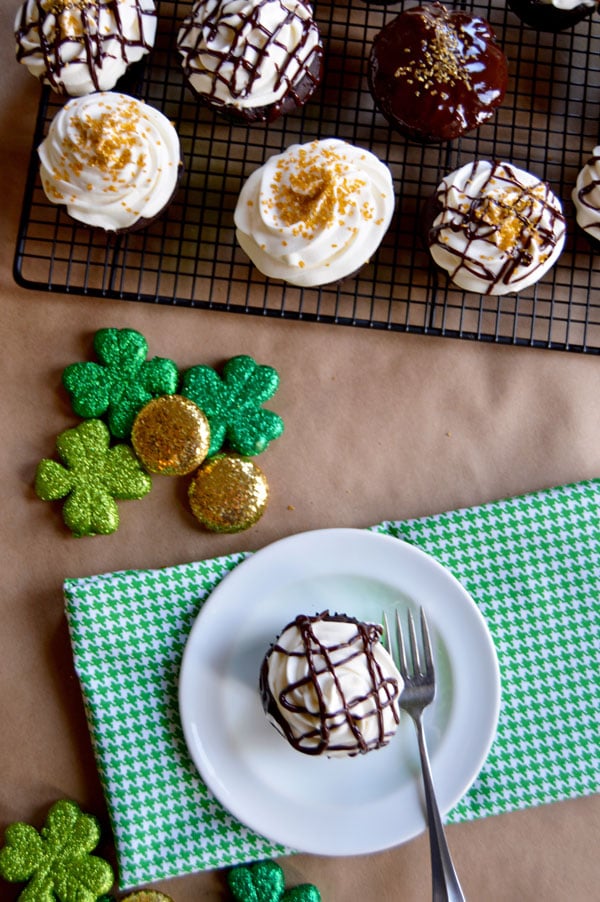 Jordan Hamons | [The Hungry Traveler|http://www.thehungrytravelerblog.com" target="_blank]
Yields 24
Guinness, Bailey's, and Jameson Irish Cupcakes
Ingredients

Chocolate Stout Cupcakes:

1 1/2 sticks (6 ounces/170 grams) unsalted butter, softened
2/3 cup (4.7 ounces/134 grams) granulated sugar
2/3 cup (4.7 ounces/134 grams) packed light brown sugar
2 eggs, at room temperature
1 egg yolk, at room temperature
1 tablespoon vanilla extract
1 1/4 cup (10 ounces) stout beer (such as Guinness)
1/2 cup sour cream
1 3/4 cup (7.75 ounces/219 grams) all-purpose flour
1 cup (4.16 ounces/118 grams) cocoa powder, sifted
1 1/2 teaspoon baking soda
1/2 teaspoon baking powder
1/2 teaspoon kosher salt


Irish Whiskey Whipped Cream Icing:

2 cups heavy cream, cold
1/2 cup powdered sugar
1/2 teaspoon vanilla extract
1-2 tablespoons (or more or less to taste) Irish whiskey (such as Jameson)
1-2 tablespoons (or more or less to taste) Irish cream (such as Bailey's)

Irish Cream Ganache:

8 ounces semisweet chocolate chips
1/2 cup heavy cream
1 tablespoon Irish cream (such as Bailey's)
Instructions
Chocolate Stout Cupcakes

Preheat the oven to 350 degrees F. Line two 12-cup cupcake pan with paper liners.
In the bowl of an electric mixer fitted with the paddle attachment, on high speed, beat the butter and two sugars together until light and fluffy, about five minutes. Scrape down the sides and bottom of the bowl.
With the mixer on medium speed, add the eggs and yolk one at a time and scrape down the sides of the bowl between each addition.
In a liquid measuring cup, whisk together the vanilla extract, beer and sour cream.
In a separate medium bowl, whisk together the flour, cocoa powder, baking soda, baking powder, and salt.
With the mixer on low speed, add 1/3 of the dry ingredients, followed by 1/2 of the beer mixture. Scrape down the sides and bottom of the bowl. Add another 1/2 of the dry ingredients, the rest of the beer mixture, and then final 1/3 of the dry ingredients. Scrape down the bottom and sides of the bowl and make sure all ingredients are incorporated.
Divide the batter evenly among the 24 cupcake papers. You can do this in two batches if you only have one cupcake pan.
Bake the cupcakes for 20-25 minutes or until a toothpick inserted into the center comes out clean. Let cool completely before frosting.

Irish Whiskey Whipped Cream Icing:

In the bowl of a stand mixer fitted with the whisk attachment, whisk together the heavy cream, powdered sugar, and vanilla until it holds firm peaks. Gently fold in 1 tablespoon of each the Irish whiskey and Irish cream. Taste the whipped cream and add more alcohol if desired. Refrigerate until ready to decorate the cupcakes.
Irish Cream Ganache:

Place the chocolate chips in a medium heatproof bowl.
In a small saucepan or microwave safe bowl, bring the heavy cream just to a boil. Pour over the chocolate chips and Irish cream. Let sit five minutes then gently whisk the mixture together until smooth. If the ganache starts to thicken, gently reheat over a double boiler until smooth.
To Decorate: Using a piping bag fitted with the star attachment, pipe some of the buttercream on each cupcake. Spoon some chocolate ganache on top of each and let it drip down slightly.
7.8.1.2
22
https://www.thehungrytravelerblog.com/guinness-baileys-and-jameson-irish-cupcakes/