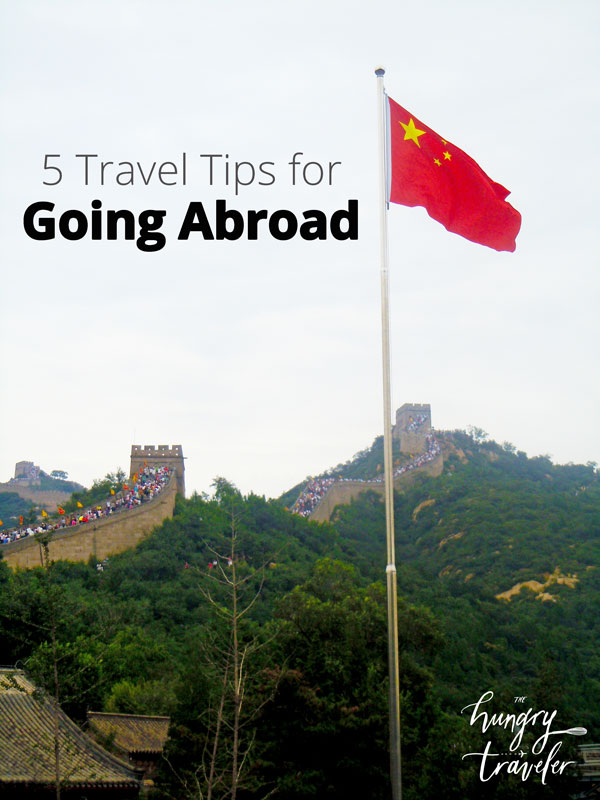 My first trip abroad was to Canada when I was 6 years old. It was during the peak of Beanie Baby mania and I was a completely obsessed collector.  There was a certain Beanie Baby that was only available in Canada and I talked my parents into taking me across the border to look for it.  Living in Northern Ohio, we were only about an hour from the Canadian border so we drove up to Detroit, crossed the Ambassador Bridge and were happily on our hunt for Maple the Bear. My love for Beanie Babies quickly faded but that trip was the start of my passion for international travel.
Even when you're not on the hunt for Beanie Babies, international travel can be stressful.  There's a lot to do before you leave home, but proper planning will make your trip successful.  In this post, I've shared 5 of my favorite travel tips for going abroad. This advice has successfully gotten me through trips to Asia, Europe, and even a return trip to Canada. While this is by no means an exhaustive list of everything you need to do before going abroad, these are five tips that are commonly forgotten but will save you a great deal of stress and hassle if you complete them before your trip.
5 Travel Tips for Going Abroad
1. Organize all documents and travel information. As soon as you start planning your trip, create a folder in your email and save all related documents to this file.  A few days before you leave, go through the folder and flag anything that could be especially important on your trip – flight info, hotel confirmations, restaurant reservations, shuttles and transfers,  directions, etc.  Label each email clearly with a descriptive subject (example: Airline Phone Numbers).
Keep a copy of each email in your email folder, print off a copy, and upload another copy to the cloud ( such as Google Docs or Dropbox).  There's nothing worse than trying to find a hotel confirmation when your email search function won't cooperate or the wifi does't work. I also compile important contact information (hotel addresses, flight confirmation numbers, credit card company info, etc.) and email it to myself and to a friend.  A detailed itinerary will save you time and frustration while you are on your trip.  You may also consider taking screenshots of the information and saving it to your camera roll on your phone which is helpful at times when there is no internet access or wifi.
To see specific examples of how I stay organized, what I print out, and copies of past emails, check out this post.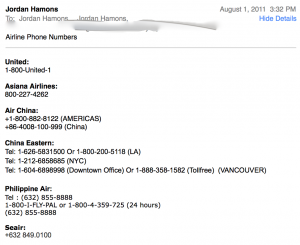 An email I sent to myself before spending the summer in Asia.  I included the phone numbers for every airline I was flying on during the trip.
2. Notify your bank, credit card company, and other financial institutions that you will be overseas. Make sure your cards will work abroad (some countries use different technologies) and ask about foreign transaction fees.  Let them know the cities you will be in (don't forget airports and layovers) and the dates you'll be there in order to prevent a block on your card.  Be sure to get your bank's emergency help number to have on hand in case you run into a problem.
Also, be sure to bring the credit card that you used to make hotel and flight reservations.  When we were in Hong Kong, a group of my friends were almost stuck because they did not have the credit cards they used to purchase their flights to the Philippines.  Luckily we were able to get it sorted out after a few hours (and a few hundred dollars), but the airline would not issue them the tickets they had purchased without having the credit card (or a copy of it) present.
3. Register with the U.S. State Department's Smart Traveler Enrollment Program.  This program enrolls your trip with the embassy or consulate in your destination.  You will receive destination-specific travel alerts and warnings, and in case of a event such as a natural disaster or civil unrest, the local embassy will be able to contact you.  This service can also help friends and family get in touch with you should an emergency occur.  It only takes a few minutes to register and there is no reason not to do so.
4. Make photo copies of your itinerary and all important travel documents.  Make at least two photo copies of your travel documents in case one set gets lost or stolen. Keep one set on you and leave one set in your suitcase or in the hotel safe.  Just make sure to keep the originals and the photo copies in different places so you don't lose both. I've even heard of people having a color copy of their passport in each piece of luggage and another in their purse/backpack.  Leave another set of documents with a friend or relative back home so they are informed and can help should an emergency occur.  If you're traveling with a companion, exchange sets of documents with each other.  It's also a good idea to upload these to Google Docs or Dropbox so you will have access to them from any location.
Check out this list of the specific travel documents I print out before my trip.
5. Get the local cash before you go. Order a small amount of your destination's currency from your local bank.  Having it before you leave will prevent the stress of trying to exchange money or finding an ATM at the airport.  I like the convenience of having some money ready upon arrival so I can get a bottle of water or snack at the airport without having to deal with exchanging currency first. Airport ATMs can have long lines and you want to have cash first thing so you have the ability to pay for public transportation or tip your driver.
 What are your best tips for traveling abroad?  Please share in the comments below. 
For more travel tips check out these posts: 
Paris for Beginners: Tips for Stress Free Travel
The Hungry Traveler Interview with Hannah Casey, An American Expat in Dubai